Pumpkin Scones are a tasty easy fall coffee shop treat! Flaky and soft pumpkin scones with pumpkin puree and sour cream, topped with a sweet cinnamon glaze.
Is there anything warmer and cozier during the fall than pumpkin-flavored Baked Goods like Pumpkin Muffins and Pumpkin Bread?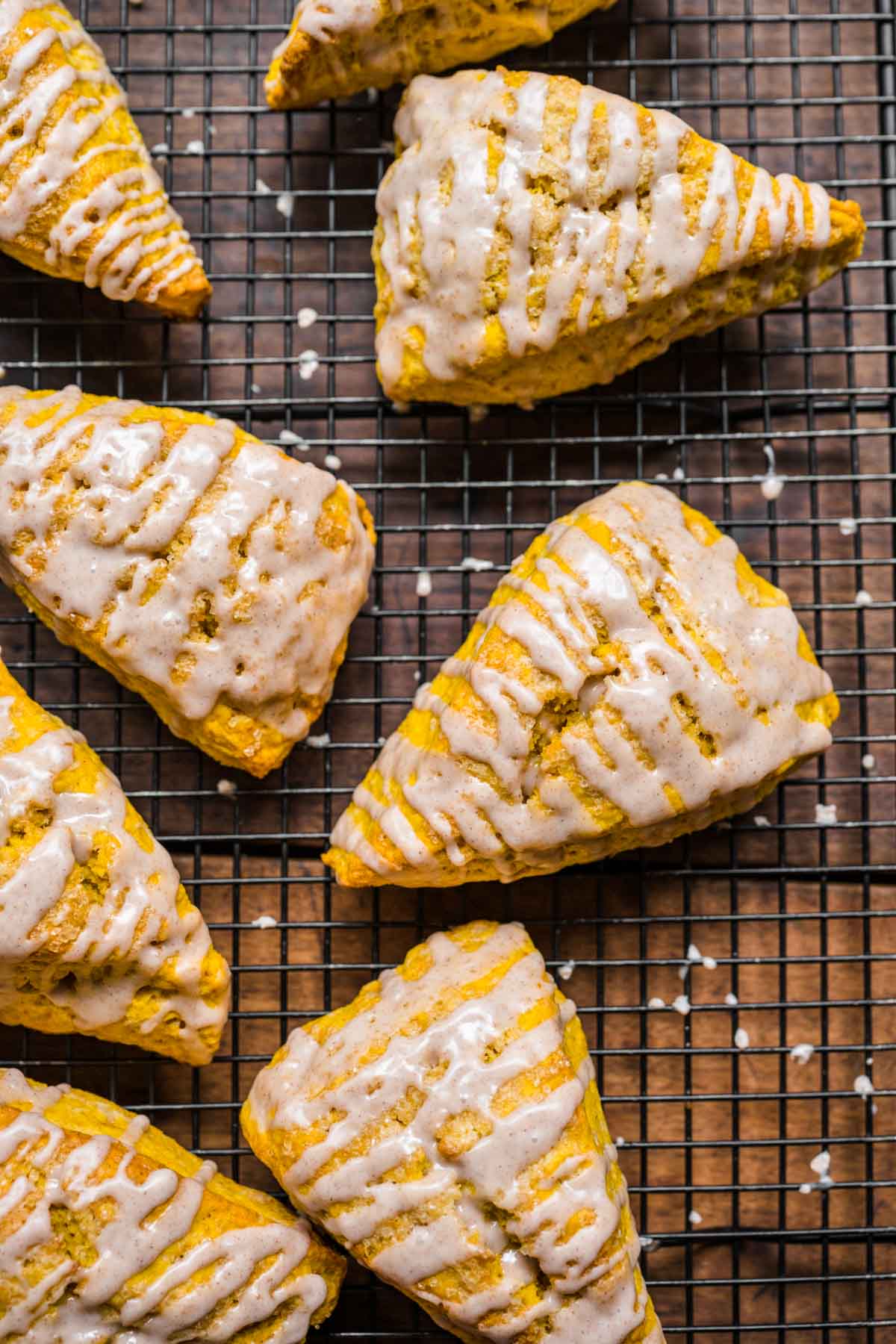 PUMPKIN SCONES
You don't have to wait for the weather to cool down to enjoy all your favorite pumpkin recipes. Just grab a can of pumpkin puree and use ingredients you keep all year round and you can make delicious treats with plenty of pumpkin flavor. Make these Pumpkin Scones and add a cup of coffee for a cozy, fall breakfast any time you get a craving.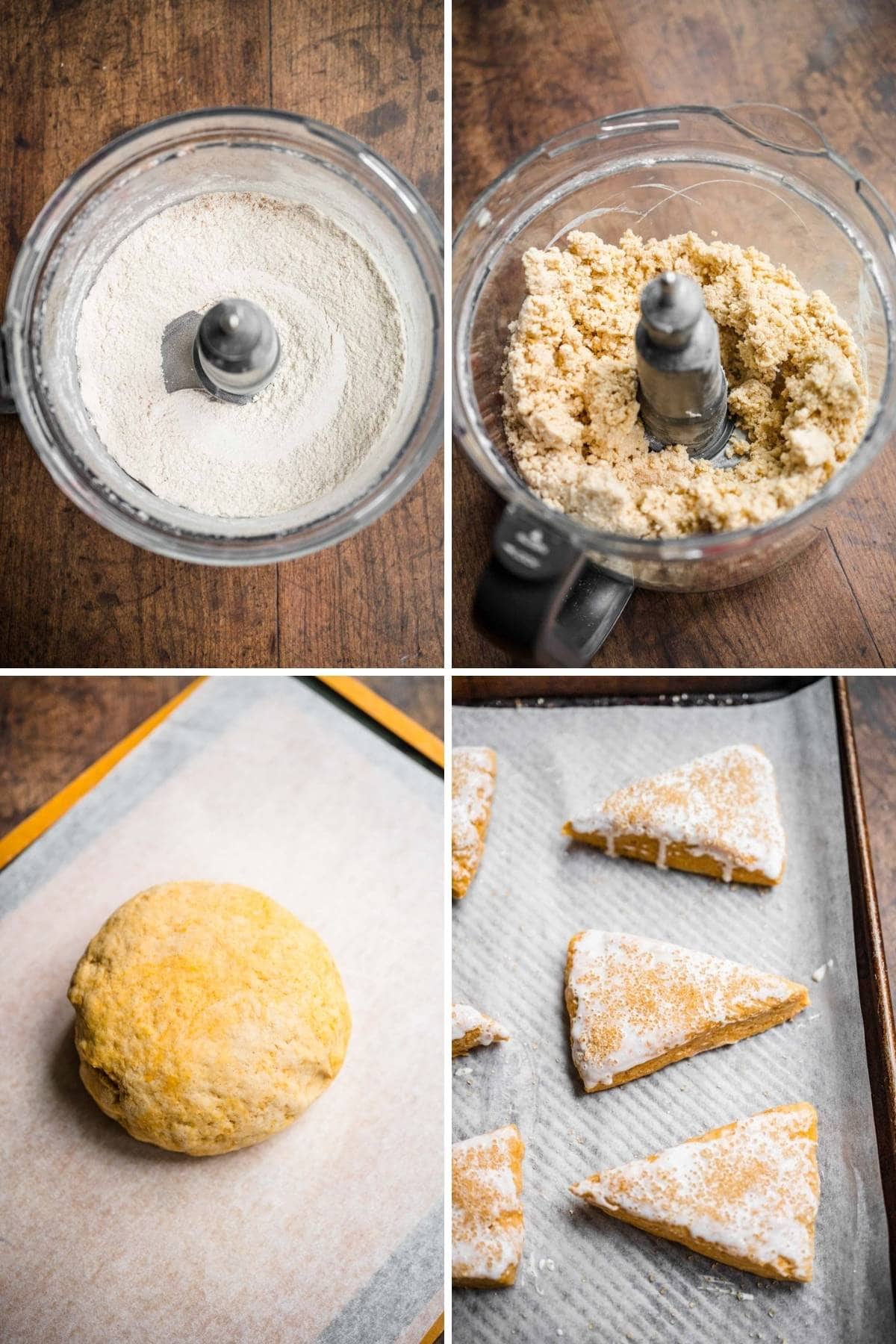 These Pumpkin Scones are slightly sweet, flaky and buttery, made with sour cream so they are melt-in-your-mouth good. The heavy cream and sugar that you brush on right before baking gives them a crunchy crust while the insides are soft and tender like a biscuit. They are finished off with a sticky, sweet cinnamon icing for the perfect breakfast or dessert.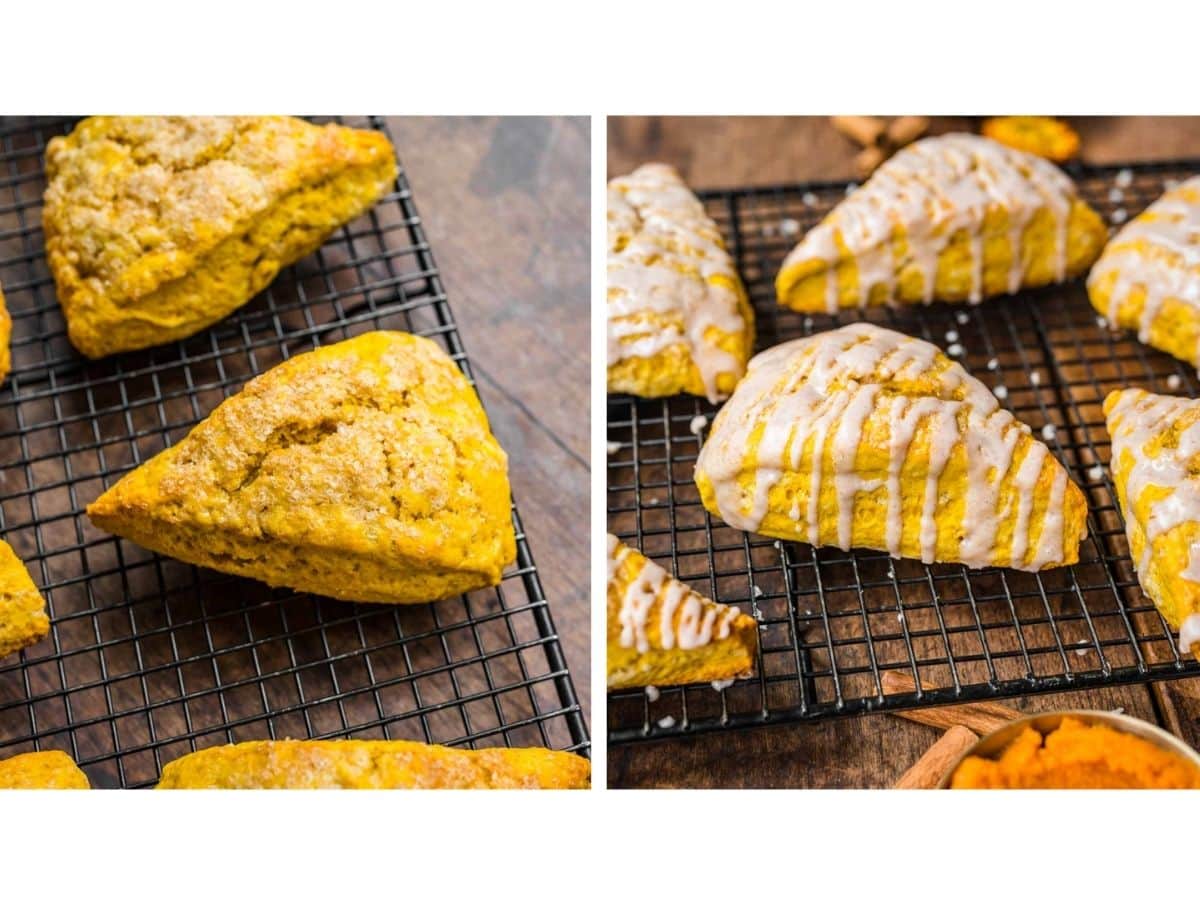 Pumpkin Scones are made almost backwards from other pastry recipes, closer to how you would make pie crust or a yeast bread. Other baked goods start by creaming butter and eggs before adding the dry ingredients. To make Pumpkin Scones, you start with the dry ingredients and then you cut in the butter (like pie crust) before adding the wet ingredients.
This easy recipe for Pumpkin Scones is made even easier with a food processor. No need for a stand mixer, separate bowls, and a pastry cutter, just pulse the ingredients in parts and fold in the pumpkin at the end. Using a food processor also keeps you from over mixing the dough, for perfect flaky and crumbly scones.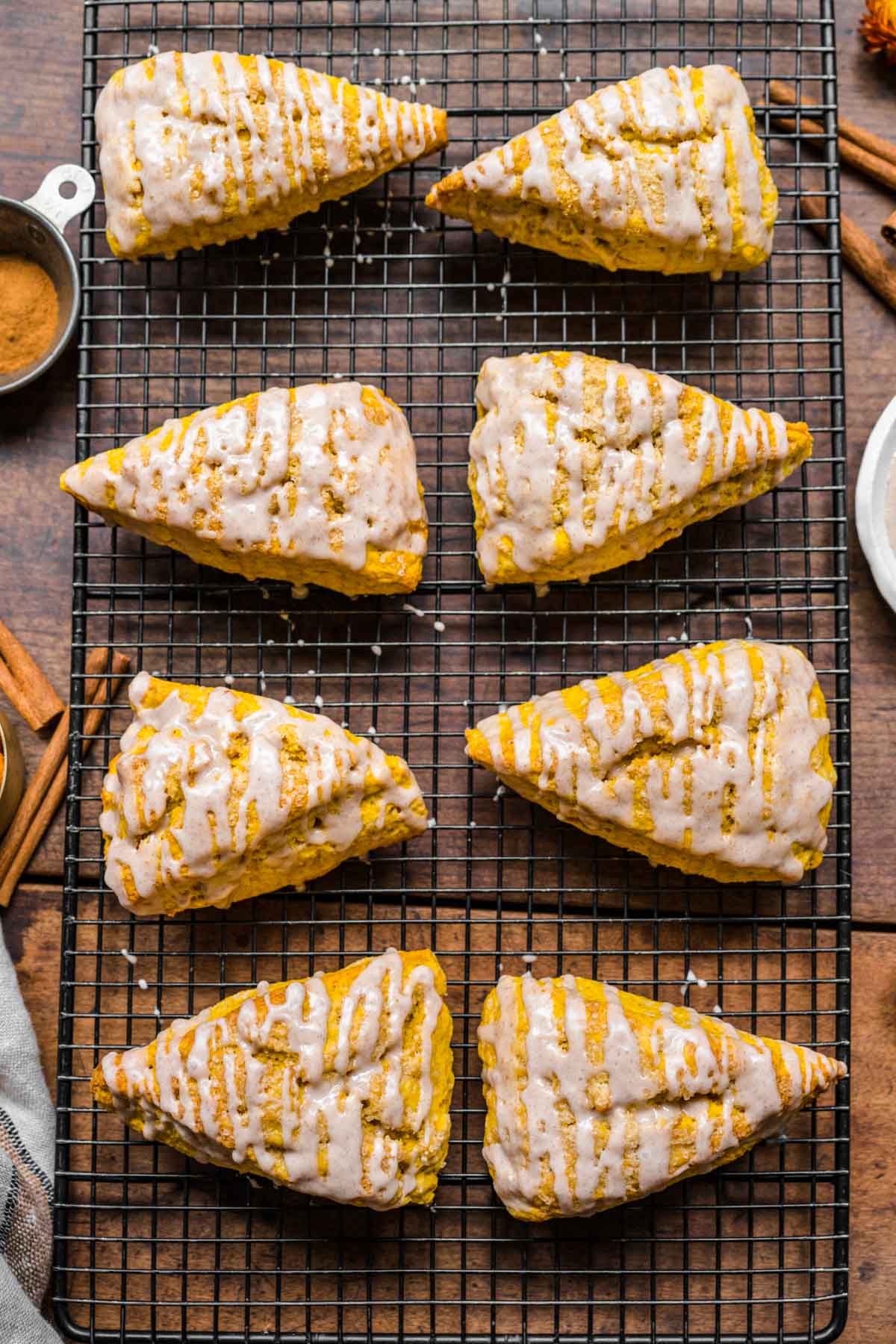 You can make these Pumpkin Scones with canned pumpkin or homemade Pumpkin Puree, but make sure it's not pumpkin pie filling. Pumpkin Pie filling is already sweetened and spiced so you won't be able to control the flavoring or sugar. Another important step is to drain the pumpkin mixture well, removing as much excess moisture.
MORE DELICIOUS PUMPKIN RECIPES:
Tips for Making Pumpkin Scones
Chill dough so the butter is as cold as possible so your scones won't spread when baking. There should be chunks of butter in your dough which will melt as the scones bake.
To get the coldest butter for this recipe is to use frozen butter cut into fine pieces or grated butter. Grated butter also mixes easier into the dough.
Instead of the cinnamon glaze, warm up Buttercream Frosting or Cream Cheese Frosting and drizzle it over the scones. For an extra special fall treat, try Salted Caramel Sauce!
Classic Pumpkin Scones are shaped like triangles but you can shape your scones however you want. Form dough into even pieces and don't handle the dough too much before baking.
To make cutting the dough easier use a greased pizza cutter, a really sharp knife, or try unflavored dental floss! Wrap the floss around your pointer fingers on each hand and slice straight down through the dough. Floss is great for cutting cakes and Cinnamon Roll dough too!

Create a free account to

Save Recipes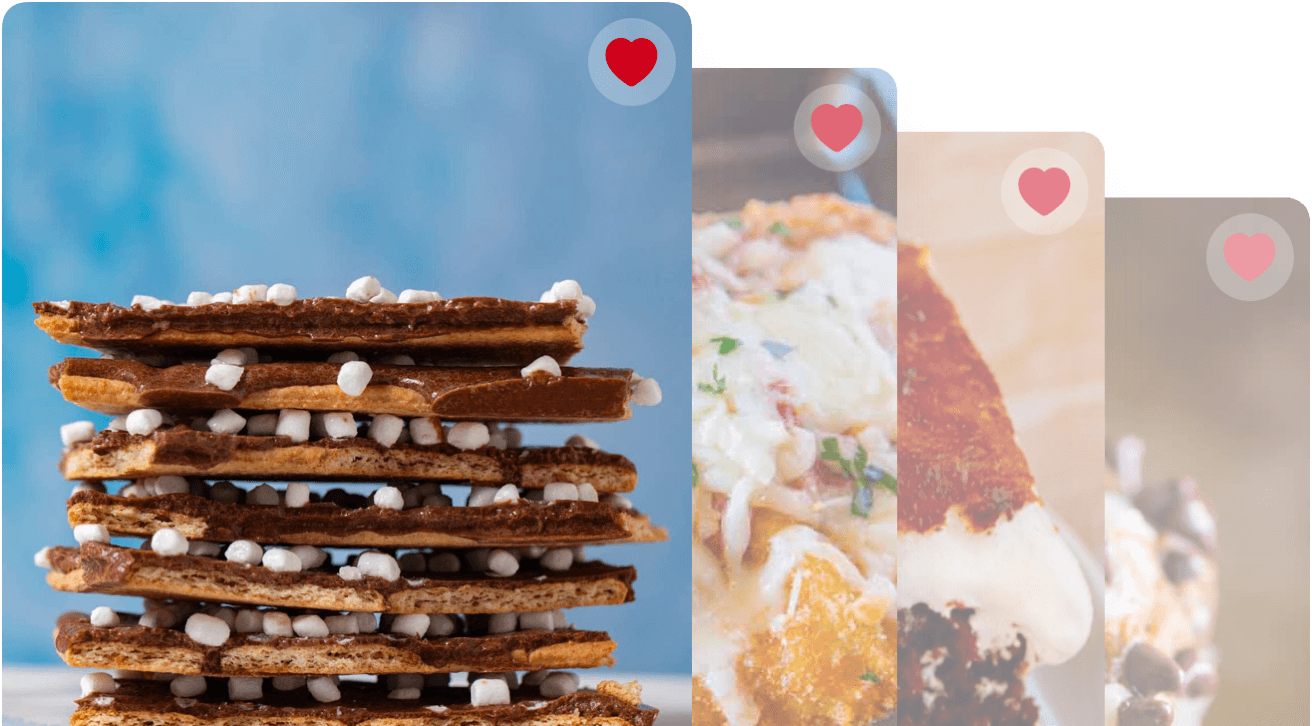 VARIATIONS ON PUMPKIN SCONES
Chocolate Chips: Fold in a ½ cup chocolate chips, like white chocolate chips or dark chocolate chips, to the Pumpkin Scone dough with the puree. You could also use flavored baking chips like cinnamon chips, peanut butter chips, or caramel chips.
Dried Fruit: Add chopped dried fruit pieces like dried cranberries, dried apples, or dried apricots to the dough. Candied ginger or dried cherries would taste delicious with pumpkin too!
Pecans: Make Pumpkin Pecan Scones by folding in a ½ cup chopped pecans to the dough before adding the pumpkin puree. Toast the pecans for more flavor or add other nuts like pistachios, hazelnuts, or walnuts.
Maple Glaze: Make a cinnamon maple glaze by adding a tablespoon maple syrup to your glaze. You could also use molasses or honey, or add up to a tablespoon molasses or maple syrup to your scone dough.
Pumpkin Pie Flavor: Make these Pumpkin Pie Scones by adding Pumpkin Pie Spice instead of just ground cinnamon. If you don't have pumpkin pie spice blend on hand, add ingredients like ground cloves, ground nutmeg, and ground allspice in equal parts and add up to 2 teaspoons total pumpkin pie spices.
MORE SWEET & TASTY BREAKFAST RECIPES
HOW TO STORE PUMPKIN SCONES
Serve: Let Pumpkin Scones rest for at least 20 minutes or until the glazes sets before serving. You can keep Pumpkin Scones at room temperature for up to 1 week, covered in a cool dry place.
Store: Wrap Pumpkin Scones in plastic wrap or store in an air tight container and keep in the refrigerator for up to 2 weeks. Bring to room temperature or heat in the microwave to soften.
Freeze: Once Pumpkin Scones are completely cooled, wrap individual triangles in plastic wrap and store in a freezer safe plastic bag. Freeze scones for up to 6 months and thaw before serving.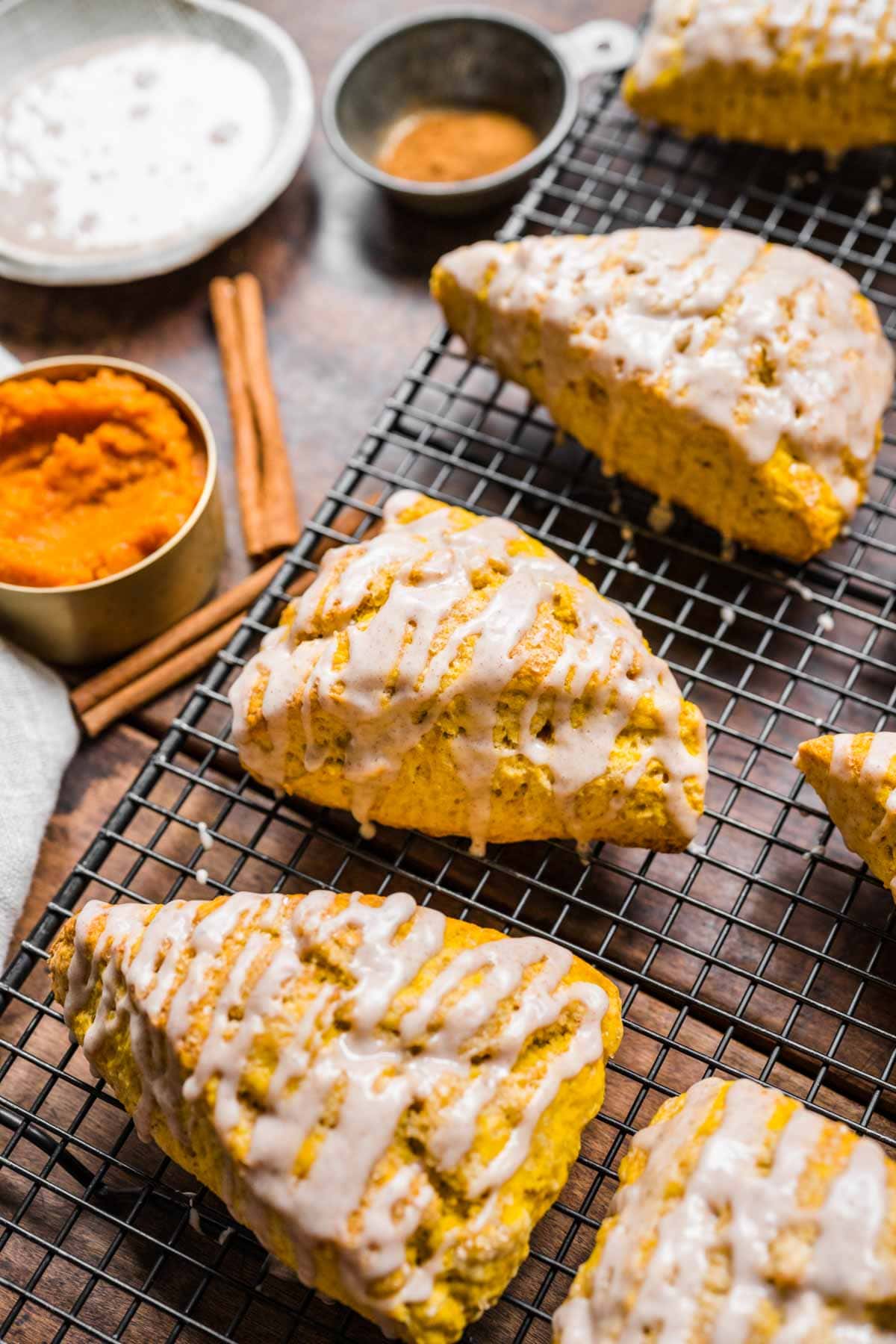 Ingredients
1/2

cup

pumpkin puree

2

cups

flour

1/3

cup

sugar

1

teaspoon

baking powder

1/4

teaspoon

baking soda

1/2

teaspoon

ground cinnamon

1/2

teaspoon

salt

1/2

cup

unsalted butter

, frozen and diced

1/2

cup

sour cream

1

large

egg

1/4

cup

heavy cream

2

tablespoons

coarse sanding sugar

2

cups

powdered sugar

2-3

tablespoons

whole milk

1/2

teaspoon

cinnamon
Instructions
Preheat oven to 400 degrees and line a baking sheet with parchment paper.

Add pumpkin puree to a cheesecloth or multiple layers of paper towels and squeeze as dry as possible by forming a ball around the puree and twisting the top to squeeze liquid out.

Add flour, ⅓ cup sugar, baking powder, baking soda, cinnamon and salt to a large food processor.

Pulse a couple of times to "sift".

Add butter and pulse until it resembles small crumbs.

Add sour cream and egg and pulse until large clumps form.

Remove to a flour covered surface and gently add in pumpkin puree and form into a ball.

Pat gently into an 8 inch circle with your hands.

Cover lightly with plastic wrap and refrigerate for

20 minutes

.

Brush tops with heavy cream and sprinkle coarse sanding sugar over the dough.

Cool for

5 minutes

before removing from baking sheet.

Whisk together powdered sugar, milk and cinnamon in a small bowl.

Drizzle over the scones and let dry for

20 minutes

.
Nutrition
Calories:
446
kcal
|
Carbohydrates:
68
g
|
Protein:
5
g
|
Fat:
18
g
|
Saturated Fat:
11
g
|
Polyunsaturated Fat:
1
g
|
Monounsaturated Fat:
5
g
|
Trans Fat:
1
g
|
Cholesterol:
69
mg
|
Sodium:
207
mg
|
Potassium:
159
mg
|
Fiber:
1
g
|
Sugar:
42
g
|
Vitamin A:
2973
IU
|
Vitamin C:
1
mg
|
Calcium:
65
mg
|
Iron:
2
mg