Roasted Pumpkin Seeds are an easy-to-make fall snack recipe with only 3 ingredients! Add pumpkin seeds to baked goods, trail mix, or eat as a healthy snack!
Freeze Pumpkin Puree and raw pumpkin seeds in the fall so you can enjoy tasty pumpkin desserts and this heart healthy Snack Recipe year-round.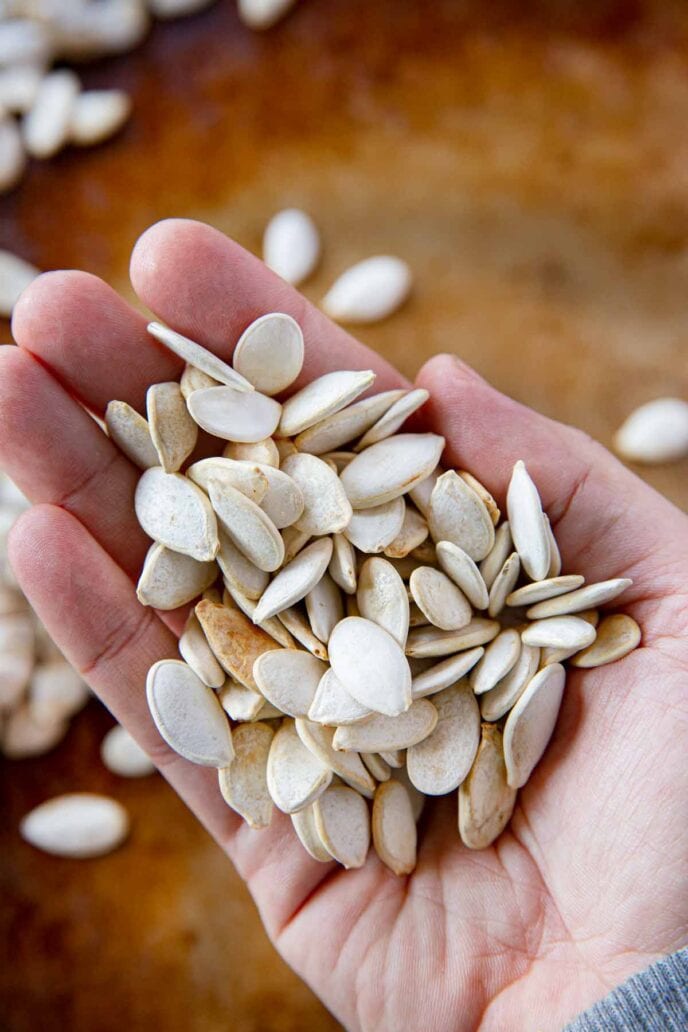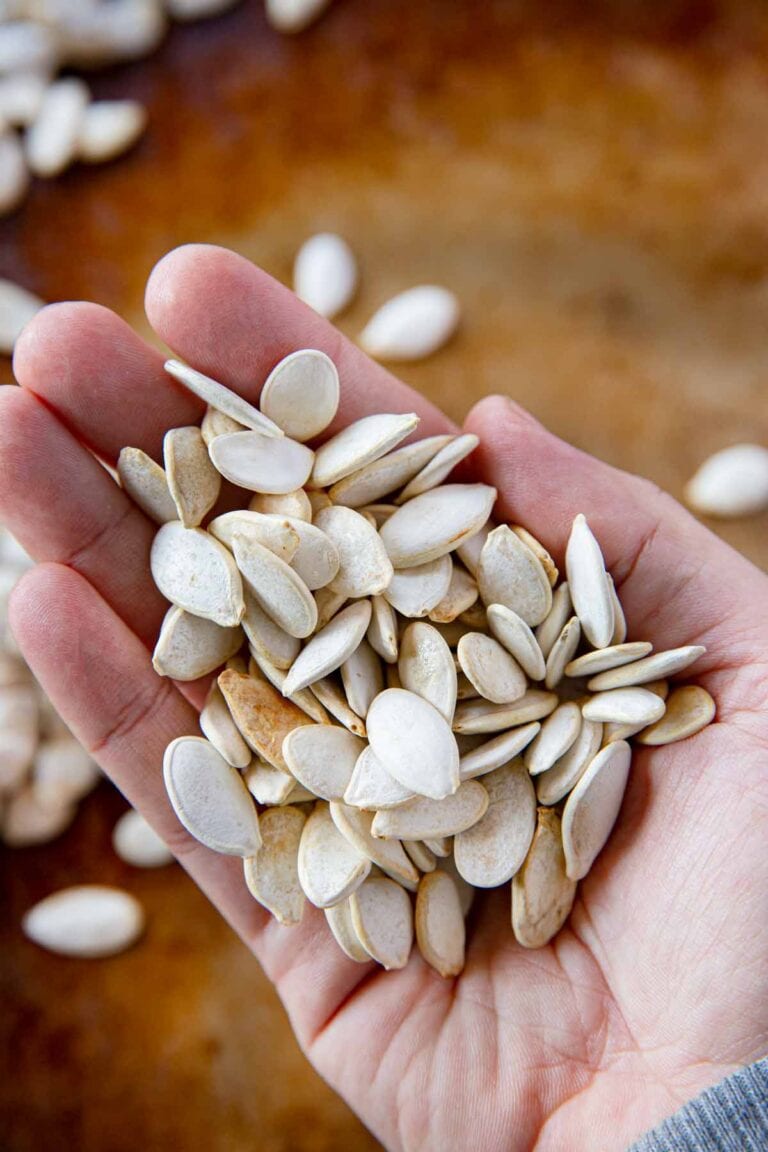 ROASTED PUMPKIN SEEDS
Pumpkins are great for carving jack-o-lanterns and halloween decorations, but they taste even better than they look. Whether it's a sweet Pumpkin Pie or a savory squash soup baked in a pumpkin, there are endless ways to enjoy fresh pumpkin from the inside to the outside. Even the seeds are edible and delicious!
These roasted pumpkin seeds are the simplest pumpkin recipe ever! Even the step-by-step instructions and tips to clean pumpkin seeds in this post are easy. You don't need to worry about getting all the pulp off your seeds either, it actually adds more pumpkin flavor when roasted.
If you don't want to get your hands dirty with pumpkin threads, you can always make this recipe with store-bought raw pumpkin seeds. You are going to pay extra for raw pumpkin seeds from the grocery store, but the trade off is you don't have to carve a pumpkin just to make this easy snack recipe.
Plus you can roast Pumpkin Seeds year-round with bagged seeds.
Roasting seeds isn't just for pumpkins! You can use seeds from other winter squashes like butternut squash, acorn squash, or spaghetti squash. Each squash will have it's own flavor but all taste delicious! You could also use this recipe for roasting assorted nuts, sunflower seeds, or sesame seeds.
Healthy Snack
Pumpkin Seeds are a healthy snack, packed with nutrients like magnesium and zinc, plus they are a good source of healthy fat that is good for heart health.
Add Pumpkin Seeds to Breakfast Baked Goods like Granola Bars for a satisfying salty crunch full of health benefits. Use Pumpkin Seeds as crunchy topping for winter soups like Butternut Squash Soup, in stir-fries, or as a crouton substitute on salads.
MORE DELICIOUS PUMPKIN RECIPES:
HOW TO CLEAN PUMPKIN SEEDS
Cut hole in top of pumpkin large enough to fit hand.
Using a melon baller or ice cream scoop, scrape out pumpkin guts (stringy pulp) with seeds.
Place pumpkin pulp and seeds in a large bowl of cold water. Soak for about 10-15 minutes.
Line baking sheets with parchment paper. Don't use paper towels or linen towels.
Using a strainer spoon, remove any pumpkin seeds that have floated to the top.
Gently rub seeds to remove pumpkin guts from pumpkin seeds.
Rinse pumpkin seeds in a colander under running water, pulling out and discarding pulp.
Air dry pumpkin seeds on the parchment paper, for at least a few hours.
Tips for Cleaning Pumpkin Seeds
Use a melon baller or ice cream scoop to make scraping out the Pumpkin Seeds easier. They won't bend and are sharp enough for carving pumpkin pulp off the sides easy and cleanly.
Don't use paper towels or linen towels to dry Pumpkin Seeds. The Pumpkin Seeds and remaining pulp will dry to towels, sticking like glue.
The drier your Pumpkin Seeds are before roasting, the quicker they will roast and the crisper they will be.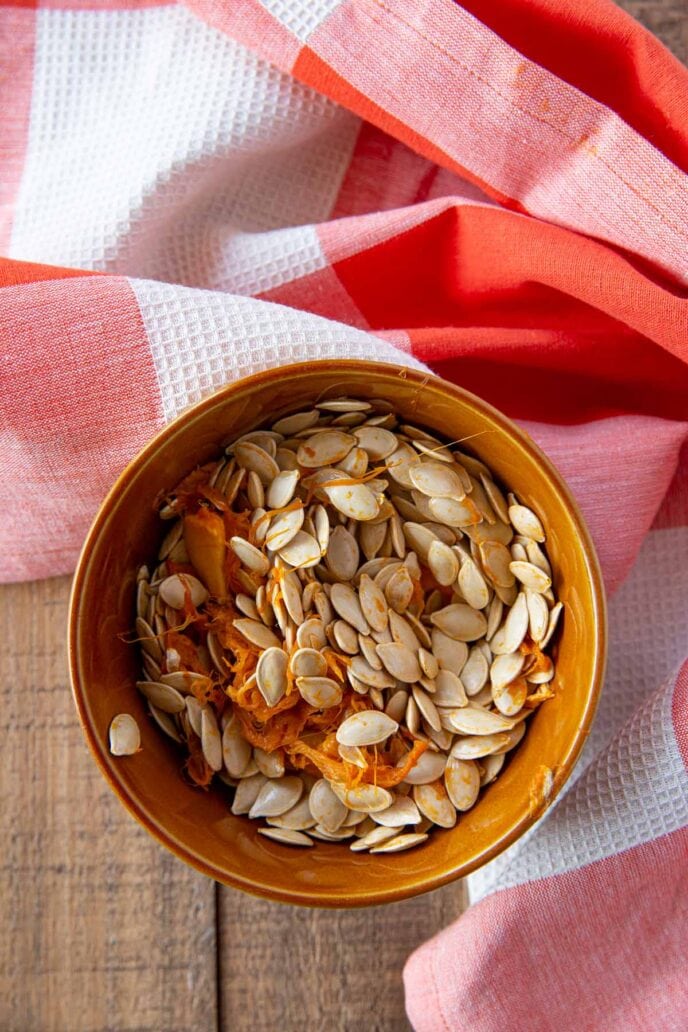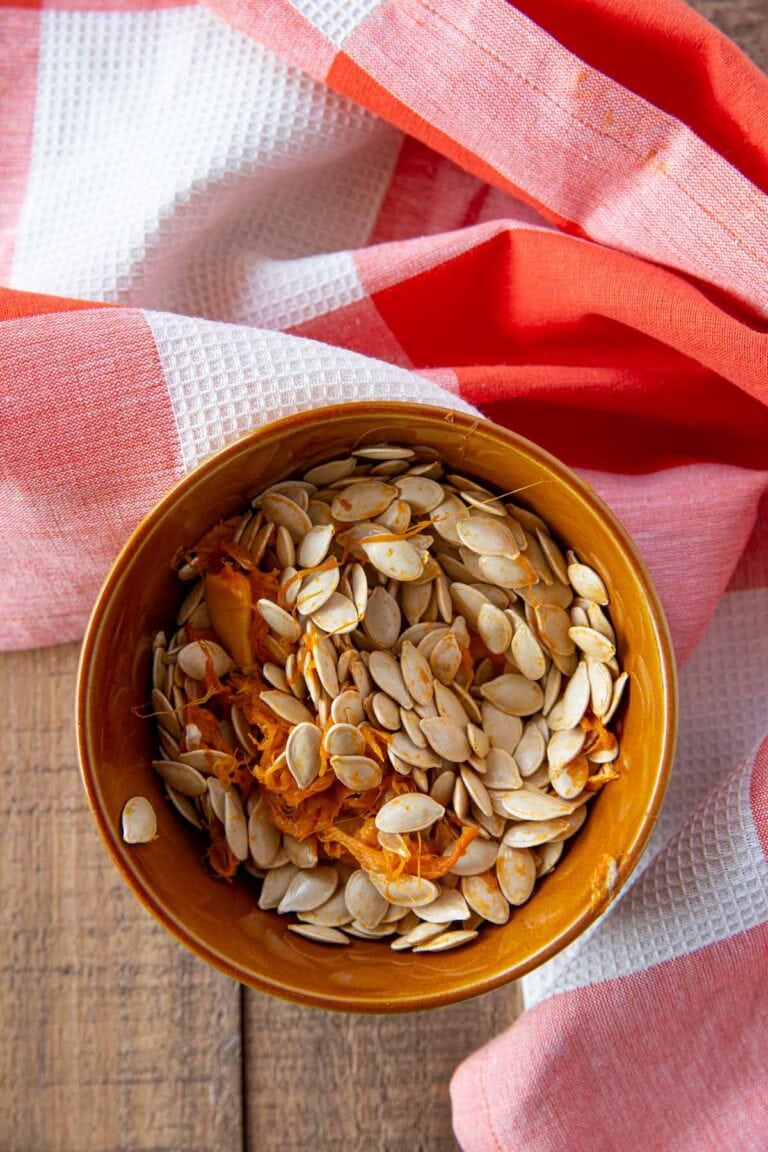 Create a free account to Save Recipes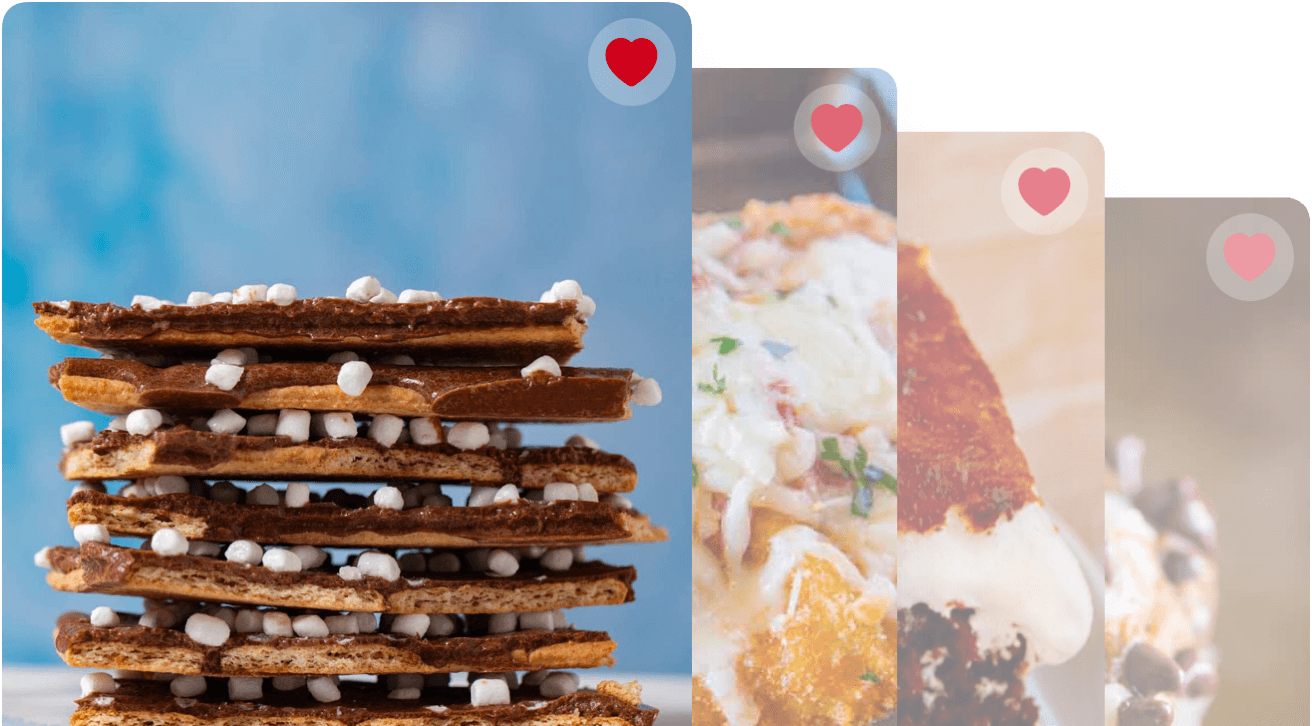 VARIATIONS ON ROASTED PUMPKIN SEEDS
Cinnamon Sugar: For sweet Roasted Pumpkin Seed recipe, replace the salt with 2 teaspoons of cinnamon sugar mixture. To make cinnamon sugar, mix ½ cup sugar with 2 tablespoons ground cinnamon. Try Pumpkin Pie Spice and brown sugar for the ultimate sweet fall snack!
Spicy: Kick up the heat and add a blend of ⅛ teaspoon cayenne pepper and ¼ teaspoon black pepper to the salt. You can also use Taco Seasoning for a milder heat!
Ranch: For Ranch Roasted Pumpkin Seeds, toss seeds in 1 tablespoon dry Ranch Dressing Mix. Add ¼ teaspoon chipotle powder for a smoky Chipotle Ranch flavor.
Garlic: Replace the sea salt with 2 teaspoons garlic salt or add 1 teaspoon dried garlic powder and ½ teaspoon parsley flakes to make your own garlic salt.
Oil: For more fatty acids and Omega-3s, use coconut oil instead of vegetable oil. You can also use olive oil or other oils good for roasting. Don't use pumpkin seed oil or nut oils, they will turn bitter.
MORE TASTY HOLIDAY SNACK RECIPES
HOW TO STORE ROASTED PUMPKIN SEEDS
Serve: Keep Oven Roasted Pumpkin Seeds at room temperature for up to 2 weeks in an airtight container. Store in a cool, dry place.
Store: You can refrigerate Roast Pumpkin Seeds in an airtight container for up to 1 month. They are best at room temperature, so leave them on counter for about 30 minutes before serving.
Freeze: Cool Pumpkin Seeds completely and spread in a single layer on a clean cookie sheet. Freeze for 1 hour and then transfer to a freezer safe plastic bag. Freeze for up to 6 months, and enjoy frozen or thaw at room temperature to use for baking or snacking.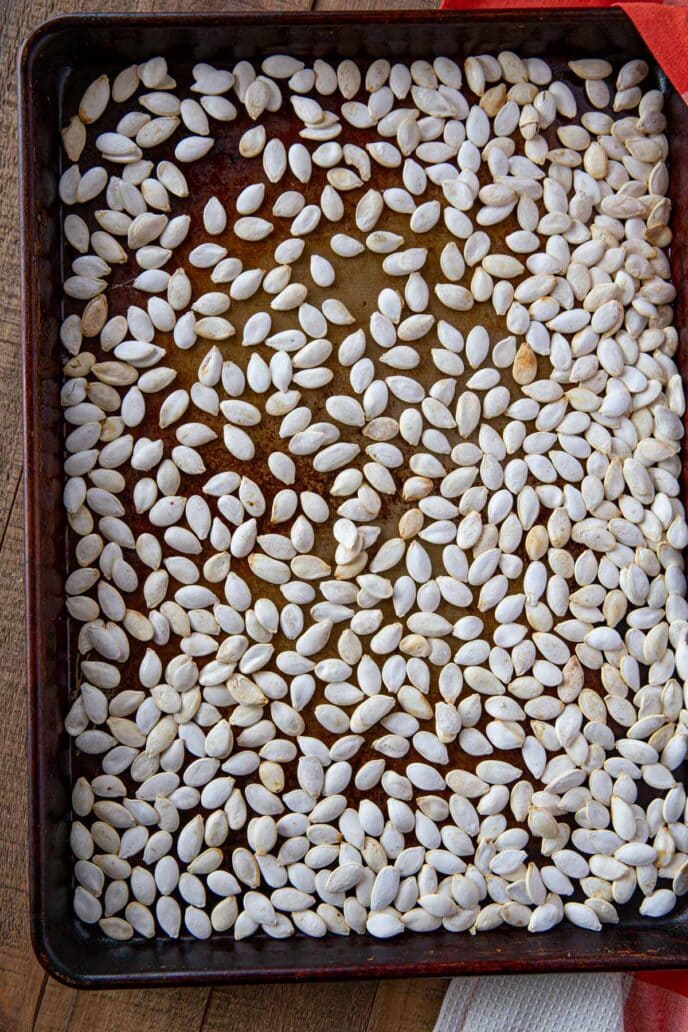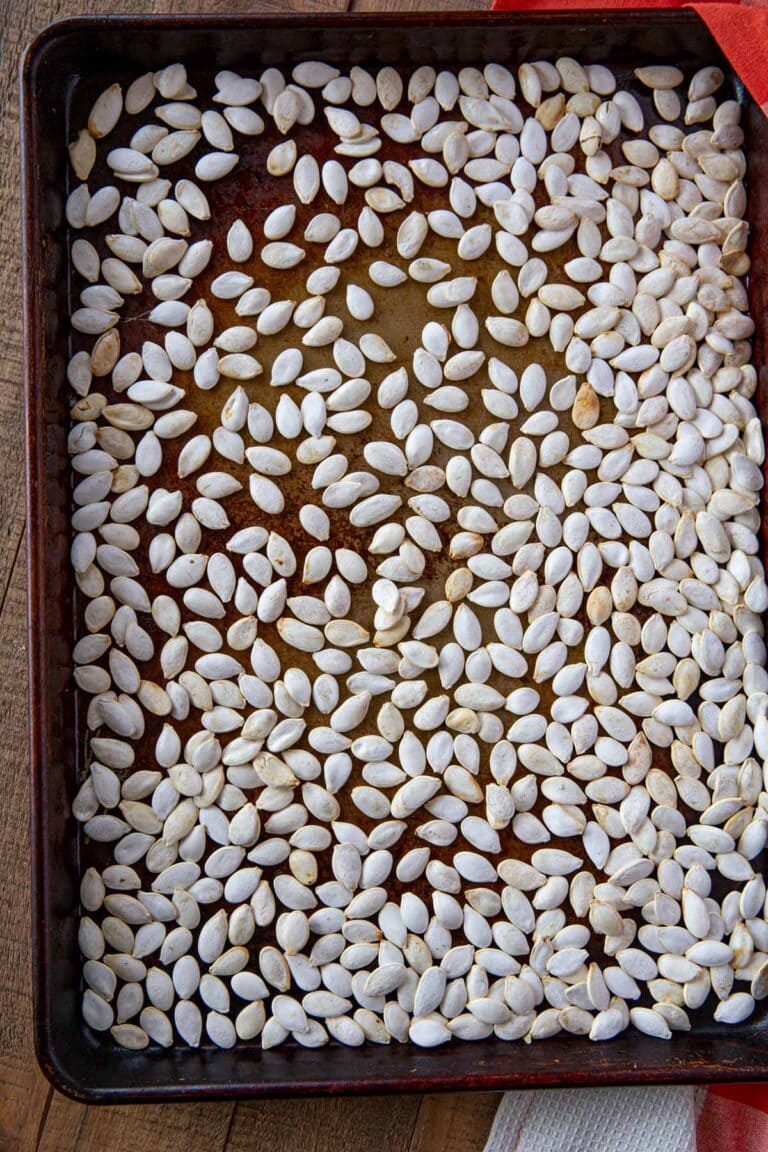 Ingredients
2

cups

raw pumpkin seeds

2

teaspoons

salt

1

tablespoon

vegetable oil
Instructions
Preheat oven to 300 degrees.

Wash and dry the pumpkin seeds well.

Toss pumpkin seeds with oil and salt.

Spread evenly on baking sheet.

Stir then spread evenly again and bake for

15-20 minutes

until shell is crispy.
Nutrition
Calories:
52
kcal
|
Carbohydrates:
1
g
|
Protein:
2
g
|
Fat:
5
g
|
Saturated Fat:
1
g
|
Sodium:
291
mg
|
Potassium:
65
mg
|
Fiber:
1
g
|
Sugar:
1
g
|
Vitamin C:
1
mg
|
Calcium:
4
mg
|
Iron:
1
mg