Easy Southwest Salad recipe loaded with black beans, sweet corn, tomatoes, cheese, bell peppers and a creamy avocado cilantro dressing.
When it's hot outside, there is nothing like a big cool, fresh salad for Dinner like refreshing Southwest Salad! For more internationally-inspired entree Salad Recipes, try our Thai Beef Salad and Taco Salad next.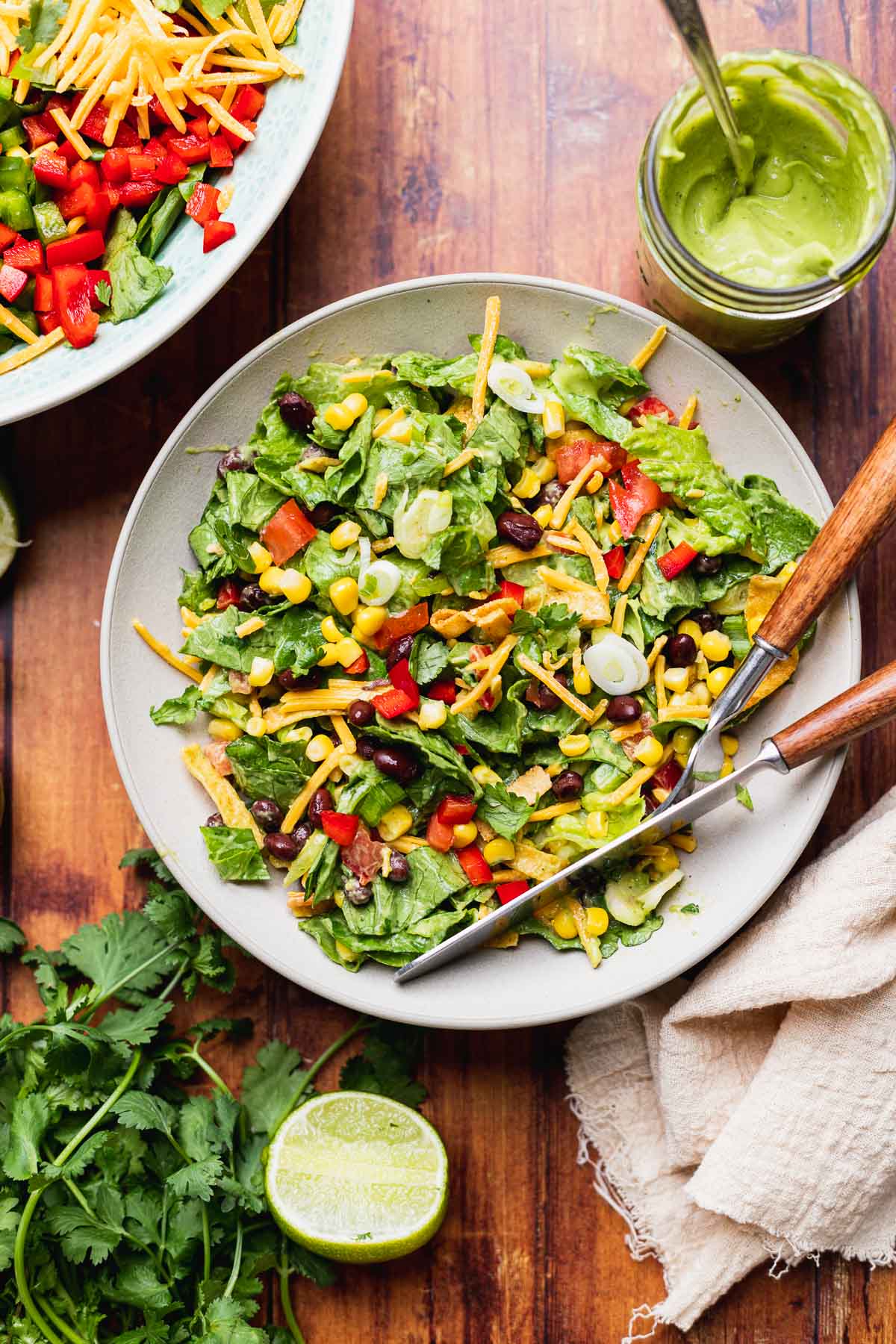 Creating a delicious Southwest Salad recipe is a breeze, even for the busiest nights. With a medley of pantry and fresh ingredients, this recipe brings the bold flavors of the Southwest straight to your kitchen table. Let's be honest, the key to any delicious salad is the perfect dressing. With this homemade salad recipe, you get an amazing cilantro avocado dressing. It's one you'll want to make for all your Southwestern dishes!
This easy, delicious Southwest Salad starts with crispy romaine loaded with vegetables like tomatoes, bell peppers, and corn. Black beans and cheddar cheese are added for some lean protein and bulk it up. The salad is topped with a homemade salad dressing made with cilantro and avocado so it's light but super creamy and flavorful. Finally, it gets garnished with green onions, more fresh cilantro, and some crunchy tortilla chips.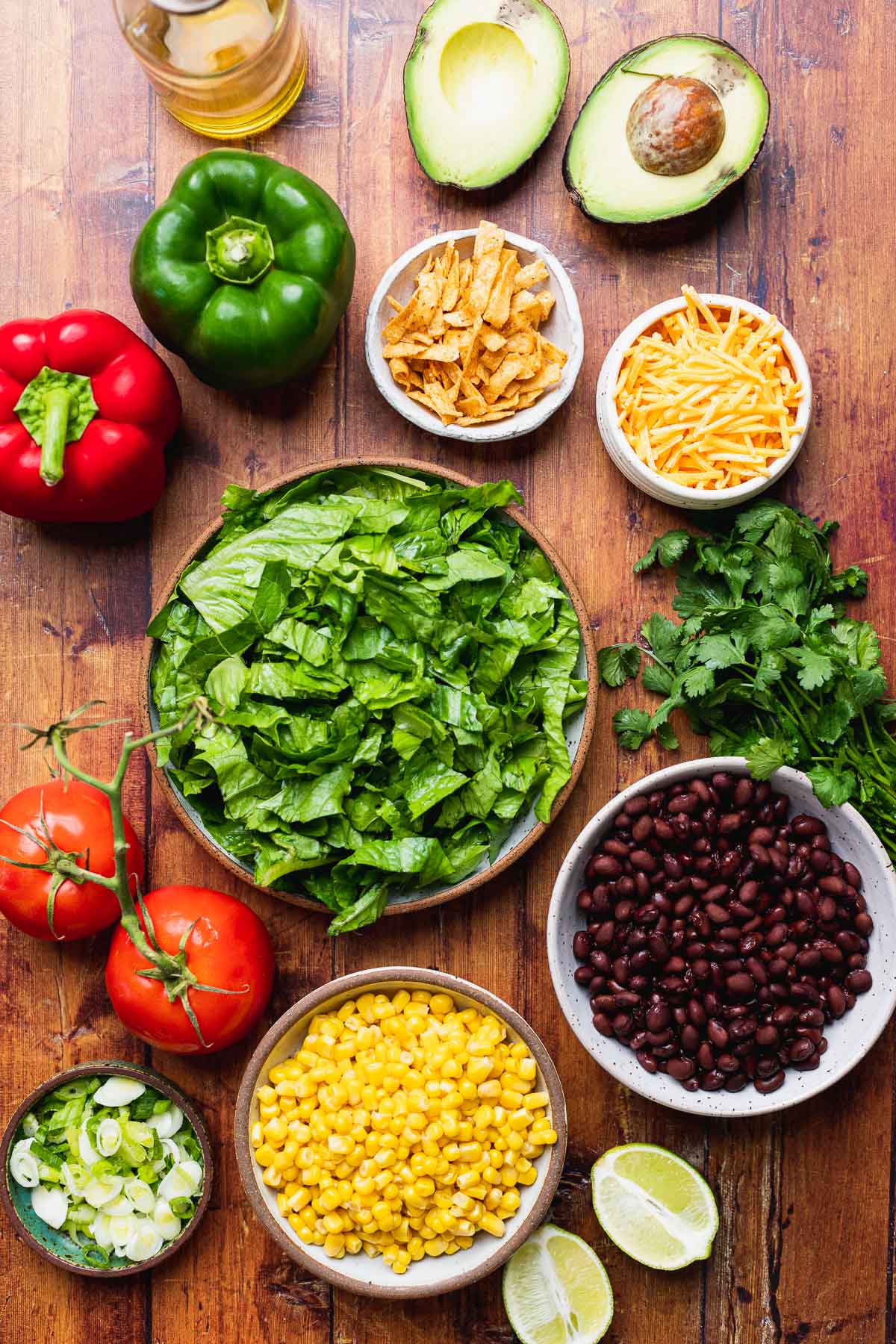 The southwestern salad ingredients in this delicious dish make it a zesty, hearty yet refreshing summer meal full of south of the border flavor. The Mexican flavors in the creamy avocado dressing also make it the perfect light side for Taco Tuesday. Southwest Salad is a great healthy meal, especially with some Chicken Tortilla Soup as a tasty soup and salad combo. If you want some meat, try it with warm Grilled Chicken or Carne Asada.
What is a Southwestern Salad?
If you are wondering what is in a Southwest Salad that makes it "Southwestern", it comes down to some key elements that define Southwestern cuisine. Most Southwestern food is going to have a mix of corn and beans, and seasoned with spices like chile peppers, cumin and cilantro. This salad has a creamy cilantro and avocado dressing made with cumin and is loaded with veggies you find in southwestern cuisine including corn and bell peppers. Finally the black beans and tortilla chips turn this fresh salad into a delicious Southwestern-inspired recipe.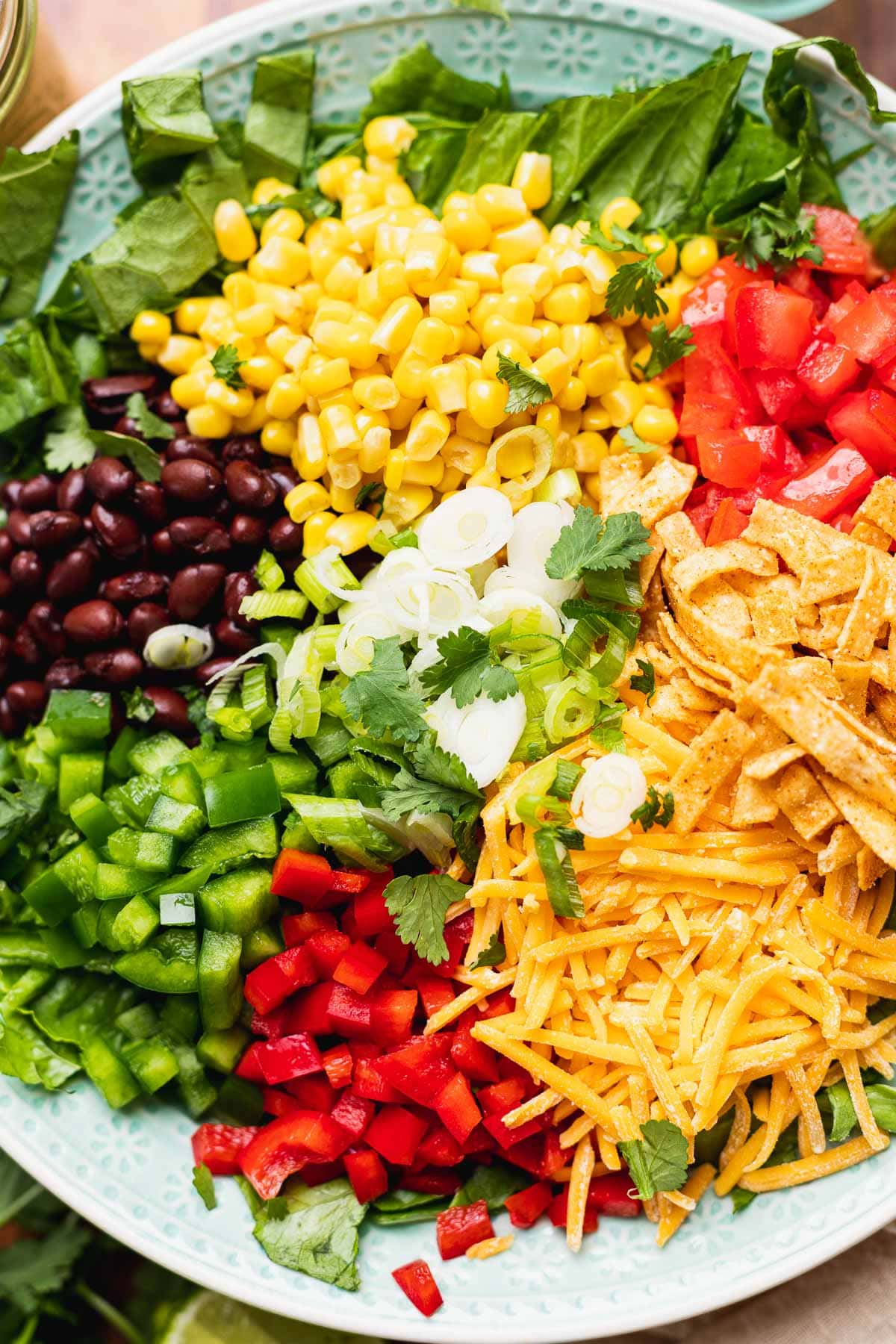 How to Make Southwest Salad
Dressing: Puree the avocado, garlic, salt, pepper, cumin, oil, lime juice, and cilantro in a food processor until smooth. Chill until ready to serve.
Assemble: Fill a large bowl with chopped lettuce. Top with tomatoes, bell peppers, corn, black beans, cheese, cilantro, and onions. You can section off each ingredient or just evenly sprinkle them over the top.
Serve: When you are ready to serve, add the dressing and tortilla strips, tossing gently until everything is evenly coated and distributed. Serve with more green onions and tortilla chips as a garnish.
What to Serve with Southwest Salad
FAQs for Southwest Salad
What goes into Southwest Salad?
Southwest Salad recipes are pretty versatile but they are usually going to have some mix of black beans, corn, and tomatoes plus an array of other ingredients like avocados, cilantro, onions, and bell peppers. The dressings are usually creamy like a ranch or avocado dressing, or they can be a spicy vinaigrette. Crunchy garnishes like tortilla chips and pepitas replace regular croutons.
Is Southwest Salad healthy?
"Healthy" depends on individual dietary needs, however this salad is pretty nutrient rich and is relatively light. It has lean protein from the beans, lots of fiber plus minerals and vitamins from the assortment of veggies. The creamy dressing is made with avocado and olive oil, which are hearty healthy fats. 
Is this Southwest Salad spicy?
No, this Southwest Salad recipe isn't spicy at all. All of the ingredients are very mild, but you can easily up the heat if you like by adding spicy ingredients. Check out the Variations section for ideas.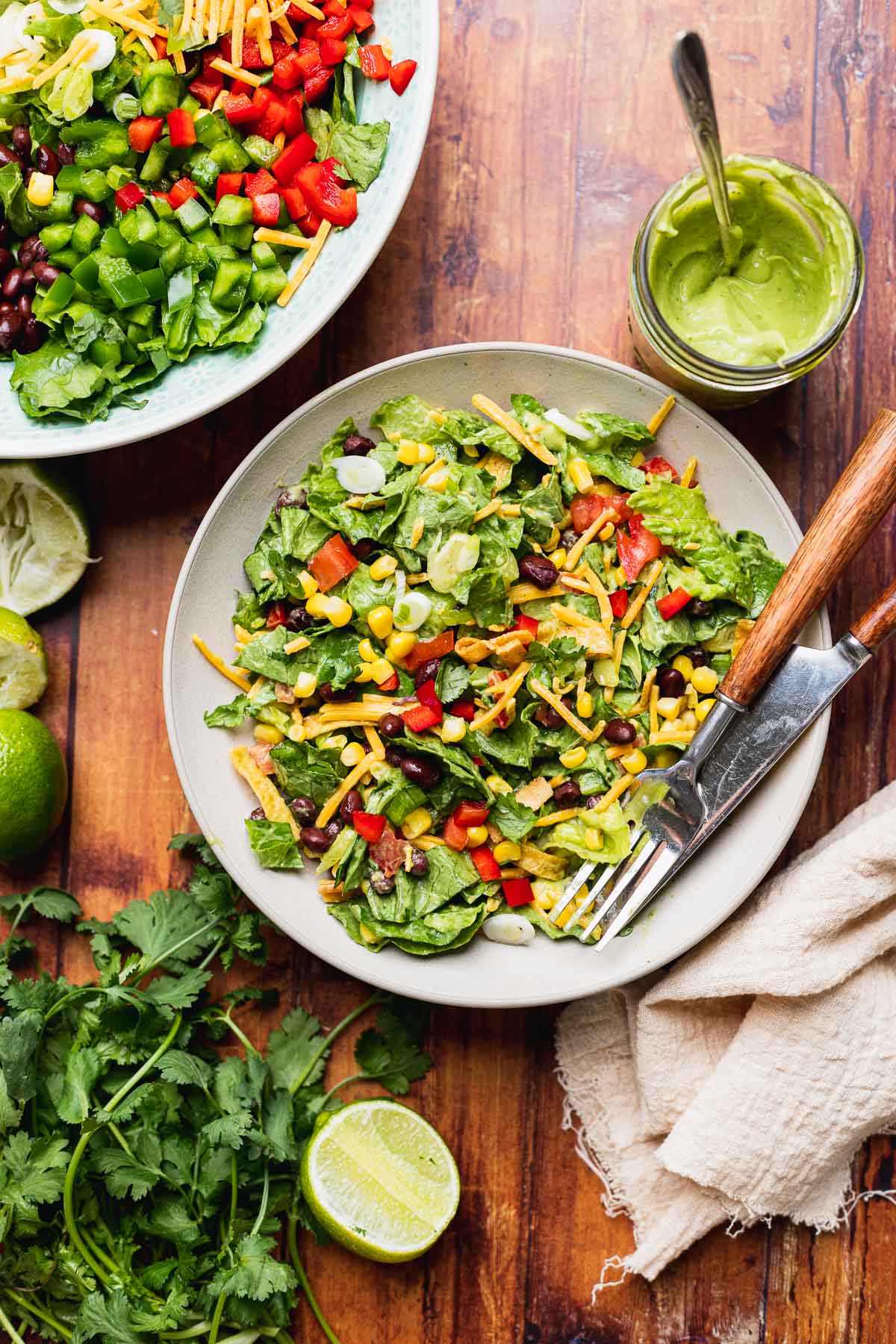 Create a free account to Save Recipes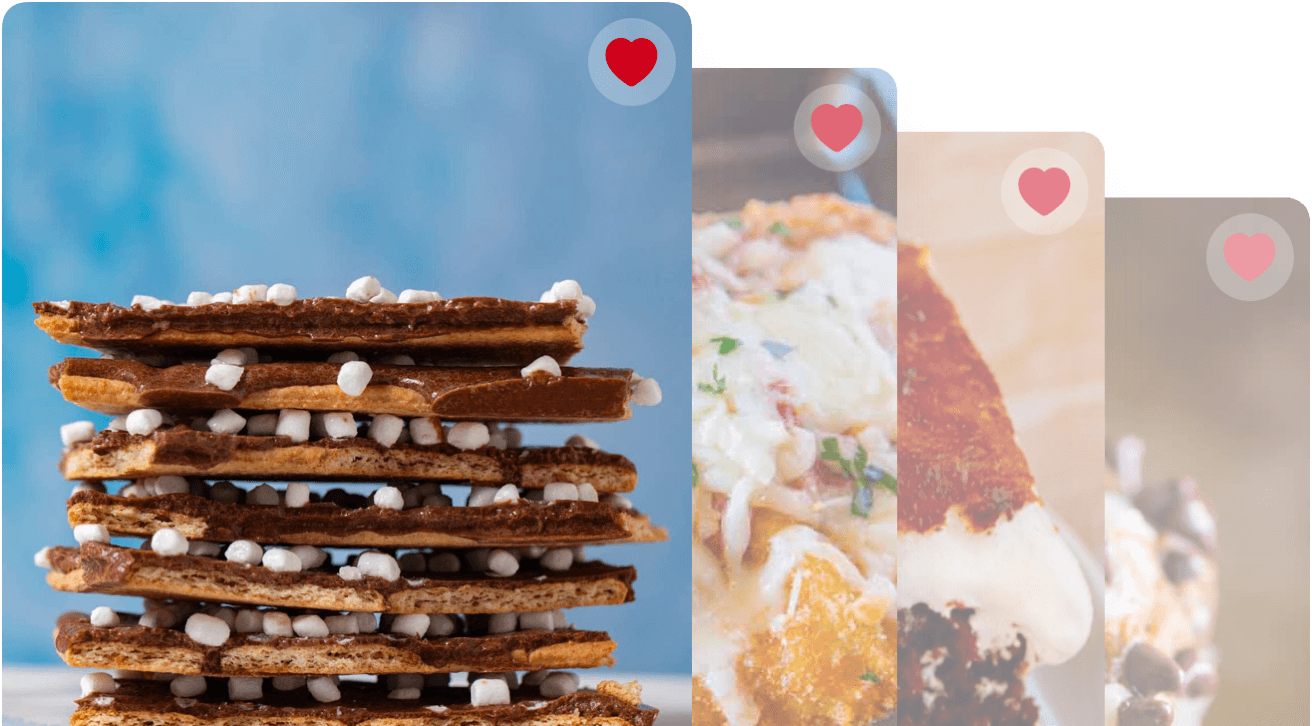 Key Ingredients
Avocado: Instead of dairy or mayonnaise, like ranch dressing, this delicious dressing gets its creaminess from avocados. Their mild, almost buttery flavor is perfect for making a creamy dressing that is heart-healthy too.
Cilantro: This vibrant herb adds a burst of freshness to the dressing, with its citrusy and distinct aromatic flavor. If you are a cilantro lover, this is definitely the salad recipe for you because it's in the dressing and in the salad for tons of that unique, bright herby flavor.
Lime Juice: Tangy and zesty, lime juice brightens the flavors of both the dressing and the salad itself. Its acidity not only enhances taste but also helps prevent the avocado from browning, so your salad looks as good as it tastes.
Cumin: A quintessential spice in Southwestern cuisine, cumin has a distinct smoky flavor that lends an earthy warmth to the dressing.
Lettuce: Crisp and leafy romaine lettuce is the perfect lettuce because it's crunchy and will hold up to all the ingredients and thick dressing.
Fresh Veggies: Juicy vine tomatoes add bursts of sweetness and acidity to the salad. The red and green bell peppers bring a pop of color, a mild, slightly sweet flavor, and tasty crunch to the salad. Thinly sliced green onions bring a mild onion flavor and a hint of freshness to the salad.
Corn: Sweet yellow corn adds a touch of natural sweetness and a pleasant chewiness to the salad. You can use frozen, or swap in canned or fresh. If you are using canned, drain it well and let it dry out a bit.
Beans: Black beans are a great way to add some protein and bulk up a salad. They are nice and firm so they don't mush in your salad, but when you bite into them they have a creamy center.
Tortilla Strips: You can usually pick up tortilla strips in the produce aisle with other salad toppings or with the croutons. You want to use strips because they are lighter and not as bulky, soaking up the dressing while still giving plenty of tasty crunch!
Cheese: Everything is better with a little cheese! Get the thick strands of shredded cheese, or shred it yourself, so that you get that sharp cheddar flavor with every bite.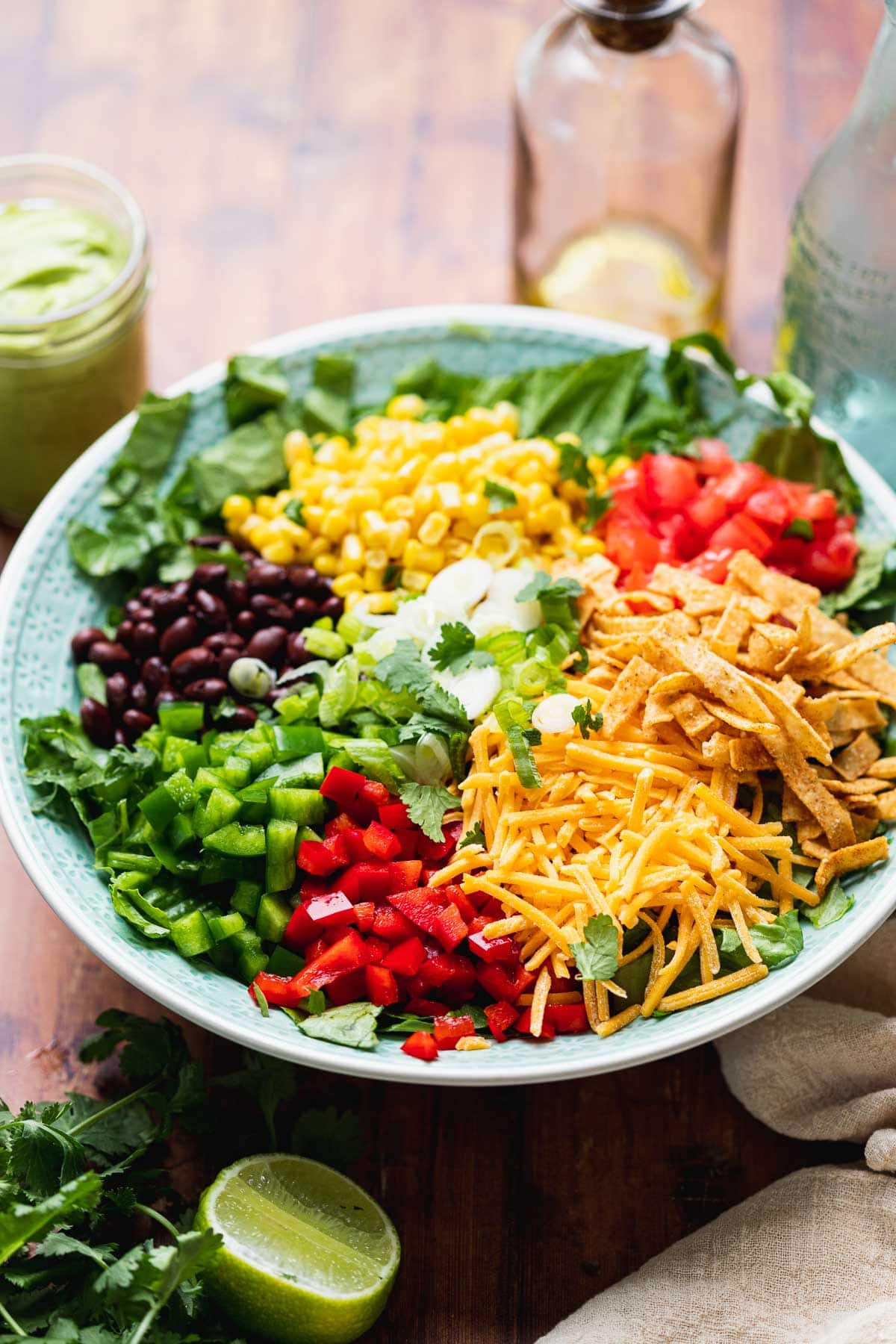 Can Southwest Salad be made ahead of time?
You can prepare some components of the salad in advance but you don't want to assemble or dress the salad until you are ready to serve it. You can chop the vegetables, cook the corn and beans, and even make the dressing a day ahead. Store these ingredients separately and combine them when you're ready to enjoy your Southwest Salad.
Variations
Spicy: If you like heat, you can definitely add some spicy ingredients to the dressing. Try adding diced jalapeno hot green chilies to the dressing. You can also add a pinch of chipotle powder or cayenne to the dressing.
Meat: This is a vegetarian salad, but feel free to load it up with sliced grilled chicken or steak strips. If you really love cilantro, it would also taste amazing with Grilled Cilantro Shrimp!
Beans: Instead of black beans, you can substitute pinto, white, or kidney beans. Just make sure to use unseasoned whole canned beans and rinse them well before adding.
Dressing: Try combining the dressing with a ½ cup of your favorite Ranch Dressing for a creamy avocado cilantro ranch. Save the avocado for a garnish and instead make a vinaigrette style dressing. Don't like cilantro? Swap in tarragon and parsley for a Southwestern-Green Goddess fusion.
Cheese: Instead of cheddar cheese, try some cotija cheese or queso fresco for more Mexican flavor. Some pepper jack cheese would add a delicious spicy kick.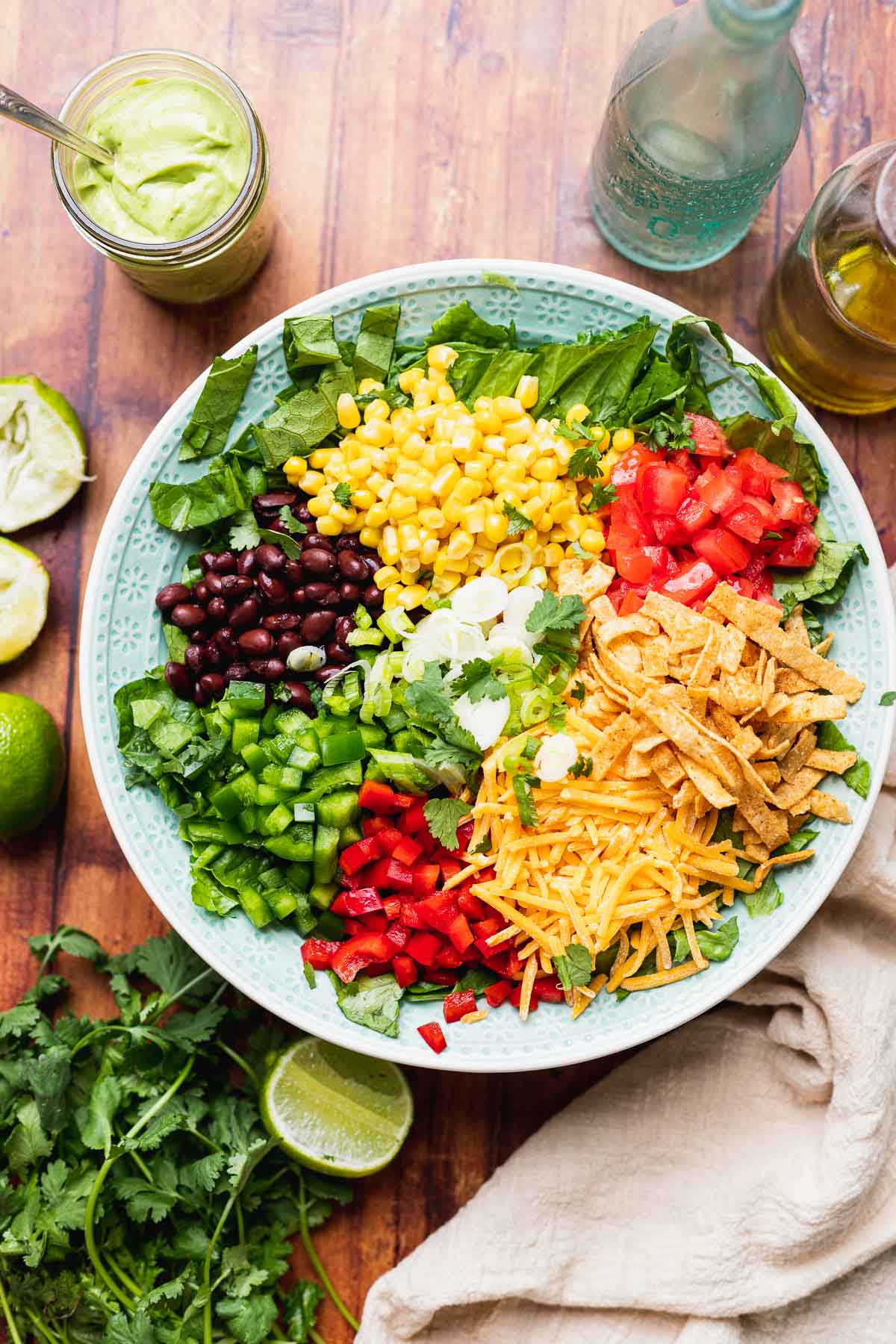 More Flavorful Entree Salad Recipes
How to Store
Serve: Don't dress your salad or add the tortilla strips until you are ready to serve to keep everything crisp. Store after no more than 2 hours at room temperature.
Store: It's best to store the dressing separately, so if you think you'll have leftovers maybe let everyone serve their own dressing. The salad can be kept for up to 2 days in the fridge in an airtight container.
Freeze: You don't want to freeze this salad or the dressing.


Ingredients
Creamy Cilantro Dressing:
1

avocado

cubed

2

cloves

garlic

minced

1/2

teaspoon

kosher salt

1/4

teaspoon

coarse ground black pepper

1/4

teaspoon

cumin

1/3

cup

olive oil

1/4

cup

lime juice

3

tablespoons

cilantro

chopped
Southwest Salad:
6

cups

romaine lettuce

chopped

2

vine tomatoes

chopped

1

red bell pepper

diced

1

green bell pepper

diced

1

cup

sweet yellow corn

thawed and dried

1

cup

canned black beans

drained and rinsed

1

cup

cheddar cheese

shredded

1/4

cup

cilantro

chopped

1/4

cup

green onions

thinly sliced

1

cup

crispy tortilla strips

salad topping not chips
Instructions
Creamy Cilantro Dressing:
Add avocado, garlic, salt, black pepper, cumin, olive oil, lime juice and cilantro to a food processor.

Puree until smooth.
Southwest Salad:
To a large bowl add the lettuce, tomatoes, red bell pepper, green bell pepper, corn, black beans, cheddar cheese, cilantro and green onions.

Top with creamy cilantro dressing and tortilla strips, toss gently and serve.
Nutrition
Calories:
253
kcal
|
Carbohydrates:
17
g
|
Protein:
7
g
|
Fat:
19
g
|
Saturated Fat:
5
g
|
Polyunsaturated Fat:
2
g
|
Monounsaturated Fat:
10
g
|
Cholesterol:
14
mg
|
Sodium:
342
mg
|
Potassium:
484
mg
|
Fiber:
5
g
|
Sugar:
4
g
|
Vitamin A:
4157
IU
|
Vitamin C:
44
mg
|
Calcium:
134
mg
|
Iron:
1
mg