Perfect Steak Salad recipe for a hearty steakhouse salad with juicy steak strips, crisp greens, fresh veggies and creamy homemade dressing.
Tender, juicy Ribeye Steak, Baked Potatoes, and a Wedge Salad is a classic steakhouse meal for special occasions.This easy tasty dish combines the steak and salad into one delicious light Dinner perfect for Summer nights.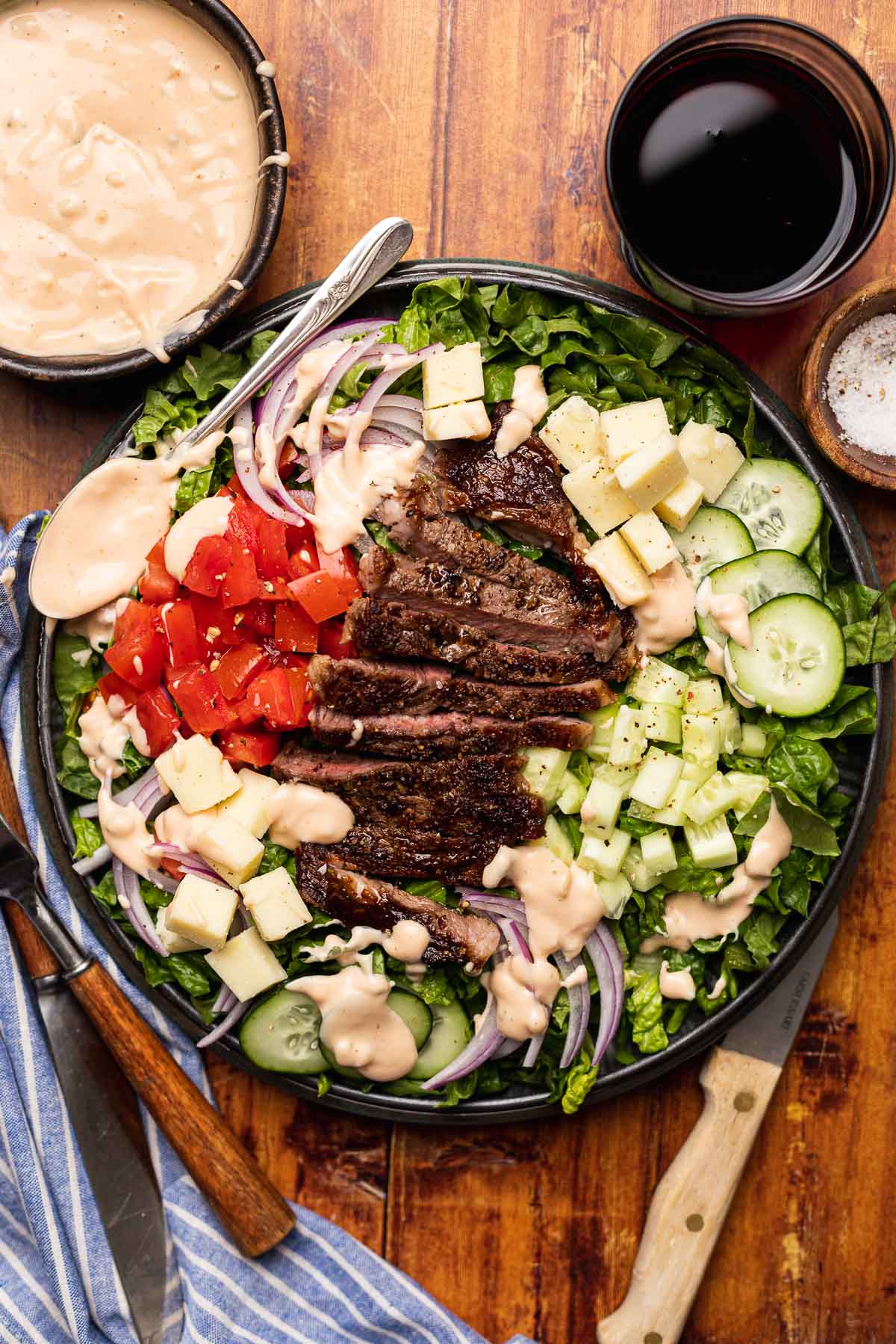 If you are used to only having a garden salad as a side with your steak dinner, you are missing out! Freshly cooked juicy warm steak on a bed of crisp lettuce with your favorite vegetables and a creamy salad dressing is a delicious, drool-worthy way to switch up dinner. It's hearty enough to serve for dinner with some Crusty Bread Rolls or you can serve it up your favorite Pasta dishes instead of meat and veggies courses.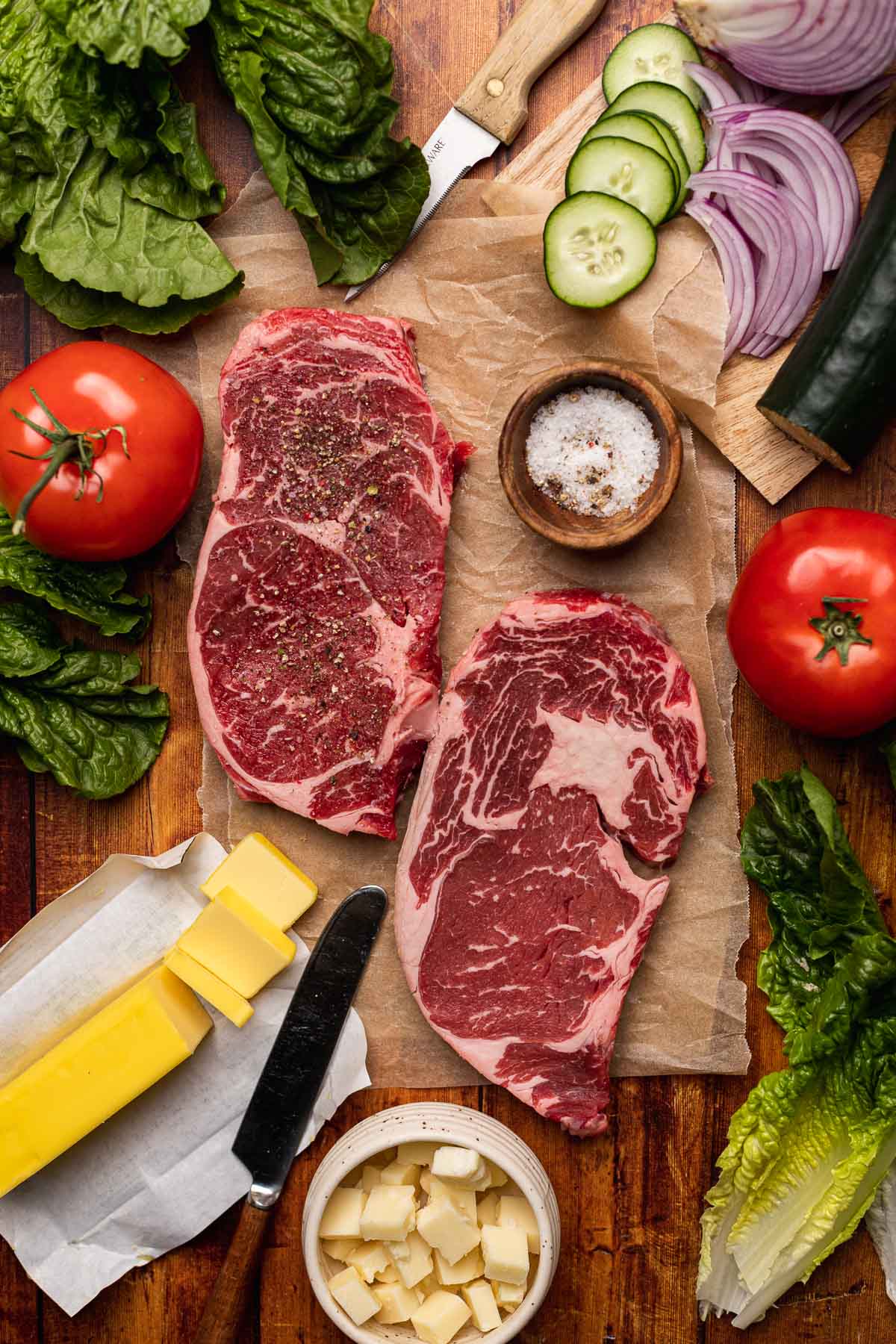 This isn't your ordinary garden salad! Steak Salad is a delicious and satisfying dish that combines tender perfectly cooked ribeye steak and a creamy homemade Thousand Island dressing. Unlike flank steak or skirt steak, ribeye steak doesn't need to be marinated. This cut of beef just needs some salt and pepper and about 10 minutes in a hot skillet for juicy, flavorful steak. Make sure to let the steak rest so you don't miss out on any of that delicious natural juicy goodness.
Say goodbye to bland salads and welcome a burst of flavors with every bite. The creamy Thousand Island dressing ties the whole salad together. It's an easy mixture of condiments like mayonnaise, ketchup, and sweet pickle relish, plus some spices and vinegar. The rich, tangy dressing does need some time to really come together so if you want, make it a day or two ahead so it's ready when you want to serve this amazing salad.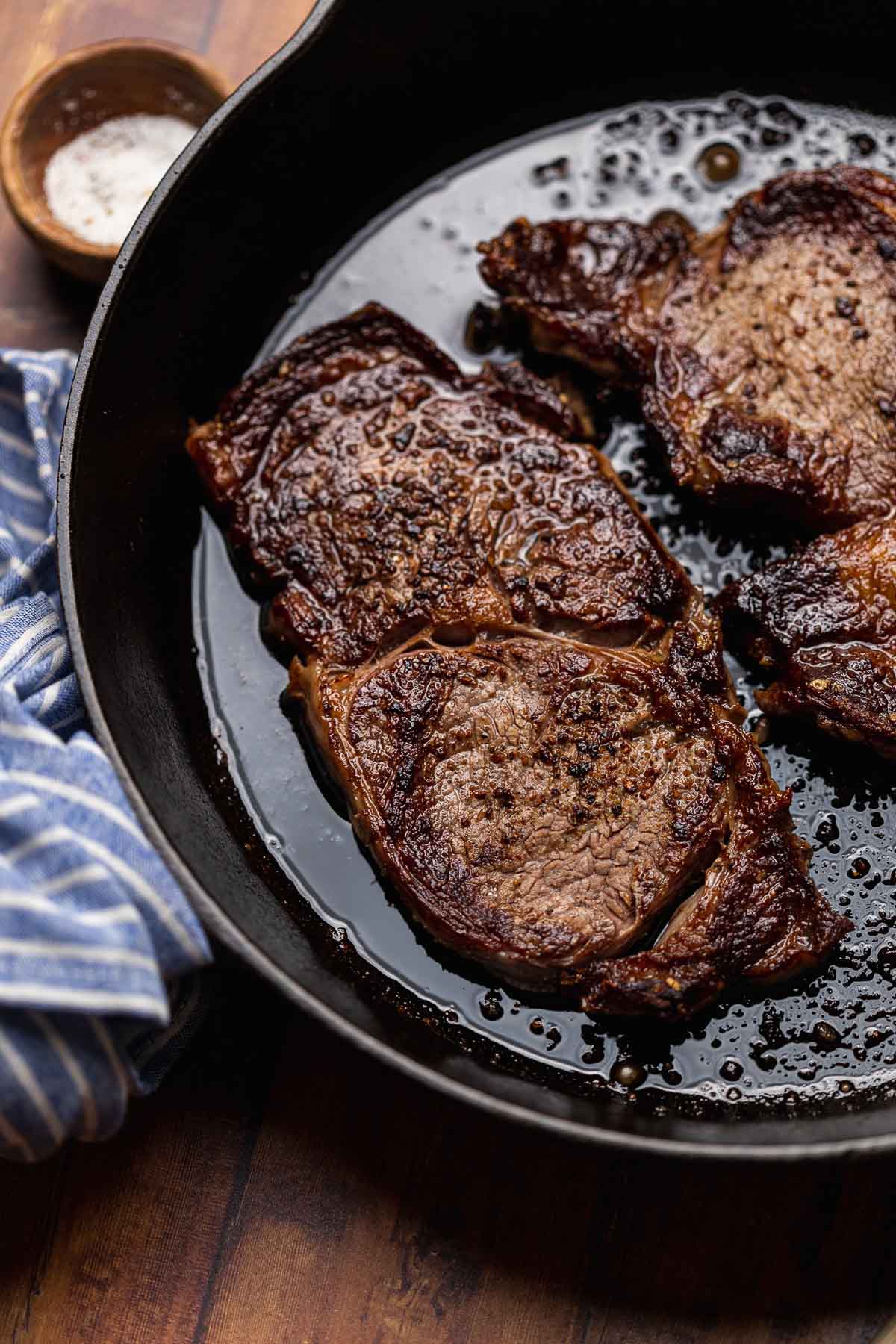 Why should you make Steak Salad at home?
Making Steak Salad at home allows you to enjoy a restaurant-quality dish with the freedom to customize it to your taste preferences. You can choose the perfect cut of steak, control the freshness and quality of veggies, and experiment with various dressings and toppings, for a tasty satisfying meal that you are sure to love. Plus, it's a fantastic way to impress your family and guests with a flavorful hearty salad that's both visually appealing and incredibly delicious. If you love this salad, try recreating more favorite Steakhouse dishes at home like Steak Diane, Morton's Creamed Spinach and Texas Roadhouse Rolls.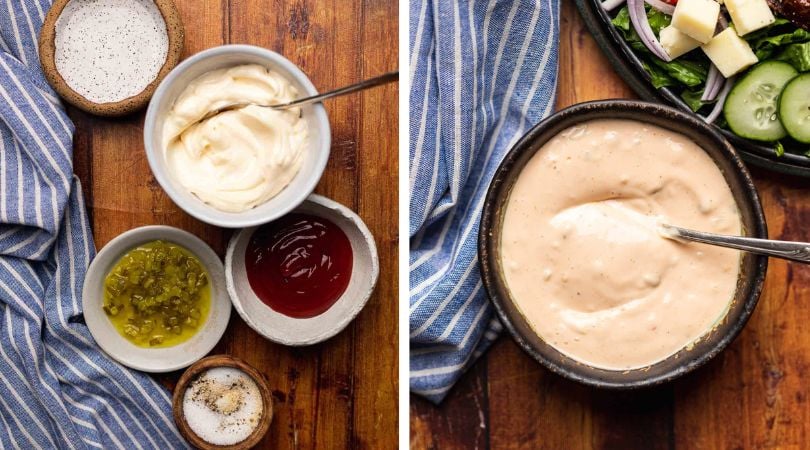 How to Make Steak Salad
Dressing: Prepare the Thousand Island Dressing by whisking together mayonnaise, ketchup, white vinegar, sugar, sweet relish, onion powder, salt, and black pepper. Refrigerate the dressing for at least an hour to let the flavors meld.
Steak: Season the ribeye steaks with kosher salt and coarse ground black pepper. Sear the steaks in a cast iron skillet over high heat for about 5 minutes on each side. Once done, remove the steaks from the pan and let them rest before slicing them thinly across the grain.
Assemble: Assemble the salad by placing chopped romaine lettuce, cubed cheddar cheese, chopped vine tomatoes, peeled and chopped cucumber, and thinly sliced red onions on a large platter. Top the salad with the sliced steak.
Serve: Drizzle the Thousand Island dressing over the salad, mix gently to coat everything, and serve with a dash of freshly ground black pepper.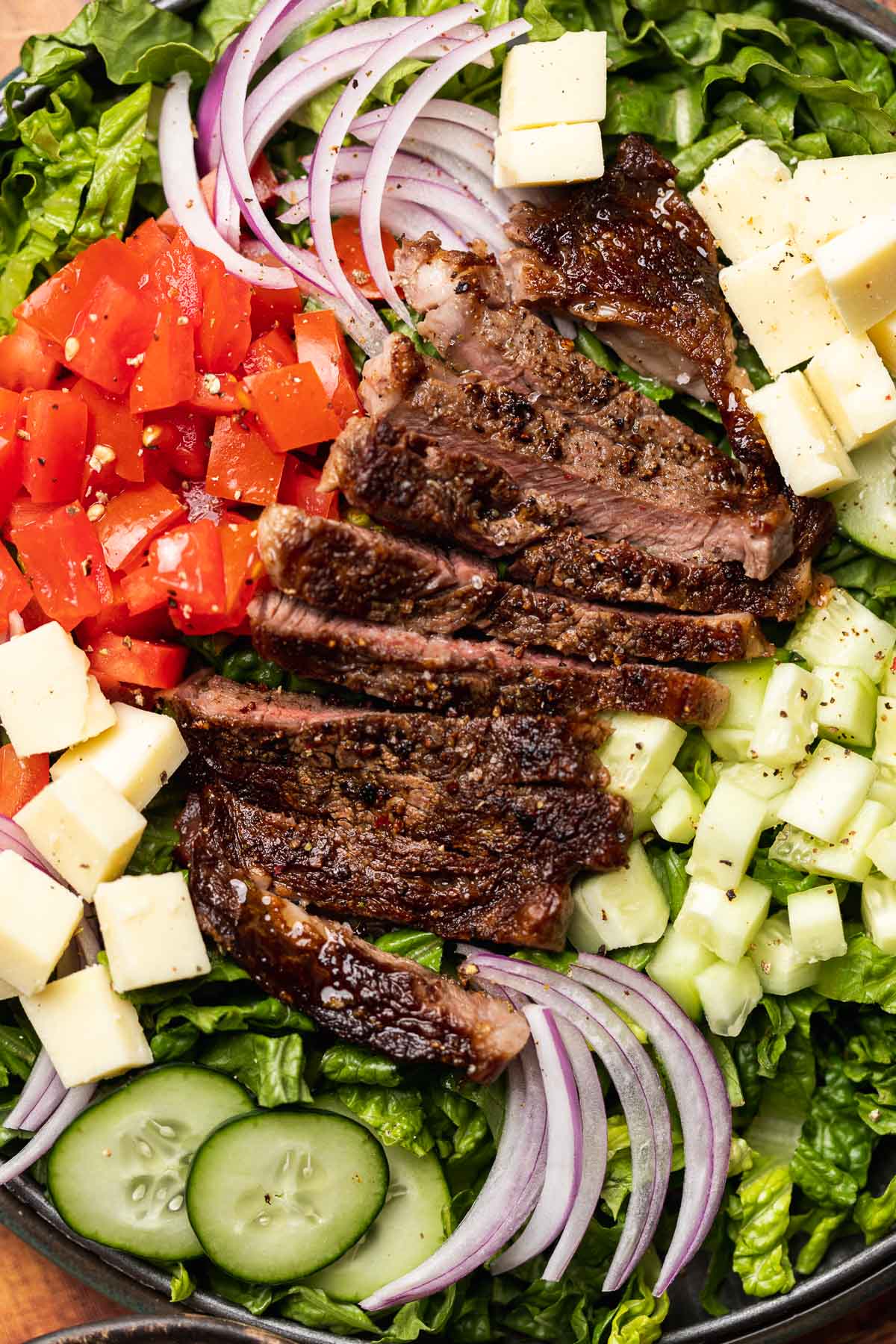 Amazing Flavorful Steak Recipes
FAQs for Steak Salad
Should I serve my steak warm or cold?
For Steak Salad, it's best to serve the steak warm. Warm steak adds a nice contrast to the crisp and fresh vegetables, plus the natural juices will mix with the dressing for more a savory flavor. Cold steak also won't be as tender as serving the steak warm.
What dressing is good on a Steak Salad?
A classic Thousand Island dressing is an excellent choice because the tangy, creamy dressing goes perfectly with the rich, peppery flavors of the steak, the cool, crisp veggies and the leafy greens. But the simple salad goes great with other favorite salad dressings like balsamic vinaigrette, Italian dressing, ranch dressing, or blue cheese dressing. 
How long do you cook steak?
The cooking time for steak varies depending on the thickness of the steak and your desired level of doneness. As a general guideline, a 1-inch thick steak cooked over high heat should be seared for about 4-5 minutes on each side for medium-rare, 5-6 minutes for medium, and 7-8 minutes for medium-well. However, it's best to use a meat thermometer to ensure the meat reaches the correct internal temperature.
Can I use different cuts of steak for this salad?
While ribeye steak offers exceptional tenderness and flavor, you can also use other cuts like skirt steak, sirloin steak or flat iron steak. Just be sure to adjust the cooking time accordingly.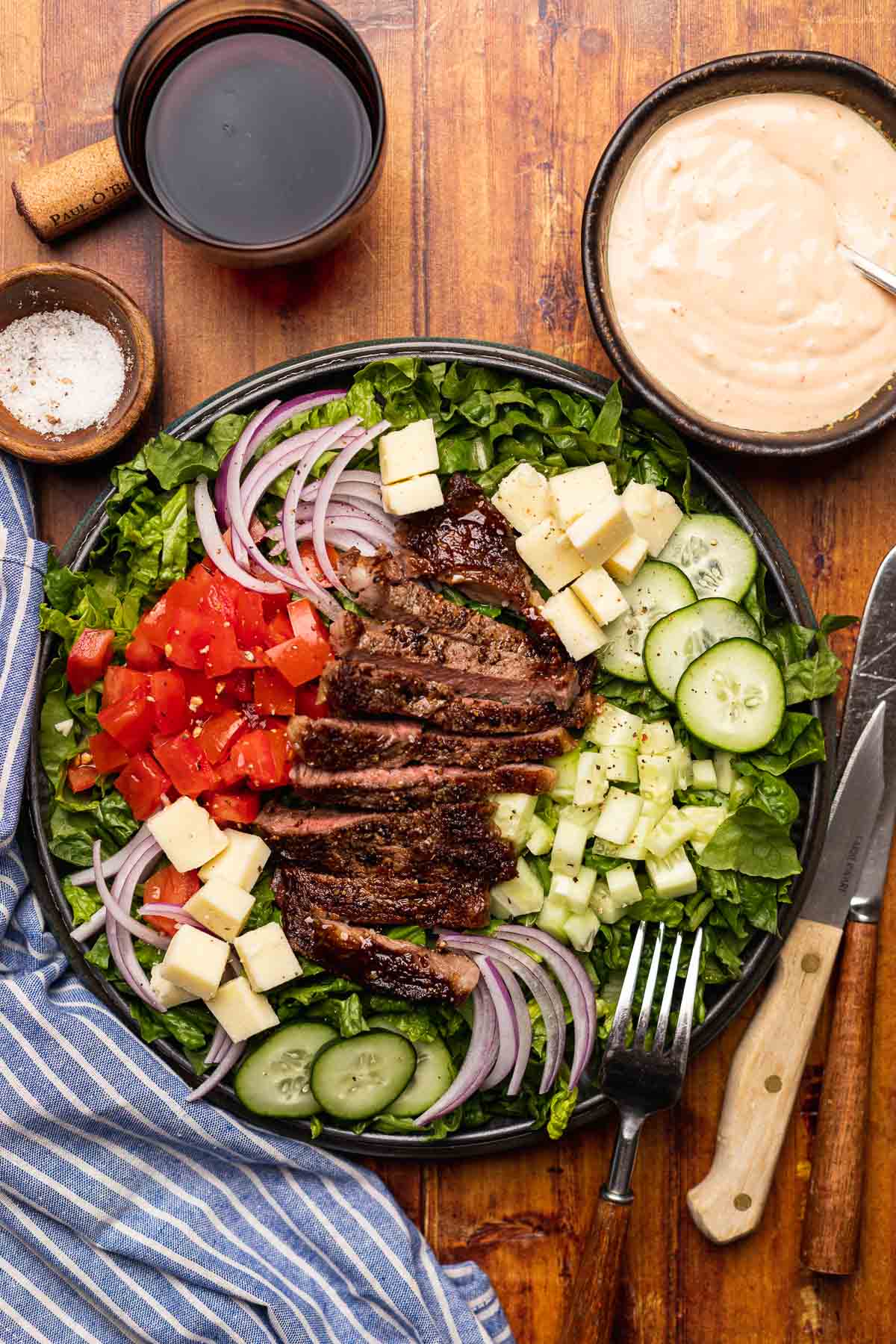 Create a free account to

Save Recipes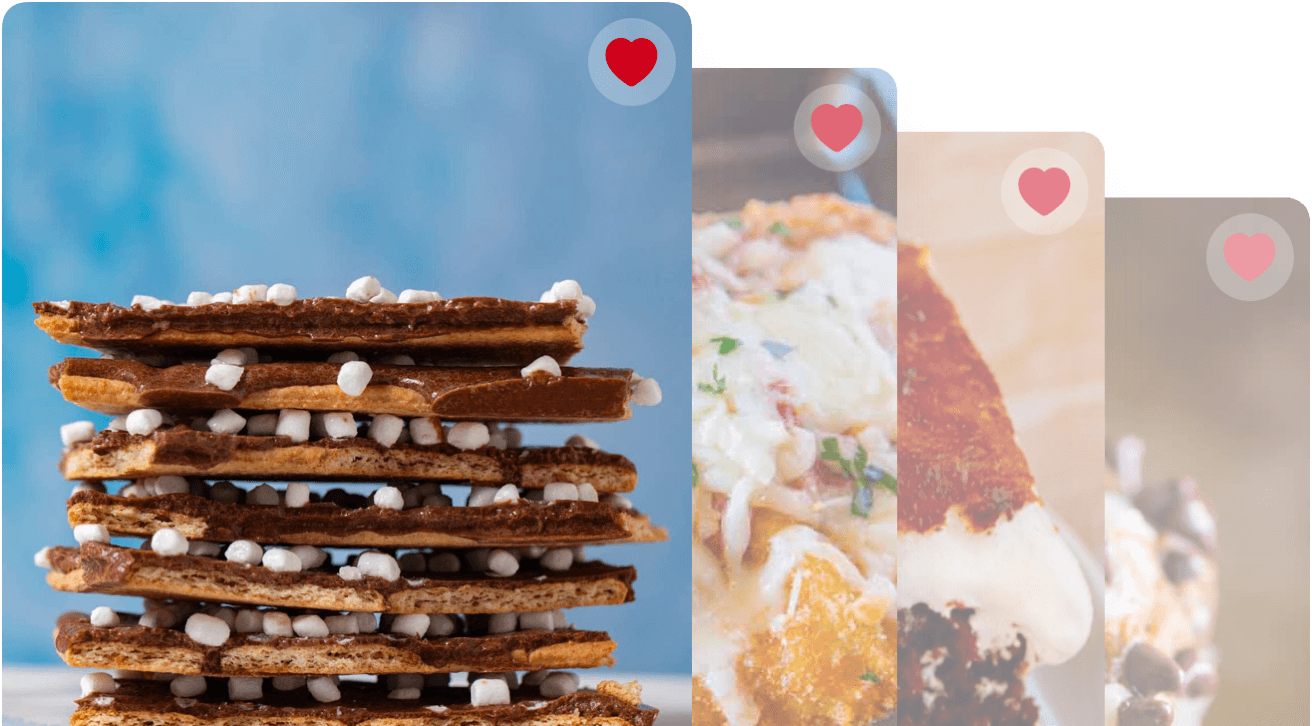 Key Ingredients
Ribeye Steak: The marbling in ribeye makes it incredibly tender, flavorful, and juicy. It's easy to cook and doesn't need any marinade or tenderizing, just a little salt and pepper and a nice pan sear and it's good to go.
Thousand Island Dressing: This creamy and tangy dressing is the perfect topping for Steak Salad, with a delightful zing and a bit of sweetness. It's an easy homemade dressing made with mayonnaise, ketchup, sweet relish, and spices. Plus you can swap out or add ingredients you have on hand to make it exactly how you like.
Romaine Lettuce: The crisp and sturdy leaves of romaine lettuce provide the perfect base for the salad, holding up well to the robust flavors. You can add some additional salad greens like arugula, butter lettuce, or red lettuce for some more flavor and different textures.
Cheddar Cheese: Cubed cheddar cheese brings a creamy and slightly sharp flavor to the Steak Salad and goes great with the rich tangy dressing too. Feel free to swap in other cheese you like such as provolone cheese, gouda, or Parmesan cheese.
Vine Tomatoes: Ripe vine tomatoes provide a burst of juicy sweet-tart taste and bright red color that makes this salad just look beautiful and fresh.
Cucumber: The mild and refreshing flavor of cucumber balances the richness of the steak and dressing. Its cool crunchiness is delicious with the warm steak and sweet and tangy creamy dressing.
Red Onion: Thinly sliced red onions add some sharpness that complements the other flavors without overpowering the dish plus they add a pretty pop of color.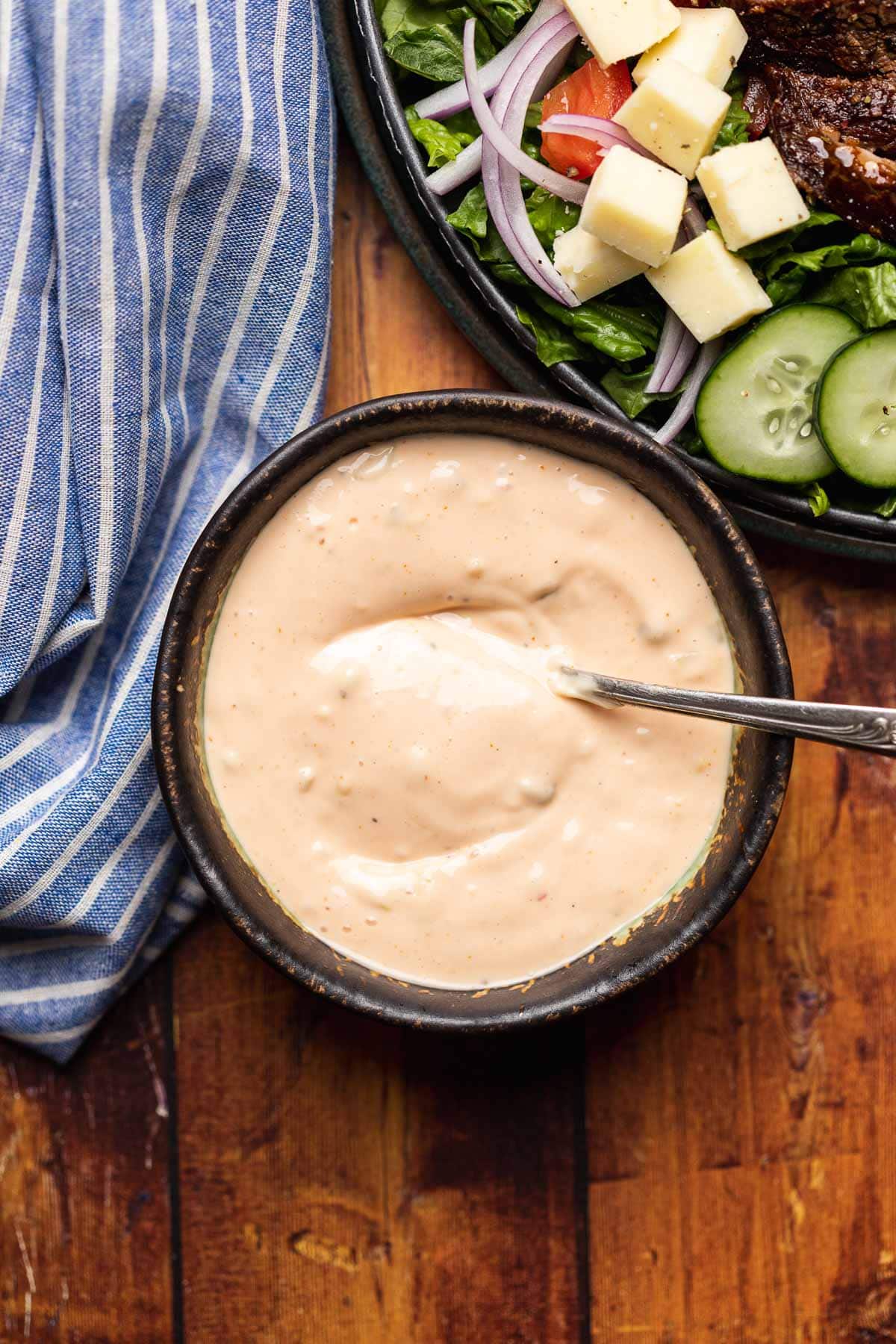 Can this be made ahead of time?
The dressing can be prepared up to a week in advance and stored in the refrigerator until you're ready to serve the salad. While the dressing can be prepared in advance, it's best to assemble the Steak Salad just before serving to maintain the vibrant colors and textures. However, you can prep the individual salad components (like washing and chopping the vegetables) in advance to save time when you're ready to put it all together.
Variations
Bacon Blue Cheese: Instead of the Thousand Island dressing, use Blue Cheese Dressing and add crumbled bacon and blue cheese crumbles to your salad.
Southwestern: Add black beans, avocado slices, roasted corn, and a spicy chipotle dressing for a zesty twist. For the spicy dressing, simply add some chipotle powder to your favorite Ranch Dressing.
Asian-Inspired: Incorporate mandarin oranges, toasted sesame seeds, sliced water chestnuts, and use a sesame ginger dressing for an Asian fusion flavor.
Mediterranean: Toss in Kalamata olives, crumbled feta cheese, cherry tomatoes, and a lemon-oregano vinaigrette or Italian Dressing for a taste of the Mediterranean.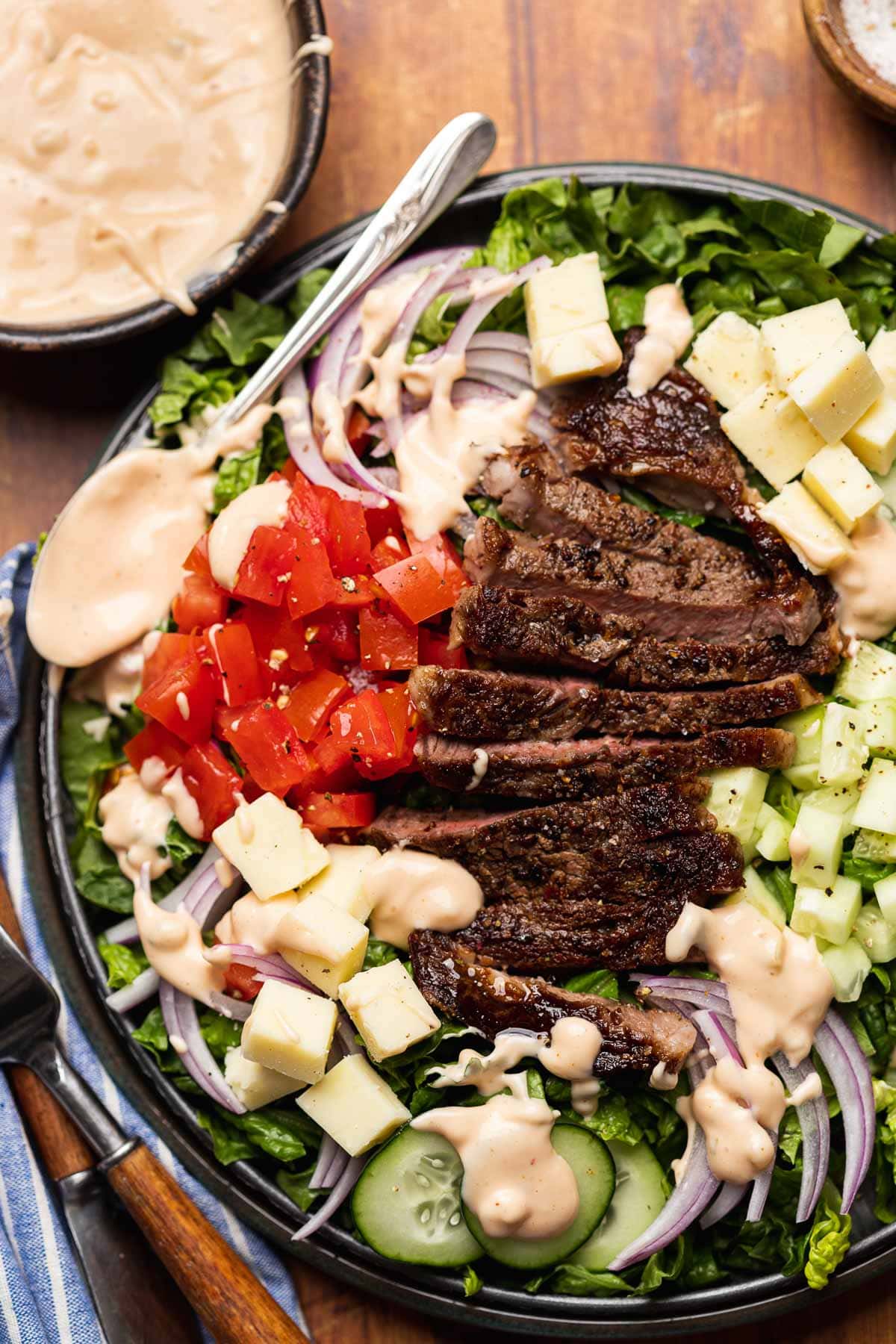 More Delicious Hearty Salad Recipes
How to Store
Serve: This delicious salad is best served with freshly cooked, warm steak. Hold off on adding the dressing until you are serving it so the greens stay crisp. It can be at room temperature for a total of 2 hours.
Store: It's best to store any leftover salad without the dressing and the steak separately, if possible. Store it in an airtight container in the refrigerator for up to 3 days. Let the steak come to room temperature before serving leftovers.
Freezing: Unfortunately, the salad doesn't freeze well, as the fresh vegetables may become mushy after thawing. You can freeze any leftover steak for up to 2 months in a sealed container. Let it thaw overnight in the fridge before warming up.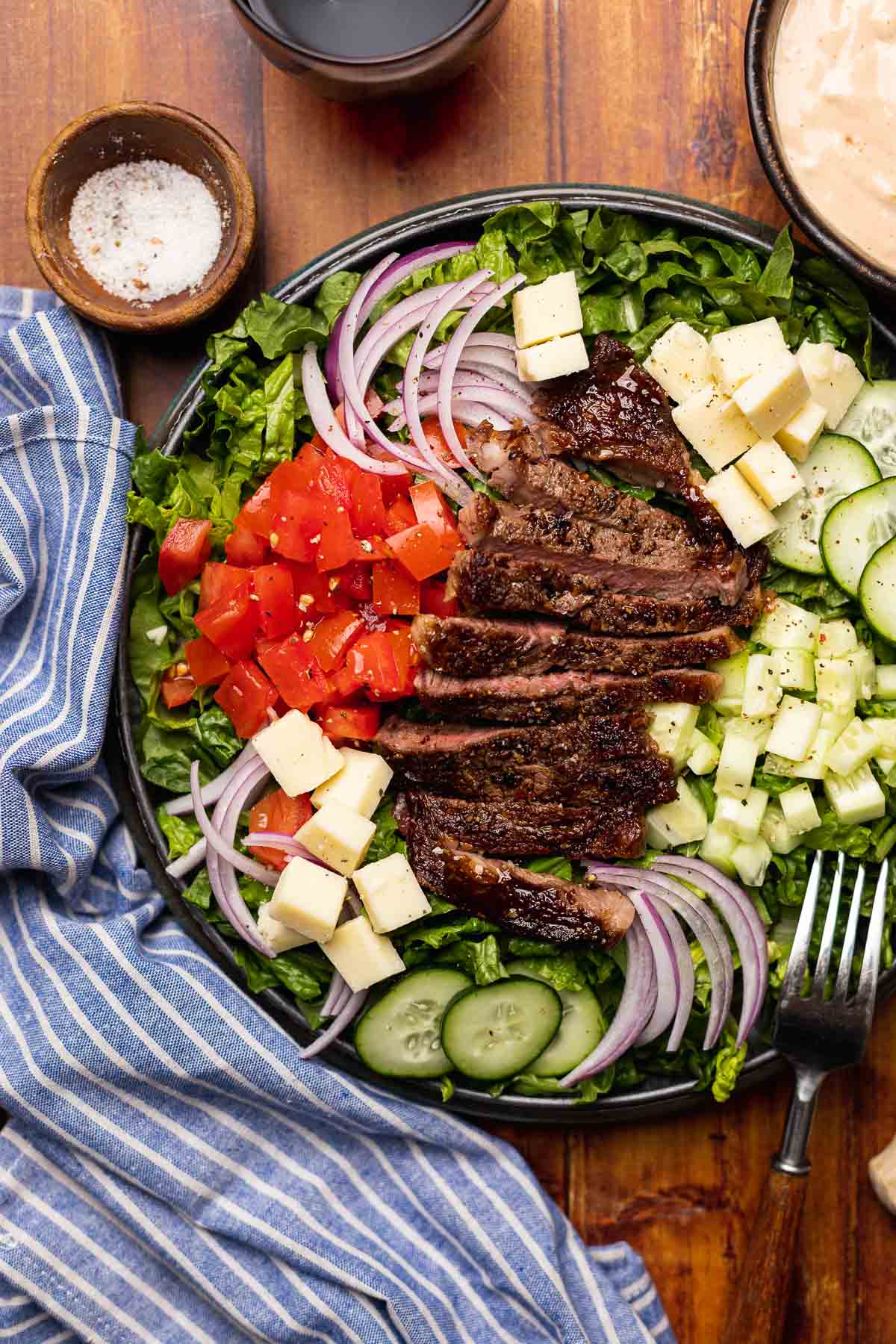 Ingredients
Thousand Island Dressing:
3/4

cup

mayonnaise

3

tablespoons

ketchup

2

tablespoons

white vinegar

2

teaspoons

sugar

1

tablespoon

sweet relish

1/2

teaspoon

onion powder

1/4

teaspoon

kosher salt

1/8

teaspoon

coarse ground black pepper
Salad:
2

ribeye steaks

, trimmed

1

teaspoon

kosher salt

1/2

teaspoon

coarse ground black pepper
Salad:
6

cups

romaine lettuce

, chopped

8

ounces

cheddar cheese

, cubed

2

vine tomatoes

, chopped

1

cucumber

, peeled and chopped

1/4

cup

red onion

, thinly sliced
Instructions
Thousand Island Dressing:
In a medium bowl whisk all the ingredients together.

Refrigerate for at least

1 hour

.
Ribeye Steak:
Season steak with salt and black pepper.

Add butter to a cast iron skillet on high heat.

Sear for

5 minutes

on each side, then remove from pan and let rest.

Slice thinly across the grain and set aside for salad.
Steak Salad:
Add the lettuce, cheddar cheese, tomatoes, cucumber and red onion to a large platter.

Top with sliced steak.

Add thousand island dressing, mix gently and serve.

Add fresh black pepper over the salad and serve.
Nutrition
Calories:
629
kcal
|
Carbohydrates:
19
g
|
Protein:
38
g
|
Fat:
45
g
|
Saturated Fat:
20
g
|
Polyunsaturated Fat:
7
g
|
Monounsaturated Fat:
14
g
|
Trans Fat:
0.02
g
|
Cholesterol:
132
mg
|
Sodium:
1647
mg
|
Potassium:
836
mg
|
Fiber:
3
g
|
Sugar:
11
g
|
Vitamin A:
7427
IU
|
Vitamin C:
15
mg
|
Calcium:
459
mg
|
Iron:
3
mg