Copycat Chick-fil-A Market Salad topped with sliced chicken, blue cheese, apples, berries, granola, walnuts and apple cider vinegar dressing.
Chick-fil-A might be known for their one-of-a-kind light, crispy Chick-fil-A Nuggets and refreshingly tart, sugary Lemonade, but you'll be completely won over by this Copycat recipe for their fresh, delicious Salad.
With fresh fruit, tender greens, smoky chicken, zesty dressing, and crunchy toppings, this Chick-fil-A Market Salad is the ultimate summer salad. It's such a flavorful, hearty salad, it's hard to believe it was created by a fast food restaurant. It strikes the perfect balance between wholesome and indulgent, making it a versatile dish that can be enjoyed as a light lunch, a side, or even a satisfying dinner option.
This copycat recipe for Chick-fil-A Market Salad is topped with thin slices of seared chicken breast, a combination of fruit and berries, and a crunchy blend of granola and walnuts. The best part is the spot-on copycat of their tangy, zesty apple cider vinaigrette. It tastes like a gourmet salad from a fancy restaurant, but really it takes almost no time to throw together. Even by cooking the chicken fresh, you can have this salad ready to eat in less time than it takes to get through the infamous Chick-Fil-A drive thru lines.
Chick-fil-A slices its grilled chicken for salads very thinly so you get some chicken and there's still plenty of room to load up your fork with the other toppings. This lets you enjoy all the flavors and texture of this amazing salad in one delicious bite. If you want to recreate the super thin slices, pop your cooked chicken breasts in the fridge for about 20 minutes, then use a sharp knife to cut the chicken. Letting it rest before cooking also allows the juices to absorb back into the meat for the perfect juicy chicken.
The chicken for this Chick-fil-A Market Salad copycat is made on the stove top with a smoky spice blend so you get the charred taste without firing up the grill. However, you can easily make Grilled Chicken instead. The nice thing about making this salad at home is that you can swap in Grilled Steak or a different tangy dressing too. Some Honey Mustard or even Chick-fil-A Sauce would taste amazing on this fresh fruit and chicken salad.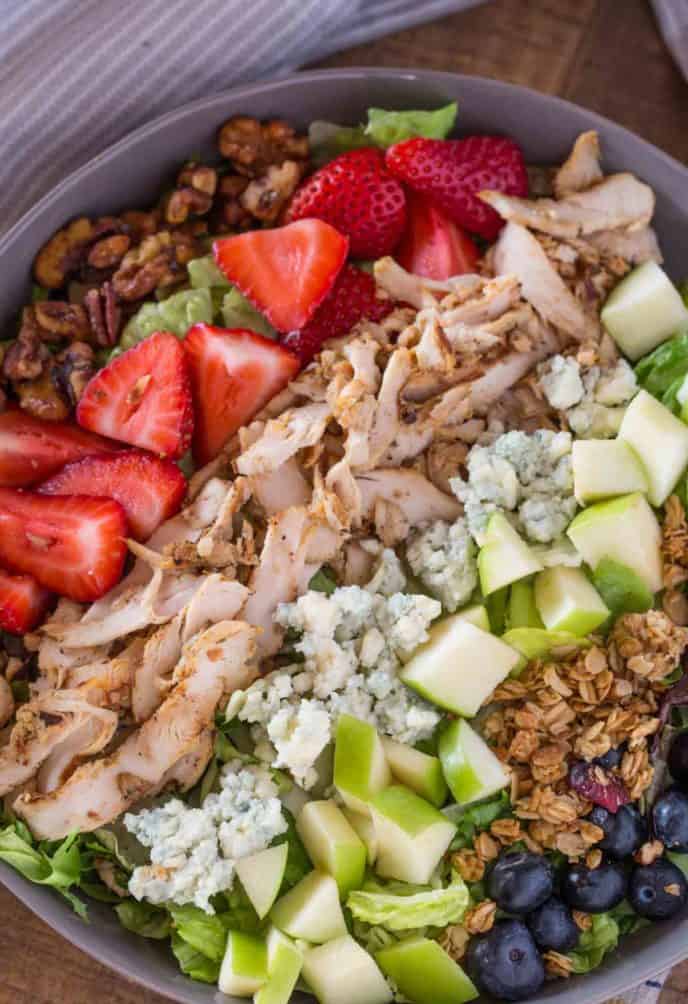 What is a Chick-fil-A Market Salad?
The Chick-fil-A Market Salad is a combination of fresh ingredients that come together to create a refreshing, delicious medley of flavors. It has a chopped spring mix, which includes a mix of romaine, iceberg lettuce, and cabbage, providing a crisp and refreshing base. The salad is topped with sliced grilled chicken, juicy blueberries, sweet strawberries, tangy Granny Smith apple, and crumbled blue cheese. It has an optional Harvest Nut Granola mix for some crunch and it comes with a zesty Apple Cider Vinaigrette that ties all the flavors together.
Why should you make a Chick-fil-A Market Salad at home?
Salads at Chick-fil-A are a healthy option for on the go, but they're also rather expensive for just one serving. When you make it at home, you spend about the same amount of money to feed four people as you would on one regular order. Plus throwing a Chick-fil-A Market Salad together is super easy. You just cook the chicken, chop the fruits and vegetables, and layer everything together to create a beautiful, flavorful salad that tastes as good as it looks in no time.
How to Make Chick-fil-A Market Salad
Chicken: Season the chicken all over with olive oil, salt, pepper, cayenne pepper, and paprika. Cook the chicken over medium heat until cooked through. Cool in the fridge while you prepare the salad toppings.
Dressing: Prepare the Apple Cider Vinaigrette dressing. There is a quick recipe included with this post. The dressing can be made days in advance and kept refrigerated.
Assemble: Add the spring mix to a large bowl. Top with the blueberries, strawberries, apple pieces, blue cheese crumbles, walnuts, and granola, either in layers or sections of each topping.
Serve: With a sharp knife, cut the chicken into thin slices. Arrange the chicken slices around the top of the salad. You can serve the dressing on the side or toss with the whole salad before serving.
FAQs for Chick-fil-A Market Salad 
Is the Chick-fil-A market salad healthy? 
Packed with an array of fresh fruits and vegetables, chicken breast, and healthy toppings, this salad is a balanced, well-rounded dish. The combination of leafy greens, colorful berries, and apples ensures a generous dose of vitamins, minerals, and antioxidants. The sliced chicken offers a lean source of protein, while the blue cheese, walnuts, and dressing add a satisfying richness and healthy fats.
How long can I store the Apple Cider Dressing?
The dressing will stay good up to 2 weeks if kept in an airtight, sealed container. It's best to keep homemade dressings in the back of the fridge when not serving so they stay cold and last longer. 
What is in the Harvest Nut Granola?
Chick-fil-A's Harvest Nut Granola is a delightful blend of whole grain oats, roasted almonds, pecans, honey, and cinnamon. It offers a satisfying crunch and a hint of sweetness, making it a perfect addition to their Market Salad or as a topping for other dishes.

Create a free account to

Save Recipes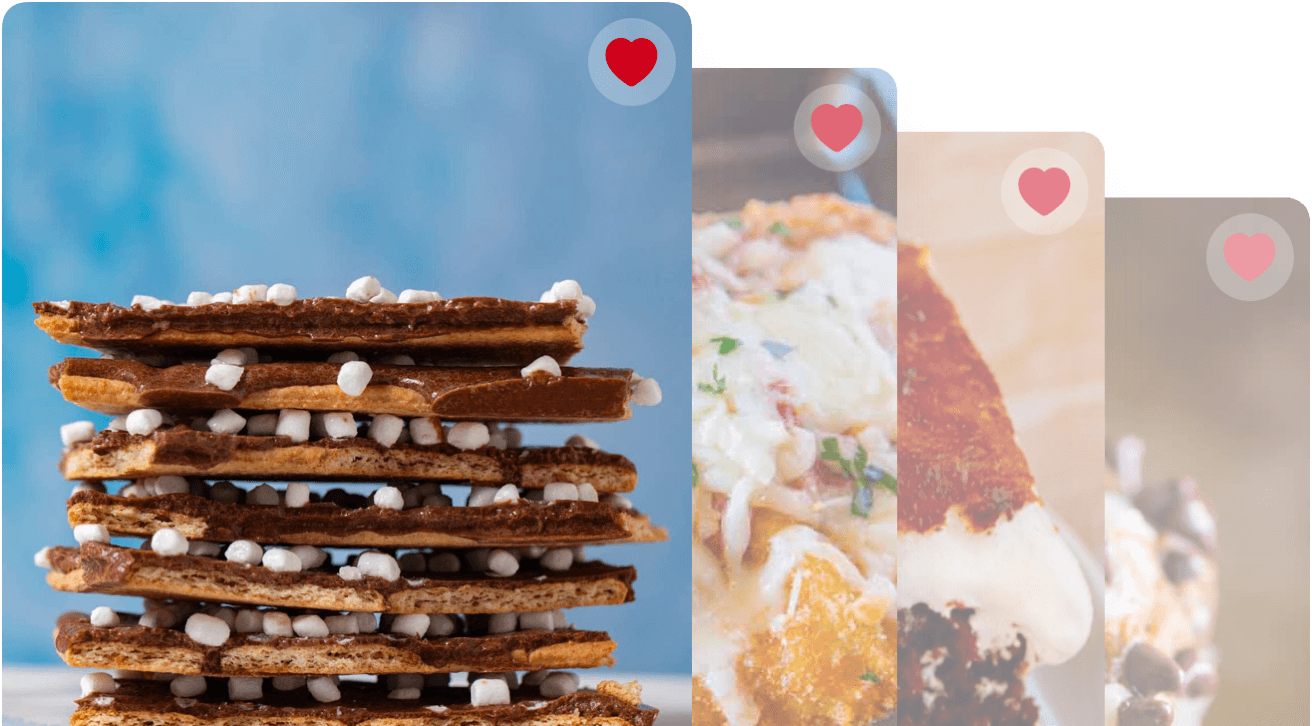 Key Ingredients
Chicken: Instead of the grilled chicken that is normally on the Chick-fil-A Market Salad, this recipe uses pan-seared chicken. It gets a flavorful smoky, slightly spicy, seasoning for a similar flavor without the grill.
Spring Mix Salad: Spring Mix salad is typically a combination of baby lettuce and baby greens like arugula, red leaf lettuce, green leaf lettuce, spinach, romaine, and radicchio. It's a more flavorful greens mix with extra nutrients versus a romaine and iceberg blend.
Berries: Blueberries and strawberries add a colorful burst of sweetness and are packed with antioxidants, vitamins, and fiber.
Granny Smith Apple: The tartness of the Granny Smith apple balances the sweetness of the berries and adds a refreshing crunch.
Blue Cheese: Blue cheese crumbles provide a tangy and creamy element to the salad, elevating its overall flavor.
Walnuts: The addition of roasted walnuts adds a delightful crunch and provides heart-healthy fats. You can roast walnuts in the oven or toast them in a dry skillet until they are fragrant.
Granola: Granola adds a satisfying texture and subtle sweetness. Look for your favorite store-bought granola or make your own using a combination of oats, nuts, and dried fruits.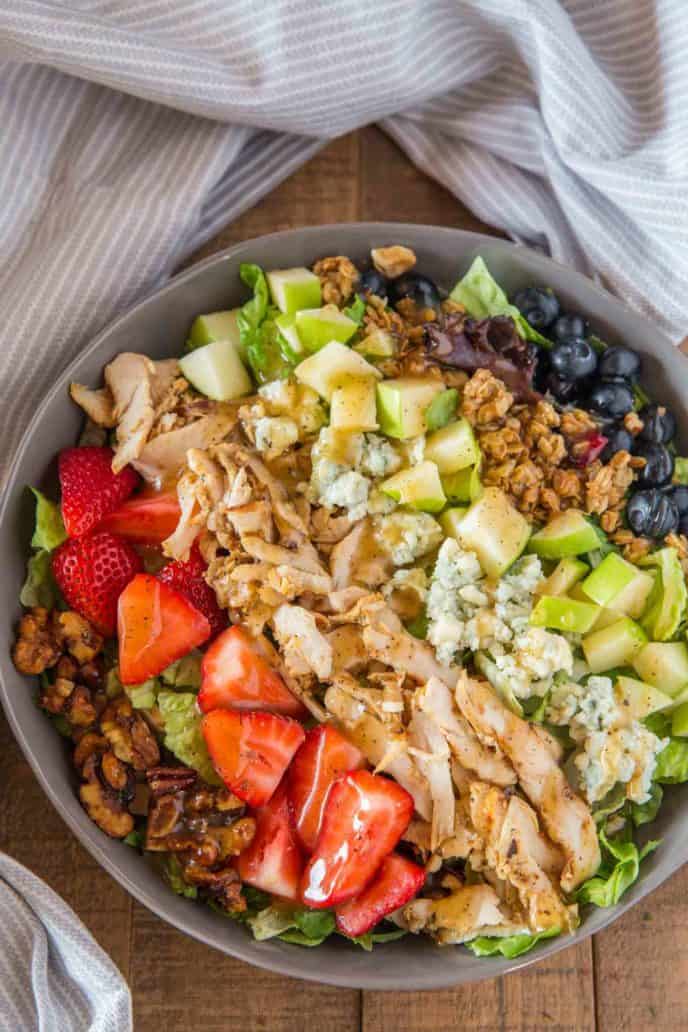 Can Chick-Fil-A Market Salad be made ahead of time?
You can make parts of this salad ahead of time but don't combine it all until right before serving so the lettuce stays crisp. You can combine the walnuts and granola and store at room temperature for up to a week. The dressing will stay good in the fridge for about 2 weeks. The chicken can be cooked ahead of time and kept in the fridge for up to 3 days, but it's best in the first 24 hours. Keep everything in airtight containers.
Variations
Chicken: Instead of cooking chicken just for this salad, you can use leftover Rotisserie Chicken or canned chicken. For a little more indulgent salad, why not use Fried Chicken Tenders instead?
Fruit: Swap out other fresh summer fruits and berries like peaches, raspberries, blackberries, grapes, and plums, or use whatever seasonal fruit is available when you want to make this salad.
Cheese: Instead of the blue cheese, try other salty, creamy cheese like feta cheese, mozzarella cheese, or goat cheese.
Chick-fil-A Zesty Apple Cider Vinaigrette
Combine the following ingredients and shake well before serving. For the best taste, make it at least an hour ahead of time so the flavors have time to come together.
2/3 cup extra virgin olive oil
¼ cup apple cider vinegar
3 tablespoons lime juice
¼ cup honey
1 teaspoon kosher salt
½ teaspoon coarse ground black pepper
½ teaspoon garlic powder
Our Most Popular Copycat Recipes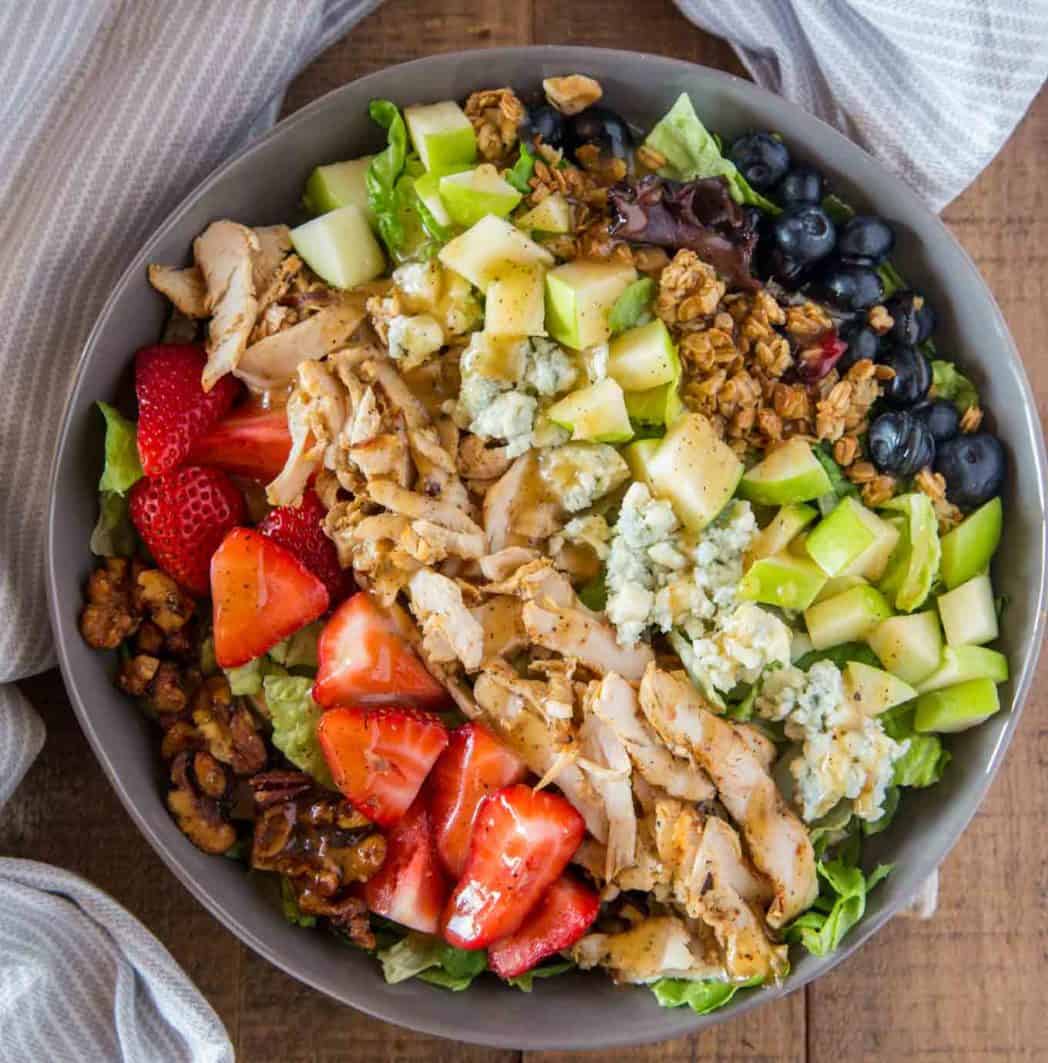 How to Store
Serve: To maintain the salad's freshness, assemble it just before serving. You can keep it at room temperature for up to 2 hours, but it's best to keep everything chilled as much as possible.
Store: To store the Chick-fil-A Market Salad, keep the dressing separate and refrigerate it in an airtight container for up to 3 days. As a note, spring mix doesn't store very well, especially after it's been dressed, so you may want to store leftover toppings separately and serve them with fresh greens.
Freeze: Besides the chicken and the granola nut mix, this salad isn't going to freeze well. You can freeze leftover chicken for up to 3 months and plain granola nut mix for up to 6 months.


Ingredients
2

chicken breasts

1

tablespoon

extra virgin olive oil

1/4

teaspoon

kosher salt

1/8

teaspoon

coarse ground black pepper

1/8

teaspoon

cayenne pepper

1/4

teaspoon

paprika

16

cups

spring mix salad

, chopped

1

cup

blueberries

1

cup

strawberries

, cut in half

1

granny smith apple

, chopped

1/2

cup

blue cheese

, crumbled

1

cup

roasted walnuts

1

cup

cup granola

1

cup

Zesty Apple Cider Vinaigrette

, recipe below
Instructions
Combine the chicken, olive oil, kosher salt, black pepper, cayenne and paprika.

Heat a large skillet on medium heat and cook the chicken for

5-8 minutes

on each side until cooked through.

Let chicken cool while assembling salad.

Layer the romaine, iceberg, cabbage, carrots, blueberries, strawberries, apple, blue cheese, roasted walnuts and granola.

Slice the chicken as thinly as you possibly can (refrigerated cooked chicken is easiest) and top on salad with vinaigrette.
Notes
Chick-fil-A Zesty Apple Cider Vinaigrette
2/3 cup extra virgin olive oil
¼ cup apple cider vinegar
3 tablespoons lime juice
¼ cup honey
1 teaspoon kosher salt
½ teaspoon coarse ground black pepper
½ teaspoon Garlic Powder
Add ingredients to a closed container and shake well until combined.
Nutrition
Calories:
689
kcal
|
Carbohydrates:
57
g
|
Protein:
38
g
|
Fat:
36
g
|
Saturated Fat:
7
g
|
Polyunsaturated Fat:
16
g
|
Monounsaturated Fat:
9
g
|
Trans Fat:
0.01
g
|
Cholesterol:
85
mg
|
Sodium:
1044
mg
|
Potassium:
1121
mg
|
Fiber:
6
g
|
Sugar:
30
g
|
Vitamin A:
2123
IU
|
Vitamin C:
66
mg
|
Calcium:
182
mg
|
Iron:
4
mg