Strawberry Goat Cheese Bruschetta is a fancy party appetizer with sweet strawberries, balsamic reduction, and creamy goat cheese over toast.
This Strawberry Bruschetta is a fresh and sweet variation on classic Tomato Bruschetta. The combination of fresh fruit, balsamic glaze, and tangy goat cheese makes the perfect summer Appetizer.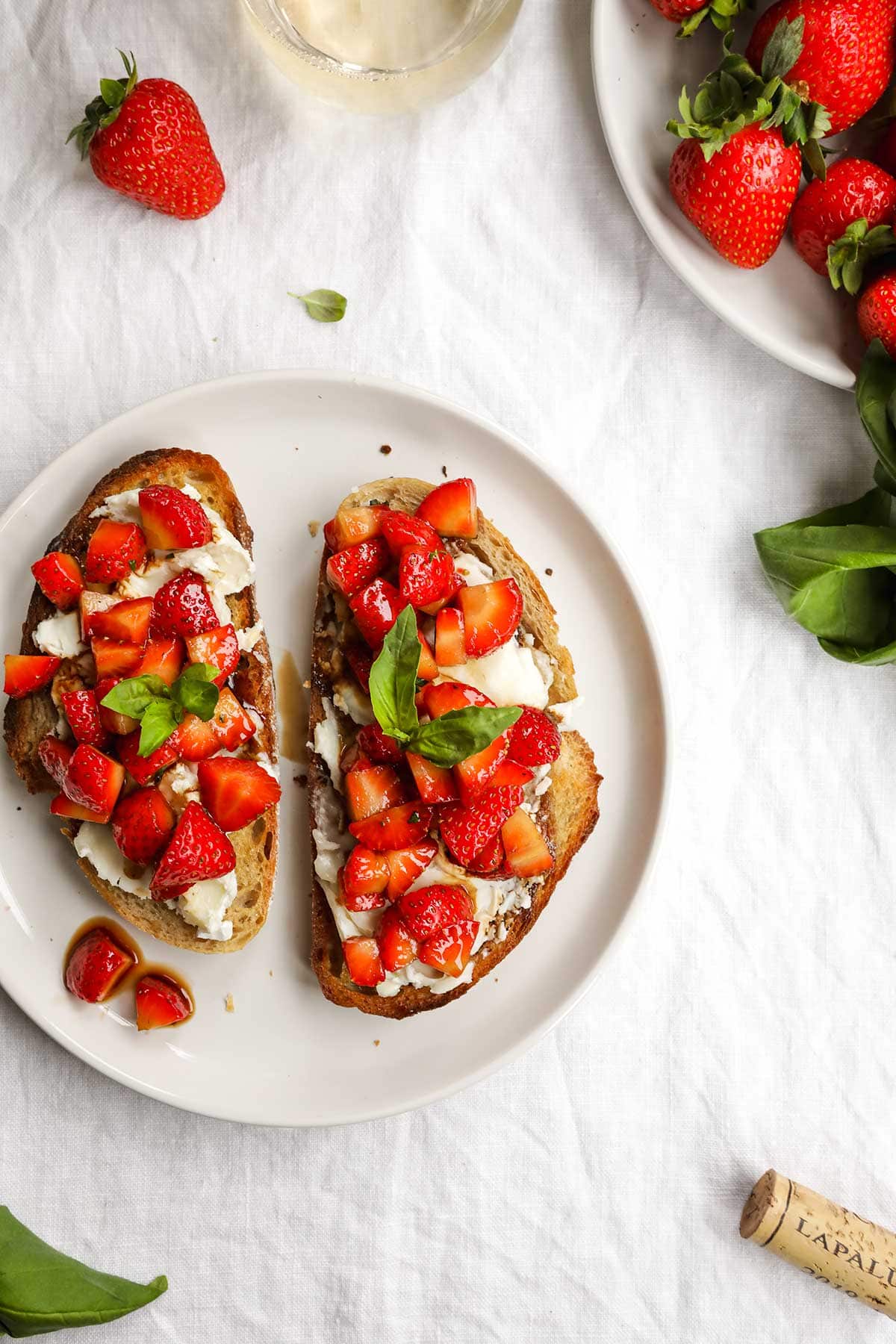 Making bruschetta with goat cheese and fresh strawberries is an amazing way to experiment with the traditional flavors you are used to with this famous Italian antipasto. Instead of juicy tomatoes, the strawberries provide a fresh and fruity flavor while still giving you the same beautiful red color that'll brighten up any spread. It looks elegant and sounds fancy, so it's sure to impress at a dinner party especially during strawberry season.
Strawberry Goat Cheese Bruschetta is perfect way to use plump ripe strawberries when they go on sale at the end of summer. As delicious as it is turning fresh berries into Strawberry Jam or Strawberry Pie, it's also nice to enjoy them in savory dishes like this easy appetizer. It's a simple recipe with just a handful of ingredients and less than 20 minutes of time. Whether you serve it as a light starter for a big Italian meal or tasty snack on a hot summer day, this fruity and fresh twist on an italian classic!
This easy bruschetta recipe starts with a homemade balsamic glaze made by simply reducing the vinegar down until it's thick and extra sweet. Then, you toast the Italian bread and top it with salty, creamy goat cheese. The glaze combines with the berries and seasonings to make a sweet and savory strawberry topping that's out of this world. The topping is layered on the cheesy toast slices for an elegant, tangy and sweet appetizer perfect for any occasion.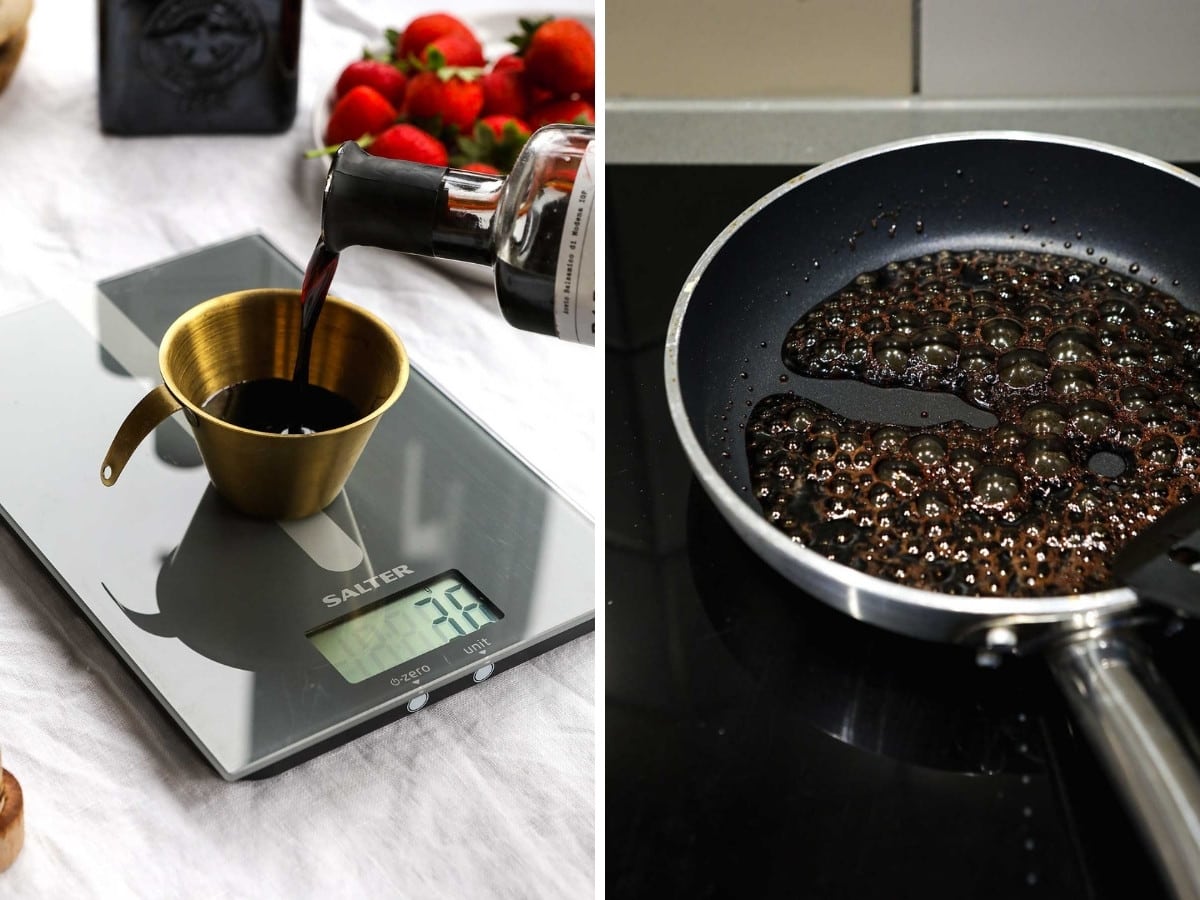 What is Bruschetta?
Bruschetta is a classic Italian appetizer that starts with toasted bread that gets layers of fresh vegetables or fruits tossed in herbs and oil, then usually a drizzle of vinegar. Bruschetta actually comes from the word "bruscare" which means "roast over coals". The most well known combination for bruschetta is diced tomatoes, basil, olive oil, and balsamic vinegar. However, the possibilities are almost endless with all the flavor combinations you can create with sweet, savory, bitter, and tangy elements.
What is the difference between Bruschetta and Crostini?
Both Bruschetta and Crostini are small slices of bread that have been toasted and then served with fresh toppings, cheeses, and sauces. The difference comes down to size of the antipasto and the type of bread. Crostinis are much smaller, about half the size of bruschetta, and are usually made with thin baguettes. Bruschetta is most often made with larger ciabatta bread.
How to Make
Balsamic Reduction: Add the balsamic vinegar to a saucepan over medium heat. Simmer for 6-8 minutes until the vinegar is reduced by half. Let the glaze cool.
Toast: Place the bread slices on a rimmed baking sheet, and brush them with olive oil. Toast in the oven until crisp and golden brown. You can also grill them on a stove top grill pan on both sides.
Strawberry Mixture: Combine the

strawberry pieces in

a bowl with the

balsamic reduction

,

thyme

,

salt

, and

pepper

.
Top: Spread each toast slice with goat cheese. Spoon the strawberry mixture over the Goat Cheese Bruschetta, being careful not to add the extra liquid.
FAQs for
Strawberry Goat Cheese Bruschetta
What kind of cheese goes best with strawberries?
Soft, mild cheeses that are slightly salty and creamy go best with strawberries. Cheeses like gouda cheese, brie cheese, goat cheese, and cream cheese all taste delicious with sweet strawberries. Herb goat cheese blends also go really well with berries.
What kind of bread is used for bruschetta?
You want to use a crusty bread that is firm so it will hold up the toppings and glazes without breaking or getting soggy too quickly. French baguettes, crusty sourdough, Italian ciabatta or focaccia work really well and if your bread is too soft, you can toast it before assembling the bruschetta.
Do you eat bruschetta hot or cold?
You can serve bruschetta hot or cold depending on the toppings you use. Fruity toppings like this balsamic strawberry goat cheese combination are better cold but a bruschetta with savory toppings like sauteed onions, olives, and brie cheese is delicious served hot.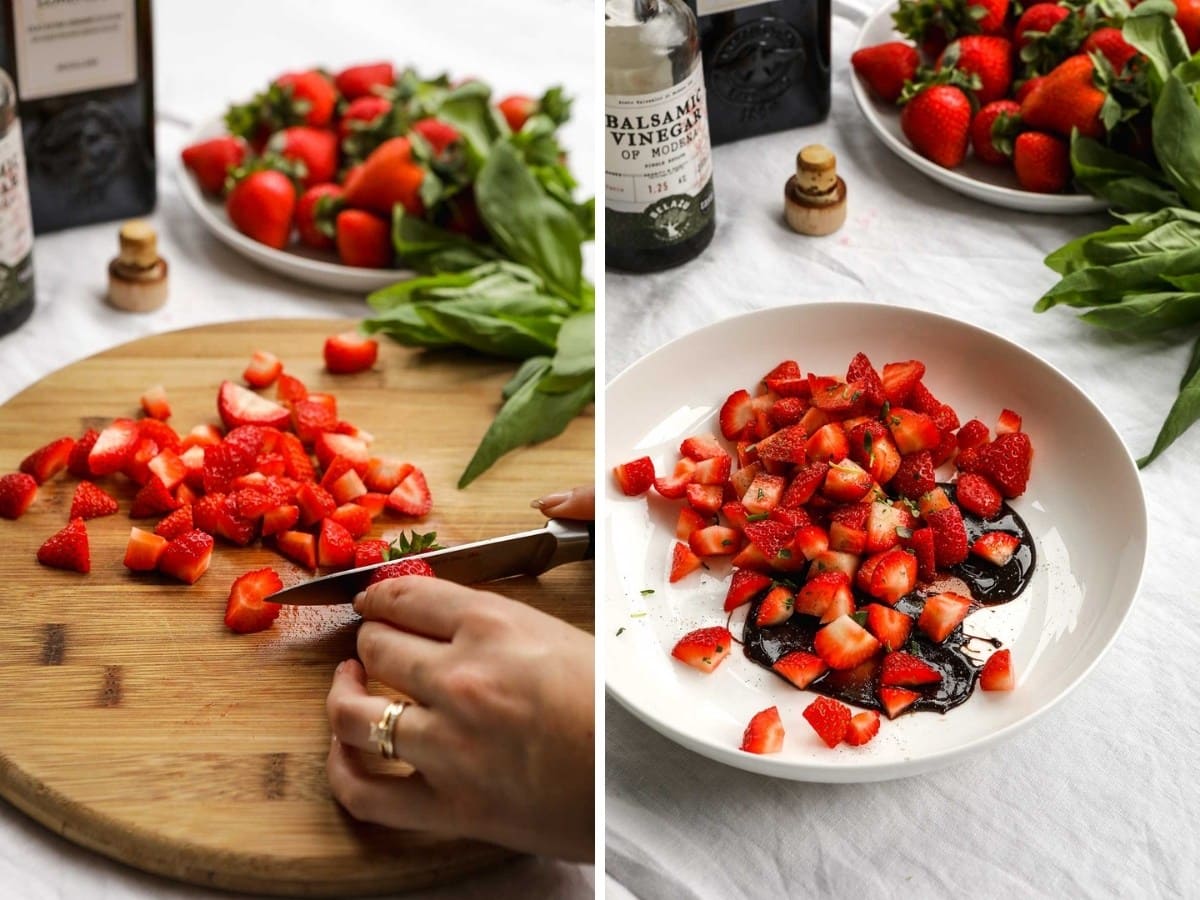 Create a free account to

Save Recipes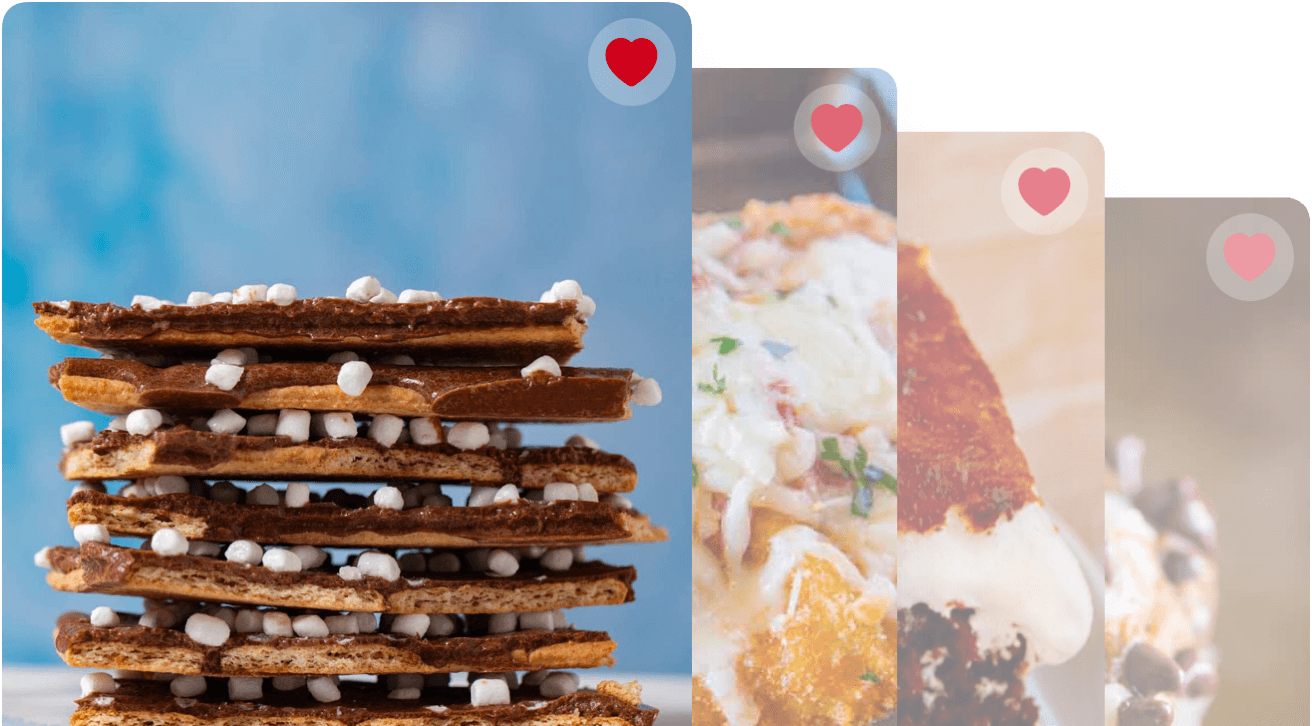 Key Ingredients
Italian bread: The base of bruschetta is always built on crisp, toasted bread. Be sure to brush the bread slices with some olive oil and toast them to give the fresh ingredients a more sturdy base.You could also grill the toast for extra flavor.
Goat cheese: After toasting, each piece of bread gets a layer of fresh goat cheese spread on top. The soft cheese easily glides over the bread and gives the recipe a tart, salty, and creamy flavor.
Strawberries: The sweet strawberries are an unexpected twist on classic Bruschetta, and their taste contrasts wonderfully with the goat cheese spread. If you cut them ahead of time, drain any excess juice so the topping isn't too liquidy.
Balsamic vinegar: Tossing the strawberries with a drizzle of homemade balsamic glaze gives them some tang that helps all the varying flavors to blend together for the perfect crunchy, sweet, and savory appetizer. Use a good quality vinegar and make sure it's vinegar and not premade glaze.
Thyme: Thyme has a floral, woody flavor that tastes great with strawberries and goat cheese. It adds a savory element to cut the sweetness from the juicy strawberries and the balsamic reduction. You can use dried thyme, just reduce by half the amount.
Can I make this ahead of time?
The individual parts of the bruschetta can be made ahead of time and then you can assemble everything the day you want to serve them. The balsamic reduction can be stored for up to 2 weeks in the fridge, so you can double the amount and use it for salad dressings and other recipes too! The strawberries can be cut up to 3 days ahead of time before they start getting too soft and juicy for this recipe.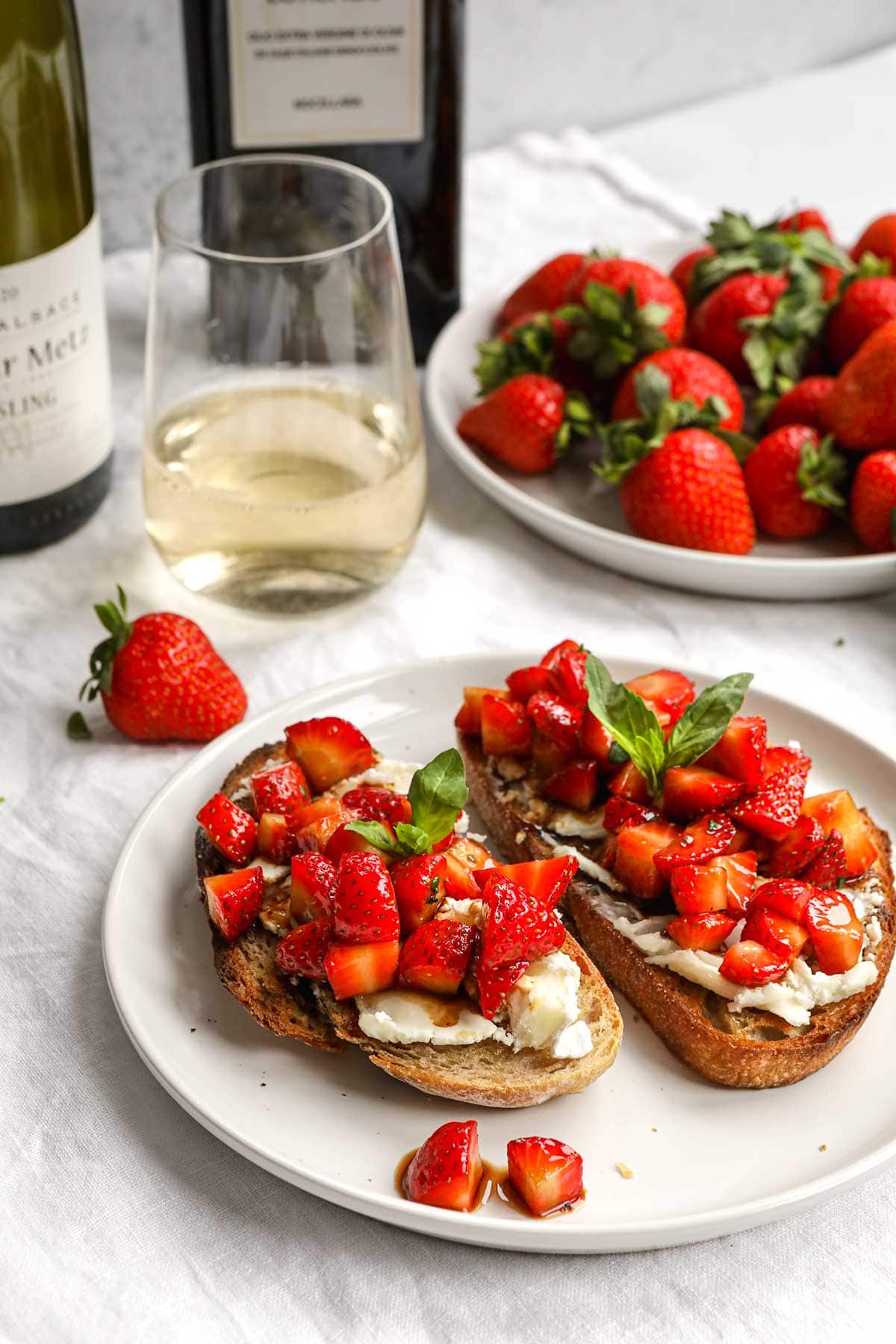 Variations
Seasonings: You can garnish the Strawberry Goat Cheese Bruschetta with other fresh herbs like rosemary, garlic chives, or basil ribbons. Fresh basil & goat cheese plus strawberries is a classic combination! You could also sprinkle on a little bit of chili pepper to add some mild heat to this sweet bruschetta recipe.
Honey: For some extra sweetness, drizzle a few tablespoons of honey over the top of the bruschetta and enjoy delicious honeyed goat cheese. You can also reduce honey with the balsamic vinegar to make it more of a sweet balsamic glaze.
French baguette: If you don't have Italian bread, a baguette makes a good substitute because they both have a nice and crispy crust. Toast up the baguette slices then add the goat cheese, and strawberries just like for the original recipe.
Cheese: You can try different kinds of soft cheeses instead of goat cheese. Experiment with any of your favorite cheese varieties like feta, Gorgonzola, Camembert, or brie. You could even use cream cheese to spread over the toast.
Meat: Make these sweet toasts extra savory and heart with some classic Italian cold cut meats like prosciutto, pancetta, or thinly sliced salami. Some crispy cooked bacon would be tasty too!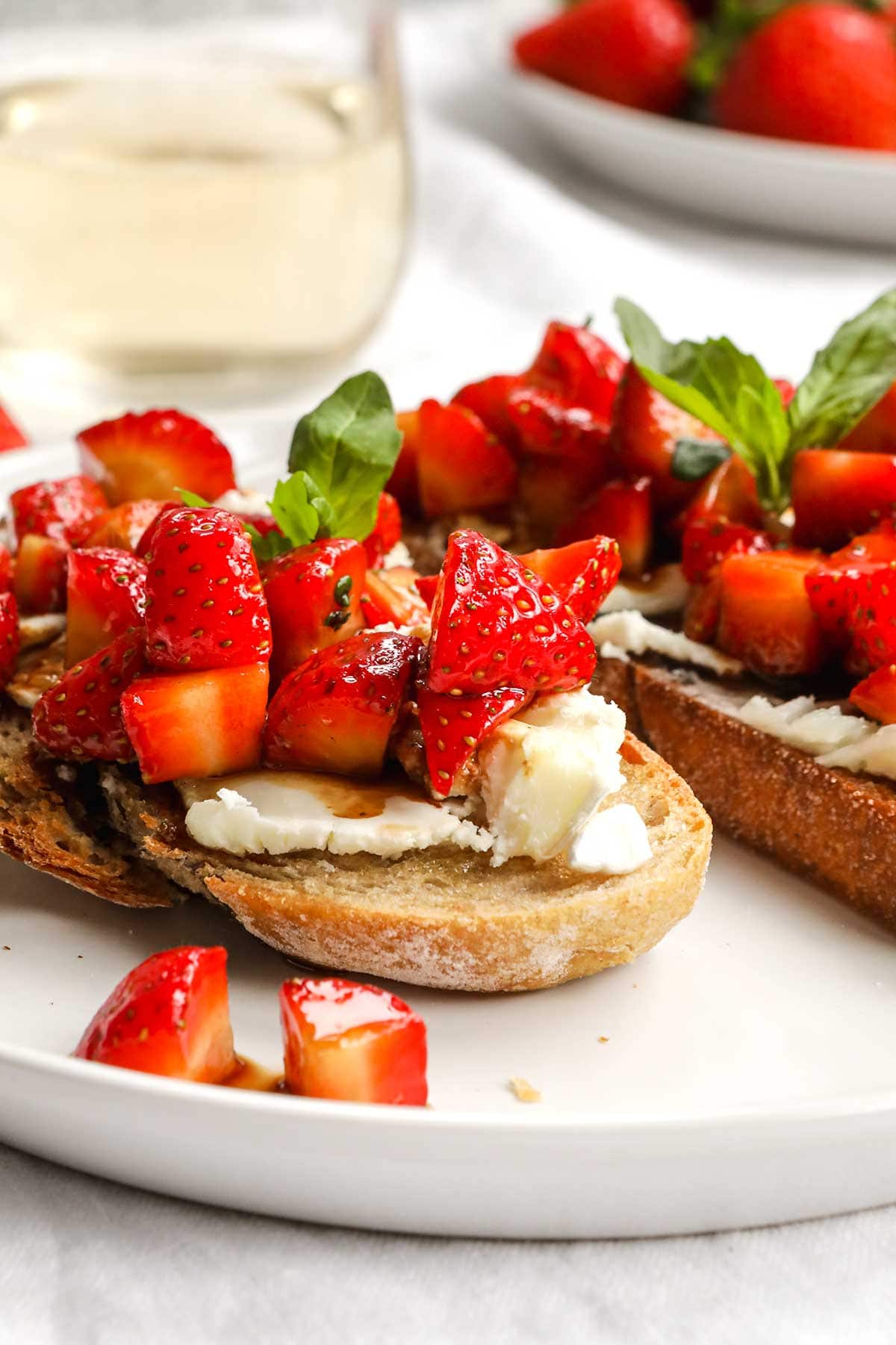 How to Store
Serve: Strawberry Goat Cheese Bruschetta can be room temperature for about 2 hours, but it's best served right away or the bread starts getting soggy.
Store: Bruschetta is always best enjoyed fresh, but if you really want to store leftovers, you can transfer the strawberry topping to an airtight container to store in the fridge for 2-3 days. Serve the leftover strawberries with fresh toast and goat cheese.
Freeze: You don't want to freeze the strawberry topping and then defrost it because it gets really soft and mushy. You can freeze the balsamic reduction but the taste and texture is best made fresh.


Ingredients
1/2

cup

balsamic vinegar

1

loaf

Italian bread

1

tablespoon

olive oil

1

cup

goat cheese

, room temperature

1

pound

strawberries

, washed and diced

2

teaspoons

fresh thyme

1/2

teaspoon

kosher salt

1/8

teaspoon

coarse ground black pepper
Instructions
Add balsamic vinegar to a saucepan on medium heat and simmer until reduced by half, about

6-8 minutes

.

Let cool.

Brush slices of bread with olive oil and toast.

Spread goat cheese on bread.

Mix balsamic vinegar, strawberries, thyme, salt, and pepper.

Spoon the strawberry mixture over the goat cheese. Be careful to not spoon any of the remaining liquid with it.
Nutrition
Calories:
293
kcal
|
Carbohydrates:
25
g
|
Protein:
7
g
|
Fat:
19
g
|
Saturated Fat:
10
g
|
Polyunsaturated Fat:
3
g
|
Monounsaturated Fat:
5
g
|
Trans Fat:
1
g
|
Cholesterol:
9
mg
|
Sodium:
309
mg
|
Potassium:
159
mg
|
Fiber:
2
g
|
Sugar:
15
g
|
Vitamin A:
216
IU
|
Vitamin C:
23
mg
|
Calcium:
37
mg
|
Iron:
1
mg