Marinated Mozzarella Cheese Balls are the perfect appetizer made in olive oil dressing with garlic, rosemary, and pepper flakes for flavor.
If you're looking for a unique Appetizer for your next party, then look no further. These cheese balls are a simple recipe that packs so much flavor. For more party favorites, try our Roasted Shrimp and Pesto Cheesy Bread.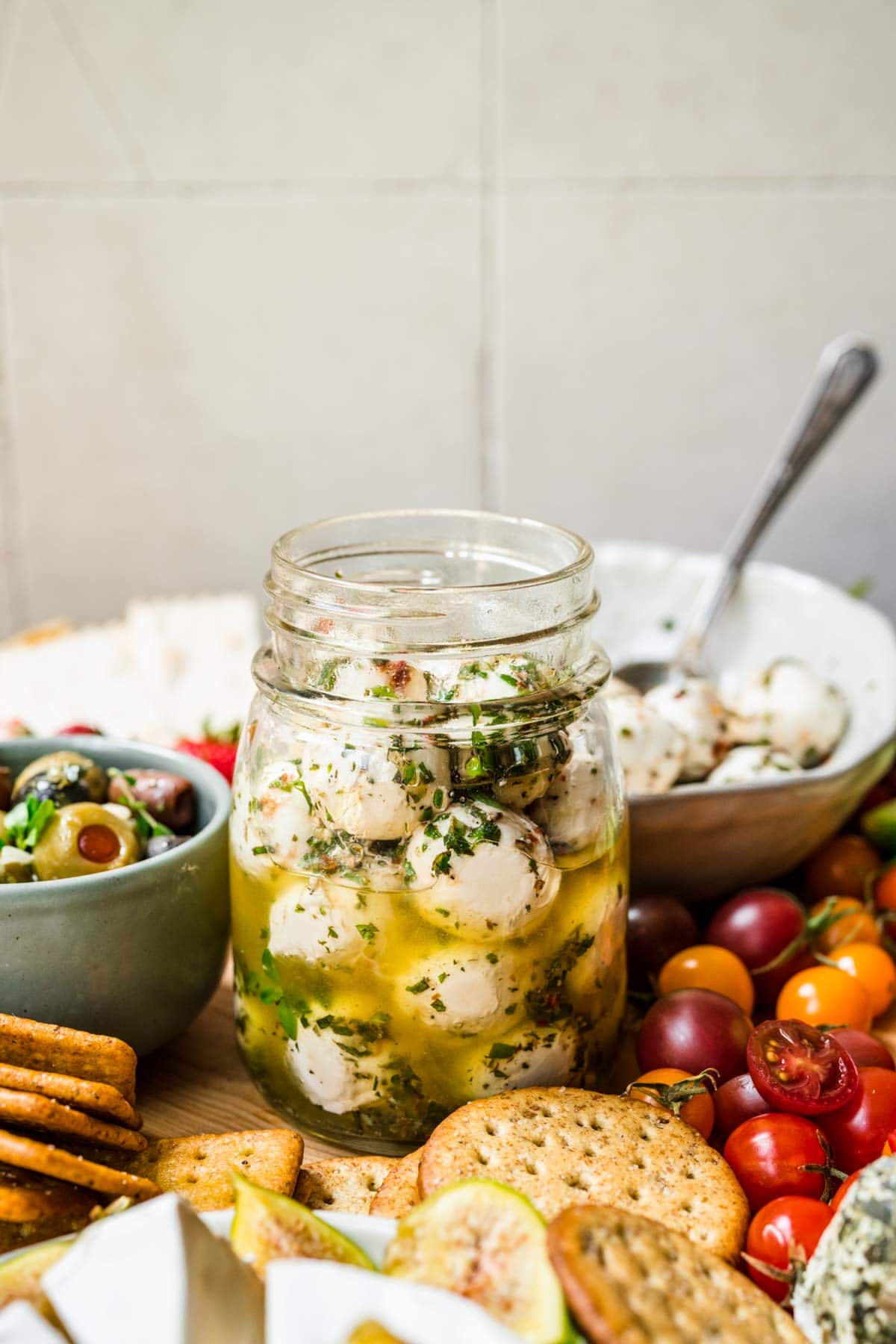 Marinated Mozzarella Balls are an easy way to prep mozzarella cheese to turn them into a flavorful appetizer. Just soak them in seasoned olive oil for a few hours before serving. They're perfect to put out at a dinner party during the cooking time for your main course.
You can also serve Marinated Mozzarella Cheese Balls as part of your entree over a simple pasta dish. Or, use them to add flavor to a side dish in our Easy Pasta Salad.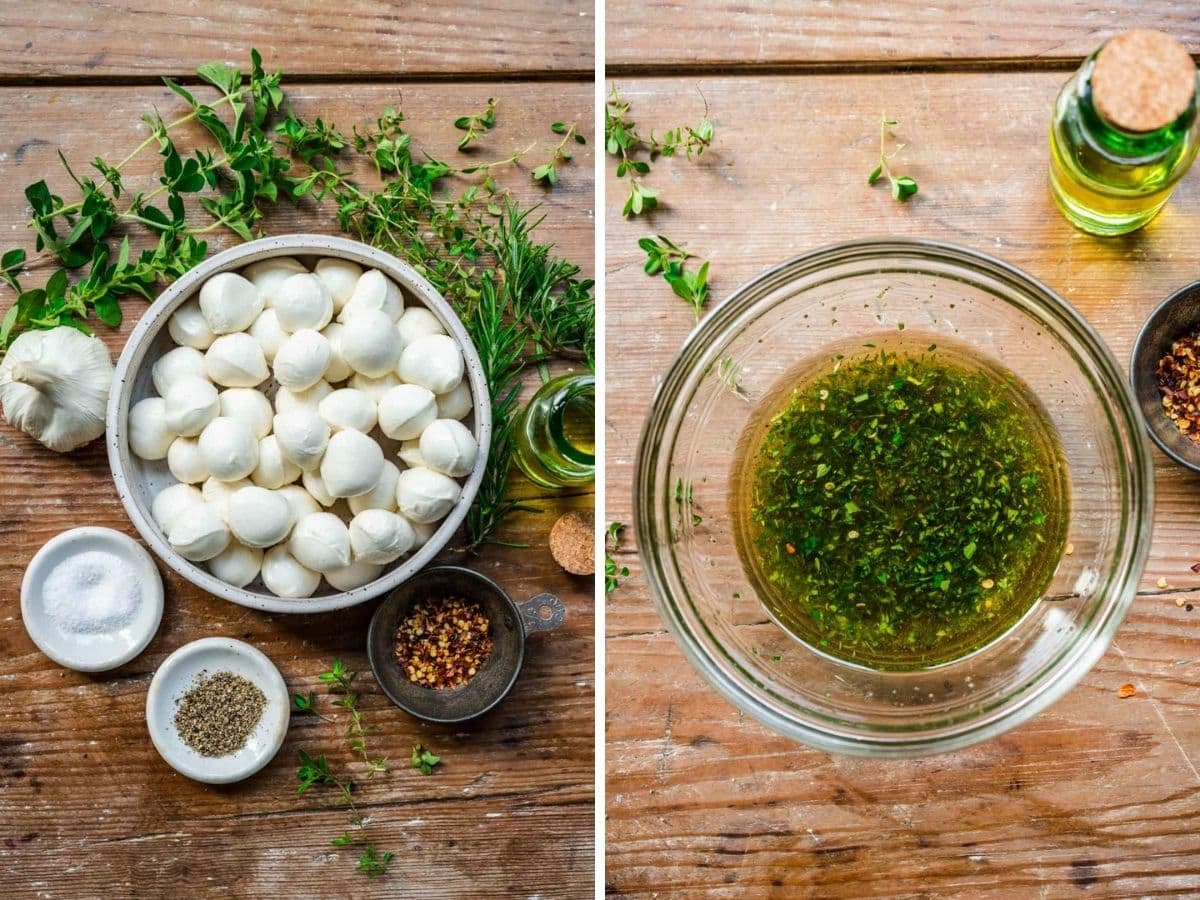 Frequently Asked Questions About Marinated Mozzarella Cheese Balls
How should I serve Marinated Mozzarella Balls?
There are so many other amazing ways that you can serve Marinated Mozzarella Balls. Use them as a topping for a fresh salad with a light vinaigrette dressing. You can also put them out as a delish appetizer. Mozzarella Cheese balls are easy to put on toothpicks and serve up on a cheese board along with your other favorite kinds of cheese cubes. Enjoy the soft cheese with crusty bread, like Italian or French Bread, or crackers to add more textures to the appetizer.  
What type of olive oil should I use?
Because you use olive oil to marinate the cheese, it's one of the most important flavors in the entire recipe. So, the higher the quality of oil, the better your recipe will taste. Organic extra-virgin olive oil tastes great, and you can find it at your local grocery stores. 
Why do I have to let the Mozzarella Cheese Balls marinate for so long?
The flavors from the herbs and seasonings need time to soak into the Cheese Balls so this recipe requires them to marinate for at least 4 hours, but you can soak them for a day or two to really let the flavors come to life.
More Serving Ideas
Caprese Skewers: Caprese skewers are so delicious when you use Marinated Mozzarella Cheese Balls. If you've tried fresh Caprese Salad, this is an easy way to turn the classic Italian dish into a fun vegetarian appetizer. Add cherry tomatoes (or another kind of fresh tomatoes), mozzarella balls, and basil leaves to wooden skewers. Then you can drizzle balsamic dressing over the top before serving.
Charcuterie Board: These Marinated Mozzarella Cheese Balls would look beautiful and be a delicious addition to any Charcuterie Board. You can strain them, and set aside the seasoned oil. Then place the Cheese Balls in a small bowl on your board so you can drizzle one teaspoon of the oil and seasoning over the top for a fresh, tasty display.
Lunch: Serve these Mozzarella Cheese Balls alongside some cherry tomatoes, and roll up some slices of deli meat for a low-carb lunch. Try turkey, ham, salami, or roast beef to round out your meal. This is an easy lunch to make at home, or pack to take with you on the go.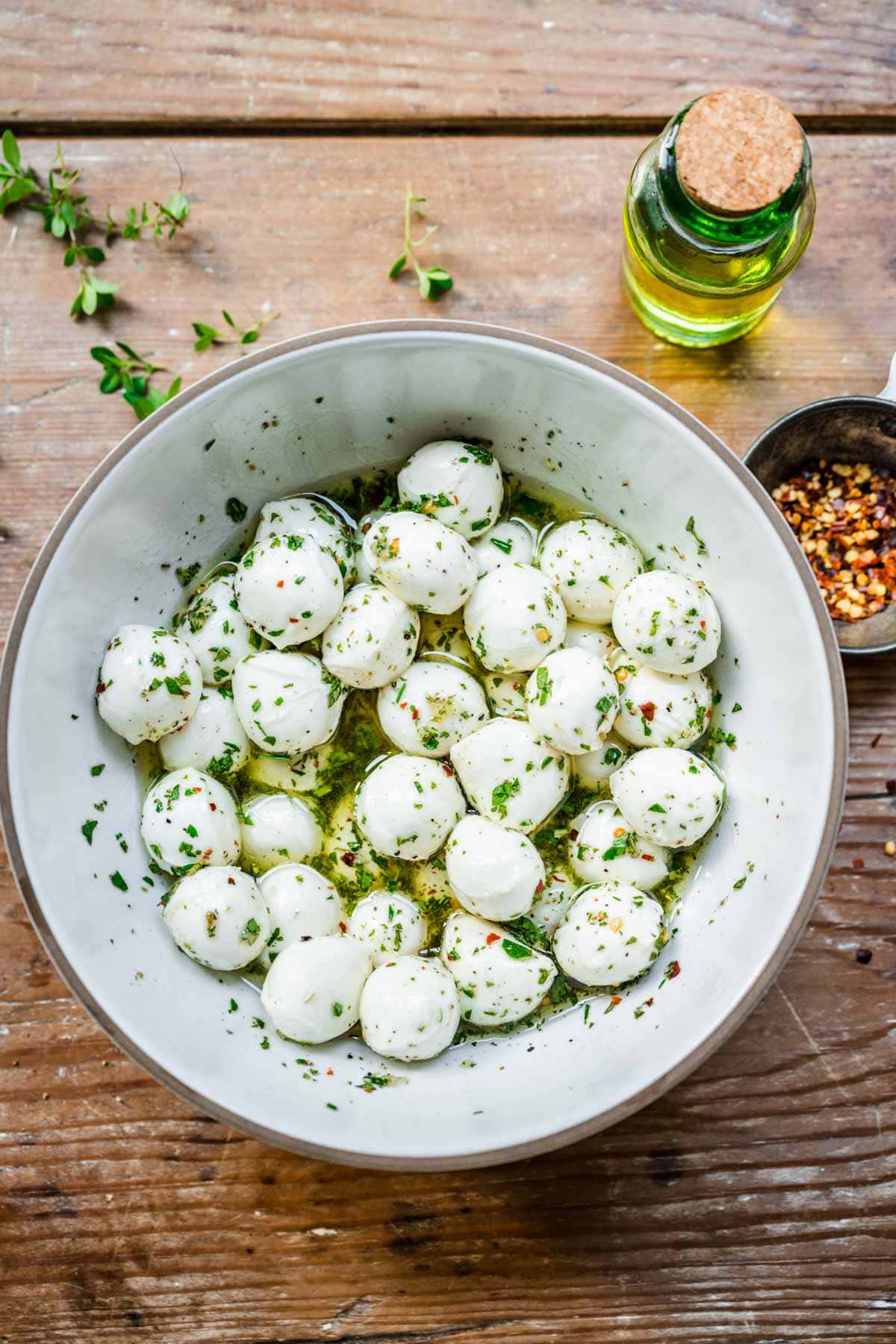 Key Ingredients
Mozzarella Cheese Balls: For this recipe, you'll want to buy a 16-ounce container of mozzarella cheese balls or cheese pearls. Ciliegine cheese was used in this recipe, but other varieties are fine too. Just make sure you're not picking up one that is already marinated. You want to start with a simple mozzarella base without any added flavor. That way, you can add your own fresh marinade to flavor the mozzarella. 
Oil: The olive oil adds a nice aromatic flavor to the Marinated Mozzarella Balls. So, make sure the cheese is entirely coated in the oil before you leave it to marinate.
Seasonings: The cheese balls also soak up the flavor from the fresh herbs and spices mixed into the oil. We used fresh garlic, thyme, oregano, rosemary, pepper flakes, kosher salt, and black pepper. However, you can always swap out some flavors or add more depending on your taste. 
More Cheesy Appetizers
How to Make Marinated Mozzarella Cheese Balls
Prep Time: Start by draining the fresh mozzarella cheese balls. Then dry them with a clean cloth or a paper towel. Set the drained cheese to the side while you prep the marinade. 
Marinade Mixture: Add the olive oil, garlic, thyme, oregano, rosemary, crushed red pepper flakes, salt, and pepper to a medium bowl. Then whisk the olive oil mixture together until nicely blended. 
Marinate: Stir the mozzarella balls into the oil, and make sure they're coated. Then refrigerate in an airtight container for at least 4 hours before serving the Marinated Mozzarella Balls.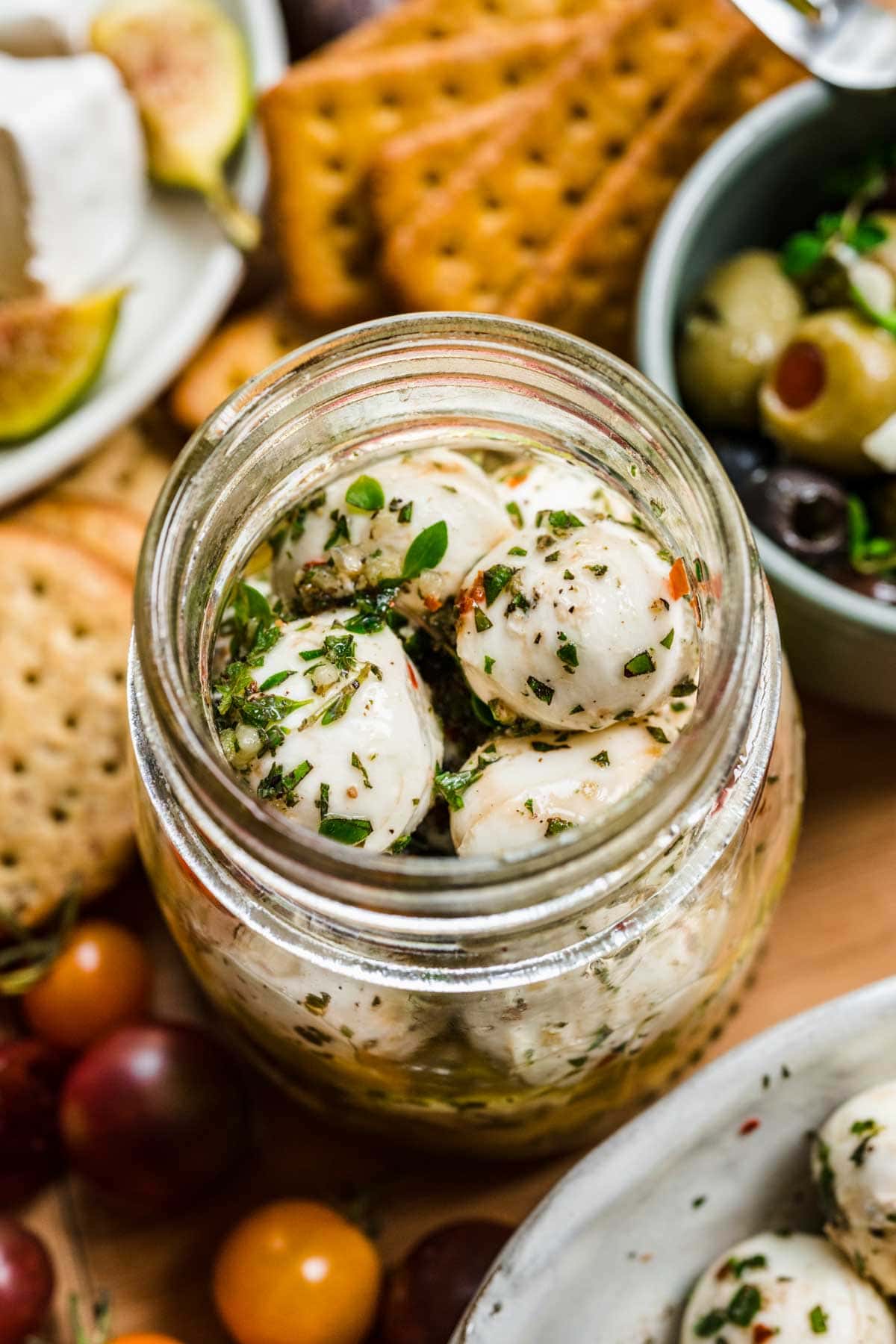 Create a free account to

Save Recipes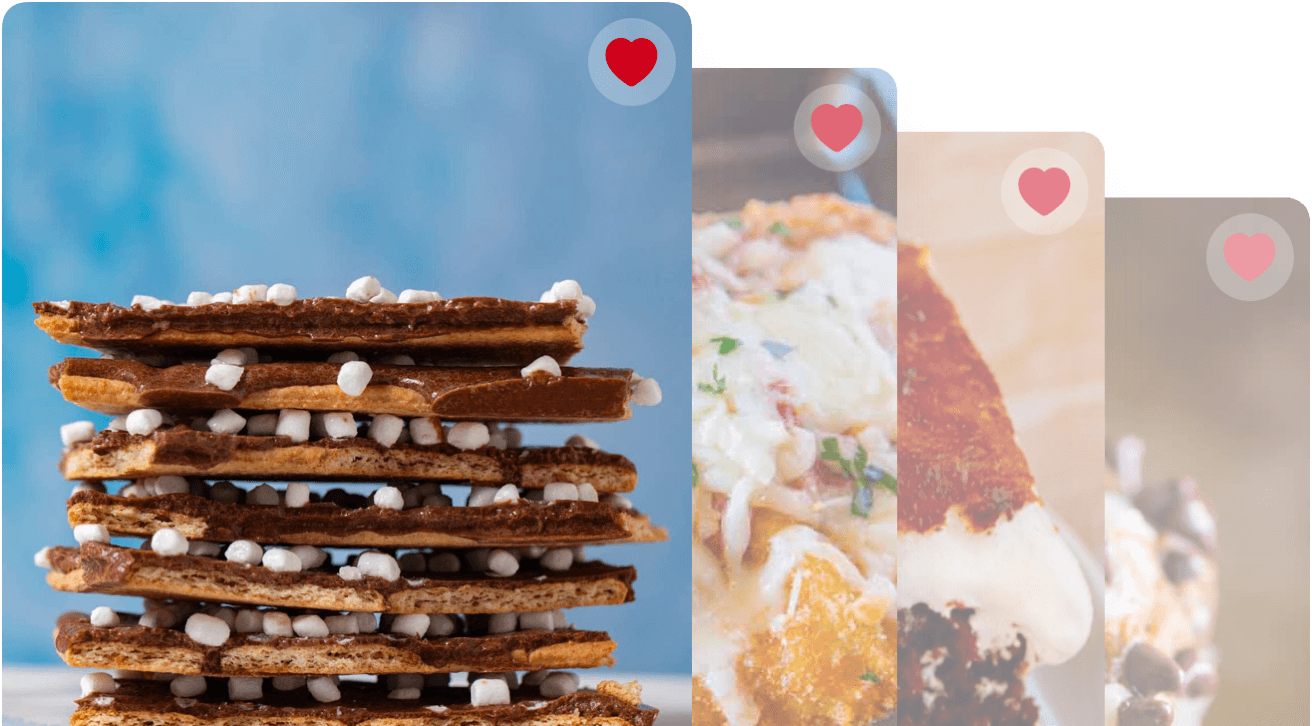 Variations
Fresh Herbs: There are lots of other herbs that you can add to the marinade to change up the flavor of your Mozzarella Balls. Try adding fresh parsley, fresh basil leaves, or fresh sage to the oil. 
Spicy Mozzarella: You can also give the Marinated Mozzarella Balls a spicy kick by adding a dash of cayenne pepper to the mixture.
Balsamic Cheese Balls: For a tangy balsamic flavor, you can whisk ¼ cup balsamic vinegar into the marinade. Then add the Mozzarella Cheese Balls and let them soak up the flavor. Balsamic Marinated Mozzarella Cheese Balls are especially perfect if you're using the cheese for a caprese salad.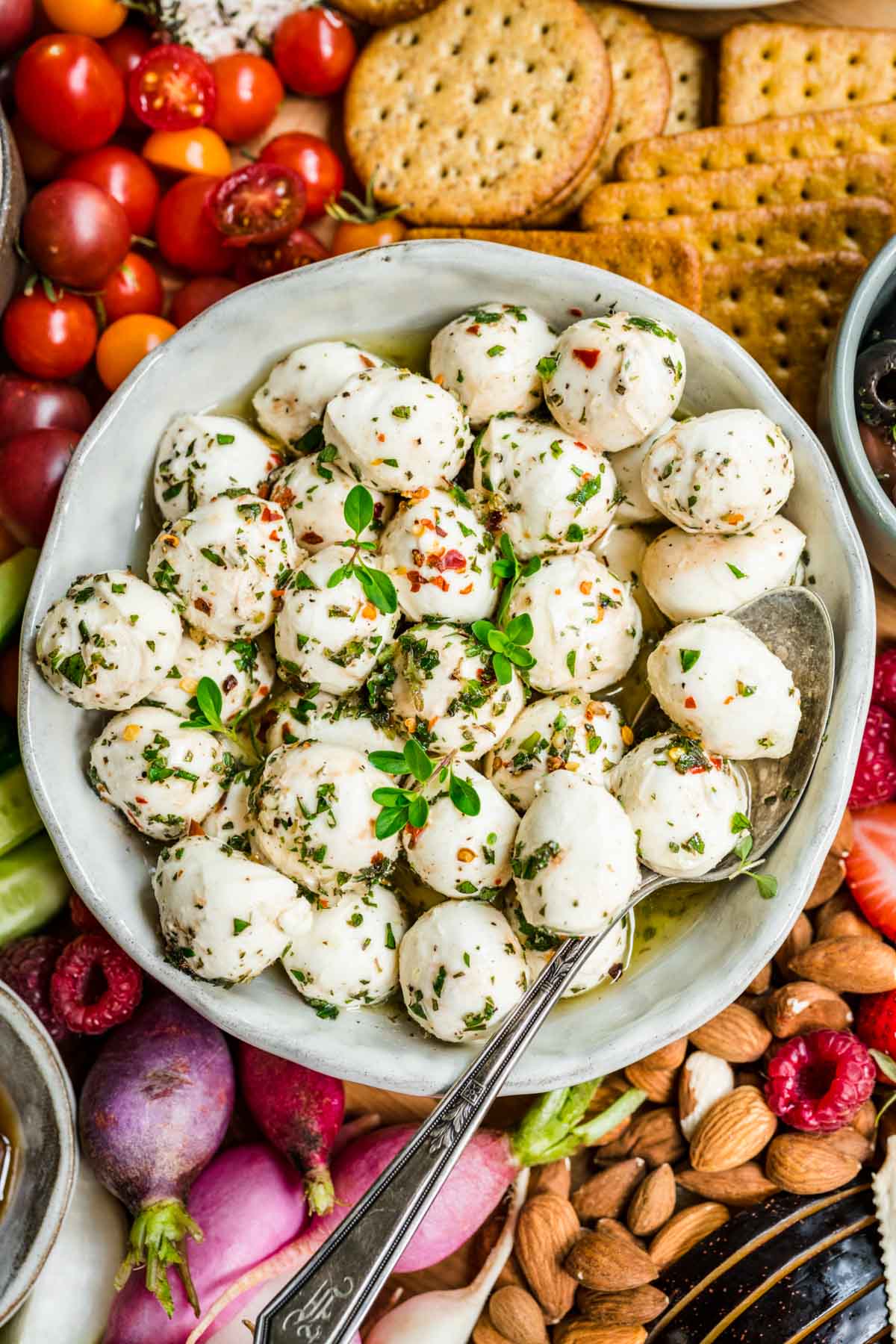 Italian Favorites
How to Store Marinated Mozzarella Cheese Balls
Serve: Don't leave this Mozzarella Balls recipe at room temperature for more than an hour or two.
Store: If there are any leftovers or are making the recipe in advance, you can keep the Marinated Mozzarella Balls in a covered mason jar or another air-tight container. Store the sealed recipe in the fridge for up to 1 week.
Freeze: If you need to, you can take the cheese balls out of the marinade and freeze them in a sealed bag for up to 3 months. However, they won't have as good of a texture when you thaw them out, so I'd definitely recommend enjoying this recipe fresh or a few days later from the fridge.


Ingredients
16

ounces

ciliegine mozzarella cheese balls

, drained

1/2

cup

extra virgin olive oil

2

cloves

garlic

, minced

1

tablespoon

fresh thyme

, minced

1

tablespoon

fresh oregano

, minced

1

teaspoon

fresh rosemary

, minced

1/4

teaspoon

crushed red pepper flakes

1/4

teaspoon

kosher salt

1/8

teaspoon

coarse ground black pepper
Instructions
Drain the mozzarella balls well, dry gently with clean cotton cloth or paper towels, then set aside.

In a medium bowl whisk together the olive oil, garlic, thyme, oregano, rosemary, crushed red pepper flakes, salt and pepper.

Stir in the mozzarella balls to coat well then refrigerate in an airtight container a minimum of

4 hours

before serving.
Nutrition
Calories:
212
kcal
|
Carbohydrates:
1
g
|
Protein:
8
g
|
Fat:
21
g
|
Saturated Fat:
5
g
|
Polyunsaturated Fat:
1
g
|
Monounsaturated Fat:
8
g
|
Cholesterol:
16
mg
|
Sodium:
92
mg
|
Potassium:
14
mg
|
Fiber:
1
g
|
Sugar:
1
g
|
Vitamin A:
57
IU
|
Vitamin C:
1
mg
|
Calcium:
174
mg
|
Iron:
1
mg