Swiss Steak Noodles are a flavorful and comforting dinner with ground beef, bell peppers, mushrooms, and tomato sauce over egg noodles.
This Swiss Steak recipe is the perfect quick Dinner to serve for busy Weeknights. You can make the whole dish on the stovetop in around 20 minutes! For more fast family dinners, try Instant Pot Spaghetti and Meatballs, and Blackened Chicken.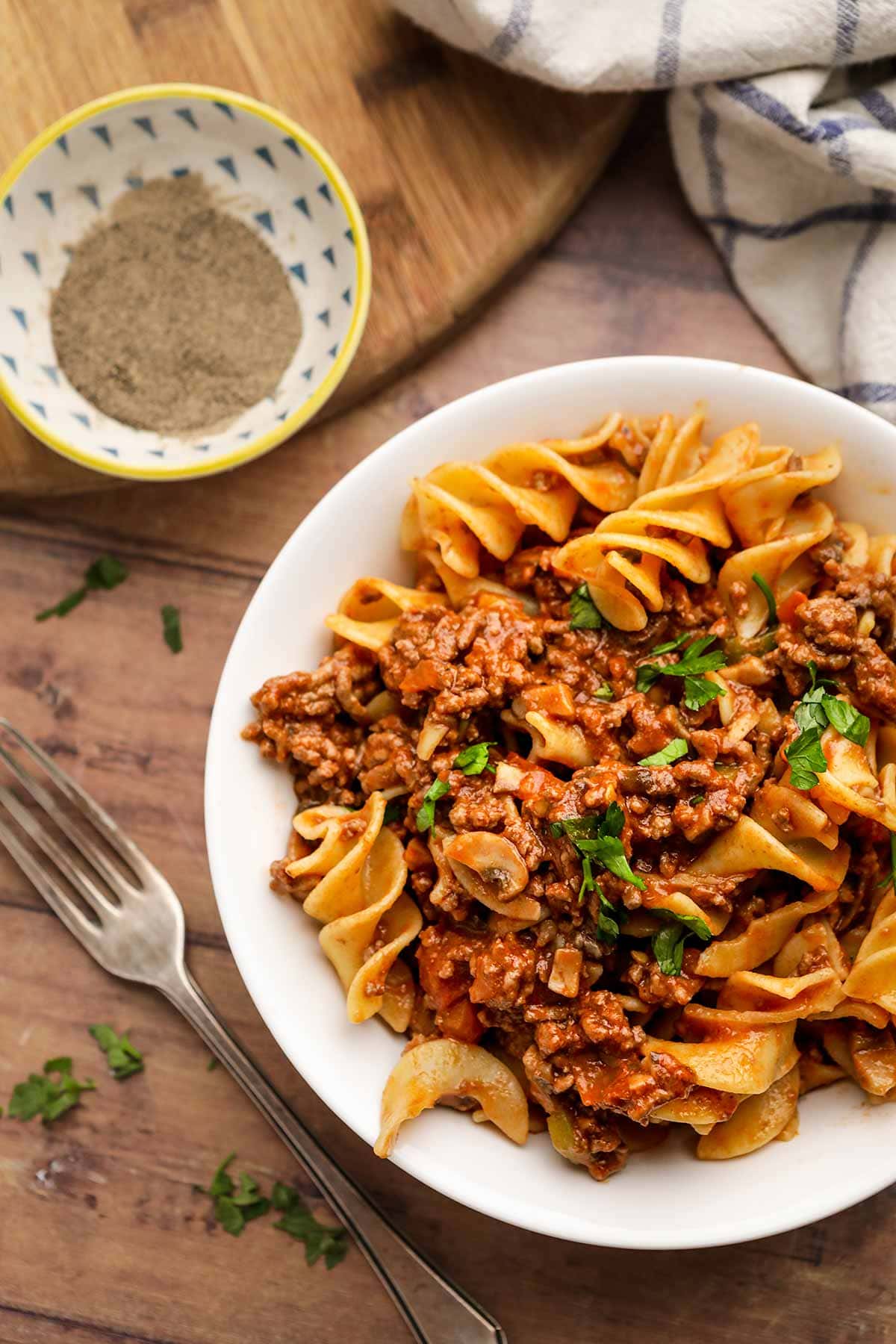 This recipe is sure to be a family favorite! By serving the flavorful meal over buttered noodles, you get a perfect family dinner. It's similar to the way you would serve Beef Stroganoff over pasta. Noodles make the cozy family dinner more filling and kid-friendly, and they're a great way to soak up the extra sauce.
Plus, this recipe is so easy to make that you can have a delicious, hearty meal ready in no time. Keep Swiss Steak Noodles in your back pocket for those crazy nights when dinner time is right around the corner, and you don't have anything ready. Just start cooking the pasta, cook the meat, then add the delicious sauce ingredients to finish. You'll have a full meal ready to go in no time!
What is Swiss Steak?
The name "Swiss Steak" might have you thinking that this is a recipe originating in Switzerland, but it actually got its name from how people prepared the meat. "Swissing" is a way to tenderize meat by pounding the steak pieces flat with a meat mallet. Then steak pieces prepared like this are often served with mushroom gravy or in a tomato sauce (like we've done for this recipe.)
We've actually exchanged classic Swiss steak for ground beef to turn the recipe into a quick 20-minute weeknight dinner. You get the same beefy flavor cooked in a delicious veggie and tomato sauce, but it's a little easier to prep.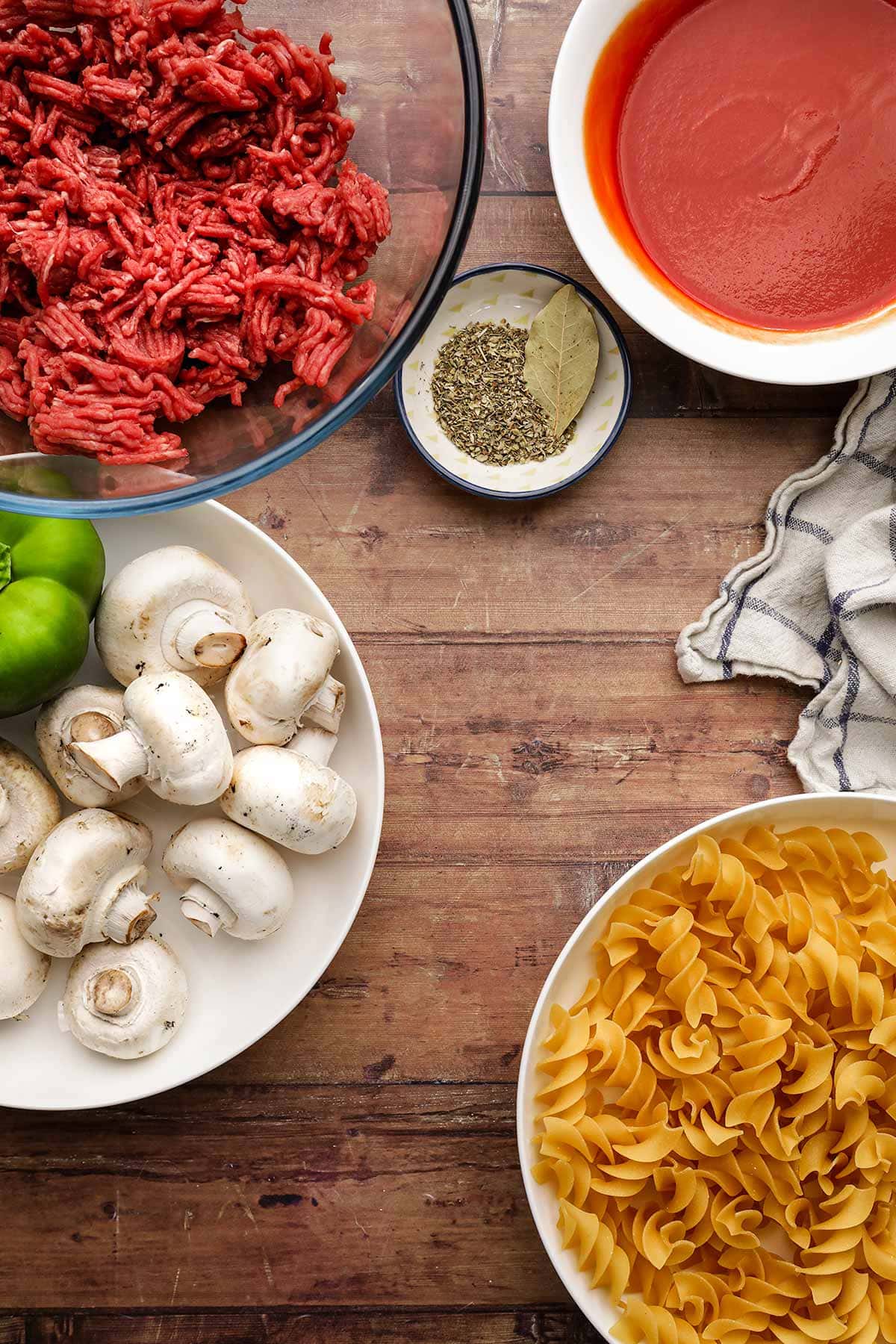 Key Ingredients
Ground Beef: As discussed earlier in the post, Swiss steak is typically made with tender pieces of steak.

However, by using ground beef, you can make an easy yet flavorful recipe on the stovetop in a few minutes. 

Vegetables: Making the Swiss steak with mushrooms, onions, and bell peppers adds lots of flavor, texture, and nutrients to the recipe. The flavors mix perfectly and add to the deep flavor of the meat sauce.
Sauce: For the tomato sauce, use 2 diced tomatoes, 1 cup tomato sauce, beef broth, oregano, and a bay leaf. You can use fresh or canned diced tomatoes, but drain them if you use canned. As the sauce cooks, the heat reduces the liquid in the beef broth for a thicker, richly flavored beef and tomato sauce. It's perfect to serve with the Swiss Steak Noodles.
More Pasta Recipes
Frequently Asked Questions About Swiss Steak Noodles
What is the difference between Swiss Steak and Salisbury Steak?
Swiss Steak is often made with a tomato base, but Salisbury Steak is made with a base of beef broth thickened into the consistency of gravy. Both Swiss Steak and Salisbury Steak would taste equally great served over buttered noodles.
Why does the recipe call for both tomatoes and tomato sauce?
Tomato sauce will provide the base for the sauce, but the diced tomatoes will add not only some fresh flavor, but also texture to your sauce.
How to Make Swiss Steak Noodles
Prep Time: To get the noodles ready around the same time as the rest of the dish, start boiling a pot of water over medium heat. Then you can add the egg noodles. If you're confident multi-tasking, you can begin the rest of the recipe while the noodles are cooking. If not, wait until they're done, then drain the cooked noodles, add oil or butter as desired, and set them to the side.
Brown Meat: Add the ground beef, chopped onion, green peppers, and mushroom to a heavy skillet over medium-high heat. Continue cooking for 4-5 minutes, 

occasionally stirring

so that the ground beef browns on all sides.
Tomato Sauce: Once the meat is cooked through, add the tomatoes, tomato sauce, beef broth, oregano, and bay leaf. Leave it over medium heat to reduce for 5-6 minutes. Then remove the bay leaf and add the cooked egg noodles. Turn off the heat. Serve the Swiss Steak Noodles right after the cooking time so that they're still nice and warm.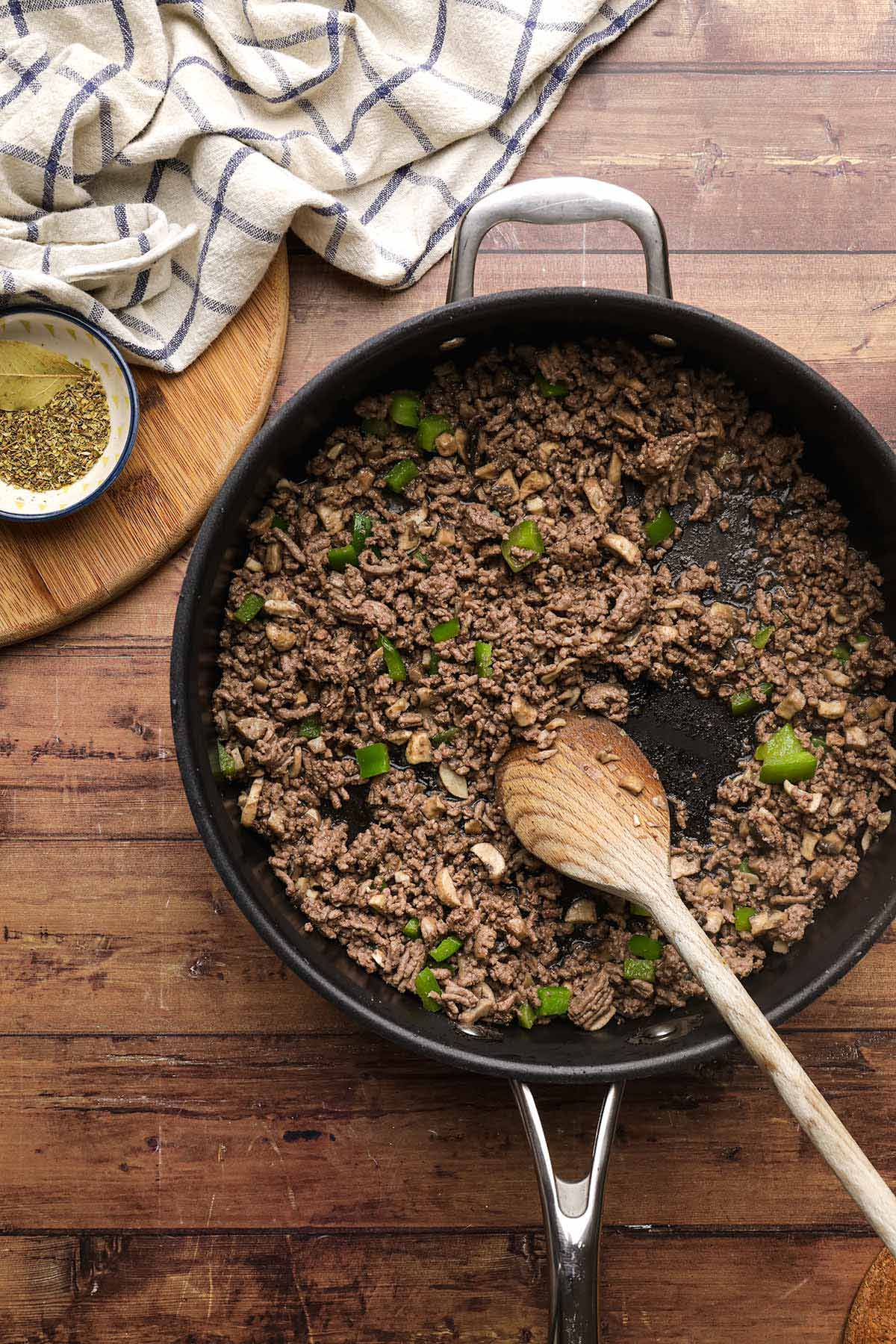 Create a free account to Save Recipes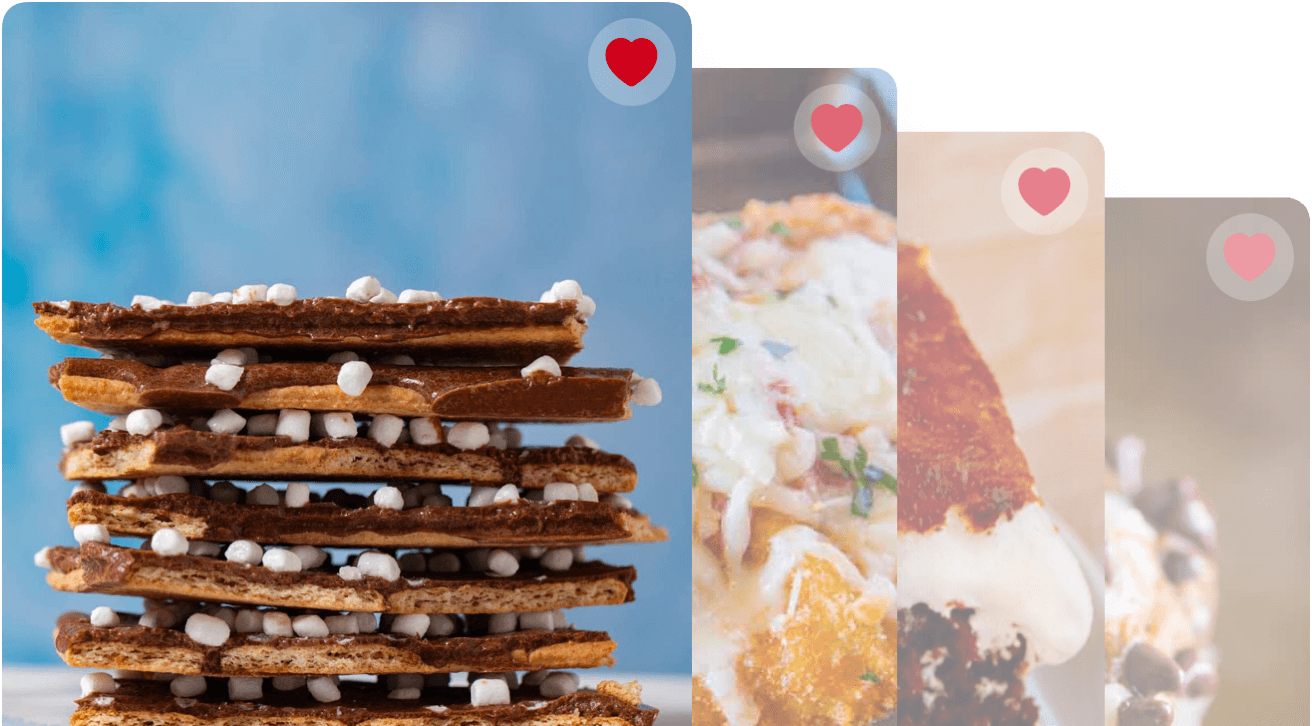 Variations on Swiss Noodles
Meat: If you want a more classic Swiss Steak recipe, you can use different cuts of tender beef. Chuck steak, cube steak, or chuck roast would all work well for Swiss Steak Noodles. Start by slicing your cut of meat into bite-sized pieces. Then coat them in flour before browning the beef with mushrooms, onion, and peppers. Once you've browned the steak, you can continue the rest of the sauce recipe as usual.
Seasonings: There are lots of easy flavor additions that you can make just by adding your favorite seasonings. Fresh parsley, rosemary, black pepper, paprika, garlic, powder, or minced garlic cloves are all simple ways to pack lots of bold flavor into your cooking.
Vegetables: You can also add other kinds of veggies like more colorful bell peppers, chopped carrots, shallots, or broccoli.
Gluten Free: Serve your Swiss Steak Noodles gluten free by choosing gluten free noodles, or replace the pasta entirely. The Swiss Steak sauce will taste excellent served over brown or white rice, over noodles made from zucchini or squash, riced cauliflower, lentils, or any other pasta substitute you enjoy.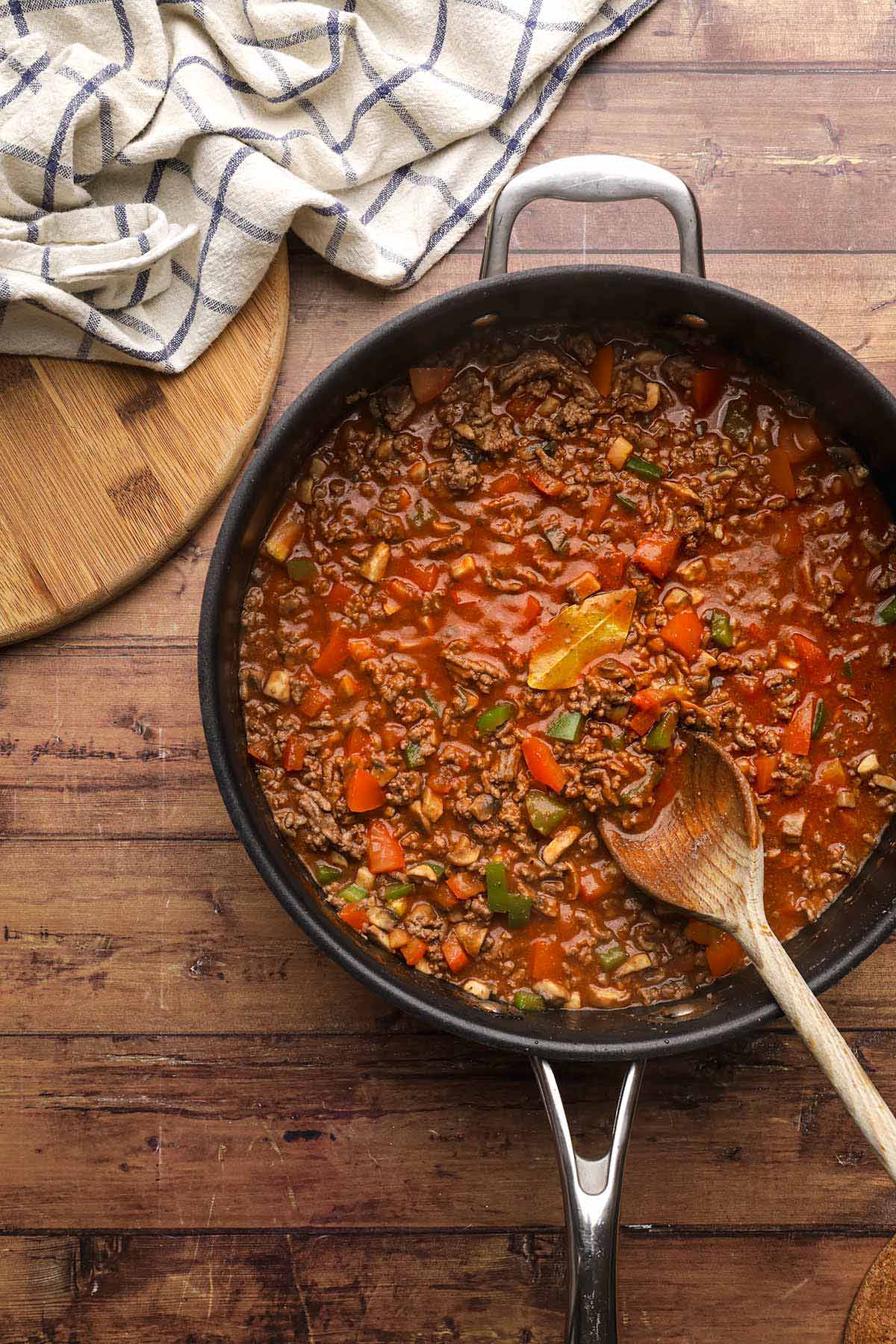 Perfect Side Dishes
How to Store
Serve: After cooking, serve Swiss Steak Noodles warm. Then put it away before the meat has been out for 2 hours. If you want to keep the recipe out longer for any reason, you can keep the meat and pasta over low heat in a crockpot.
Stir: Once the dish has cooled completely, you can transfer it to an airtight container to store leftovers in the fridge for 3-4 days.
Freeze: You can also store the meat and pasta recipe in the freezer for up to 3 months. Then let it thaw in the fridge overnight before reheating to serve.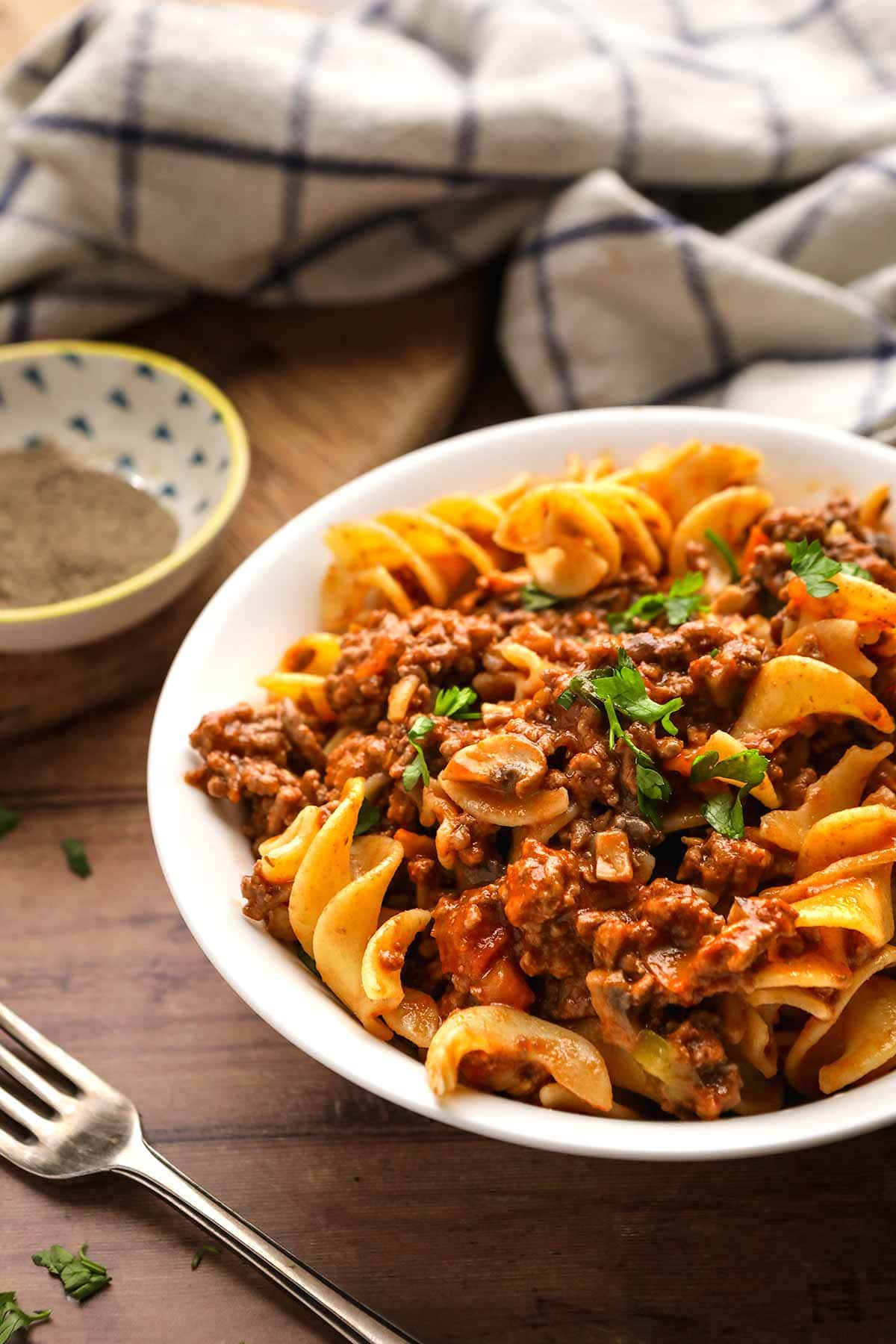 Ingredients
1

pound

ground beef

(85/15)

1/2

yellow onion

, diced

8

ounces

mushroom

, diced

1/2

green bell pepper

, diced

2

tomatoes

, diced

1

cup

tomato sauce

1

cup

beef broth

1/2

teaspoon

dried oregano

1

bay leaf

8

ounces

cooked egg noodles
Instructions
Add the ground beef, onion, bell pepper, and mushroom to a large skillet on medium-high heat until cooked through,

4-5 minutes

.

Add in the tomatoes, tomato sauce, beef broth, oregano, and bay leaf and let the sauce reduce for

5-6 minutes

.

Remove the bay leaf and serve on top of the egg noodles.
Nutrition
Calories:
299
kcal
|
Carbohydrates:
19
g
|
Protein:
22
g
|
Fat:
15
g
|
Saturated Fat:
6
g
|
Polyunsaturated Fat:
1
g
|
Monounsaturated Fat:
6
g
|
Trans Fat:
1
g
|
Cholesterol:
75
mg
|
Sodium:
479
mg
|
Potassium:
757
mg
|
Fiber:
3
g
|
Sugar:
5
g
|
Vitamin A:
680
IU
|
Vitamin C:
22
mg
|
Calcium:
42
mg
|
Iron:
3
mg