Cranberry White Chocolate Cinnamon Rolls are the perfect holiday breakfast. Gooey rolls with chocolate, cranberries and cream cheese icing.
Cinnamon Rolls are a favorite Breakfast Recipe for special occasions! Our Easy One Hour Cinnamon Rolls get loaded up with tart cranberries and melty, sweet vanilla chips for a new favorite Christmas morning treat.
These irresistible cranberry sweet rolls are perfect for the holidays! The recipe yields 18 large rolls so it's perfect to serve a big gathering. Adding the sweet winter berries and creamy white chocolate adds a new twist on the classic breakfast and makes them extra festive!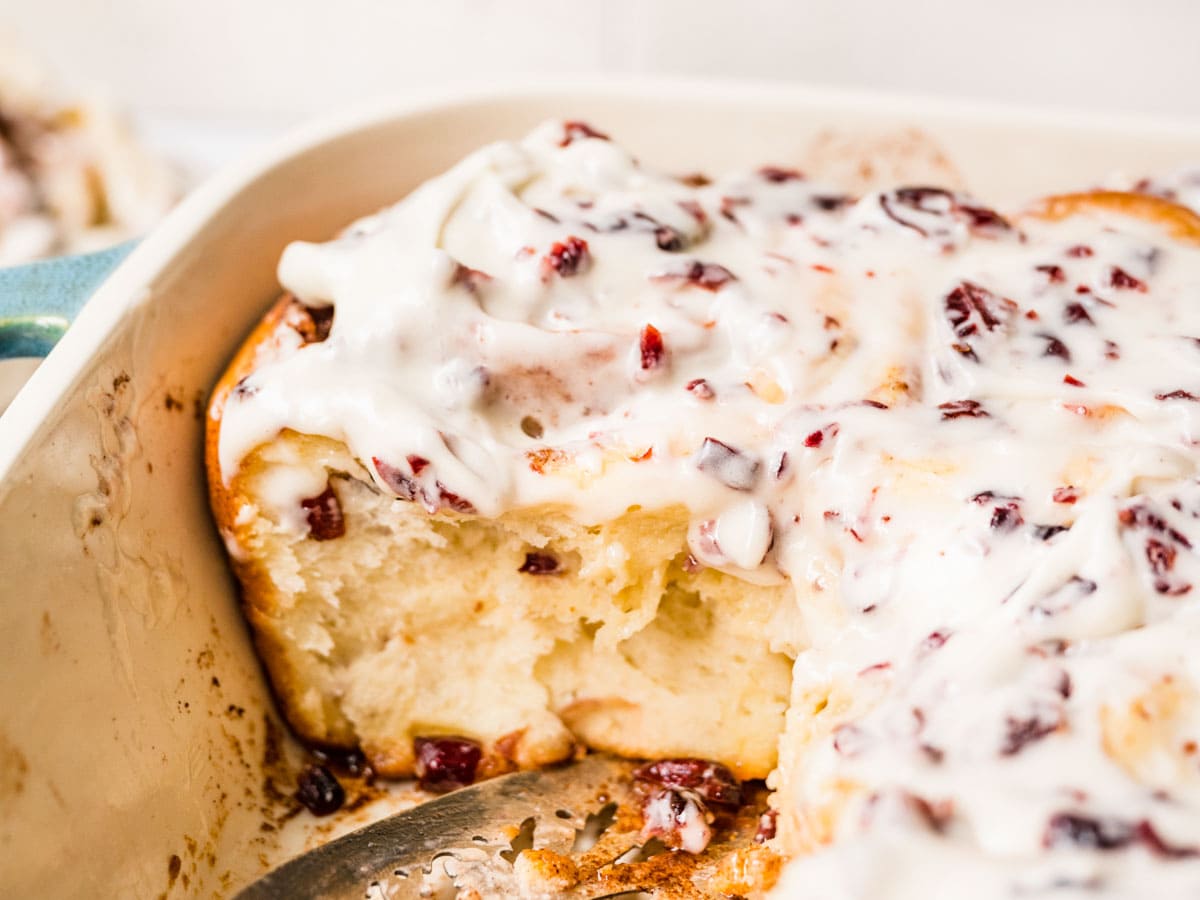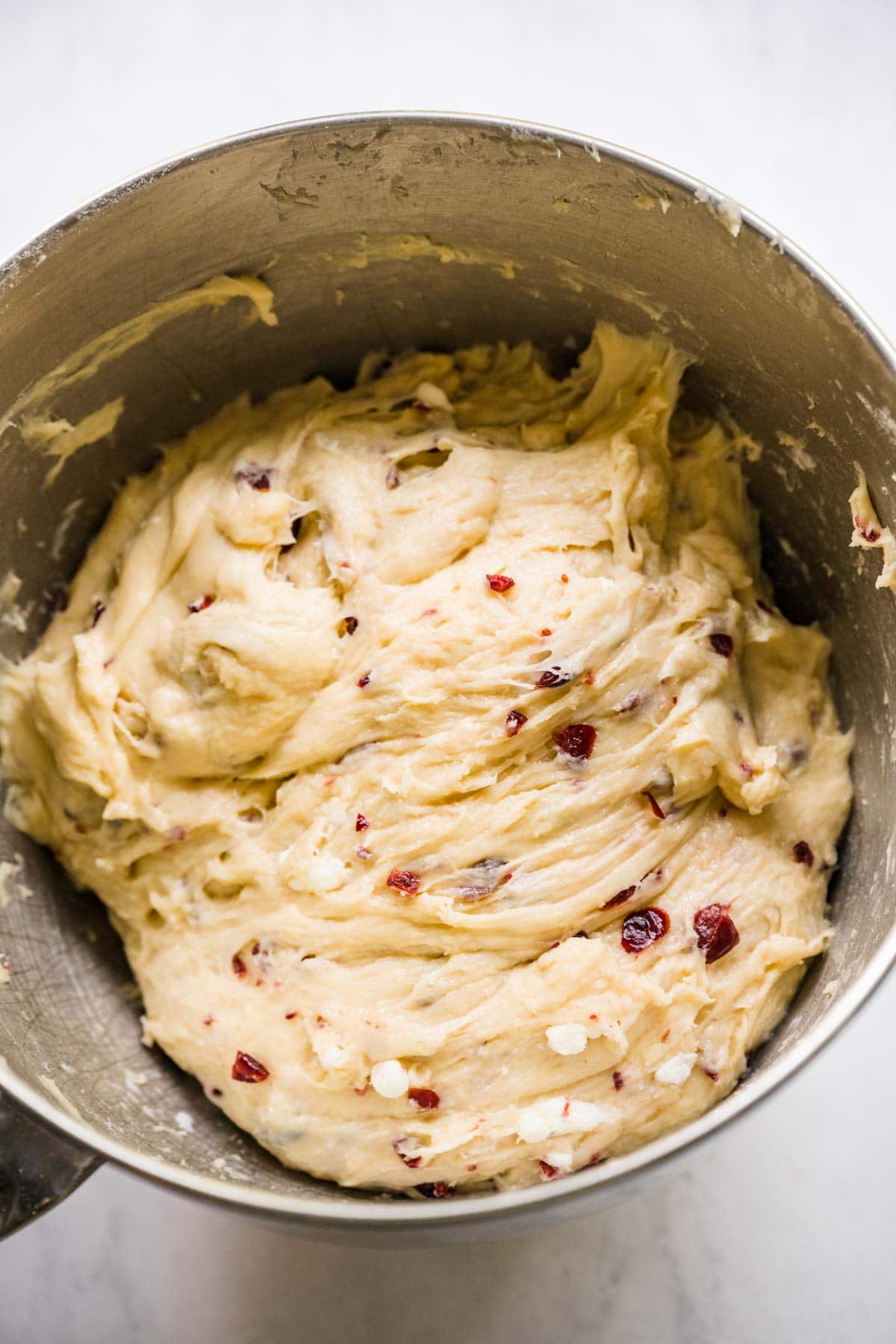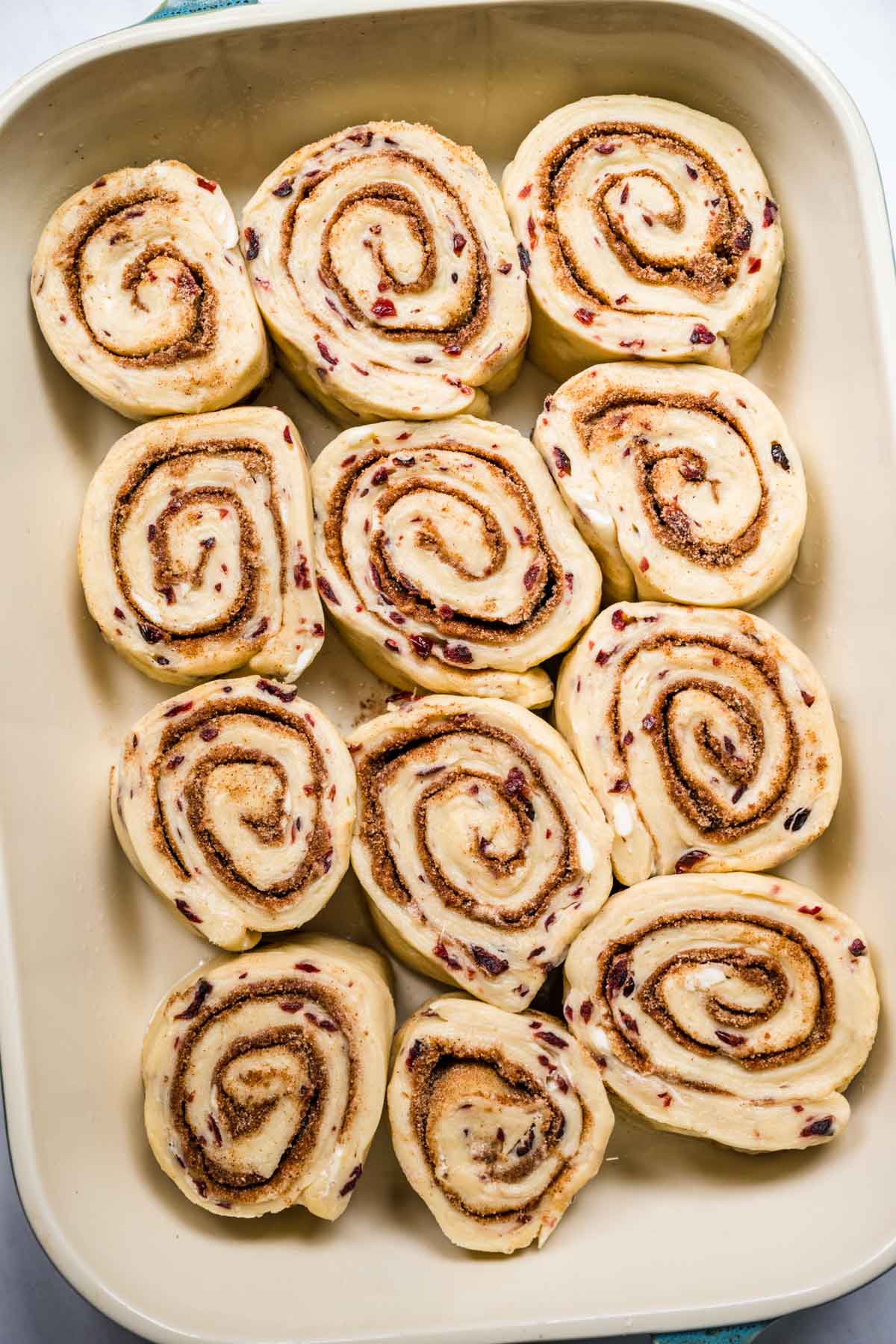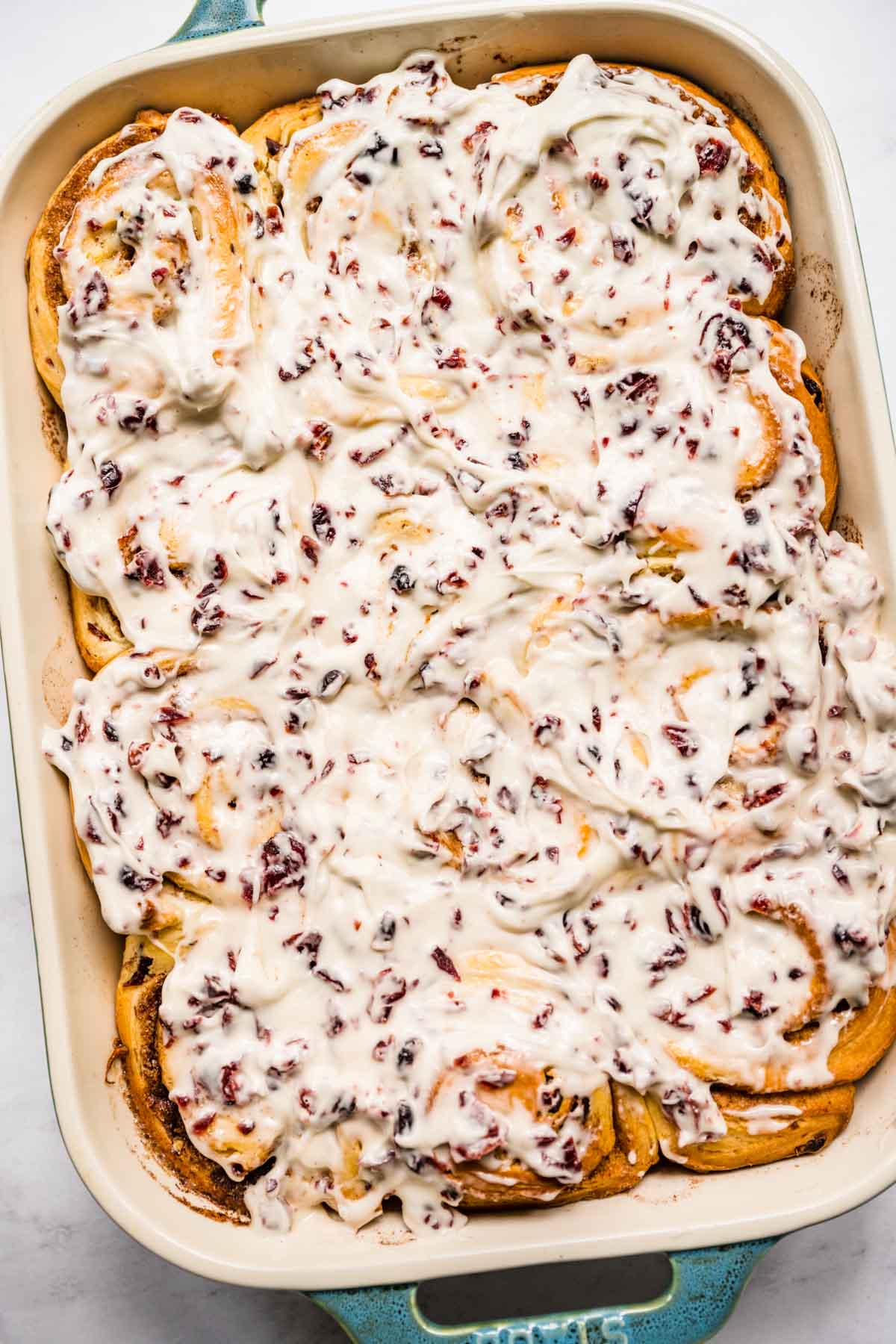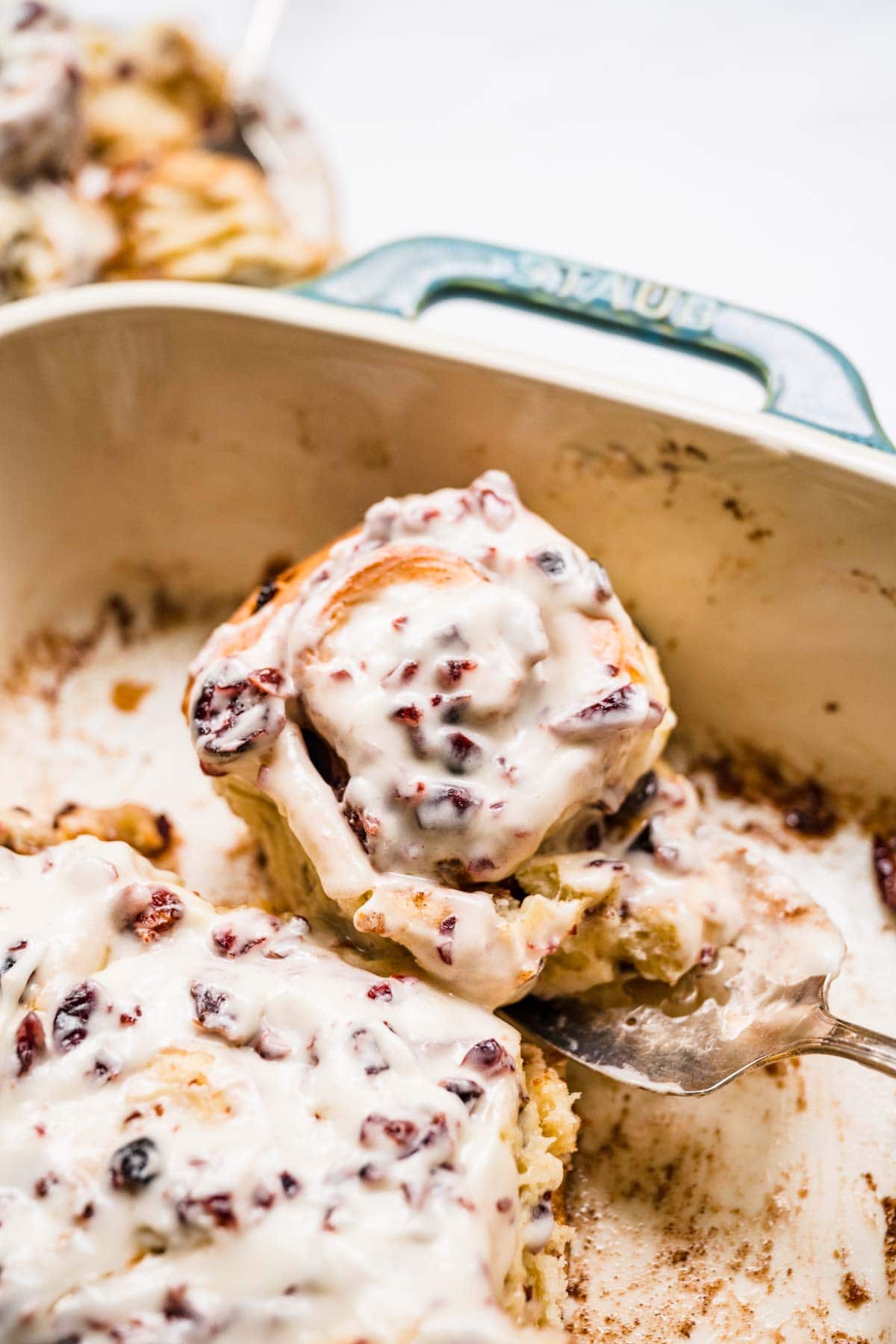 About our Cranberry White Chocolate Cinnamon Rolls Recipe
We've used white chocolate and cranberries in plenty of our holiday baking recipes. White Chocolate Cranberry Cookies, Cranberry Bliss Bars, and Cranberry Orange Blondies all take advantage of this flavor duo. The ultra-sweet chocolate and tart cranberries perfectly complement each other in warm sweet baked goods.
The amazing combination works especially well in gooey warm cinnamon rolls. These delicious Cranberry White Chocolate Cinnamon Rolls start with a regular cinnamon roll dough, then you mix in dried cranberries and white baking chips. The white chocolate will melt as they bake so the warm rolls will be extra gooey with rich chocolate and fruit tastes throughout. They get more cranberries added to the tangy cream cheese icing for the ultimate fruity, white chocolaty sweet rolls!
Cranberry White Chocolate Cinnamon Rolls Ingredients
Cinnamon Roll Dough: These cinnamon rolls start with a basic buttery dough recipe made with yeast, milk, butter, flour, sugar, salt and eggs. This recipe uses instant yeast so the dough rises quicker for delicious cinnamon rolls in about an hour!
White Chocolate Chips: The white chocolate chips are mixed right into the dough so you get creamy, melty bits of sweet vanilla chips in every bite.
Cranberries: There are chewy, tangy sweet cranberries also mixed into the dough plus more added to the frosting. The rolls are bursting with the fruity holiday berries!
Cinnamon Filling: The buttery cinnamon sugar filling works perfectly with the white chocolate and cranberry flavors. This recipe uses granulated sugar but you can use brown sugar if you prefer.
Cream Cheese Icing: A sweet and fluffy cream cheese icing is the classic topping for warm sweet rolls. This icing gets some dried cranberries added for extra chewy cranberry goodness!
Kitchen Tools & Equipment
Baking Dish: You don't need a special jelly roll pan, you can just use a regular 9×13 inch baking dish to make these rolls. You can also use two smaller round cake pans and bake two batches.
Dough Hook: A dough hook attachment for your stand mixer makes baking yeast dough recipes like cinnamon rolls so much easier! No need to hand knead your dough and you get a better rise because it kneads it more consistently.
How to Make Cranberry White Chocolate Cinnamon Rolls
Time needed: 1 hour and 10 minutes.
Since you are using instant dry yeast in this recipe, these amazing White Chocolate Cranberry Cinnamon Rolls are made in about 1 hour!
Make the Bread Dough

Heat the milk and butter to 110 degrees. Pour the milk mixture into your stand mixer and whisk in your yeast. Let sit for a minute to activate. Add the flour, sugar, salt, and eggs to the yeast mixture. Using a dough hook, knead the dough for 5-7 minutes until a dough ball forms and pulls away from the sides of the bowl. Knead in the white chocolate chips and cranberries. 

Proof the Dough

Remove the dough ball, grease the mixer bowl then return the ball of dough to the bowl. Cover the bowl with a kitchen towel and let it rise for 10 minutes. 

Make the Cinnamon Filling

Preheat the oven while you make the filling. Combine the sugar and cinnamon in a medium bowl.

Fill the Dough

Roll the dough into a large rectangle on a floured surface until it's ½ inch thick. Spread the butter over the top of the dough. Cover with the cinnamon sugar mixture.

Shape the Rolls

Starting at one long end, tightly roll the dough over the filling. Use a clean piece of thread (or unscented floss) cut the dough log into 18 even, large rolls.

Second Rising Time

In a buttered baking pan (or jelly roll pan), place the rolls cut side up. Let the rolls rise for 20 minutes until they have increased in size. 

Bake the Sweet Rolls

In the preheated oven, bake the rolls for 18-20 minutes. Be careful not to overbake. Once they're starting to look golden brown, take the baking dish out of the oven. Let cool for 10 minutes before frosting.

Frost the Baked Rolls

Beat the cream cheese, butter, vanilla, powdered sugar, milk, and cranberries together until fluffy. Spread the frosting over the warm rolls and serve.
Nutritional Facts
This recipe makes 18 rich, indulgent cinnamon rolls worth every calorie!
Nutrition Facts
White Chocolate Cranberry Cinnamon Rolls
Amount Per Serving
Calories 661
Calories from Fat 225
% Daily Value*
Fat 25g38%
Cholesterol 81mg27%
Sodium 327mg14%
Potassium 172mg5%
Carbohydrates 102g34%
Protein 8g16%
Vitamin A 760IU15%
Vitamin C 0.1mg0%
Calcium 104mg10%
Iron 2mg11%
* Percent Daily Values are based on a 2000 calorie diet.
Making Cranberry White Chocolate Cinnamon Rolls Tips & Tricks
Activate the Yeast Properly

It's important to use warm milk for the recipe. 110 degrees is just right. If it's much colder the dry yeast won't properly activate, and if it's too hot it will kill the yeast. Giving the milk mixture time to sit is also important to activating the yeast so that the rolls eventually rise.

Working with Yeast Dough

If the cinnamon roll dough isn't pulling away from the sides, it may be too sticky. To fix this you can add in a little extra flour. Just be careful not to add too much or it will make the rolls dense.
Remember to grease the bowl. Letting the dough sit in a lightly greased bowl will help it to rise because it won't be fighting to pull away from the bowl.
Be sure to chill the dough before shaping it. Chilled dough will be much easier to work with so you'll get a better shaped final product.
How to Store Cranberry White Chocolate Cinnamon Rolls
Serve: After you've made the Cranberry Breakfast Rolls, they'll be good at room temperature for 2-3 days. Cover them in plastic wrap or tin foil to keep them soft. You could also store them in an airtight container in the refrigerator for up to 1 week then warm them up to soften before serving.
Reheat: It's best to reheat your cinnamon rolls in the oven on low heat so they don't dry out or get hard after they cool. Warm them for 8-10 minutes in a 250-degree oven in a baking dish covered with foil.
Freeze: For long-term storage seal the rolls in a freezer-safe container and freeze them for up to 4 months. To defrost them, put them in the fridge overnight then reheat as instructed above.
FAQ for Cranberry White Chocolate Cinnamon Rolls
Why aren't my cinnamon rolls fluffy?
While there are a few reasons your rolls didn't rise properly, it's usually because you didn't give the dough enough time to proof. You don't want to skip that second rising time. If it's really cool in your home, let them rise in a warm oven.
Why are my cinnamon rolls tough and dry?
The culprit behind tough and dry cinnamon rolls is too much flour. Don't add too much flour to your sticky dough, no more than 1 cup total, adding a little at a time. Only add flour until it just pulls away from the sides of the bowl.
Recipe Card


Ingredients
Cinnamon Roll Dough:
2

cups

whole milk

1/2

cup

butter

, room temperature

6 1/2

cups

all-purpose flour

, divided

1/2

cup

granulated sugar

1

teaspoon

salt

2

packets

instant rapid rise yeast

2

large

eggs

1

cup

white chocolate chips

1

cup

sweetened dried cranberries

, roughly chopped
For the Filling:
1

cup

sugar

3

tablespoons

ground cinnamon

1/2

cup

butter

, room temperature
Cream Cheese Icing:
12

ounces

cream cheese

, (1 ½ packages) softened

1/3

cup

butter room temperature

1

tablespoon

vanilla extract

5

cups

powdered sugar

3

tablespoons

milk

1/2

cup

sweetened dried cranberries

, roughly chopped
Instructions
Cinnamon Roll Dough:
In a small saucepan heat the milk and butter to 110 degrees (warm to touch).

Into your stand mixer add the yeast and milk and whisk and let sit for

1 minute

.

Add 6 cups of the flour, sugar, salt, and eggs to the stand mixer.

PRO TIP: COVER YOUR MIXER WITH A CLEAN DISH TOWEL.

Attach the dough hook and turn the mixer on speed 3-4 (low to medium).

Let it go for

5-7 minutes

, you want the dough to become a ball that doesn't stick to the walls of the bowl.

Add in white chocolate chips and cranberries and knead for

30 seconds

to combine.

If you find sticking add flour ¼ cup at a time until it pulls away (no more than another cup)

Take the dough out, grease the stand mixer bowl, and put it back in.

Cover the dough with the dish towel you used to keep the flour in the stand mixer.

Let sit for

10 minutes

while you set the oven to preheat to 350 degrees and you make the filling.
Filling:
In a medium-sized bowl mix the sugar and cinnamon.

Using a large even surface, add ½ cup of flour and roll it out onto the surface to coat the rolling pin and the surface.

Roll out the dough into a large rectangle about a ½ inch thick (if your space is limited do this in two halves).

Spread the butter over the dough (I use my hands) and sprinkle the cinnamon sugar over the butter.

Roll the dough tightly to form a long log and using a piece of thread slice off pieces.

The dough will make 18 large cinnamon rolls.

Place the rolls into buttered baking pans or jelly rolls.

Place the rolls into a warm place for

20 minutes

(I have a second oven, so I heat it to warm when I start the recipe, then turn it off and open the door for a couple of seconds then close the door. The residual warmth is perfect for these rolls).
Cream Cheese Icing:
In your stand mixer beat all the ingredients together until light and fluffy.
To Finish:
Bake the rolls for

18-20 minutes

or until golden brown.

Spread the cream cheese frosting over the rolls and serve warm or at room temperature.
Nutrition
Calories:
661
kcal
|
Carbohydrates:
102
g
|
Protein:
8
g
|
Fat:
25
g
|
Saturated Fat:
15
g
|
Polyunsaturated Fat:
1
g
|
Monounsaturated Fat:
7
g
|
Trans Fat:
1
g
|
Cholesterol:
81
mg
|
Sodium:
327
mg
|
Potassium:
172
mg
|
Fiber:
3
g
|
Sugar:
65
g
|
Vitamin A:
760
IU
|
Vitamin C:
0.1
mg
|
Calcium:
104
mg
|
Iron:
2
mg
Cranberry White Chocolate Cinnamon Rolls Variations
Brown Sugar: If you prefer a sweeter filling without the cinnamon flavor, you can use brown sugar to replace the cinnamon-sugar mixture.
Cranberry Orange Sweet Rolls: For more tart and zesty rolls, you can make a cranberry orange filling. To make the tart cranberry orange filling combine 4 cups fresh cranberries, 1 cup granulated sugar, ¼ cup orange juice, and 2 teaspoons orange zest in a saucepan. Bring the mixture to a boil, and then let it simmer for 15 minutes. Allow the jam to cool before spreading it over the dough.
Cranberry Sauce: For even more cranberry flavor, you can add your favorite Cranberry Sauce as the filling instead of the cinnamon mixture and butter. You could also add some to the icing.
Berries: Easily change up the flavor with other berries like blueberries, raspberries, or strawberries. You could also use other dried fruit like raisins, apricots and cherries, or even do a blend of your favorite fruits and berries.
Related Recipes
More Holiday Cinnamon Roll Recipes