Apple Crisp Cinnamon Rolls are homemade cinnamon rolls filled with cinnamon apple pie filling, topped with a brown sugar oat crumble and cream cheese icing.
Warm, gooey homemade Cinnamon Rolls are hands down one of the best breakfast Baked Goods you can ever make! This apple crisp version is a delicious fall treat!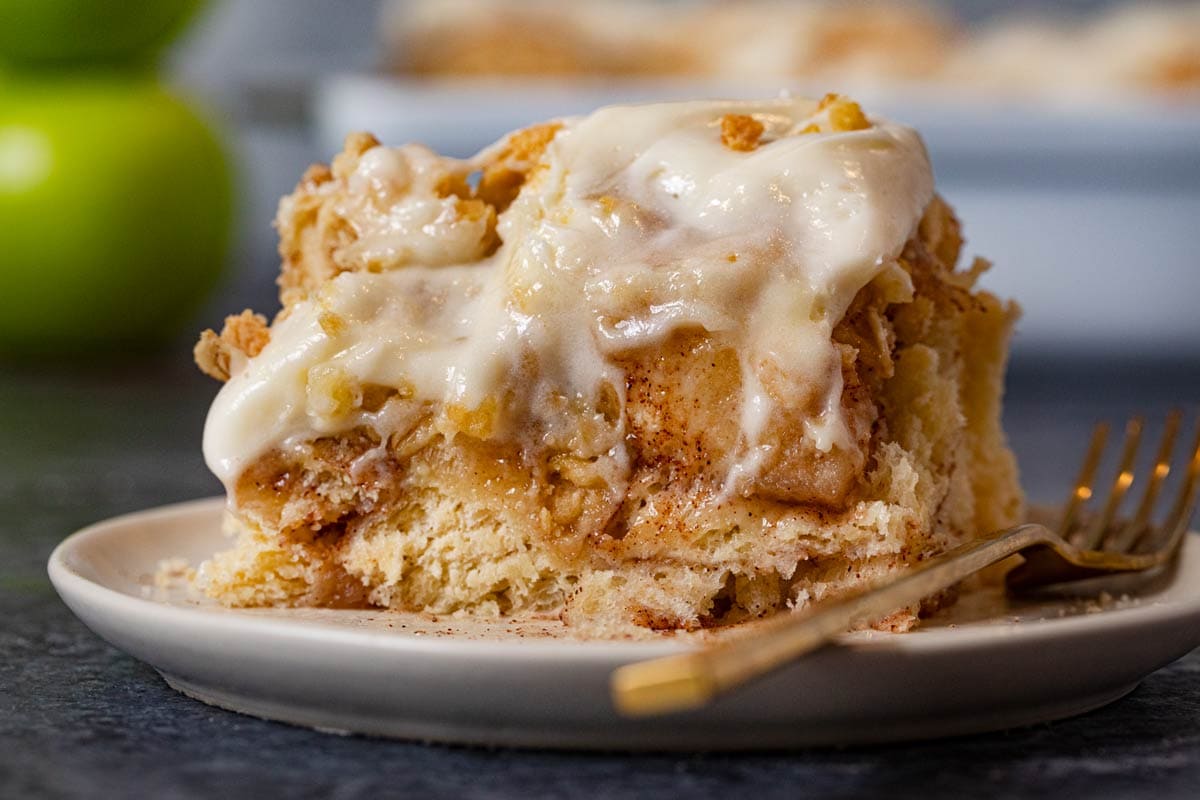 APPLE CRISP CINNAMON ROLLS
If you've never made homemade Cinnamon Rolls before, prepare to have your mind and your taste buds explode. There truly is nothing like a fresh baked cinnamon roll made from scratch. The only thing close would be a Cinnabon Roll, but even those taste better made in your kitchen, where they can fill your home with warm cinnamon-y goodness. These apple pie cinnamon rolls have all that goodness plus a little extra.
From the buttery dough, to the cinnamon apple pie filling, to the crisp oat crumble, to the sweet creamy icing, every layer of these apple-filled cinnamon rolls is amazingly delicious. Combined all together they make an out of this world bite that is going to take breakfast to the next level.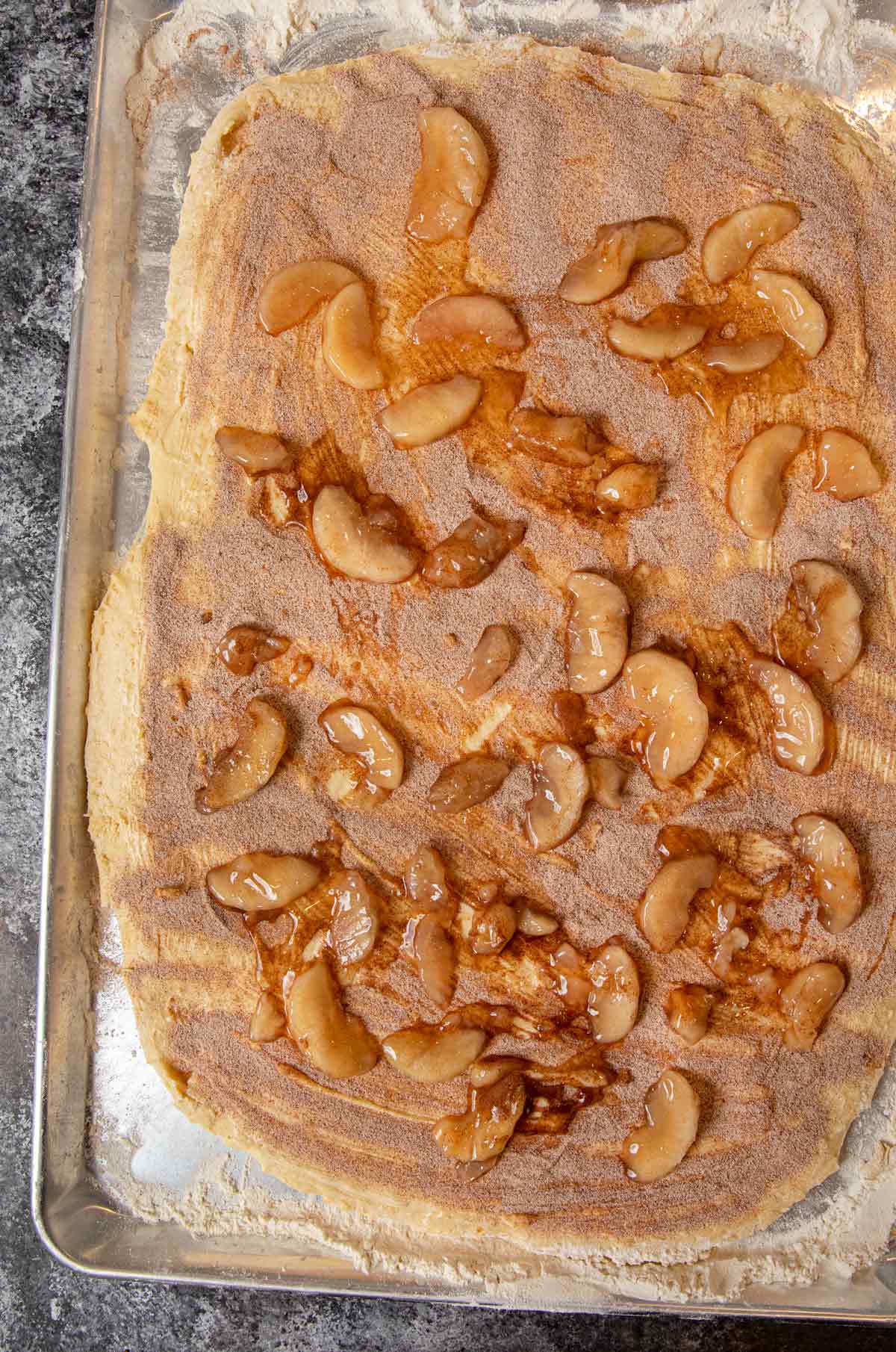 At first glance, this Apple Crisp Cinnamon Rolls recipe can be overwhelming – there are a lot more instructions than many of our recipes. They are a lot easier than they look though! Really, Apple Crisp Cinnamon Rolls can be broken into 4 parts: dough, filling, topping, icing. The dough is the hardest part, but we have a fail-proof recipe and tips to make sure it comes out perfectly light and airy.
To make this Apple Crisp Cinnamon Roll recipe even easier, we used Apple Pie Filling instead of dicing and cooking apples. Try making homemade if you have time, or just swap in a large can of store bought filling. Speaking of this better with homemade recipes, add a drizzle of Salted Caramel Sauce for Caramel Apple Cinnamon Rolls!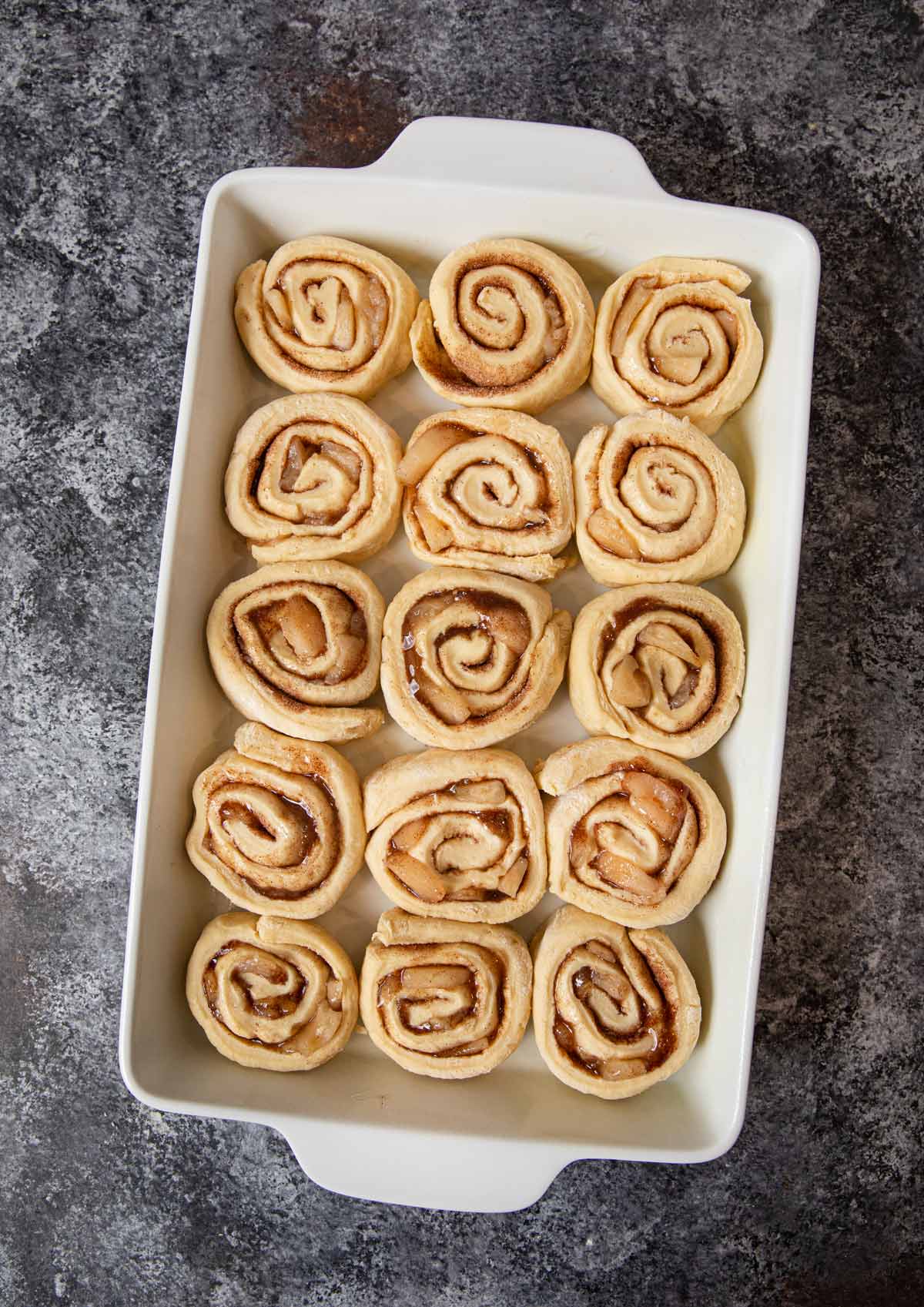 Make Ahead Apple Crisp Cinnamon Rolls
Prepare Apple Crisp Cinnamon Rolls the night before to make breakfast time easier and still have fresh baked cinnamon rolls. The second "proof", or the rising of the filled dough, can be done overnight in the refrigerator. Simply prepare and fill the rolls, place in greased pan, wrap tightly with plastic wrap, and refrigerate overnight. The next morning, bring the rolls to room temperature and bake as usual.
MORE DELICIOUS BREAKFAST RECIPES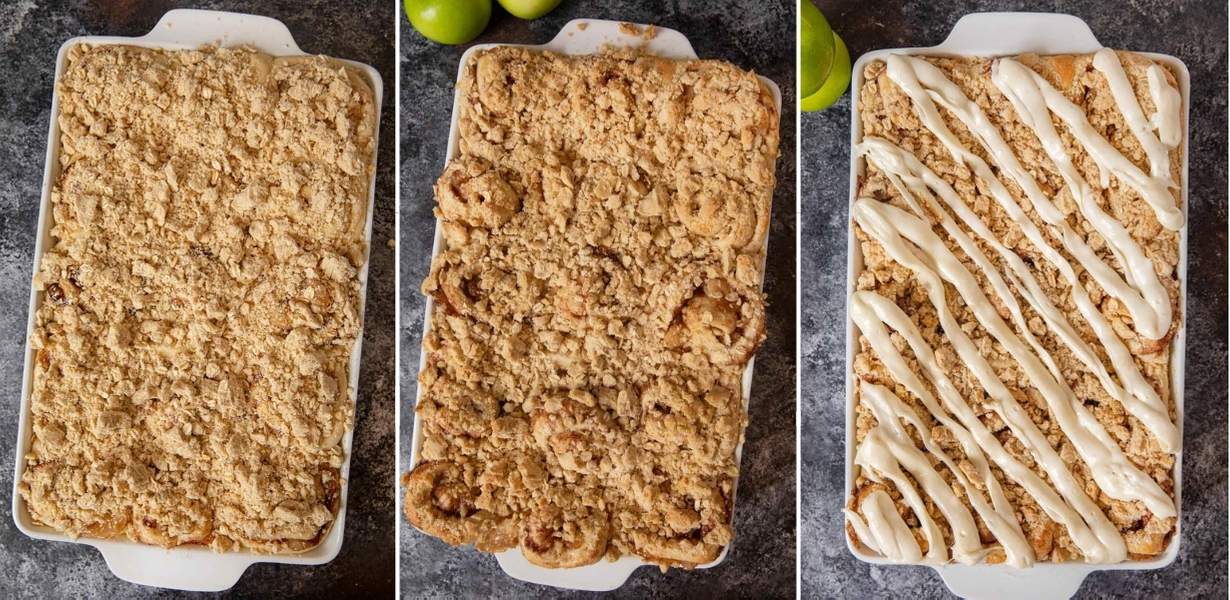 Create a free account to

Save Recipes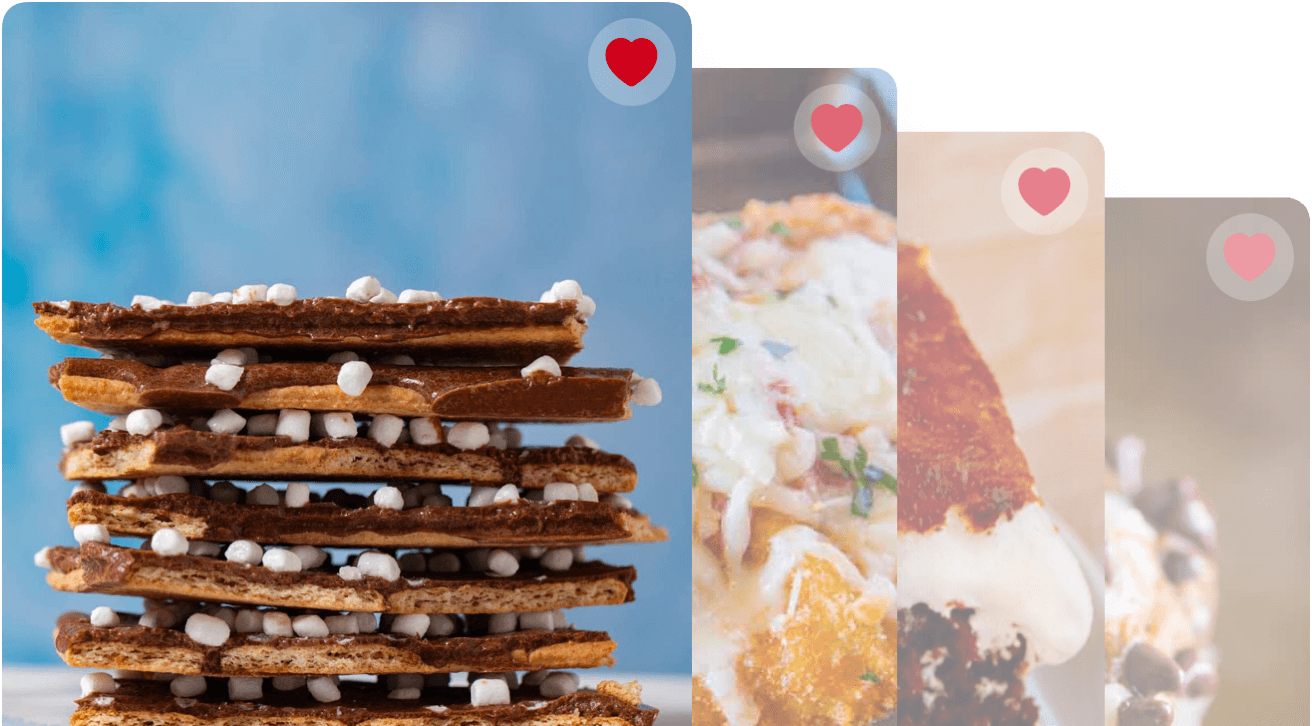 VARIATIONS ON APPLE CRISP CINNAMON ROLLS
Packaged Cinnamon Rolls: Skip the homemade cinnamon rolls if you are in a hurry and use 2 cans of cinnamon rolls (jumbo size). In the bottom of the greased baking dish, arrange cinnamon rolls and spread apple pie filling over the top. Top with crumble topping and bake for 20 minutes. Serve with cream cheese icing.
Nuts: For a delicious crunch, add up to 1 cup chopped pecans or walnuts to the filling and to the streusel topping, adding ½ cup to streusel and ½ cup to filling.
Pie Filling: Try these Apple Crisp Cinnamon Rolls with other fruit fillings like cherry pie filling or blueberry pie filling. You can also use 2 cups Pumpkin Puree, or 1 large can, mixed with 1 tablespoon sugar and 1 teaspoon Pumpkin Pie Spice.
Apples: You can use fresh apples instead of apple pie filling in the cinnamon roll filling. Peel and dice tart apples (like Granny Smith or Honeycrisp) into bite sized pieces. Spread diced apples in an even layer over cinnamon sugar mixture and assemble as usual.
Cinnamon Icing: If you love cinnamon flavor, add a ½ teaspoon ground cinnamon to the cream cheese icing. You could also add apple pie spice blend, maple syrup, melted chocolate, cocoa powder, or molasses for different flavors.
Slow Cooker Apple Crisp Cinnamon Rolls
Skip the second proofing step by making Slow Cooker Apple Crisp Cinnamon Rolls.
Prepare cinnamon roll dough as usual and rise the first time.
Roll out dough and fill with Apple Pie and cinnamon mixture. Roll and slice.
Line slow cooker with parchment paper. Place cinnamon rolls in bottom of slow cooker.
Cover top of slow cooker with paper towel and slow cooker lid. Cook on high for 1 ½ hours.
Remove lid and sprinkle top with apple crumble topping. Cover with a new paper towel and lid.
Cook another 1 – 1 ½ hours on high heat, until baked through. Use parchment paper to remove cinnamon rolls and serve with icing.
MORE SWEET & TASTY BREAKFAST RECIPES
HOW TO STORE APPLE CRISP CINNAMON ROLLS
Serve: Apple Crisp Cinnamon Rolls can be at room temperature without icing for up to 3 days. Apple Cinnamon Rolls with the cream cheese icing you should store them after 2 hours.
Store: Store Apple Cinnamon Rolls with Icing in an airtight container in the refrigerator for up to 5 days. Reheat in the oven until warmed through.
Freeze: Freeze unfrosted Apple Crisp Cinnamon Rolls for up to 3 months in a sealed container. Reheat from frozen, covered with foil, in an oven at low heat (300-325 degrees).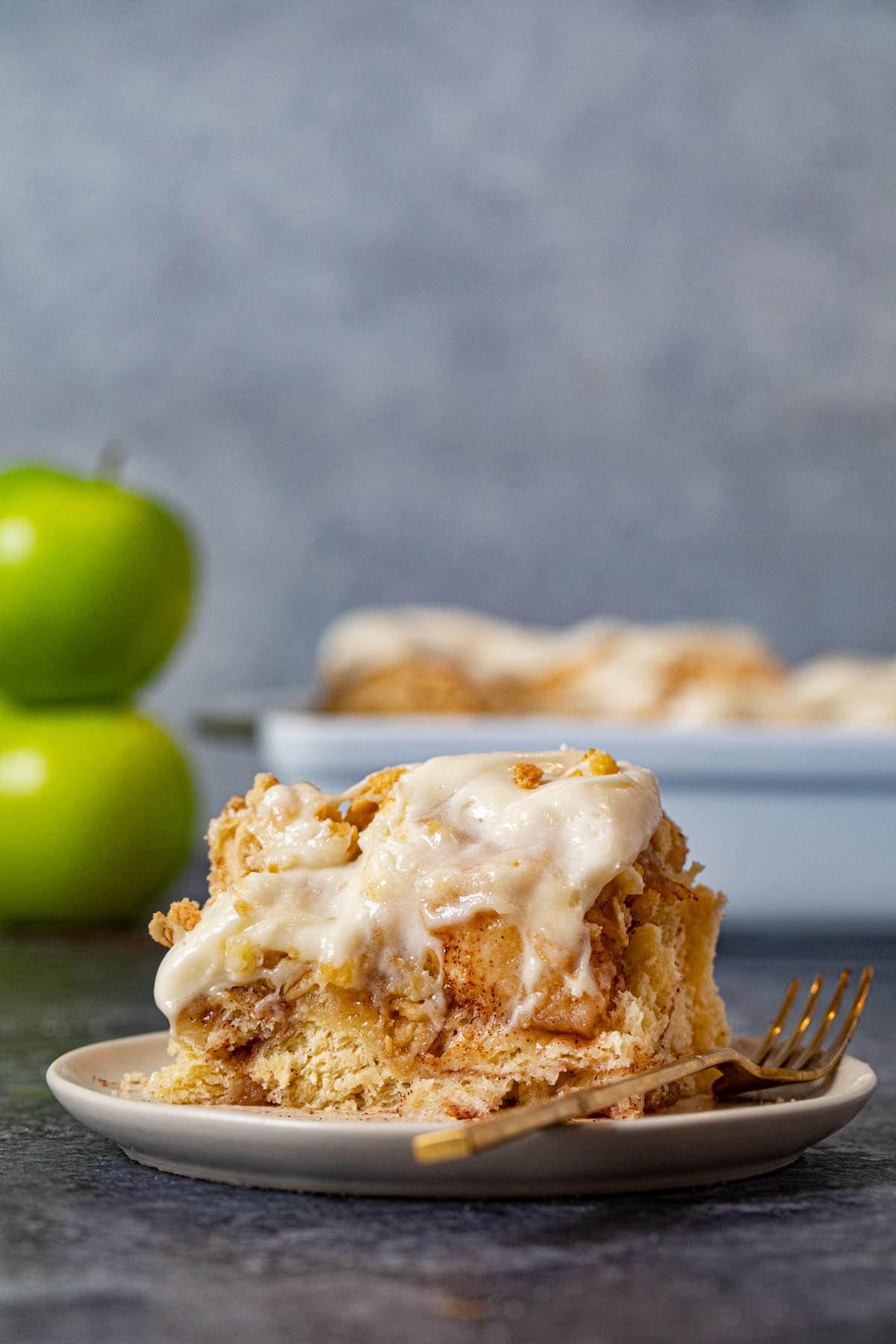 Ingredients
Cinnamon Roll Dough
2

cups

whole milk

1/2

cup

butter

, room temperature

6 1/2

cups

flour

, divided

1/2

cup

sugar

1

teaspoon

salt

2

packets

instant rapid rise yeast

2

large

eggs
Cinnamon Roll Filling
1

cup

sugar

3

tablespoons

ground cinnamon

1/2

cup

butter

room temperature

21

ounces

Apple Pie Filling
Crisp Topping
1 1/2

cups

flour

3/4

cup

sugar

3/4

cup

light brown sugar

, packed

1/2

teaspoon

kosher salt

1

cup

rolled oats

, not instant

1/2

cup

cold unsalted butter

, diced
Cream Cheese Icing
12

ounces

cream cheese

, (1 ½ packages), softened

1/3

cup

butter

, room temperature

1

tablespoon

vanilla extract

5

cups

powdered sugar

3

tablespoons

milk
Instructions
Cinnamon Roll Dough:
In a small saucepan heat the milk and butter to 110 degrees (warm to touch).

Into your stand mixer add the yeast and milk and whisk and let sit for one minute.

Add 6 cups of the flour, sugar, salt and eggs to the stand mixer.

PRO TIP: COVER YOUR MIXER WITH A CLEAN DISH TOWEL.

Attach the dough hook and turn the mixer on speed 3-4 (low to medium).

Let it go for

5-7 minutes

, you want the dough to become a ball that doesn't stick to the walls of the bowl.

Tip: If you find sticking add flour ¼ cup at a time until it pulls away (no more than another cup)

Take the dough out, grease the stand mixer bowl and put it back in.

Cover the dough with your dish towel you used to keep the flour in the stand mixer.

Let sit for

10 minutes

while you set the oven to preheat to 350 degrees and you make the filling.

In a medium sized bowl mix the sugar and cinnamon.

Using a large even surface, add ½ cup of flour and roll it out onto the surface to coat the rolling pin and the surface.

Roll out the dough into a large rectangle about a ½ inch thick (if your space is limited do this in two halves).

Spread the butter over the dough (I use my hands) and sprinkle the cinnamon sugar over the butter.

Remove the apples from most of the glaze in the can. (Optional: Reserve glaze for sauce. See Note 2.)

Chop apples in half and add to the dough evenly.

Roll the dough tightly to form a long log and using a piece of thread slice off pieces. The dough will make 18 large cinnamon rolls.

Place the rolls into buttered baking pans or jelly rolls.

Place the rolls into a warm place for

20 minutes

(See Note 3.)
Crisp Topping:
Mash together the flour, ¾ cup sugar, ¾ cup brown sugar, salt, oats and butter.

Sprinkle over the cinnamon rolls.
Cream Cheese Frosting:
In your stand mixer beat cream cheese, sugar and vanilla extract until creamy.

Add the powdered sugar and milk, beating until light and fluffy.
To Finish:
Bake the rolls for

18-20 minutes

or until golden brown.

Spread the cream cheese frosting (or glaze from notes) over the rolls and serve warm or at room temperature.
Notes
Note 1:

PRO TIP: COVER YOUR MIXER WITH A CLEAN DISH TOWEL.
Note 2:

You can reserve glaze as a sauce if you'd like, just add ¼ teaspoon ground cinnamon and warm before using.
Note 3: I have a second oven, so I heat it to warm when I start the recipe, then turn it off and open the door for a couple of seconds then close the door. The residual warmth is perfect for these rolls.
Nutrition
Calories:
748
kcal
|
Carbohydrates:
126
g
|
Protein:
10
g
|
Fat:
24
g
|
Saturated Fat:
14
g
|
Cholesterol:
81
mg
|
Sodium:
444
mg
|
Potassium:
202
mg
|
Fiber:
3
g
|
Sugar:
74
g
|
Vitamin A:
769
IU
|
Vitamin C:
1
mg
|
Calcium:
103
mg
|
Iron:
3
mg