Avocado Egg Salad takes everything you love about egg salad and adds healthy avocado. Made flavorful with red onion, lemon juice, and a little hot sauce.
It's hard to beat the creamy simplicity of a Classic Egg Salad, but this Avocado Salad just might do it. The avocado adds extra rich flavor and creamy texture to the already delicious egg salad, and you don't have to use as much mayonnaise. It's sure to become a go-to for a quick, easy Side Dish.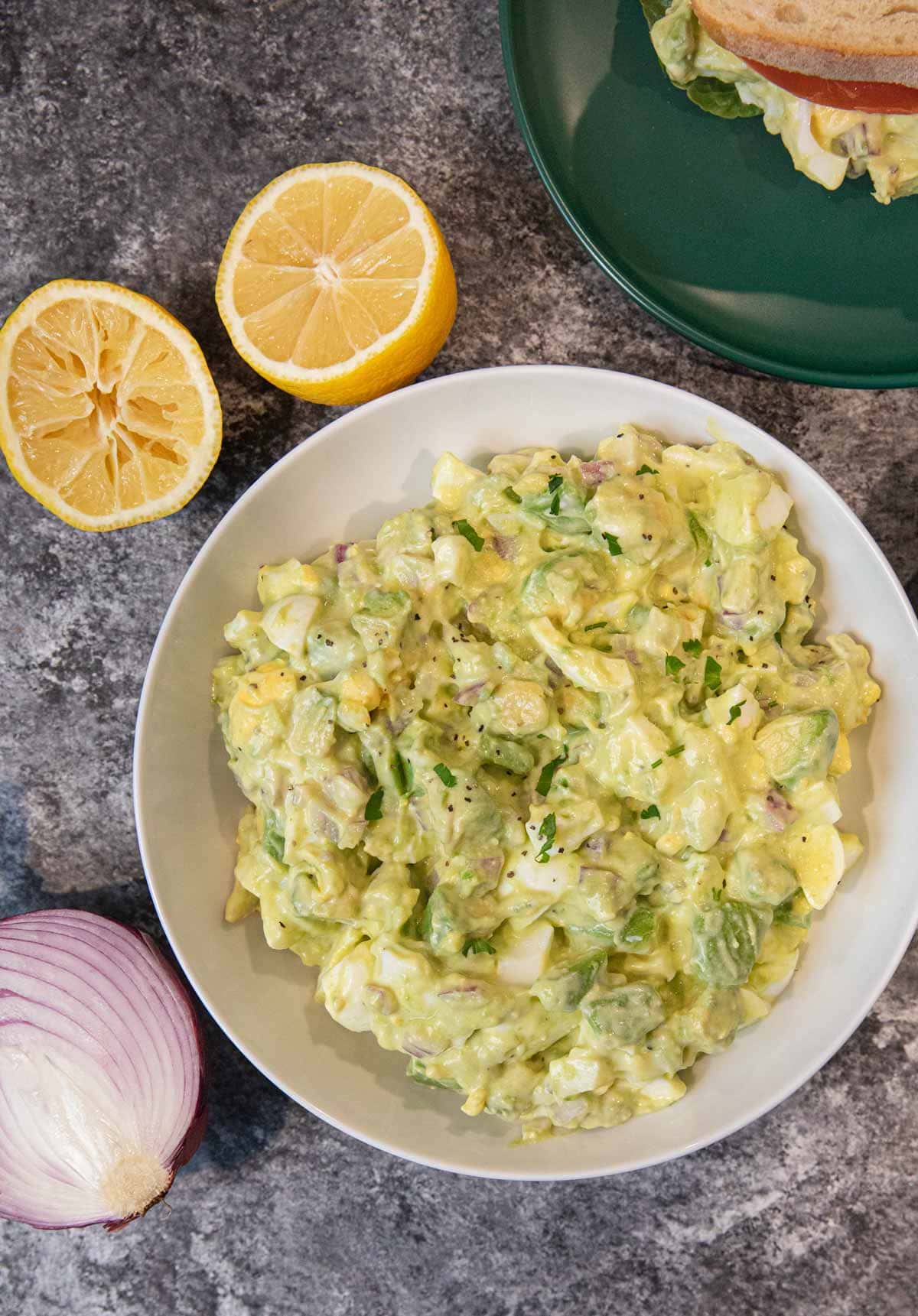 AVOCADO EGG SALAD
You're sure to love this spin on egg salad with a bit of spice. The next time you have a potluck, cookout, or family get-together, toss together this Avocado Salad for an easy side that's combined in 20 minutes. Just remember to prep a few hours in advance. While it's super quick to make, this salad does need some time to set in the refrigerator.
Avocado Egg Salad is the perfect side for classic BBQ recipes like Pulled Pork, or Grilled Chicken. It's also easy to make year-round so whether you're having an outdoor grilling day, or just want to enjoy a piece of Summer on a dreary afternoon, you can always whip up this salad. There's no need to let the weather stop you enjoying your cookout favorites. Make some Slow Cooker Ribs to go with the Egg Salad and you'll have the perfect BBQ dinner indoors.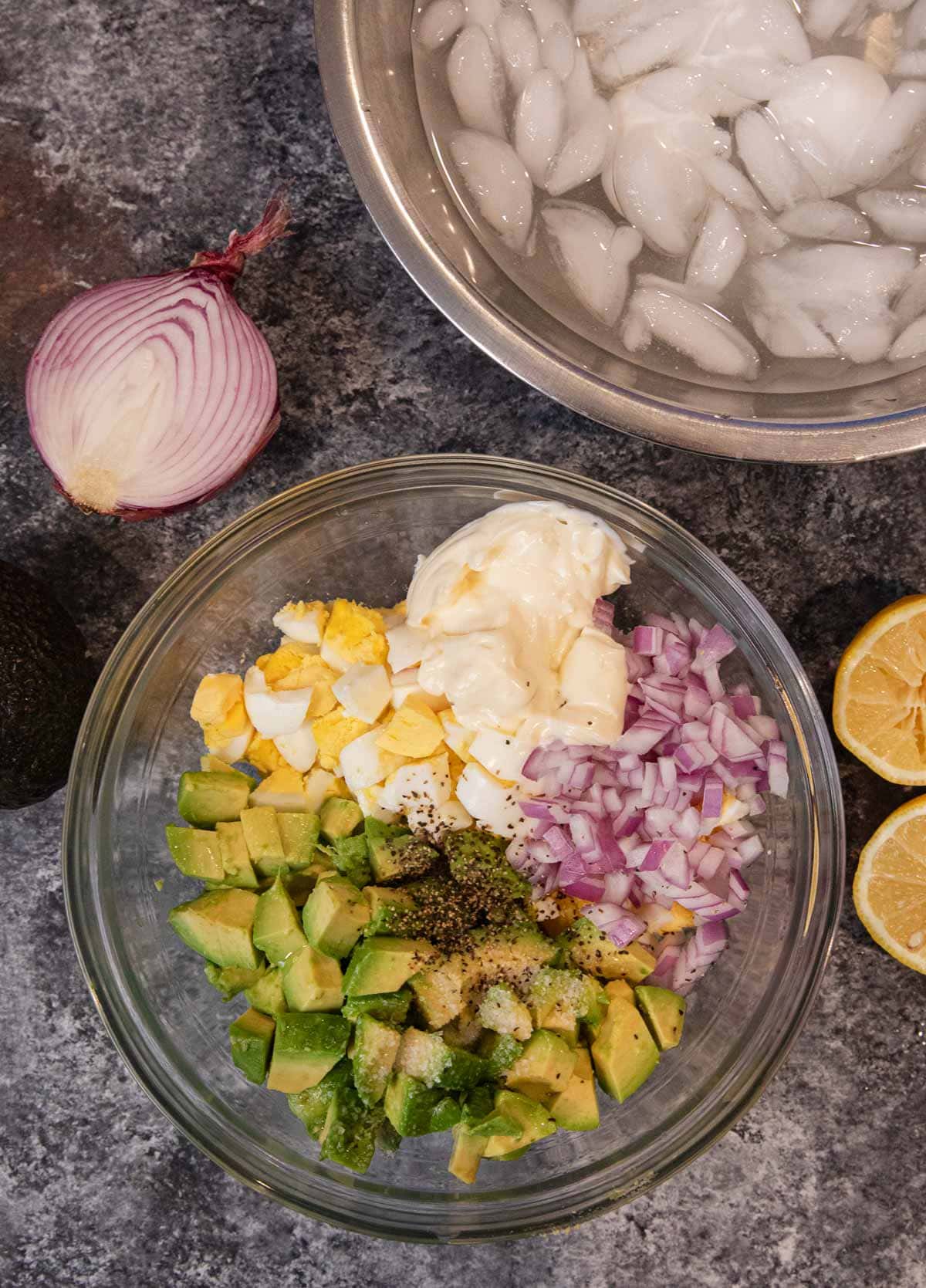 WHY USE AVOCADOS?
Avocado is ideal to add to your egg salad because of its naturally creamy texture. Because of how creamy the avocado is, you can cut back on some of the mayonnaise and still have a the perfect texture. Its buttery and slightly nutty taste is delicious, but not overpowering, so the flavor of the eggs, onion, lemon juice, and hot sauce shine through.
Avocados are also very healthy. They contain plenty of vitamins and potassium. Avocados are an excellent source of healthy fats. They have plenty of fiber and can even lower cholesterol. So, you can have the taste of your favorite egg salad, with lots of added health benefits.
MORE SALAD RECIPES
HOW TO MAKE AVOCADO EGG SALAD
Hard Boiled Eggs: Start by adding the eggs to a pot of cold water, then cover the pot. Turn on the stove to bring the water to a boil. Once the water is boiling shut off the water and let the egss sit for 12 minutes while still covered. After 12 minutes, put the eggs in an ice water bath. Once they're cool you can peel and slice them for the salad.
Salad: Add the eggs, onion, salt, pepper, mayonnaise, lemon juice, hot sauce, and the peeled and pitted avocados to a large bowl. Stir gently to combine the salad ingredients.
Set: Put the mixed salad in the refrigerater covered in plastic wrap. Leave it to set for an hour before serving.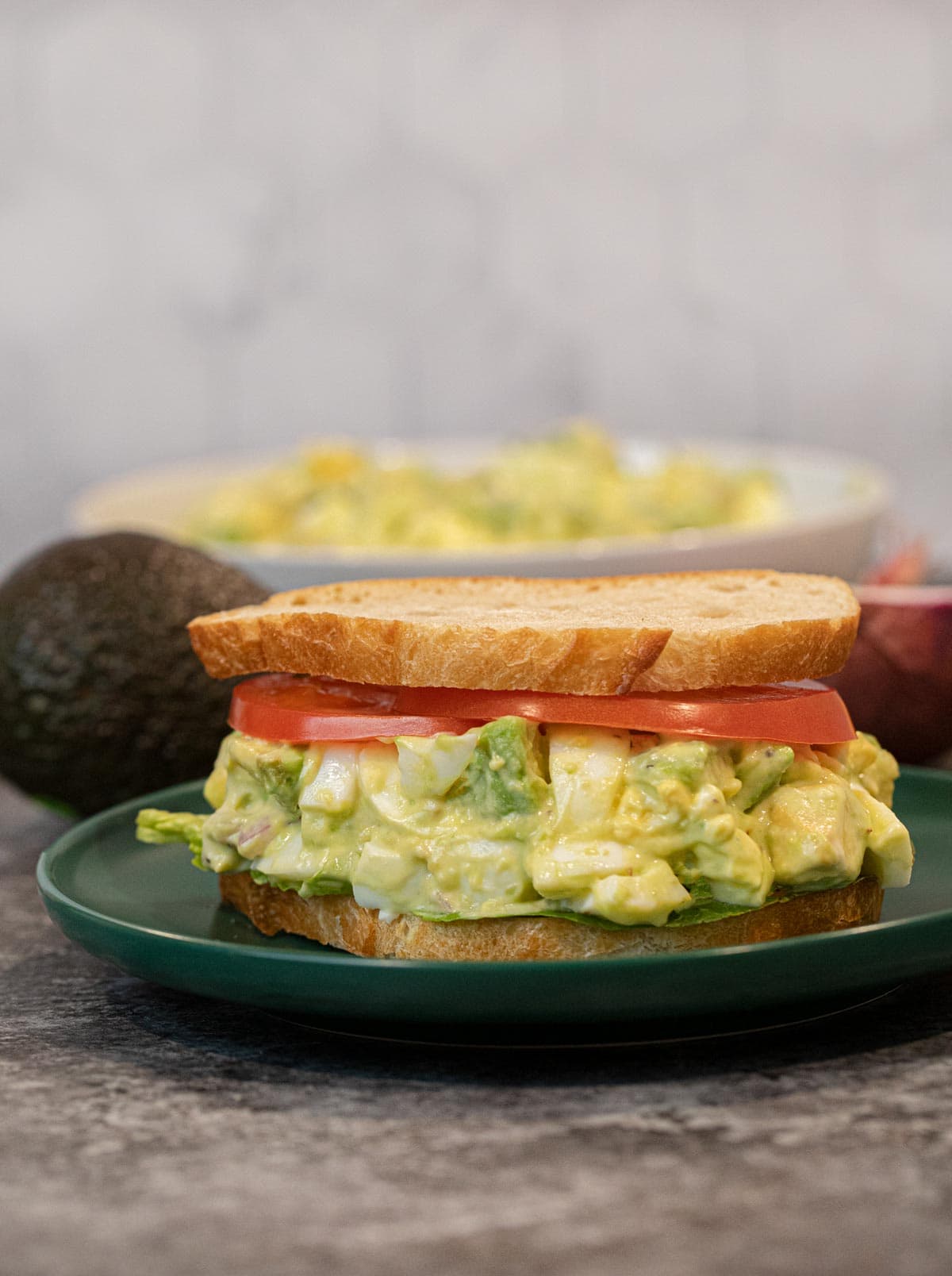 VARIATIONS ON AVOCADO EGG SALAD
Yogurt: If you don't want to use mayonnaise in your recipe, you can replace it with Greek yogurt. You'll get the same texture with just a slightly altered taste.
Spices: There are plenty of different seasonings you can add in for some extra flavor. Try mixing in some chives, paprika, or cayenne pepper.
Add-ins: For some flavorful additions try mixing in dijon mustard or horseradish. You could also add some sweetness to the mixture with a little bit of honey. Another option is sprinkling some shredded cheese over the top before serving.
EVEN MORE SALAD RECIPES
HOW TO STORE AVOCADO EGG SALAD
Serve: Don't leave your Avocado Egg Salad at room temperature for more than a few hours.
Store: You can keep Avocado Egg Salad covered in the fridge for up to 3 days. Keep in mind that the avocado will probably start to turn brown. This doesn't change the flavor or mean its gone bad, but for the best looking and tasting salad fresh is best.
Freeze: Unfortunately this salad won't freeze well at all.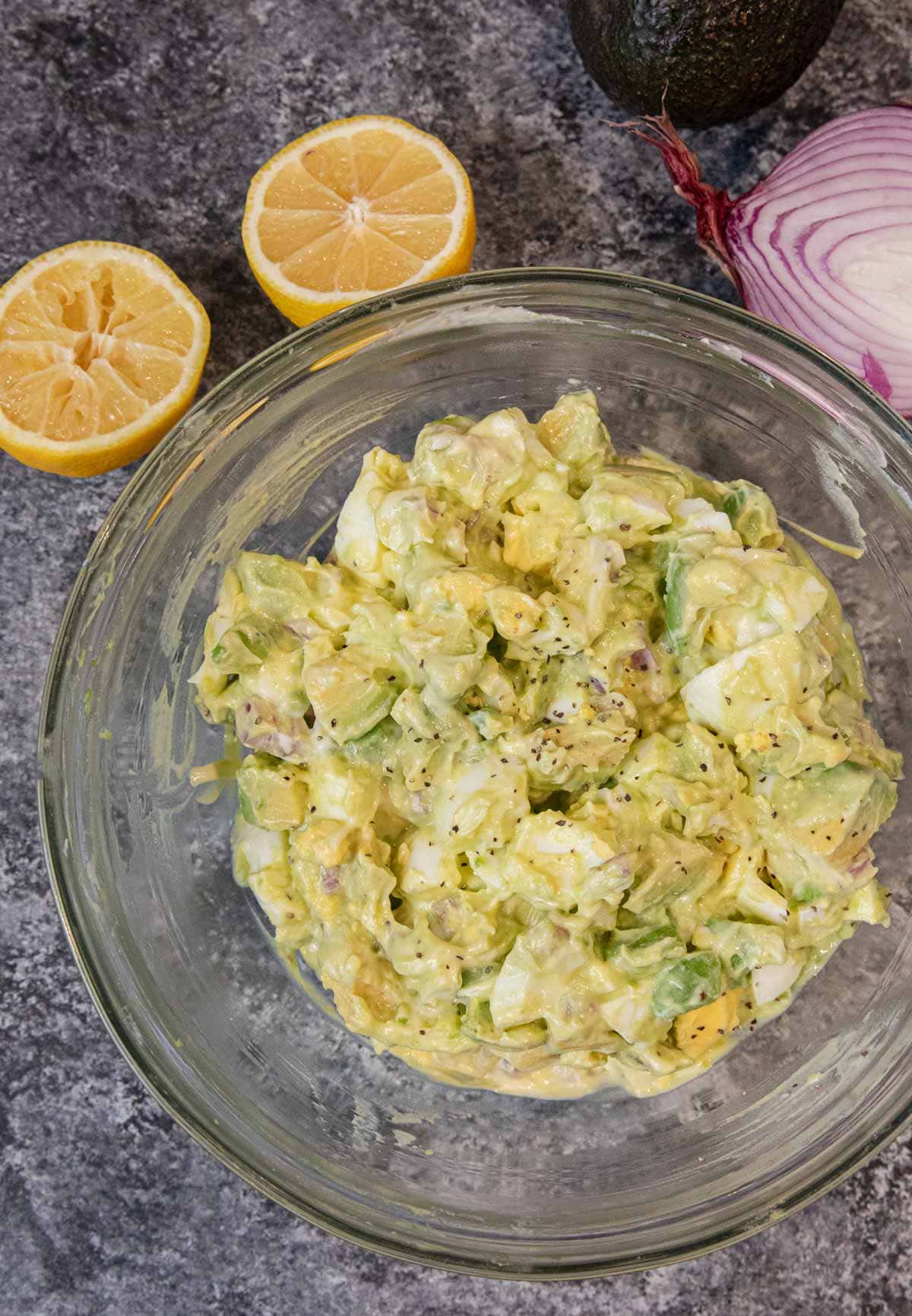 Recipe
Save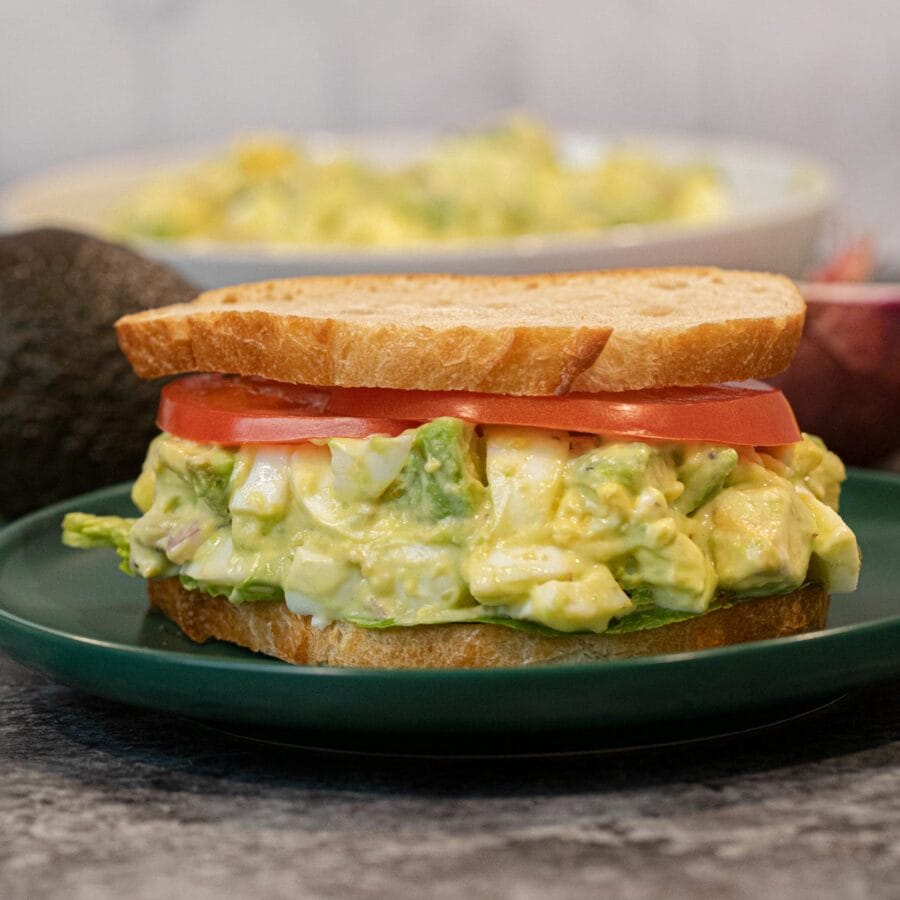 Avocado Egg Salad
Yield:

6

Servings

Prep Time:

5

minutes

Cook Time:

12

minutes

Total Time:

2

hours

17

minutes

Course: Salad
Cuisine: American
Author: Sabrina Snyder
Avocado Egg Salad takes everything you love about egg salad and adds healthy avocado. Made flavorful with red onion, lemon juice, and a little hot sauce. 
Ingredients
6

large

eggs

2

avocados

, peeled, pitted, and chopped

1/2

red onion

, diced

1/2

teaspoon

kosher salt

1/8

teaspoon

coarse ground black pepper

1/4

cup

mayonnaise

1

tablespoon

lemon juice

1

teaspoon

hot sauce
Instructions
Note: click on times in the instructions to start a kitchen timer while cooking.
Add eggs to a pot with cold water completely covering them.

Bring to a boil then shut off the water, cover, and let sit for 12 minutes.

Place eggs in ice water to cool, then peel and chop.

In a large bowl add eggs, avocado, onion, salt, pepper, mayonnaise, lemon juice, and hot sauce and stir gently to combine.

Refrigerate, covered, for 1 hour before serving.
Nutrition Information
Yield: 6 Servings, Amount per serving: 205 calories, Calories: 205g, Carbohydrates: 8g, Protein: 8g, Fat: 17g, Saturated Fat: 3g, Cholesterol: 187mg, Sodium: 357mg, Potassium: 407mg, Fiber: 5g, Sugar: 1g, Vitamin A: 368g, Vitamin C: 9g, Calcium: 38g, Iron: 1g
All images and text © for Dinner, then Dessert.
Keyword:
Avocado Egg Salad
Save