Bacon Wrapped Pork Medallions are a delicious option for your regular weeknight rotation and impressive enough to serve at your next party!
Delight your taste buds with these savory and delicious Pork Dishes that are perfect for special occasions or everyday dinners. Explore similar recipes like Bacon Wrapped Pork Tenderloin, the incredible Stuffed Pork Tenderloin, and savory Brown Sugar Garlic Oven Baked Pork Chops.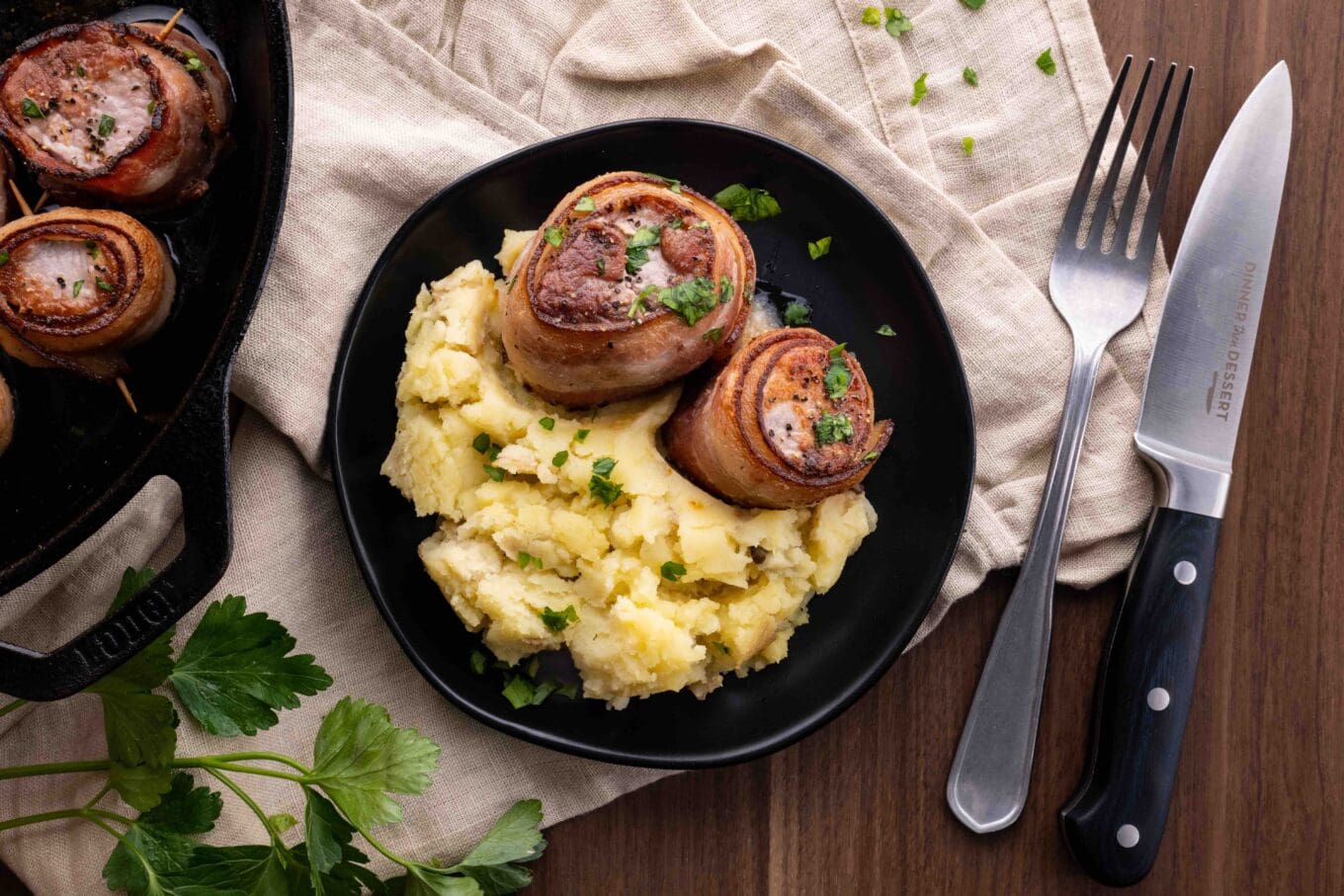 Roasted Pork Tenderloin Medallions Wrapped in Bacon is a delicious and mouthwatering recipe that combines the tenderness of pork tenderloin with the smoky and savory flavors of slices of bacon. The recipe is simple and easy to make, yet it delivers a stunning presentation and an explosion of flavors. The saltiness of the bacon slices perfectly complements the tender and juicy pork, creating a dish that will leave your taste buds craving more. With its unique combination of flavors and textures, this dish is perfect for special occasions or a fancy dinner at home.
With just a few simple ingredients and a straightforward cooking process, anyone can create this gourmet dish in their home kitchen. The bacon not only adds flavor but also helps to keep the pork tender and moist during cooking, ensuring a perfect result every time. A single pork tenderloin can be cut into 10-12 medallions, which when wrapped in bacon make enough to serve four people. You'll need at least 12 slices of bacon, plus more for snacking. 
For an added touch of elegance, you can serve this scrumptious pork dish alongside some Garlic Butter Roasted Carrots. This side dish, featuring tangy glazed carrots, makes an excellent complement to the rich and savory flavors of the juicy Pork Tenderloin Medallions Wrapped in Bacon.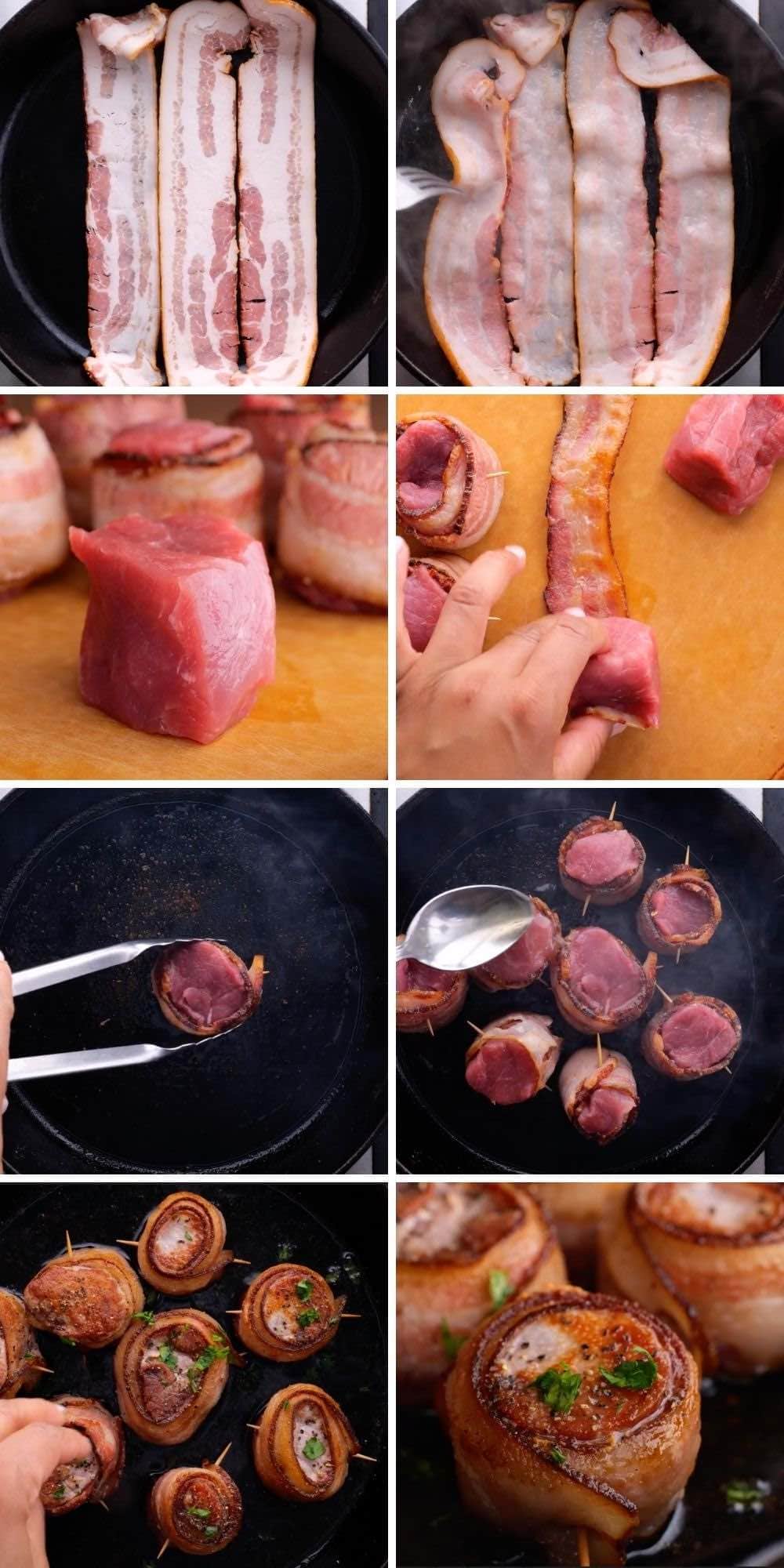 How to Make Bacon Wrapped Pork Medallions
Creating this gourmet pork in bacon dish at home is easier than you might think. With just a few ingredients and simple steps, you can have a delicious entrée that's sure to impress your guests. Check it out!
Step One: Set the oven to preheat to 400 degrees.
Step Two: Partially cook your bacon slices in a skillet until they are half-done (not crispy).
Step Three: Coat the pork with salt and pepper then wrap it in bacon using a toothpick to hold it in place.
Step Four: In a preheated cast iron skillet, sear the bacon-wrapped medallions for approximately 4 minutes per side. The goal is to achieve medium doneness. 
Step Five: As the medallions sear, drizzle the melted bacon fat over each piece of meat.
Step Six: Transfer the medallions to the oven and bake for 15-20 minutes. Let the meat rest a few minutes before removing toothpicks and serving. Allowing it to sit for a few minutes before serving helps avoid dry meat since the juices redistribute throughout the tender meat, resulting in a more moist and flavorful outcome.
Frequently Asked Questions
How long should I cook the pork tenderloin medallions?
The pork tenderloin medallions should be cooked for 15-20 minutes in the oven at 400 degrees. The internal temperature of the pork should reach 145 degrees Fahrenheit before it's considered safe to eat. Check the internal temp with a meat thermometer.
Can I use a thin cut of bacon?
Yes, you can use your preferred type of bacon in this recipe. Just keep in mind that thinner-cut bacon may require less cooking time to become fully cooked. To avoid making crispy bacon, just use a little less time on the skillet. 
Why use a cast iron skillet?
A Cast Iron Skillet is recommended for this recipe because it retains heat well and ensures even cooking for the sear. However, you can use a different heavy-bottomed skillet if you don't have a cast iron one available.
What cuts of pork can I use for this recipe?
While pork tenderloin is ideal for this recipe due to its tenderness and flavor, you can substitute it with pork loin or boneless pork chops if necessary. Keep in mind that cooking times may vary depending on the thickness of the cut.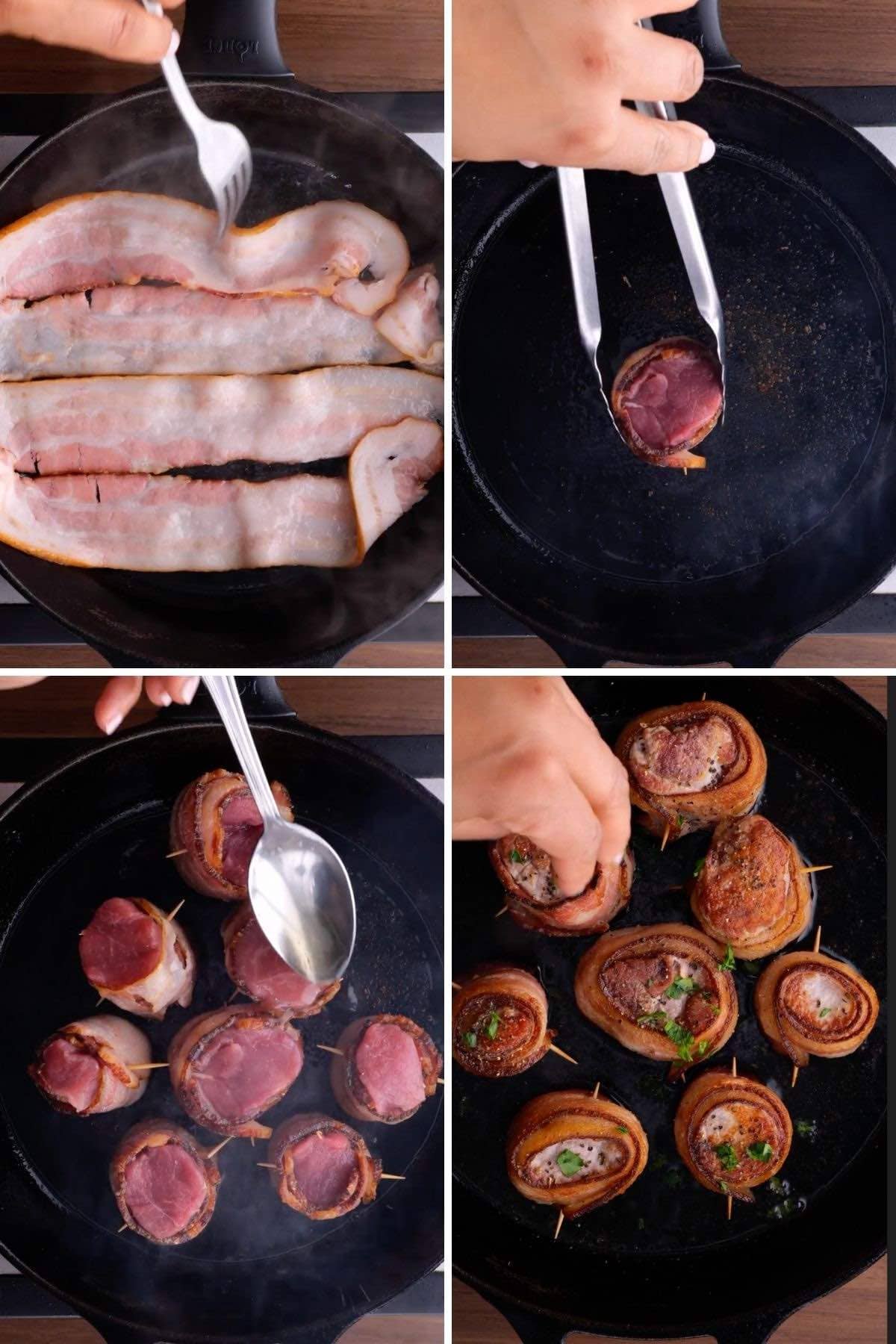 Create a free account to

Save Recipes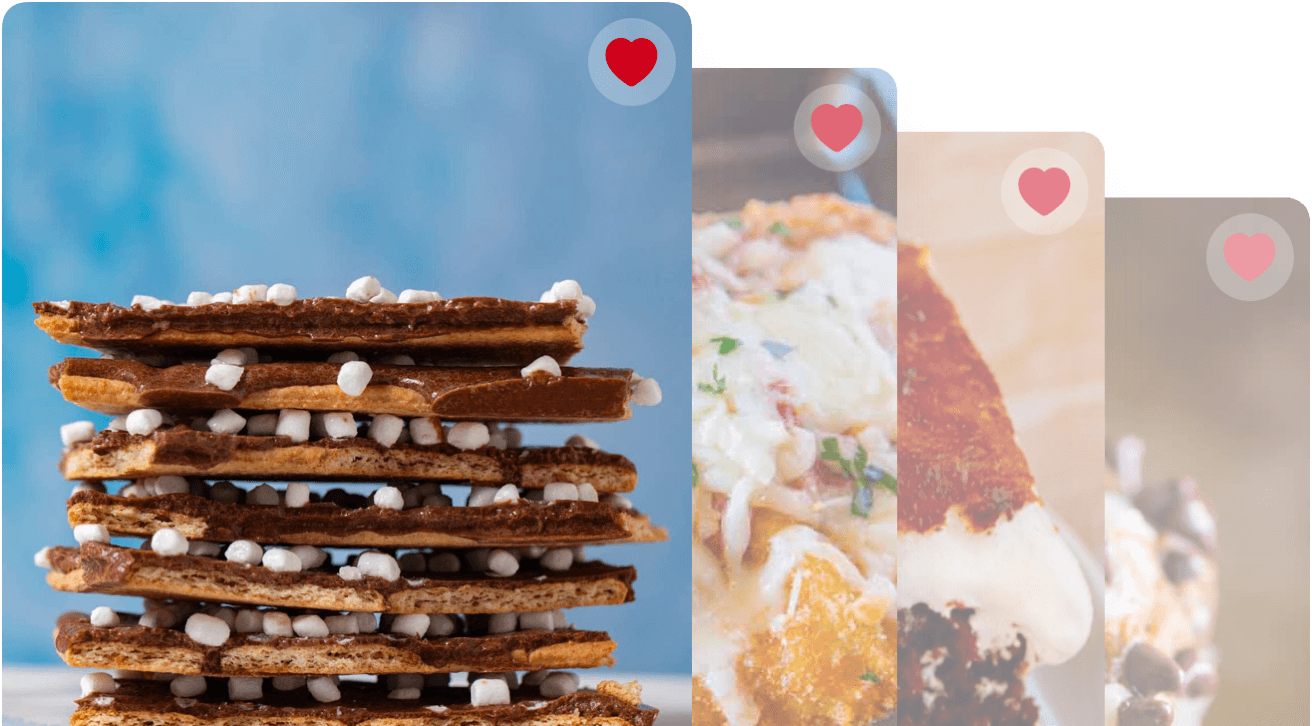 Key Ingredients in Bacon Wrapped Pork Medallions
This pork tenderloin recipe with bacon is simple yet delicious, thanks to its minimal ingredients that create a harmonious blend of flavors. You can easily find everything from your local grocery store. Check it out!
Pork Tenderloin: The star of this recipe, pork tenderloin is a lean, tender cut of meat that cooks quickly and stays moist when wrapped in bacon.
Bacon: Thick-cut bacon adds a smoky and savory element to the dish, enhancing the flavor of the pork and ensuring that it remains tender during cooking.
Can Bacon Wrapped Pork Medallions Be Made Ahead of Time?
Yes, you can prepare the pork tenderloin medallions ahead of time. Simply wrap the medallions with bacon and store them in an airtight container in the refrigerator for up to 24 hours before cooking. When you're ready to cook, follow the steps outlined in the recipe.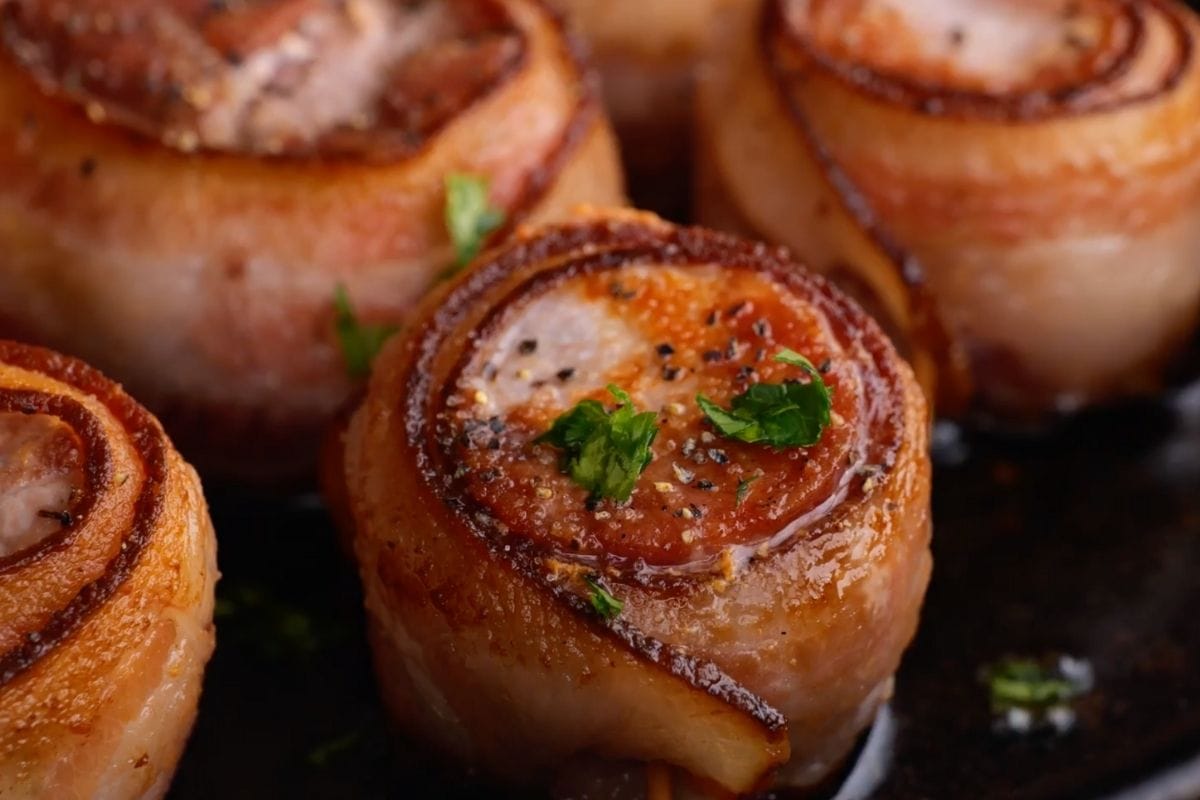 How to Cut Pork Tenderloin into Medallions
Of all the cuts of meat, pork tenderloin is one of the most popular. Sometimes you can find a great deal on whole pork tenderloin to take home and slice. To cut a pork tenderloin and remove the silver skin (the tough connective tissue) follow these steps:
Step One: Place the tenderloin on a cutting board and trim excess fat.
Step Two: Slide your knife under one end of the silver skin, angling the blade away from the meat.
Step Three: Cut along the silver skin, holding it taut with your free hand, and remove it.
Step Four: Slice the tenderloin crosswise into even 2-inch thick medallions.
Alternative Cooking Methods for Bacon Wrapped Pork Medallions
While this recipe is specifically designed for oven-roasting, you can also cook the Pork Tenderloin Medallions Wrapped in Bacon using alternative methods, such as:
Grilling: Preheat your grill to medium-high heat and cook the bacon-wrapped medallions for 4-5 minutes per side, or until the internal temperature reaches 145 degrees F, a safe temperature. You can use aluminum foil to help keep the pork tenderloin moist but don't only for the first part. The aluminum foil will steam the food and make the bacon soggy.
Air Fryer: Preheat your air fryer to 400 degrees Fahrenheit and cook the medallions for 10-12 minutes, flipping halfway through the cooking process.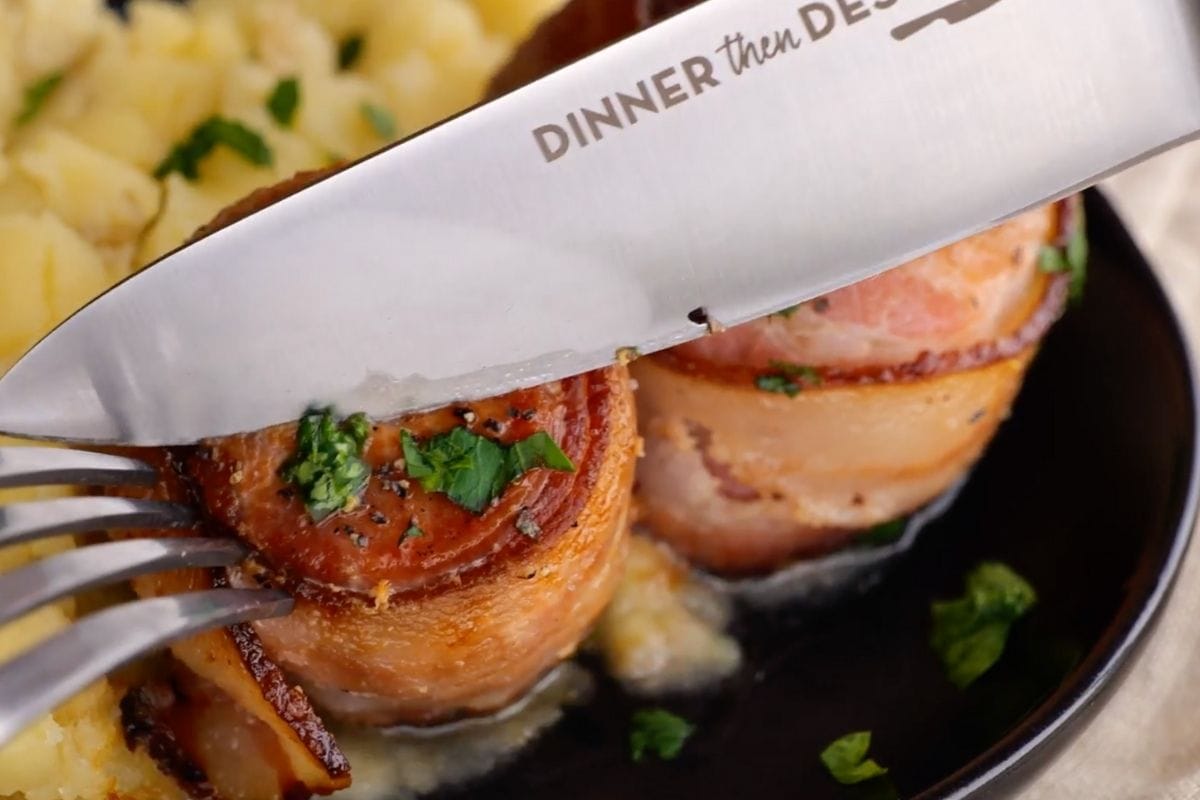 Substitutions in Pork Tenderloin Medallions Wrapped in Bacon
Turkey Bacon: For a lighter option, you can substitute turkey bacon for the traditional pork bacon. Keep in mind that turkey bacon is less fatty and may not provide as much moisture to the pork during cooking.
Prosciutto: While a bit unorthodox, if you're looking for a more gourmet option, you can substitute prosciutto for the bacon. This Italian cured ham will add a unique, salty flavor to the dish. It is very thin so there is no need to precook it. 
Variations on Bacon Wrapped Pork Medallions
This recipe is versatile and can be easily customized to suit your taste preferences or dietary needs. Try some of these options to add some variety. Check it out!
Spice it up: Add a sprinkle of your favorite spice blend, such as Cajun seasoning or smoked paprika, to the pork before wrapping it in bacon for an extra kick of flavor. A teaspoon of cayenne pepper will give it some nice heat without being overbearing. 
Herb-infused: Mix chopped fresh herbs like rosemary, thyme, or sage into the salt and pepper seasoning for an aromatic twist on the classic recipe. Rosemary and pork are natural together, use ½ teaspoon finely chopped rosemary. Alternatively, Sage and Pork Stuffing is a crowd favorite, so you can add dried rubbed sage to this recipe (½ teaspoon). Finally, 2 cloves garlic, minced, and 1 teaspoon of fresh thyme rubbed on the pork before wrapping it in bacon adds tons of flavor!
Sweet'n'Tenderloins: Fry the slices of bacon with brown sugar before wrapping the tenderloin in bacon. 
More Pork Tenderloin Recipes
How to Store Bacon Wrapped Pork Medallions
Serve: The cooked pork medallions can be left at room temperature for up to 2 hours before needing refrigeration. Keep it covered when not being served. 
Store: Store leftover pork medallions in an airtight container in the refrigerator for up to 3-4 days. To reheat, gently warm them in a skillet over medium heat or in a preheated oven at 300 degrees Fahrenheit until heated through.
Freeze: If you have leftovers, you can freeze them for future use. Wrap each medallion individually in plastic wrap and store them in a freezer-safe airtight container or zip-top bag. Freeze for up to 2-3 months. To reheat, allow the medallions to thaw in the refrigerator overnight and follow the reheating instructions mentioned above.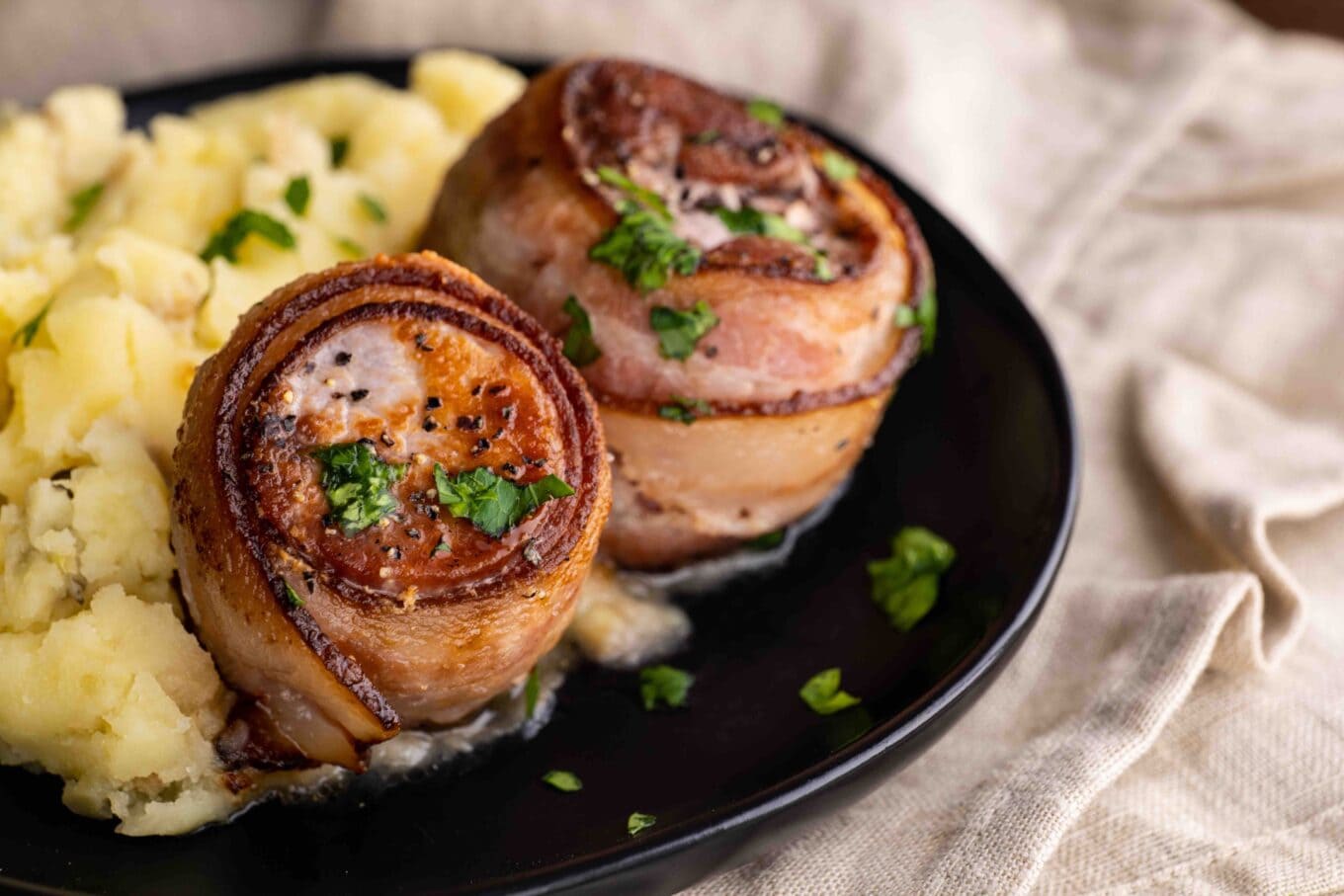 Ingredients
1

pork tenderloin

, cut into 8-10 2" portions

8-10

slices

thick cut bacon

1/2

teaspoon

kosher salt

1/4

teaspoon

coarse ground black pepper
Instructions
Preheat the oven to 400 degrees.

Parook the bacon strips in a skillet until half-done (not crispy).

Wrap the medallions with a piece of bacon and secure it with a toothpick.

Add to a hot cast iron skillet (heated on the stovetop on high heat). Sear on each side for about

4 minutes

.

Spoon the melted bacon fat over each medallion while it sears.

Bake in the oven for

15-20 minutes

.

Remove toothpicks before serving.
Nutrition
Calories:
845
kcal
|
Carbohydrates:
1
g
|
Protein:
103
g
|
Fat:
45
g
|
Saturated Fat:
15
g
|
Cholesterol:
342
mg
|
Sodium:
1003
mg
|
Potassium:
1925
mg
|
Vitamin A:
25
IU
|
Calcium:
31
mg
|
Iron:
4.7
mg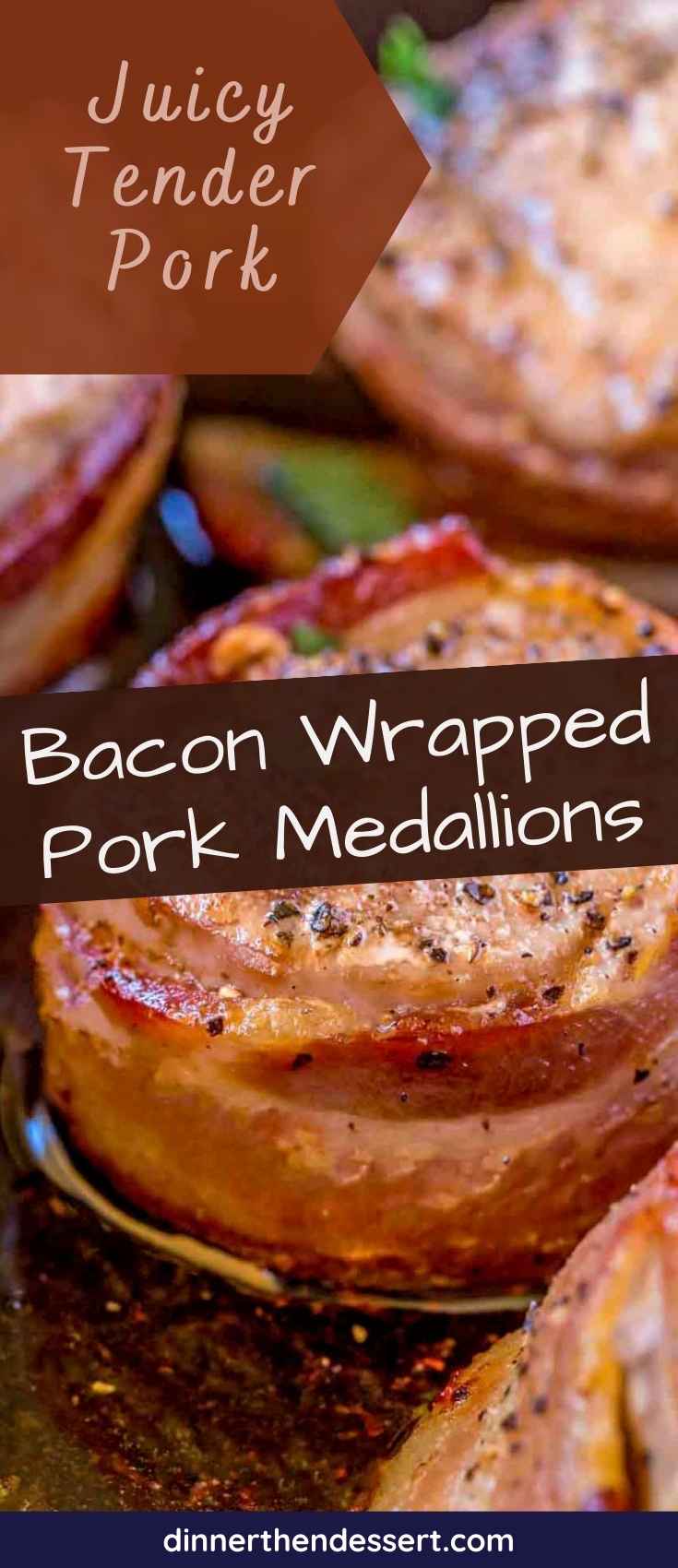 Photos used in a previous version of this post.