Baked Mac and Cheese is the ultimate classic side dish for any meal with three cheeses, perfect for the holidays and for BBQ's!
Baked Macaroni and Cheese is a classic kid-approved Side Dish, perfect for any dinner. Goes great with barbecue dishes like BBQ Pulled Chicken! Your family will also love Easy Corn Casserole (Just 5 Ingredients!) and Collard Greens for the perfect Southern style meal.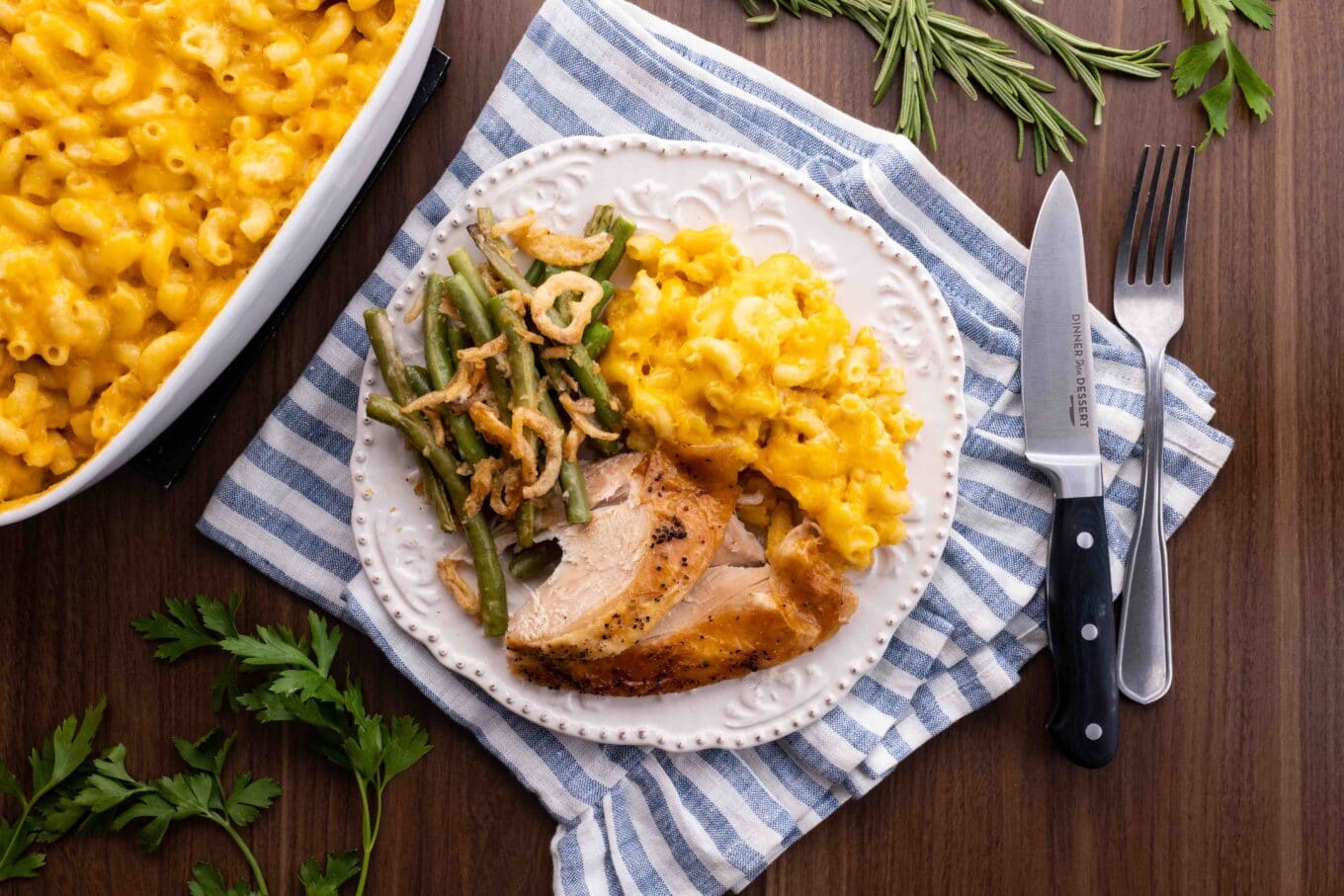 People go crazy for a good macaroni and cheese. This baked version will be your favorite because it is comfort food at its finest. The cheese sauce with the sharp cheddar cheese and the freshly shredded cheese in the sauce, plus the use of pre-shredded cheese as a topping means you have the creamiest, best mac and cheese recipe that would make any Southern cook proud.
Mac and cheese noodles used are traditionally called elbow macaroni due to their shape. The cheesy dish we know today is an adaptation of what is believed to have originally come from Europe. We have taken a good dish and have made it great with our recipe here!
This recipe goes best with chicken recipes like Super Crispy Fried Chicken or Oven Fried Chicken alongside a good potato side like KFC Potato Wedges. If you're having a barbecue, this recipe pairs well with BBQ Chicken Wings and Easy Cole Slaw, Easy Macaroni Salad and Baked Beans for your best summer cookout ever. Then serve an Easy Fruit Salad for dessert for a healthy option.
Honestly, Baked Mac and Cheese could probably go well with whatever dinner you're having tonight. This recipe can also be adapted so many ways you'll want to make it every week.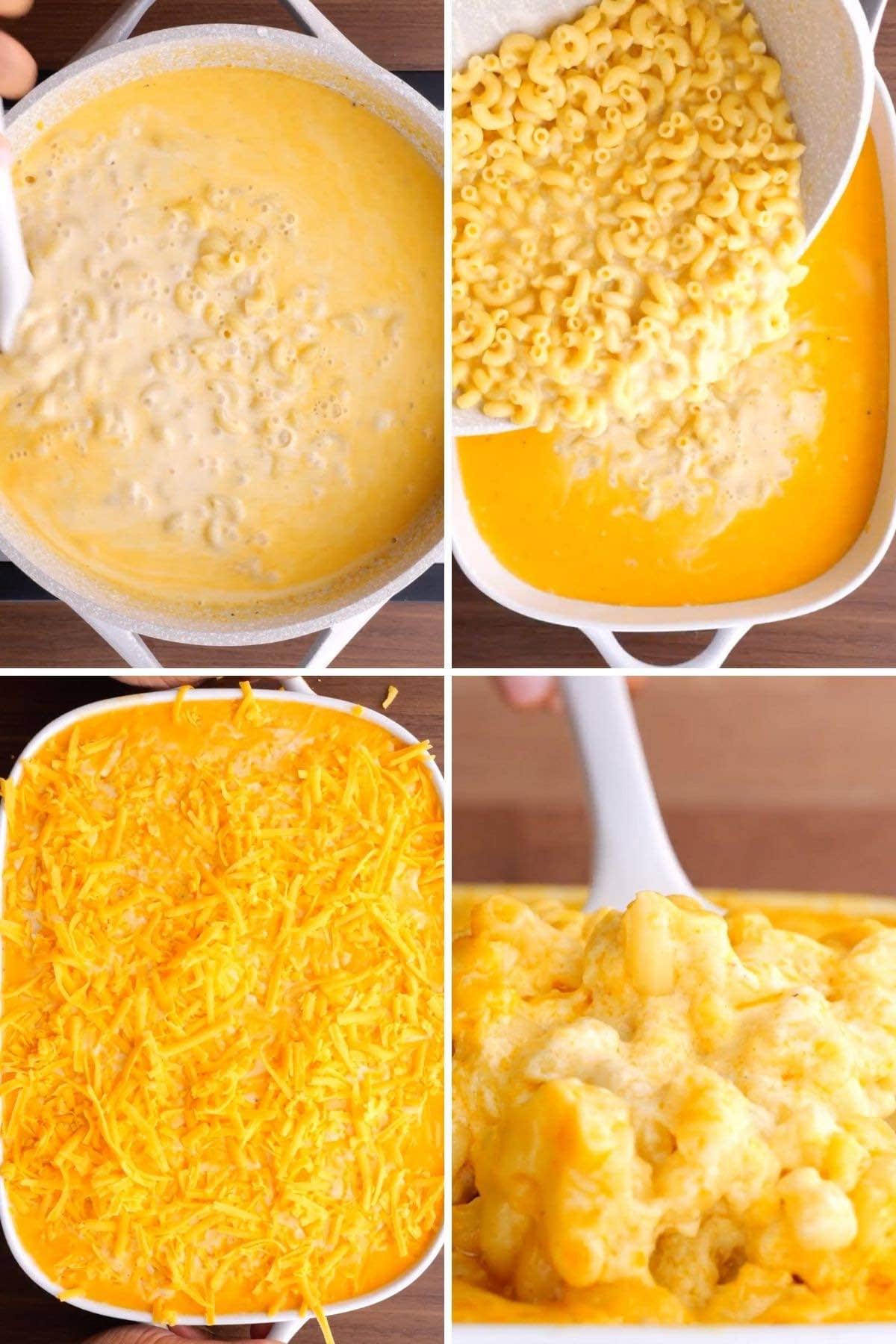 How to Make Baked Macaroni and Cheese
The process is surprisingly easy and everyone can do it at home.
Noodles are cooked until almost ready.
Then the dry seasonings are whisked together (for best flavor, make sure to use powdered mustard, not a prepared mustard mix).
Milk is added to the bowl for the noodles to fully cook in.
Next, an egg is added in a specific way. This helps to ensure the dish is the right consistency – not too thick and not too runny.
Right after that we'll mix all the cheese together.
Combine everything in the baking dish,
Bake until ready and enjoy
Frequently Asked Questions
Do you Cover Baked Mac and Cheese with Foil?
No, you don't cover it with foil as it will steam the insides instead of giving it a baked texture.
Can you skip adding the egg?
Yes, if you would like you can certainly skip the egg, just either cook the milk mixture for an additional 5 minutes or bake the macaroni and cheese for an additional 15-20 minutes.
Can you skip the powdered mustard? Can you substitute regular mustard?
I wouldn't do either. Skipping the powdered mustard removes a dimension of flavor that you know but may not be able to single out and adding prepared mustard would be too strong of a flavor.
Can you eat this Baked Mac and Cheese without baking it?
If you want to enjoy this without baking, leave the egg out. You still want to at least cover it with the remaining cheddar cheese and broil it under the broiler for a couple of minutes to melt the cheddar. Also be prepared to cook the milk mixture an additional 6-8 minutes to account for the lack of baking.
Can I use pre-shredded cheese?
We highly recommend against it for anything but the topping. Pre-shredded cheese has added ingredients in it which help to prevent the cheese from sticking together. This also creates a less smooth and creamy texture to your macaroni and cheese.
Why do you rinse the pasta?
Rinse the pasta to remove the starchy coating that is in pasta water. You don't need any help in thickening the cheese mixture. Also let the pasta cool because using hot pasta is like adding a sponge to your mixture. Freshly cooked pasta finished in sauce is generally so delicious because hot pasta likes to soak up any liquids it can.
How Long do you Bake Mac and Cheese?
Baked Macaroni and Cheese is typically baked for 30 minutes in the oven at 350 degrees when using an egg to help set the milk and cheese mixture. If you aren't using an egg, additional cook time will be needed, from 45 minutes to up to an hour.

Create a free account to

Save Recipes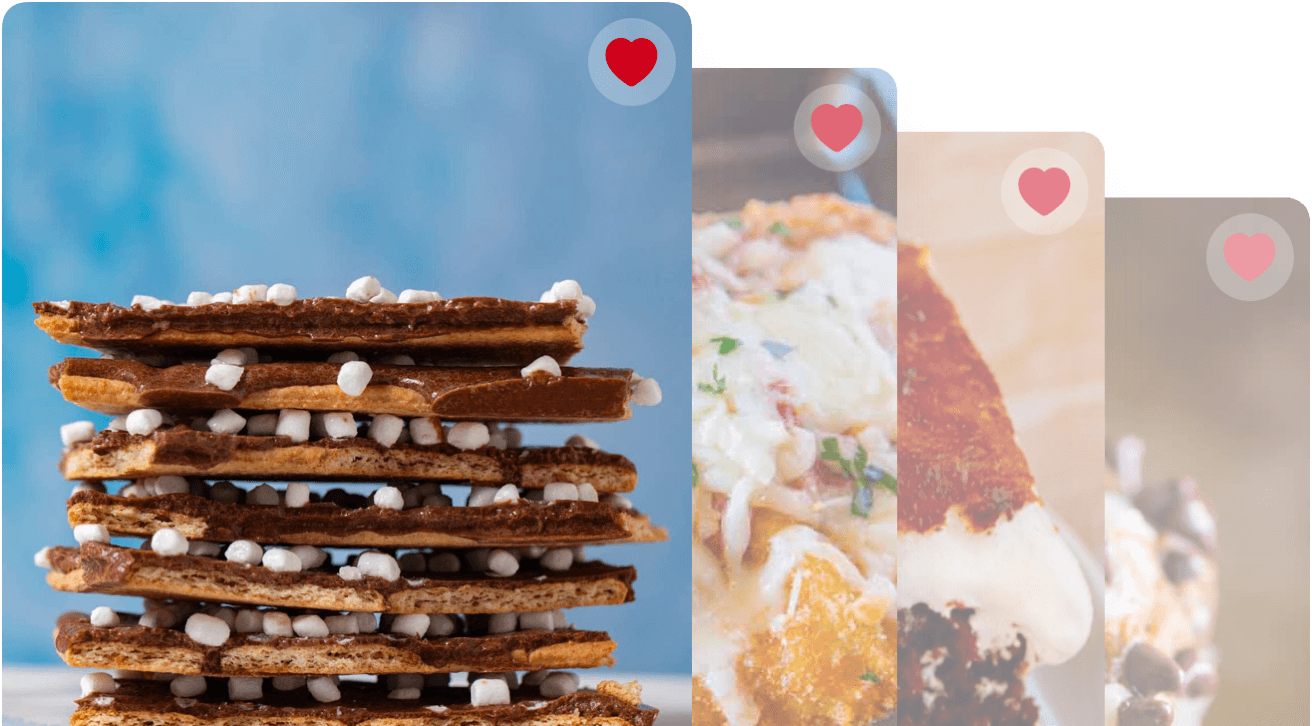 Key Ingredients for Baked Mac and Cheese
Cheese: For the best taste, find a big block of the cheddar cheese, Monterey jack cheese, and whole mozzarella to shred at home.
Milk: The creamier the milk, the better the dish will be. It is important to note that this is not a recipe to substitute for goats milk, almond milk, or anything like that. Use cows milk!
Macaroni: The elbow macaroni is the most popular. This one holds the sauce really well.
Alternative Cooking Methods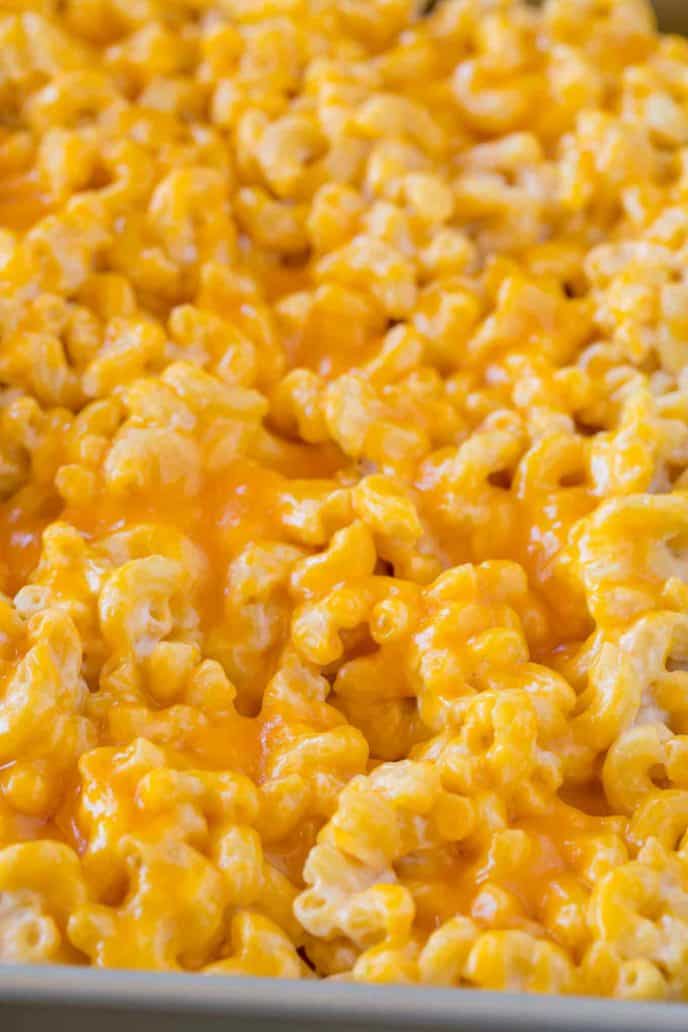 Variations for Baked Mac and Cheese
The first time you make this mac & cheese you should make it exactly as written in the recipe because that is the best homemade mac and cheese ever. Next time you want mac n cheese you can mix up the flavors and add in some new ingredients! You can even mix up the pasta shapes to keep things fresh. Who said elbow pasta has the market cornered on baked macaroni?
Cheese: Feel free to swap out any of the cheeses with another creamy cheese like pepper jack cheese or gouda. Of course, any processed cheeses like Velveeta or American cheese are popular options as well to create a more creamy filling. Note: Adding a harder cheese like Parmesan as anything other than a topping will result in a grainier mac and cheese filling. 
Bacon: If you're familiar with Dinner, then Dessert's recipes, you won't be surprised to see bacon as an option – Bacon Mac and Cheese has more directions on this.
Jalapeño Popper Mac and Cheese: Use either fresh (for more of a punch) or pickled jalapeños, bacon, and 8 ounces cream cheese cut into larger cubes and dotted on top
Tex Mex Mac and Cheese: Swap the mozzarella for pepper jack. Add in a can of diced chilis (4 ounces) and roasted corn. Also add ½ teaspoon more cayenne powder, 2 teaspoons cumin and 2 teaspoons chili powder.
Italian Mac and Cheese: Add in 1 teaspoon dried oregano, 1 teaspoon dried basil and minced garlic (3 cloves) to the butter mixture in the beginning. Swap the sharp cheddar for white cheddar cheese and top with shredded Parmesan cheese in addition to the white cheddar cheese.
Boston Market's Version: This copycat version is made with different noodles and blue cheese for a fun flavor: Boston Market Mac and Cheese (Copycat).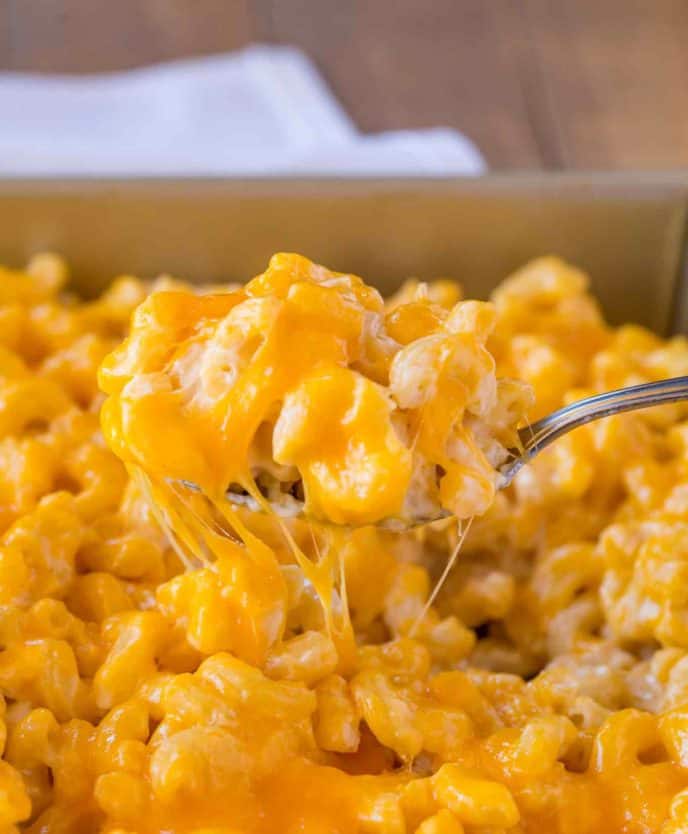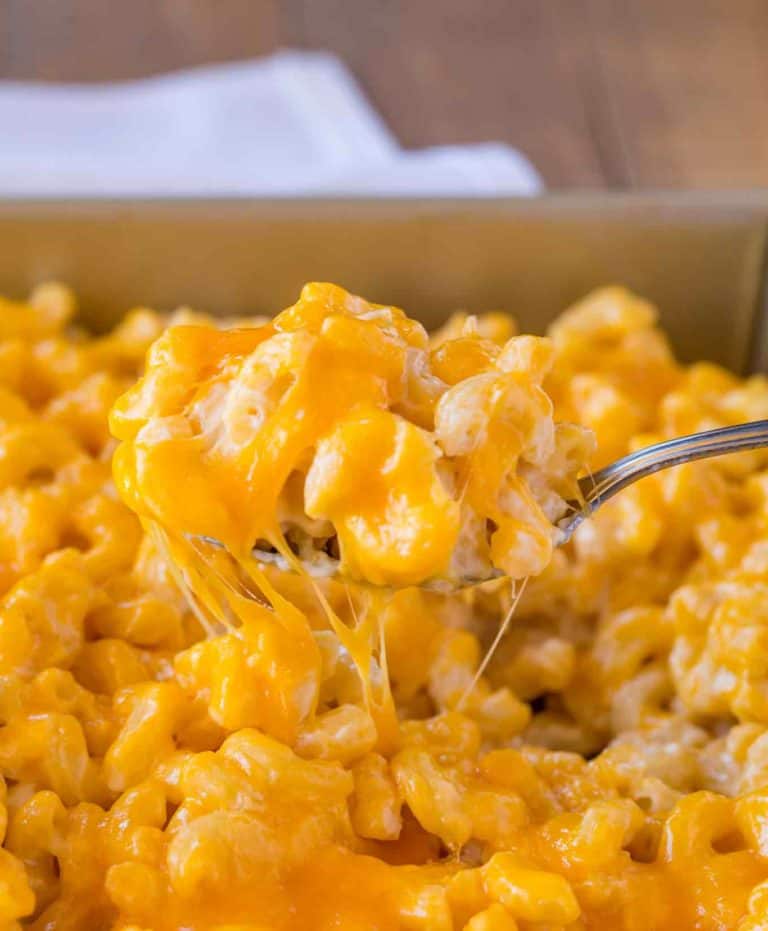 More Easy Macaroni Recipes
How to serve Baked Mac and Cheese
Serving Baked Mac and Cheese can be a fun way to delight your family and/or your guests. It can be served in a bowl as a side dish to the main course. You can also lightly oil a measuring cup, fill it with the mac and cheese,  flip it upside down on the plate, and serve it in the shape of a dome with room for other foods. 
Additionally, top it off with a sprinkling of crushed corn flaks. We also love a good buttered panko or buttered ritz topping. Melt the butter in your skillet then toast the panko/ritz crackers in the melted butter until slightly toasted.
How to Store Baked Mac and Cheese
Serve: You can keep Baked Macaroni and Cheese out at room temperature for up to two hours.
Store: Cover Baked Mac and Cheese with cling wrap and keep in the fridge for up to 4 days.
Freeze: You can keep Baked Mac and Cheese in the freezer for up to 3 months in a sealed container.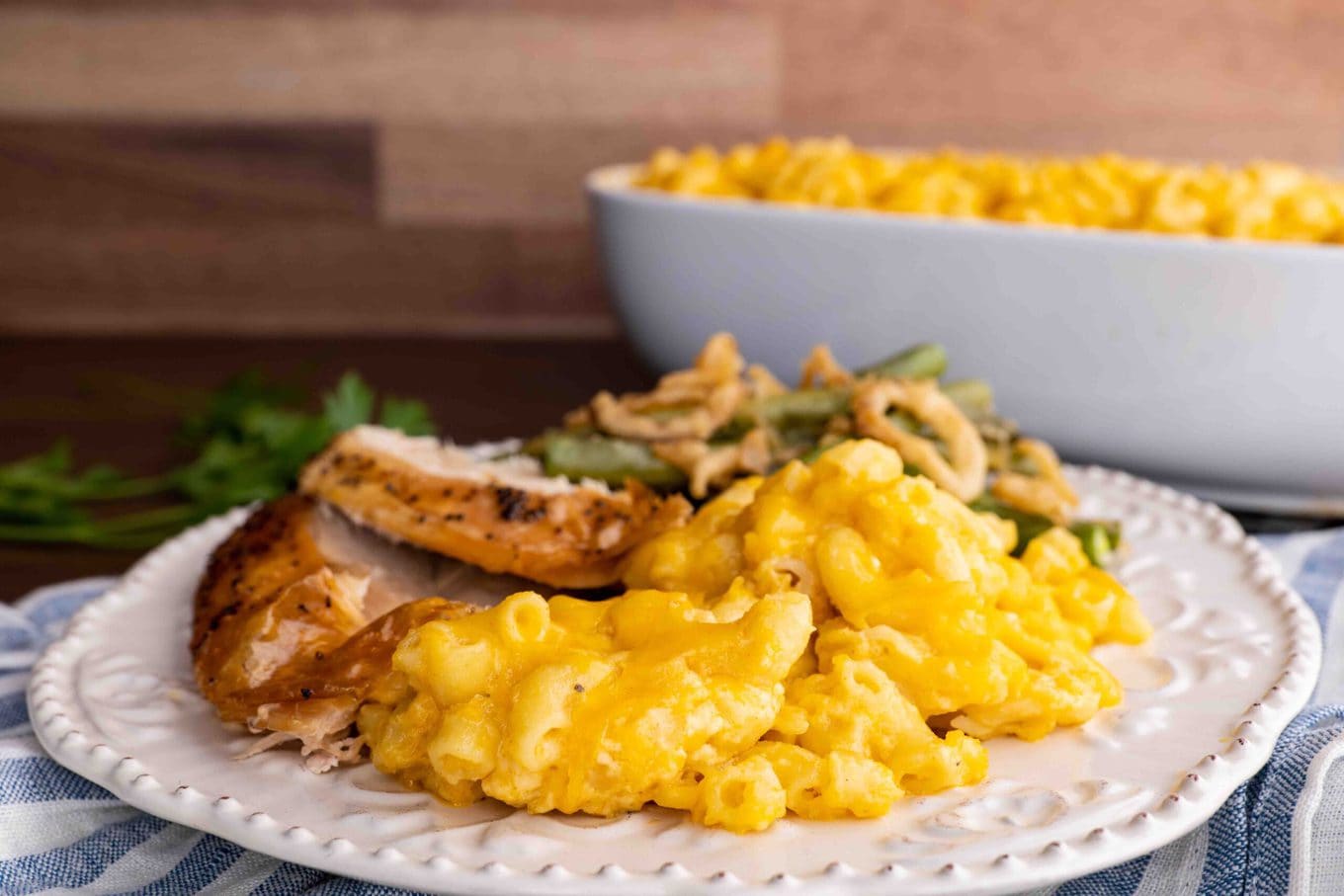 Ingredients
1

pound

elbow macaroni

1/2

cup

unsalted butter

1/2

cup

all-purpose flour

2

teaspoons

mustard powder

1/2

teaspoon

cayenne pepper

1

teaspoon

paprika

6

cups

milk

2

teaspoons

kosher salt

1/2

teaspoon

coarse ground black pepper

1

large

egg

4

ounces

Monterey Jack cheese

4

ounces

mozzarella cheese

12

ounces

sharp cheddar

, divided
Instructions
Pre-heat the oven to 350 degrees.

Shred the cheeses, keeping 2 cups of the cheddar off to the side for the topping.*

Cook the pasta two minutes shy of the instructions, rinse and let cool. (We don't want the extra starch of the water making the mac and cheese too thick)

Add the butter to a large stockpot and melt on medium-low heat.

Add the flour, mustard, cayenne and paprika and whisk together until fully combined, cook for an additional

15 seconds

.

Add the milk slowly while whisking to keep the mixture well combined.

Add in the salt and pepper and cook for an additional

5 minutes

.

Turn off the heat.

Remove 1 cup of the milk mixture and let cool for a

3-5 minutes

in the refrigerator in a larger glass measuring cup or bowl.

Add the egg to the cooled milk and whisk it well until fully combined.

Turn the heat on the pot back on to medium-low.

Slowly pour the egg and milk mixture into the rest of the milk while whisking very well.**

Add in the Monterey jack, mozzarella and 1 cup of the sharp cheddar and whisk until combined.

Add the cooled macaroni back into the pot and toss with the cheese sauce.

Pour into a 9×13 baking dish and top with the remaining 2 cups of shredded cheddar cheese.

Bake for

30 minutes

, uncovered.
Notes
* I use blocks of cheese for my mac and cheese because shredded cheese is coated in a powder that prevents the cheese from sticking to each other. This also results in cheese that may not melt as fully which can produce a texture that is not as creamy as we'd like.
** Removing the cup of milk, cooling, then adding in the egg allows for us to temper the egg which prevents it from immediately scrambling in the hot milk mixture.
Nutrition
Serving:
1
g
|
Calories:
485
kcal
|
Carbohydrates:
38
g
|
Protein:
21
g
|
Fat:
27
g
|
Saturated Fat:
16
g
|
Cholesterol:
91
mg
|
Sodium:
734
mg
|
Potassium:
302
mg
|
Fiber:
1
g
|
Sugar:
7
g
|
Vitamin A:
990
IU
|
Calcium:
473
mg
|
Iron:
1.2
mg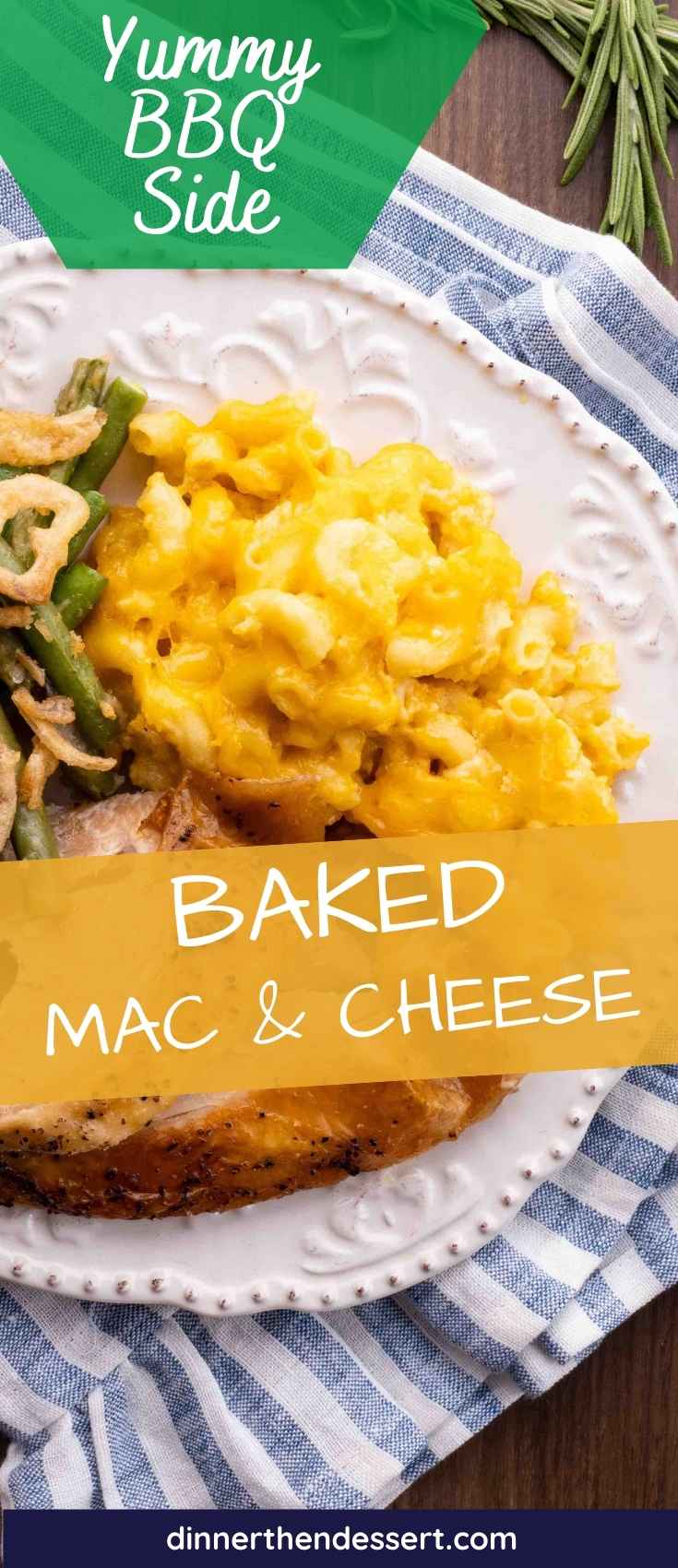 Photos used in a previous version of this post.