Easy Banana Cupcakes recipe with loads of banana flavor from real bananas plus a creamy frosting with a hint of cinnamon and a banana chip!
These mini Banana Cakes are the perfect Dessert Recipe for parties, potlucks, or whenever you want a little banana treat on the go! Skip the Banana Bread the next time you have super ripe bananas and make these indulgent cupcakes instead!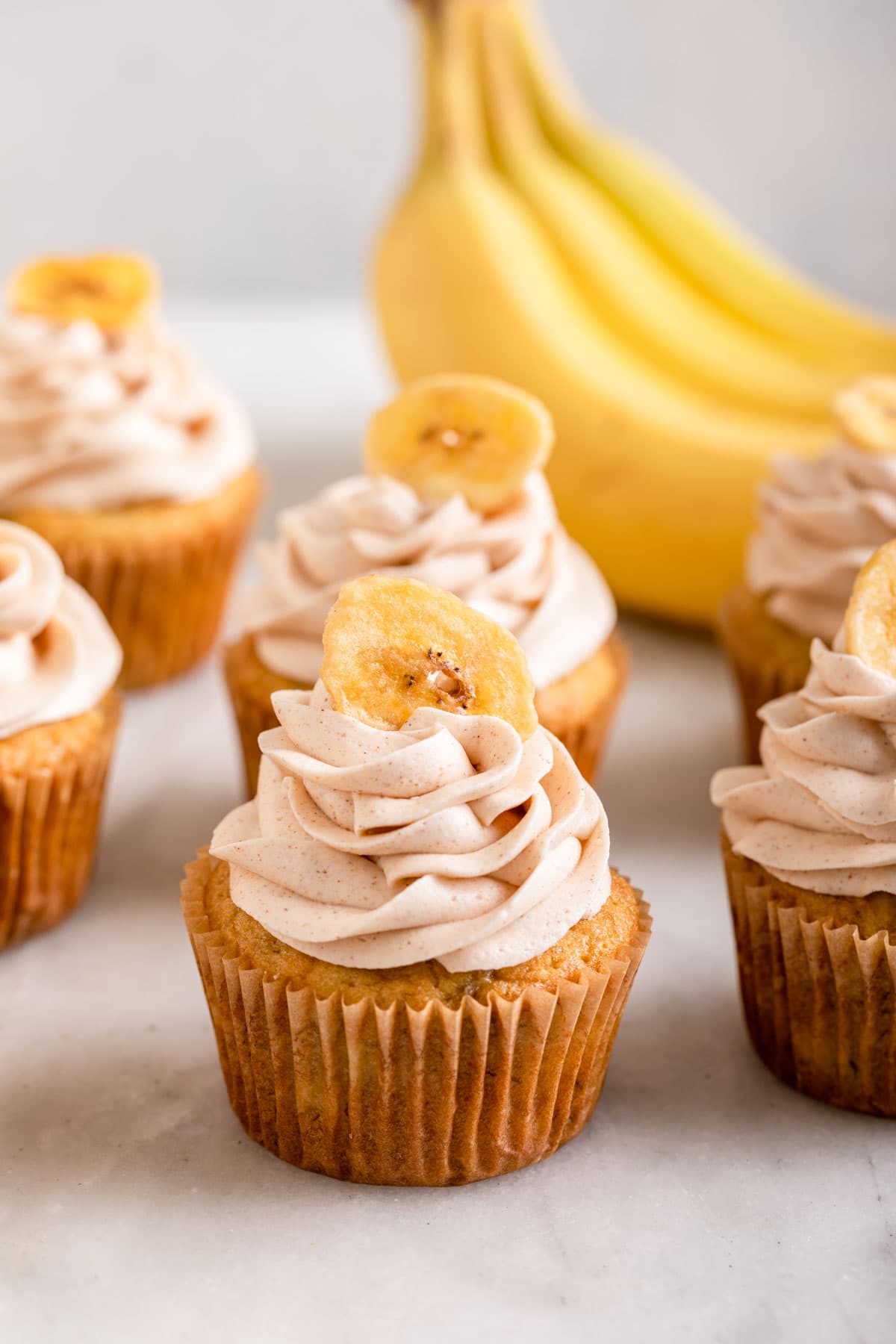 These tender Banana Cupcakes are a perfect example of just how amazing using bananas in baking turns out. By adding mashed bananas and sour cream to the wet ingredients, the simple batter gets a more complex and rich flavor. Plus, the sweet ripe bananas make the cupcakes naturally more moist and tender even after baking.
Delicious Banana Cupcakes are a quick and easy version of banana cake that are perfect for last minute dessert. You can whip them up in minutes and they are done baking in about half the time as a full-size cake. They are so sweet and tasty you don't even need a topping but you shouldn't skip the dreamy creamy, cinnamon vanilla frosting that makes them even more amazing. They are finished with a dried banana chip for a burst of fruity, crunchy banana goodness.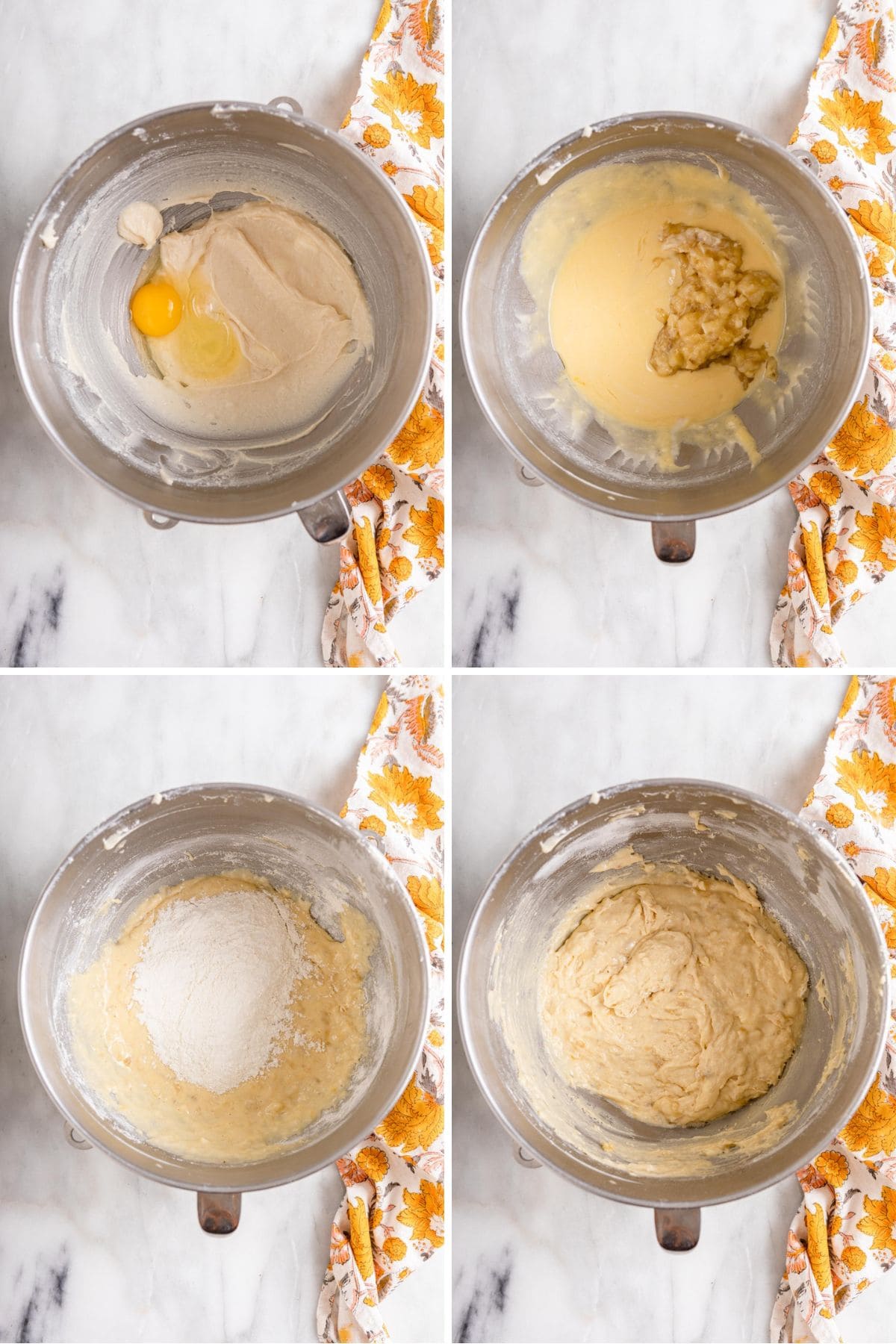 What is the difference between Banana Cupcakes and Banana Muffins?
The banana flavor, makes this recipe similar to Banana Muffins. But, the delectable Banana Cupcakes are made with slightly sweeter ingredients and topped with a rich, sugary frosting. So, while the tender cake base has a taste similar to delicious banana bread muffins, it's a much more indulgent dessert to satisfy your sweet tooth.
How to Make Banana Cupcakes
Prep: Preheat the oven. Line a muffin tin with paper cupcake liners.
Wet Ingredients: Cream the softened butter and sugar in a stand mixer. Turn the mixer to medium-high and beat using the paddle attachment, until light and fluffy. Lower to medium and mix in the sour cream and vanilla extract. Add the eggs one at a time, letting each one mix into the batter before adding the next. Use a fork to mash overripe bananas in a medium bowl then add them into the batter.
Dry Ingredients: Sift the all-purpose flour, baking powder, baking soda, and salt into a separate bowl. Set the stand mixer to low speed. Then add ? cup of the flour mixture to the cupcake batter at a time. Continue mixing until the dry ingredients are just combined, without overmixing.
Baking Time: Add the batter evenly to the lined cups no more than 2/3 full. Bake cupcakes for 18-22 minutes until golden and the cake springs back when lightly pressed.
Frosting: Add softened butter to your stand mixer, and begin mixing on low speed. Begin adding the powdered sugar in ½ cup increments while it's still mixing. When the sugar is fully combined, raise the speed to medium-high for an additional minute. Add ground cinnamon and mix until evenly distributed. Finally, add the vanilla and heavy cream, and beat for another minute until light and fluffy.
Decorate: Transfer the frosting to a piping bag and pipe it over the top of cooled banana cupcakes. Add a banana chip (or fresh banana slice) to the top of each cupcake.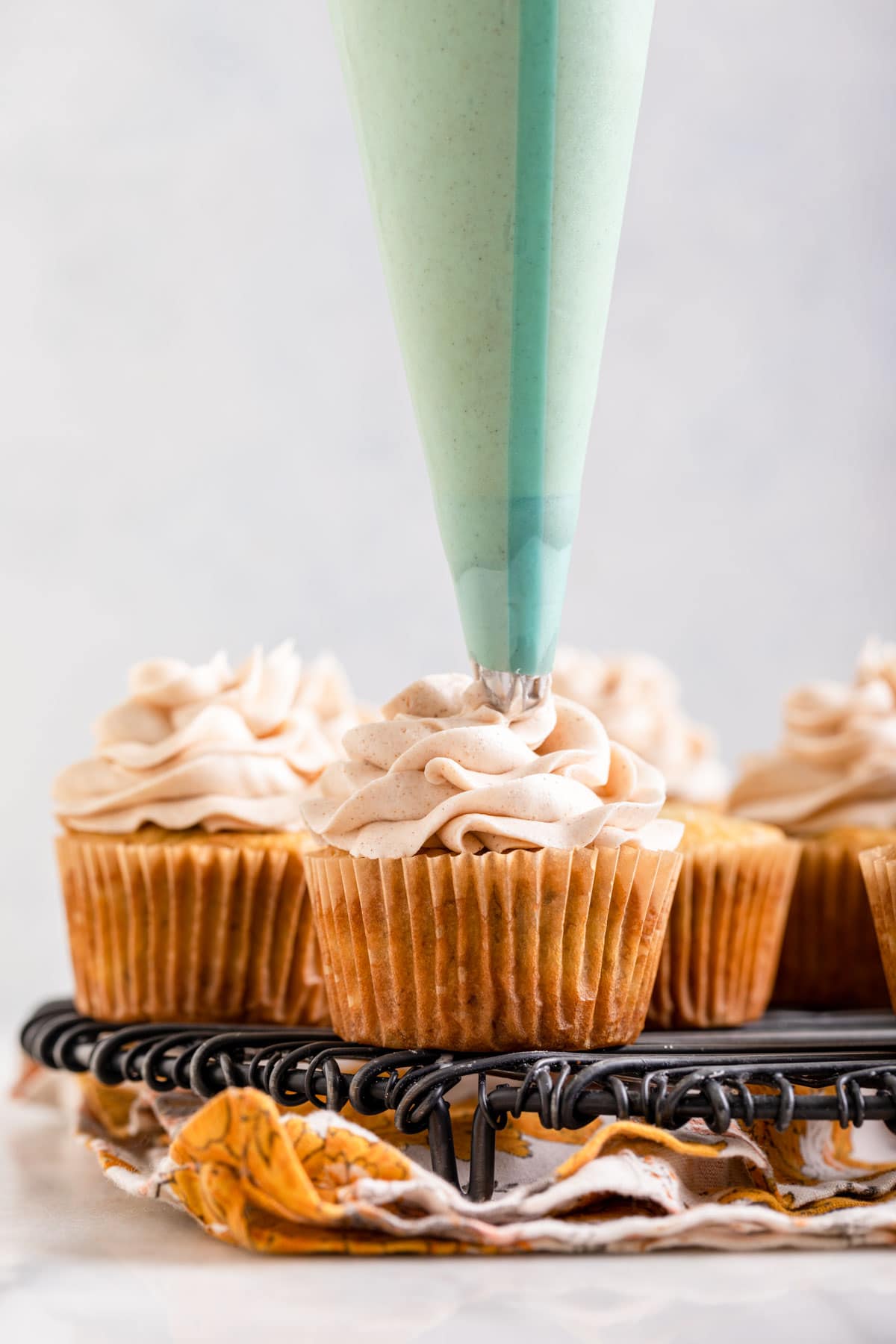 More Delicious Banana Desserts
FAQs for Banana Cupcakes
Can I use frozen bananas?
Yes, frozen bananas can be used in this recipe. When using frozen bananas, be sure to thaw them completely and remove any excess liquid before mashing and adding them to the batter. Frozen bananas may result in a denser cupcake, but they will still have a delicious banana flavor.
Can you make Banana Cupcakes if your bananas aren't ripe?
You want to make sure you have soft, ripe bananas when baking, but you can roast them to soften them quickly if your bananas aren't ripe enough. Preheat your oven temperature to 350 degrees and place your whole unpeeled bananas on a baking sheet. Bake until the skin turns brown all over. Once they've cooled, you can peel and mash them then bake with them as usual. Keep in mind roasted bananas can be much sweeter so you may want to reduce the sugar in your recipe.
What is the secret to moist cupcakes?
The secret to moist cupcakes is to not overmix the batter and to include ingredients that add moisture, such as sour cream or yogurt. Overmixing the batter can cause the gluten to develop, resulting in a tough and dry cupcake. Adding ingredients that add moisture can help to keep the cupcakes moist and tender, even after they have been baked.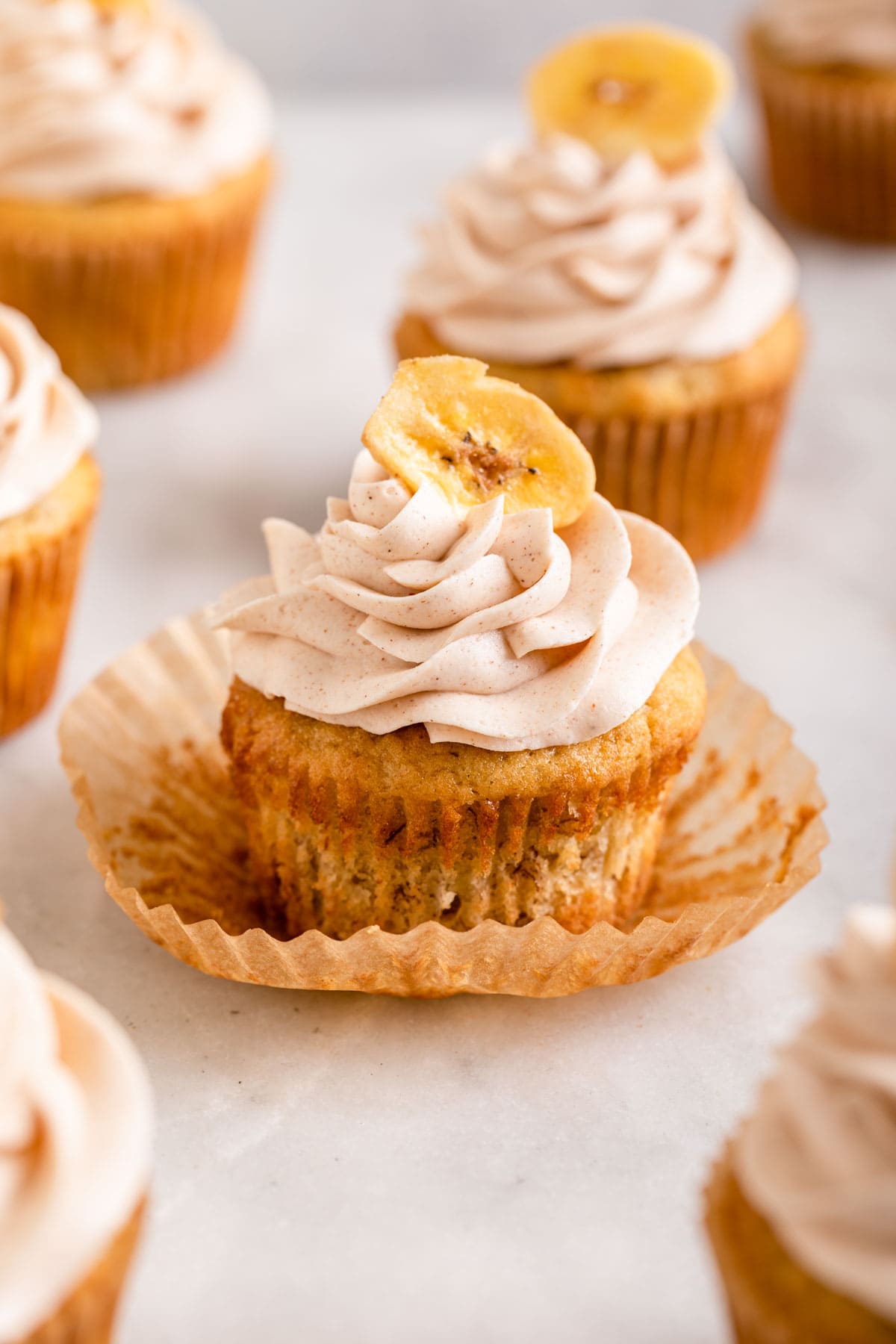 Create a free account to Save Recipes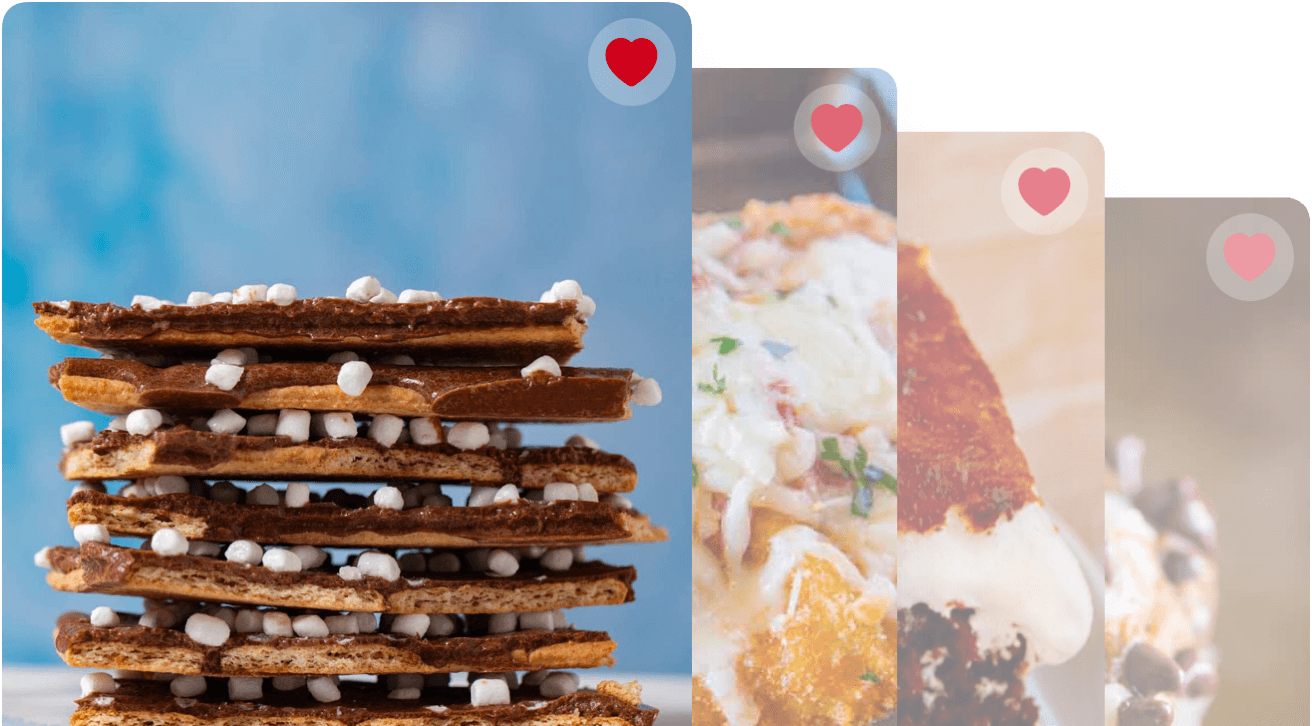 Key Ingredients
Bananas: Bananas add natural sweetness, moisture, and a subtle flavor to baked goods. The ripe bananas are mashed and added to the batter, for the most delicious and moist cupcake with lots of real banana flavor.
Sour Cream: Sour cream is used in this cupcake batter instead of milk to help make these cupcakes moist and tender. It also adds a tangy flavor that complements the sweetness and the acidity helps activate the baking soda so they are light and fluffy.
Vanilla Extract: Vanilla extract adds a subtle warm sweetness to the cupcakes and frosting, without overpowering the banana flavor.
Flour: You want to use a heavier flour like all-purpose flour for these cupcakes because the wet ingredients that are thicker with a higher moisture content than normal. This will keep the cupcakes from being dense.
Baking Powder and Baking Soda: Both of these ingredients are leavening agents, which help the cupcakes to rise and become fluffy. With such a thick, high moisture batter, you want to use both baking soda and baking powder.
Banana Chips: Dried banana chips add a crunchy texture and a burst of sweeter banana flavor to the these cupcakes. You can make your own or use fresh banana slices instead.
Cinnamon Vanilla Frosting: The creamy frosting is an easy sweet, rich vanilla buttercream recipe with a hint of cinnamon. The warmth of the cinnamon and vanilla goes perfectly with the banana flavor.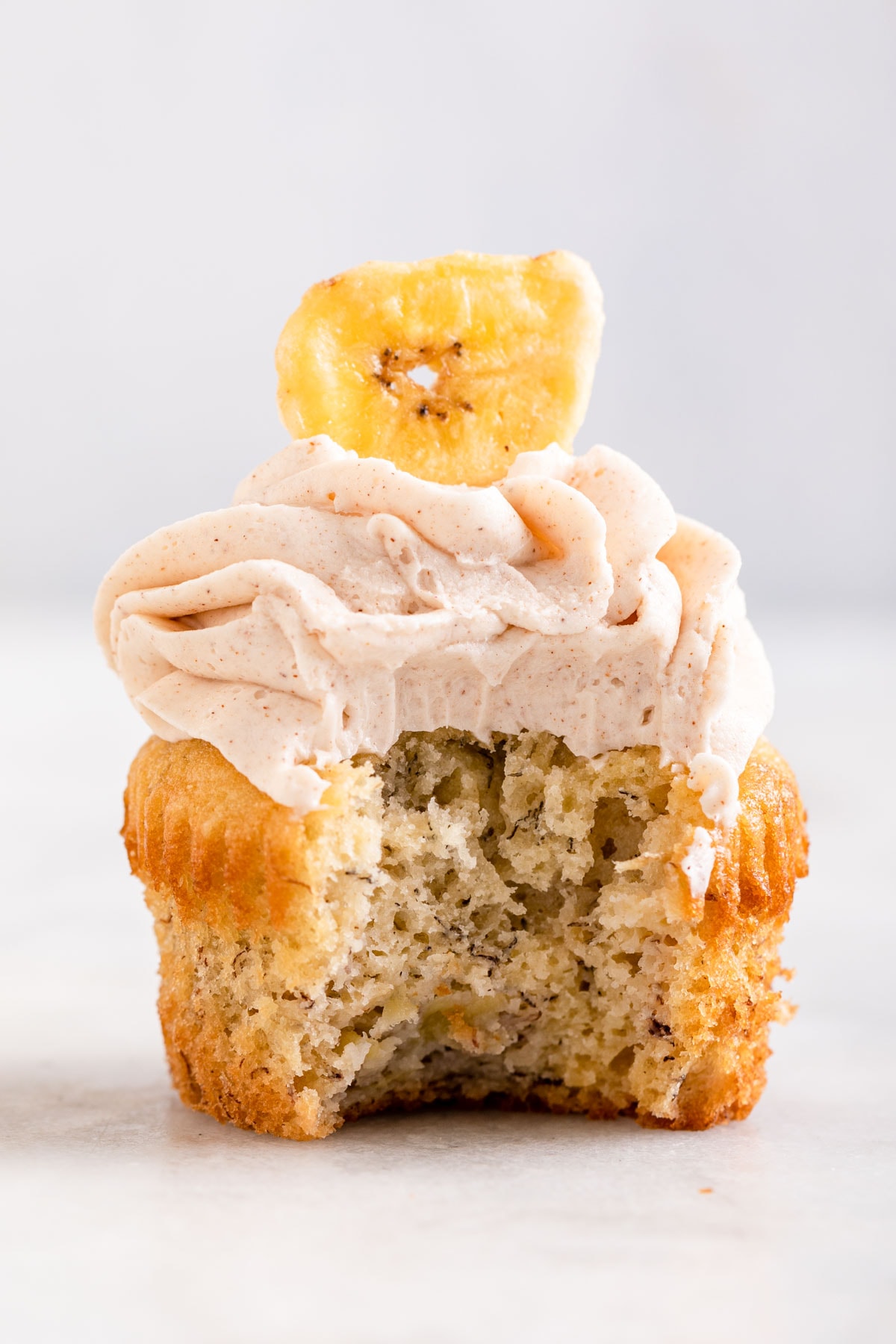 Can Banana Cupcakes be made ahead of time?
Yes, banana cupcakes can be made ahead of time. Simply bake and cool them as directed in the recipe but don't frost them. Once they are completely cooled, place them in an airtight container and store in the refrigerator for up to three days. When you are ready to serve them, take them out of the refrigerator and allow them to come to room temperature before frosting them.
You can also freeze unfrosted banana cupcakes for up to 2-3 months. To freeze, wrap each cupcake tightly in plastic wrap and place them in an airtight container or freezer bag. When you are ready to serve them, thaw the cupcakes in the refrigerator overnight and then bring them to room temperature, make a fresh batch of frosting and decorate.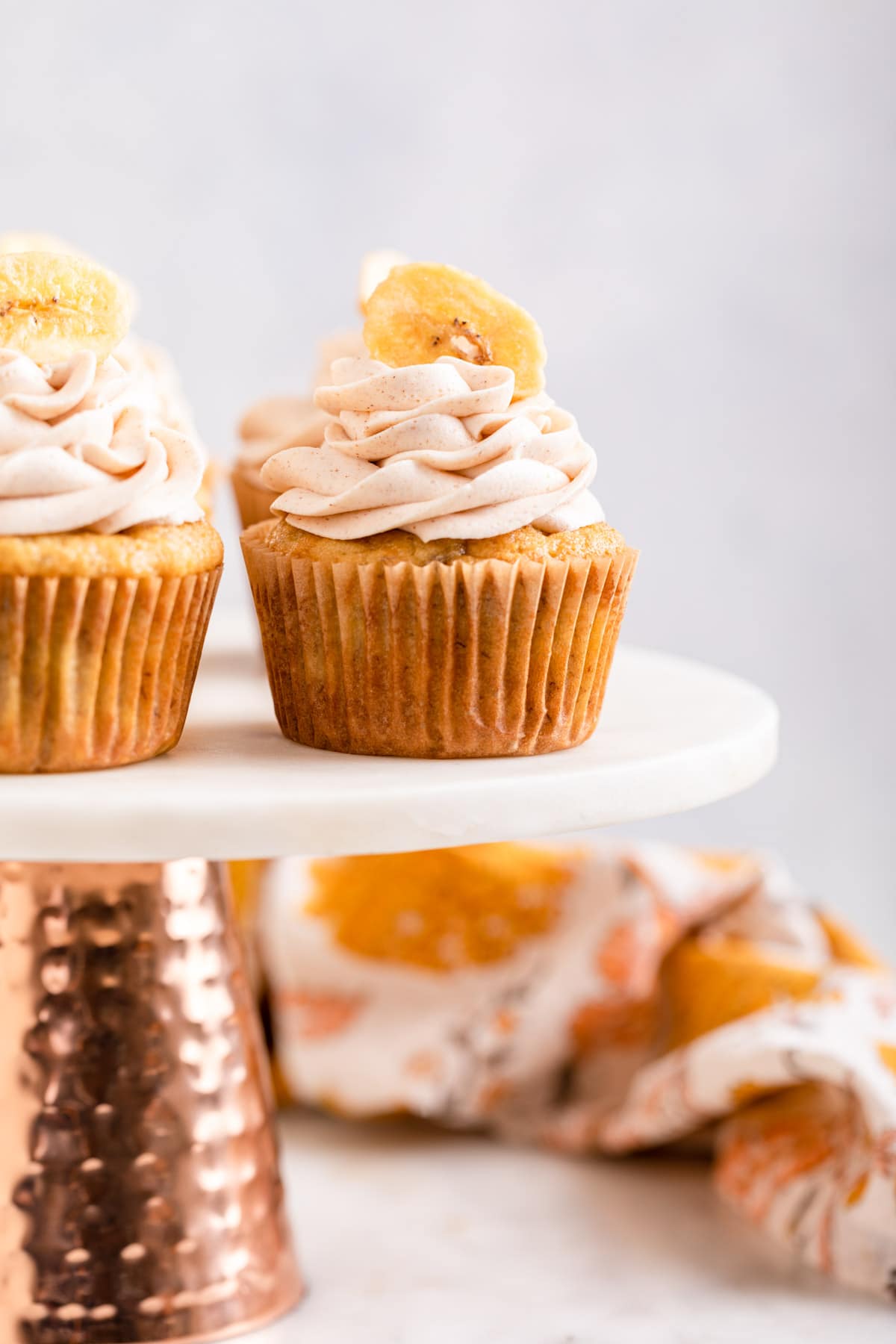 Variations
Cinnamon Cream Cheese Frosting: Instead of the sweet buttercream frosting in this recipe, you can get a tangier flavor with Cream Cheese Frosting. Just add a teaspoon ground cinnamon to the cream cheese frosting recipe to make Cinnamon Cream Cheese Frosting.
Peanut Butter: Peanut butter and banana taste delicious together! Use Peanut Butter Frosting, with a bit of cinnamon added and add a ½ cup of peanut butter chips to the batter. Sprinkle chopped peanuts on the top along with the banana chips for extra crunchy decoration.
Walnuts: Another classic addition to banana desserts is chopped walnuts. Toast the walnuts before adding them for richer, deeper walnut flavor. You could also use hazelnuts, almonds, or pecans instead of walnuts.
Chocolate: Replace ¼ cup of flour with ¼ cup cocoa powder to make a chocolate banana cupcake batter. Fold in a ½ cup dark chocolate chips or semi-sweet chocolate chips for bursts of melty chocolate goodness. For super chocolate lovers, swap in Chocolate Frosting for the cinnamon vanilla buttercream.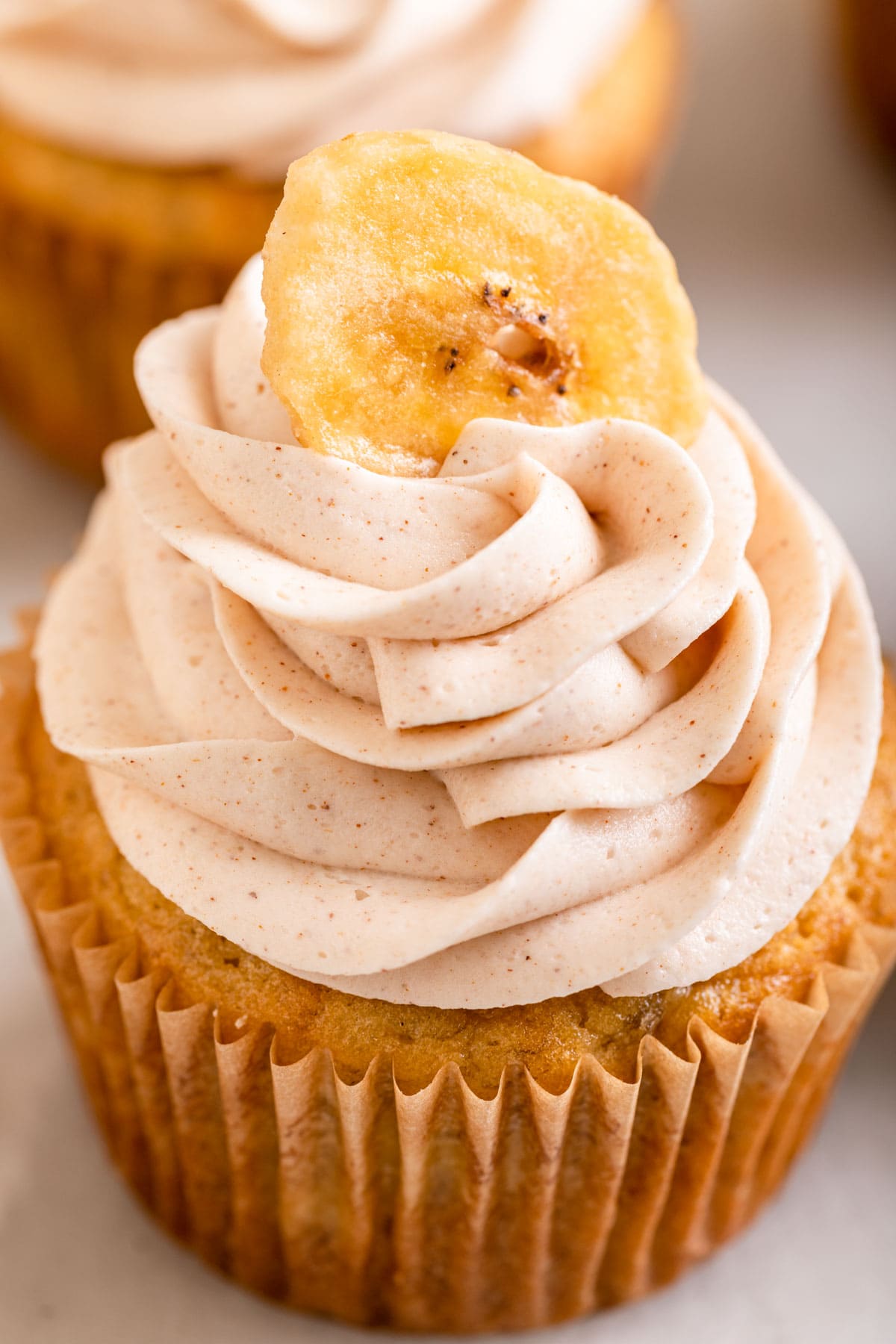 More Amazing Cupcake Recipes
How to Store
Serve: Make sure you let the Banana Cupcakes cool completely before you add the vanilla cinnamon frosting so it doesn't melt.
Store: If you have leftovers, you can cover them to store at room temperature for up to 2 days. You can also put them in an airtight container to store in the fridge for 3-4 days.
Freeze: These amazing Banana Cupcakes can be frozen for up to 4 months. It's best to store them without frosting and make fresh frosting after you've thawed them.


Ingredients
Banana Cupcakes:
1/2

cup

sugar

1/2

unsalted butter

, softened

1/4

cup

sour cream

2

teaspoons

vanilla extract

2

large

eggs

2

large

ripe bananas

, peeled, and mashed

1

cup

flour

1/2

teaspoon

baking powder

1/2

teaspoon

baking soda

12

banana chips
Cinnamon Vanilla Frosting:
1

cup

unsalted butter

, softened

3

cups

powdered sugar

1

teaspoon

cinnamon

1

teaspoon

vanilla extract

2

tablespoons

heavy cream
Instructions
Banana Cupcakes:
Preheat the oven to 350 degrees and line a 12 cup muffin tray with paper liner cups.

To a stand mixer add sugar and butter on medium-high speed until light and fluffy, about

1 minute

.

Lower the speed to medium, then add in the sour cream. and vanilla extract until smooth.

Add in the eggs one at a time until well combined.

Add in the mashed bananas then turn off the stand mixer.

Into a bowl sift together the flour, baking powder, baking soda and salt.

On low speed add in the flour mixture ⅓ cup at a time until the dry mixture is just combined (do not overmix).

Fill the muffin liners ¾ full and bake for

18-20 minutes

.

Let cool before frosting.
Cinnamon Vanilla Frosting:
To your stand mixer on low speed cream, the butter then start adding in the powdered sugar in ½ cup increments until fully combined then raise the speed to medium-high for

1 additional minute

.

Add in the ground cinnamon and mix until the cinnamon is even throughout, about

20 seconds

.

Add in the vanilla extract and heavy cream and beat until light and fluffy for

1 minute

.

Add frosting to piping bag and frost your cooled cupcakes, then top with a banana chip.
Nutrition
Calories:
381
kcal
|
Carbohydrates:
53
g
|
Protein:
3
g
|
Fat:
19
g
|
Saturated Fat:
11
g
|
Polyunsaturated Fat:
1
g
|
Monounsaturated Fat:
5
g
|
Trans Fat:
1
g
|
Cholesterol:
78
mg
|
Sodium:
66
mg
|
Potassium:
142
mg
|
Fiber:
1
g
|
Sugar:
41
g
|
Vitamin A:
601
IU
|
Vitamin C:
2
mg
|
Calcium:
28
mg
|
Iron:
1
mg