Beet Salad is a blend of sweet, tangy and savory. Fresh greens topped with beets, citrus vinaigrette, candied walnuts and goat cheese.
This easy Salad is the perfect light lunch or flavorful Side Dish. Serve it all summer long with your favorite grilled dinners like Pork Chops and Cilantro Lime Chicken.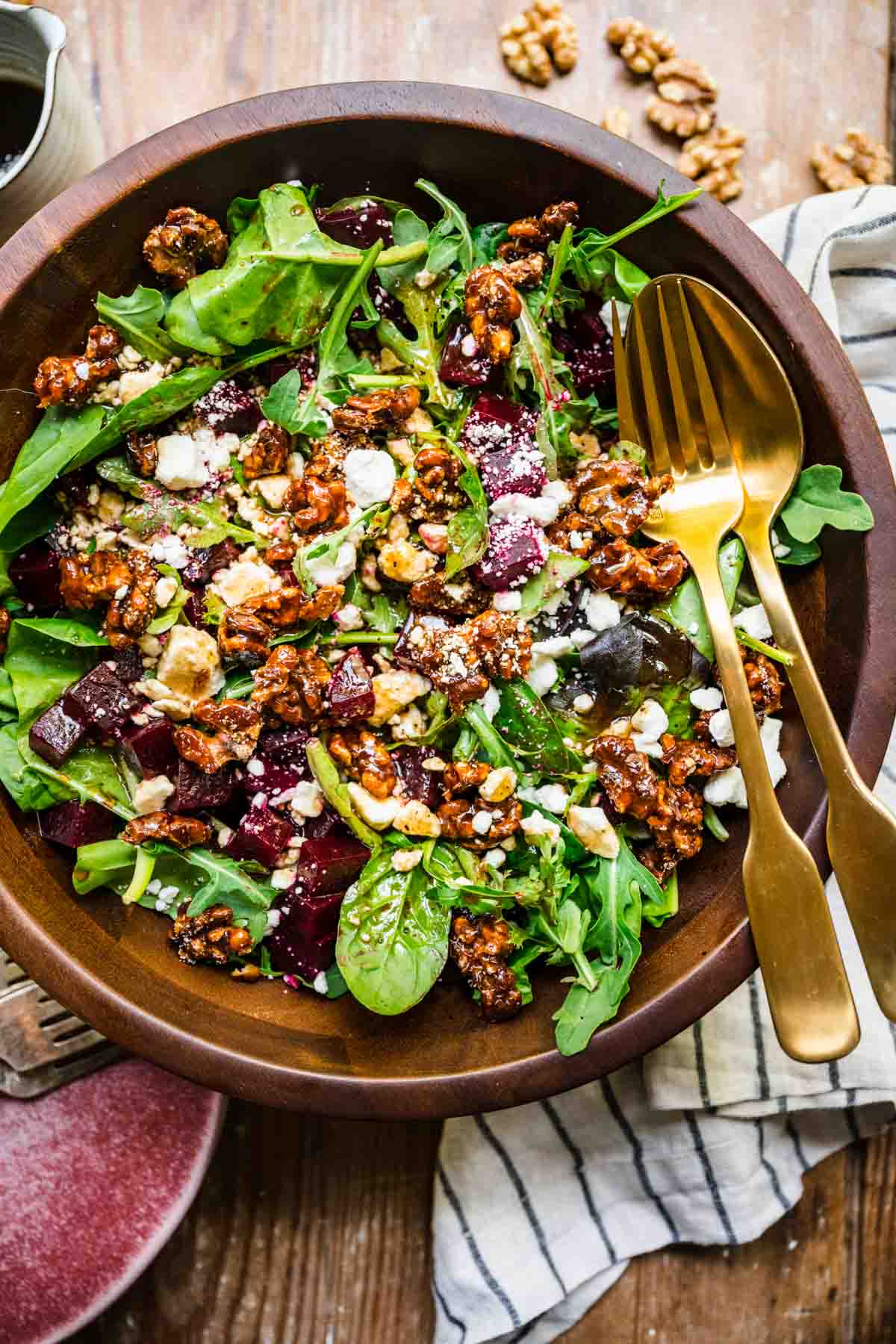 There's nothing quite as refreshing as a cool salad recipe topped off with a light dressing. Beet and Goat Cheese Salad is perfect to make for a potluck or enjoy for an easy lunch, and you only need a handful of ingredients. The sweetness of the candied walnuts and citrus vinaigrette bring out the best flavors in the beets and make this healthy dish a real treat.
If you don't think you're a fan of beets, you should still give this salad a try. You'll be amazed at how the other salad ingredients bring out the best flavor in the red beets. You can also swap the red beets out with golden beets that have a milder taste and aren't as earthy, but still taste delicious with the creamy goat cheese and sweet walnuts.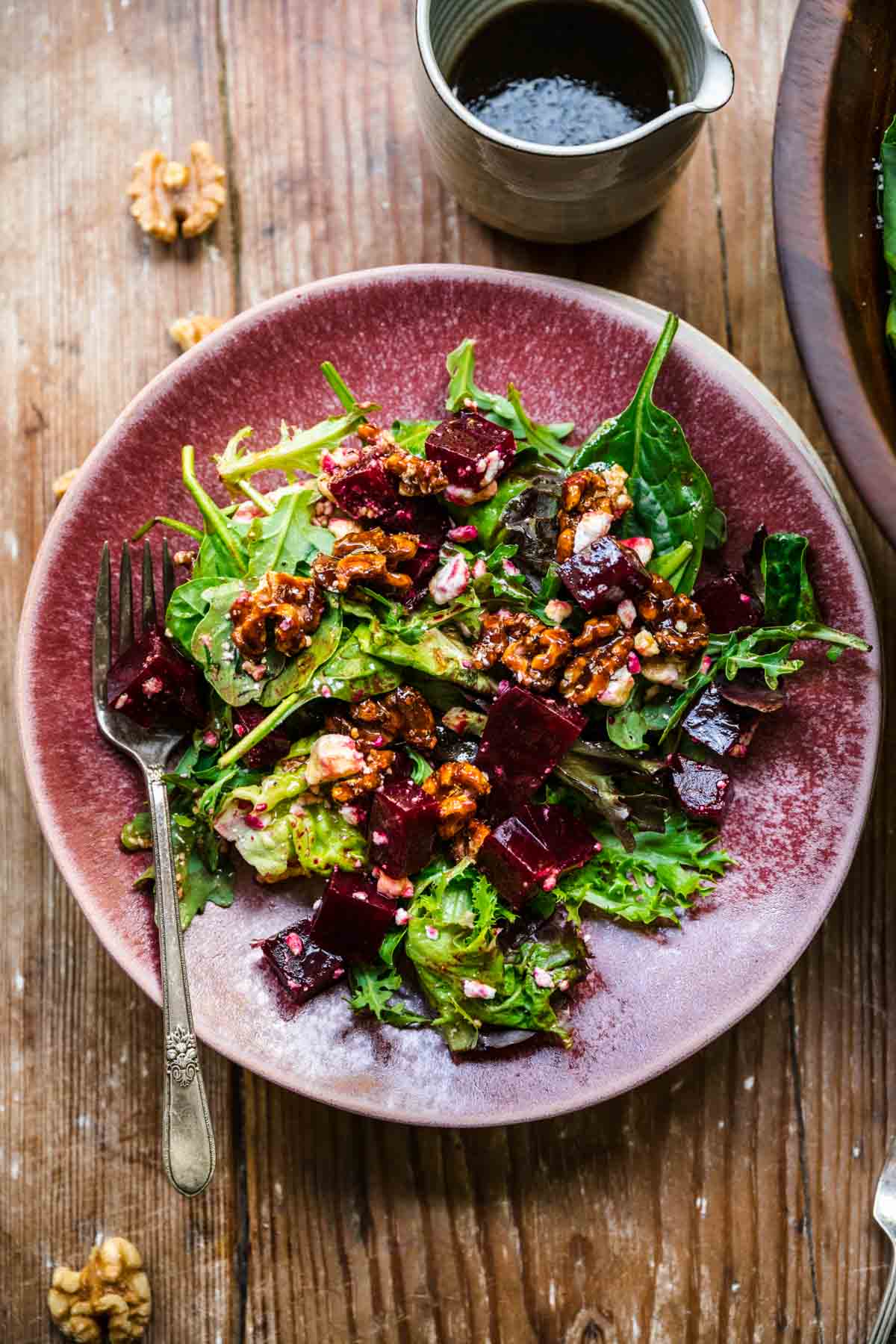 Goat cheese and beets are an amazing flavor combination. The rich, earthy flavor of the beets pairs perfectly with the sharp, tart taste of the goat cheese. Toss them with some fresh mixed greens and balsamic vinaigrette and you've got a combination of flavors that's tough to beat.
Beet salad pairs well with most meats, so toss this simple beet salad recipe together for a quick side that goes great with so many dinners. It's a great healthy side to serve in the summer with a Pulled Pork Sandwich. The beets turn this fresh salad into a hearty vegetarian meal, especially with a bowl of Tomato Soup and some Garlic Bread.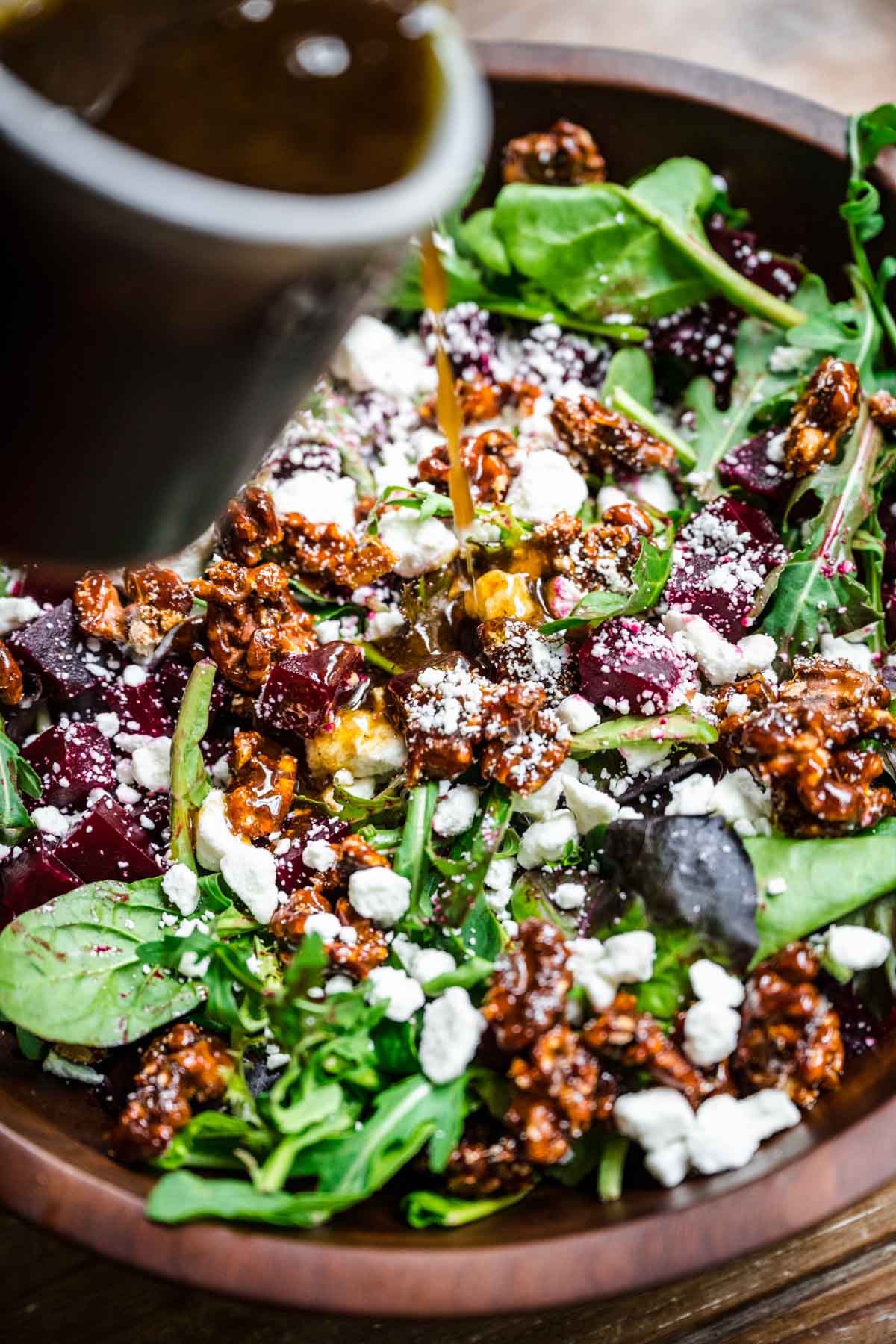 More Easy Summer Salad Recipes
How to Make Beet Salad
Prepping the beets: Start by putting the beets in a saucepan and covering them entirely with water. Bring the water to a boil and cook for 25-30 minutes so the beets become tender. Move the beets straight to an ice water bath so they cool quickly. Take the beets out of the water and dice them into cubes. Now, they're ready for the salad!
Salad: In a large serving bowl toss together the mixed greens, chopped beets, and candied walnuts. Then crumble the goat cheese over the top.
Dressing: In a separate bowl whisk together the olive oil, orange juice, balsamic vinegar, kosher salt, and pepper. Once it's combined pour the dressing over the salad and serve.
Frequently Asked Questions
How do I cook fresh beets?
This salad recipe begins with raw beets. Simply use a vegetable peeler to remove the outer layer of skin before boiling for 20-25 minutes. Then you let the beets cool before cutting into cubes for the salad. Be aware your cutting board, knife, and hands will all have bright red juices on them, so it's best to use a plastic cutting board to prevent staining. Using golden beets instead of red also helps prevent staining.
Can I cook beets in an Instant Pot?
To cook your beets in an instant pot, first trim off the greens and the root and scrub the skin well. Place on a trivet with 1 cup water at the bottom, and set to manual pressure for 20-25 minutes for small to medium beets. Quick release the pressure. Once cool enough to handle, peel off the beet skins and cut into cubes.
How do I make a Roasted Beet Salad?
A great alternative to boiling beets is to make roasted beets for this salad. Peel and cube the beets, then toss in a little olive oil and spread onto a baking sheet. Add a sprinkle of salt and pepper, or a drizzle of maple syrup to complement the earthiness of the beats. Roast at 375 for 20-30 minutes until a paring knife inserts easily.
What should I do with beet greens?
The beautiful leafy tops of fresh beets are actually delicious! They are slightly bitter and have a similar earthy flavor to Swiss chard or collard greens, which would not make good raw greens for this salad. However, you can rinse them and saute them with a little oil, garlic, salt and pepper for a delicious cooked green side dish to go with any meal.
Can I use canned beets for Beet Salad?
While there's nothing wrong with canned beets, using fresh beets will give you the best flavor and texture for this recipe. Canned beets can be used in a pinch, but if you have access to fresh, you will definitely appreciate the difference.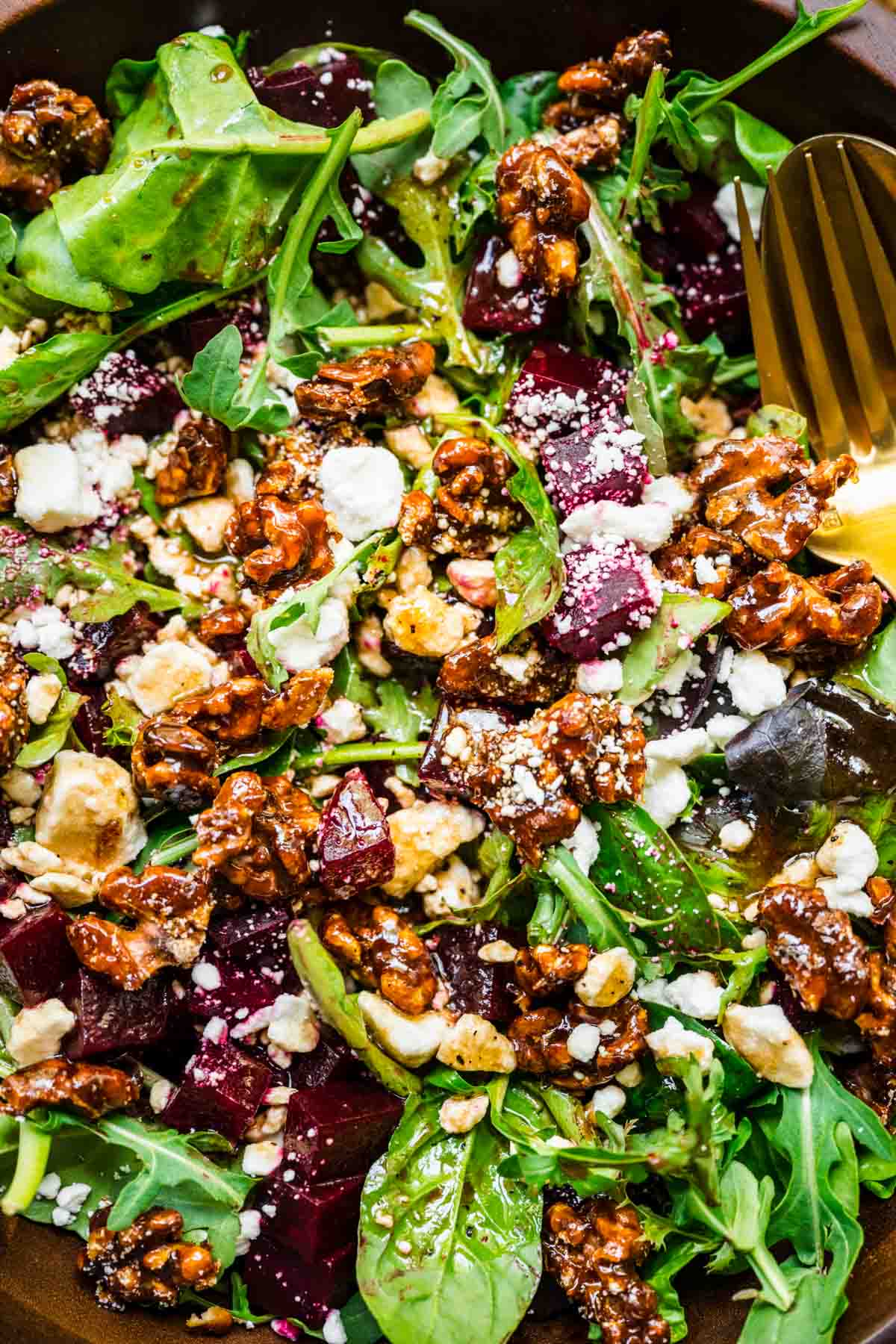 Create a free account to Save Recipes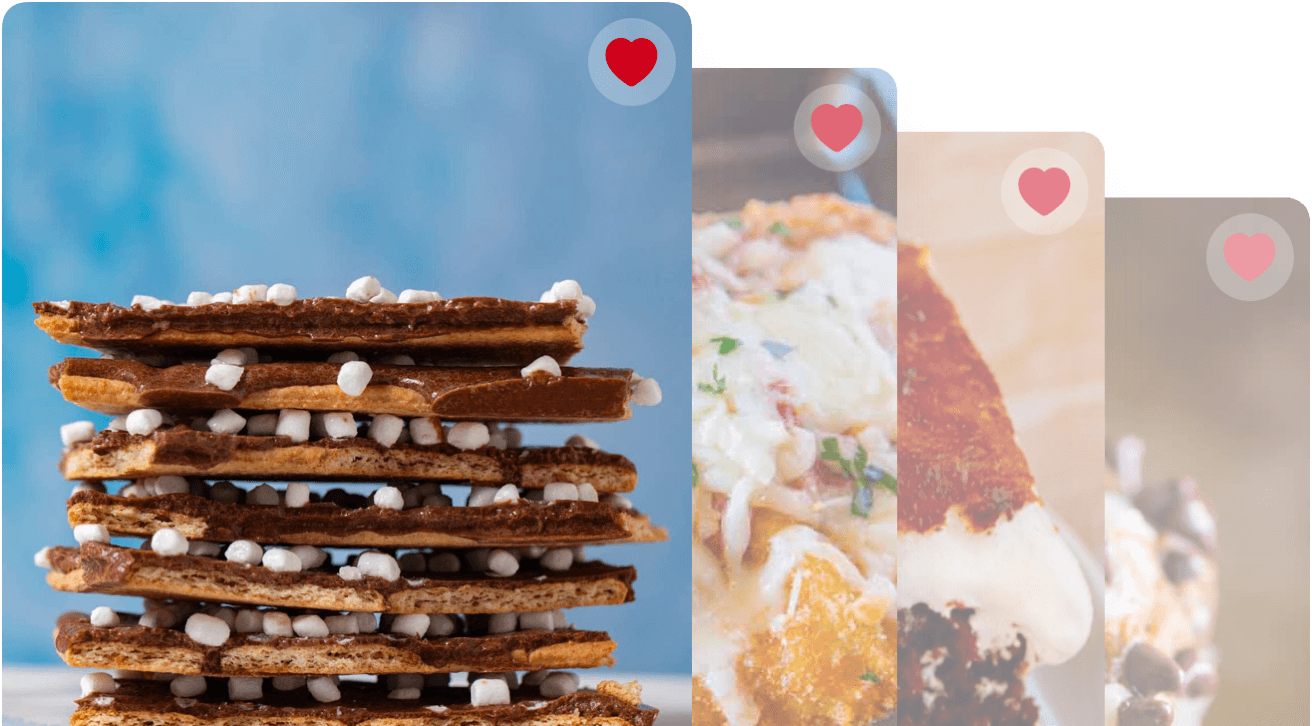 Key Ingredients in Beat and Goat Cheese Salad
Spring Mix: Salad begins with the greens. Spring mix is the easiest way to have a combination of flavors that comes in one easy, ready to use package.
Beets: When buying fresh beets, look for small to medium size beets that are firm. Larger beets tend to be less flavorful. The greens should look bright and fresh.
Goat Cheese: You can buy crumbled goat cheese or a soft goat cheese log to break up yourself. The log will have a slightly creamier texture, but the crumbled is very convenient.
Candied Walnuts: Purchase candied pecans already prepared, or make a homemade version. Use the same method as our Candied Pecans and swap walnuts or any nut of your choice.
Orange Juice: In addition to pantry staples like olive oil, balsamic vinegar, salt and pepper, the addition of orange juice in the salad dressing helps to add a sweet, citrusy flavor that works great with the beets and goat cheese.
Can Beet and Goat Cheese Salad be made ahead of time?
If you want to cut down on preparation time for your Beet Salad, you can easily prepare parts of it up to two days in advance. Mix up the salad dressing ahead of time, and boil and cube the beets. Then when you're ready to assemble your salad it will only take a few minutes.
Variations on Beet Salad
Protein: To make the salad more filling try tossing in some meat like grilled chicken, or turkey. If you want to leave the salad vegetarian, add some roasted chickpeas or baked tofu.
Cheese: If you don't have goat cheese or just want to try something different, here are some good exchanges: blue cheese, feta cheese, ricotta, or cottage cheese.
Nuts: You can swap the candied walnuts for candied almonds, pecans, or cashews. You could even use a few different kinds of nuts for some extra flavor and crunchy texture in the Beet and Goat Cheese Salad.
Greens: Use any combination of your favorite baby greens for this cold beet salad. Combine spring mix with peppery arugula, baby spinach, or frisée.
Add-ins: For some delicious add-ins try mixing in some extra vegetables like shredded carrots, chopped cucumbers, or celery. You could also mix in spices with the salad dressing like paprika, cumin, cinnamon, or allspice.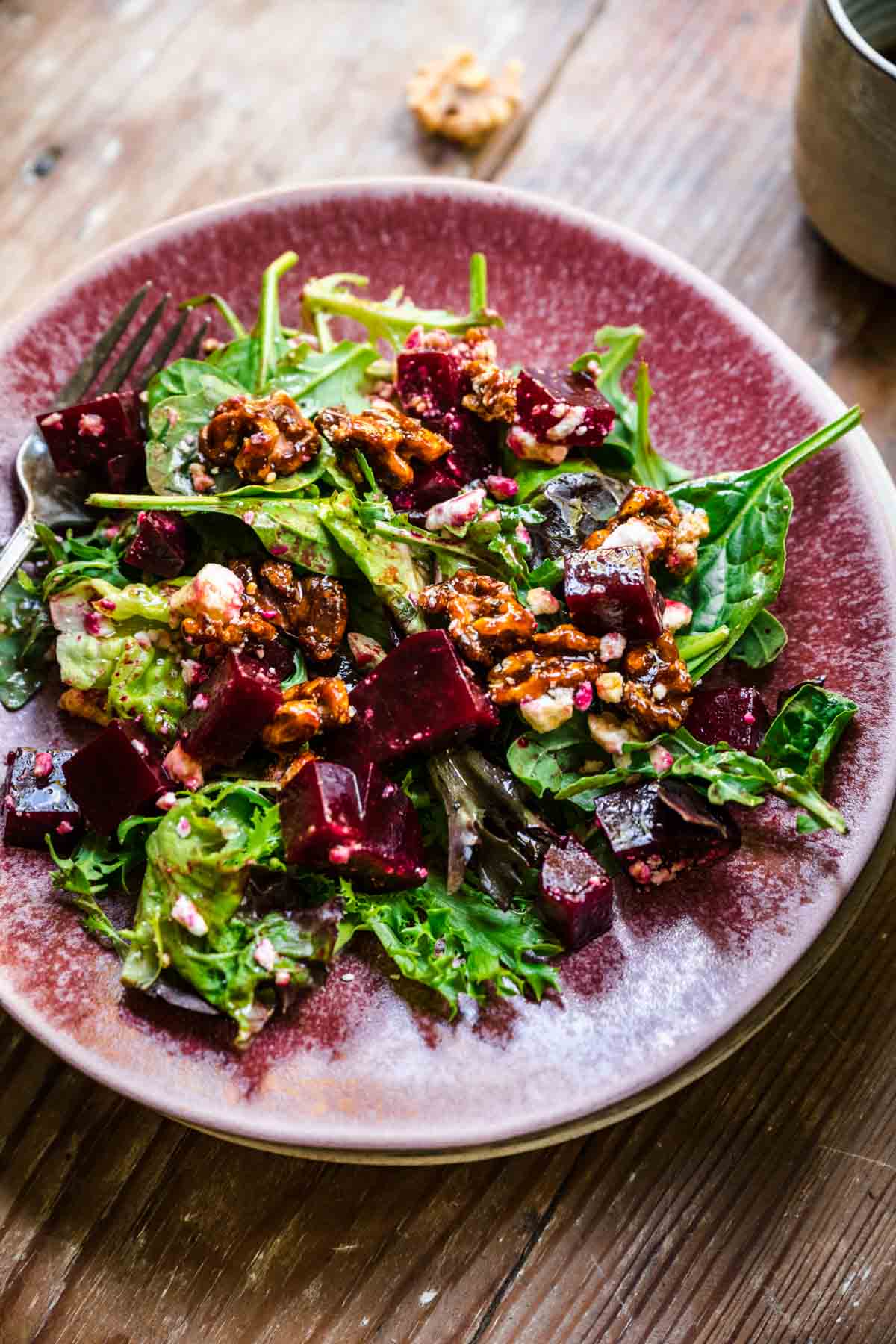 More Easy Summer Side Dishes
How to Store Beet and Goat Cheese Salad
Serve: After making Beet and Goat Cheese Salad, don't leave it at room temperature for more than a 2 hours or the fresh greens will start to wilt.
Store: If you keep the dressing on the side, you can store any leftover salad in the fridge. Cover the Beet and Goat Cheese Salad in plastic wrap or transfer it to an airtight container. It will stay good in the fridge for 3-5 days.
Freeze: Unfortunately mixed greens don't freeze well. However, you can freeze beets and goat cheese. If you want to take out the greens and freeze the rest of the salad it will keep well in an airtight container in the freezer for up to 3 months. Let it thaw out, then toss it with fresh greens, and make the vinaigrette to pour over the top.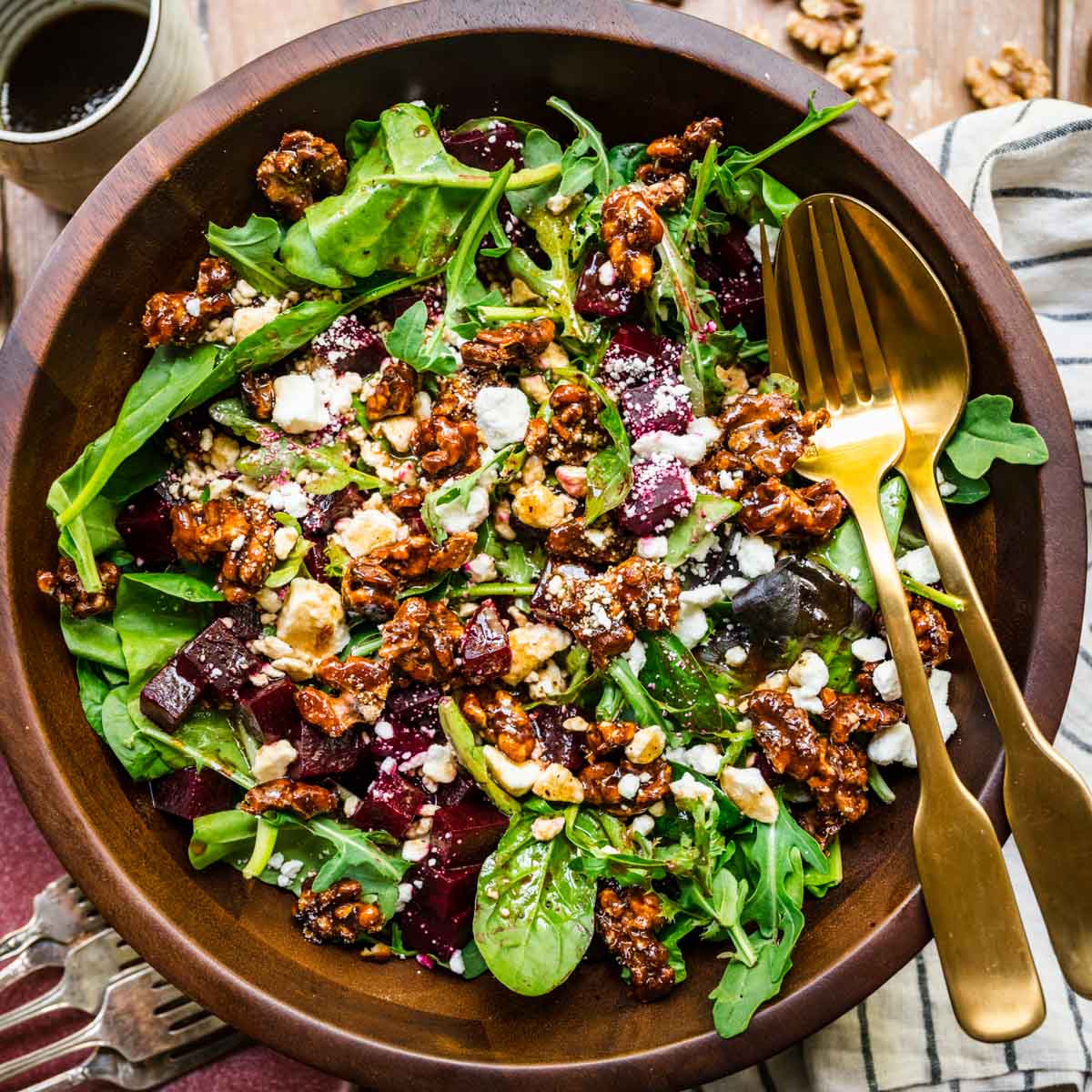 Ingredients
4

red beets

, peeled

6

cups

mixed greens

1/2

cup

candied walnuts

, chopped

1/2

cup

goat cheese
Citrus Vinaigrette
1/2

cup

olive oil

1/4

cup

orange juice

1/3

cup

balsamic vinegar

1/2

teaspoon

kosher salt

1/4

teaspoon

coarse ground black pepper
Instructions
Add the beets to a saucepan and cover with water.

Boil for

25-30 minutes

until tender, then put beets in ice water to cool quickly.

Chop the beets into cubes.

To a large bowl add the mixed greens, chopped beets, candied walnuts and goat cheese crumbled on top.

In a small bowl whisk together the olive oil, orange juice, balsamic vinegar, kosher salt and black pepper.

Pour dressing over the salad and serve.
Nutrition
Calories:
229
kcal
|
Carbohydrates:
10
g
|
Protein:
4
g
|
Fat:
19
g
|
Saturated Fat:
4
g
|
Cholesterol:
7
mg
|
Sodium:
271
mg
|
Potassium:
212
mg
|
Fiber:
2
g
|
Sugar:
7
g
|
Vitamin A:
516
IU
|
Vitamin C:
13
mg
|
Calcium:
37
mg
|
Iron:
1
mg