Bordelaise Sauce is a classic, rich French sauce to serve over beef tenderloin made with red wine, shallots, beef broth, butter, and minced thyme.
This easy, Homemade Sauce Recipe is perfect to serve over Filet Mignon, Pot Roast, and other delicious Beef Recipes.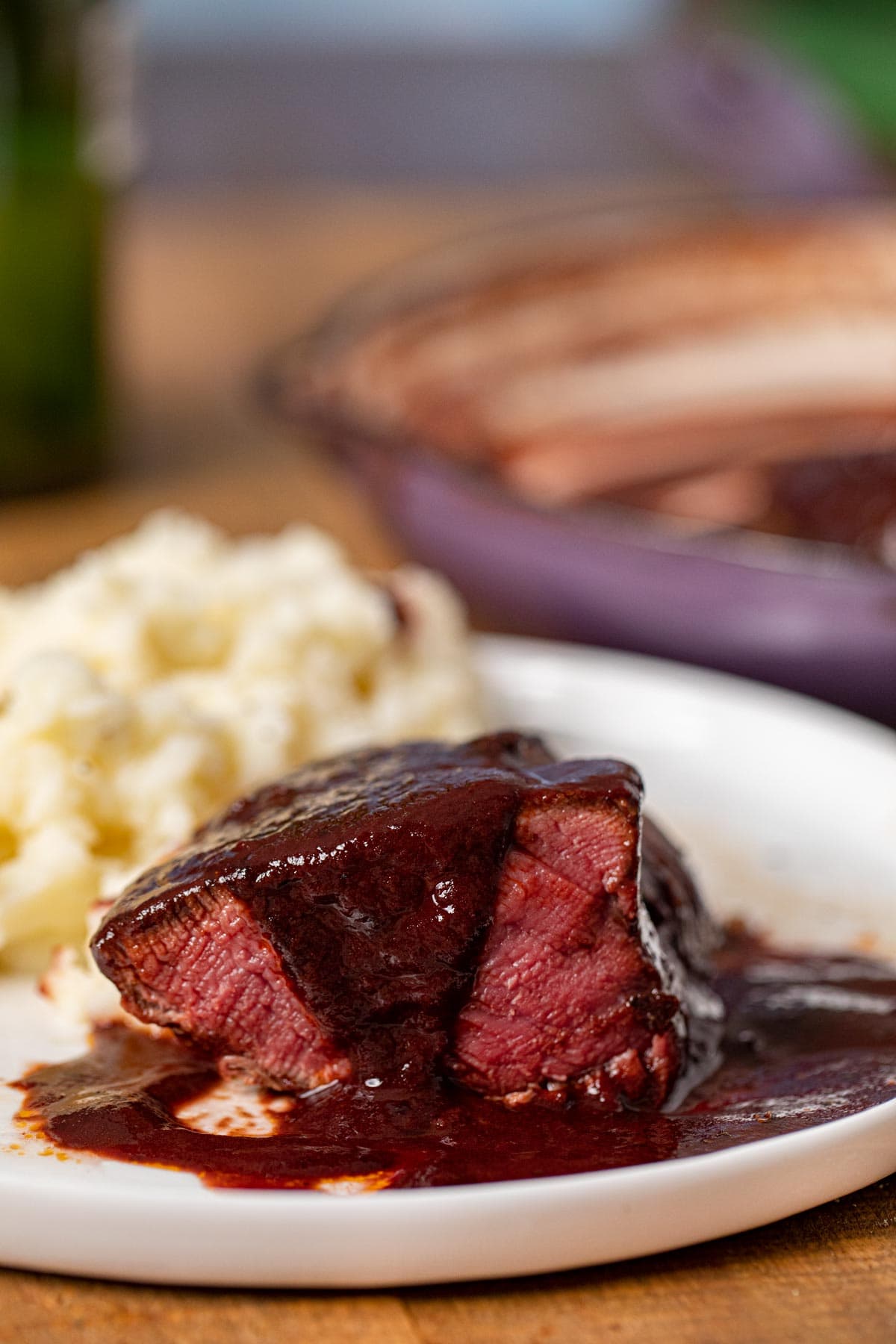 Bordelaise Sauce is a rich, buttery sauce. It's a great way to make any dinner slightly more special. The wine sauce is made with a demi-glace base and other flavorful ingredients mixed in. Although it's traditionally prepared with bone marrow, this recipe tastes just as delicious using beef broth.
The next time you're cooking a steak filet or any other beef recipe, try preparing a Bordelaise Sauce recipe, to use instead of A1 Sauce. It's a great recipe with a fairly quick cooking time that's sure to impress any guests and make your steak restaurant-worthy.
In fact, this red wine sauce would be a great addition to Christmas dinner. Not only will it taste great over any beef main dish, but it's perfect to drizzle over classic Christmas dinner sides like Mashed Potatoes and Roasted Green Beans. No matter what occasion you prepare it for, Bordelaise can take your dinner from good to excellent.
What Kind of Wine Should I Use in Bordelaise Sauce?
Bordelaise Sauce is named for the Bordeaux region in France because Bordeaux is famous for its wine and this red wine sauce is classically made with Bordeaux wine. However, you can use any dry red wine in this recipe. There's no need to worry about getting an expensive bottle just to make the Bordelaise.
More Sauce Recipes
Frequently Asked Questions About Bordelaise Sauce
What do I do if my Bordelaise Sauce is too thin or too thick?
If your Bordelaise sauce is too thick, you can add just a little bit of beef broth to thin it out. Be careful not to add too much, though. If the sauce is too thin, try reducing it a little longer. Keep it bubbling on the stove and keep checking it every few minutes while it continues to thicken.
What makes Bordelaise Sauce special?
Bordelaise sauce is extremely rich and flavorful. You only need a small amount to boost the flavor of your dish. It also has a luscious texture due to the butter in the sauce that makes it feel extra special when you eat it, like you're having a rare treat.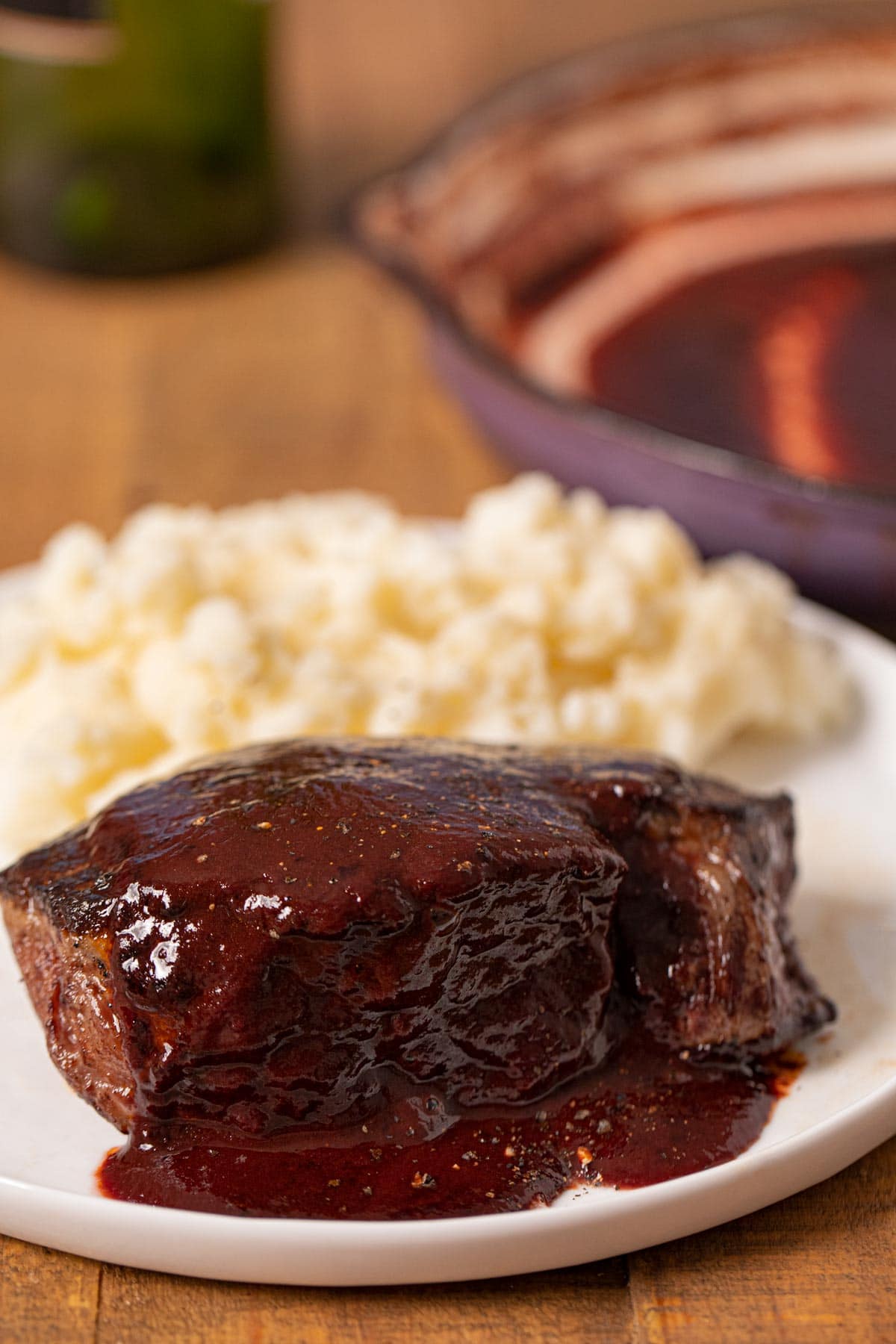 How to Make Bordelaise Sauce
Add 2 tablespoons of butter to a large saucepan over medium heat. Then add in the shallots, salt, and pepper to the pan and cook for 1-2 minutes until the shallots have softened.
Pour in the red wine, then add the bay leaf, and thyme. Whisk the ingredients together until well combined and bring them to a boil.
Continue to cook for about 20 minutes until the liquid has reduced by about 2/3rds. There should be ½ cup of liquid left behind.
Once the liquid has reduced, add in the beef broth and bring the ingredients to a low boil again.
Continue cooking for 15-20 minutes until there is about 1 cup of the mixture left.
Strain the sauce through a fine-mesh strainer to strain out the shallots and larger ingredients. Add the remaining ingredients back into a saucepan or skillet.
Keep the sauce over low heat until serving so it stays warm. If you put it over too high of heat the sauce will thicken, so keep it low.

Create a free account to

Save Recipes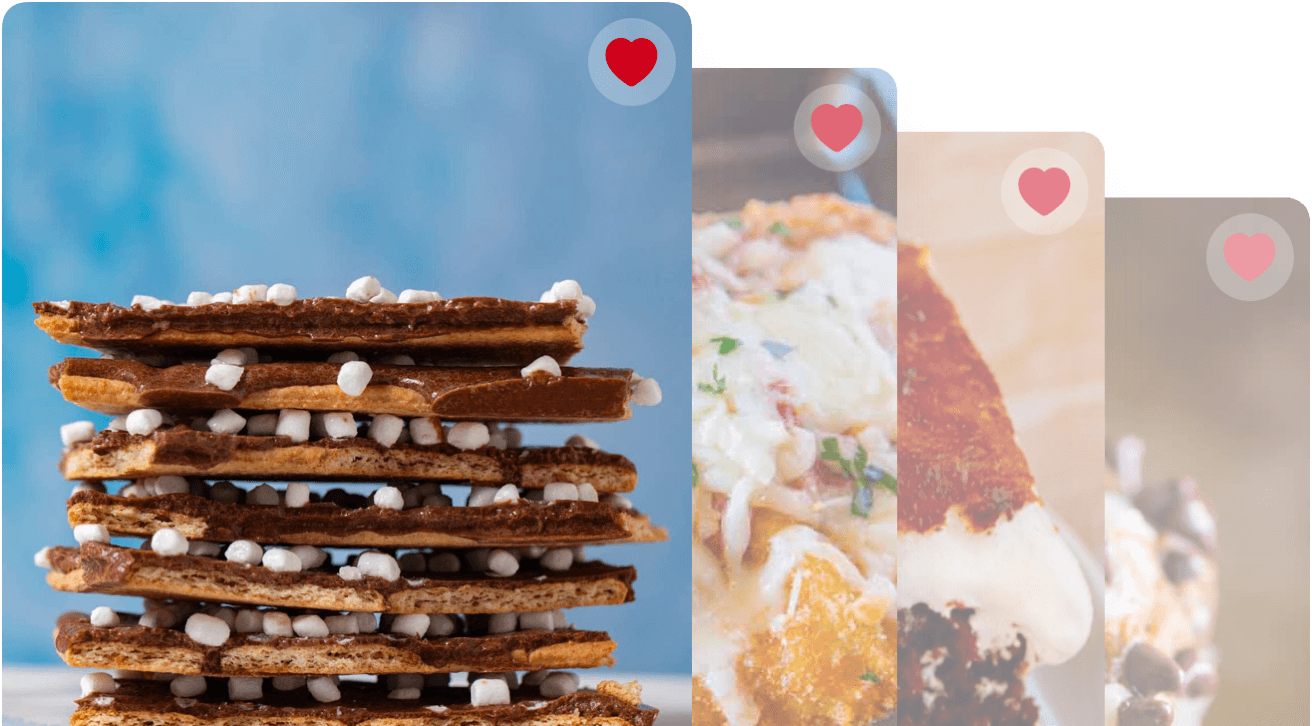 Can Bordelaise Sauce be Made Ahead of Time?
You can get a head start on your special meal by preparing Bordelaise Sauce ahead of time. Follow the recipe and let your sauce cool to room temperature. Seal it in an airtight container and place it in the fridge. It will keep for up to a week. When it is almost time to serve your dinner, reheat your Bordelaise in a saucepan for the best results and enjoy!
Variations on Bordelaise
Red Wine Replacements: Although this sauce is classically made with red wine, there are some ingredient replacements you can try if you don't have or don't want to use red wine. Try using apple juice, ginger ale, cranberry juice, chicken stock, or red wine vinegar.
Add-Ins: There are so many delicious add-ins you can try mixing into this great recipe. Peppercorn sauce is a classic sauce to serve over the top of steak so try adding peppercorns to your Bordelaise. You could also add in some minced garlic, chopped green onion, and a sprig of oregano. For some sweetness in the wine sauce mix in a tablespoon of brown sugar. For a little spice, try some cayenne pepper or a dash of hot sauce.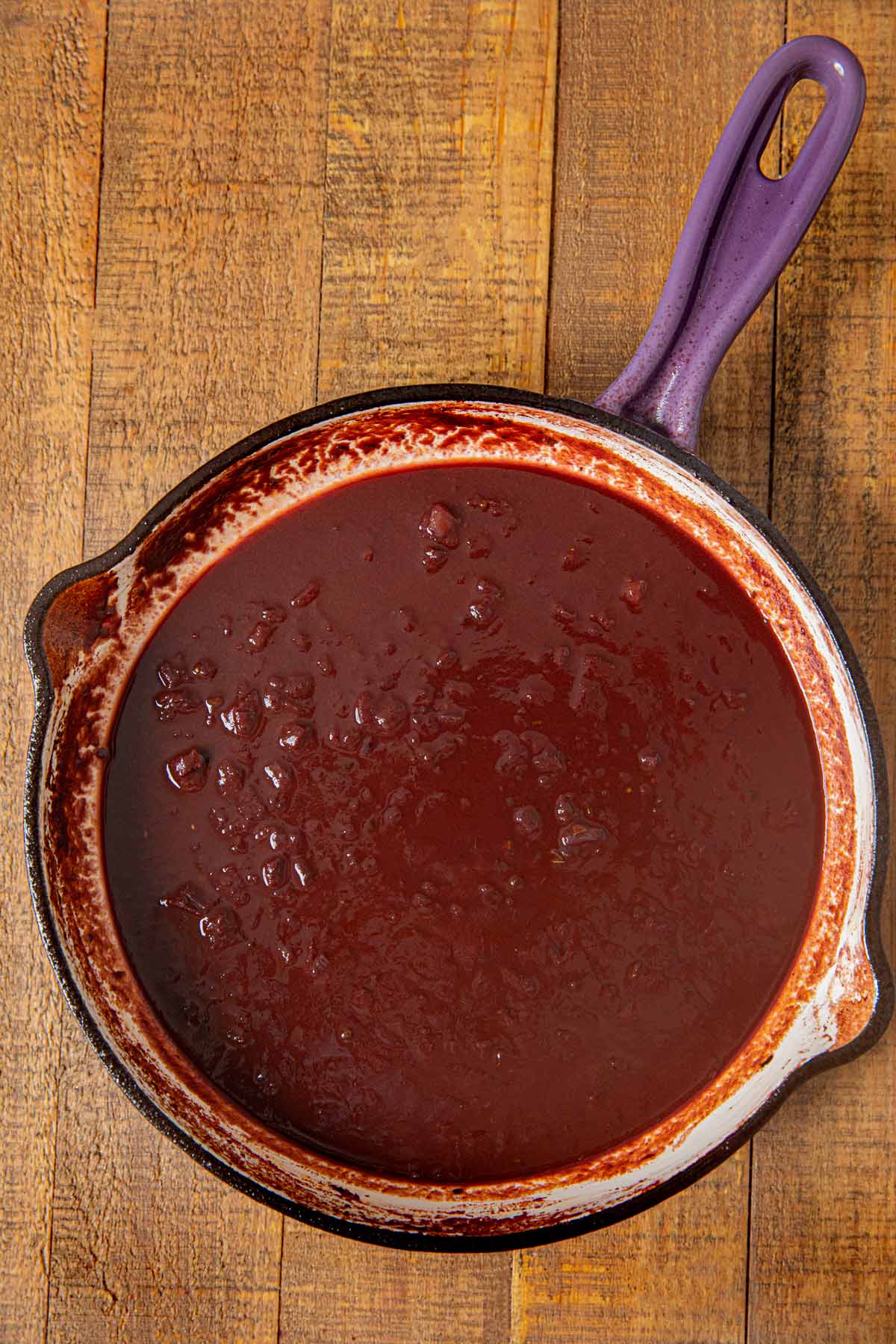 Mushroom Sauce: Try adding mushrooms to this brown sauce. You can both add sliced mushrooms to the mixture, and use the liquid from canned mushroom. You can use the mushroom sauce in place of half, or all of the wine in the recipe.
Dishes to Serve With Bordelaise Sauce
How to Store Bordelaise Sauce
Serve: Don't leave Bordelaise Sauce at room temperature for longer than 2 hours.
Store: You can store Classic Bordelaise Sauce for up to a week in the fridge. Be sure to reheat it slowly on the stovetop.
Freeze: You can freeze Bordelaise Sauce for up to a month. Let it cool to room temperature then put the red wine sauce in a freezer bag or other airtight container. When you're ready to reheat the sauce let it thaw in the fridge, then reheat it in a small saucepan.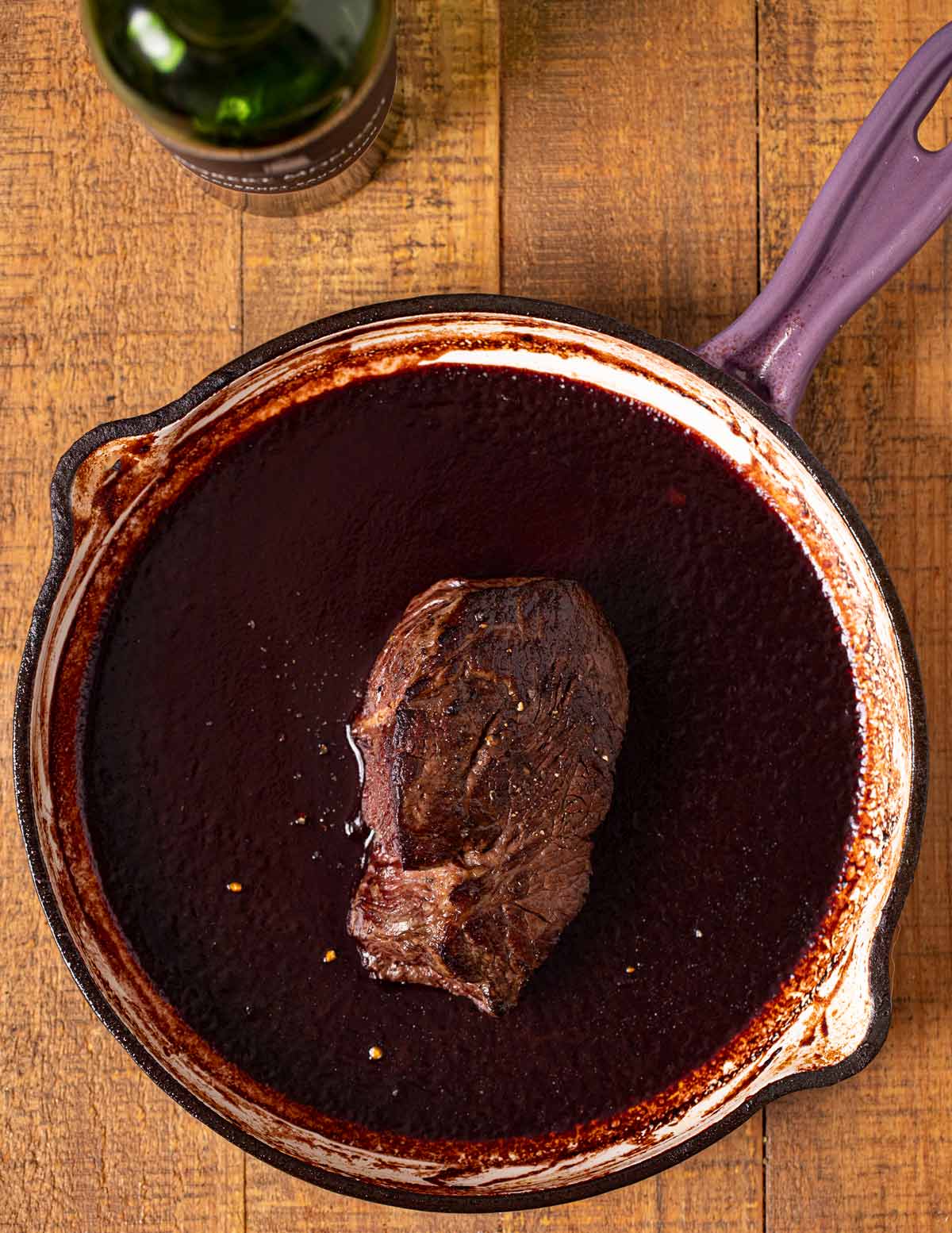 Ingredients
6

tablespoons

unsalted butter

, divided

1

shallot

, minced

1/4

teaspoon

kosher salt

1/2

teaspoon

coarse ground black pepper

1

bay leaf

2

teaspoons

thyme

, minced

1 1/3

cups

red wine

, 1 bottle, we used Cabernet Sauvignon

2

cups

beef broth
Instructions
To a large saucepan add 2 tablespoons unsalted butter, shallots, salt, and pepper and cook on medium heat for

1-2 minutes

until softened.

Add in bay leaf, thyme, and red wine.

Whisk well then bring to boil.

Cook for about

20 minutes

until the liquid is reduced by 2/3rds, leaving ½ cup of liquid behind.

Add in beef broth and bring to a low boil and cook for

15-20 minutes

until the final mixture is about 1 cup.

Strain through a fine-mesh strainer and add back to a clean saucepan or skillet.

Keep warm until serving (do not leave on high heat or it will thicken too much).
Nutrition
Calories:
117
kcal
|
Carbohydrates:
2
g
|
Protein:
1
g
|
Fat:
9
g
|
Saturated Fat:
5
g
|
Cholesterol:
23
mg
|
Sodium:
299
mg
|
Potassium:
94
mg
|
Fiber:
1
g
|
Sugar:
1
g
|
Vitamin A:
286
IU
|
Vitamin C:
1
mg
|
Calcium:
11
mg
|
Iron:
1
mg