Brown Butter Rice Krispies are the best gooey, buttery crispy treats! Chewy bars made with crispy rice cereal, toasty browned butter, and marshmallows.
Rice Krispie Treats are one of the easiest Snack Bar Recipes you can make! This twist on classic rice cereal bars is simple but adds so much depth of flavor!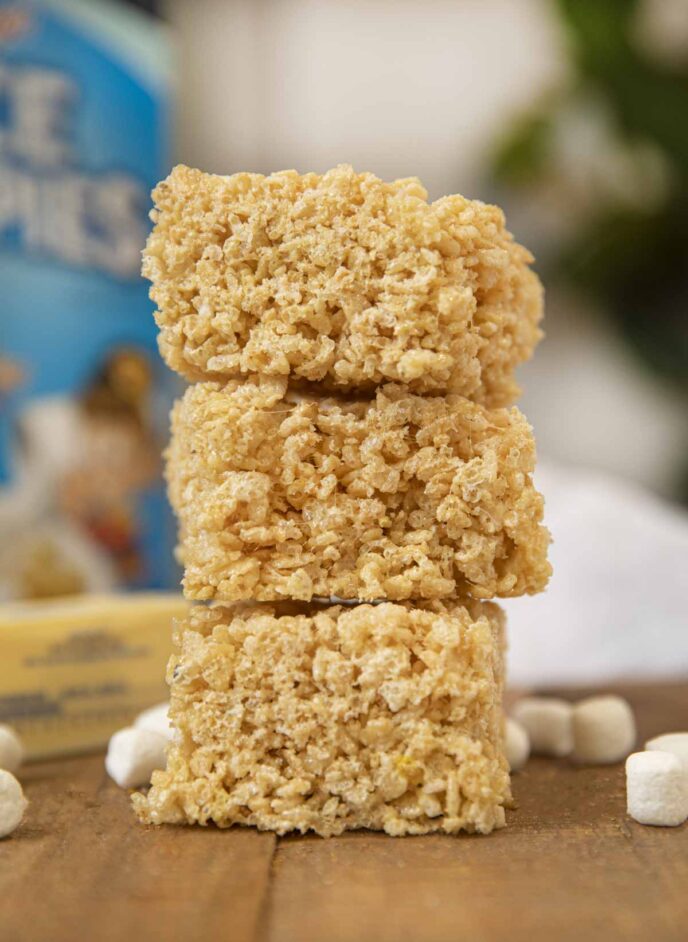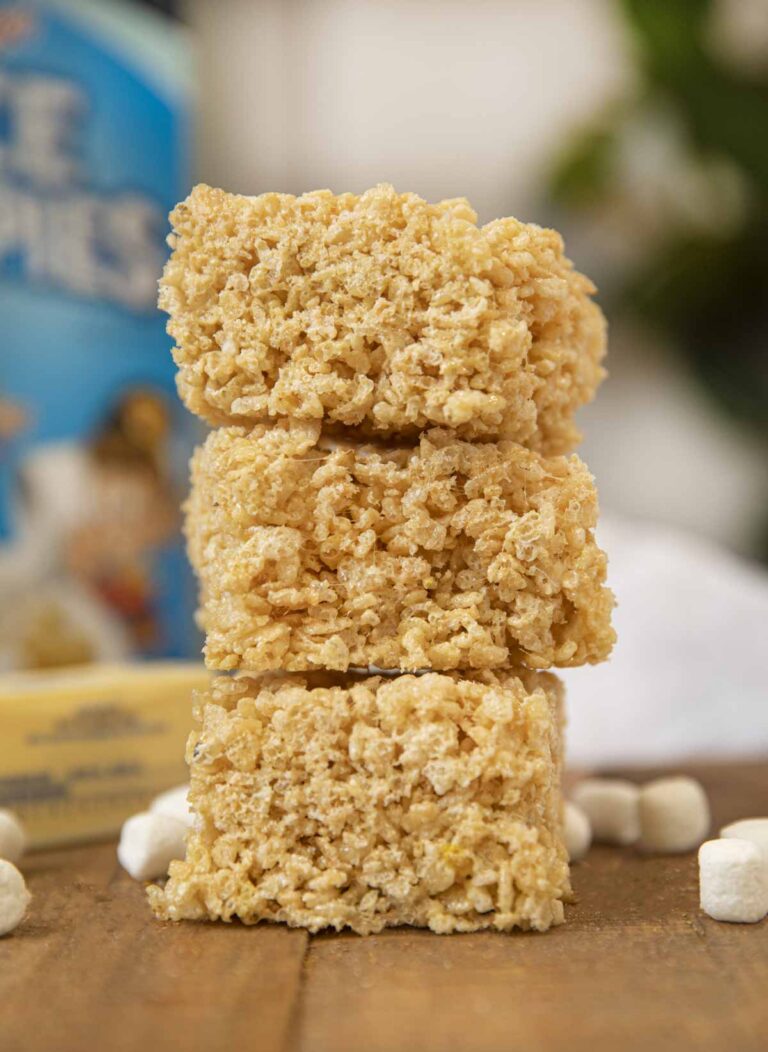 BROWN BUTTER RICE KRISPIES TREATS
When you start with such a simple, easy treat like Rice Krispies, you only need slight adjustments to make them out of this world. This toasty browned butter upgrade only takes a few extra minutes and you get gooeiest, most buttery treats. You may never go back to plain Rice Krispie Treats again.
The star of Brown Butter Rice Krispie Treats is, of course, the browned butter. Brown butter is one of those things you see on a menu that makes you think gourmet. While it definitely sounds fancy, it's actually a fairly easy technique. The key to making brown butter is to keep stirring and remove from heat as soon as it begins to brown and has a nutty aroma.
So why brown butter? Simply put it adds so much depth of flavor to the unsalted butter. Brown butter adds a nutty flavor to any dish (try it in savory dishes too!) and only takes about 5 minutes to get foamy and golden brown. When making brown butter, be sure to use unsalted butter so you can control how much salt is added.
Brown Butter Rice Krispie Treats are best enjoyed the same day you make them. The less air in whatever airtight container you use, the longer they will last. The best way store them is in a large storage bag. Lay the bag flat on its side, arrange the rice krispies in a single layer, and push as much air out as possible before sealing.
These Rice Krispies make a great party treat. And they get even better covered in chocolate. Check out the Chocolate Covered Brown Butter Rice Krispies Treats recipe at the bottom of the post. This easy chocolate magic shell is perfect for quick chocolate covered treats.
What kind of salt is best for baking?
Most recipes call for kosher salt and its best to assume that they mean fine grain unless stated. You can exchange sea salt for kosher salt in most recipes. If you use table salt, use half the amount. It's not that table salt is saltier than kosher salt, it just has smaller crystals so you get more of it by volume.
MORE MARSHMALLOW BAR RECIPES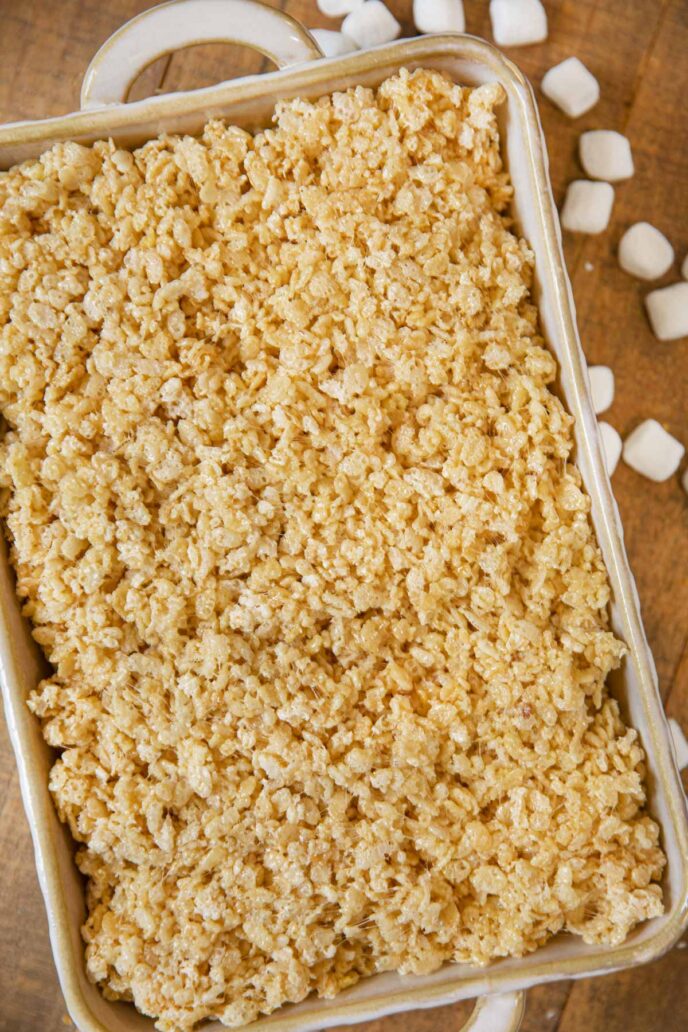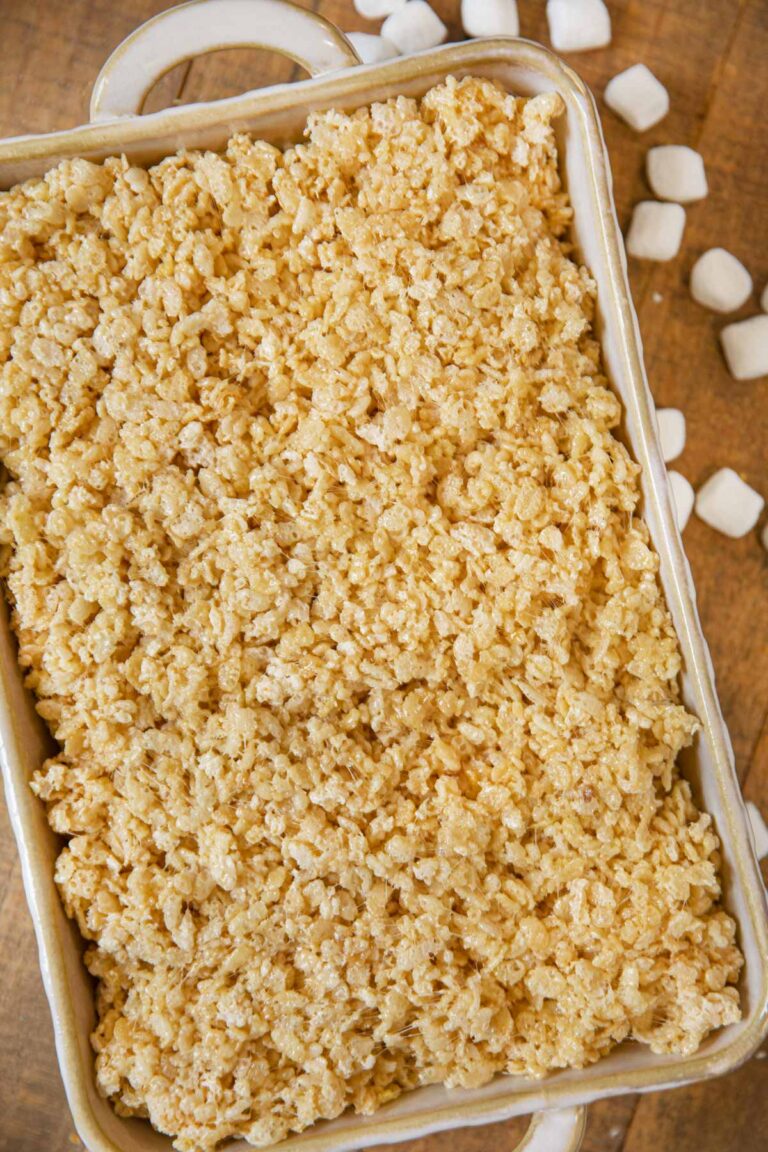 Create a free account to

Save Recipes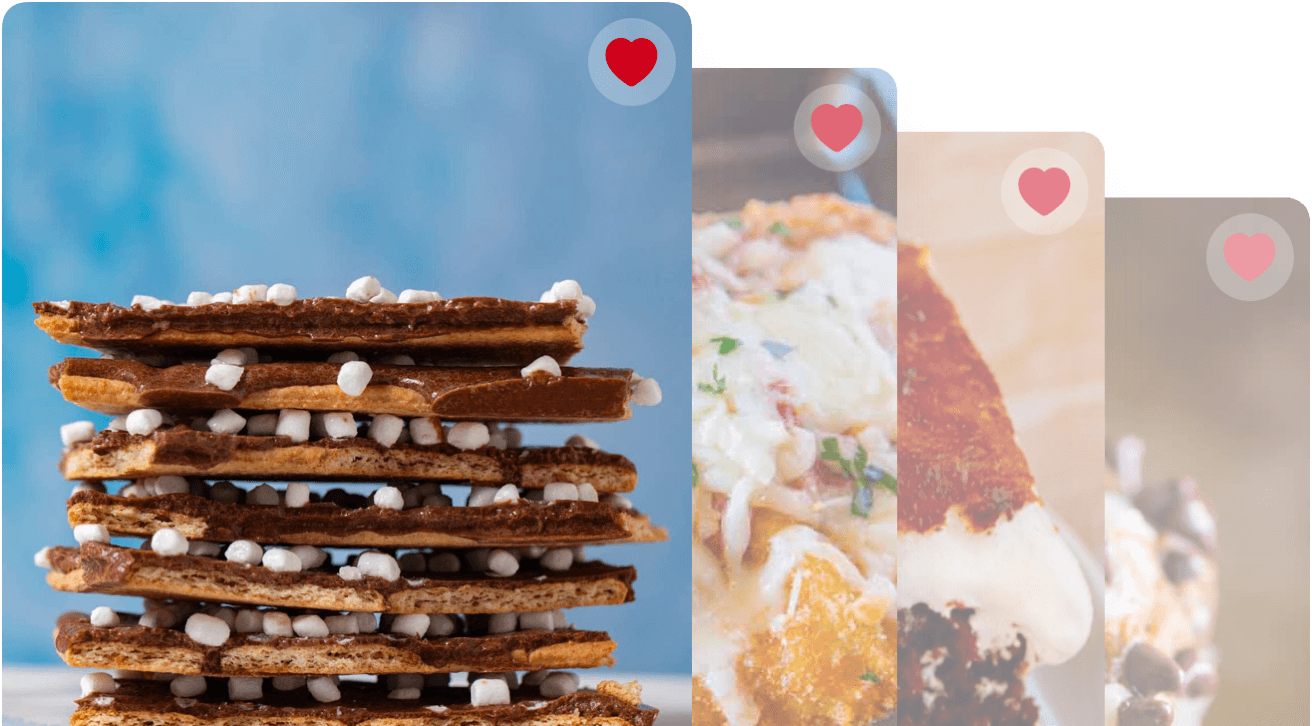 VARIATIONS ON BROWN BUTTER RICE KRISPIES TREATS
Chocolate Chips: Chocolate chips make almost any dessert better. Add 1 cup white chocolate chips, dark chocolate chips, or milk chocolate chips after you add the rice cereal.
Marshmallows: Instead of store bought, try Homemade Marshmallows if you have extra time. They are totally worth it! For more marshmallow goodness, stir in ½ cup mini marshmallows after you add the rice cereal so they don't melt.
Peanut Butter: For delicious peanut butter Brown Butter Rice Krispies, add ½ cup creamy peanut butter after you add the marshmallows and they begin to soften. You may need to stir over low heat until everything is melted and combined.
Caramel: These decadent buttery Rice Krispies get even better with caramel. Mix in 1 cup chopped up chewy caramels or caramel baking chips.
Vanilla Extract: Add a ½ teaspoon of vanilla extract when you stir in the salt for more flavor. You can also use almond extract or bourbon.
Chocolate Covered Brown Butter Rice Krispies Treats
Ingredients: 2 cups bittersweet chocolate, 6 tablespoons coconut oil
Combine bittersweet chocolate with coconut oil. Microwave in 30 second increments until all melted and stir to combine. Let sit for a few minutes to cool slightly.
Using a wooden skewer or fork, pick up the rice krispies treat and dip halfway into the chocolate until one half is coated.
Let excess chocolate drip off for just a couple of seconds and then place on a baking sheet covered with parchment paper. Place in the freezer until chocolate hardens, about 10 minutes.
MORE KID-FRIENDLY DESSERTS:
HOW TO STORE BROWN BUTTER RICE KRISPIES TREATS
Serve: Keep Rice Krispies at room temperature for up to 3 days in an airtight container or storage bag.
Store: For fresh, crispy treats, don't refrigerate. Make sure there is little to no air in the container or bag. Use parchment paper to separate layers if stacking in an airtight container.
Freeze: You can freeze Brown Butter Rice Krispie Treats for up to 6 weeks in a sealed container. Thaw at room temperature for about 15 minutes before eating.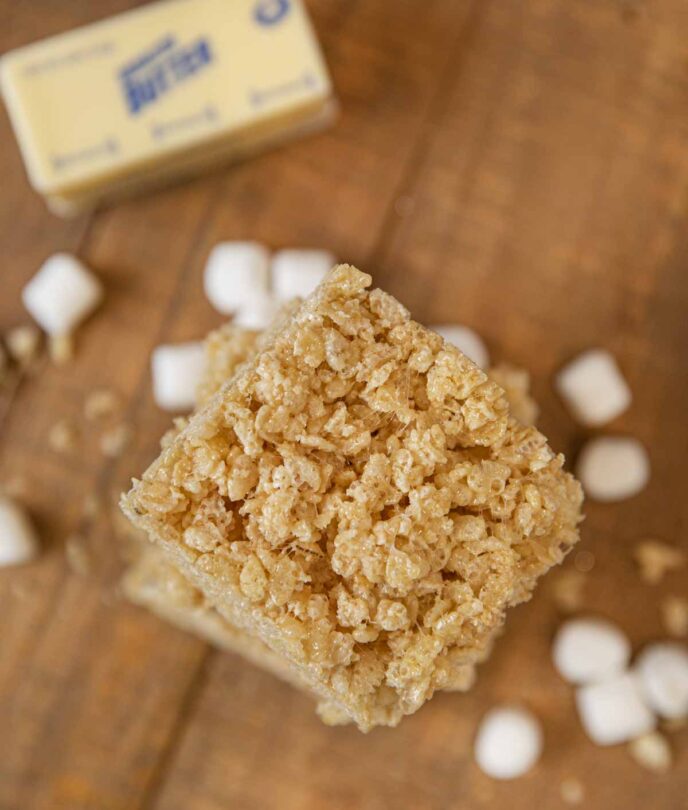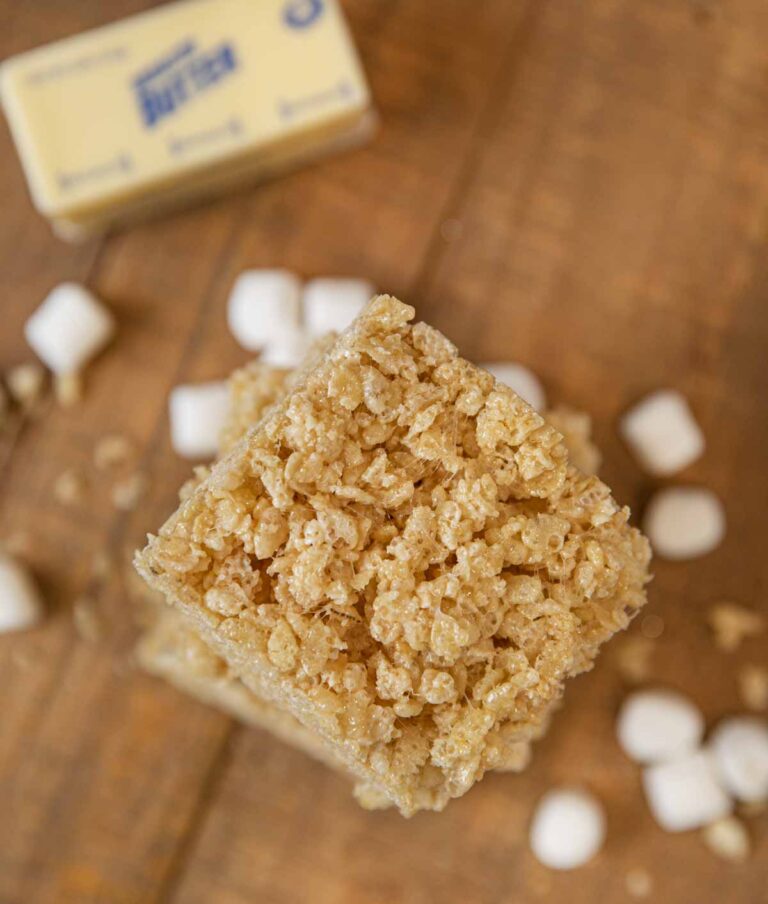 Instructions
Grease a 9x13 inch pan, or line with parchment paper. Set aside.

In a dutch oven or large pot, melt butter over medium low heat, stirring continuously. Keep stirring until butter foams, turns golden brown and has a nutty aroma.

Once the butter begins to brown, remove from heat and stir for

1 minute

. Stir salt into melted butter.

Add the marshmallows and mix until completely melted.

Mix in the Rice Krispies Treats until completely coated.

Press the mixture into the prepared pan and let cool completely before serving.
Nutrition
Calories:
147
kcal
|
Carbohydrates:
23
g
|
Protein:
1
g
|
Fat:
6
g
|
Saturated Fat:
4
g
|
Cholesterol:
15
mg
|
Sodium:
107
mg
|
Potassium:
13
mg
|
Fiber:
1
g
|
Sugar:
11
g
|
Vitamin A:
876
IU
|
Vitamin C:
7
mg
|
Calcium:
2
mg
|
Iron:
3
mg