Buckeye Brownie Cookies
This post may contain affiliate links. Read my disclosure policy here.
Crispy, chewy, rich Buckeye Brownie Cookies are the perfect chocolate peanut butter combo!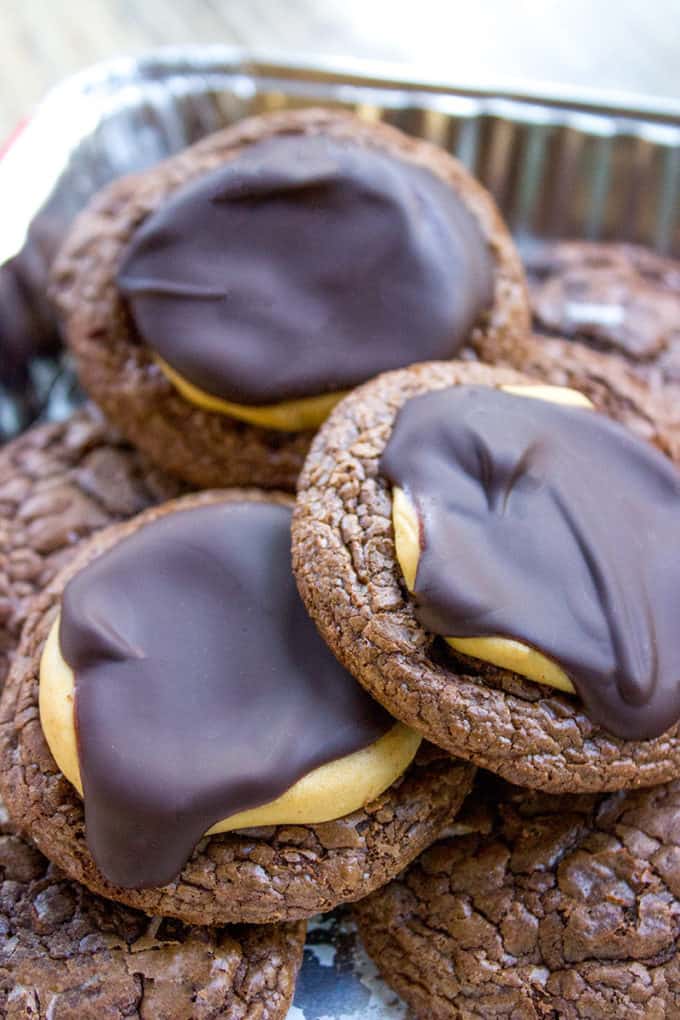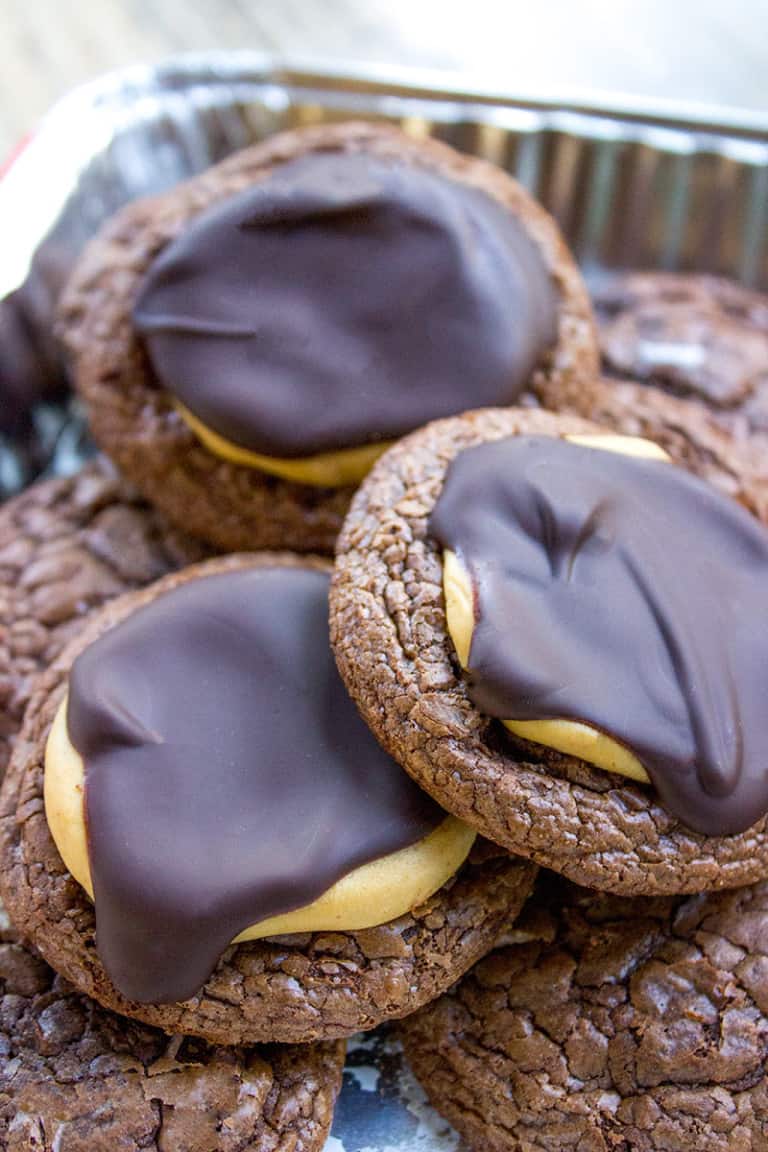 A week or so ago I shared my favorite new cookie, the Crinkly Brownie Cookie and today's recipe is its more adventurous big sister, the Buckeye Brownie Cookies. With just a few more ingredients this elevates the brownie cookie to a whole other level.
Up until the end of last year cookies were sort of hit or miss in our house. My oldest is a fan of salty/crispy/fried treats and my youngest wasn't old enough to really eat anything other than purees. The last few months have changed everything! We are a veritable cooking making factory around here. You would think we were starting a new business, Cookie, then more Cookies and we can't seem to keep enough of them around. When I made the brownie cookies my youngest grabbed the to go box of leftovers, cracked it open and was discovered minutes later completely COATED in chocolate
Buckeyes may sound like a funny name but its a sweetened peanut butter (usually with powdered sugar) and dipped in chocolate. Basically your own homemade version of a Reese's Peanut Butter Cup half melted on top of a brownie cookie. The recipe is SUPER easy and quick, I actually use a meatballer (that name sounds awesome) to scoop the peanut butter quickly. I also usually use this for scooping cookie dough too and even falafel. The only thing I don't normally use it for is…meatballs. Ha!
In case peanut butter and chocolate don't do it for you, here are some other options for you: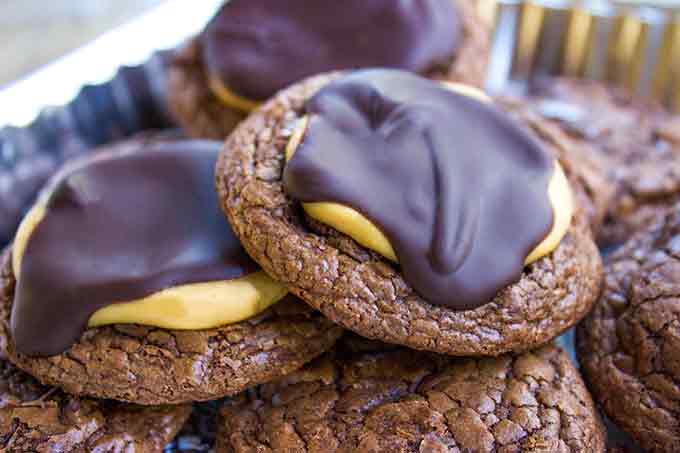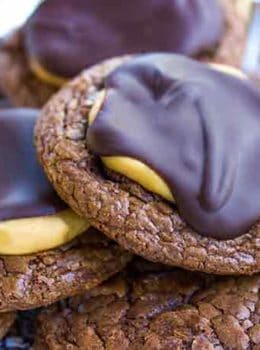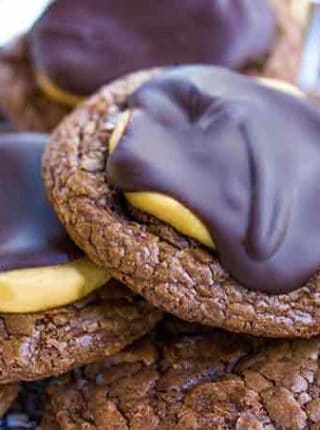 Buckeye Brownie Cookies
Crispy, chewy, rich brownie cookies topped with a sweetened peanut butter topping and semisweet chocolate is the perfect chocolate peanut butter combo!
Prep Time 15 minutes
Cook Time 15 minutes
Total Time 30 minutes
Ingredients
8 oz dark chocolate , chopped
3 tablespoons unsalted butter
¼ cup all-purpose flour
¼ tsp baking powder
2 large eggs
½ cup light brown sugar (lightly packed)
1 cup peanut butter
1 cup powdered sugar
1/2 cup semisweet chocolate chips
Instructions
In a microwave safe bowl, add the butter and chocolate and microwave for 30 seconds.

Stir and microwave a second time until completely melted.

Let cool for a couple of minutes.

In a small bowl mix the eggs and sugar.

Add them to the chocolate mixture and stir to combine.

Add in flour and baking powder, stir until just combined.

Refrigerate batter for at least 30 minutes, preferably 45-60 minutes.

Preheat oven to 350 degrees.

Scoop out cookie dough in 2 tablespoon sized balls.

To measure accurately I used a coffee spoon.

On a silpat put 6 cookies to a full cookie sheet.

Mix the peanut butter and powdered sugar.

In a small microwaveable bowl melt the semisweet chocolate in 30 second increments until fully melted.

Bake for 11-12 minutes.

Add 1 tablespoon of the peanut butter mixture to the top of the warmed cookies and flatten slightly.

Spoon over the melted chocolate and let cool. (I usually refrigerate them for 15 minutes)

When they come out of the oven they will look like little mountains, but when they cool they will deflate.
Recipe Notes
This post contains affiliate links.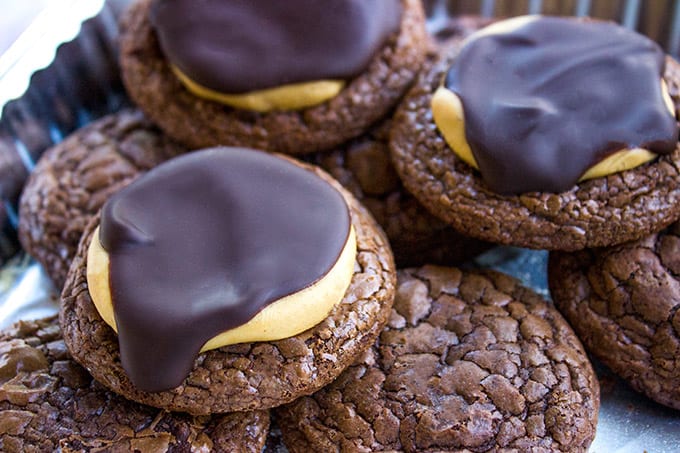 Dinner, then Dessert, Inc. owns the copyright on all images and text and does not allow for its original recipes and pictures to be reproduced anywhere other than at this site unless authorization is given. If you enjoyed the recipe and would like to publish it on your own site, please re-write it in your own words, and link back to my site and recipe page. Read my disclosure and copyright policy. This post may contain affiliate links.