Cabbage Soup is the PERFECT savory vegetable soup made with cabbage, tomato, carrots, celery, and spices, ready in under 45 minutes!
When it gets cold outside, heats things up with kitchen favorites like Ultimate Slow Cooker Pot Roast, the yummy Slow Cooker Vegetable Beef Soup, and the hearty Ultimate Slow Cooker Beef Stew!

Cabbage Soup is a savory vegetable soup made with carrots, celery, onions, cabbage, diced tomato and spices. We've been making cabbage soup for years because it's the perfect thing to make when it's cold outside, plus you can do it in the slow cooker on days when you're busy.
A lot of people make cabbage soup for weight loss because it's low calorie, but one of the best parts is that it's totally inexpensive and super easy to make Serve it with freshly made bread or dinner rolls, You can even cut up leftover Homemade Rotisserie Chicken and throw that in there, too.
If you're having this for lunch, serve it with some crackers or breadsticks and a simple salad. You can also sub the chicken broth for vegetable broth if you're needing this to be vegetarian style. Pro tip: make a double batch of this cabbage soup recipe so you can freeze half of it for a quick dinner another night!
For easy prep, cut up all of the vegetables used for one pot of this soup, wrap in a sealable bag and freeze. Then you just need to pull the bag out of the freezer and cook (or slow cook) with broth and spices! For even easier prep, use preshredded cabbage and precut frozen vegetables.
How to Make Cabbage Soup
Making Cabbage Soup is actually really simple! Some vegetables will be fried in a bit of oil to create a great flavor, and then a soup is created with the rest of the ingredients. Check it out!
Step One: Fry the fragrant vegetables (garlic and onion) in some oil until translucent.
Step Two: Add the rest of the ingredients into the pot and simmer for about a half hour.
Step Three: Serve hot with easy Garlic Bread or scrumptious Black Pepper Bacon Biscuits!
More Great Cabbage Recipes
Frequently Asked Questions
How can I make the soup a little thicker? 
If you want the broth to be a little bit thicker, add 3-4 tablespoons of tomato paste and stir well.
Is Cabbage Soup dairy free and gluten free? 
This recipe is naturally dairy-free and gluten free (with gluten free broth)!
What's the difference between Cabbage Soup and Weight Loss Cabbage Soup? 
Good question! There are a lot of similarities between the two. The differences are in that the ingredients used are in different measurements. Plus, there's a different blend of spices. But the biggest difference is that Weight Loss Cabbage Soup is not made with oil, like regular Cabbage Soup, so there's less calories.
Should I use purple or green cabbage? 
While this recipe here is utilizing green cabbage, you can use purple (red) cabbage, or even a blended mix of both!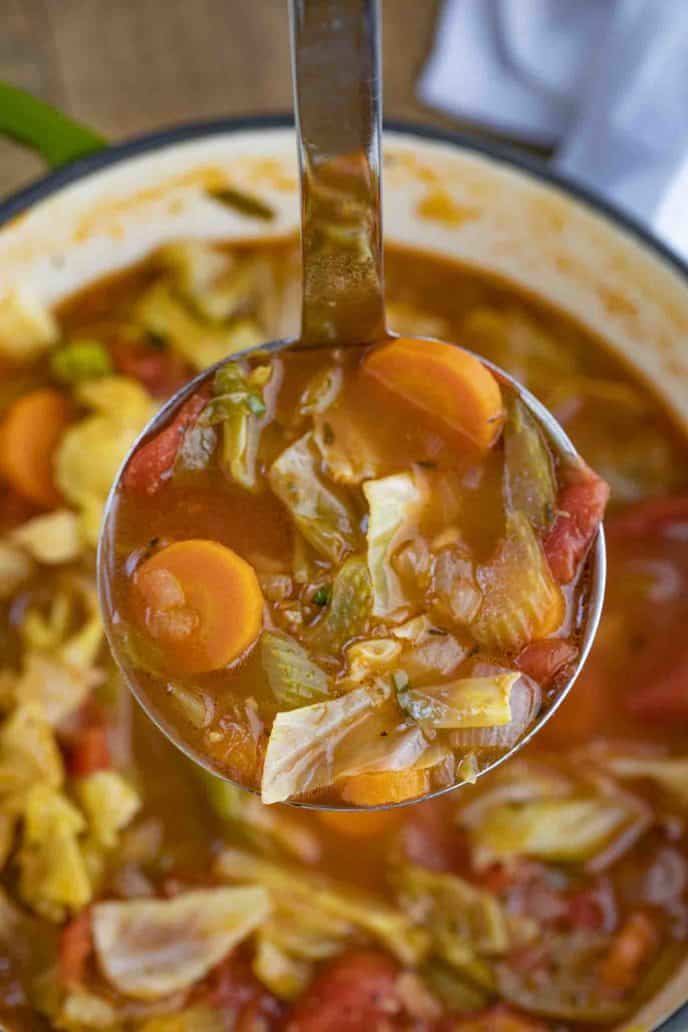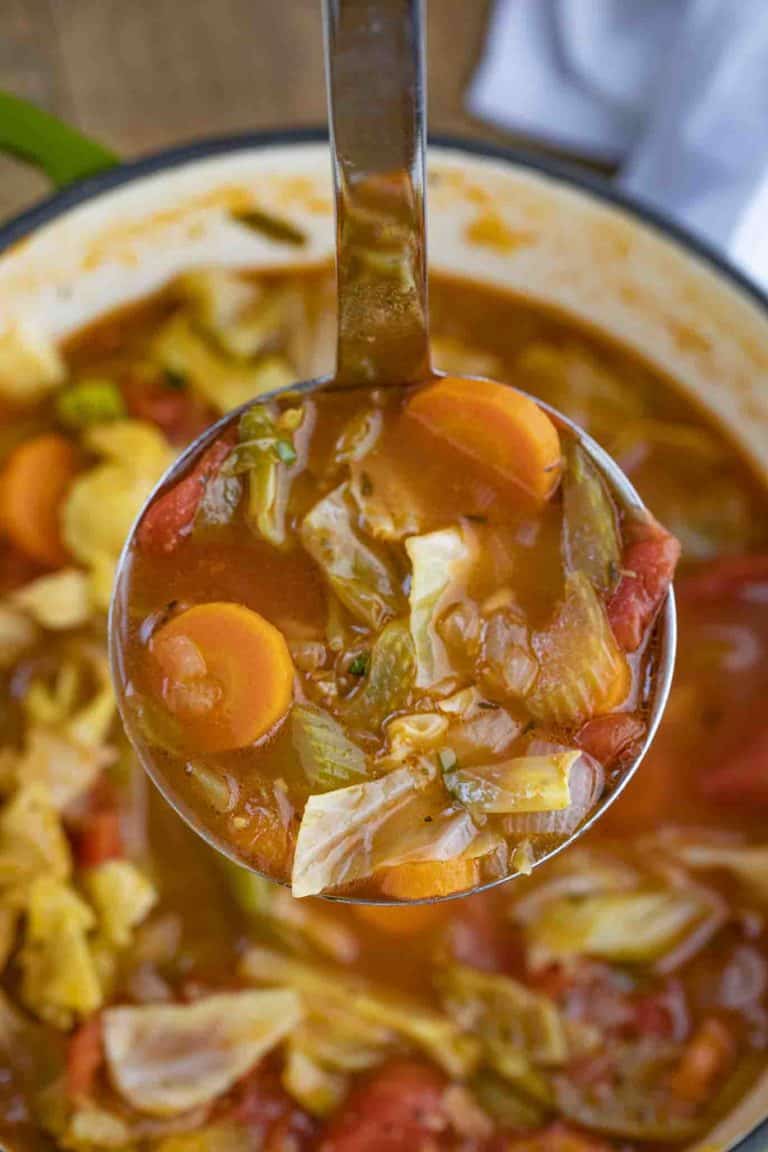 Create a free account to Save Recipes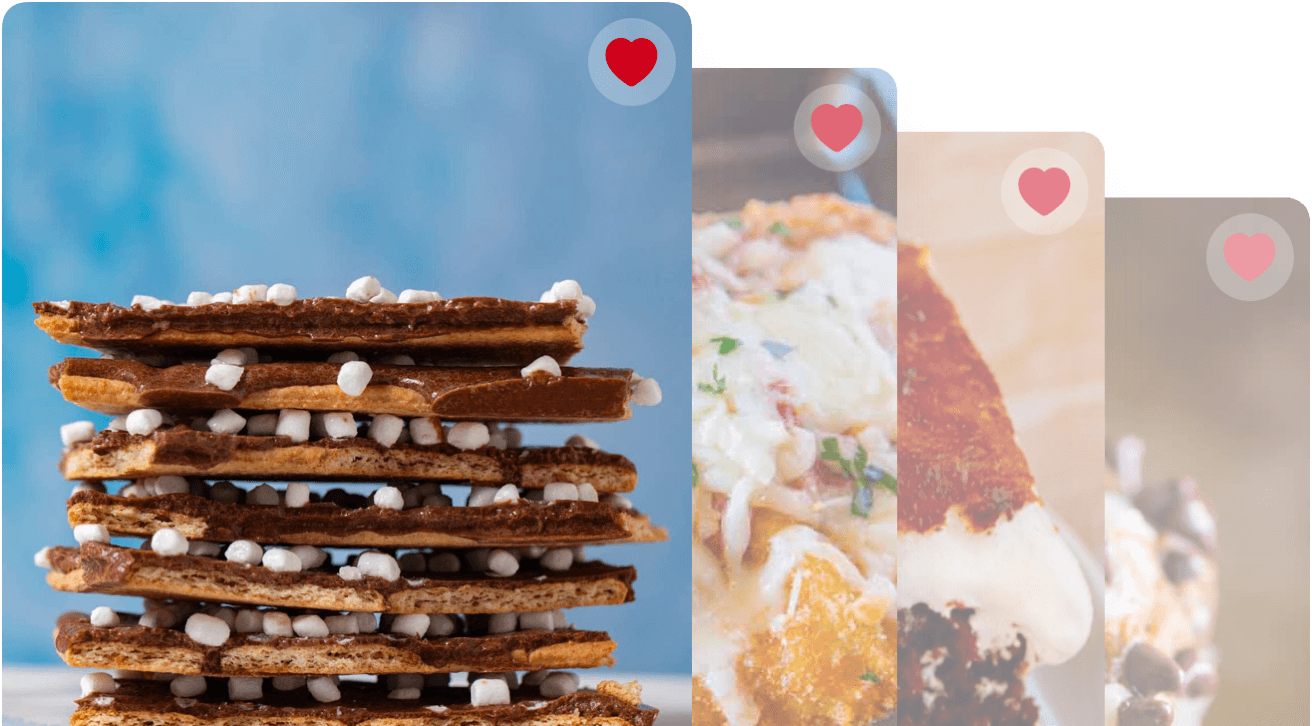 Key Ingredients in Cabbage Soup
This is such a healthy and delicious soup, you'll want to make it on a regular basis. The ingredients are pretty simple and everything can easily be found at your local grocery store! Check it out!
Cabbage: This recipe is calling for a half-head of green cabbage. You can use the preshredded stuff too. Make sure it's the freshest you can find!
Oil: Extra virgin olive oil (aka EVOO) is great for this. You can also use avocado oil or even coconut oil if you prefer.
Seasoning: We are using simple thyme in this recipe. But you can use Italian blend or Herbes de Provence (an incredible french blend of dried herbs).
Broth: Look for the low sodium chicken broth. Vegetable broth works great here too!
Carrots: Carrots add a hearty depth and non-sugary sweetness to the soup. Feel free to use orange, purple, and even yellow carrots!
Celery: Just a couple of stalks will do. Make sure they are washed thoroughly as they can often have dirt stuck on them from the farm.
Tomatoes: We're using a 14.5oz can of stewed tomatoes here since it's super easy. But if you prefer, you can dice up a cup of fresh tomatoes too! Fresh cut tomatoes work really well in the alternative slow cooker and pressure cooker options.
Alternative Cooking Methods for Cabbage Soup
Slow Cooker Cabbage Soup: Add all of the ingredients to the slow cooker and stir together. Set the cooker on low for eight hours, or on high for four hours. The soup is done when the vegetables are soft and your kitchen smells amazing. Pro tip: use a crock pot liner for virtually no clean up!
Instant Pot Cabbage Soup: Use the sauté function for the oil with onion, garlic, and spices for a few minutes before adding the other ingredients. Once it's done sautéing, add everything to the instant pot and stir. Lock the lid and set pressure on high for a total time of 10 minutes, then let the pot naturally release, about another 15 minutes.
Variations on Cabbage Soup
Vegetable Additions: You can add more veggies to cabbage soup, like green beans, bell peppers, corn, broccoli, kale, spinach, or or cauliflower. If you add leafy greens, add them at the end just a few minutes before you serve, otherwise they'll get mushy.
Pure Veg, Non-Veg: Add chicken or beef to this cabbage soup recipe if you want more protein, and rice or potatoes for more carbs. For a vegetarian protein option, use white beans or extra firm tofu cut into cubes.
Beef Cabbage Soup: If you're making beef cabbage soup, use ¼ cup of red wine to deglaze the onions and simmer until reduced by half. Then follow the recipe as normal. I like to use ground beef, which is a lot like deconstructed cabbage rolls!
Italian Cabbage Soup: Add a packet of onion soup mix or Italian seasoning if you want more onion and herb flavor.
Spicy Cabbage Soup: Use a spoonful of hot sauce or a dash of cayenne pepper or red pepper flakes to add some spice to this cabbage soup recipe.
Sweet & Savory: If you want a sweet and savory soup, stir in 1-2 tablespoons of brown sugar.
How to Serve Cabbage Soup
How to Store Cabbage Soup
Serve: Serve your soup nice and hot. Keep covered when not being served. Refrigerate within 2 hours.
Store: Cabbage soup will last for 4-5 days in the refrigerator, when sealed tightly. You can have this for dinner, then pack a few lunches with it, then freeze whatever is leftover for another day.
Freeze: Let it cool completely before putting it into an airtight container and freezing. This will keep for about 2-3 months in the freezer.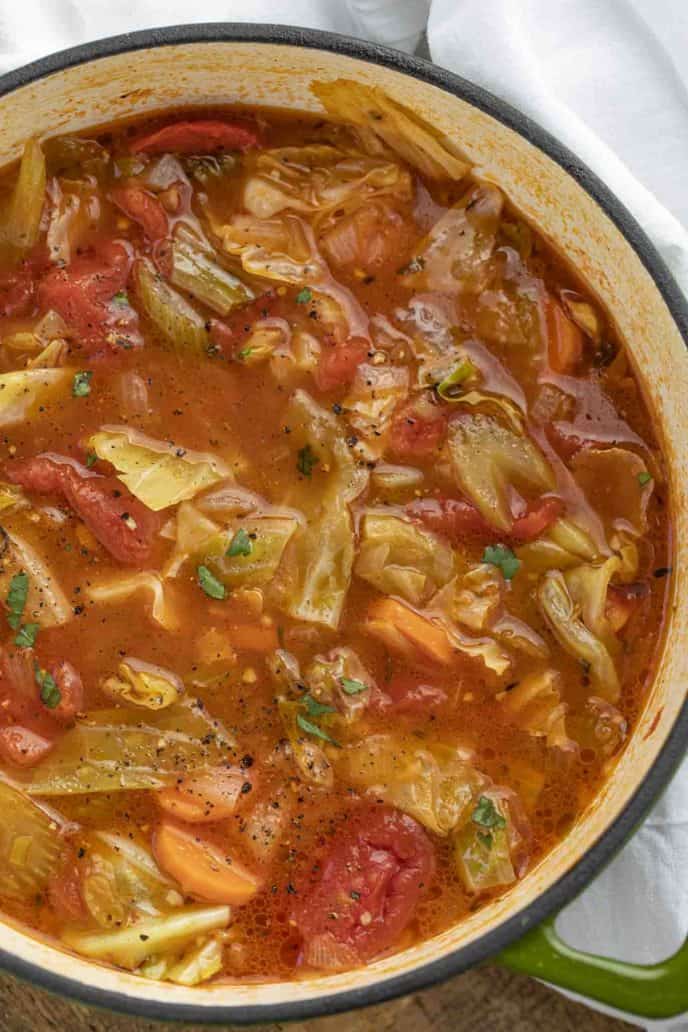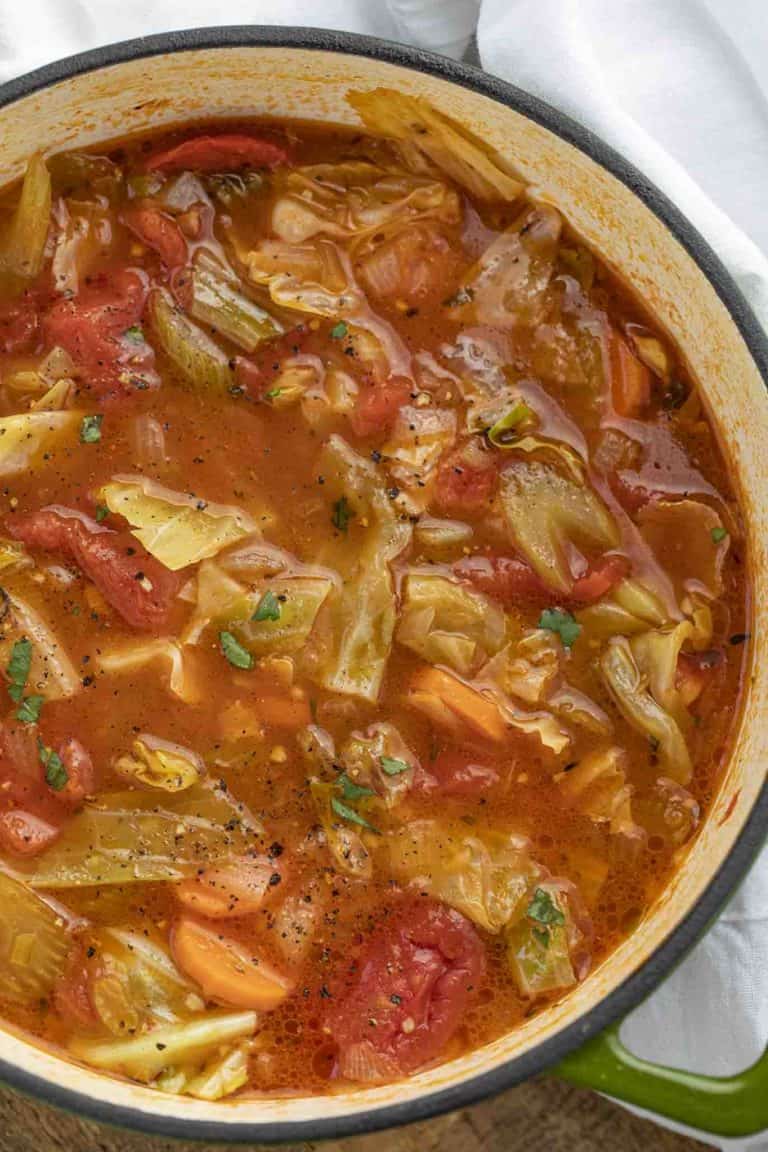 Ingredients
3

tablespoons

olive oil

1/2

yellow onion

, chopped

2

cloves

garlic

, minced

8

cups

low sodium chicken broth

(vegetable broth is fine too)

1

teaspoon

kosher salt

1/2

teaspoon

dried thyme

1/2

teaspoon

coarse ground black pepper

, or to taste

1/2

head

cabbage

, chopped in 1 ½ inch chunks

4

large

carrots

, peeled and chopped

2

ribs

celery

, sliced thinly

14.5

ounces

stewed tomatoes

(just under two cups fresh cut tomatoes)
Instructions
In a large pot add the olive oil over medium heat then add in the onions and garlic, onion and cook until the onions are see through, about

3-5 minutes

.

Add in the broth, salt, pepper, thyme, cabbage, carrots, celery and tomatoes and simmer for

30 minutes

.
Notes
Note: click on times in the instructions to start a kitchen timer while cooking.
Nutrition
Calories:
130
kcal
|
Carbohydrates:
13
g
|
Protein:
6
g
|
Fat:
6
g
|
Saturated Fat:
1
g
|
Sodium:
514
mg
|
Potassium:
539
mg
|
Fiber:
3
g
|
Sugar:
5
g
|
Vitamin A:
5285
IU
|
Vitamin C:
27.7
mg
|
Calcium:
67
mg
|
Iron:
1.6
mg
Photos used in a previous version of this post: