Candied Jalapeños are a great combination of spicy and sweet. Flavored with sugar, cayenne pepper, garlic powder, celery seeds, and turmeric.
These jalapeño peppers are the perfect topping or Side to serve along with some of your favorite meals. The simple ingredients bring the perfect amount of heat to recipes like Hamburgers, Egg Salad Sandwiches, or Tacos.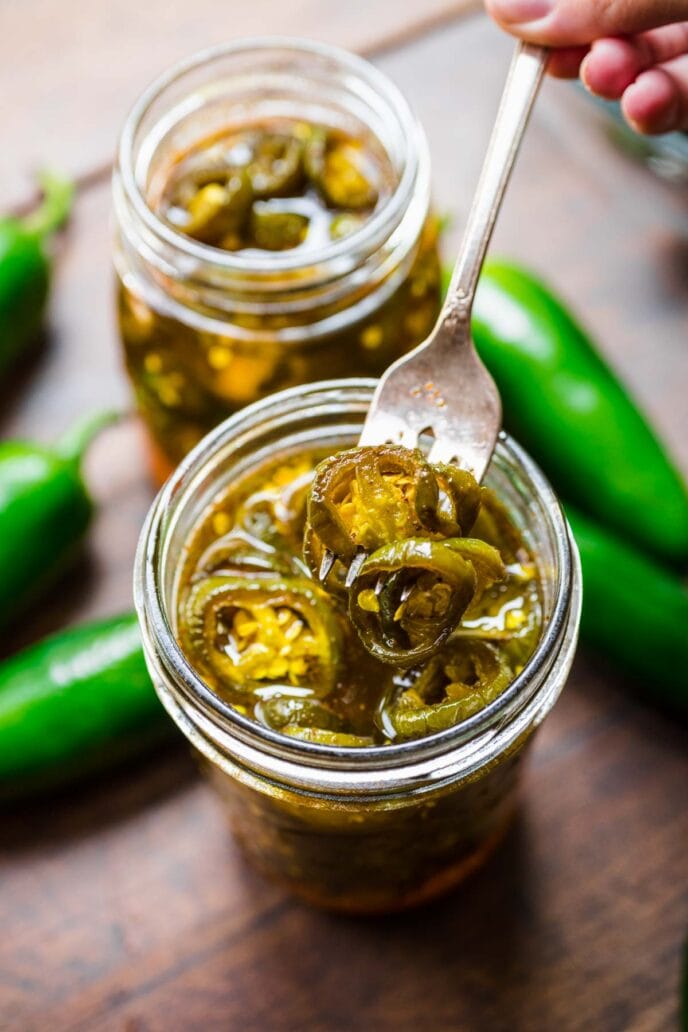 This is a favorite recipe to bring optimal flavor to fresh jalapeños. The spicy peppers are cooked in a sweet, flavorful syrup for an amazing spicy snack. Sometimes called Cowboy Candy, these jalapeños pack a good amount of heat that tastes delicious with so many recipes.
How to Serve Candied Jalapeños 
One of the great things about this recipe how many dishes you can serve it with. Candied Jalapeños make a great sandwich filling to add to burgers or Grilled Chicken sandwiches. You can use the cowboy candy similar to how you'd use pickles in those recipes to add the perfect combination of spicy and sweet flavor to the classic recipe.
You can also bring that perfect balance of flavors to your favorite side dishes. Spoon some spicy peppers over the top of Potato Salad, or Chicken Salad right before serving.
Pickled Jalapeño rounds also make a great appetizer recipe. Serve them over crackers with cheese for a simple party snack. They'd taste great with cheddar cheese, white cheddar cheese, Swiss, or Jack cheese. You could also spread some cool cream cheese over the crackers and top the whole snack off with bacon bits.
More Toppings 
Cooking Tips 
Prep: To protect yourself from the heat in the peppers, put on plastic gloves and be careful to never touch your eyes. Slice the tops off of the fresh jalapeños, and discard them. Then cut them into ¼ inch slices. Set the pepper slices to the side while you make the simple syrup.
Syrup: Add the 6 cups white sugar, apple cider vinegar, cayenne pepper, garlic powder, celery seed, and ½ teaspoon turmeric powder to a large pot. Stir the ingredients well until the granulated sugar is well combined. Cook the mixture over medium-low heat for 5 minutes. Keep the heat low enough that the mixture doesn't foam. You want it at a low simmer, not a boil.
Jalapeños: Raise the stove to medium heat, and add the jalapeño slices. Stir well to coat the peppers, and cook the recipe for 4-5 minutes.
Canning Process: Strain peppers into sterile canning jars. Continue boiling syrup for an additional 5 minutes. Then pour the leftover syrup into the canning pint jars. You want to make sure there's an inch head space at the top of the glass canning jars before you tightly close the jars with lids.
Refrigerator Time: Put the jars in the fridge to set for about a week before opening and serving. The earlier you open them in that time, the spicier they'll be.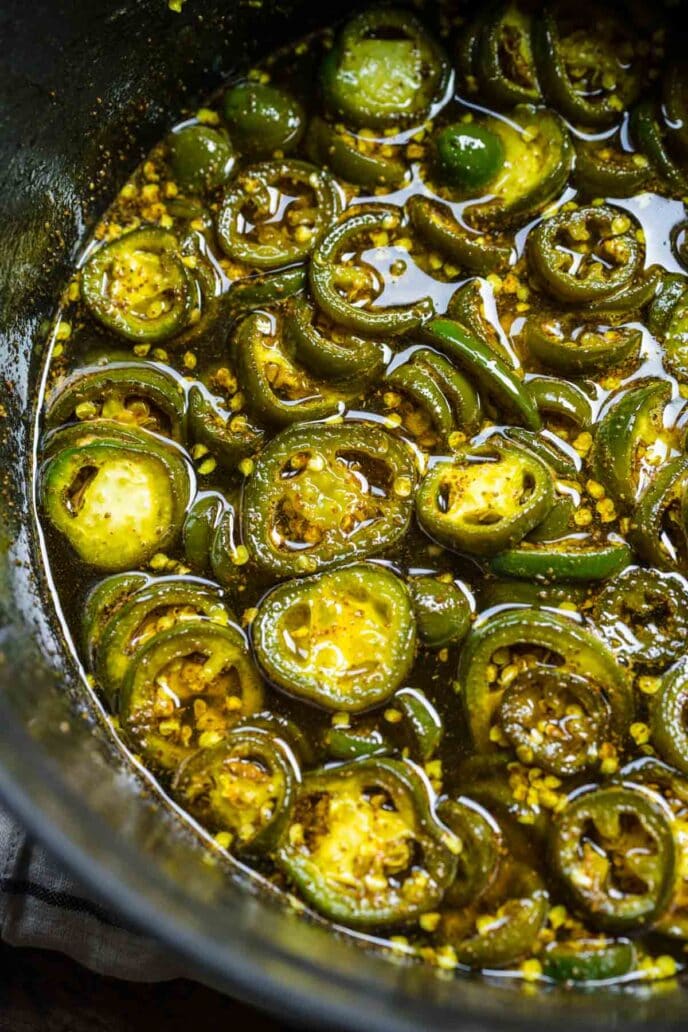 Create a free account to

Save Recipes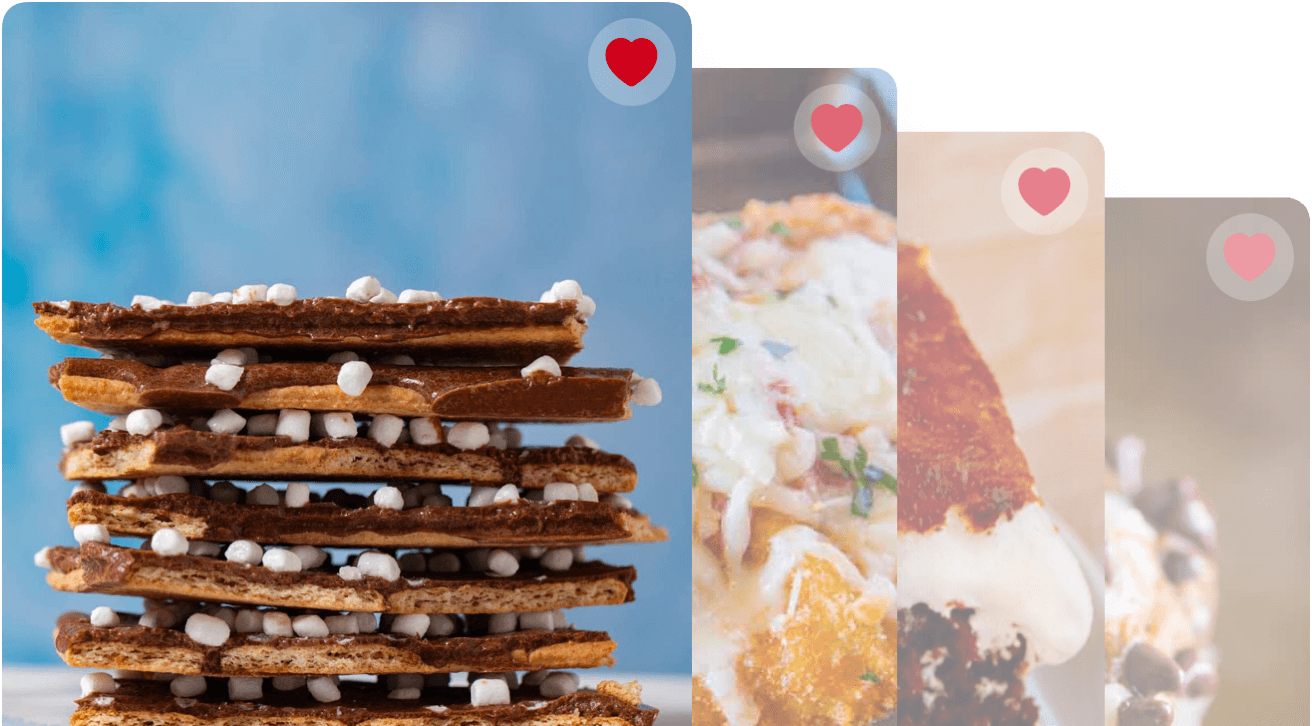 Variations 
Seasonings: You can mix other flavors into the sweet syrup with your favorite seasonings. Try stirring in a teaspoon chili powder, a teaspoon ground ginger, a dash of red pepper flakes, or granulated garlic.
Peppers: You can also pickle other kinds of peppers in this recipe along with the fresh jalapeños. Use banana peppers, poblano, or bell peppers to have some less hot peppers in the mix. Slice them into ¼ inch rounds and add them to the syrup the same as the jalapeños.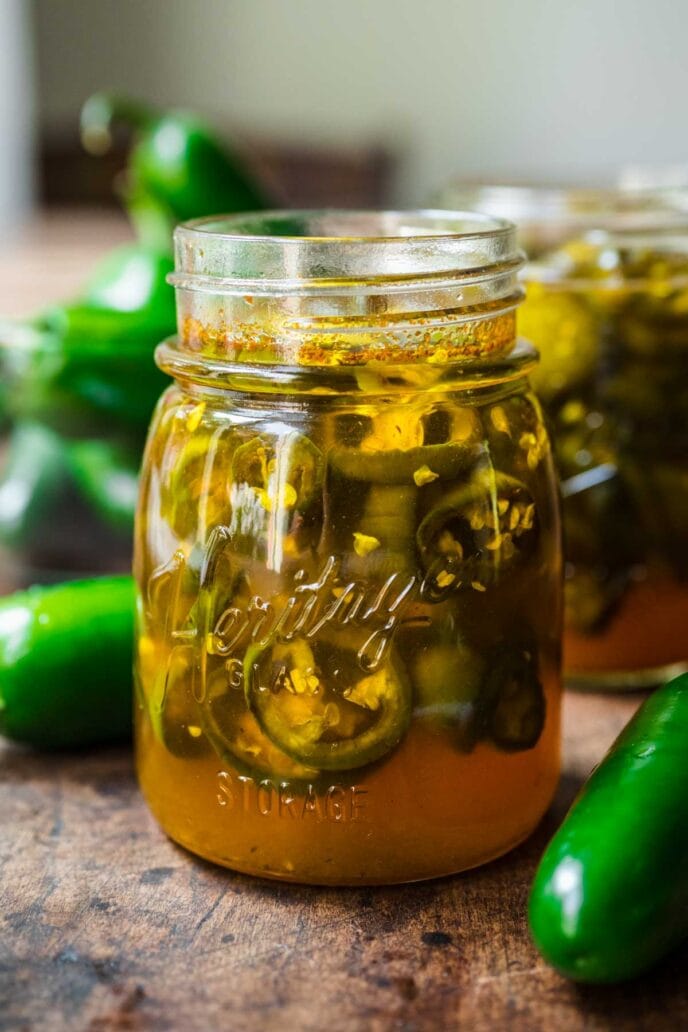 Recipes to Serve Alongside Candied Jalapeños
How to store 
Serve: Can and refrigerate the jalapeños before serving. When you're serving the recipe, you don't want to leave them out for more than a few hours.
Store: Kept sealed in the jar, the recipe can stay good in the fridge for up to 3 months. It'll get slightly less spicy over the first few days in storage.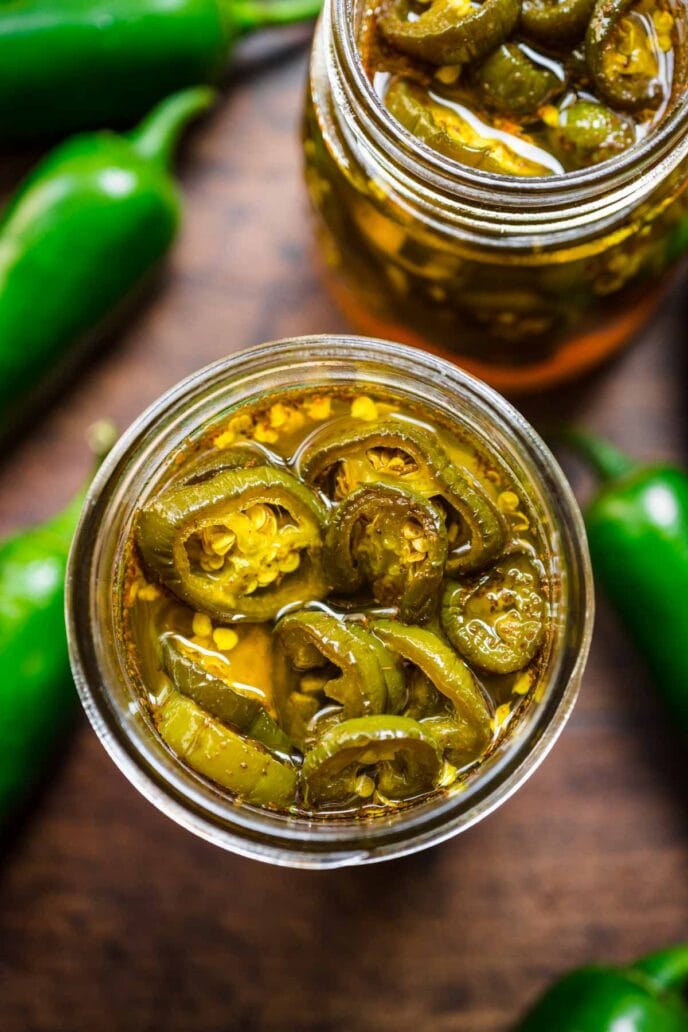 Ingredients
3

pounds

jalapeño peppers

, ¼ inch slices with tops removed

6

cups

sugar

2

cups

apple cider vinegar

1

teaspoon

ground cayenne pepper

1

tablespoon

garlic powder

1/2

teaspoon

celery seed

1/2

teaspoon

turmeric
Instructions
To a large pot add the sugar, apple cider vinegar, cayenne pepper, garlic powder, celery seed, and turmeric, stirring well.

Cook the mixture on medium-low heat (you don't want foam, it should be a slow simmer) for

5 minutes

.

Add in the jalapeños and raise temperature to medium.

Stir well and cook the jalapeños for

4-5 minutes

.

Strain the jalapeños out and into jars.

Cook the syrup for an additional

5 minutes

.

Pour liquid *VERY CAREFULLY* into the jars and tightly close.

Let sit in the refrigerator for 1 week or so before eating. The sooner you eat them, the spicier they will be.
Notes
Warning: Wear gloves and be careful not to touch your eyes.
Nutrition
Calories:
216
kcal
|
Carbohydrates:
54
g
|
Protein:
1
g
|
Fat:
1
g
|
Saturated Fat:
1
g
|
Polyunsaturated Fat:
1
g
|
Monounsaturated Fat:
1
g
|
Sodium:
4
mg
|
Potassium:
163
mg
|
Fiber:
2
g
|
Sugar:
52
g
|
Vitamin A:
646
IU
|
Vitamin C:
67
mg
|
Calcium:
10
mg
|
Iron:
1
mg