Cheesy Sausage Manicotti is stuffed with Italian pork sausage and ricotta cheese then topped with marinara sauce and melty mozzarella cheese.
This Manicotti recipe is the perfect comfort food pasta dish with an amazing cheesy filling and simple Spaghetti Sauce. This easy Dinner Recipe is similar to other cheesy pasta recipes like Lasagna and Baked Spaghetti.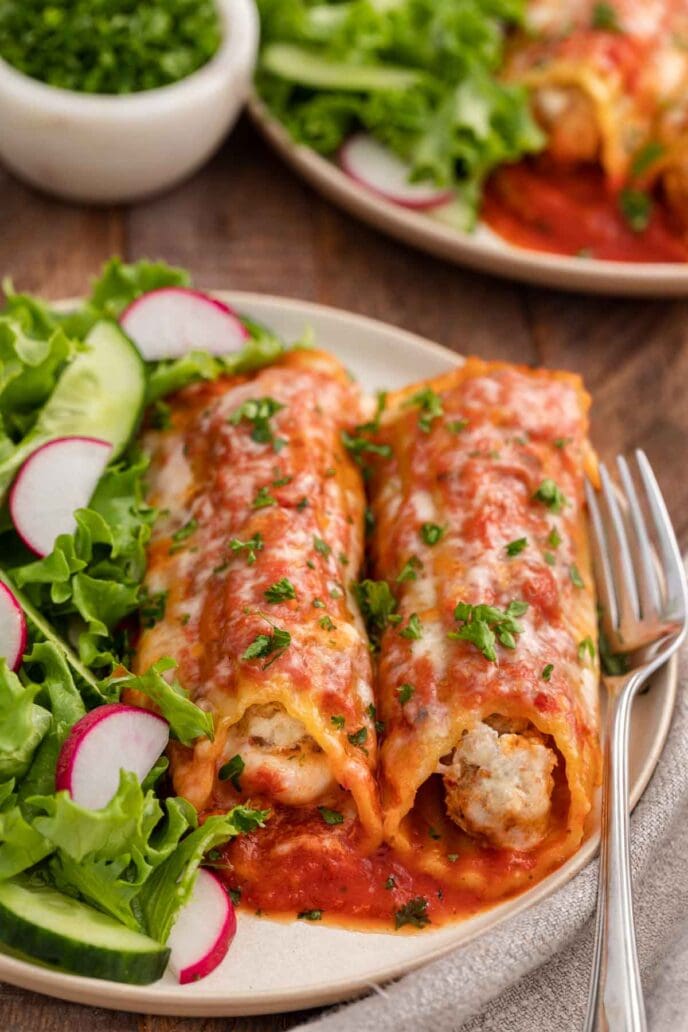 Manicotti is a great way to make a special dinner. Instead of traditional spaghetti and pasta sauce, you get the same classic flavors, but in a fancier looking pasta bake with amazing manicotti pasta. Manicotti is shaped like a large pasta tube. For this recipe, you make an easy cheese filling with Italian sausage and ricotta to go inside the large pasta.
Even though the dish looks impressive with the filled pasta it's actually quite easy to make. All you have to do is stir together the cheese and Italian sausage, then pipe the ricotta mixture into the unbaked manicotti pasta. Layer it in a baking dish with store-bought or Homemade Sauce. As the recipe bakes the hot sauce and filling will cook the pasta until it's tender. Once it's done, you'll have the perfect flavorful, cheesy, melty pasta dish to share with the family.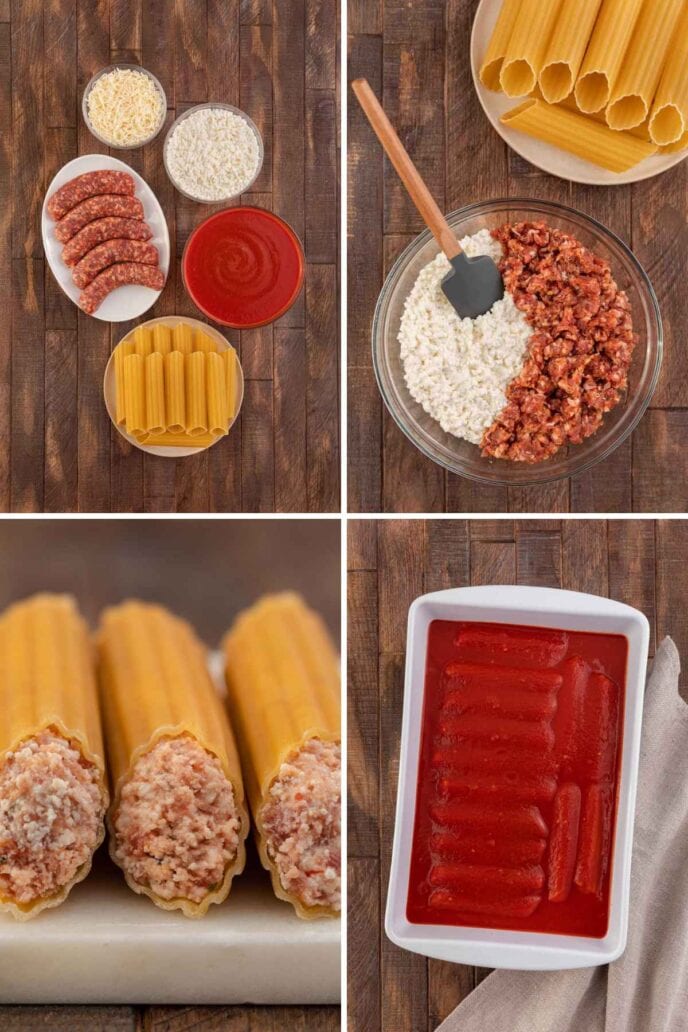 While the pasta is baking you can prep some of your favorite easy side dishes to go along with the perfect comfort food dinner. Cheesy Sausage Manicotti would taste amazing with a side of Garlic Bread, Pesto Bread, or a simple garden salad.
FAQs for Cheesy Sausage Manicotti
How do you keep Manicotti from getting flat?
While filling your Cheesy Sausage Manicotti, be sure that you are filling it up entirely, with no air pockets, gaps, and make sure it goes all the way to the end. As the filling cooks it will shrink a bit, so filling it up full will ensure your Manicotti doesn't fall flat.
What is the difference between Manicotti and Cannelloni?
Manicotti shells have ridges in them and the pasta shell itself is a little bit thicker. Cannelloni shells are smooth, thinner, and can even be a bit smaller. They are very similar, are both long tubes can be stuffed with cheese, meat, veggies, or anything you enjoy. The two shells can be used interchangeably in recipes.
More Pasta Dishes
How to Make Cheesy Sausage Manicotti
Prep: Get out a 9×13-inch baking dish and preheat the oven to 350 degrees.
Sausage and Cheese Mixture: Break the raw pork sausage into small chunks, then add it to a medium bowl with the ricotta cheese. Fold until combined, then transfer the mixture to a ziplock bag. Cut a 1-inch opening in the bottom corner for piping. Then pipe the cheese and sausage mixture into each manicotti tube. Place the filled manicotti noodles on a flat surface while you prep the baking dish.
Assemble: Pour 1 cup tomato sauce over the bottom of the oven-proof casserole dish. Place the uncooked manicotti shells in a single layer over the pan. Then top the manicotti noodles with the remaining marinara sauce.
Cooking Time: Cover the dish tightly in aluminum foil, then put it in the preheated oven for 50-60 minutes. It's ready to take out of the oven when the cheese is bubbly, and the manicotti noodles are tender. The sausage inside will be fully cooked.
Broil: Remove the baked pasta dish from the oven, and take off the aluminum foil. Sprinkle 1 cup of mozzarella cheese over the top of the manicotti noodles and sauce. Set the oven to broil, and return the dish to the oven until melty and slightly browned on top.
Serve: The filling is super hot when you first take the dish from the oven, so let the Manicotti Noodle dish cool for an additional 4-5 minutes before serving.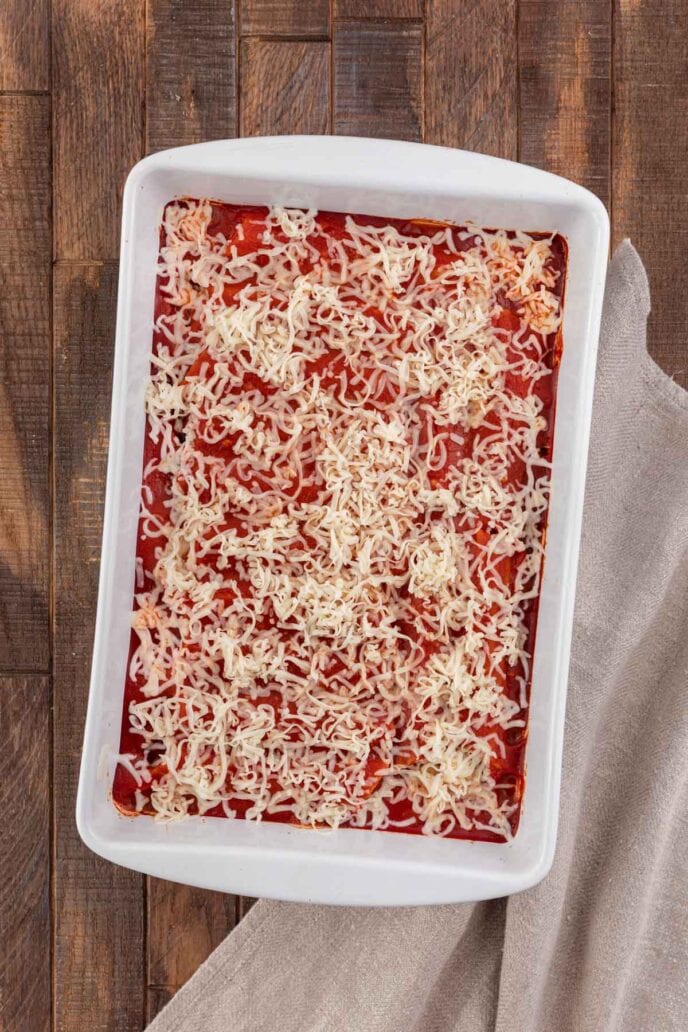 Create a free account to Save Recipes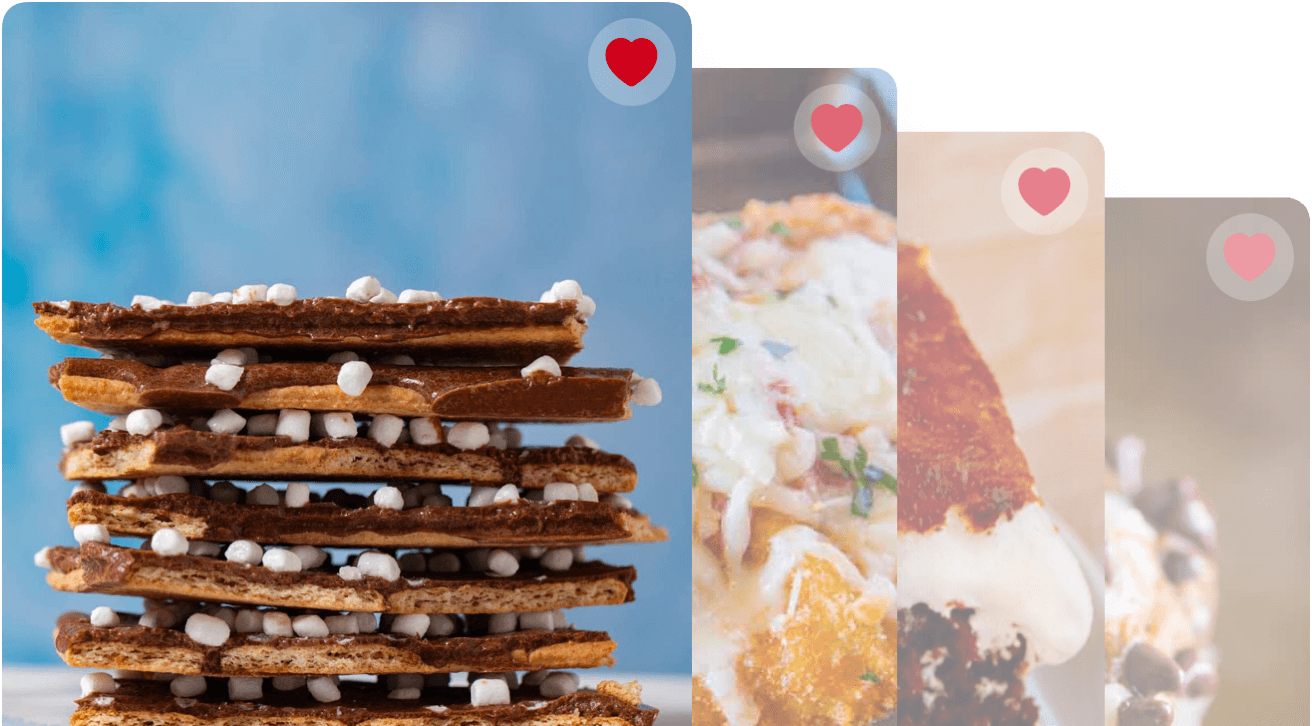 Variations on Cheesy Sausage Manicotti
Additional Seasoning: For some more flavor, season filling with your favorite Italian seasonings like oregano, black pepper, garlic powder or minced garlic cloves, red pepper flakes, rosemary, thyme, or fennel seeds.
Meat Mixture: Instead of sausage, you can make the recipe with ground beef, lean ground beef, ground turkey, or seasoned ground chicken. You'll even find turkey sausage and chicken sausage as a great substitute while still containing all the great flavor that sausage brings.
Vegetables: Try mixing some chopped vegetables into the filling to experiment with the taste and texture. Fresh spinach, sweet onion, bell peppers, or mushrooms would all taste great.
Types of Cheese: You can try different kinds of cheese in the filling like cottage cheese and goat cheese to replace the ricotta. Then add your favorite pre-grated cheese to the top like provolone cheese, parmesan cheese, or pepper jack. A combination of cheeses would also taste wonderful. A sprinkle of parmesan cheese will pack a lot of punch in terms of flavor, adding some nutty and salty flavors.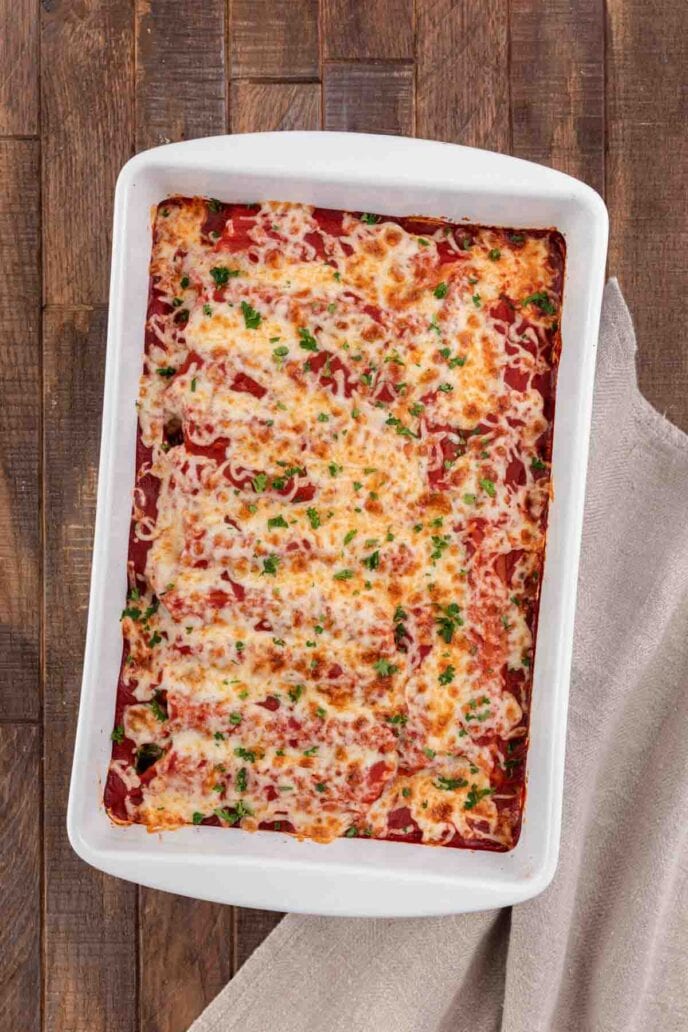 Can Cheesy Sausage Manicotti be made ahead?
Manicotti is a wonderful dish to prepare ahead of time. Follow the recipe directions up until after your sausage is stuffed. Then place the stuffed manicotti in your pan with the tomato sauce and cover the top to store it in the fridge over night. You can pop it in the oven the next day and have a bubbly, piping hot baking dish full of Cheesy goodness for dinner. Doing all the prep the day before will allow you time to prepare a fresh salad and bread to go with your Italian dinner.
Side Dishes to Pair with Cheesy Sausage Manicotti

How to Store
Serve: After baking, don't leave the baked pasta dish at room temperature for more than 2 hours.
Store: Let the dish cool completely, then cover it in plastic wrap, or put it in an airtight container to store in the fridge. It'll stay good in the fridge for 3-5 days.
Freeze: You can also carefully seal the dish to freeze it for up to 3 months. Then reheat it in a 375-degree oven until warmed through.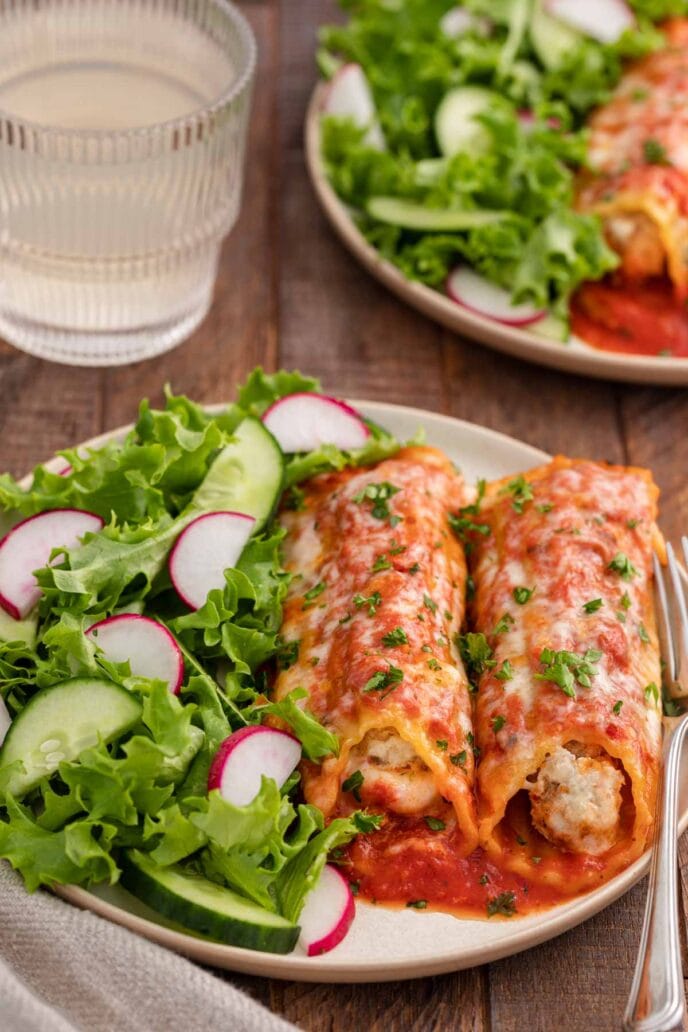 Ingredients
1

pound

raw Italian pork sausage

2

cups

whole milk ricotta cheese

8

ounces

manicotti shells

4

cups

marinara sauce

, or 30 ounces

1

cup

mozzarella cheese

, shredded
Instructions
Preheat oven to 350 degrees.

Break apart the pork sausage into small chunks, then fold into the ricotta cheese.

Put mixture into a large ziplock bag and cut a 1-inch long opening into the bottom corner.

Pipe filling into manicotti shells.

Add 1 cup marinara sauce to the bottom of a 9×13 baking dish.

Add the stuffed shells and top with the remaining sauce.

Cover tightly with foil and bake for

50-60 minutes

until the shells are tender and the sausage filling is cooked through.

Remove from oven, uncover, and top with mozzarella cheese.

Turn the heat in the oven up to broil.

Put the baking dish back in the oven and broil until cheese is melty and lightly browned.

Let cool

5 minutes

before serving, filling will be very hot.
Nutrition
Calories:
305
kcal
|
Carbohydrates:
20
g
|
Protein:
16
g
|
Fat:
18
g
|
Saturated Fat:
8
g
|
Polyunsaturated Fat:
2
g
|
Monounsaturated Fat:
7
g
|
Trans Fat:
0.1
g
|
Cholesterol:
56
mg
|
Sodium:
722
mg
|
Potassium:
429
mg
|
Fiber:
2
g
|
Sugar:
4
g
|
Vitamin A:
629
IU
|
Vitamin C:
6
mg
|
Calcium:
151
mg
|
Iron:
2
mg