Chicken and Dumplings is the ultimate comfort food to get you through the winter made with homemade creamy broth and easy homemade dumplings.
This hearty Soup Recipe is warming and made with cozy flavors just like Classic Chicken Noodle Soup. It's perfect for cold nights or when you're feeling under the weather. Serve up a large bowl of soup and enjoy pure comfort.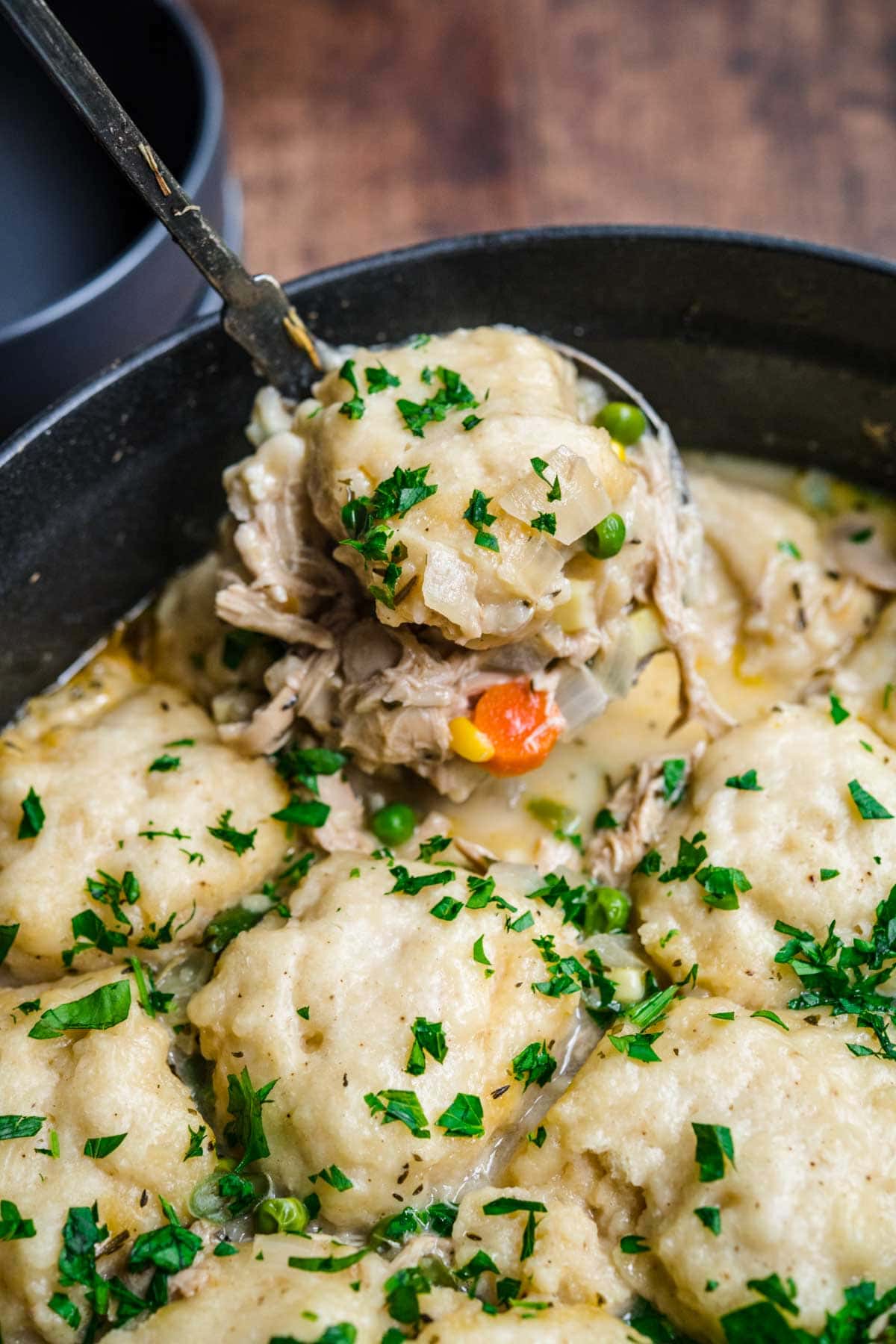 CHICKEN AND DUMPLINGS
This tasty soup is full of wonderful homemade flavors. The thick broth is made with homemade chicken stock, and the dumpling recipe is easy to make from scratch. It's the perfect Easy Chicken and Dumpling recipe.
Along with the dumplings and chicken, you get other wholesome ingredients like frozen peas, sweet carrots, celery and warm seasonings. There's nothing like a healthy bowl of piping hot chicken soup to give you all the warm fuzzy feelings even on the coldest evenings. Serve it up with some Buttermilk Biscuits for an easy dinner idea.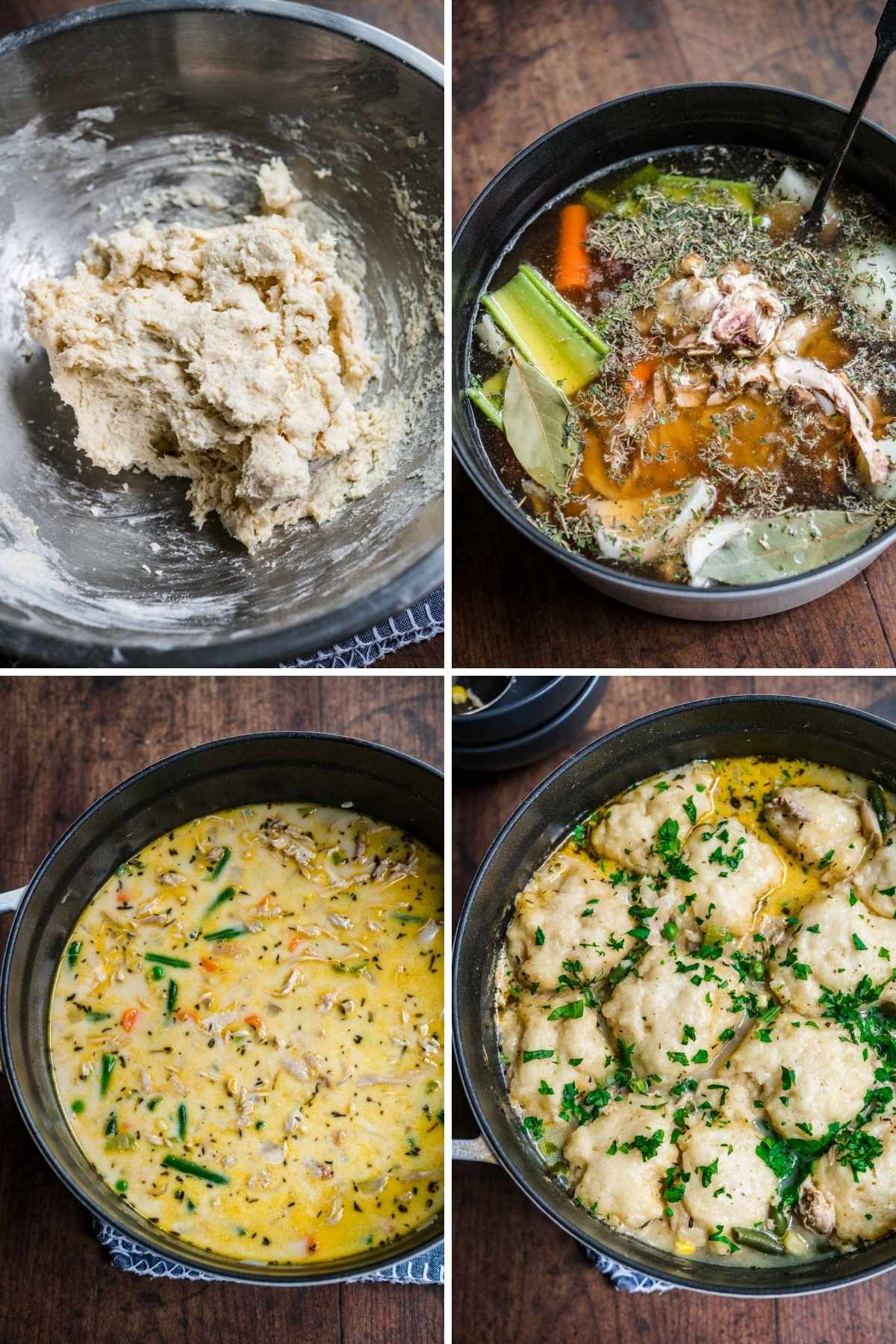 MAKING SOUP WITH LEFTOVER CHICKEN
This is sure to become your favorite Chicken and Dumplings Recipe. Although the total time is over an hour, most of that is just letting the ingredients simmer together. Because you are using leftover, cooked chicken, you don't have to worry about baking the meat.
The next time you make Slow Cooker Chicken Breast, Rotisserie Chicken, or Baked Chicken thighs, you can make this easy soup the next day. Just use the leftover chicken to make a whole new meal with minimal effort.
MORE DELICIOUS SOUP RECIPES
TIPS FOR MAKING CHICKEN DUMPLING SOUP
Homemade Broth: Add the chicken meat and the carcass to a large stock pot to make chicken stock. Add in the chicken broth, water, celery, carrots thyme, rosemary, oregano, bay leaves, salt and pepper to the heavy stockpot. Stir all the ingredients together over medium heat until it's boiling. Continue simmering broth over medium/low heat for 1 hour. Remove from heat and use a fine mesh strainer to strain the broth.
Chicken Soup: Remove the whole chicken and cut it into bite-sized pieces. Add the chicken stock and chicken meat to the dutch oven along with diced onions and celery. Continue simmering soup for 15 minutes for the onion and celery to become translucent.
Dumpling Dough: To make homemade dumplings sift together 2 cups flour, baking powder, salt, and pepper in a large bowl. Add in the heavy whipping cream and whisk it into the flour mixture. For sturdier dumplings add in an extra 1 ½ tablespoon flour.
Finish Soup: Add the frozen vegetables and the heavy whipping cream to the dutch oven and stir. Add in the prepared dumplings in tablespoon-size dollops or small spoonfuls to the soup. A small cookie scoop will work great for this. To make sure they stay in small dumpling pieces, don not let them touch. Simmer the soup over medium-high heat until the dumplings are cooked through.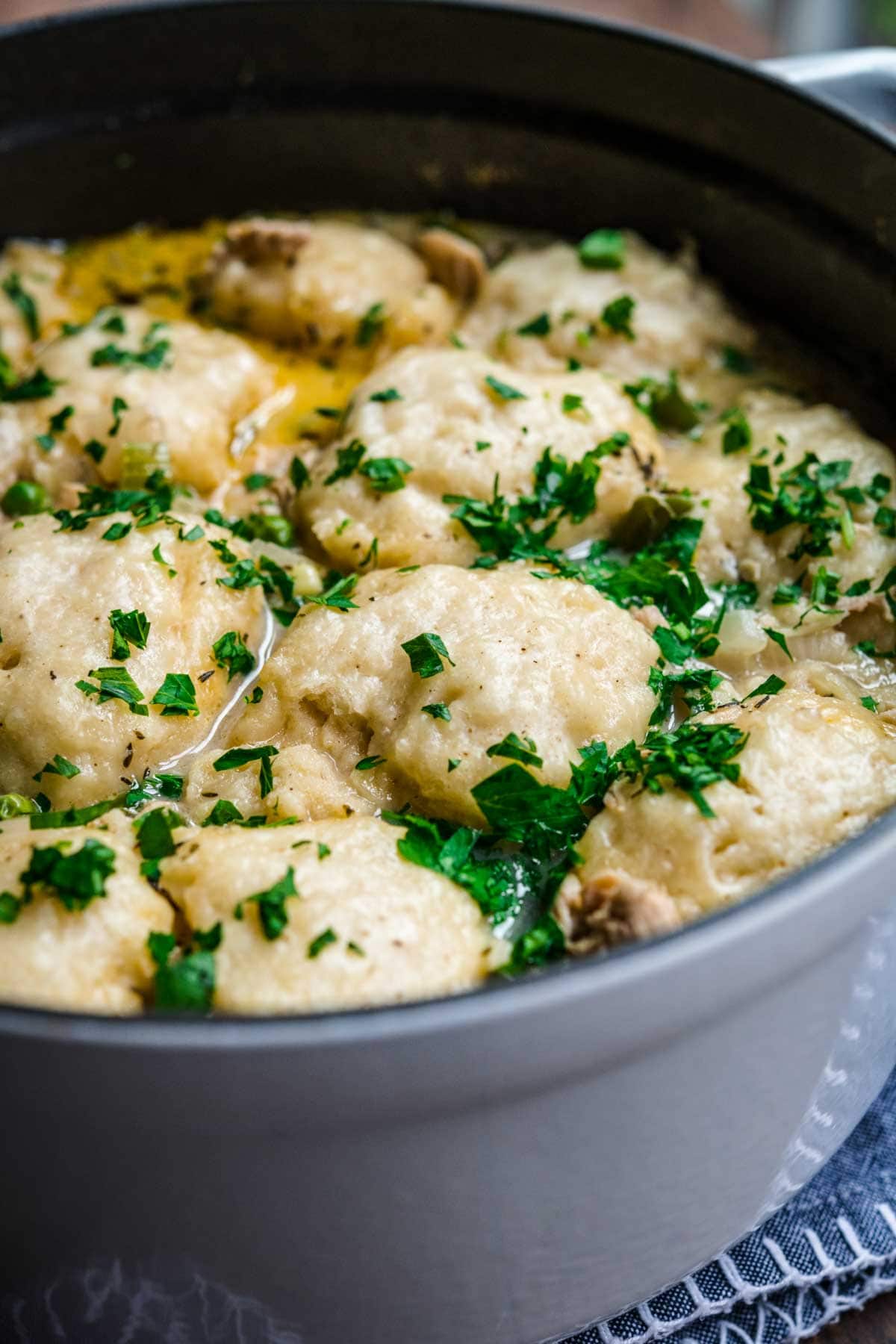 Create a free account to

Save Recipes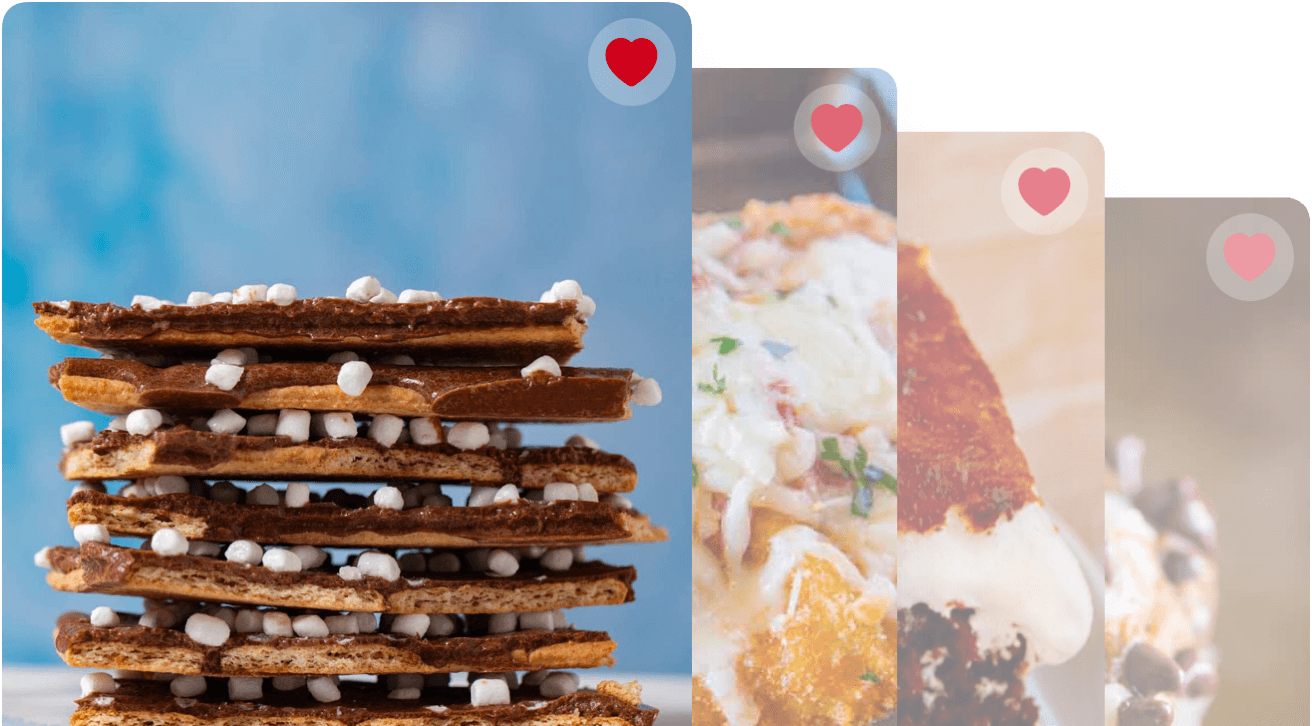 VARIATIONS ON CHICKEN AND DUMPLINGS
Seasonings: For some extra flavor use classic chicken spices like an extra teaspoon salt, and a teaspoon of pepper, fresh parsley, fresh thyme, bay leaf, celery salt, minced garlic cloves, poultry seasoning, fresh dill, and thyme sprigs.
Dumplings: Instead of using all-purpose flour, try using cornmeal, almond flour, or oat flour. Or if you want to make drop dumplings combine 2 ½ cups flour, ¾ cup milk, 2 tablespoons butter, 1 tablespoon baking powder, 2 teaspoons salt, 2 large eggs, and ¼ cup chopped fresh parsley.
Broth: You can change the soup liquid from chicken stock to turkey broth, vegetable broth, or low sodium chicken broth.
Creamy Soup: If you don't have heavy cream, you can make the creamy broth using butter, milk, and flour. Mix together 2 cups whole milk, ½ cup melted butter, and 6 tablespoons flour. Whisk that into the soup while it's cooking to make a rich buttery Chicken Soup.
Noodle dumplings: Add in some cooked noodles along with the dumplings for a Dumpling Noodle Soup.
Add-ins: For some other add-ins try a chopped red onion and chopped potatoes. You can also top it off with parmesan or cheddar cheese.
Meat: Instead of chicken you could try using turkey or pork in the recipe.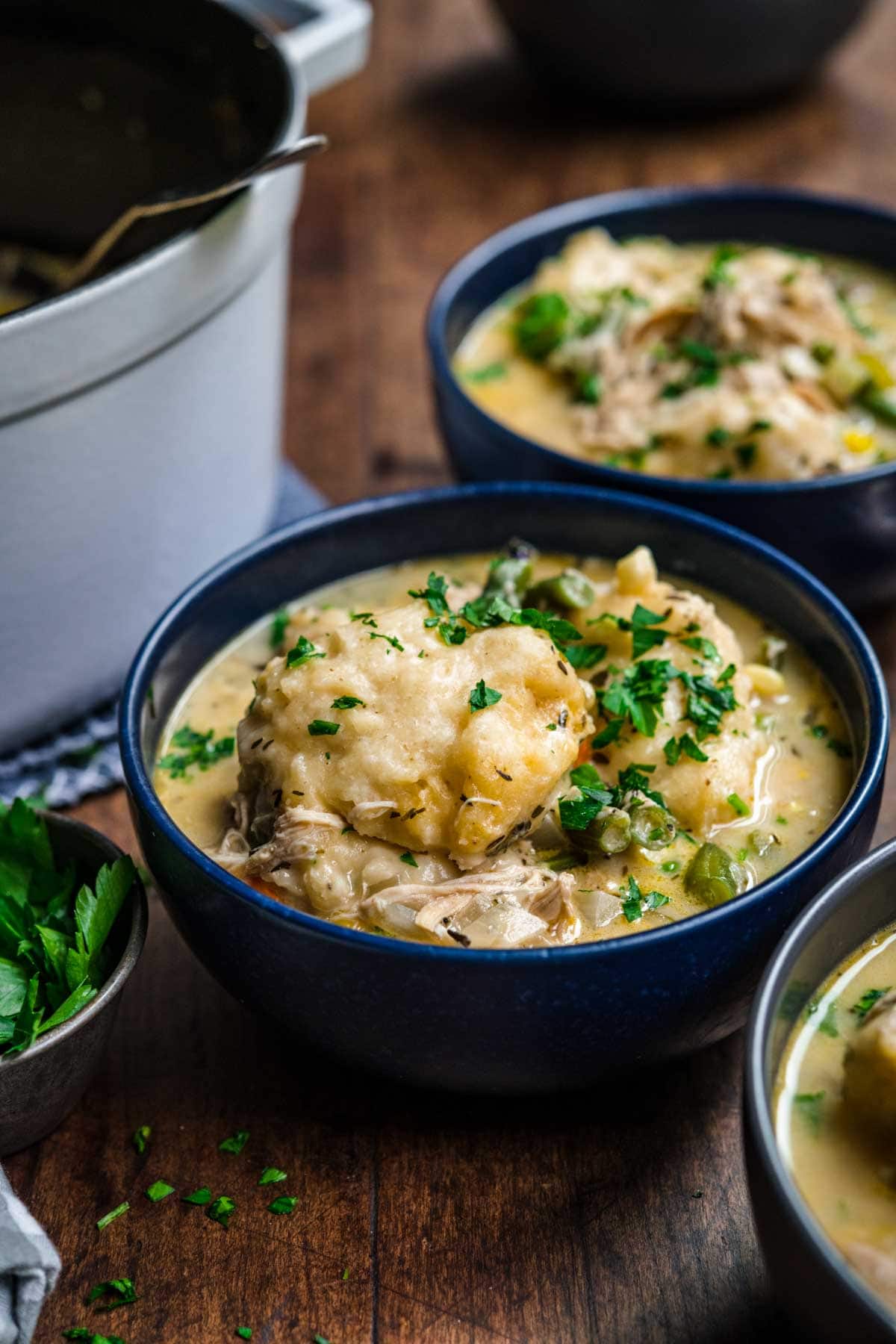 MORE HEARTY SOUP RECIPES
PRESSURE COOKER CHICKEN AND DUMPLING SOUP
Prepare the chicken broth as usual.
Put the onion, and celery in the instant pot with olive oil and cook on sauté mode.
Add the broth, chicken, and remaining ingredients to the instant pot.
Seal and cook for 5 minutes.
While it's cooking combine the dumpling ingredients.
Allow pressure to release naturally for 10 minutes, then manually release it.
Set back to sauté mode and add in the dumpling dough. Simmer until cooked through and serve.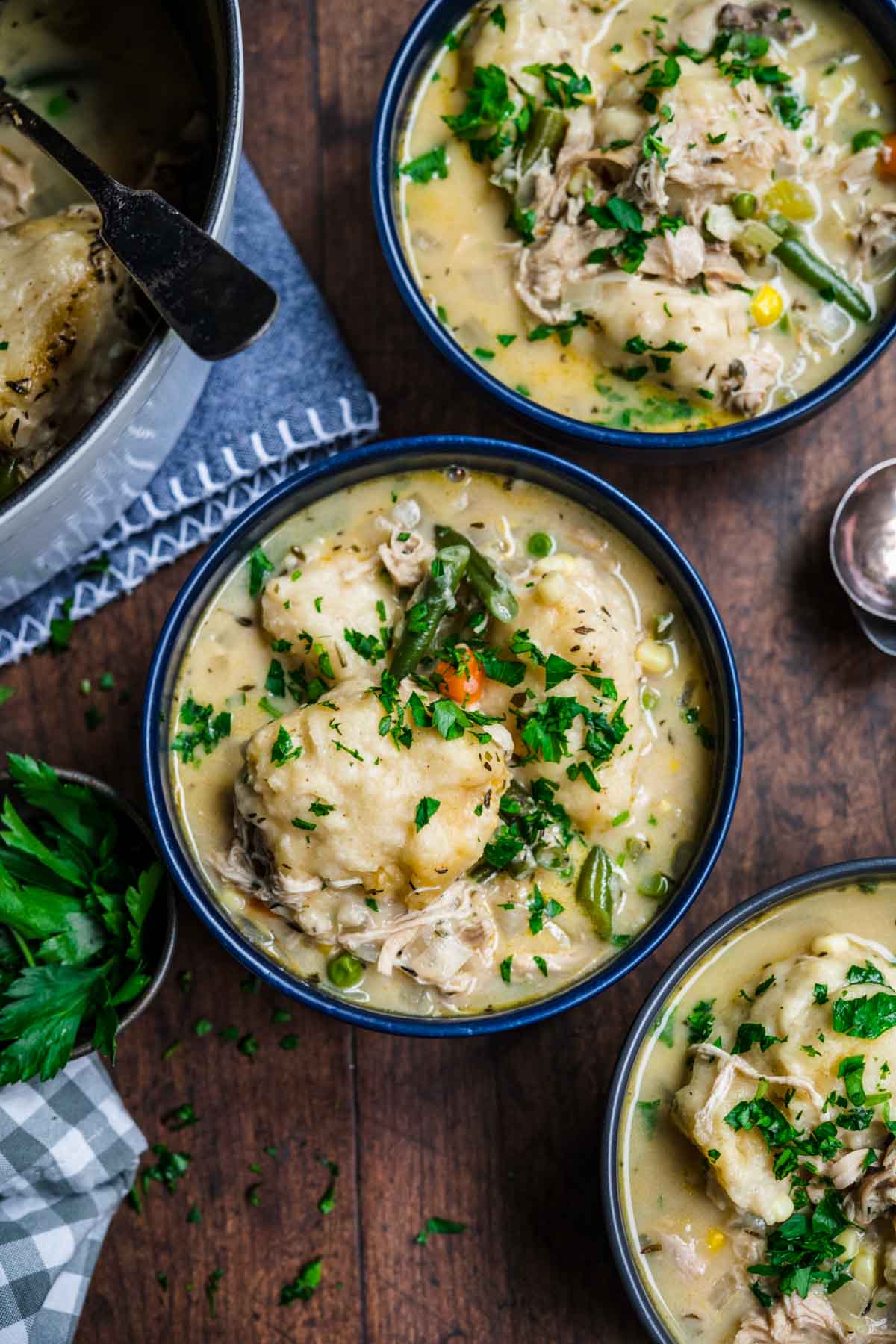 SLOW COOKER CHICKEN AND DUMPLINGS SOUP
Again prepare the broth, as usual, then add all but the dumplings to the slow cooker.
Cook on high for 3 hours.
Prepare the dumplings while the soup is cooking.
Add spoonfuls of dumpling dough to the top of the soup. Continue cooking for 45 minutes to an hour to cook the dumplings.
HOW TO STORE CHICKEN AND DUMPLINGS SOUP
Serve: Don't leave the chicken soup at room temperature for more than 2 hours.
Store: Chicken and Dumplings Soup can be kept in the fridge for 3-4 days. Make sure it's cooled completely then store it in an airtight container.
Freezer: You could also store it in an airtight container in the freezer for up to 3 months.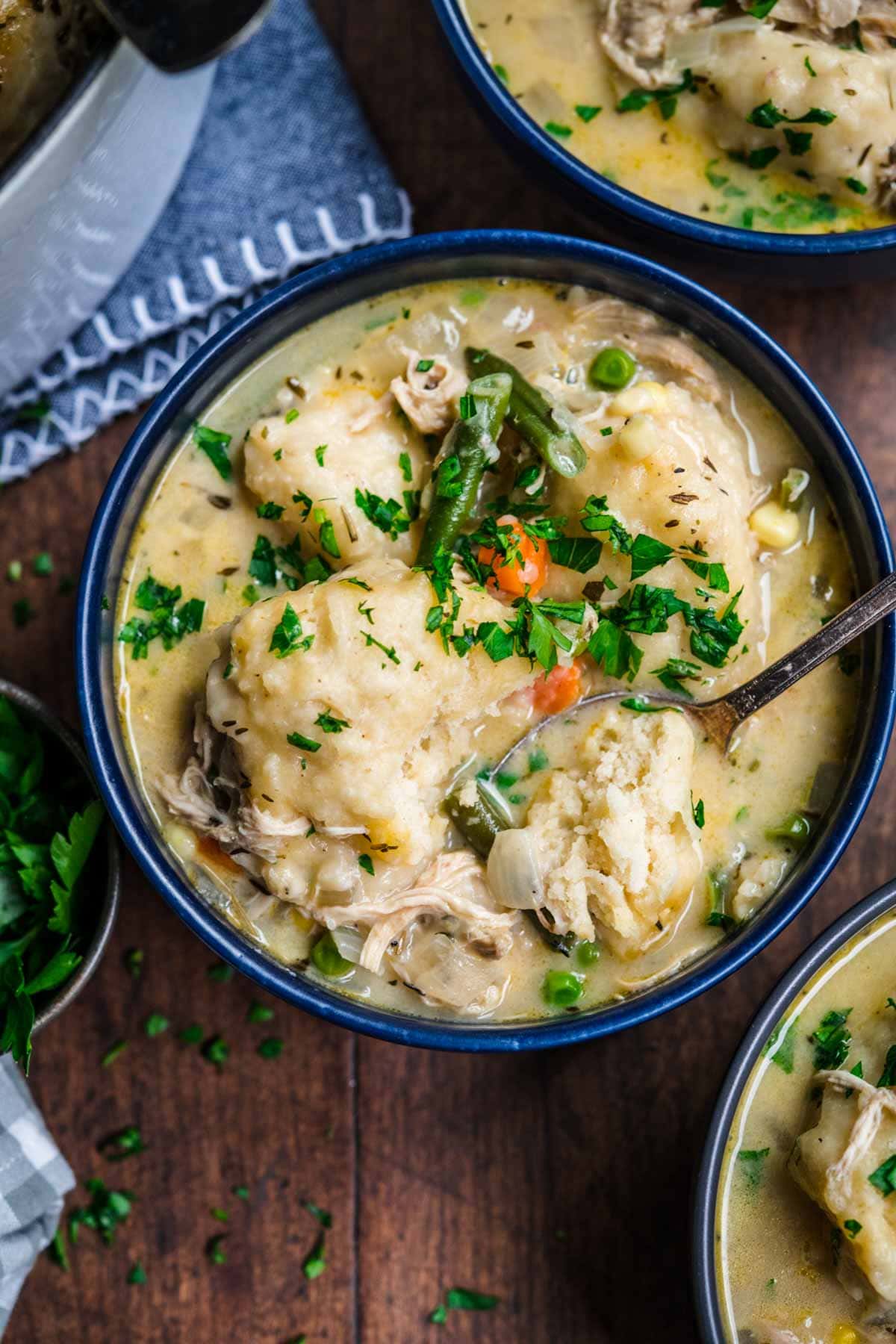 Ingredients
Soup Base:
3

cups

cooked chicken meat and carcass

, from leftovers

8

cups

chicken broth

2

cups

water

3

stalks

celery

, cut into 3 inch chunks

2

medium

carrots

, cut into 3 inch chunks

1

yellow onion

, cut into wedges

1

teaspoon

dried thyme

1/2

teaspoon

dried rosemary

1/2

teaspoon

dried oregano

2

bay leaves

1

teaspoon

Kosher salt

1/2

teaspoon

coarse ground black pepper
Soup Ingredients:
1

yellow onion

, diced

3

stalks

celery

, thinly sliced

16

ounces

frozen mixed vegetables

, peas, carrots, corn and green beans

1/2

cup

heavy cream
Dumpling Ingredients:
2

cups

flour

1

tablespoon

baking powder

1/2

teaspoon

kosher salt

1/2

teaspoon

coarse ground black pepper

1 1/4

cups

heavy cream
Instructions
To a large stockpot add the chicken meat and carcass.

Fill with chicken broth, water, celery, carrots, thyme, rosemary, oregano, bay leaves, salt, and pepper and stir well.

Bring to a boil, then lower to a simmer and cook for 1 hour.

Remove from heat and strain the chicken broth.

Remove the chicken meat from the strained ingredients and chop into small chunks.

Add the strained broth and chicken meat back to the pot with the diced onion, and sliced celery.

Bring to a simmer and cook for

15 minutes

while onions and celery become soft and translucent.

While your soup is simmering make the dumpling batter.

Sift the flour, baking powder, salt, and pepper into a large bowl.

Whisk the heavy cream into the dry ingredients until combined.

To the soup, add in the frozen mixed vegetables and heavy cream and stir.

Add heaping 1 tablespoon measurements of the dumpling batter onto the soup (do not let them touch), then simmer the soup for

15 minutes

, covered, until the dumplings are cooked through.
Nutrition
Calories:
303
kcal
|
Carbohydrates:
27
g
|
Protein:
14
g
|
Fat:
16
g
|
Saturated Fat:
9
g
|
Cholesterol:
74
mg
|
Sodium:
948
mg
|
Potassium:
546
mg
|
Fiber:
3
g
|
Sugar:
2
g
|
Vitamin A:
4232
IU
|
Vitamin C:
18
mg
|
Calcium:
112
mg
|
Iron:
2
mg