Chipotle Chicken (Copycat) recipe captures the exact Chipotle flavors for you at home with the chili, garlic, cumin and vinegar notes without leaving home! 
We love the magic of making restaurant favorites at home. Fill your Mexican buffet with Chipotle Barbacoa Beef, Chipotle Cilantro Lime White Rice, and Chipotle Corn Salsa and Chipotle Guacamole you don't need a second mortgage for!
 Chipotle Chicken Recipe
Chipotle Chicken is a super flavorful, marinaded, grilled chicken you can make at home in no time at all. Then, once you've made it, you will literally top it on everything you can because it is so flavorful (yet healthy) that you will find yourself eating salads just to add this chicken on top. It is that good.
The first trick to achieving the same spicy and aromatic Chipotle chicken in your kitchen is to start with a seasoned marinade. Marinades use oils, herbs and spices to amplify flavor and to tenderize. This technique can be used on chicken, pork, beef and vegetables too. This Chipotle chicken marinade has a familiar list of ingredients– chipotle chili powder, dried oregano, and cumin can be found in multiple Chipotle menu items. You likely have these spices in your pantry already! The restaurant only uses a total of 51 ingredients and bases their recipes on the combination of smoky heat and deep Mexican herbs and spices. We can do the same at home.
The second trick for making copycat Chipotle chicken is to grill the marinated chicken on a medium high grill. An outdoor grill is great but you can sear chicken on an indoor grill pan as well to get that charred outer layer. Grilled chicken breasts risk drying out when cooked but you will overcome that trouble by pounding the chicken breasts into a thin, half-inch thickness BEFORE marinating. The chicken will cook quickly and you'll keep all that juicy goodness inside your meat as it cooks on the grill.
How do i marinate chicken?
Pound the chicken to an even thickness about ½ inch thick
Add all of the ingredients into a large, resealable plastic bag. Mix well after closing then place in the refrigerator for 6 hours.
Remove the chicken from the marinade and discard the marinade. Grill the chicken for 5-6 minutes a side on a medium high grill.
How long should I marinate chicken?
Most marinades are effective from anywhere from 2 hours to overnight. We recommend marinating with this chipotle chicken marinade for at least 6 hours to develop that restaurant quality flavor.
A great time saver for weeknight meals is to put the chicken in the marinade in the morning before work, then it is ready and waiting to be grilled when you get home.

Create a free account to

Save Recipes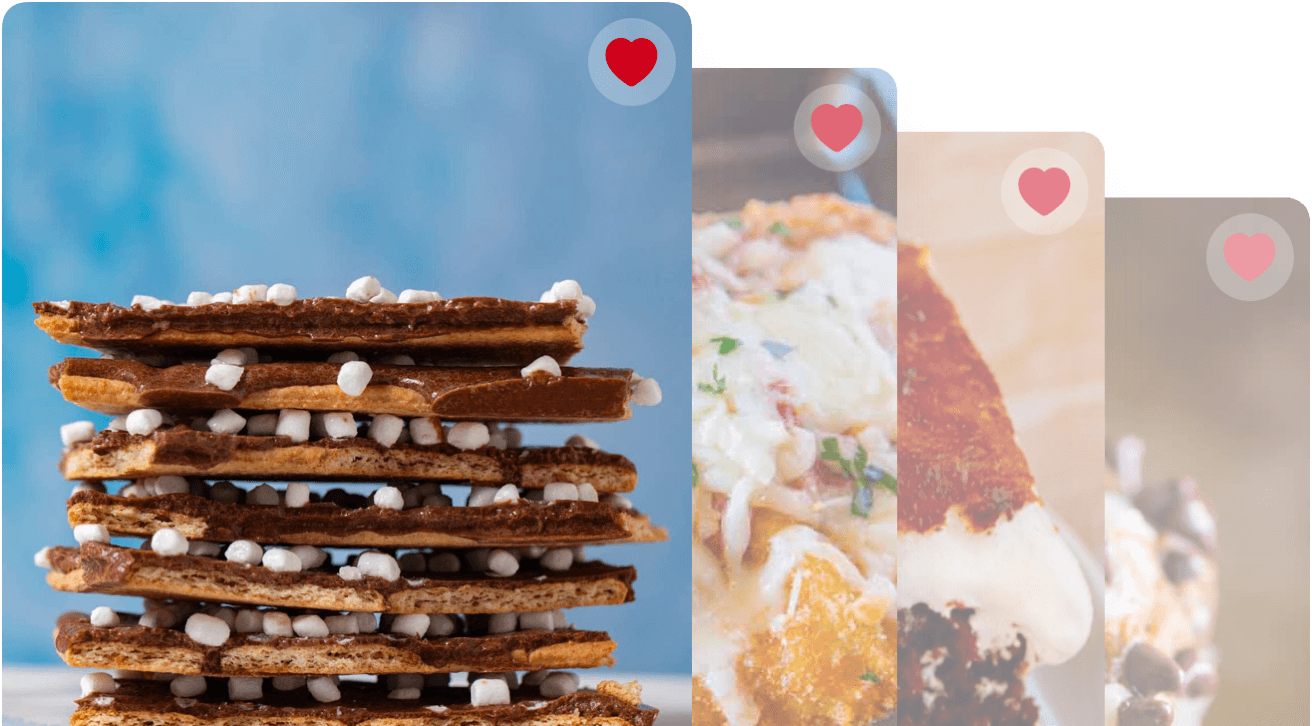 SAFE TEMPERATURE FOR COOKING CHICKEN:
When cooking (or grilling) chicken you must cook your chicken to a safe minimum cooking temperature of 165 degrees °F (per foodsafety.gov) to avoid any issues with possible contamination. While the chicken rests it actually holds this temperature which allows it to kill any germs that may be remaining, so remember to rest the chicken for 5 minutes before serving.
how do I get grill marks on chicken?
Heat the grill to medium high heat. Make sure to let the grill preheat completely. The chicken marinade contains oil so you don't need to further oil the grill. Lay the chicken done away from you on the grill and let it stay in one position. The chicken will release from the grill on its own and then you can use tongs to flip the chicken over to the second side.
The most important part of getting the chicken to look the same as chipotle is the "double cooking" that chipotle does. Once the chicken breast has been cooked they chop it into small pieces, then continue to cook it on the griddle until the small pieces form their own crust. Do not skip this part of the cooking, it is essential. You can also see this cooking method used when I made my Halal Cart Chicken and Rice (Copycat), the texture and the flavors of the chicken are completely different than a classic Easy Grilled Chicken.
Alternative methods to cook chipotle chicken
Grilling chicken is the best way to mimic the style of food cooked at Chipotle Mexican Grill, but there are alternative methods you can use at home. This marinated chicken recipe can be cooked in the slow cooker, stove top, or baked in the oven.
Slow Cooker: Do not pound the chicken breasts if cooking in the slow cooker. Simply add all of the ingredients to the slow cooker and cook on high for 3 hours or on low for 6 hours.
Stove Top: Cut the chicken into cubes before marinating. Cook the chicken cubes in a large saucepan on the stove top until cooked through.
Oven Baked: Place the pounded and marinated chicken breasts on a baking tray and roast at 400° F for 18-20 minutes.
How to use Chipotle Chicken (Copycat) recipe
burritos
tacos
enchiladas
quesadillas
taquitos
salads
bowls
More Copycat Recipes
Did I mention I have the ENTIRE Panda Express Menu?!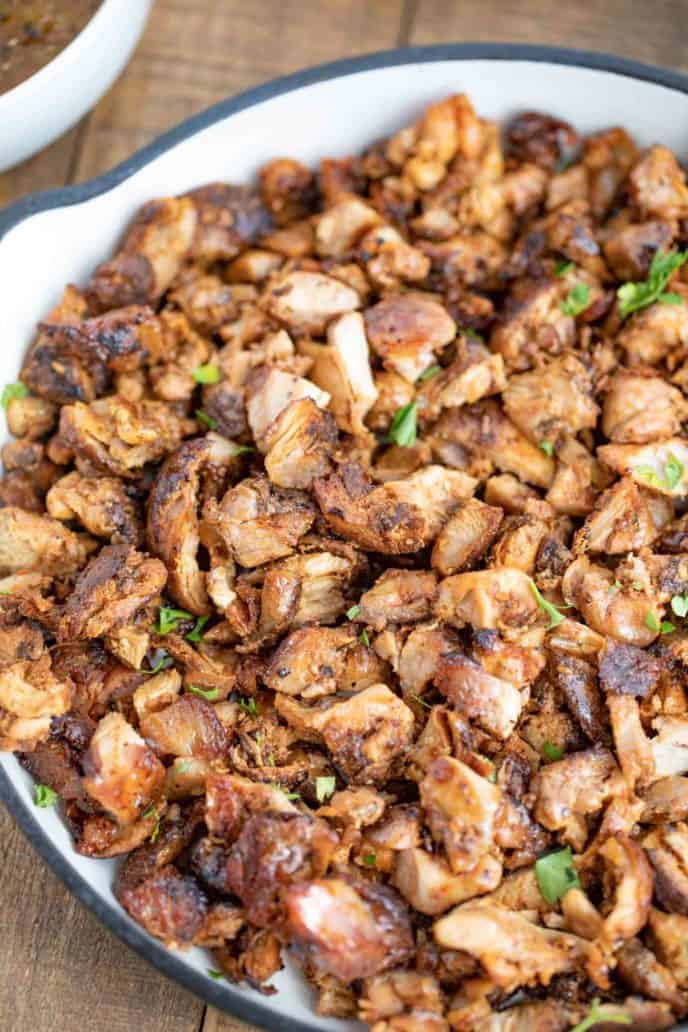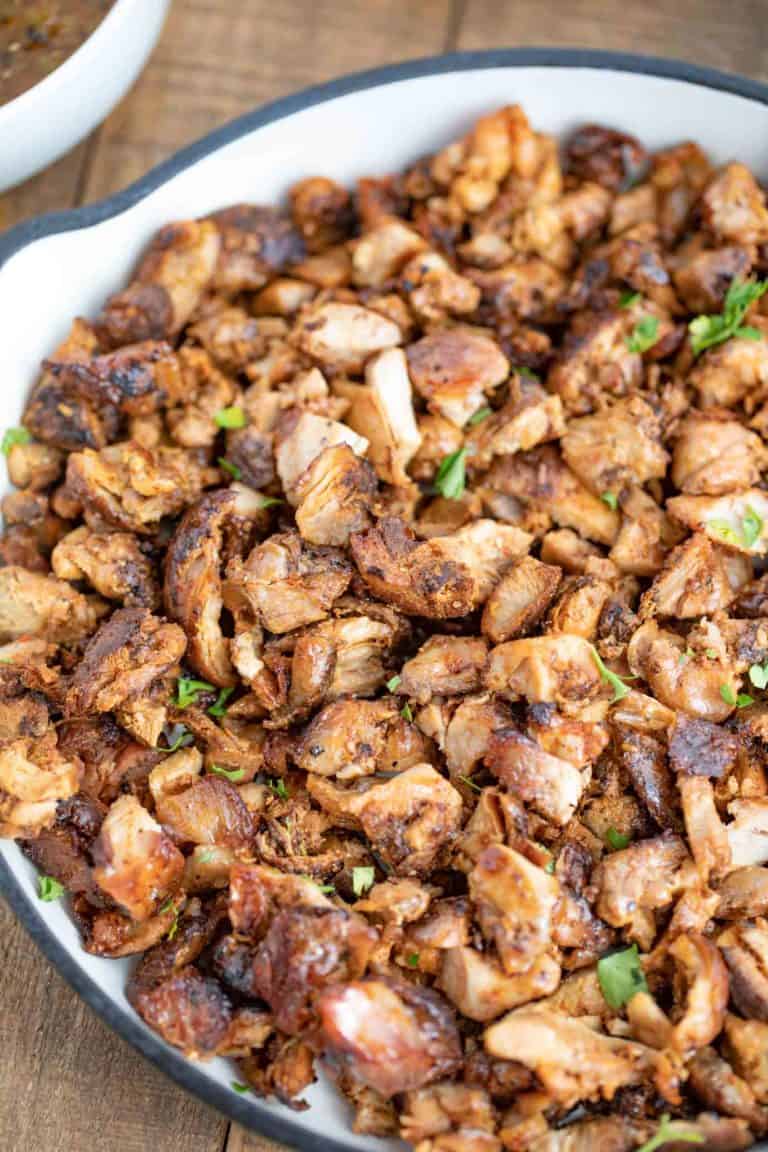 Ingredients
3

chicken breasts

, boneless skinless

1

teaspoon

kosher salt

1/2

teaspoon

coarse ground black pepper

2

teaspoons

chipotle chili powder

1

teaspoon

dried oregano

1

teaspoon

cumin

1/4

cup

distilled vinegar

4

cloves

garlic

, minced

6

tablespoons

rice bran oil

, divided (vegetable oil is ok)

1/4

cup

water
Instructions
Pound the chicken to an even thickness, about a half inch thick.

Add all the ingredients together (save 2 tablespoons of oil) in a large ziplock bag (removing as much air as possible), mixing it well together after closing, and marinate for at least

6 hours

.

Remove from marinade and add to a medium high heat grill and cook for

5-6 minutes

on each side until cooked through then chop roughly.

Add chopped chicken and 2 tablespoons of oil to a large pan on medium high heat to crisp for

4-5 minutes

, stirring occasionally.
Nutrition
Calories:
261
kcal
|
Carbohydrates:
1
g
|
Protein:
24
g
|
Fat:
17
g
|
Saturated Fat:
3
g
|
Cholesterol:
72
mg
|
Sodium:
531
mg
|
Potassium:
445
mg
|
Vitamin A:
230
IU
|
Vitamin C:
2
mg
|
Calcium:
20
mg
|
Iron:
0.9
mg