Chocolate Gravy is a rich, creamy topping perfect for drizzling over buttermilk biscuits or ice cream for the ultimate sweet treat.
When you hear the word gravy, you likely think of classic Turkey Gravy or other savory options made from meat drippings to serve with dinner. However, this sweet gravy alternative is perfect for serving over Breakfast or Dessert Recipes.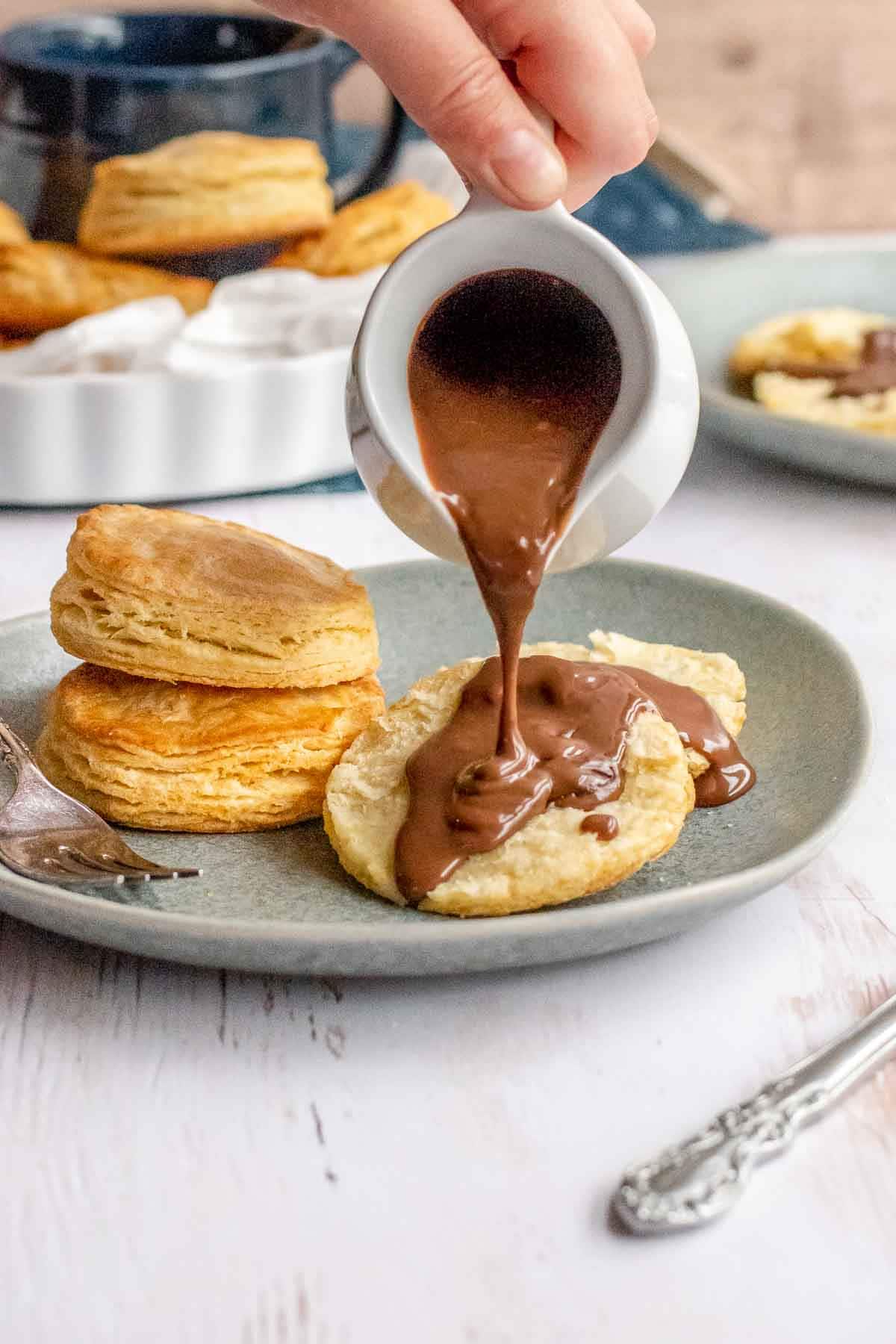 This rich, chocolatey topping is a favorite dish in the south, where you'll typically find it served over warm Buttermilk Biscuits. The combination of flakey biscuits and sweet, thick Chocolate Gravy is predictably irresistible. They make an indulgent breakfast, dessert, or sweet snack. You can pour the chocolate over the biscuit and use extra biscuit pieces to soap up every delicious drop of Chocolate Gravy on your plate.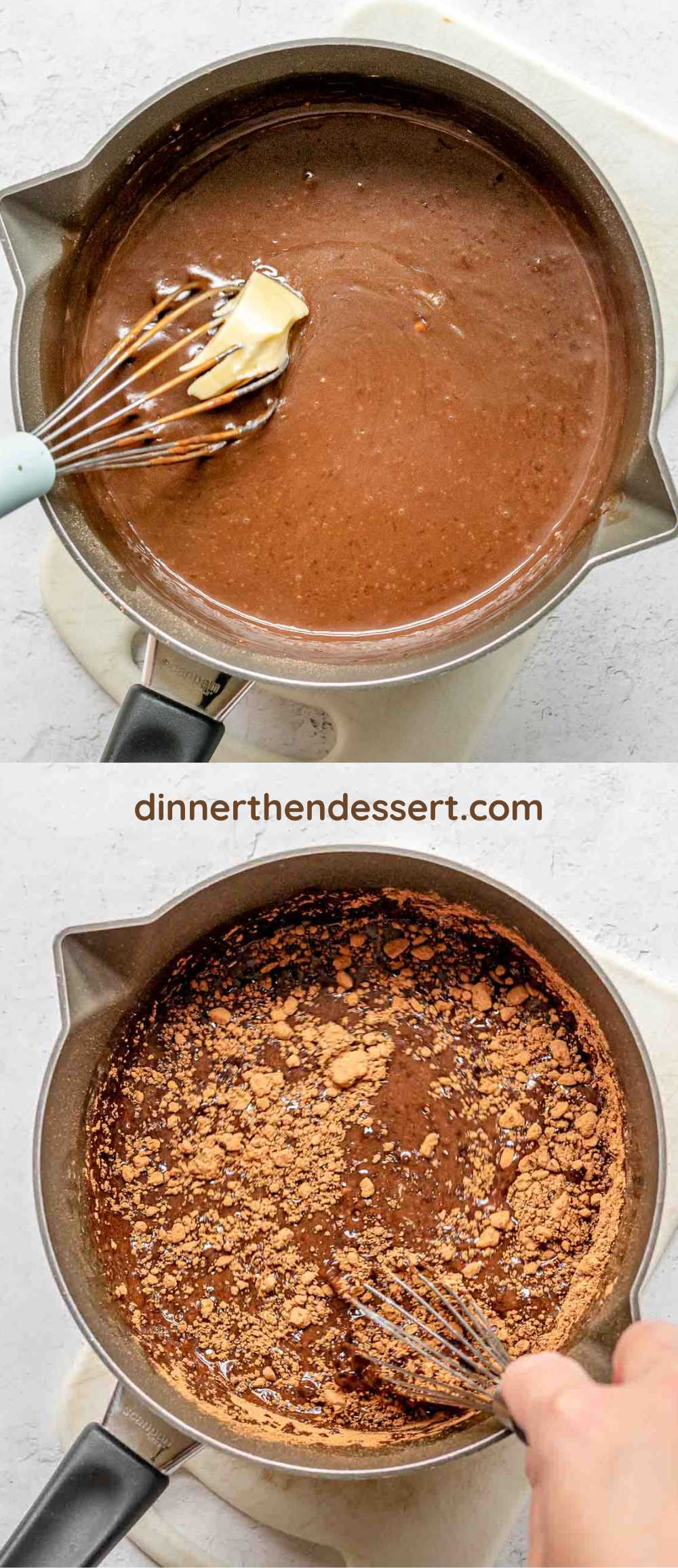 If you haven't heard of this recipe before, the idea of putting chocolate and gravy together may sound strange. Just wait, because once you taste the rich chocolate mixture you'll understand the appeal. It has the same consistency as a classic gravy but with the flavor of melted chocolate. For any chocolate lover, it's truly a dream come true. 
What is Chocolate Gravy?
Chocolate Gravy is a comfort food classic that's popular in Appalachia and throughout the south. It's a delicious chocolate topping that's much thicker and richer than a standard chocolate sauce. Just like savory gravy recipes, it's made with fat and flour to create a roux. The roux thickens the chocolate sauce into a rich gravy recipe.
How to Make Chocolate Gravy
Milk Mixture: Add the whole milk, heavy cream, granulated sugar, cocoa powder, and flour to a saucepan. Whisk the ingredients well until the cocoa powder and flour are fully mixed in with the cream mixture.
Cook: Turn the stovetop heat to medium and bring the mixture to a simmer (do not let it boil). Cook the gravy for 6-7 minutes while continuing to stir constantly. As the recipe cooks, the chocolate mixture will begin to thicken into a gravy consistency.
Finish: Turn off the heat and add unsalted butter and vanilla extract. The hot mixture will melt the butter so that you can easily mix it and the vanilla into a smooth mixture to finish.
Serve: After combining the Chocolate Gravy, serve it over warm biscuits, ice cream, or other dessert recipes for a delicious topping option.
Classic Breakfast Recipes
FAQs
What can I serve with Chocolate Gravy?
The traditional Southern way to enjoy this chocolate sauce is ladled over hot biscuits. It's especially perfect if you're serving biscuits with your breakfast for a sweet treat to enjoy in the morning. You could also drizzle the sweet gravy over other breakfast dishes like Pancakes, French Toast, or Waffles. Additionally, you can repurpose the gravy as a dessert topping to go over creamy Vanilla Ice Cream, Vanilla Pound Cake, or Cheesecake. 
How to reheat Chocolate Gravy?
You can reheat leftovers in a pot or saucepan on the stovetop over medium-low heat. Cooled gravy is quite thick but should start to thin out again as it heats. Be sure to stir as you heat the gravy to ensure it doesn't burn on the bottom of the pan. If the gravy is still too thick, you can pour a little extra milk into the mixture to thin it out. 
Why isn't my Chocolate Gravy thickening?
If the Chocolate Gravy isn't thickening, you may need to add a little extra flour to the recipe. The flour acts as a thickening agent to create the classic gravy consistency. Be sure to give the gravy some time to thicken during the cooking time before adding extra flour, as it may not be necessary. If you still need to add extra flour, cook the gravy for an extra minute so that the flour can cook. 
Where did Chocolate Gravy come from?
Although it's not certain exactly how and when this recipe came about, most agree it began in Appalachia. Gravies of all sorts were a popular way to use up leftovers and delicious ingredients, so it makes sense that someone had the idea to make this sweet chocolate gravy. Some theorize that it was inspired by Spanish breakfast chocolate with an Appalachian spin. But, regardless of how it started, it remains a popular Southern dish in Appalachia and the Ozarks.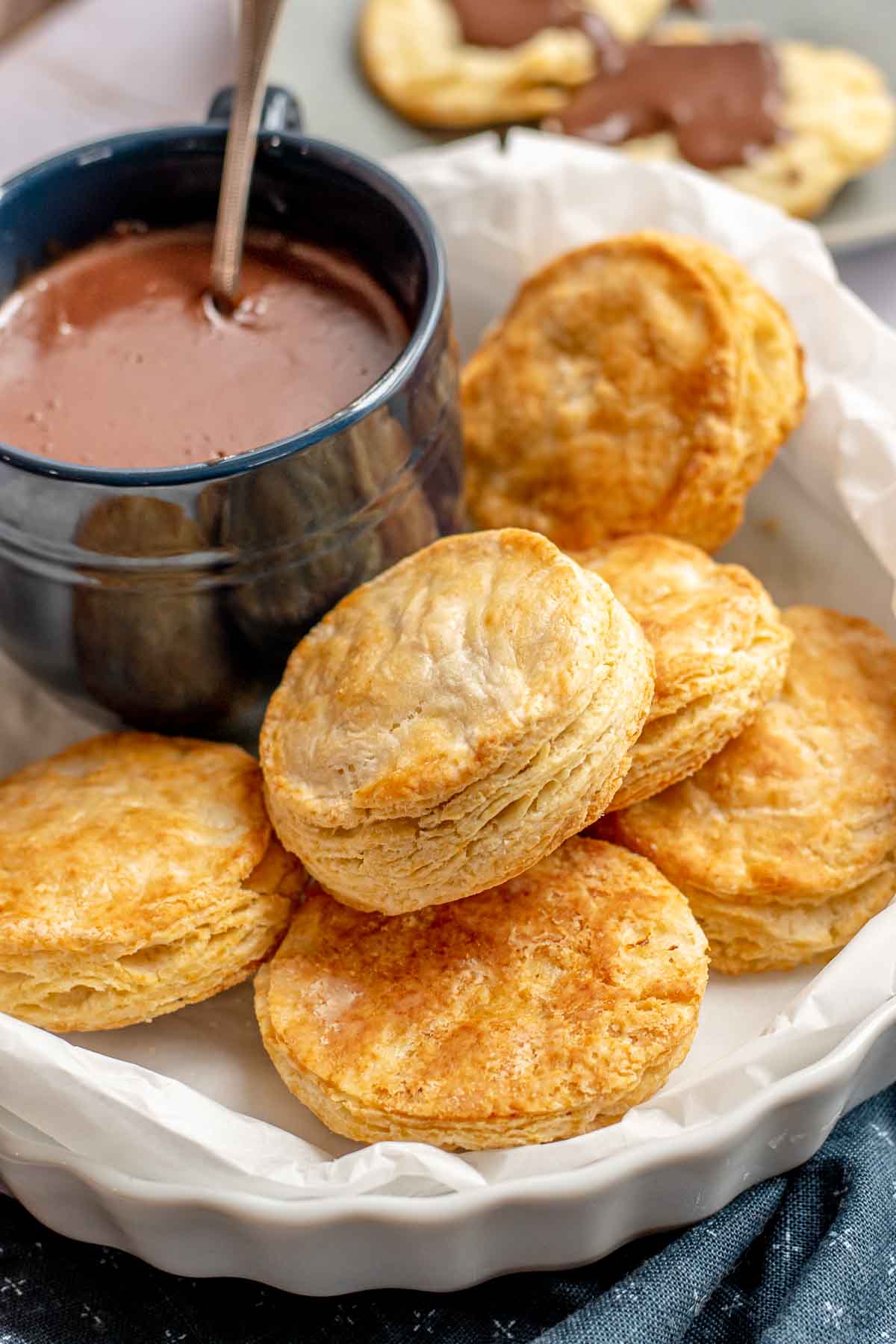 Create a free account to

Save Recipes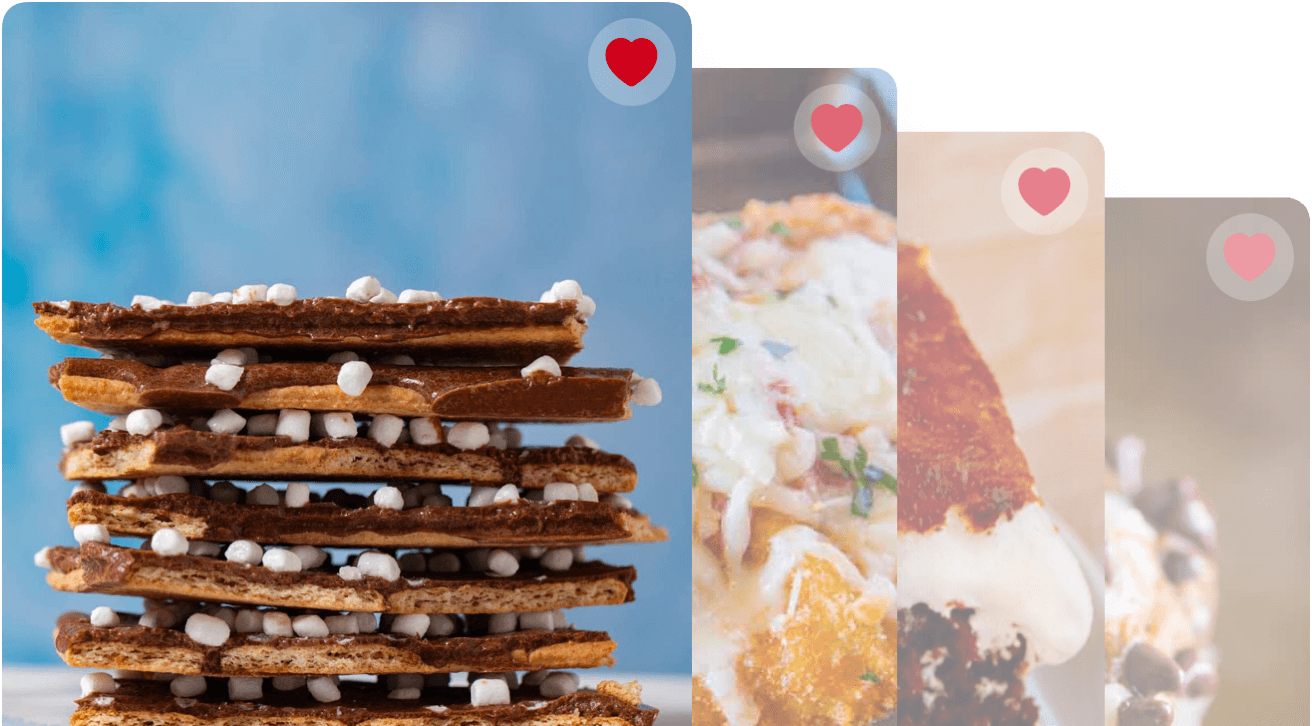 Key Ingredients
Milk: For the base liquid ingredient in the recipe, you'll want to use one part whole milk and one part heavy cream. The two ingredients balance each other nicely to create a mixture that's thick and creamy without being too heavy to enjoy. If you want to lighten the recipe, you can exchange the whole milk for 2% or skim milk. Just keep in mind that this won't make quite as rich of a finished product, but it's a good way to cut back on fat and calories in the recipe. 
Sugar: Add white sugar to sweeten the chocolate mixture. As you cook down the gravy ingredients, the sugar will dissolve into the mixture. 
Cocoa Powder: To give Chocolate Gravy its rich chocolate flavor, add ¼ cup of cocoa powder. This will bring plenty of chocolatey flavor to the recipe. There's no need to add melted chocolate or any other ingredients to the mixture. 
Flour: You also need ¼ cup flour. The combination of fat and flour is what makes this into gravy. Flour creates the roux, which thickens the Chocolate Gravy into the ideal consistency. Regular white flour is the go-to option, but you could use any kind of wheat flour to thicken the Chocolate Gravy. 
Butter: Finish the dish by adding butter. The butter not only enhances the flavors by adding oil, but it also smooths out the mixture for a pourable, smooth gravy recipe. 
Variations
Vegan Chocolate Gravy: You can still enjoy delicious Chocolate Gravy even if you're on a dairy-free/vegan diet. But it will alter the recipe quite a bit because you can't use milk, cream, or butter. Instead of using regular milk, you can use almond milk, coconut milk, or oat milk. You can use the dairy-free milk as an alternative to both the milk and the cream or swap out the heavy cream for full-fat coconut cream for a richer, creamy mixture. For the butter, use any of your favorite store-bought vegan butter or use another oil like coconut oil or avocado oil. 
Sweeteners: If you don't want to use white sugar, you can swap it out for other sweetener options like maple syrup, brown sugar, coconut sugar, or honey. Just keep in mind that these sweeteners have their own flavor profile that will lightly alter the overall taste of the Chocolate Gravy recipe. 
Cocoa Powder: For a slightly different chocolate flavor, you can swap out the regular cocoa powder for dark chocolate cocoa powder to get a richer, slightly more bitter chocolate flavor. Another option is using dutch process cocoa powder to make a softer flavor. 
Flavor Additions: You can also try adding flavor mix-ins like a dash of cinnamon, nutmeg, or almond extract. You could also add a tablespoon of freshly brewed coffee to enhance the chocolate flavor in the mix.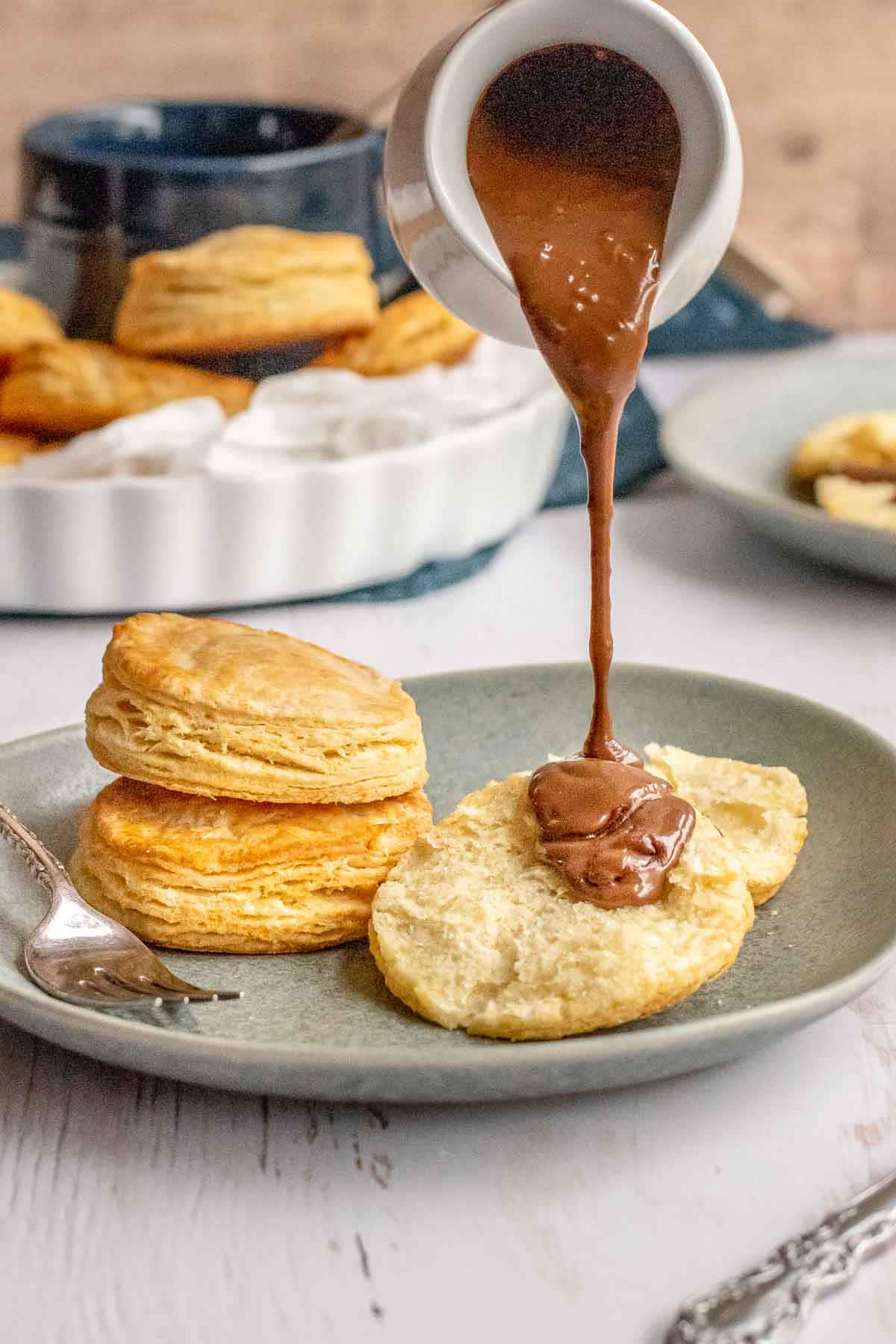 How to Store
Serve: After cooking your Chocolate Gravy recipe, serve it warm while it's still easy to drizzle over your dish. The gravy will thicken as it cools, and you don't want to leave it at room temperature for more than two hours. 
Store: To keep leftover gravy fresh, you can pour the sweet sauce into an airtight container. It will keep well in the fridge for 2-3 days, and then you can reheat it on the stovetop before serving. 
Freeze: You can also store Chocolate Gravy in the freezer. Let the sauce cool completely after the cooking time, then transfer it to a freezer-safe airtight container. Kept carefully sealed, it can stay good for up to 4 months.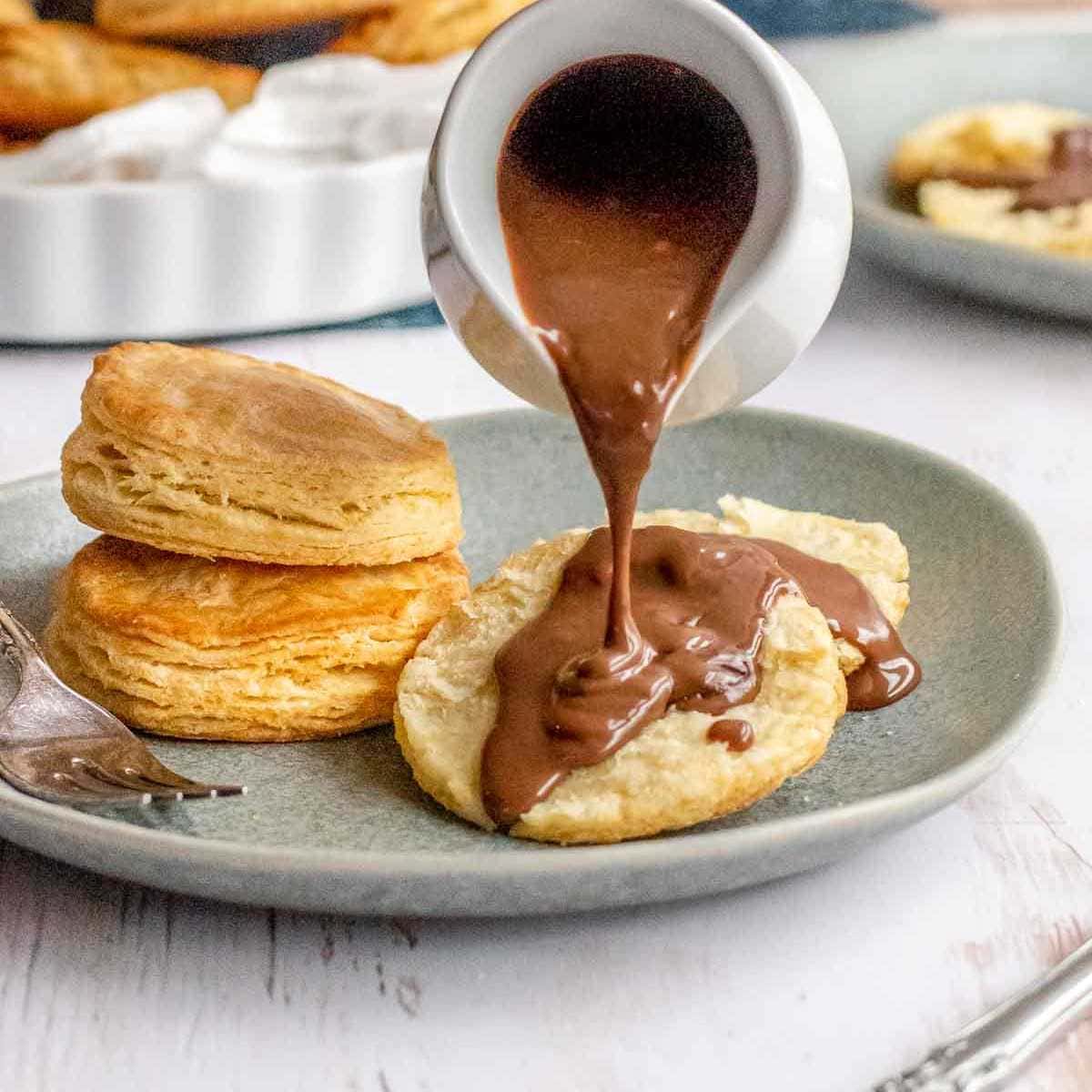 Ingredients
1

cup

whole milk

1

cup

heavy cream

3/4

cup

sugar

1/4

cup

unsweetened cocoa powder

1/4

cup

flour

1

tablespoon

unsalted butter

2

teaspoons

vanilla extract
Instructions
Add milk, heavy cream, sugar, cocoa powder, and flour to a medium saucepan.

Whisk well until flour and cocoa powder are fully mixed in.

Turn the heat to medium, bring to a simmer.

Keep stirring and cook for

6-7 minutes

until thickened to a gravy consistency.

Turn off heat, add in butter and vanilla extract.

Whisk well until smooth and use over buttermilk biscuits or ice cream.
Nutrition
Calories:
182
kcal
|
Carbohydrates:
20
g
|
Protein:
2
g
|
Fat:
11
g
|
Saturated Fat:
7
g
|
Polyunsaturated Fat:
0.5
g
|
Monounsaturated Fat:
3
g
|
Trans Fat:
0.05
g
|
Cholesterol:
33
mg
|
Sodium:
17
mg
|
Potassium:
97
mg
|
Fiber:
1
g
|
Sugar:
17
g
|
Vitamin A:
424
IU
|
Vitamin C:
0.1
mg
|
Calcium:
50
mg
|
Iron:
0.5
mg