Chocolate Sandwich Cookies are rich and chewy with a creamy marshmallow filling, just like from your favorite bakery!
Sandwich cookies like these copycat Girl Scout Do-si-do's, and the crowd favorite Christmas sandwich cookie Linzer Cookies are the best way to celebrate the holidays. Other yummy Christmas cookies, like Peppermint Sandwich Cookies bring smiles with every bite!

Chocolate Sandwich Cookies bring back all the fun and happy memories of childhood. The warm summer days, or the cold winter nights when you'd take a bite of grandma's freshly baked cookies and the smell and warmth you would get are very happy memories.
These delicious cookies are perfect for gift exchanges and parties at any time of the year. By making the cookie dough in just the right way, the chewy goodness of chocolate and creamy marshmallow filling are irresistible. Plus, since they are homemade, they are going to taste so much better than any store bought version you might find. Why eat old cookies out of a cardboard box when you can enjoy fresh ones made in your own kitchen? Your family will thank you.
Additionally, these cookies are great to store in the freezer and can be thawed in no time for those last minute cravings or last minute house guests. Chocolate lovers will adore the deep chocolate and subtle vanilla blend in every bite. The soft chewiness is the perfect texture for these decadent and sweet snacks.
How to Make Chocolate Sandwich Cookies
The process of making these Chocolate Sandwich Cookies is very easy. You'll make the chocolate cookies first and then add the cream. The key is in refrigerating the dough for a full hour which helps ensure the preservation of the chewiness.
Mix the flour mixture together in a medium bowl. This will be done in two parts to make the dough. Make sure to only mix in the dry ingredients until just combined.
Refrigerate for an hour.
Prep the cookie dough on the prepared baking sheet.
Bake the cookies.
While they are baking, mix together the cream filling. Use an electric mixer to beat the shortening and sugar well until very fluffy before adding in any more ingredients. Use powdered sugar (also known as confectioners' sugar) until you get the consistency you want in your filling but if you make the filling too creamy just know as the filling gets warmer it will melt.
Once the cookies are done baking, remove the cookies from the cookie sheets as soon as they are firm enough with a large flat spatula. Then, cool the cookies completely on a wire rack before filling with marshmallow creme filling making sure to fill the flat side of the cookies before closing the cookie sandwiches. Enjoy!
Frequently Asked Questions
What Do I Do with Extra Cookies?
If you have any remaining cookie sandwiches you don't fill with marshmallow creme you can also fill them with ice cream, like this yummy Vanilla Ice Cream.
How do you Measure Flour Correctly?
When measuring flour for baking do not put your measuring cup directly into your flour container. This is not an accurate way to measure flour as the scooping packs in more flour than you need. Instead use a clean spoon to spoon flour into your measuring cup, then level it off.

Do not use any utensils in measuring ingredients before using them with your flour, this can cause cross contamination in your flour container.


Create a free account to Save Recipes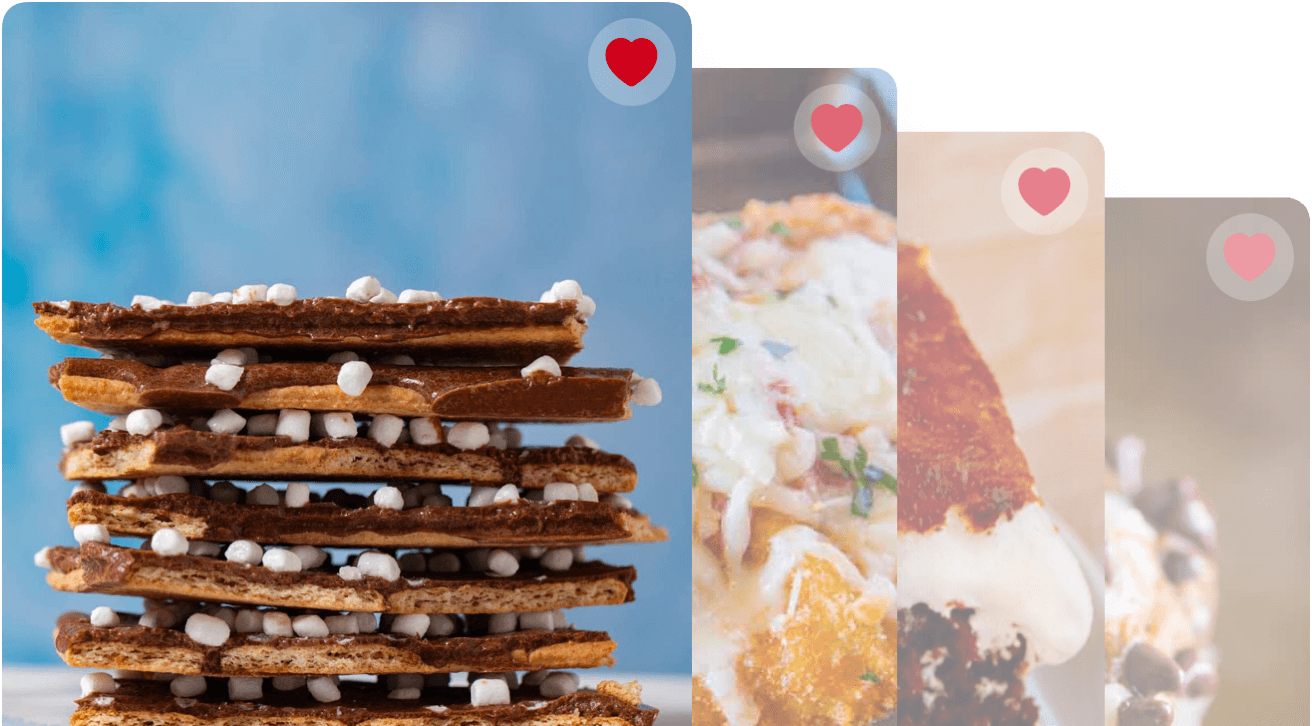 Key Ingredients for Chocolate Sandwich Cookies
Chocolate: This recipes is using unsweetened cocoa powder to make the chocolate. For best results, look for the cocoa powder without any additives. Extra points if you find some that is sustainably sourced cocoa.
Flour: This recipe is utilizing all-purpose flour, but you can use whole wheat flour too.
Sugar: regular baking sure is great for this recipe; but you can use a raw sugar substitute if you're looking for something on the healthier side.
Marshmallow Fluff: You can easily find this at your local grocery store. The pre-made stuff works really well and is super easy to use.
Vegetable Shortening: The go-to shortening used in our kitchen is the regular stuff you can easily find at the local grocery store.
Tips to Make Cookies Chewy
Keeping these cookies refrigerated before baking helps to keep the fat cold and keep them from melting and baking too hard.
Under bake by 1-2 minutes if you find your cookies are coming out more crisp than you'd like.
Use a silicone mat on your baking sheets if you find the bottoms of your cookies are browning too much.
Use a cookie scoop or roll them into a ball, don't flatten the dough before baking or it will spread too much.
Refrigerating these cookies lets the unsalted butter harden again before baking. This recipe calls for 60 minutes as a minimum. You can do longer if you have the time.
Making Chocolate Sandwich Cookies Ahead of Time
These cookies are great to make ahead of time because they are so good. You can easily bake them ahead of time and store in the fridge for a few days before taking out serve for the party. Be sure to let them come to room temperature before serving for optimum taste. If you serve them cold they won't taste as sweet. Or, just freeze them with parchment paper between layers and wrap them well with plastic wrap to avoid freezer burn.
Alternatively, you can make the cookie dough and freeze it until ready. If you want to freeze this cookie dough just freeze the dough balls after scooping. They will require 2-3 additional minutes of baking. Do not freeze the frosting as the texture will suffer in defrosting.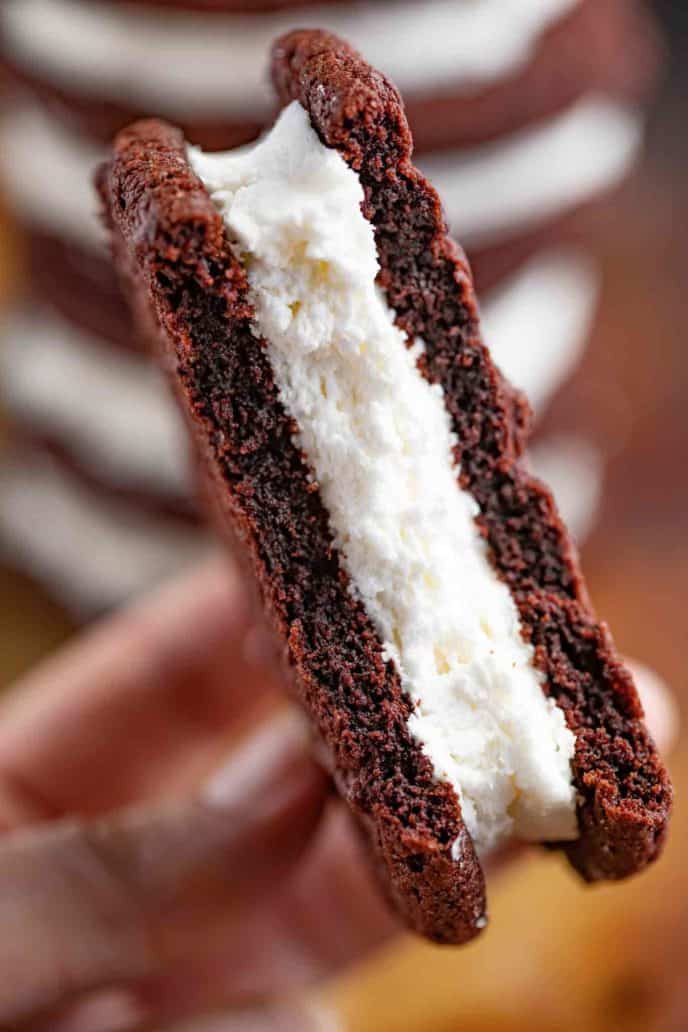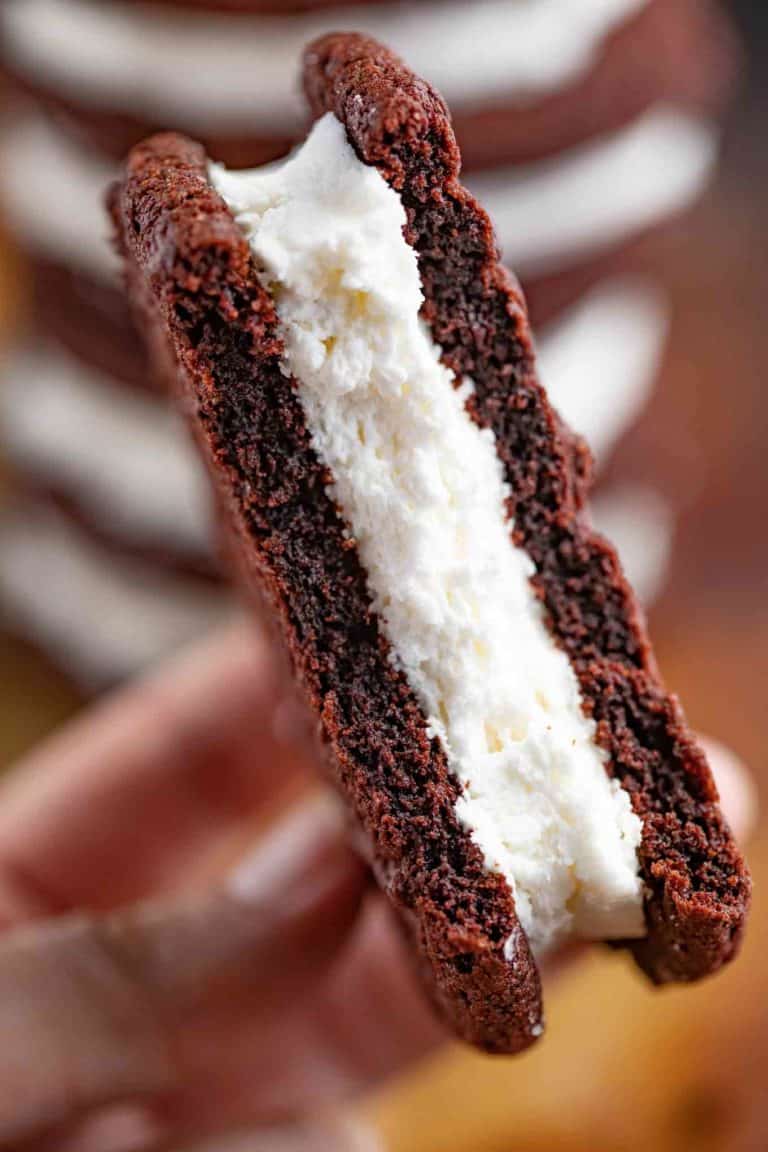 Substitutions in Chocolate Sandwich Cookies
Chocolate: Carob powder is very similar to cocoa, but is a bit sweeter. It's not common but many people like to use it if need be.
Shortening: The low water content of shortening makes it great for baking soft cookies. Unsalted butter can easily be substituted but might cause the cookies to not be as soft. Coconut oil can be substituted, but the result won't be the same.
Flour: There's a lot of various flours on the market today. For this recipe, we recommend only using a wheat based flour.
Sugar: For the purposes of this recipe, the white baking sugar can be easily substituted for another granulated sugar of choice. Brown sugar can be used and will give a bit of molasses flavor.
Marshmallow Fluff: There's not a lot that can be substituted for this ingredient. But if you are in a pinch, you can easily mix equal parts of cream cheese and sweetened condensed milk with a half teaspoon vanilla extract for a decent substitution.
More Christmas Cookie Recipes
How to Store Chocolate Sandwich Cookies
Serve: These cookies will last for a few hours for the party. Just keep them covered so they don't get dried out.
Store: Store these cookies in an airtight container on your counter in a cool room. If the room gets too warm the filling will melt and ooze out of the sides. Store in the refrigerator for up to 2 weeks.
Freezer: Store the made cookies in the freezer for up to 3 months for best taste.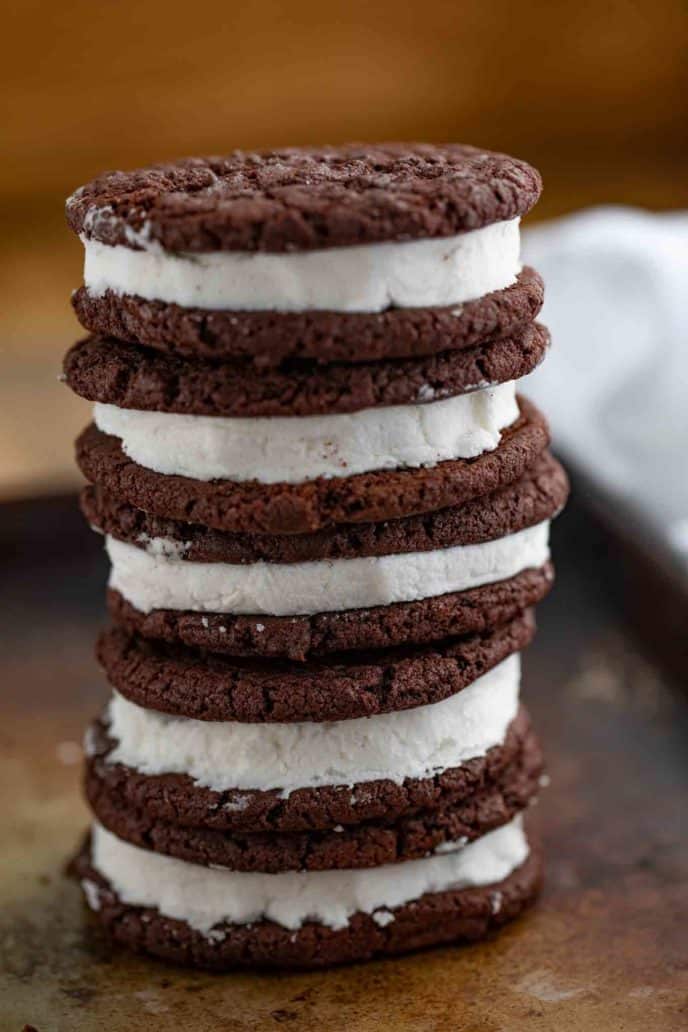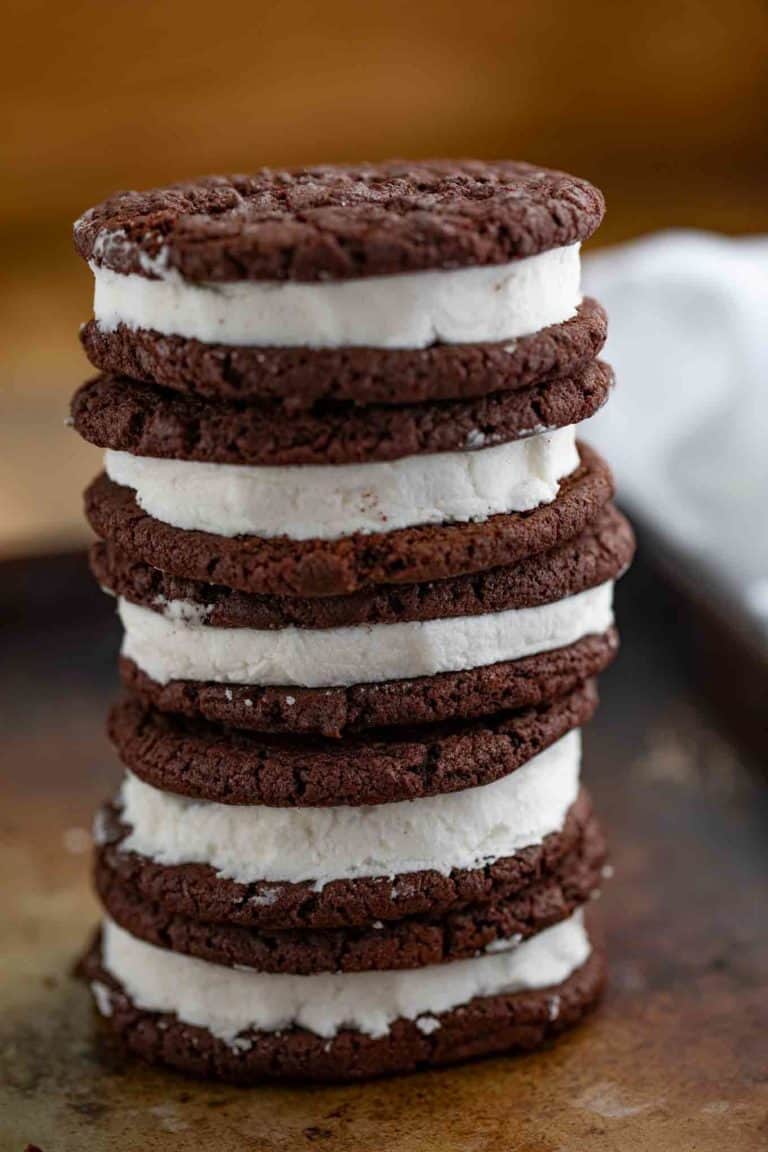 Ingredients
Cookie:
3/4

cup

vegetable shortening

1 1/2

cups

sugar

2

large

eggs

2

teaspoons

vanilla extract

3

cups

flour

1

cup

unsweetened cocoa powder

1/2

teaspoon

salt

1

tablespoon

baking powder

1 1/2

cups

milk
Filling:
2

cups

marshmallow fluff

1 1/3

cups

vegetable shortening

2

cups

powdered sugar

1

tablespoon

vanilla extract
Instructions
Add the shortening and sugar to your stand mixer on medium speed until light and fluffy, about

1-2 minutes

, then add in the eggs and vanilla until fully combined.

Sift together the flour, cocoa powder, salt and baking powder then add it in, alternating with the milk until all the ingredients are combined.

Refrigerate the dough an hour before baking.

Preheat the oven to 375 degrees and, using a 2 tablespoon measure, scoop 2 tablespoon sized scoops of dough onto the baking sheet and bake for

11-13 minutes

.

To make the cream filling add the ingredients into your stand mixer on low speed until combined.

If the filling is too stiff to spread add water by the teaspoons until spreadable.

Allow the cookies to cool, then add a dollop of the cream filling on a cookie then top with another cookie to create the sandwich.
Nutrition
Calories:
359
kcal
|
Carbohydrates:
46
g
|
Protein:
3
g
|
Fat:
19
g
|
Saturated Fat:
5
g
|
Cholesterol:
15
mg
|
Sodium:
62
mg
|
Potassium:
147
mg
|
Fiber:
1
g
|
Sugar:
29
g
|
Vitamin A:
45
IU
|
Calcium:
48
mg
|
Iron:
1.3
mg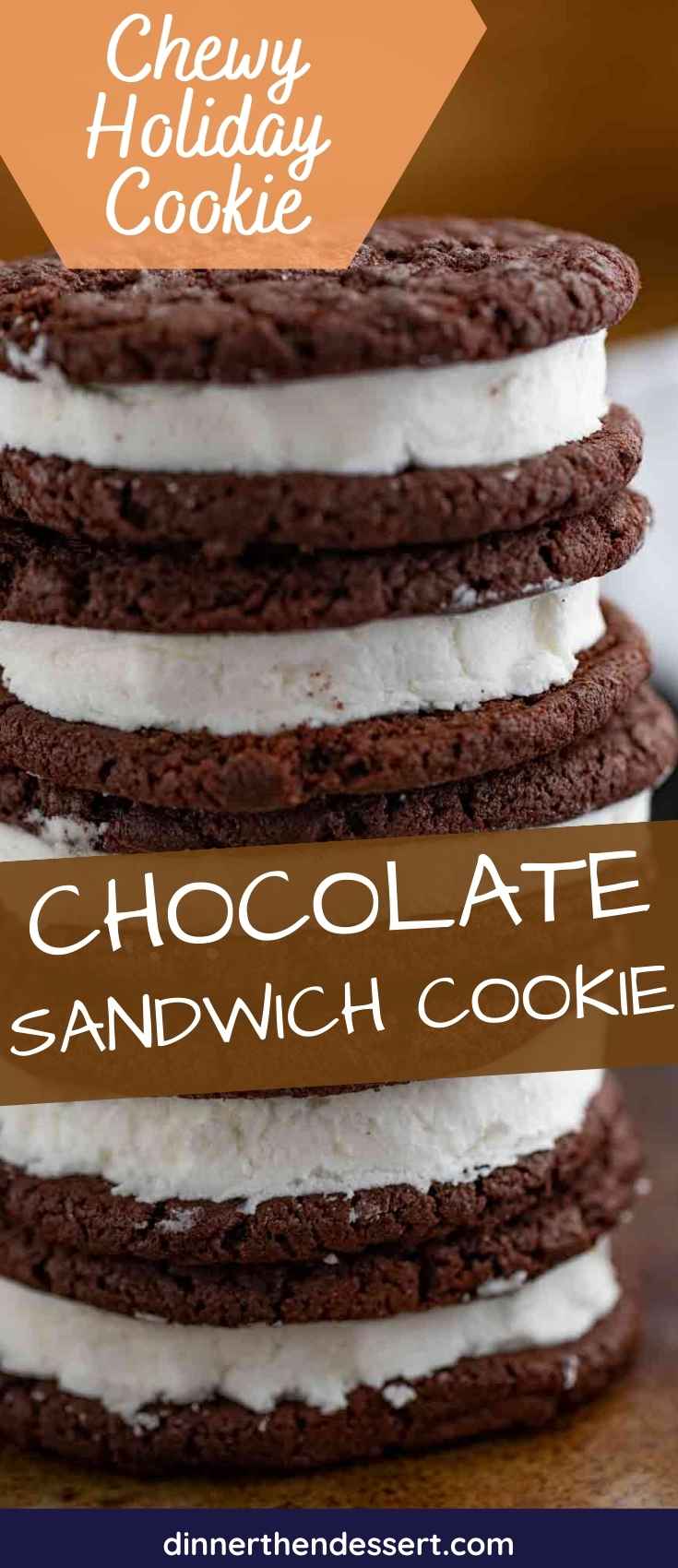 Photos used in a previous version of this post.