These Christmas Pinwheels are an easy appetizer made in about 15 minutes! Festive tortilla roll-ups filled with cream cheese, ranch, and crunchy veggies.
Easy, no-bake Appetizer Recipes like Cheddar Bacon Ranch Pinwheels are perfect for holidays, Super Bowl parties, or even afternoon snacks. Tortilla Roll-Ups also make fun on-the-go lunches!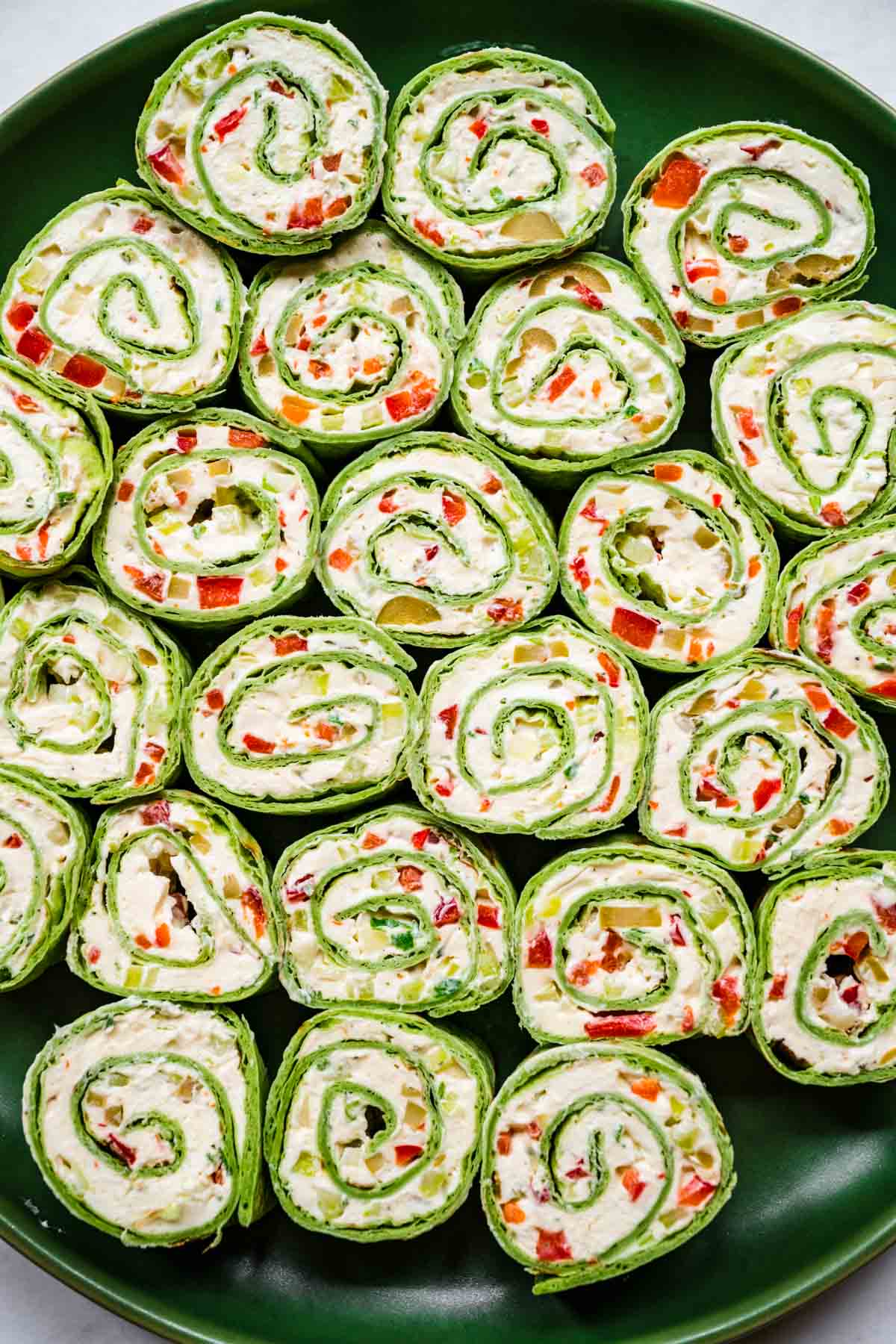 It doesn't seem like that long ago that everyone went a little wrap crazy. Restaurants built new menus around the idea of sandwiches inside tortillas, sub shops started offering wraps, and even fast-food chains got into this "novel" idea. When the public demanded wraps, restaurants happily delivered.
Turns out tortilla wraps don't just make great sandwiches, they are great for appetizers too! Tortillas last a long time in the refrigerator without getting soggy and they are easy to work with. Just like these Christmas Pinwheels, tortilla roll-ups are no-bake recipes so they are ready quickly!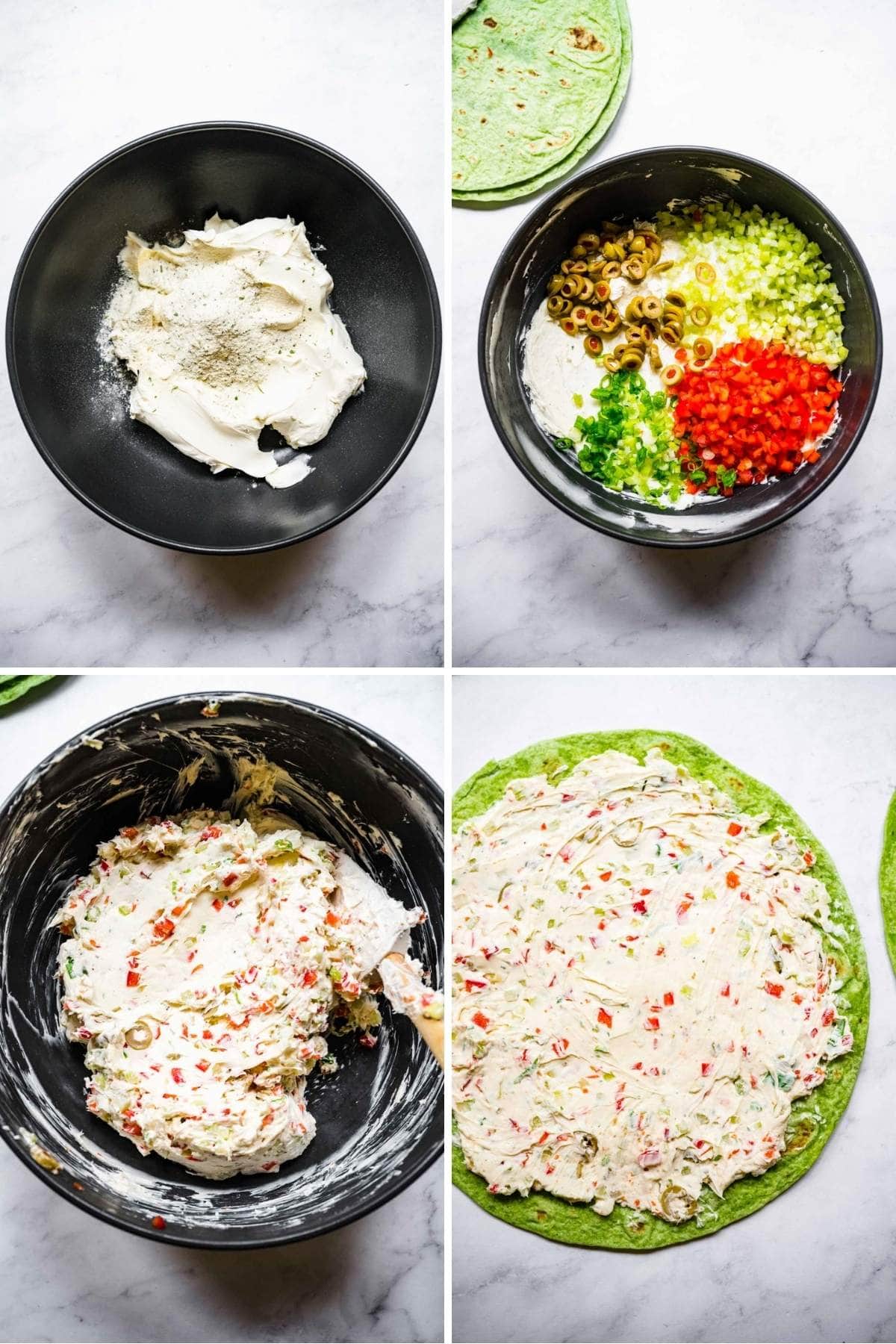 This recipe for Christmas Pinwheels is done in about 15 minutes and you can make them days in advance without worrying about soggy pinwheels. The veggies stay crispy and crunchy and the cream cheese gets even more flavor from the Ranch Dressing Mix over time.
These Christmas Pinwheels are delicious on their own but they also go great dunked in dressings like Honey Mustard. This recipe calls for homemade ranch dressing mix but you can substitute 1 package of your favorite store-bought brand instead.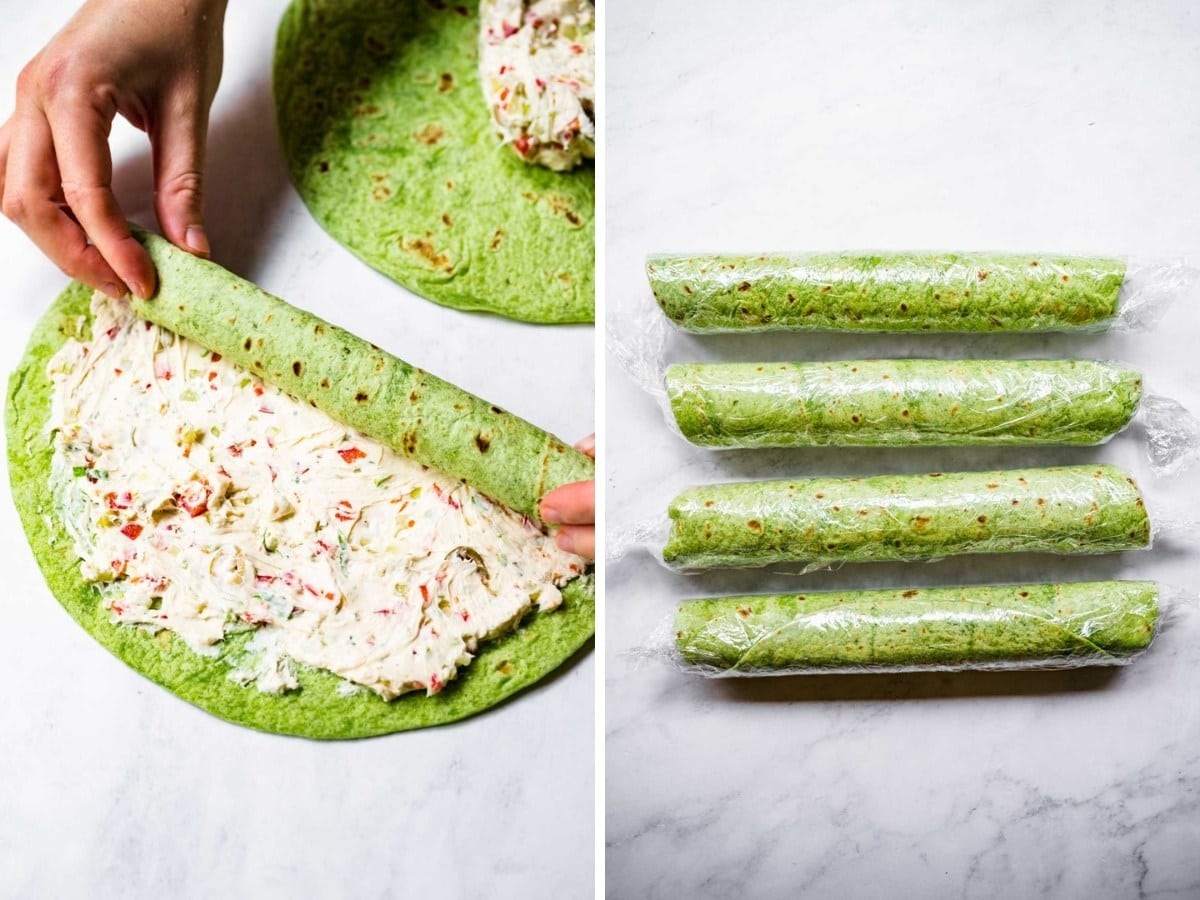 While these are called Christmas Pinwheels, after the red peppers and green veggies, you can make them year-round. They are easy to switch up by swapping in your favorite crunchy vegetables, bacon (Bacon makes everything better!), or shredded cheese.
Turn Christmas Pinwheels into a healthy lunch by layering lettuce, fresh sliced tomatoes, and your favorite deli meat before rolling. Allow to chill in the refrigerator before cutting into thirds for an easy sandwich that kids love! A tortilla roll-up, Easy Fruit Salad, and a Chocolate Chip Cookie make a winning lunch box idea for even the pickiest eaters.
Speaking of little eaters, this is a great appetizer to occupy young kitchen helpers. Christmas Pinwheels are made in just a few simple steps and since they are no-bake, there's no danger of burning hands or food. Make it even easier for little helpers (or yourself) by buying already chopped veggies, usually sold near packaged salads.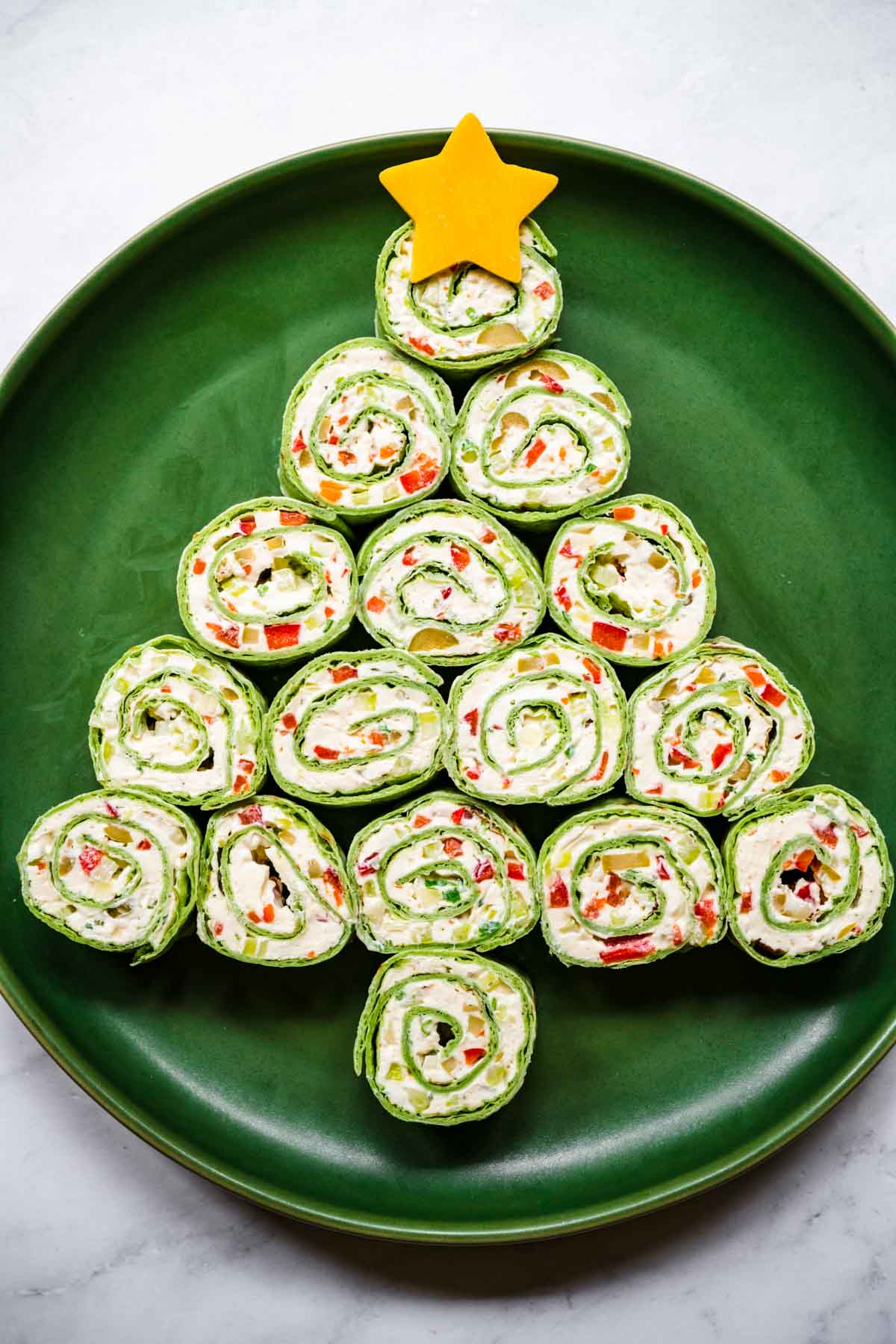 Appetizer Finger Foods

Create a free account to

Save Recipes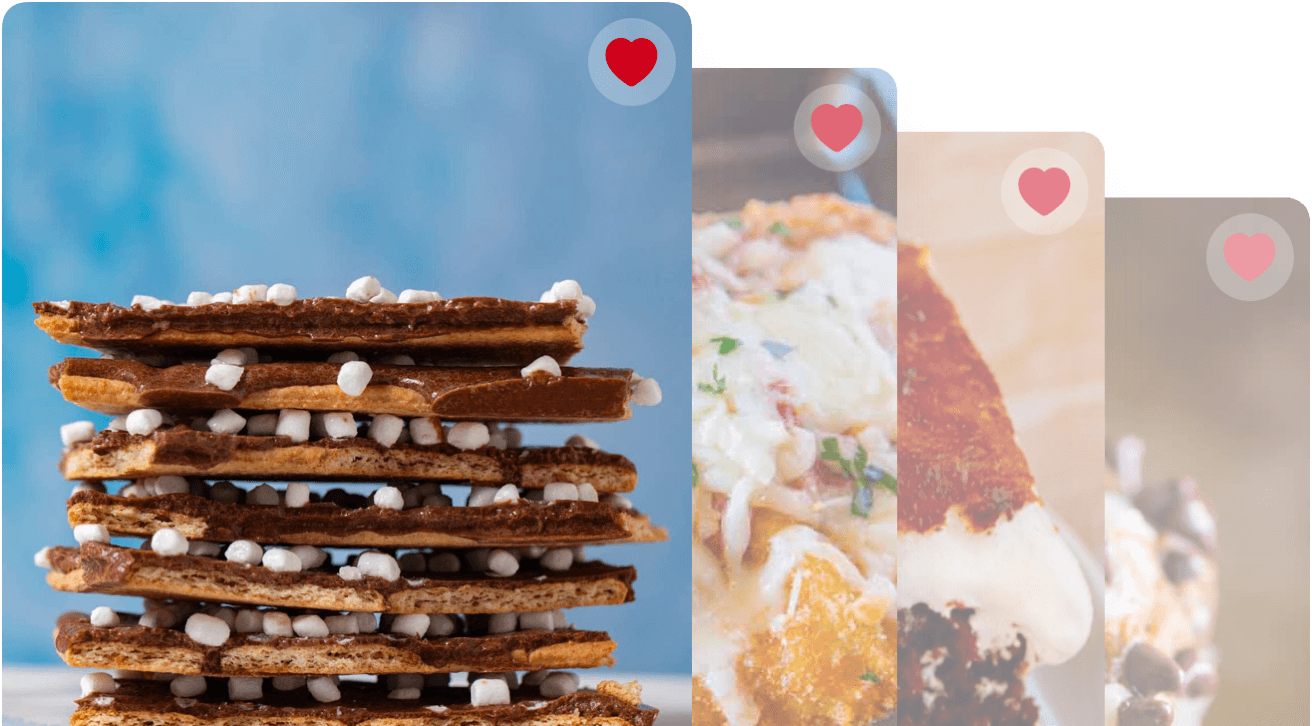 Frequently Asked Questions About Christmas Pinwheels
How do I keep my Pinwheels from unrolling after I slice them?
Make sure you follow the directions, and don't skip the important step of refrigerating the pinwheels for 2 hours before you slice them. Chilling them will allow the cream cheese to firm up and help the rolls stick together.
Why should I make my own Pinwheels?
You can buy Pinwheels at the store, but there's nothing like making them yourself. You get to add the ingredients and the quantities that you enjoy. It is also just so easy to make the spread and roll them up. Make a big batch that you can enjoy throughout the week!
Variations on Christmas Pinwheels
Puff Pastry: These Christmas Pinwheels can also be made on puff pastry like Bacon Pinwheels. Bake at 375 degrees for 10-12 minutes.
Cheese: Stir your favorite shredded cheese, like sharp cheddar or pepper jack, into the cream cheese mixture before spreading it on the tortilla.
Cranberry and Feta: Replace the bell peppers, celery, and olives with ¾ cup dried cranberries and ¾ cup feta crumbles, and leave out the ranch dressing.
Tortillas: Instead of regular flour tortillas try flavored tortillas like Tomato Basil or Spinach. If you want to make your own, try these Scallion Tortillas, just made burrito size instead of taco sized.
Meat: Make Christmas Pinwheels meaty by adding thinly sliced turkey or ham, Salami, Prosciutto, or diced cooked bacon on top of the spread cream cheese mixture.
Seasoning: Try out different seasonings like Taco Seasoning instead of Ranch Dressing. You can add a spicy kick with red pepper flakes, diced canned green chiles, or minced fresh jalapeños.
Tips for Making Christmas Pinwheels
Cut about ½ in strip off of three curved sides of each tortilla, giving almost a square with a rounded bottom look. This makes rolling them easier and those parts will be discarded anyway.
To speed up chilling time, put the roll-ups in the freezer for 45 minutes to an hour.
When making ahead, don't slice until the day you are serving them so they stay together and keep moisture out.
To keep leftovers from getting soggy when storing, use a sheet of parchment paper between layers of roll-up slices. This also saves room on storage space since you can stack them.
Serving Ideas
Snack: In addition to an excellent lunch option, Christmas Pinwheels are also a great after school snack for the kids. Really these would make a good anytime snack. They keep so well in the fridge, just grab them any time you're hungry.
Potluck: Make a batch of these Pinwheels to bring to your next potluck. You can make them ahead of time and store them in the fridge. Just cut them fresh and set them out on a platter right before your potluck. Arrange them in the shape of a Christmas tree with a star-shaped slice of cheese on top. Use a cookie cutter to create the star shape.
Appetizer: Set out a batch of Christmas Pinwheels on Christmas day. Your loved ones can snack away as they chat, play games, share presents, or whatever activities you have until dinner time. Additionally these Pinwheels will make an excellent appetizer on any day of the year.
More Delicious Appetizer Recipes
How to Store Christmas Pinwheels
Serve: Don't leave cream cheese pinwheels out for more than 2 hours at room temperature.
Store: These Christmas Pinwheels are good in the refrigerator for up to 2 weeks in a tightly sealed container.
Freeze: Freeze pinwheels on a baking sheet until completely frozen before transferring them to a freezer bag. Store for up to 2 months.


Ingredients
2

packages

cream cheese

softened, (8 ounces each)

2

tablespoons

ranch dressing mix

, or 1 package

1/2

cup

red pepper

, minced

1/2

cup

celery

, minced

1/4

cup

green onions

, diced

1/4

cup

pimiento-stuffed olives

, sliced

4

spinach flour tortillas

, 10 inches
Instructions
In a bowl, beat cream cheese and dressing mix until smooth.

Stir in by hand red pepper, celery, onions and olives until combined.

Spread about ¾ cup of cream cheese mixture on each tortilla.

Roll up tightly; wrap in plastic.

Refrigerate for at least

2 hours

.

Cut into 1/2-inch slices.
Nutrition
Calories:
22
kcal
|
Carbohydrates:
1
g
|
Protein:
1
g
|
Fat:
2
g
|
Saturated Fat:
1
g
|
Polyunsaturated Fat:
1
g
|
Monounsaturated Fat:
1
g
|
Cholesterol:
5
mg
|
Sodium:
93
mg
|
Potassium:
31
mg
|
Fiber:
1
g
|
Sugar:
1
g
|
Vitamin A:
113
IU
|
Vitamin C:
2
mg
|
Calcium:
15
mg
|
Iron:
1
mg