Colcannon Irish Potatoes are a traditional Irish recipe. Creamy, fluffy mashed potatoes mixed with flavorful onion and cabbage all topped with crisp bacon.
This Irish Potatoes recipe is the perfect Side Dish to serve for St Patrick's Day. It takes Creamy Mashed Potatoes and puts an Irish spin on them that's full of savory flavor, festive, and absolutely delicious.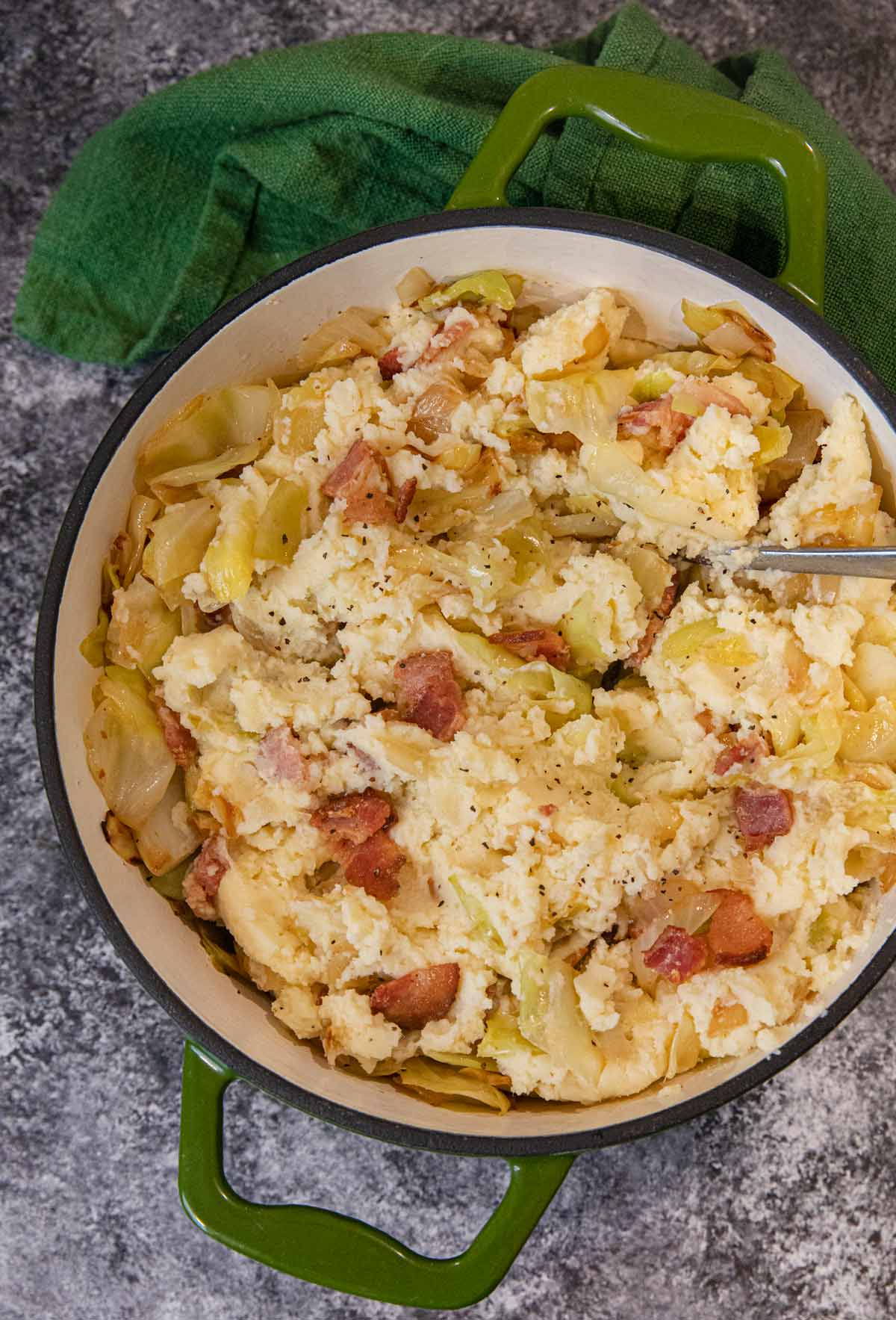 COLCANNON IRISH POTATOES
Colcannon Potatoes are easy and delicious comfort food. Fluffy mashed potatoes are mixed with salt and pepper, melted butter, cooked cabbage, and yellow onions. The combination is a simple mashed potato recipe with classic Irish flavors.
Traditional Colcannon Irish Potatoes originate from Dublin, Ireland. It's a traditional dish dating all the way back to the 1700s and is still served today. The name Colcannon comes from the Gaelic word for white-headed cabbage, one of the key ingredients that makes Colcannon different from other mashed potato dishes.
Having its roots in Ireland makes this dish the perfect addition to your St. Patrick's Day celebration. Put the potato recipe in a serving dish and enjoy it alongside Corned Beef, Irish Stew, or other classic Irish dishes. The crispy bacon makes it a special treat that's sure to be a favorite for the holiday!
MORE MASHED POTATO RECIPES
TIPS FOR CREAMY, RICH MASHED POTATOES
Prep: Start by chopping the onion into small pieces. Shred the cabbage in a food processor. Then peel and quarter the potatoes into large chunks using a sharp knife to prepare them for the recipe.
Bacon: Add the bacon to a dutch oven and cook. Keep over medium-high heat until you have cooked and crumbed bacon.
Onion and cabbage: Set the cooked bacon to the side on a paper towel-lined plate. Add the unsalted butter, chopped cabbage, and onion. Continue cooking until the onions are translucent, continue stirring the sautéed cabbage occasionally.
Potatoes: Remove the onion and cabbage from the pot. Add the cubed potatoes, and cover them with water. Start boiling water and continue baking potatoes for 18-20 minutes. Once the potatoes are fork-tender, drain the cooked potatoes.
Mash: Add the drained potatoes, salt, pepper, remaining butter, and warm milk. Use a potato masher to mash the cooked potato pieces. If you want extra creamy potatoes with no chunks you can put the potatoes through a food processor. The food processor will make quick work of mashing the potatoes. Add the cabbage and onion mixture to the large bowl and mix everything together before topping it with bacon. Then serve the Colcannon recipe in a serving bowl and enjoy!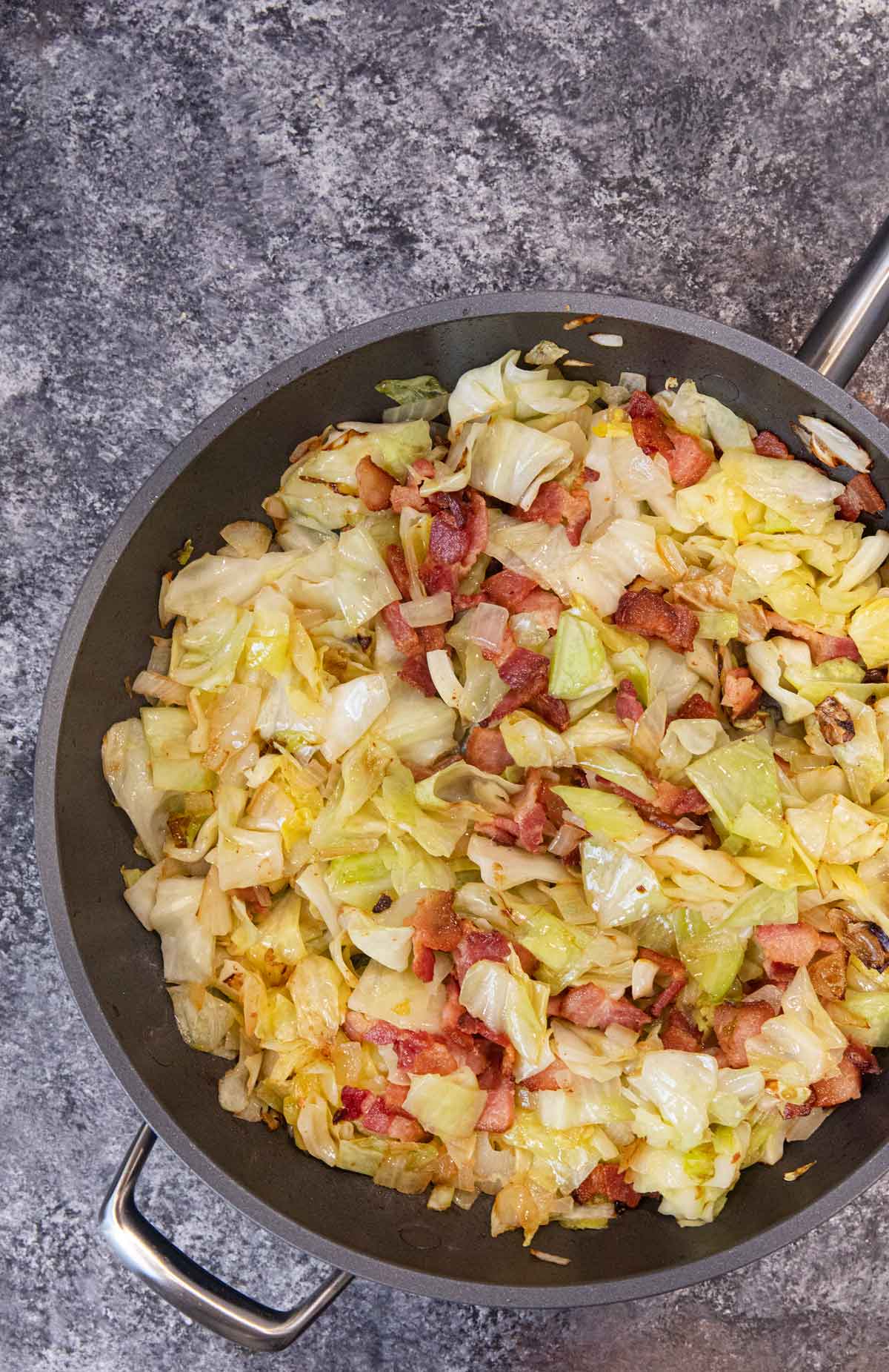 Create a free account to Save Recipes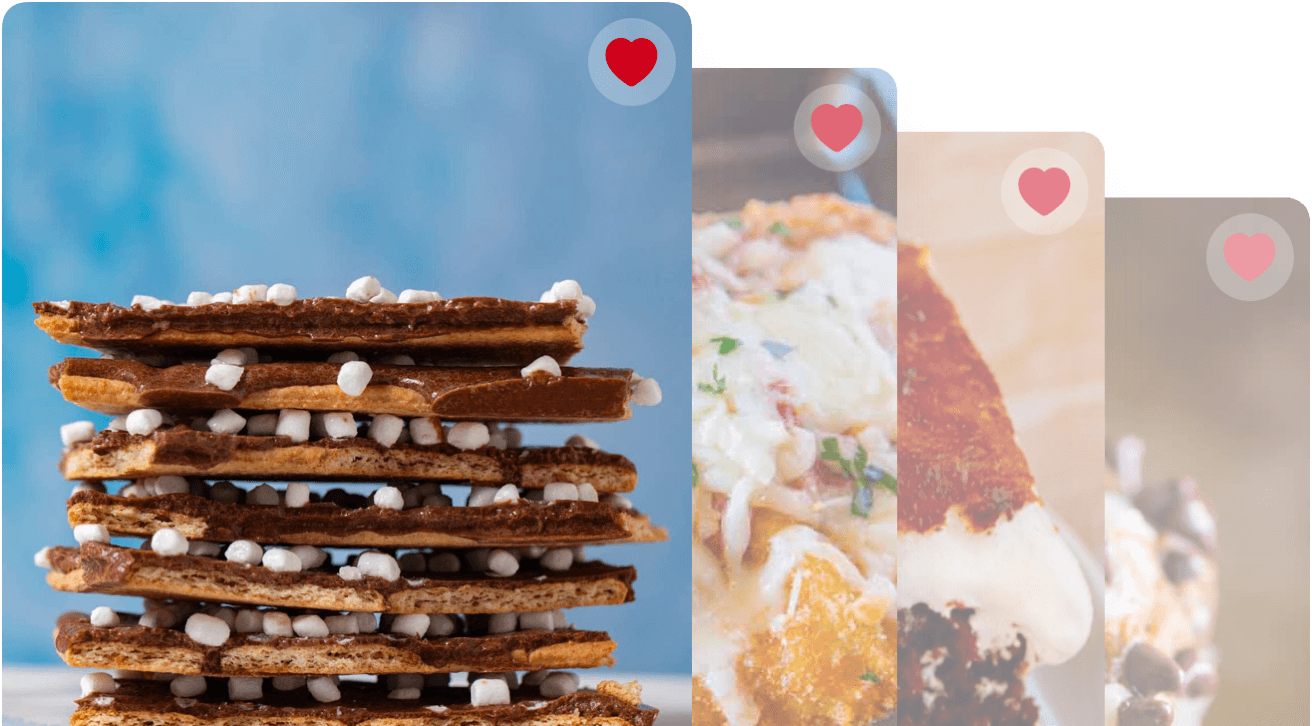 VARIATIONS ON COLCANNON IRISH POTATOES
Add-ins: For some flavorful add-ins chop up some green onions, parsnip, scallions, and spring onions. Mixed the chopped spring onions, scallion slices, spring onion, parsnip, and green onion into the mashed potatoes before serving. You can also add a few extra teaspoons salt and pepper to taste, a large pinch of onion powder, fresh parsley, or minced garlic cloves.
Cabbage: There are plenty of different varieties of cabbage you can try apart from regular green cabbage. Try savoy cabbage or purple cabbage.
Kale: Often Colcannon Potatoes are made with kale leaves. Use curly kale, and chop up the kale leaves into small pieces. Mix the chopped kale into the mashed potatoes and enjoy.
Butter: Instead of using regular butter try using creamy, flavoured butter. Herb Butter or garlic butter would make wonderfully flavored mashed potatoes. If the potatoes seem too grainy mix in a little extra butter. To replace the butter entirely you can use avocado oil. Use an equal amount of avocado oil as the butter the recipe calls for.
Potatoes: If you don't have russet potatoes you can use Yukon Gold, melody potatoes, or King Edward Potatoes.
Extra Creamy: To make the simple recipe extra creamy try adding a little heavy cream to the milk mixture.
MORE IRISH RECIPES
HOW TO STORE COLCANNON IRISH POTATOES
Serve: Don't leave the Colcannon Recipe at room temperature for more than 2 hours.
Store: Let the Colcannon Potatoes cool to room temperature before moving them to an airtight container to store in the fridge. The mashed potatoes will last well for 3-5 days.
Freeze: You can freeze Colcannon Mashed Potatoes for up to 8 months.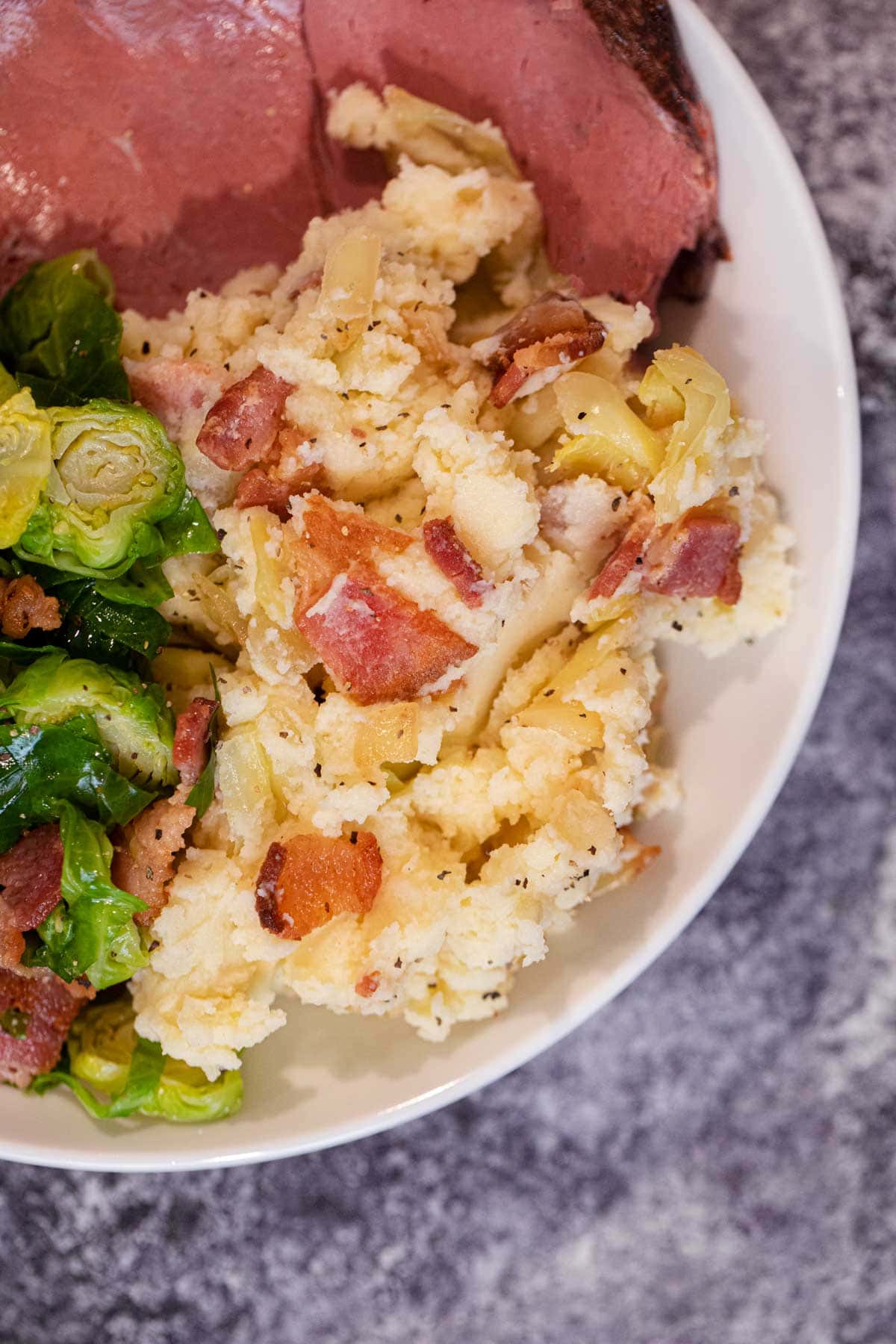 Ingredients
1/2

pound

bacon

8

tablespoons

unsalted butter

, divided

1

medium

head cabbage

, shredded

1

yellow onion

, diced

8

russet potatoes

, peeled and quartered

2

cups

whole milk

2

teaspoons

kosher salt

1/2

teaspoon

coarse ground black pepper

1/4

cup

butter

, melted
Instructions
To a large pot add the bacon and cook until crispy and chewy.

Remove bacon from pan and add in 2 tablespoons unsalted butter, cabbage, and onion.

Cook on medium heat for

10-12 minutes

until translucent and just starting to brown, stirring occasionally.

While cabbage is cooking, chop the bacon.

Remove the cabbage and onion from the pot to a large dish.

Add the potatoes and cover with water, it should be 2" higher than the potatoes.

Bring to a boil and cook for

18-20 minutes

until tender.

Drain the potatoes, add the milk, salt, pepper, and remaining butter and mash well.

Stir in the cabbage onion mixture, then top with bacon.
Nutrition
Calories:
339
kcal
|
Carbohydrates:
33
g
|
Protein:
8
g
|
Fat:
20
g
|
Saturated Fat:
11
g
|
Cholesterol:
47
mg
|
Sodium:
586
mg
|
Potassium:
825
mg
|
Fiber:
4
g
|
Sugar:
6
g
|
Vitamin A:
498
IU
|
Vitamin C:
36
mg
|
Calcium:
101
mg
|
Iron:
2
mg