Old Fashioned German Sauerbraten is slow cooked marinated beef roast with a savory gingersnap gravy. Traditional sauerbraten is the perfect holiday dinner!
This Pot Roast Recipe is a traditional Sunday Dinner from Germany that anyone can make! Just like Classic Pot Roast, you can make sauerbraten in the oven, the slow cooker, or the Instant Pot!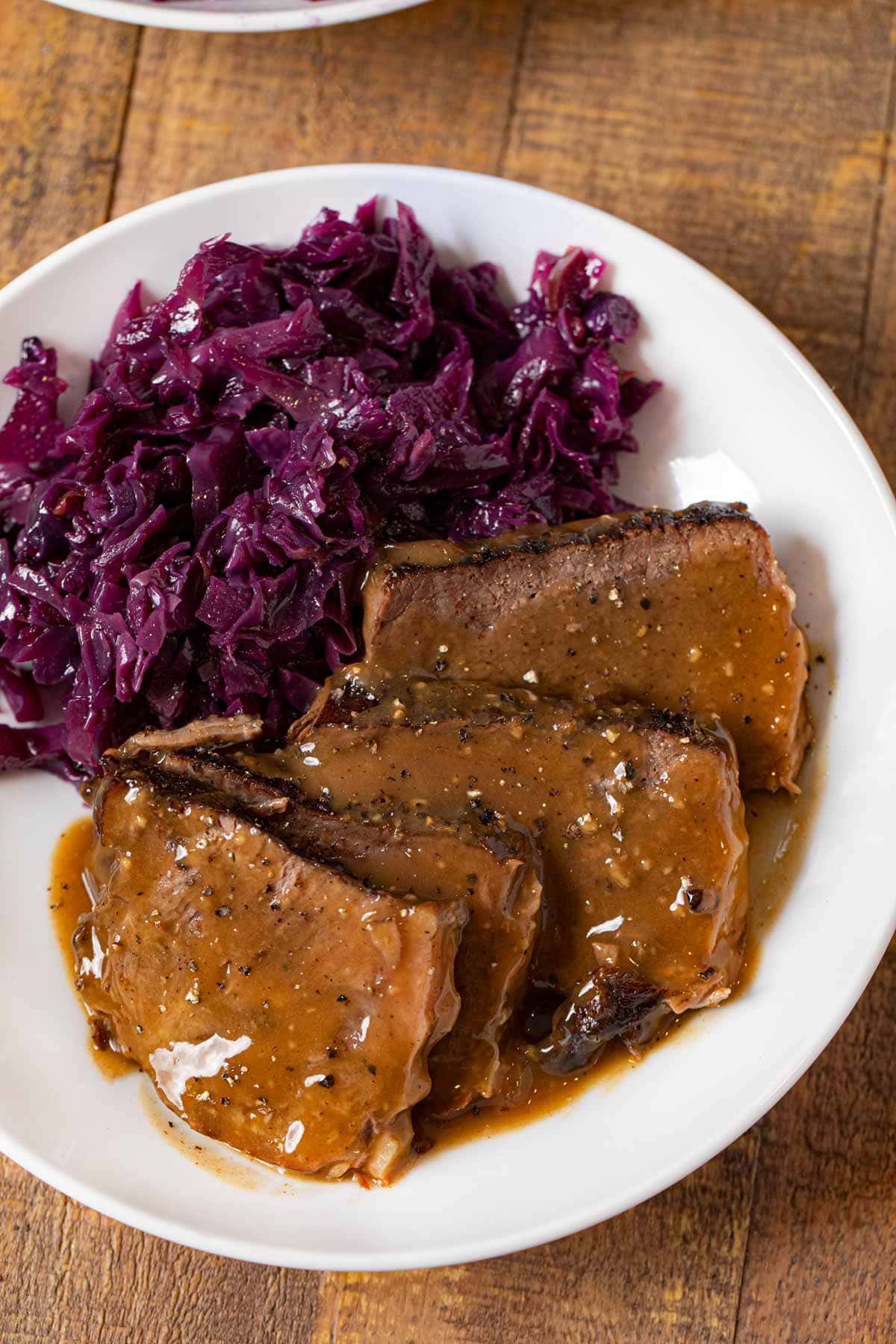 GERMAN SAUERBRATEN
An Authentic German Sauerbraten takes longer than other roast beef recipes to prepare, but one bite of the melt-in-your-mouth tender beef proves it's more than worth the wait. You want to marinate your rump roast at least 2 days to get enough sour flavor, so make sure to plan ahead if you are making this dish for the holidays. Prep this German-style pot roast during the week and cook low and slow for a flavorful Sunday dinner and leftovers for the following week.
A German Sauerbraten is roast beef marinated in a sour, vinegar base that tenderizes the meat and gives it flavor. The marinade for this sauerbraten recipe is vinegar and beef broth with pickling spices and a hint of sugar. The beef is braised in the marinade in the oven to soak up even more flavor. The Sauerbraten is then served with a sweet and tangy gravy made from the same marinade, thickened with crushed gingersnaps.
Traditional German Sauerbraten is served with German Cabbage and Mashed Potatoes, using the delicious sauce as a gravy for the meat and potatoes. Make sure to serve some soft, doughy bread like Dinner Rolls or Beer Bread (made with German beer of course) to soak up the thick, sweet-sour gravy. A dollop of sour cream and shredded red cabbage is great garnish for German Sauerbraten too!
EASY SIDE DISH RECIPES:
Tips for Making German Sauerbraten
Marinate sauerbraten at least 3 days but you can keep it in the marinade up to 10 days! The longer you marinate the meat, the more tender and flavorful it will be.
Sauerbraten will cook quicker the longer it has been marinated, so check the temperature periodically after 2 hours, especially if you marinate for more than 3 days.
Strain the braising liquid with a fine-meshed strainer so that no bay leaves or cloves remain, and you get a smooth and thick gravy.
You can marinate the beef in the dutch oven or a large container instead of a bag, just be sure to turn the meat daily if it is not fully submerged in the marinade.
Taste and adjust your gravy to your liking, depending on how sweet or sour you like it. Check out our variations on how to adjust sweet and sour flavors.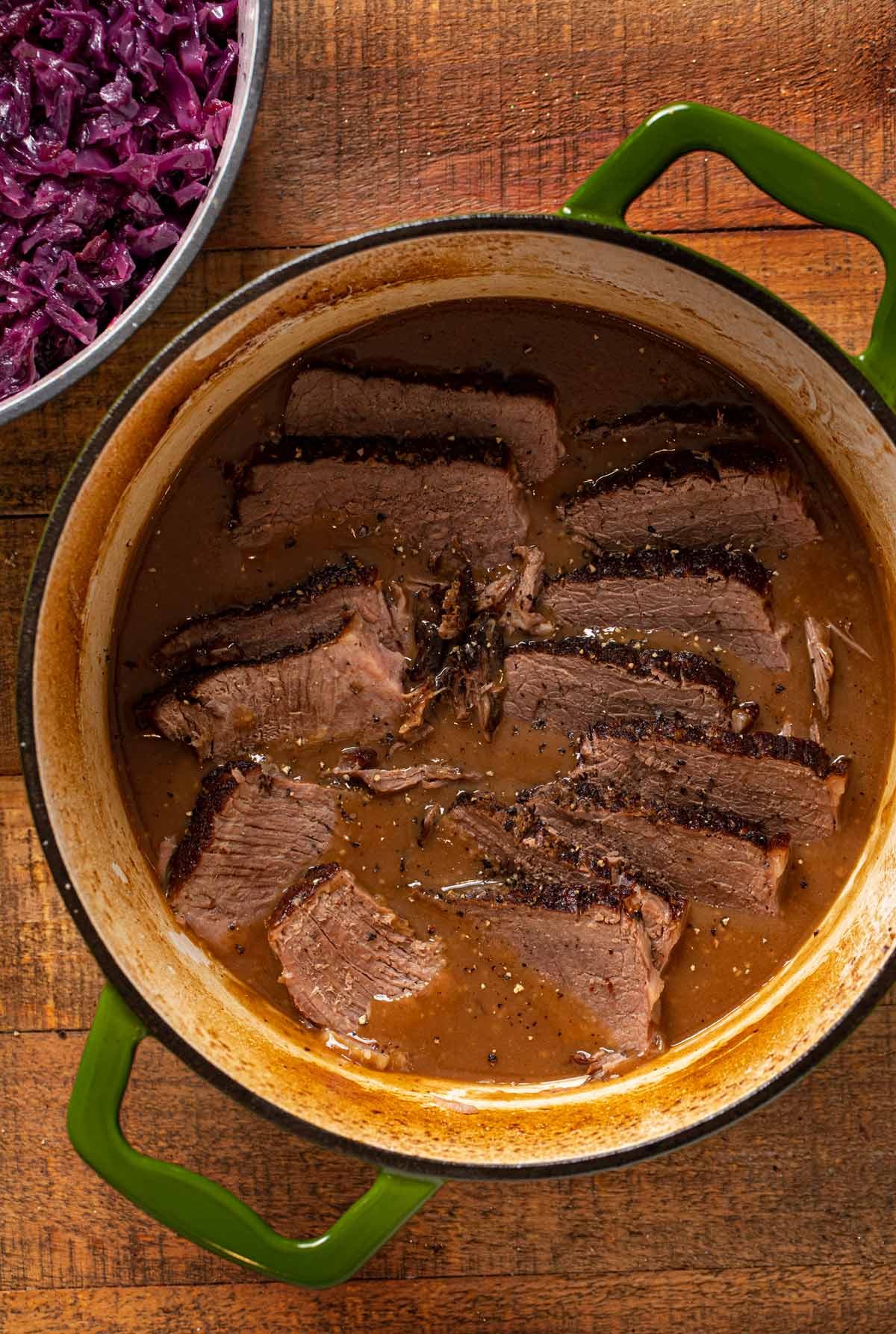 Create a free account to Save Recipes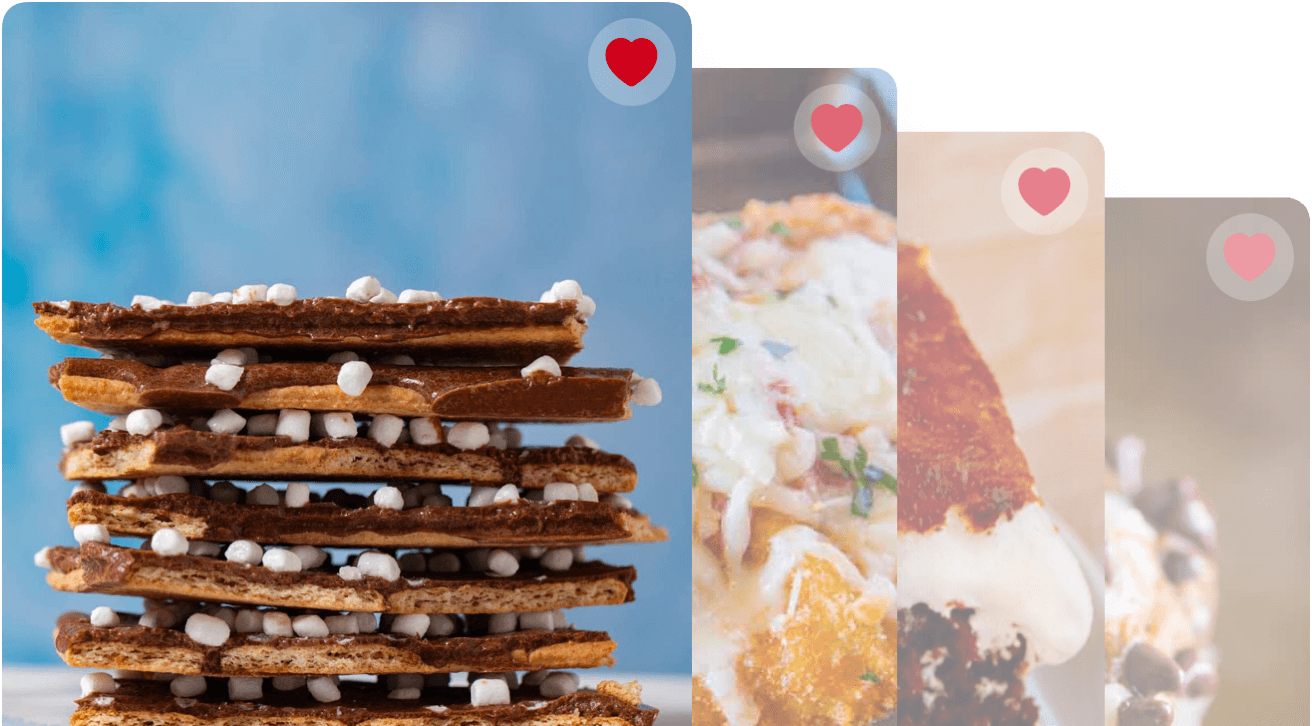 VARIATIONS ON GERMAN SAUERBRATEN
Meat: Sauerbraten is a great recipe for any lean or tougher roast like pork roast, venison, lamb roast, bottom round, or chuck roast. Make it with mutton or lamb during the spring holidays!
Veggies: Add aromatic vegetables like leeks, carrots, and celery to your marinade. You can return the veggies to the gravy after you strain the spices.
Sour: Use cider vinegar instead of red wine vinegar, or add a cup of dry red wine like Pinot Noir for a different sour flavor. You can add up to a ½ cup lemon juice when making the gravy.
Sweet: Along with gingersnaps, you can add brown sugar, honey, golden raisins, or beet syrup to make the gravy more sweet.
Spices: If you like, add cracked juniper berries and peppercorns for Sauerbraten spices you'd find in any German restaurant. You can also add seasonings like rosemary, thyme, or pickling spices.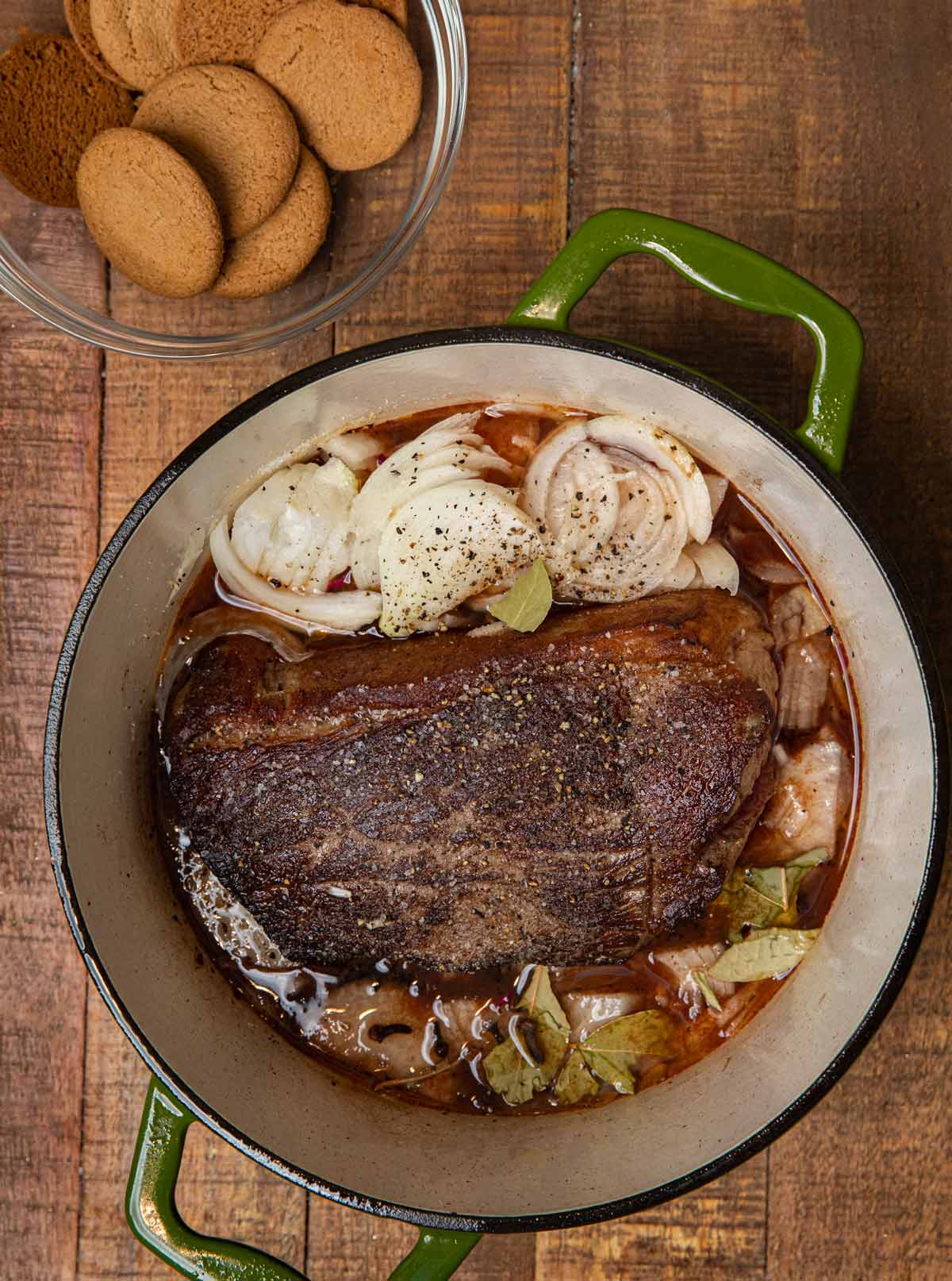 Slow Cooker German Sauerbraten
Marinate beef roast for at least 3 days in sour pickling marinade.
Remove beef from marinade and pat dry with paper towels before seasoning with salt and pepper.
Sear beef on both sides in oil over medium high heat.
Add beef and marinade to a slow cooker.
Cover crock pot with lid and cook on low for 7-8 hours, or on high for 4-5 hours.
Remove beef and add gingersnaps to sauce.
Simmer on high uncovered for 20 minutes, until thickened.
Slice sauerbraten and return to crockpot.
Instant Pot German Sauerbraten
Marinate rump roast for at least 3 days then remove meat, pat dry with paper towels, and season.
Add oil to Instant Pot and turn on Sauté function to heat oil until shimmering.
Brown beef roast on both sides for 3-4 minutes each side. Remove and set aside.
Deglaze Instant Pot with 1 cup marinade and scrape off any browned bits.
Return beef to pot and top with remaining marinade.
Close and lock lid, setting pressure valve to sealed. Cook on Manual High Pressure for 60 minutes.
Naturally release pressure for 15 minutes, then quick release and remove roast.
Turn Instant Pot to Soup and add ½ gingersnaps to sauce.
Simmer until thickened, adding gingersnaps if needed.
Slice sauerbraten and serve with gravy.
MORE POT ROAST RECIPES
HOW TO KNOW WHEN GERMAN SAUERBRATEN IS COOKED
For a medium rare roast beef, the internal temperature should read 135 degrees with meat thermometer. Always rest meat before slicing so it maintains heat and juiciness.
HOW TO STORE GERMAN SAUERBRATEN
Serve: You can keep German Sauerbraten at room temperature for up to 2 hours before it should be stored in the refrigerator or freezer.
Store: Cool German Sauerbraten and sauce before storing in an airtight container and refrigerate for up to 4 days. To reheat, cook covered in sauce over medium-low heat until warm, adding beef broth if sauce is too thick.
Freeze: Once cooled, slice German Sauerbraten and store in a sealed container in the freezer for up to 3 months. Thaw overnight in the refrigerator before reheating in the oven or in a saucepan over medium heat.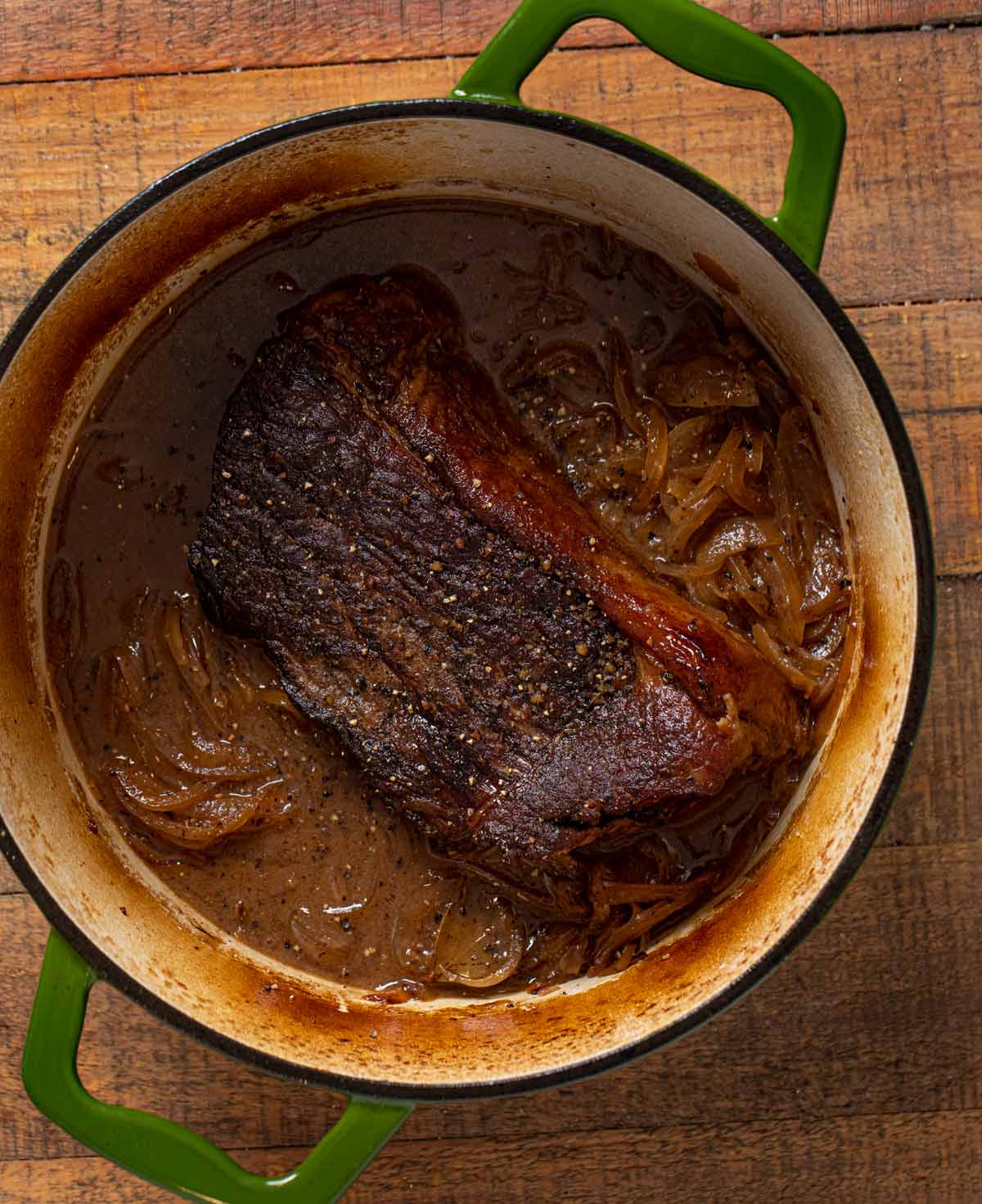 Ingredients
3

pound

beef rump roast

1

cup

red wine vinegar

1

cup

beef broth

1

tablespoon

kosher salt

1

tablespoon

coarse ground black pepper

1

tablespoon

white sugar

10

whole cloves

2

bay leaves

2

yellow onions

, chopped

2

tablespoons

vegetable oil

1

teaspoon

kosher salt

1/2

teaspoon

coarse ground black pepper

5

gingersnap cookies

, crushed to crumbs
Instructions
Add beef, red wine vinegar, beef broth, 1 tablespoon kosher salt, 1 tablespoon black pepper, sugar, cloves and bay leaves to a large ziplock bag.

Mix ingredients together, remove all air and marinate for

3 days

.

Preheat oven to 325 degrees.

Remove beef from marinade, reserve marinade, and dry well.

Add vegetable oil to large pot on high heat.

Season beef with 1 teaspoon kosher salt and ½ teaspoon coarse ground black pepper.

Sear on all sides until well browned, about

3-4 minutes

on each side.

Add in the onions, and the marinade.

Cover and cook for

3 hours

.

Remove the beef from the pot and strain the liquid in the pot.

If too much liquid cooked off, add 1 cup beef broth.

Add in half the cookie crumbs and cook until sauce thickens.

If it stays too thin, add remaining cookies.

Slice the beef against the grain and serve with sauce.
Nutrition
Calories:
419
kcal
|
Carbohydrates:
11
g
|
Protein:
52
g
|
Fat:
17
g
|
Saturated Fat:
8
g
|
Cholesterol:
141
mg
|
Sodium:
1861
mg
|
Potassium:
898
mg
|
Fiber:
1
g
|
Sugar:
5
g
|
Vitamin C:
3
mg
|
Calcium:
67
mg
|
Iron:
6
mg