This Grasshopper Pie is a no alcohol recipe for the classic no-bake dessert! Rich creamy mint mousse filling in a crunchy Oreo cookie crust.
Rich pies with cream filling, like Oreo Peanut Butter Whip Pie and Chocolate Cream Pie, are the perfect, must have cool Desserts for warmer weather. This tasty minty cream pie is just as rich, creamy, cool, and irresistible.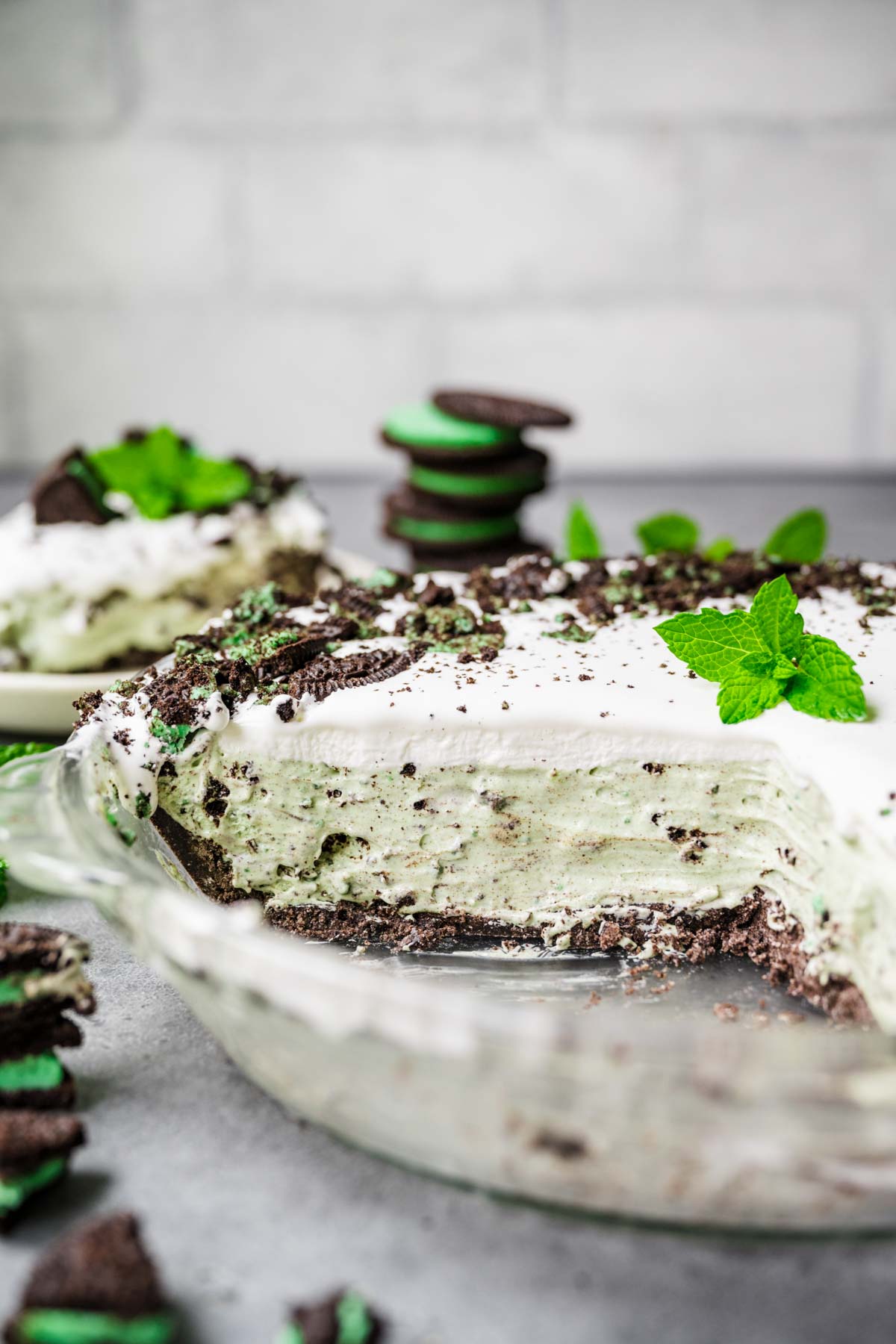 Grasshopper Pie is an old fashioned but well loved dessert named after an even more old fashioned and classic cocktail. The chocolate mint flavor combined with the creamy frozen filling make this a refreshing, delightful dessert. This family-friendly booze-free recipe for Grasshopper Pie means everyone can indulge in the cool, sweet nostalgia!
This classic dessert has been enjoyed by many for generations, making it a popular choice for special occasions and family gatherings. The chocolate cookie crust and minty ice cream-like filling are sure to be a hit with kids of all ages, and the older folks will love the call back to the days of fancy, summertime cocktails. The fact that it's a frozen pie makes it perfect for warmer months, when you don't want to turn on the oven.
You won't believe how easy it is to make this beautiful and delicious pie! The simple filling of cream cheese, condensed milk, and homemade Whipped Cream is hand stirred and flavored with mint and cookie pieces, then poured into a no-bake cookie crumb crust. Then you freeze the pie for a few hours so it has time to fully harden. When you are ready to serve it, let it sit until it's soft enough to slice. That's it! Unless of course you want to add some extra chocolatey goodness with a drizzle of Hot Fudge Sauce.
What is Grasshopper Pie?
The original Grasshopper Pie is inspired by the classic Grasshopper cocktail, which is a mix of creme de menthe, creme de cacao, and cream. The filling's mint flavor and green color are meant to evoke the flavors and colors of the drink. The use of chocolate in the crust and the fact that both the pie and the cocktail are sweet, creamy, and refreshing also contribute to the naming of the pie as a "Grasshopper." This recipe doesn't use any booze, however it still has all that classic flavor!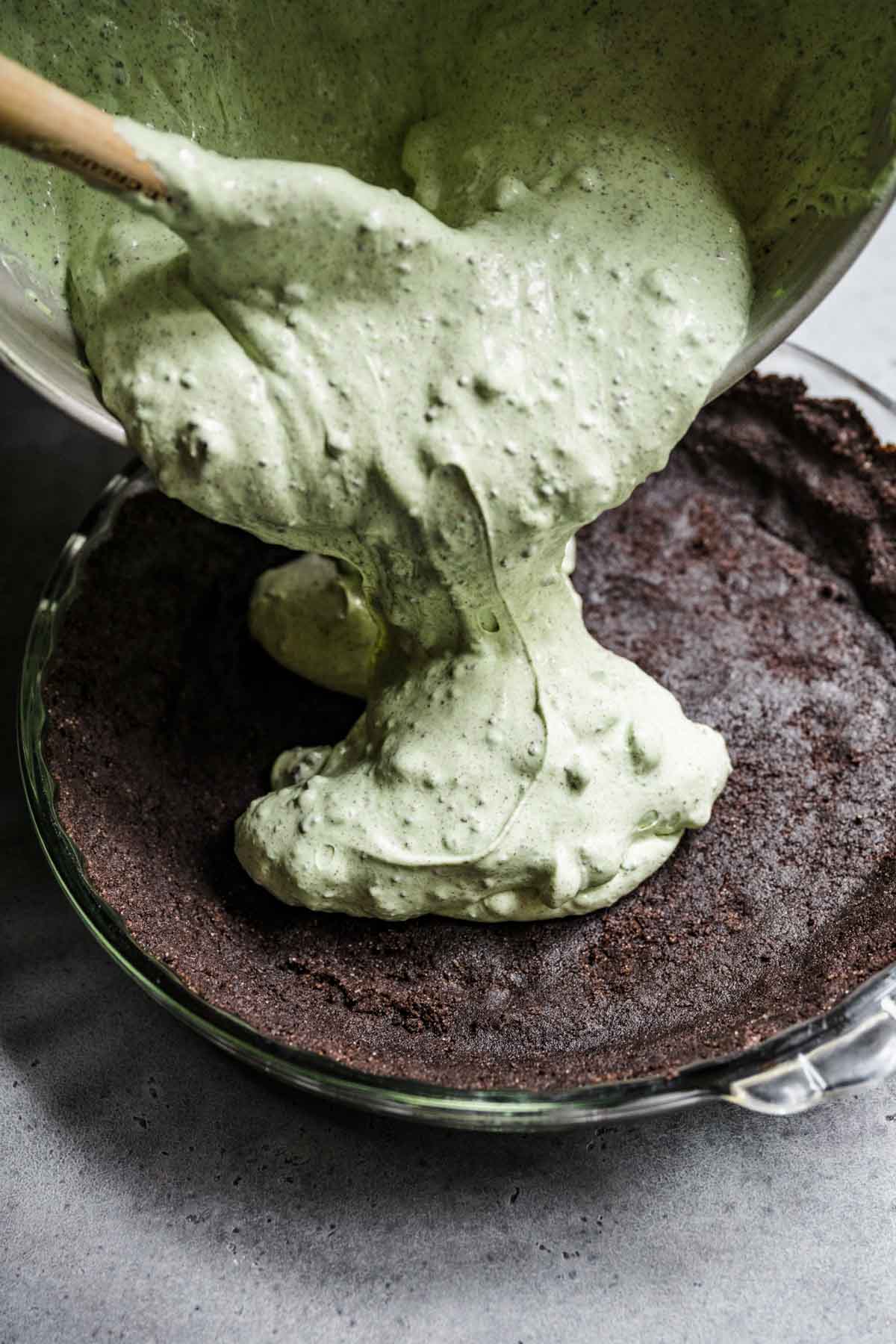 How to Make Grasshopper Pie
Crust: Pulse the cookies in a food processor until they're broken into crumbs. Mix the crumbs with the sugar and melted butter. Press the mixture into a pie plate.
Filling: Add the softened cream cheese, condensed milk, food coloring, and extract to a large bowl and whisk until smooth.
Assemble: Fold the cookie pieces into the filling then gently stir in 2 cups whipped cream until everything is mixed well. Spoon mixture onto the crust.
Freeze: Spread the remaining whipped cream over the filling and sprinkle with extra crumbs. Freeze for at least 2 hours, or until set. Let soften at room temperature for 15 minutes before serving.
More Creamy No Bake Desserts
FAQs for Grasshopper Pie
Can I substitute the booze in Grasshopper Pie?
This is actually a Grasshopper Pie recipe without Creme de Menthe, no need for a booze substitute! Instead of alcohol, this pie uses mint extract to get that cool minty flavor so all ages can enjoy it!
When was grasshopper pie popular?
Grasshopper Pie became popular in the mid-20th century and remains a classic dessert today. The pie's popularity can be attributed to its unique combination of mint and chocolate flavors, as well as its refreshing and light texture, which make it a popular choice for summertime gatherings and holidays.
What is the difference between Cool Whip and Whipped Cream?
Cool Whip is a brand of pre-made, artificially flavored, and chemically stabilized whipped topping. Whipped cream, on the other hand, is made by whipping heavy cream with sugar to form a light and airy texture. Whipped cream has a richer flavor and is made with natural ingredients, while Cool Whip is a convenient alternative that is often used for its stability and long shelf life.
Does a cookie crumb pie crust have to be baked? 
No, the cookie crumb pie crust in this recipe does not have to be baked. Simply mix the Oreo cookie crumbs, sugar, and melted butter, then press the mixture into the pie plate to form the crust.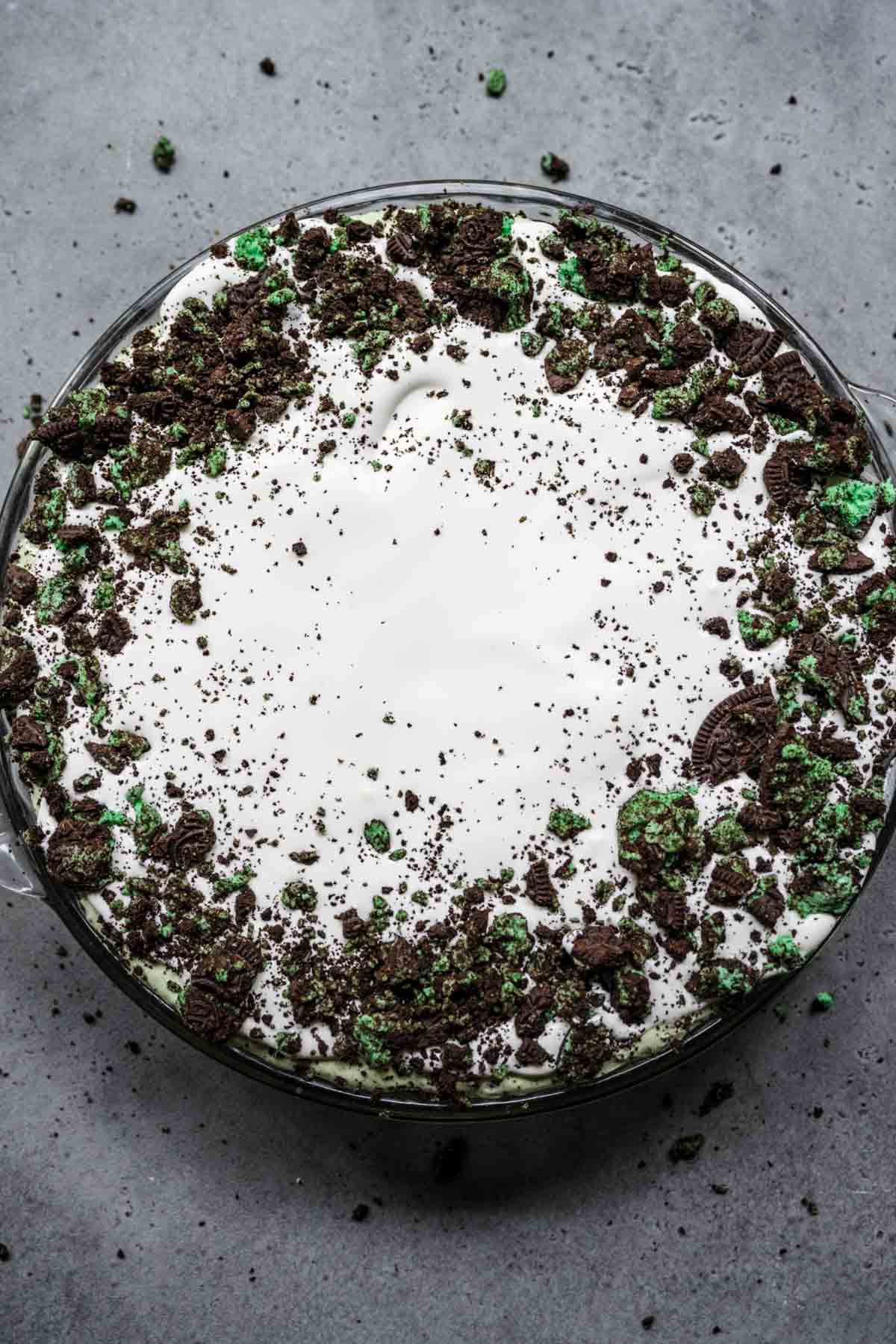 Create a free account to Save Recipes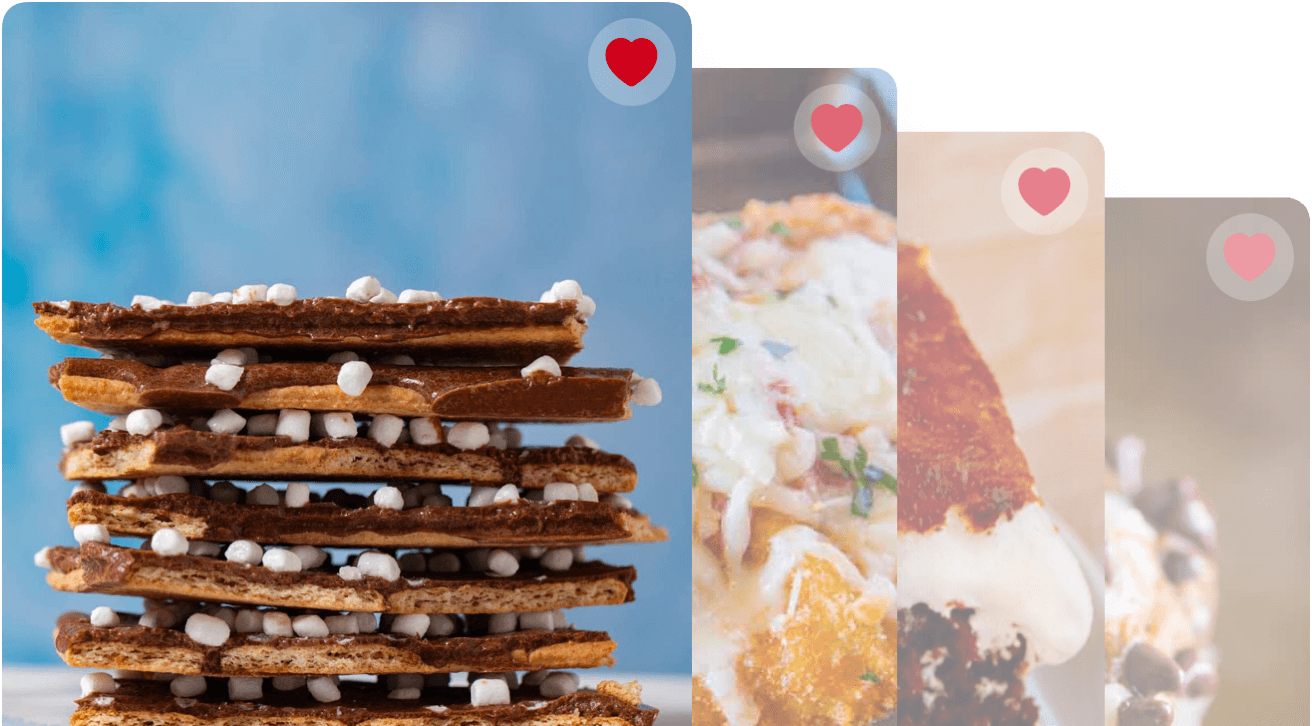 Key Ingredients
Mint: A little bit of mint extract goes a long way, so make sure you add just a little at a time, then taste before trying to add more. Regular mint and peppermint are the best flavors for cooking, but it's best to avoid flavors like spearmint.
Cream cheese: The cream cheese is an easy way to thicken up the filling and the tangy flavor balances out all the sweetness from the cookies, the condensed milk, and the whipped cream.
Sweetened Condensed Milk: This sweet thick canned milk acts like the sweetener for the cream cheese. It makes the filling creamy without thinning it out too much, and it freezes similar to ice cream.
Whipped cream: Folding in the whipped cream lightens the filling so it's more airy and fluffy. You can use store-bought whipped cream, or use heavy cream to make Homemade Whipped Cream ahead of time.
Oreo Cookies: These delicious chocolate sandwich cookies make up the cookie crumb crust and there are also crunchy, chocolatey pieces to give the creamy filling texture. You can use regular Oreos for the crust or use mint flavored cookies like the filling.
Can this pie be made ahead of time?
Because it needs at least a few hours to full freeze and harden, Grasshopper Pie is a great recipe to make ahead of time! It will keep for about 2-3 months in the freezer if stored properly. You can also just make the crust ahead of time in a disposable pie tin and keep it frozen for up to 6 months. No need to even thaw it because it's going to be frozen again as soon as the filling is added anyways.
Variations
Marshmallow Creme: You may have seen versions of this pie made with fluffy marshmallow creme. This ways is also delicious so try a one to one swap with the cream cheese for sweeter, lighter pie, or do a mixture of both.
Crème de menthe: Instead of the mint extract, you can use crème de menthe, a sweet, mint-flavored alcohol. Just mix ¼ of a cup into the filling for a boozy Grasshopper Pie.
Toppings: There are so many amazing toppings you could try instead of or along with the Oreo crumbs. Mini marshmallows, Andes mint chocolates, mini chocolate chips, chocolate sprinkles, or colored sanding sugar would look and taste great.
Cookies: Instead of Oreos, you can use other crispy chocolate cookies like Thin Mints or leftover Chocolate Cookies from the holidays. If you want a vanilla mint flavor, try vanilla wafer cookies or vanilla sandwich cookies.
Chocolate Mint: If you want a chocolate pie, you can mix ¼ cup unsweetened cocoa powder the filling mixture. Another way to add more chocolate is pour the filling in the crust but don't top with the whipped cream yet. Freeze for an hour, top with a layer of Chocolate Ganache, then add the whipped topping and freeze until set.
Peppermint Pie: Easily switch this pie up for the winter holidays. Exchange the mint flavoring extract for peppermint, and the green food dye for red. Top with broken candy canes before serving for a festive touch.
More Mint Chocolate Desserts
How to Store
Serve: Make sure you give the Grasshopper Pie plenty of time to set in the freezer. Then take it out to soften about 15 minutes before you plan to slice it.
Store: If you have leftovers, you should store the pie in the freezer. Cover it tightly in aluminum foil and plastic wrap to keep the pie fresh. The frozen mint pie can stay good for up to 2 months.


Ingredients
Oreo Cookie Crust:
1 1/2

cups

Oreo Cookie crumbs

1/4

cup

sugar

1/3

cup

unsalted butter

, melted
Grasshopper filling
8

ounces

cream cheese

, softened

14

ounces

sweetened condensed milk

17

drops green food coloring

1/2

teaspoon

mint extract

10

Mint Oreo cookies

, crushed

4

cups

Whipped Cream

, or cool whip (divided)
Instructions
Mix the Oreo crumbs, sugar, and melted butter, then press them into the pie plate.

In a large mixing bowl whisk together the cream cheese, condensed milk, green food coloring, and mint extract.

Fold the mint Oreos into the filling, then fold in the whipped cream.

Pour the mixture into the pie plate.

Top with additional 2 cups of whipped cream and garnish with additional cookie crumbs.

Freeze completely, thaw

15 minutes

before serving.
Nutrition
Calories:
398
kcal
|
Carbohydrates:
47
g
|
Protein:
6
g
|
Fat:
21
g
|
Saturated Fat:
11
g
|
Polyunsaturated Fat:
2
g
|
Monounsaturated Fat:
7
g
|
Trans Fat:
1
g
|
Cholesterol:
50
mg
|
Sodium:
271
mg
|
Potassium:
265
mg
|
Fiber:
1
g
|
Sugar:
37
g
|
Vitamin A:
488
IU
|
Vitamin C:
1
mg
|
Calcium:
150
mg
|
Iron:
3
mg