Candy Cane Pie is the perfect no-bake pie recipe to serve over the holidays with an Oreo crust and cream cheese peppermint filling.
This Candy Cane Pie is the perfect holiday Dessert Recipe to serve at a party or after Christmas dinner. For more festive desserts, try Candy Cane Brownies or Oreo Peppermint Bark Bread.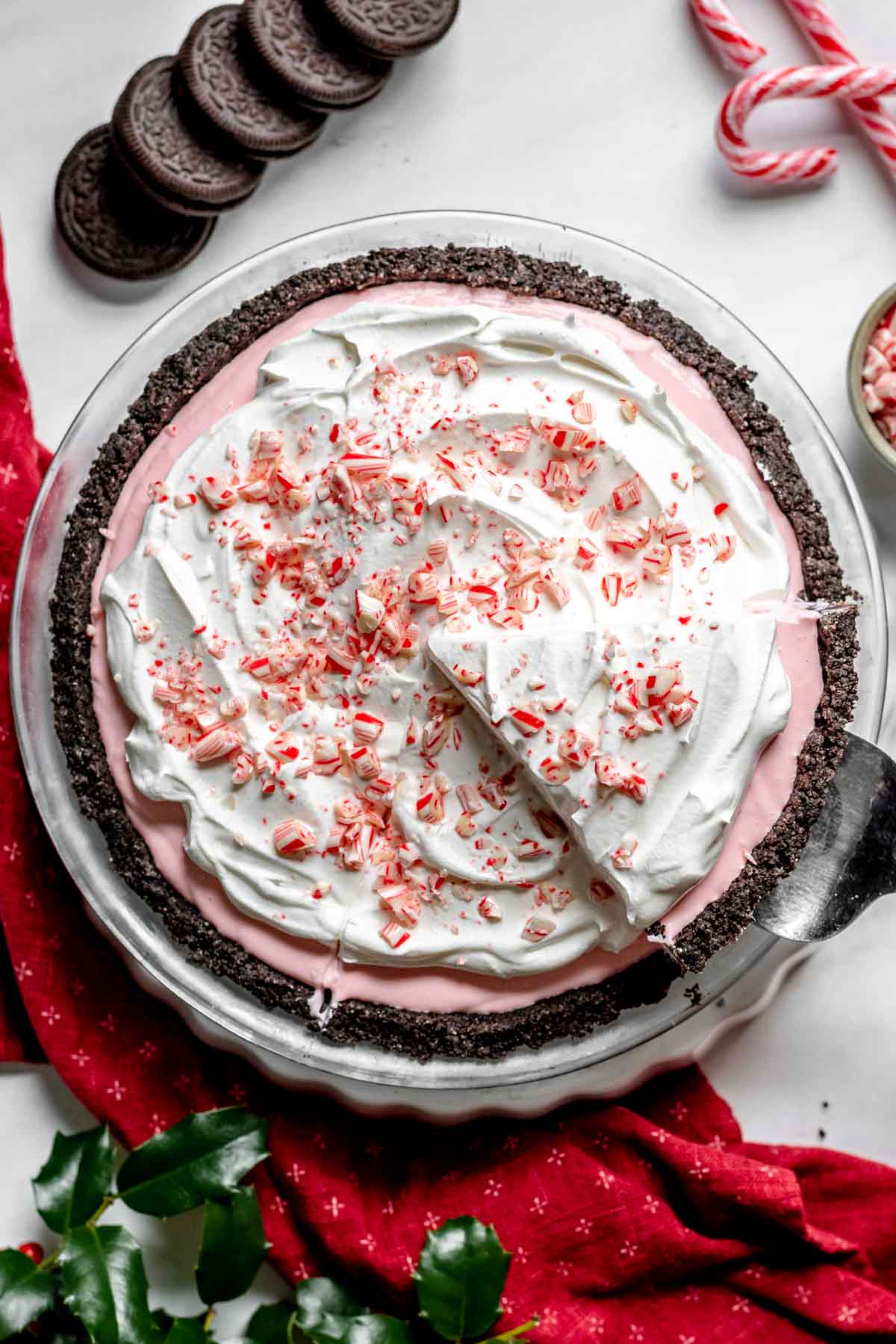 This amazing treat is a life-saver during the busy holiday season. So many people feel like when the calendar flips to December, there are about a million different desserts to make. Between the pies, cookies, and homemade candies, the holiday season can quickly start to feel more like baking season.
That's why this no-bake treat is such a great option. You can throw together the pie filling and chocolatey Oreo crust in a matter of minutes. Then let the freezer do the rest of the work. The peppermint pie recipe frees up oven space and time so you can keep going with other recipes, and it makes a show-stopping centerpiece to your dessert table.
With its Oreo crust and fluffy candy cane filling, it's no wonder this beautiful dessert has become a family favorite in so many houses! Everyone just loves Candy Cane Peppermint Pie.
When you serve up this dessert recipe, if you want a little more chocolate flavor, you can top it off with Hot Fudge. It also tastes amazing with a side of Vanilla Ice Cream.
No-Bake Desserts
Frequently Asked Questions About Candy Cane Pie
What kind of cream cheese should I use for Candy Cane Pie?
Cream cheese makes up the base of the pie, so you should use a cream cheese that you enjoy eating. If you have a particular brand you love, go for it. You'll get the best rich and creamy results from a full fat cream cheese. A low fat cream cheese will give you a softer pie filling that might not set the way you want it.
What is the best way to fold in the whipped cream?
You need to fold in the whipped cream so that it stays light and airy. A great way to fold it in is to use a rubber spatula because it is a very light material. The rubber will also be a great tool to scrape the bowl when you pour it into the crust. If you don't have a rubber spatula, a wooden or plastic spoon will work just fine, or even a whisk. Whatever you use, just be gentle with it.
Key Ingredients
Cream Cheese: Softened cream cheese makes a wonderful base for the other pie filling ingredients. It gives it a nice, tangy flavor, and a velvety texture.
Whipped Cream: Adding whipped cream to the creamy cream cheese filling makes the pie more light and airy. You can use store-bought whipped cream or use heavy whipping cream, powdered sugar, and vanilla to make Homemade Whipped Cream.
Peppermint: The Candy Cane Pie gets its seasonal peppermint flavor from the peppermint extract. Then adding red food coloring gives it a festive look, and it's all topped with pieces of peppermint candy canes. The candy pieces are a great decoration, add a little more peppermint flavor, and give it some crunch.
Oreo Cookie Crust: Oreo crusts are perfect for pies and cheesecakes. All you need are chocolate cookie crumbs, melted butter, and sugar. Then just combine them and press them into the pie plate for the perfect, crispy base.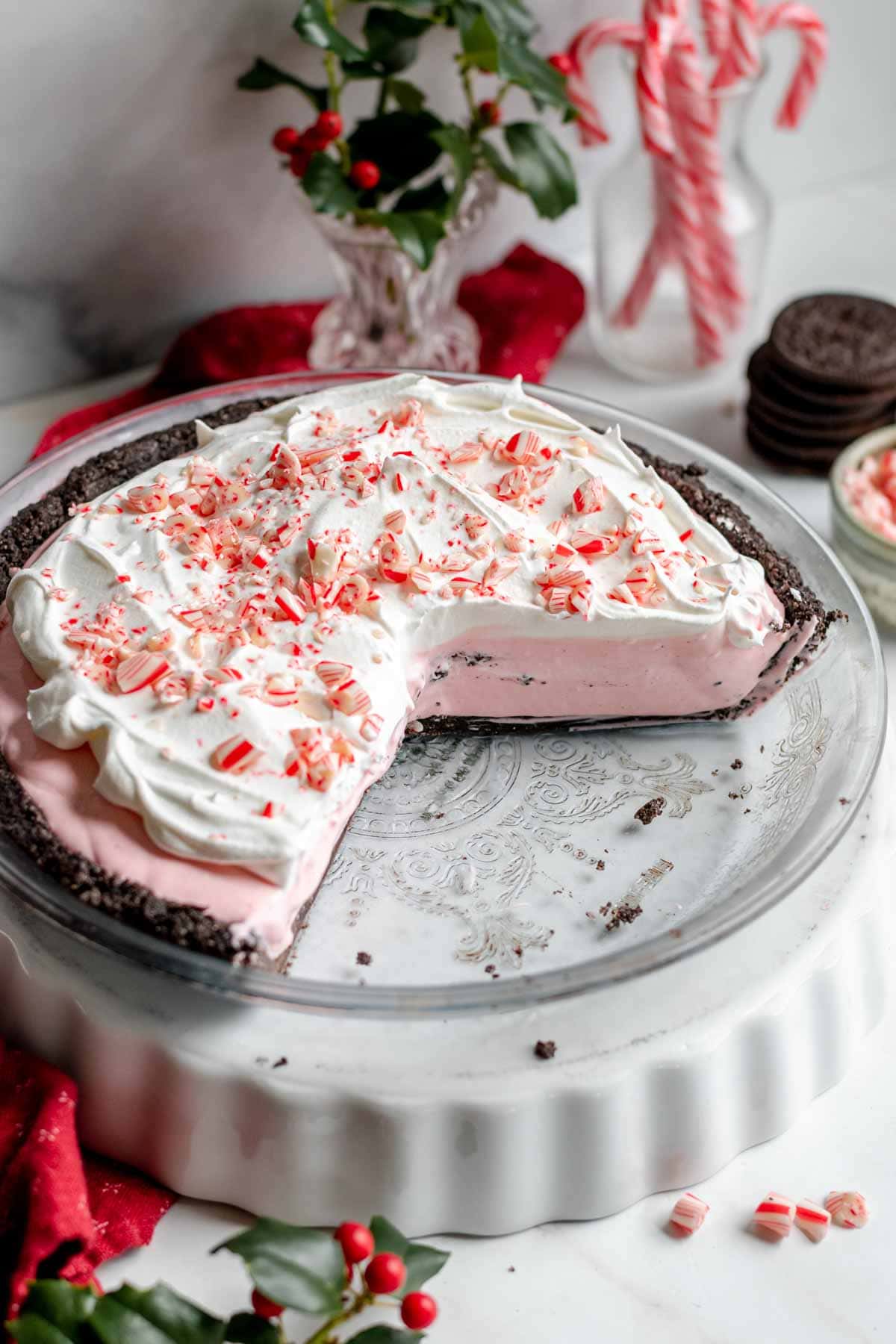 How to Make Candy Cane Pie
Prep Time: Before you start the recipe, add the Oreo cookies to your food processor, and pulse until they're broken into small crumbs. Once they're done, you can remove the crumbs to a separate mixing bowl, and add the peppermint candy canes to pulse them into peppermint candy bits.
Chocolate Crumb Crust: Add the crushed Oreos, granulated sugar, and melted butter to one mixing bowl. Stir until the butter is coating the crumbs. Then press the crumb mixture into a deep pie dish.
Pie Filling: Add the softened cream cheese, condensed milk, red gel food color, and peppermint extract to your electric mixer. Then set the mixer speed to medium-high speed to cream the mixture until well combined. Add the whipped cream to the cream cheese mixture, but reserve 2 cups of whipped cream for the topping. Then fold the whipped cream in gently. Once you have the filling mixed, you can spread it in the prepared pie crust.
Finish: Top the Candy Cane Pie off with extra whipped cream and sprinkle on a peppermint layer. Pop the pie in the freezer for a few hours until you have a firm filling. Then let it soften slightly at room temperature before you serve it.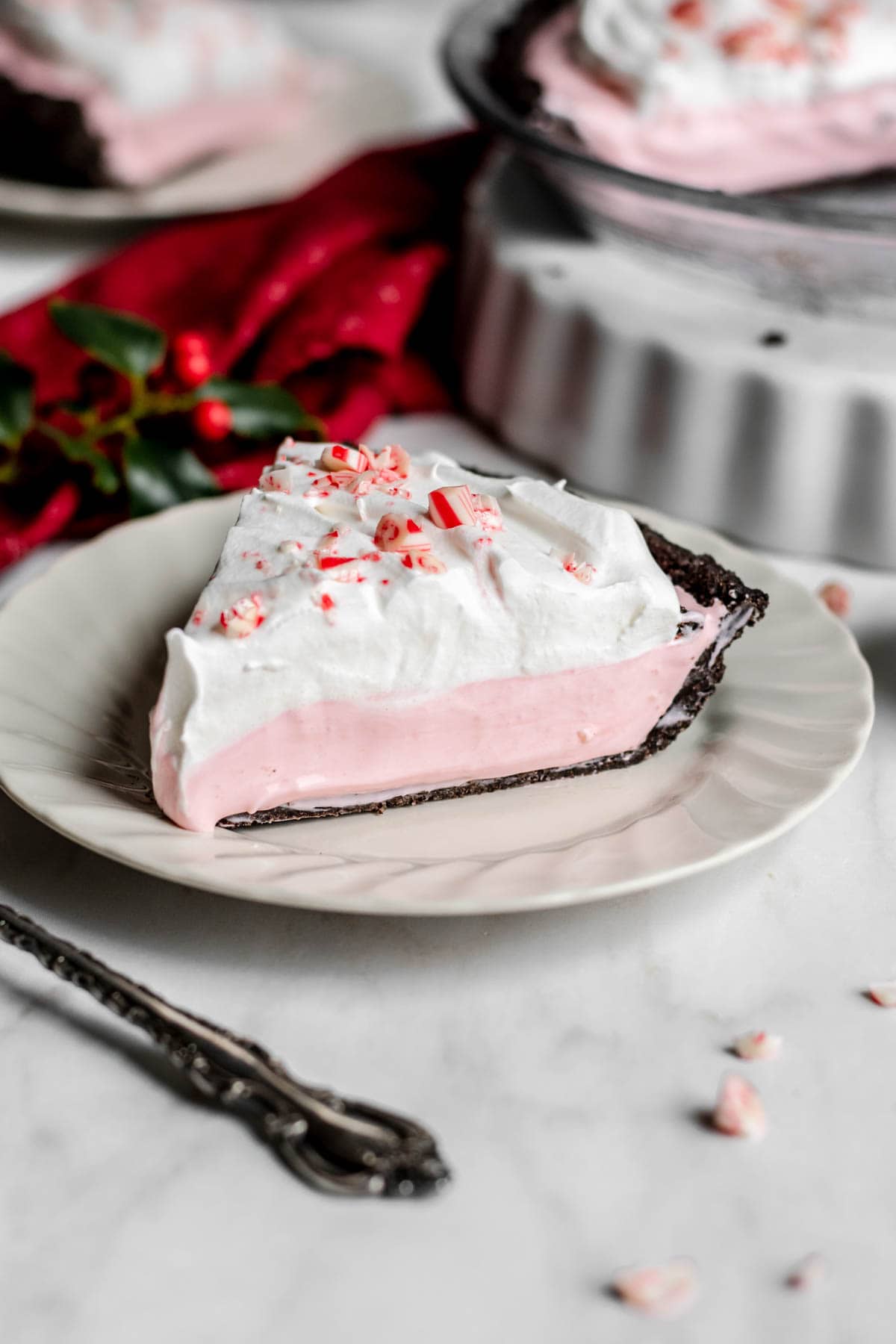 Create a free account to

Save Recipes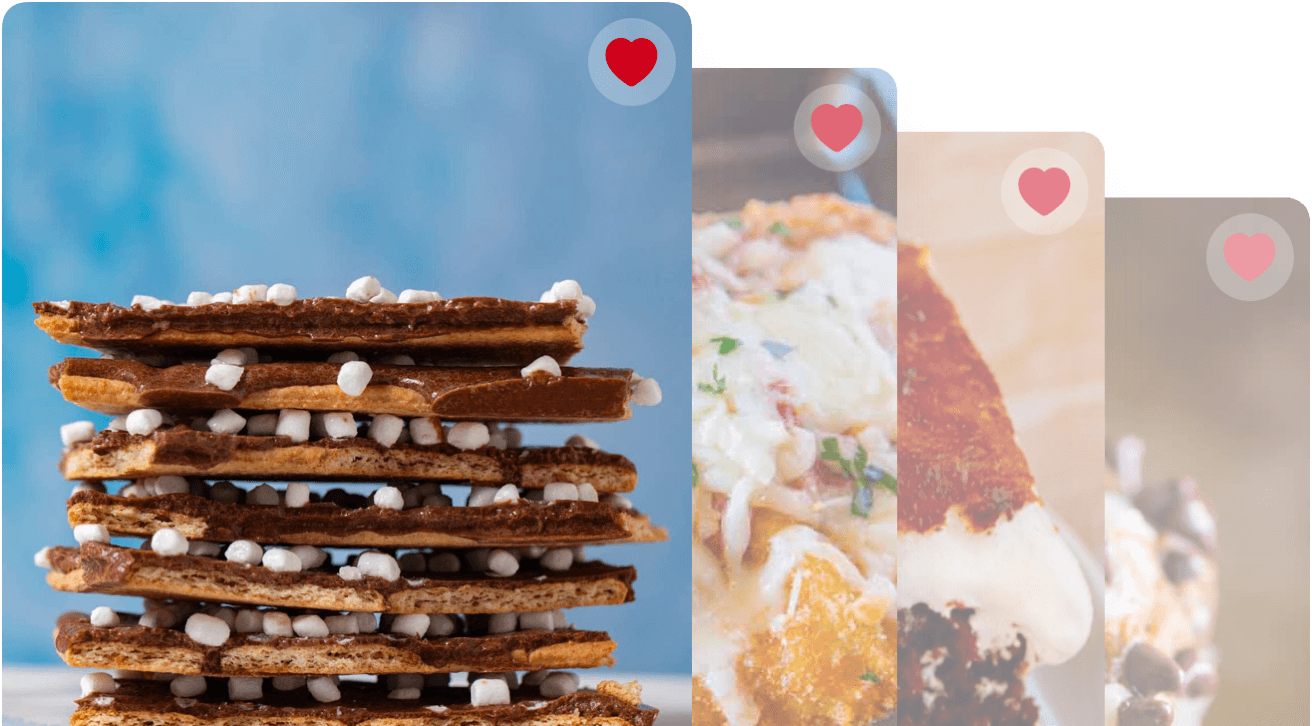 Variations
Chocolate Chips: If you want some extra chocolatey flavor in the frozen Candy Cane Pie, you can mix chocolate chips into the cream cheese batter. Mini white chocolate chips, milk chocolate chips, semisweet, or a dark chocolate chip filling work well.
Chocolate Shavings: Chocolate shavings over the top of the Pie would be a very pretty and appealing topping. Dark chocolate, or white chocolate, or a mix of the two would taste fantastic.
Toppings: There are so many delicious toppings you can try adding over the creamy filling. Broken Oreo cookies, pieces of Peppermint Bark, mini marshmallows, chocolate curls, or a drizzle of melted chocolate would all taste and look amazing.
Chocolate Candy Cane Pie: To add some chocolate flavor to the creamy filling, mix ¼ cup of unsweetened cocoa powder in. The dreamy chocolate will taste amazing with the peppermint for an even richer pie recipe.
Peppermint Mocha Pie: If you want to make a Mocha Candy Cane Pie, add espresso powder along with the cocoa powder. 1 tablespoon of instant espresso powder is plenty to give the pie an amazing coffee flavor.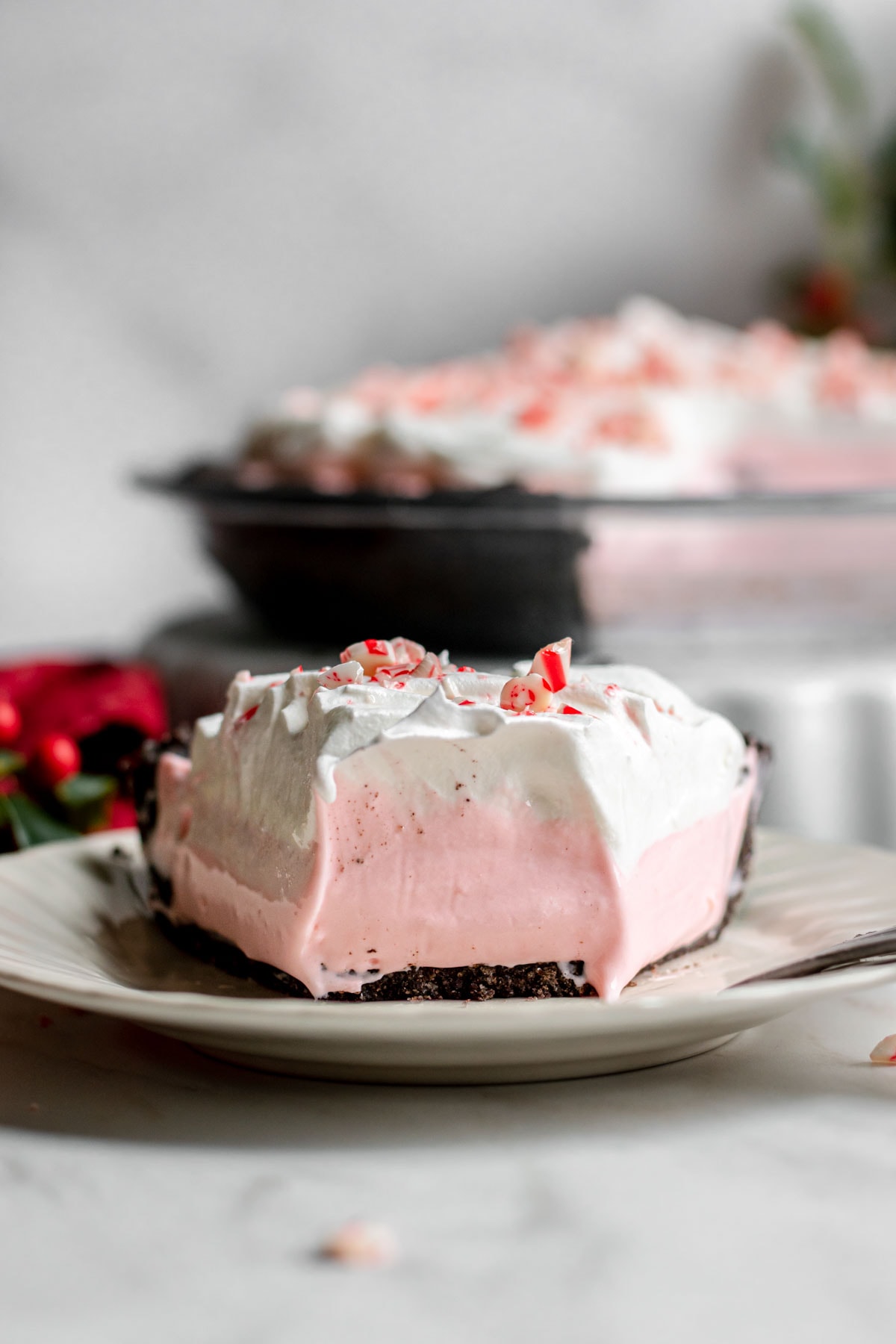 Peppermint Recipes
How to Store
Serve: Make sure to give the No-Bake Peppermint Pie time to completely set in the freezer before you take it out. Then let it soften for 15 minutes before you slice and serve it.
Freeze: Due to the whipped cream, Candy Cane Pie will keep best in the freezer. If you have leftovers, carefully wrap them or seal slices in an airtight container. Then it can stay good for up to 2 months.


Ingredients
Oreo Cookie Crust
1 1/2

cups

Oreo cookie crumbs

1/4

cup

sugar

1/3

cup

unsalted butter

, melted
Instructions
Mix the Oreo crumbs, sugar, and melted butter, then press them into the pie plate.

In a large mixing bowl, whisk together the cream cheese, condensed milk, red food coloring, and peppermint extract.

Fold in the whipped cream.

Pour the mixture into the pie plate.

Top with additional 2 cups of whipped cream and garnish with crushed peppermint candies.

Freeze completely, thaw

15 minutes

before serving.
Nutrition
Calories:
380
kcal
|
Carbohydrates:
47
g
|
Protein:
6
g
|
Fat:
19
g
|
Saturated Fat:
11
g
|
Polyunsaturated Fat:
1
g
|
Monounsaturated Fat:
6
g
|
Trans Fat:
1
g
|
Cholesterol:
50
mg
|
Sodium:
225
mg
|
Potassium:
244
mg
|
Fiber:
1
g
|
Sugar:
38
g
|
Vitamin A:
488
IU
|
Vitamin C:
1
mg
|
Calcium:
148
mg
|
Iron:
2
mg