Hawaiian Monkey Bread is an easy delicious pull-apart bread with tropical flavors from macadamia nuts, pineapple juice and shredded coconut.
This easy recipe puts a fun and tasty tropical spin on Classic Monkey Bread. It's the perfect Breakfast Recipe to share for the holidays or a family get-together.
This Monkey Bread recipe is the perfect way to start off your morning. No matter where you are, this dish will have you feeling like you're on a tropical vacation in Hawaii. The simple sweet dough is flavored with pineapple juice, cinnamon sugar, and brown sugar for a sweet and tangy taste. You also mix the dough with nuts and coconut for the perfect textures.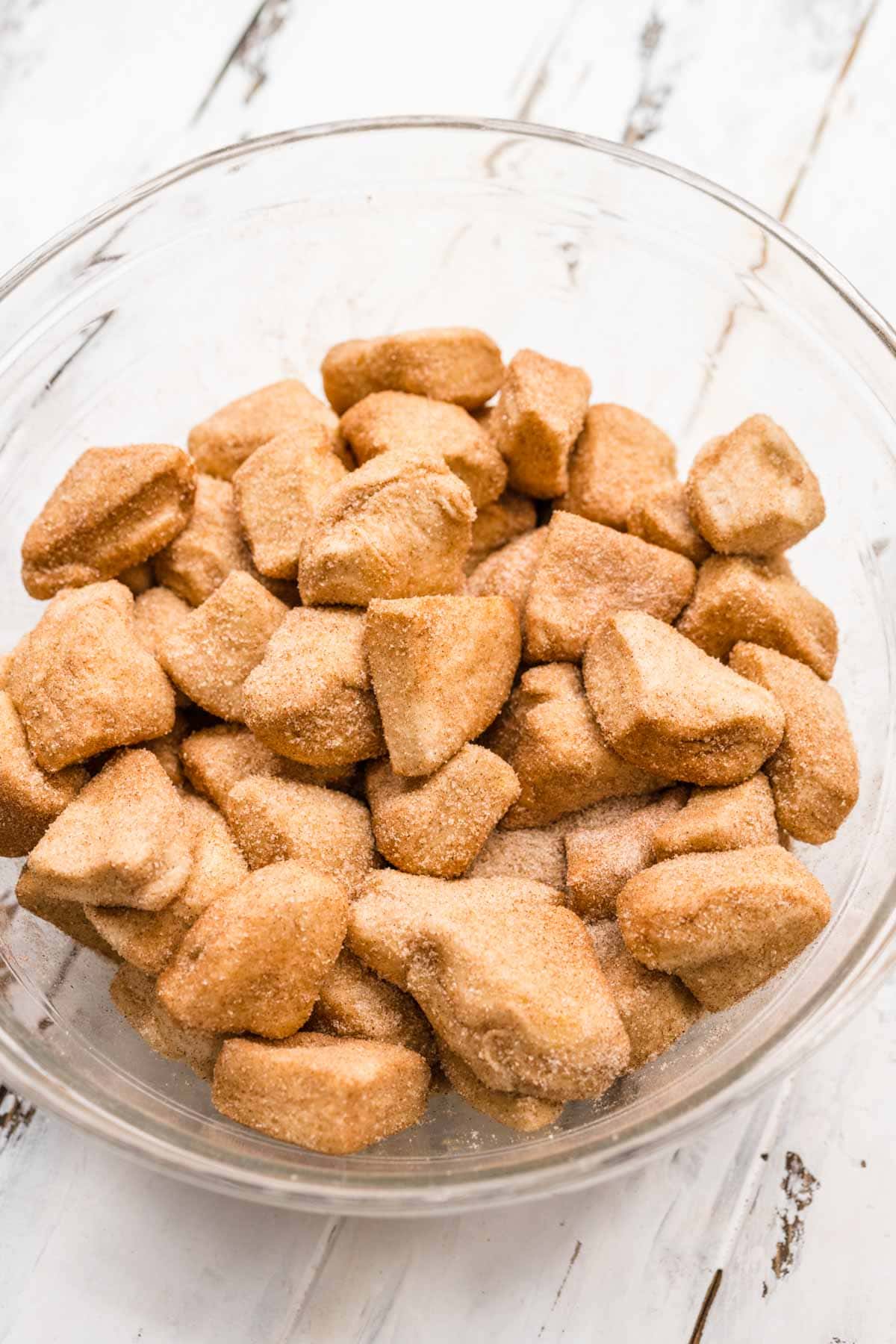 Delicious Hawaiian Monkey Bread makes the perfect show-stopping dish for a brunch or celebratory breakfast. The Hawaiian flavors make it more unexpected and unique than typical breakfast recipes, but it has the same gooey center and sweet flavors that people want from Monkey Bread. As special as it sounds and tastes though, it's not a lot of extra work to turn your Monkey Bread into a Hawaiian-flavored delight! You just toss macadamia nuts, coconut, and pineapple juice with the biscuit dough, and the rest of the recipe remains the same.
With the sweet, fruity taste of pineapple and coconut throughout the whole dish, this Hawaiian Monkey Bread is amazing served all by itself. That doesn't mean you have to skip extra toppings though! Bring out more tropical taste with some Pineapple Topping or make it an extra special summer dessert with a scoop of Vanilla Ice Cream. No matter how you serve it, this tropical treat is sure to wow!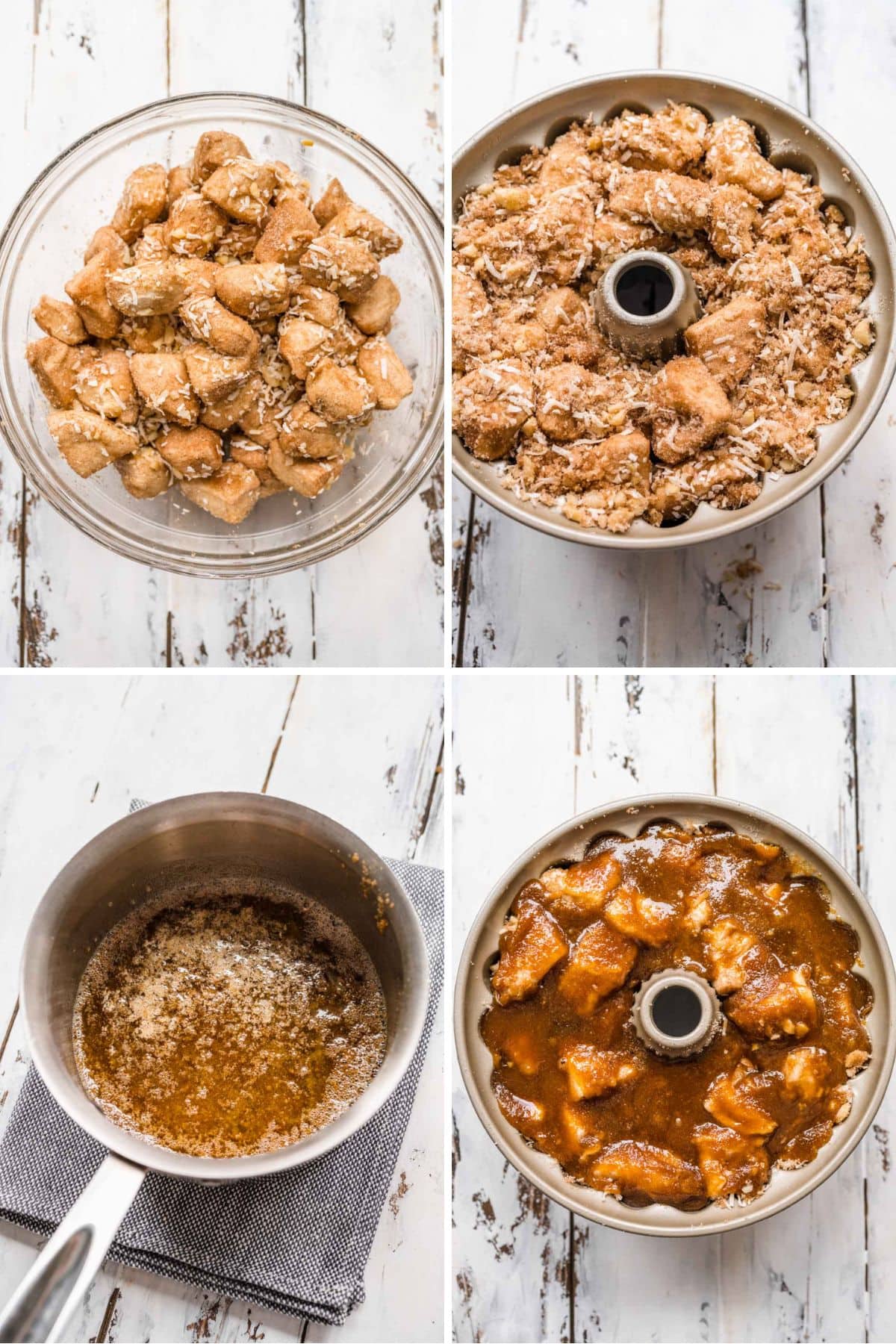 What is Monkey Bread?
Monkey bread is a sweet and sticky pastry that is made from small pieces of dough that are coated in sugar and cinnamon, and then baked together in a bundt pan. The dough is typically cut into small pieces and then layered in the pan, with melted butter and sugar poured over each layer. As the bread bakes, the sugar and butter create a caramel-like coating on the outside, while the inside of the bread is soft and fluffy. The bread is usually served warm and pulled apart, hence the name "monkey bread."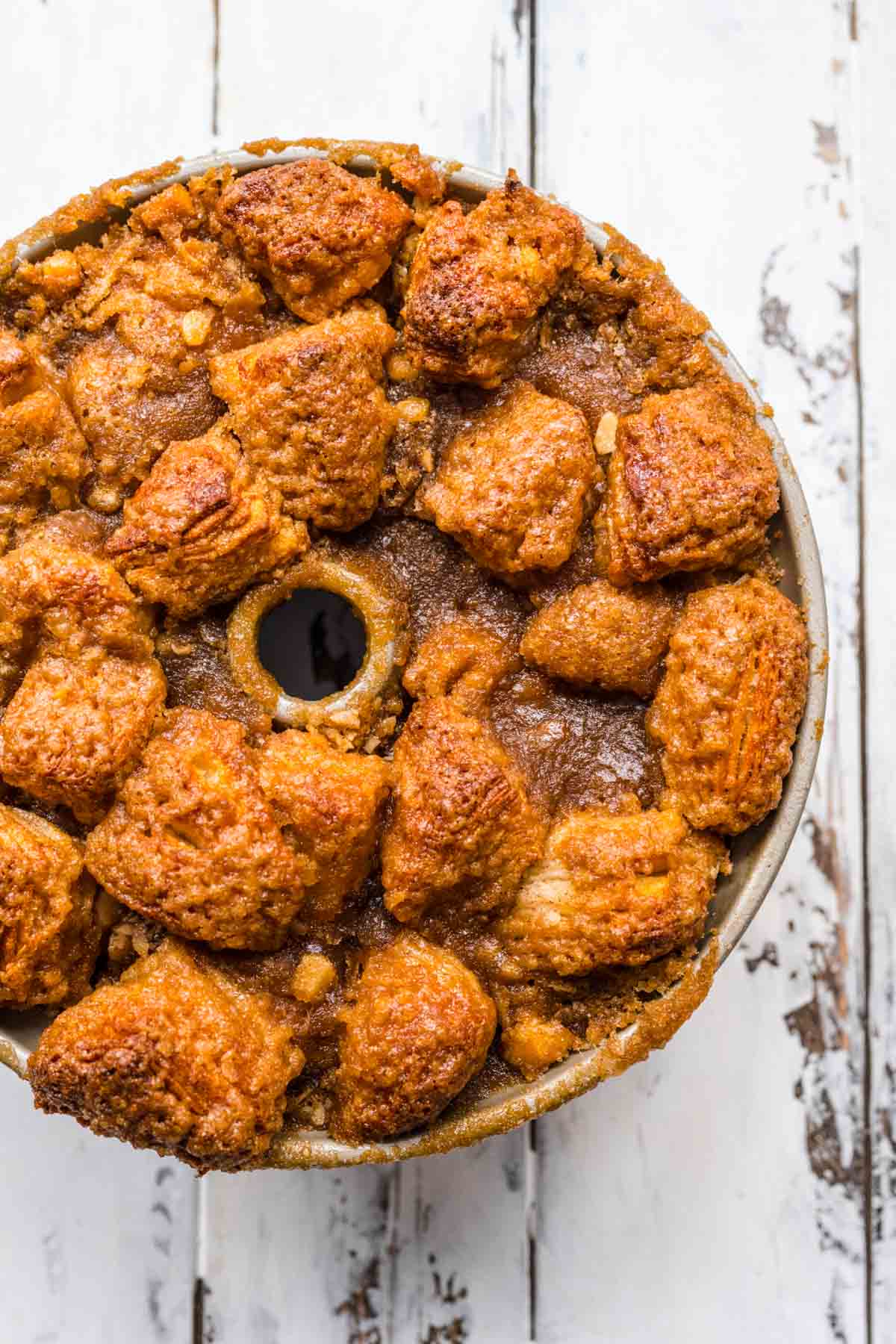 How to Make Hawaiian Monkey Bread
Prep: Preheat your oven and grease your bundt pan generously nonstick cooking spray. Slice each biscuit into quarters.
Bread: Add the sugar, ground cinnamon, and biscuit quarters into a large bowl. Toss until the cinnamon-sugar mixture is completely coating the dough pieces. Add the pineapple juice, macadamia nuts, and coconut and toss again to coat..
Assemble: Add the pieces of bread into the prepared pan. To make sure the pieces are easy to pull apart with your hands, don't press the dough together.
Syrup: Add the butter and brown sugar to a saucepan over medium heat. Bring the combination to a boil and mix them together. Pour the sugar and melted butter mixture evenly over the uncooked Monkey Bread.
Bake: Bake for 35-40 minutes until golden brown and the sugar is bubbling. Take the pan from the oven and let it cool for 10-15 minutes. To invert, put your serving plate over the bundt pan. Hold the plate pressed to the pan tightly, and flip them over. Lightly shake and let it slide out from the pan.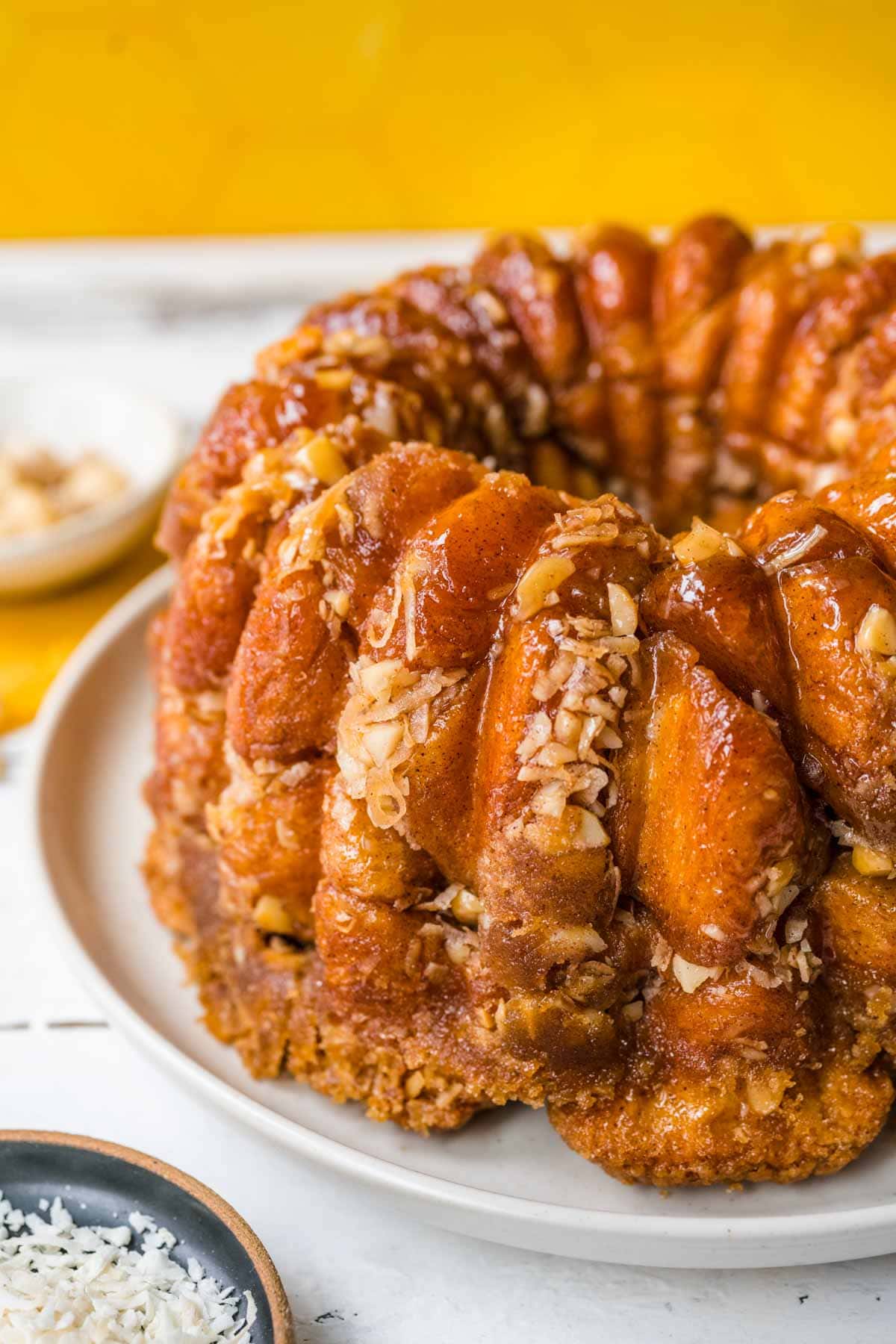 Sweet Toppings for Monkey Bread
FAQs for Hawaiian Monkey Bread
What is Hawaiian Flavor?
Hawaiian flavoring refers to a blend of tropical flavors and ingredients that are commonly found in Hawaiian cuisine. It typically includes ingredients such as pineapple, coconut, macadamia nuts, and other tropical fruits, as well as a variety of spices and seasonings that reflect the diverse cultural influences that have shaped Hawaiian cuisine over time. The result is a delicious and distinctive flavor that is often associated with the Hawaiian islands.
What is another name for monkey bread?
Monkey bread is also known by several other names, including "bubble bread," "pull-apart bread," and "cinnamon roll bread." These names reflect the bread's unique texture and flavor, as well as its origin as a twist on smaller pastries that are meant to be baked as one big pastry that's pulled apart and shared.
Are you supposed to eat monkey bread warm?
Yes, monkey bread is traditionally served warm, straight out of the oven. The warm, gooey texture and caramelized sugar coating are best enjoyed when the bread is fresh and the sauce is soft and sticky.

Create a free account to

Save Recipes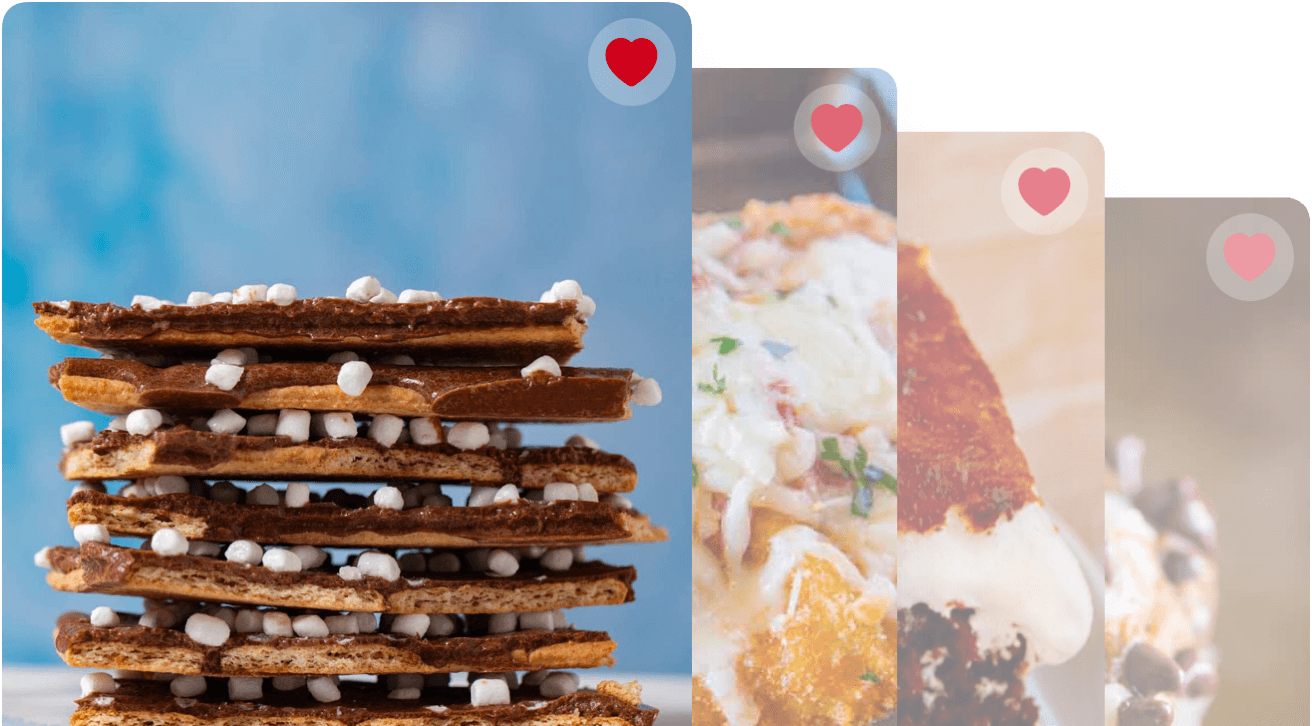 Key Ingredients
Sugar: Sugar is used twice in monkey bread recipes, first regular sugar to coat the bread and help the cinnamon mixture stick. Then brown sugar and butter is used to create a sticky caramel syrup that holds everything together just enough that it doesn't collapse but you can still pull it apart and get lots of the yummy pineapple, nuts, and coconut.
Cinnamon: Cinnamon adds warmth and depth to baked good and it pairs particularly well with the tropical flavors of the pineapple and coconut.
Biscuit Dough: Buttermilk biscuits have a melt in your mouth, light flavor and the dough bakes up nice and fluffy in the syrup but still stays tender and soft. The small individual pieces make it easy to share and pull apart.
Pineapple Juice: The juice from pineapple brings a tropical flavor to the biscuits and the syrup. It has a tart, tangy taste that breaks up a lot of the sweetness too!
Macadamia Nuts: Native to Hawaii, macadamia nuts are a key ingredient in this recipe, adding a unique creamy yet crunchy texture. If you can't find macadamia nuts, cashews are a good substitute.
Shredded Coconut – Another tropical ingredient, shredded coconut provides a sweet and chewy texture. For nuttier, warm taste and a bit more crunch, try toasting the coconut first in a hot skillet until browned then adding to the mix.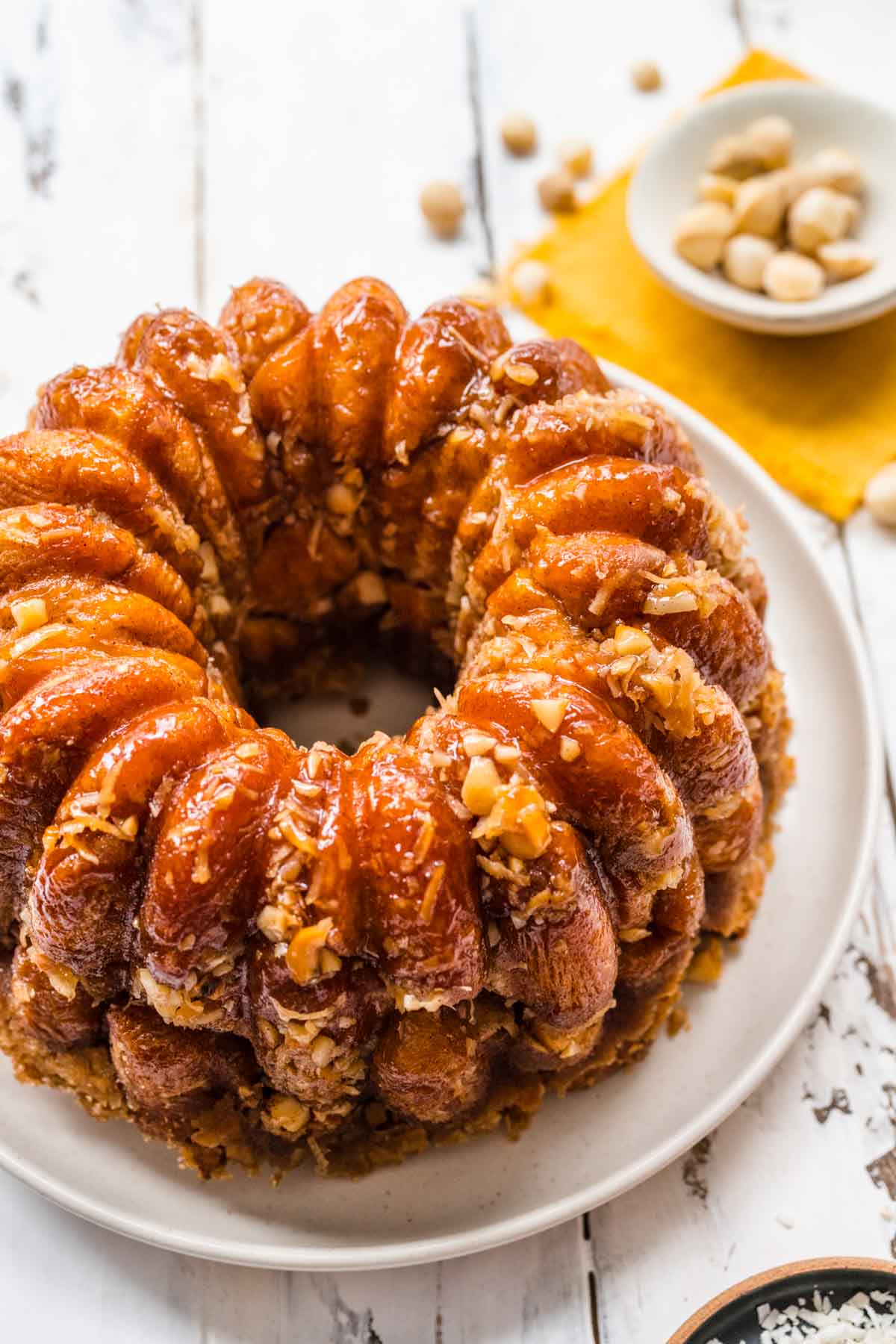 Can Hawaiian Monkey Bread be made ahead?
While monkey bread is best served warm and fresh out of the oven, this recipe can be made ahead of time and reheated later. To do so, allow the bread to cool completely, then cover it with plastic wrap or aluminum foil and store it in the refrigerator for up to two days. When ready to serve, reheat the bread in the oven at 350 degrees for 10-15 minutes, or until warmed through. Be aware that reheating the bread may cause it to lose some of its soft and gooey texture, but it will still be delicious.
Variations
Nuts: Rather than just macadamia nuts, you can add a variety of chopped nuts to your Hawaiian Monkey Bread recipe. Pecans, walnuts, almonds, or cashews would all go great in the mix.
Fruits: You can also add fresh or dried fruits to the mix like chopped up bananas, strawberries, cherries, raspberries, apples, or mangos.
King's Hawaiian Rolls: Instead of using biscuits, you can use two bags of King's Hawaiian Rolls Slice the rolls into 4-6 roll pieces each. Prepare and assemble the dish as usual. Reduce the baking time to 20 minutes since all you need to do is warm the dish and bake it together, rather than cooking the biscuits.
Chocolate and Coconut: For a delicious chocolate twist on this recipe, substitute the macadamia nuts with chocolate chips, and add ¼ cup of cocoa powder to the sugar and cinnamon mixture. Sprinkle shredded coconut over the top of the bread before baking.
Pineapple and Rum: To give this recipe a tropical cocktail twist, add a couple tablespoons dark rum to the brown sugar and butter mixture, and substitute the pineapple juice with a cup of crushed pineapple for more pineapple flavor and real fruit bits.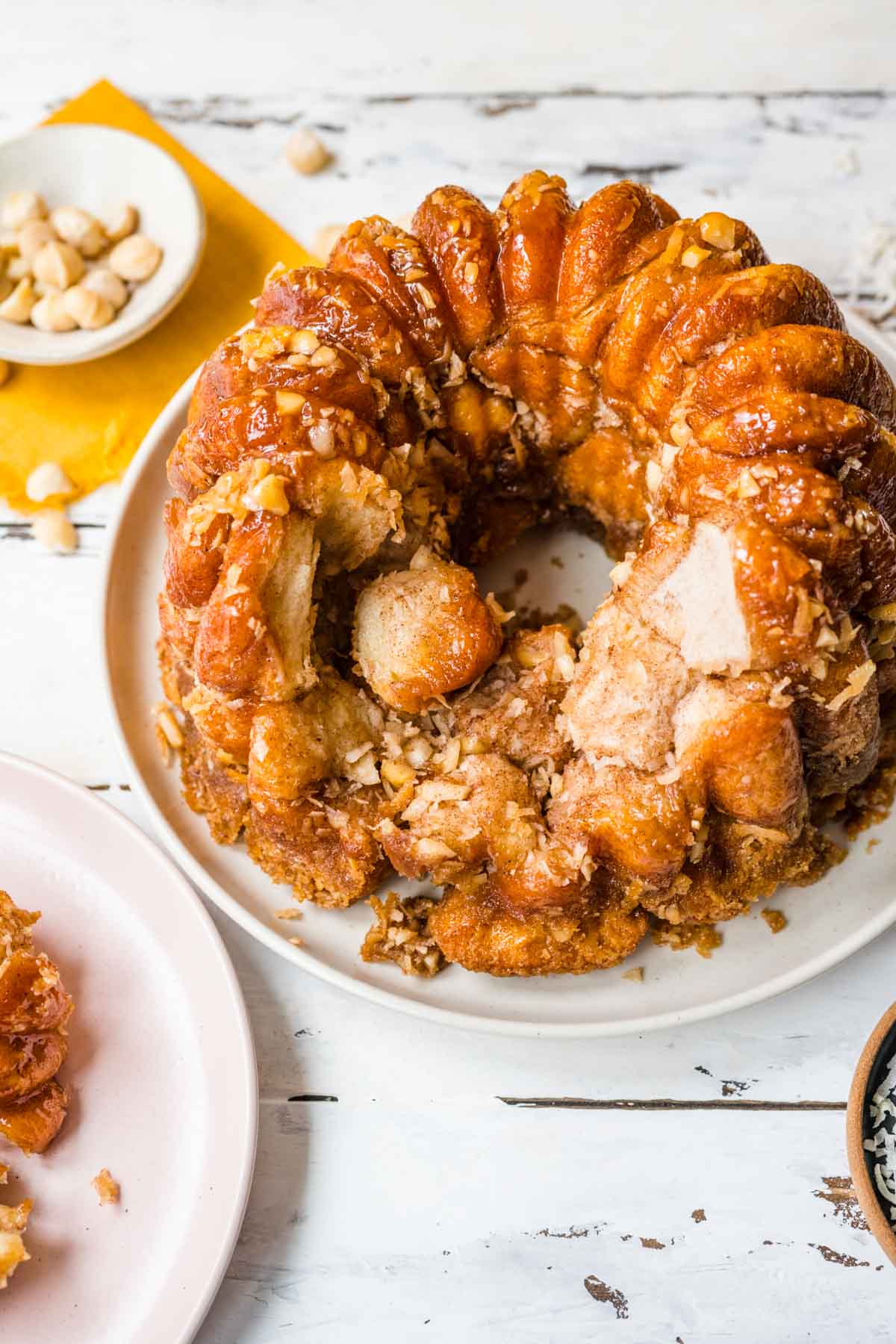 More Amazing Twists on Monkey Bread
How to Store
Store: Store leftovers at room temperature for up to 2 days with plastic wrap, foil, or a cake dome covering the plate. You could also put it in an sealed container to store in the fridge for up to 3 days.
Reheat: Since it is best enjoyed warm, reheat the monkey bread in the oven, covered with foil, on low until hot or warm covered in a damp paper towel in short bursts in the microwave. You want to microwave in increments until just hot to keep the sugar from crystallizing.
Freeze: Cool the Hawaiian Monkey Bread after it has baked then wrap tightly with plastic wrap and aluminum foil, then store in a sealed container. Freeze for up to 4 months. Let it defrost in the fridge and reheat as instructed above.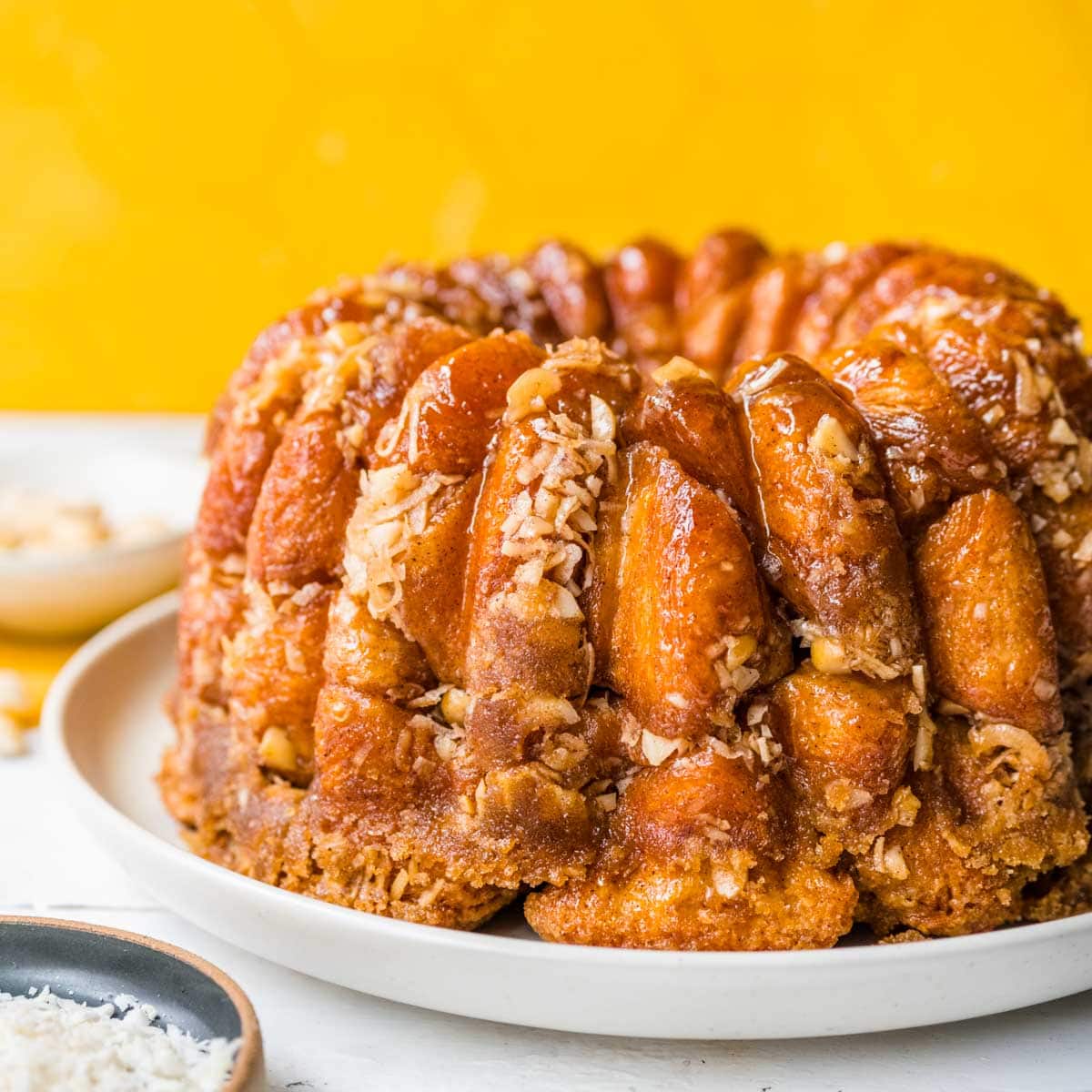 Ingredients
1

cup

sugar

2

teaspoons

cinnamon

36

ounces

refrigerated buttermilk biscuit dough

, each cut into quarters, (3 packages)

2

tablespoons

pineapple juice

1/2

cup

macadamia nuts

, chopped

1/2

cup

sweetened shredded coconut

1/2

cup

unsalted butter

1

cup

brown sugar

, packed
Instructions
Preheat oven to 350 degrees and spray a bundt pan with baking spray.

Add the sugar, cinnamon, and biscuit quarters to a large bowl and toss well.

Add pineapple juice, macadamia nuts, and shredded coconut and toss well to combine.

Add pieces to a bundt pan (do not press down).

Add the butter and brown sugar to a medium saucepan on medium heat and bring to a boil for one minute before pouring onto the bundt pan.

Bake for

35-40 minutes

, remove from oven, let cool for

10-15 minutes

then place a plate over the bottom of the bundt pan and flip over to remove.
Nutrition
Calories:
430
kcal
|
Carbohydrates:
59
g
|
Protein:
4
g
|
Fat:
20
g
|
Saturated Fat:
7
g
|
Cholesterol:
16
mg
|
Sodium:
613
mg
|
Potassium:
188
mg
|
Fiber:
1
g
|
Sugar:
30
g
|
Vitamin A:
177
IU
|
Vitamin C:
1
mg
|
Calcium:
50
mg
|
Iron:
2
mg