Ice Cream Sundae Casserole is a great way to serve sundaes to a crowd. Ice cream, cherries, peanuts, and more all combined over easy graham cracker crust.
This is the perfect Frozen Dessert for your next potluck or party. Instead of scooping up bowls of Vanilla Ice Cream and putting out all the individual toppings, just make one frozen casserole to share. It's easy, fun, and so delicious!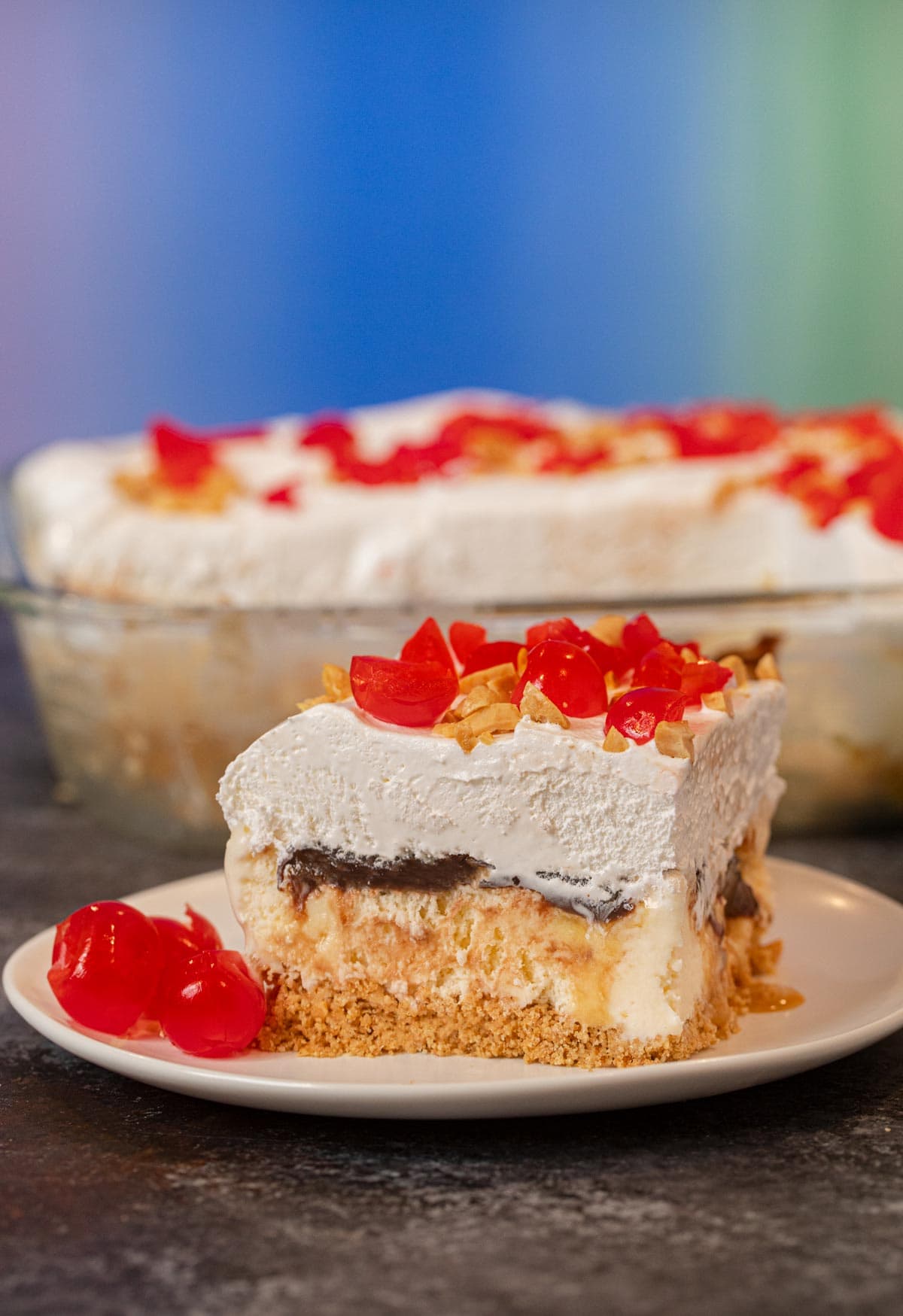 ICE CREAM SUNDAE CASSEROLE
This easy ice cream recipe is the perfect way to prep sundaes in advance. Just add the ice cream over graham cracker crust and add on the topping ingredients for the perfect combination of flavor and texture. The creamy ice cream, buttery crust, and amazing toppings are sure to satisfy your sweet tooth and are always a hit with a crowd. You can get the dish ready a few hours or days in advance.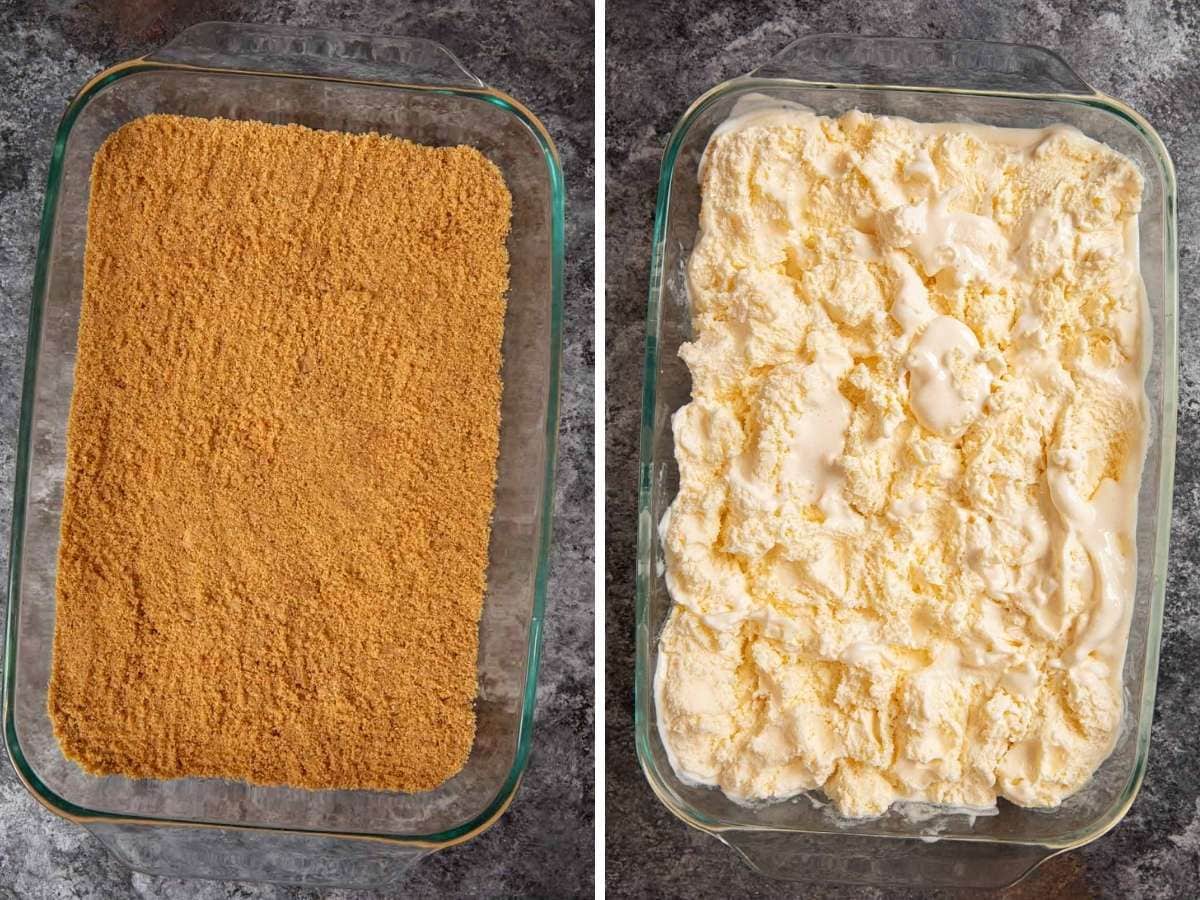 One of the great things about this delicious treat is you can customize it as much as you want with different topping ideas. You can also make it entirely from scratch, or use store-bought ingredients depending on how much time and energy you want to put into the Ice Cream Sundaes. We have easy recipes for everything, including the layer of Ice Cream, Chocolate Sauce, Caramel Sauce, and Cool Whip. But, you can also get the ingredients at the grocery store for the same delicious results.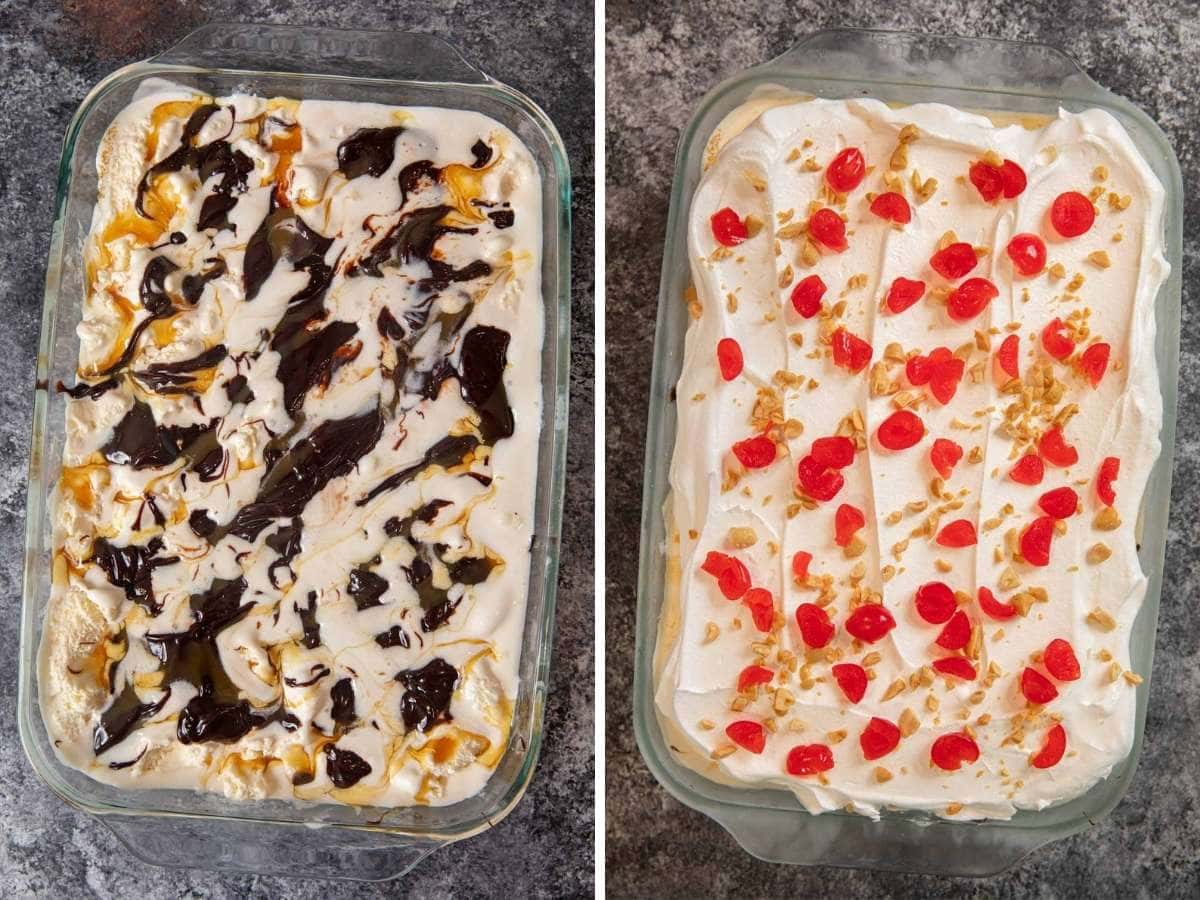 On top of the ice cream and frozen layers, you just add a peanut and cherry ice cream topping before serving. If you have other toppings you like on ice cream recipes, you can get creative and add as many as you want. Or, put out some extras in separate bowls for people to add themselves when you serve the casserole.
MORE ICE CREAM RECIPES
TIPS ON ICE CREAM SUNDAE CASSEROLE
Prep: If you plan on making homemade ice cream, chocolate ganache, or caramel topping make sure you get that part of the recipe done before starting to assemble the Sundae Casserole.
Graham Cracker Crust: Put the graham crackers in your food processor, and pulse to break them into small crumbs. Melt the butter in a microwaveable bowl. Combine the cracker crumbs, sugar, and melted butter in a medium bowl. Once the crumbs are well coated press the mixture down into a 9×13 in baking dish. Use your hands to press the crust down and spread it out evenly.
Ice cream: As you're finishing up the crust take the vanilla ice cream out of the freezer so it has time to soften and is easy to scoop. Add the layer of vanilla ice cream over the graham cracker crust. Use an offset spatula or knife to spread the ice cream out from the center until it's in a nice smooth layer. If you're having a hard time spreading it, try running your knife or spatula under hot water so that it softens the ice cream.
Toppings: Spread the chocolate sauce over the ice cream and drizzle the caramel sauce over that. Spread cool whip on top.
Freeze: Put the dish in the freezer for at least 4 hours to set everything together.
Serve: To finish, top the Ice Cream Sundae Casserole off with chopped cherries and peanuts before serving it.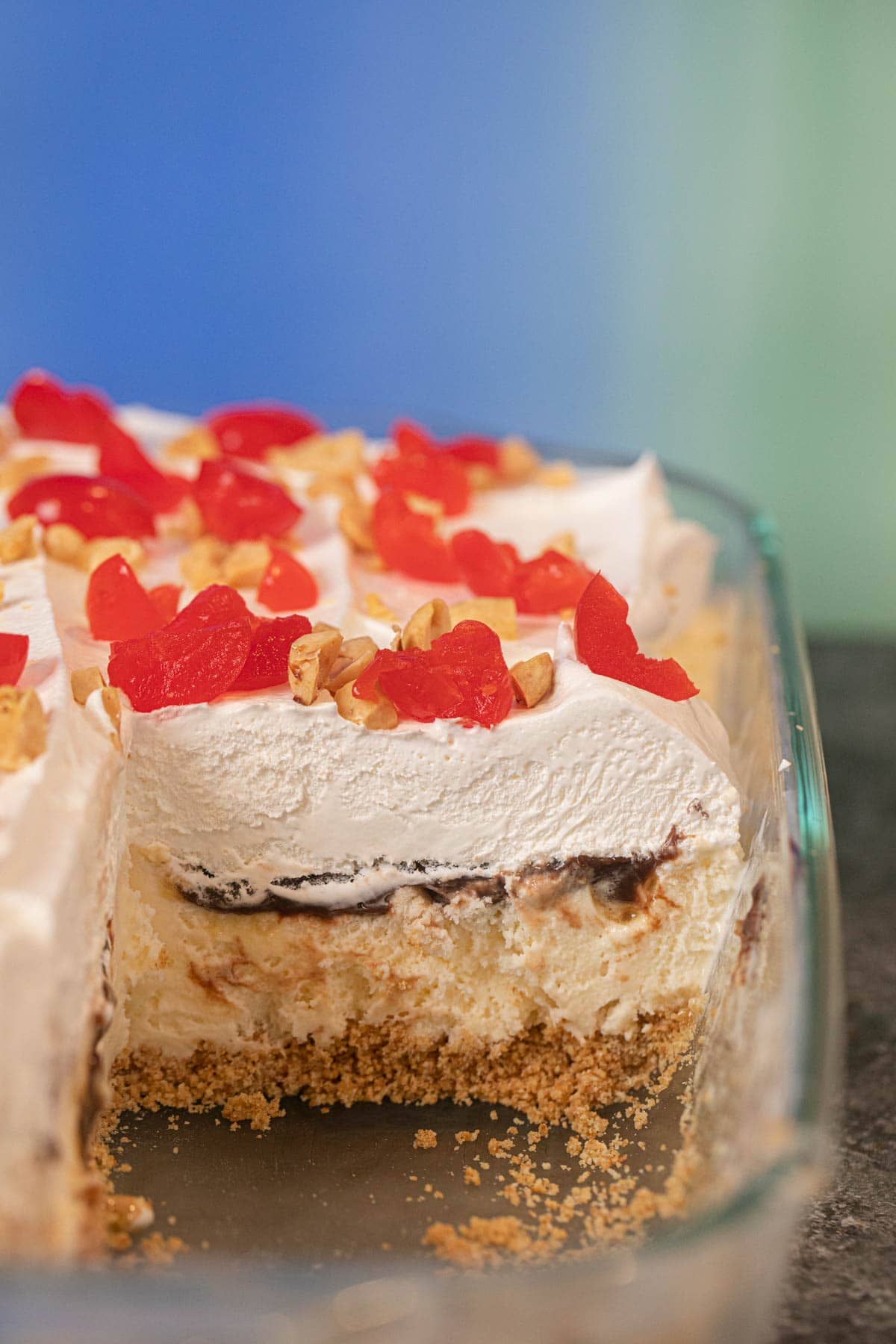 Create a free account to Save Recipes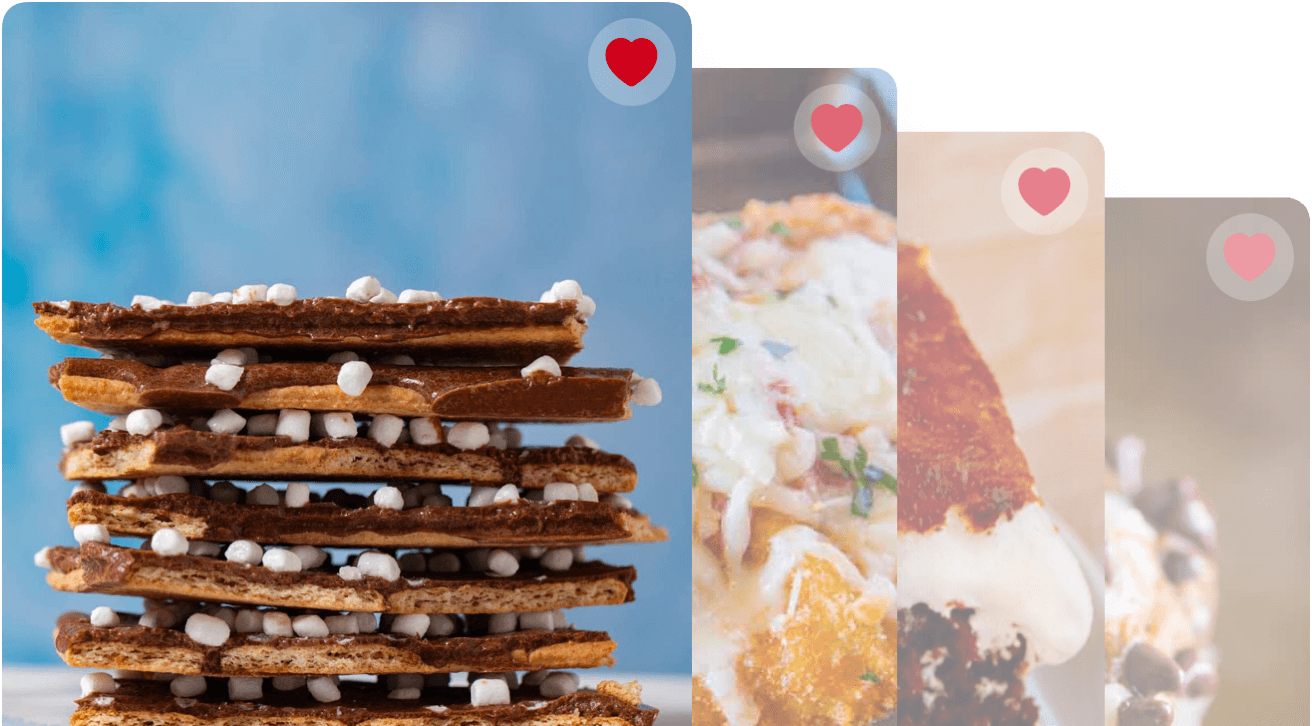 VARIATIONS ON ICE CREAM SUNDAE CASSEROLE
Peanut butter: To make a Peanut Butter Ice Cream Sundae, you can either drizzle melted peanut butter over the casserole instead of caramel sauce or use peanut butter ice cream. You could also top the sundae off with your choice of peanut butter candies like Reese's pieces or mini peanut butter cups.
Chocolate Sauce: Instead of chocolate ganache, you can top the Ice Cream Sundae off with storebought chocolate sauce or Hot Fudge.
Wafer crumbs: Instead of making graham cracker crust, you can make one with Nilla Wafers. Just follow the same recipe using cookie crumbs in place of graham crackers.
Toppings: There are so many delicious topping ideas, you can try for your Ice Cream Sundae Casserole. Top the dish off with sprinkles, semi-sweet chocolate chips, white chocolate chips, walnuts, pecans, dried fruit, broken apart brownies, m&ms, or gummy bears. Any of your favorite ice cream toppings would be a great way to experiment with this recipe.
Strawberry: To make a Strawberry Sundae just use Strawberry Ice Cream as the base.
Chocolate ice cream: You can do the same thing using chocolate ice cream. Or, combine vanilla, strawberry, and chocolate ice cream by using Neapolitan.
MORE SWEET CASSEROLES
HOW TO STORE ICE CREAM SUNDAE CASSEROLE
Serve: Give the Ice Cream Casserole at least 4 hours in the freezer to completely set before you take it out to serve. The ice cream will start to melt quickly, so don't leave it at room temperature for more than an hour or so.
Store: If you have leftover Ice Cream Sundae Casserole, cover the dish to store it in the freezer. It will stay good for up to 3 months.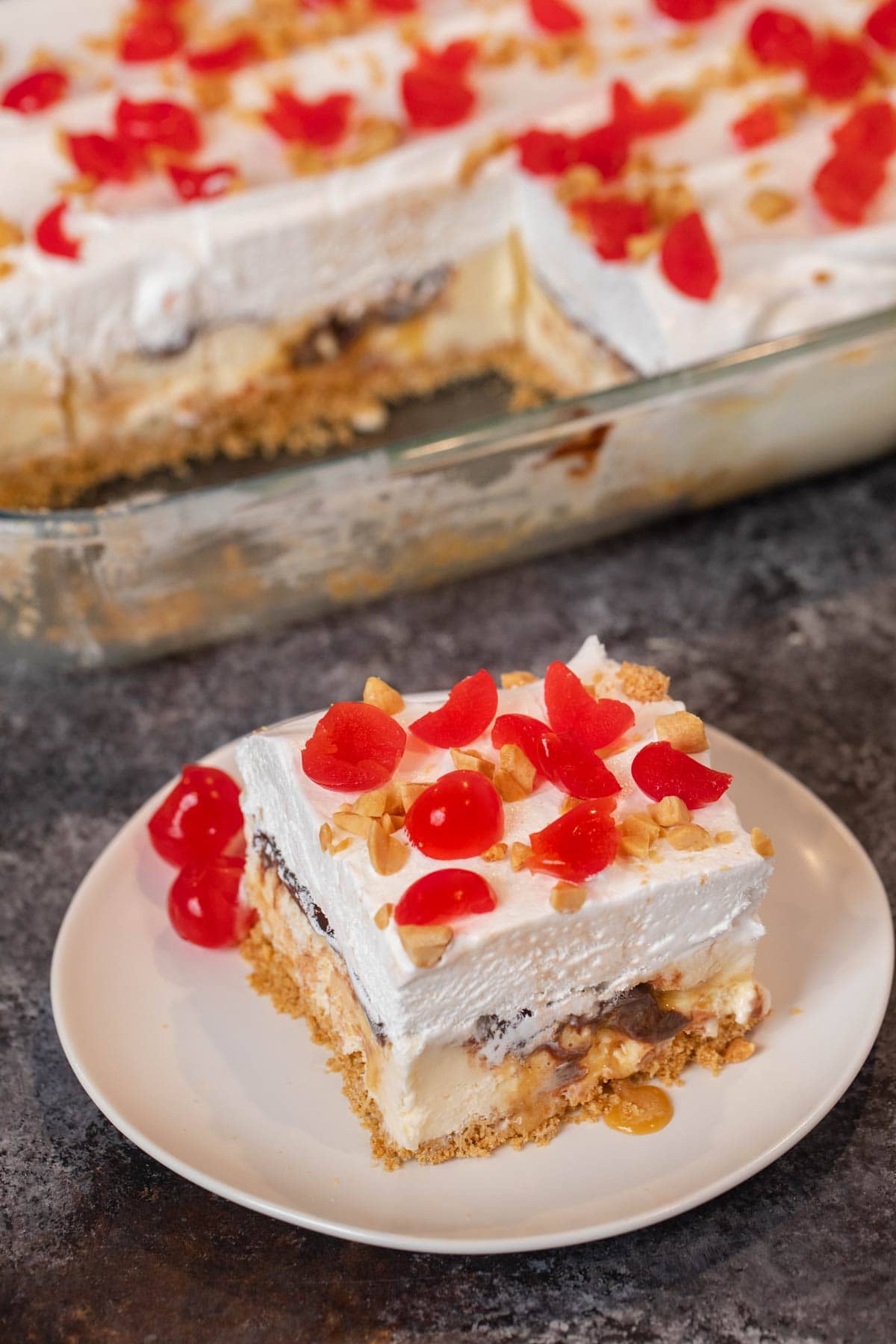 Ingredients
Graham Cracker Crust:
2

cups

graham cracker crumbs

1/3

cup

sugar

1/2

cup

unsalted butter

, melted
Instructions
Stir together graham cracker crumbs, sugar, and butter until well mixed.

Add crust mixture to a 9x13 baking dish and press down evenly.

Scoop the ice creams all over the baking pan so there's a good even distribution around the baking dish.

Spread with a knife or offset spatula to smooth over.

Spread the chocolate ganache evenly over the ice cream.

Drizzle caramel sauce evenly over the chocolate ganache layer.

Spread Cool whip evenly and freeze for a minimum of 4 hours.

Top with chopped cherries and peanuts before serving.
Nutrition
Calories:
411
kcal
|
Carbohydrates:
59
g
|
Protein:
5
g
|
Fat:
18
g
|
Saturated Fat:
10
g
|
Cholesterol:
50
mg
|
Sodium:
191
mg
|
Potassium:
232
mg
|
Fiber:
2
g
|
Sugar:
40
g
|
Vitamin A:
531
IU
|
Vitamin C:
1
mg
|
Calcium:
139
mg
|
Iron:
1
mg