Lamington Loaf Cake is a popular Australian dessert with moist yellow sponge, chocolate glaze, strawberry jam filling, and coconut topping.
This popular Australian Cake Recipe is the perfect decadent dessert. A classic Yellow Cake is covered in rich chocolate and gets a sweet Strawberry Jam center for beautiful layers full of flavor in each slice.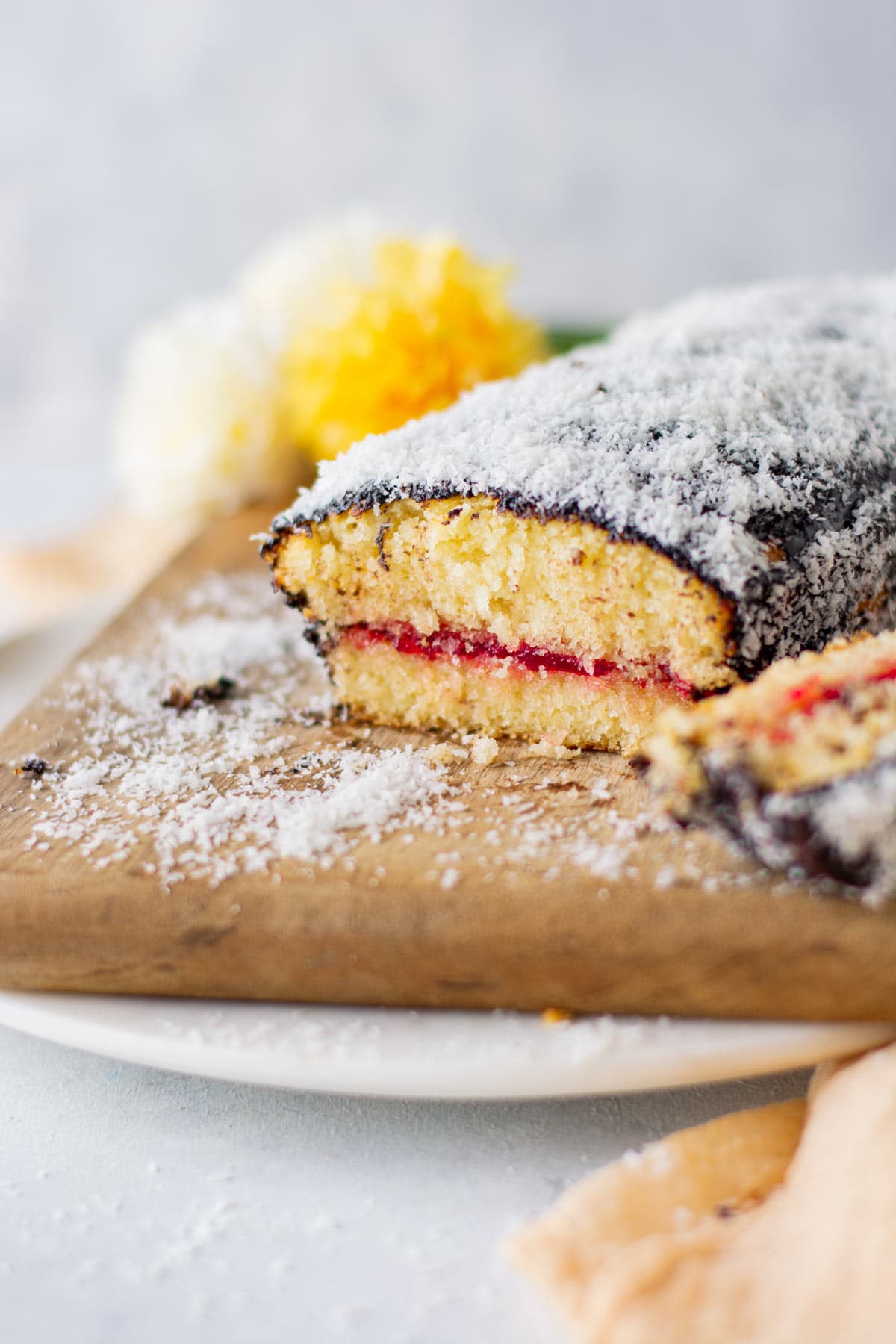 You may have never tried Lamington Cakes, but they're a well loved Australian classic dessert. The beautiful cake was first created in Queensland Australia, and can now be found all over the continent. It's a chocolate-covered sponge cake with an optional sweet strawberry filling, and a crispy coconut to finish.
Baking the iconic dessert as a loaf cake recipe is an easy way to make this traditional cake quickly. Simply combine the sponge cake ingredients and bake them in a loaf pan. Give it a bit of time to cool before you spread the strawberry filling, coat in chocolate, and finish the cake with coconut. It's an indulgent, delicate cake with amazing chocolate, vanilla, and fruit flavors all rolled into each bite.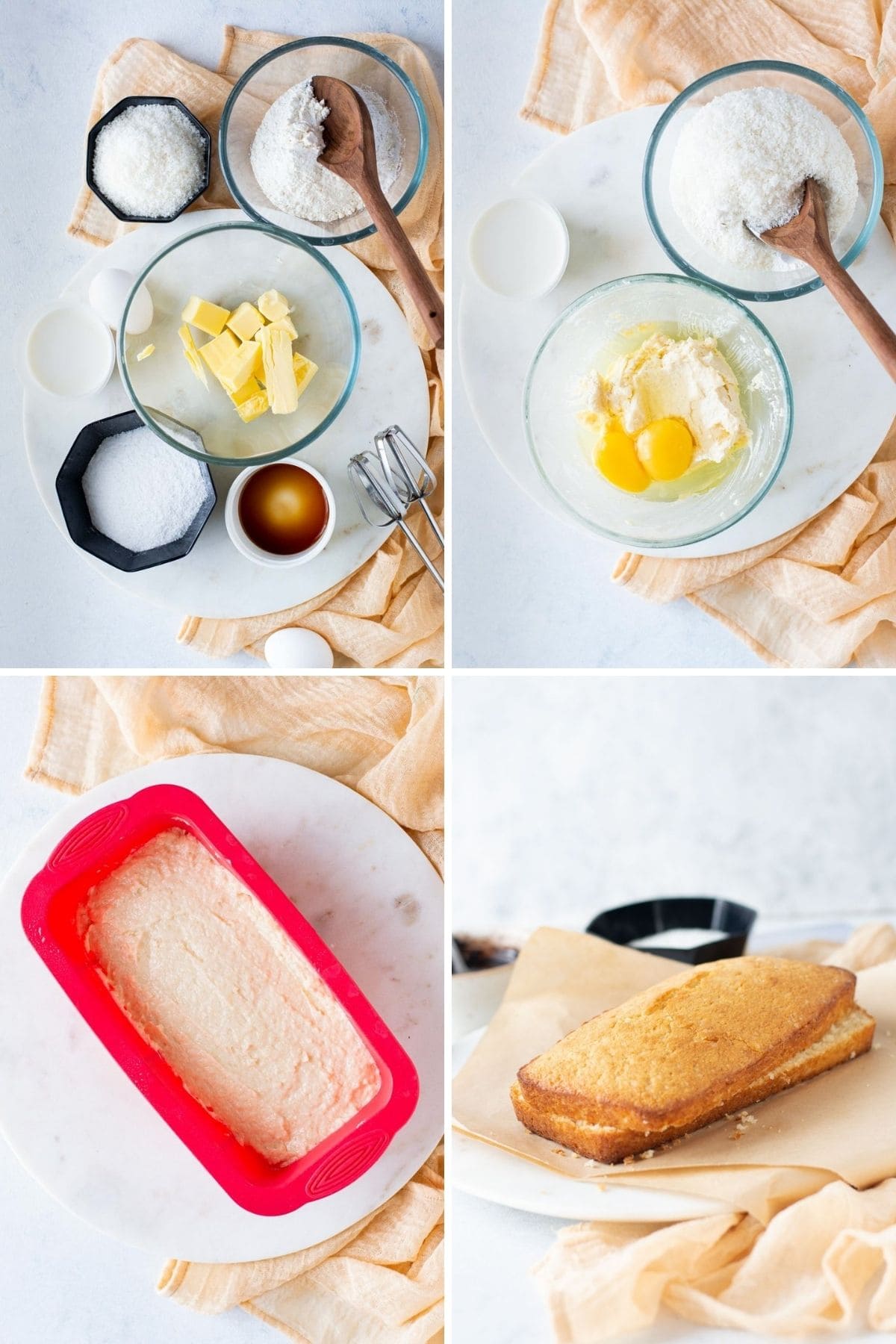 You can always experiment with different kinds of fillings for your Lamington Loaf Cake. To experiment with the fruit flavor try using Blueberry Jam, raspberry jam, or any of your other favorites. Finish with a drizzle of Caramel Sauce or dollop of Whipped Cream to add more flavors to the topping.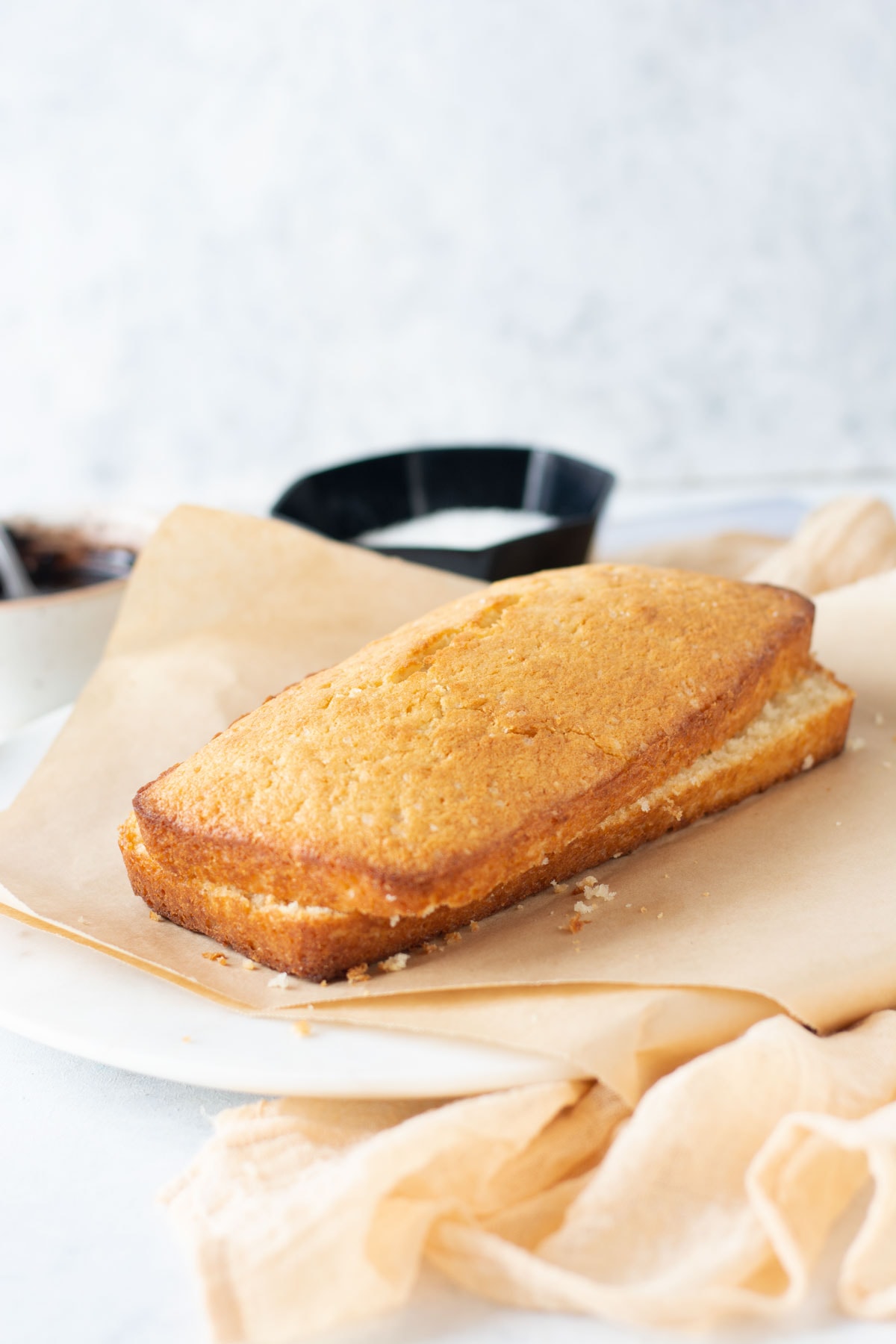 Classic Cake Recipes
Key Ingredients
Sponge Cake: As far as the cake base, this recipe has a pretty common ingredient list. Pantry ingredients like sugar, flour, salt, milk, and eggs, are easily combined into the cake batter. One key difference is that this cake uses less flour than a typical loaf cake would. Having less flour and more eggs is what gives sponge cakes their delicate, airy texture. The other difference is that shredded coconut is added to the dry ingredients to give it a sweet coconut flavor.
Strawberry Filling: To keep the filling super simple, just use your favorite strawberry jam. It's the perfect flavor for Lamington Cake filling.
Chocolate Glaze: The chocolate glaze is also super simple. All you need is butter and dark chocolate chips. Then melt them into a creamy glaze. The deep chocolate flavor contrasts wonderfully with the vanilla sponge cake.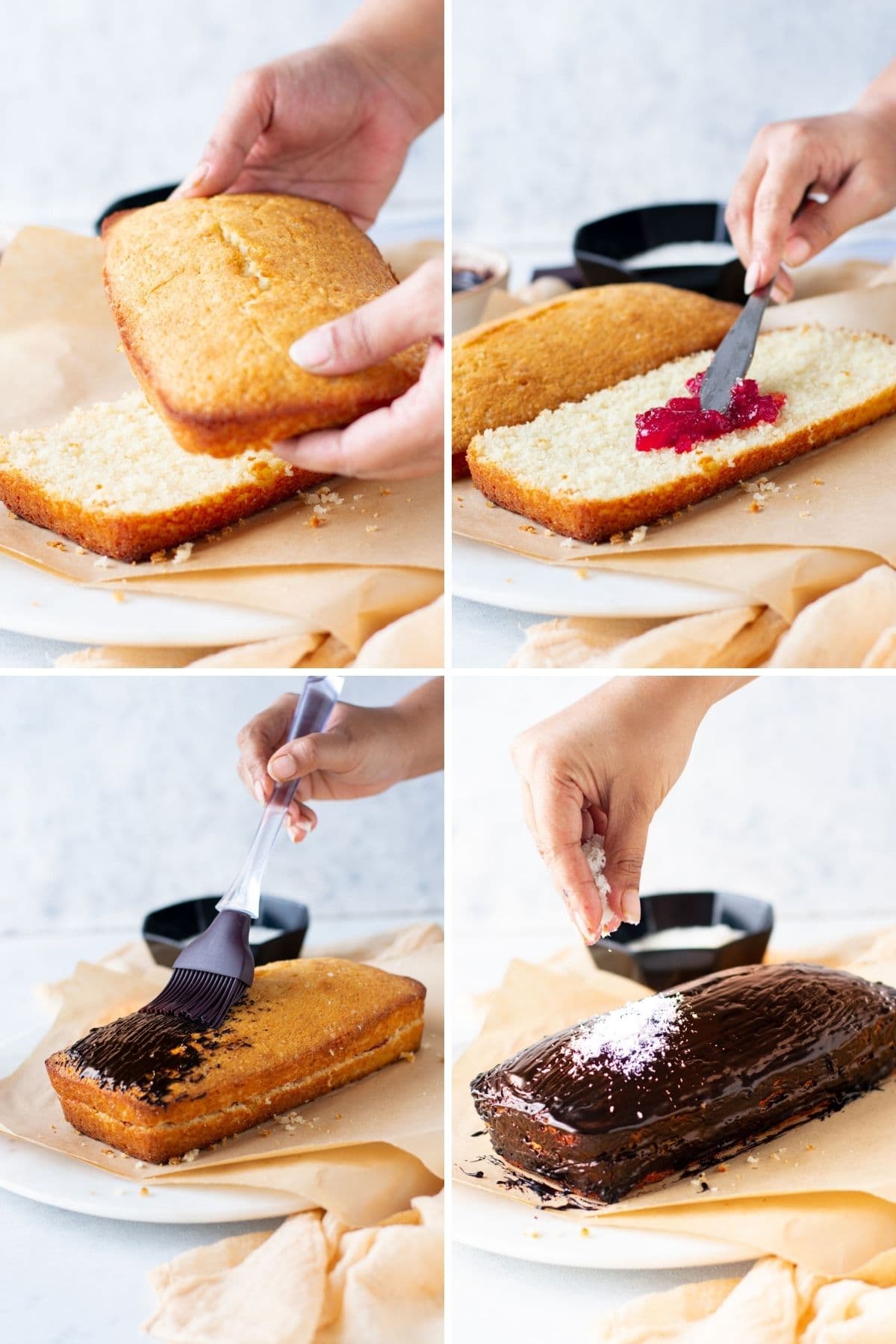 How To Make
Prep Time: Start by preheating the oven to 350 degrees, and spray a loaf pan with nonstick cooking spray.
Lamington Cake Batter: Add the flour, baking powder, salt, and coconut to a large bowl. Then whisk to combine the dry ingredients. Add the butter, white sugar, and vanilla to your electric mixer bowl. Mix at medium speed until light and fluffy. This should take about 1-2 minutes. Change the mixer to low speed, and add each egg individually, mixing until creamy. Pour in a small amount of flour mixture from the separate bowl. Then pour in a little bit of the milk. Continue alternating until you've added all the milk and all the flour. Mix at the lowest speed as you go so it all combines into the wet ingredients.
Cooking Time: Pour the fluffy cake batter into the prepared loaf pan. You can use a rubber spatula to make sure you get all of the batter. Pop the dish in the oven and bake for 45-50 minutes. To test if the baked cake is done, stick a toothpick in the top. When it comes out clean the cake recipe is ready to go. Let the cake cool completely before adding the filling or toppings.
Chocolate Glaze: Add the chocolate and butter to a heatproof bowl. Microwave in 30-second increments until the chocolate icing is smooth and creamy.
Assemble: Transfer the cake to a wire rack to finish cooling completely. Once it's entirely cooled, cut the cake horizontally with a sharp serrated knife down the middle. Spread strawberry jam over the bottom layer of sponge cake. Add the top cake layer and press down lightly. Use a pastry brush to add the chocolate glaze over the entire Lamington Loaf Cake. Coat with coconut flakes while the chocolate is still wet. Place the finished dish in the fridge to set before serving.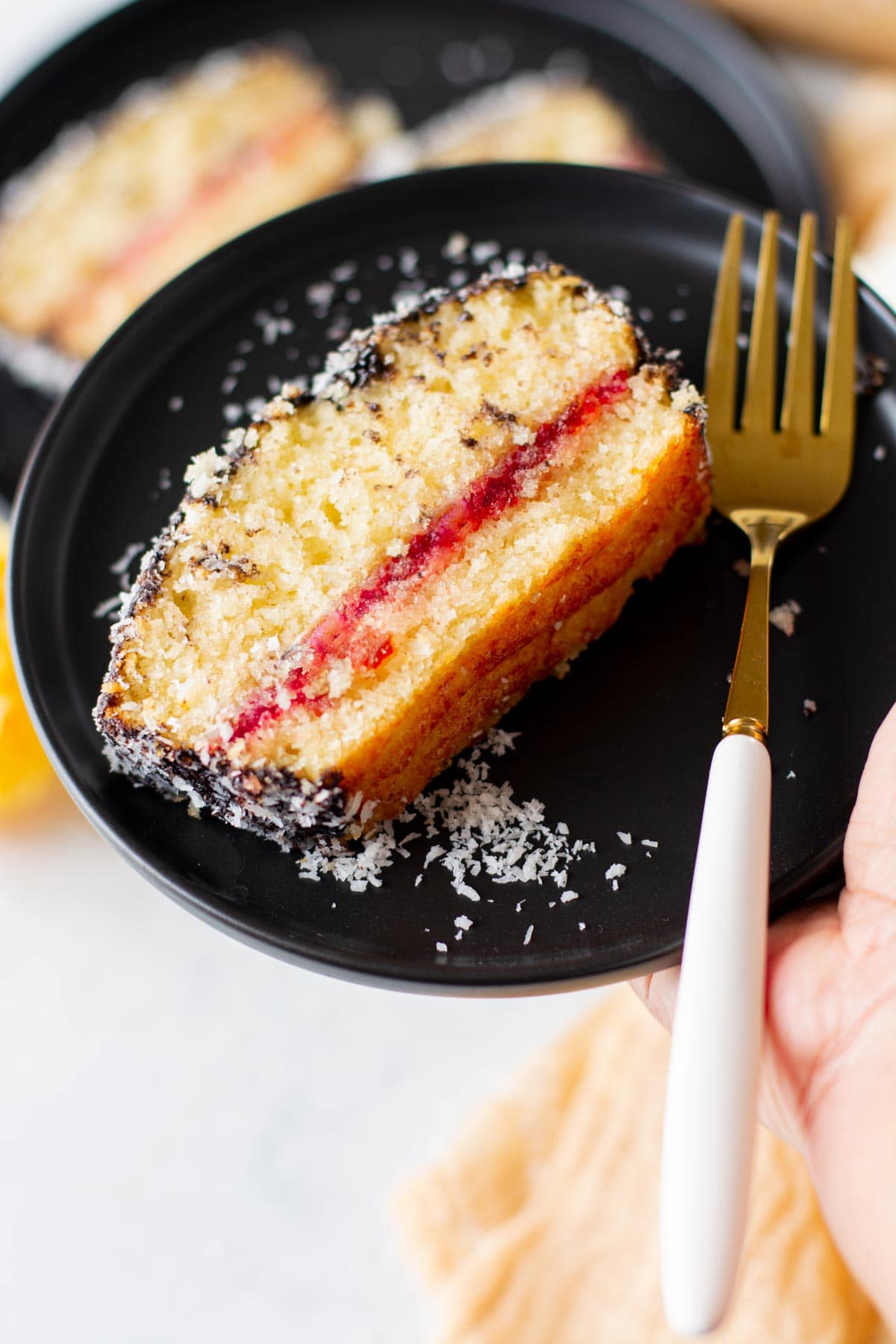 Create a free account to Save Recipes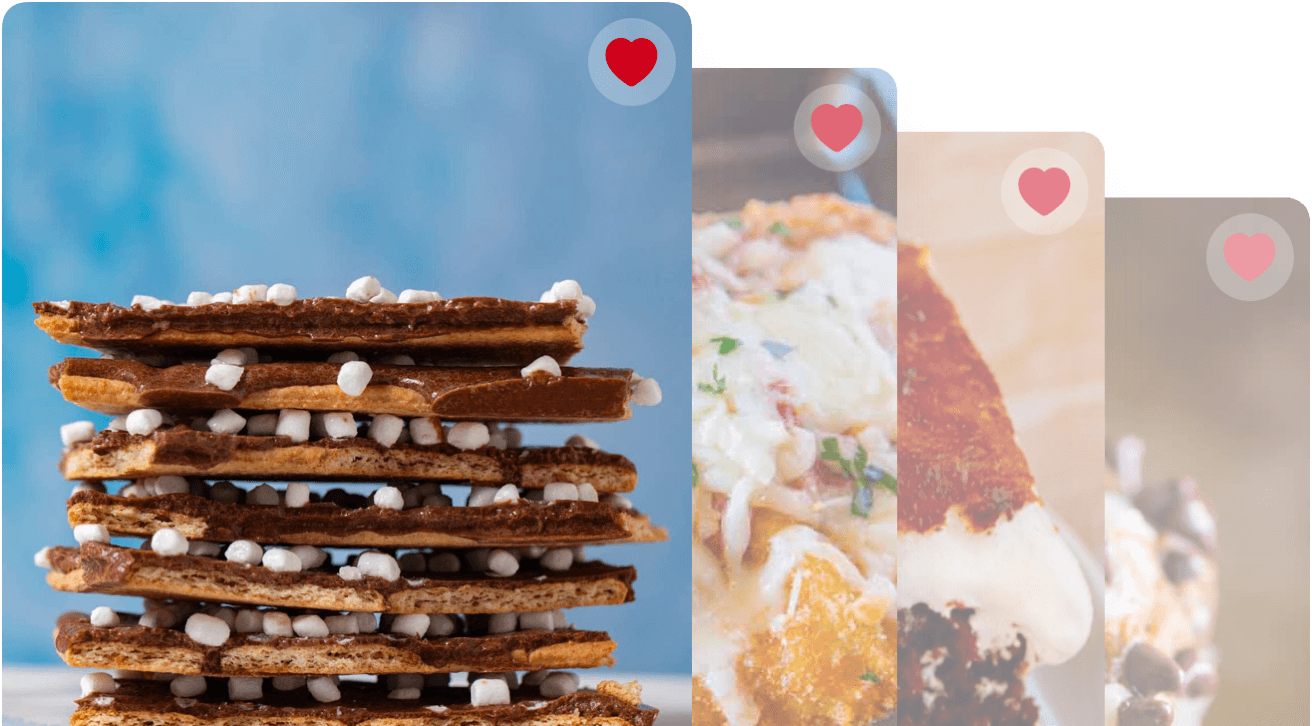 Variations
Chocolate Cake: For chocolate loaf cake, its more than just adding cocoa powder to the dry ingredients in the cake batter. To make the chocolate cake batter, you'll need to change most of the ingredient ratios. Use 1 cup softened butter, 1 cup sugar, 3 large eggs, ½ cup milk, 1 teaspoon vanilla, 1 teaspoon espresso powder, 1 ¾ cups flour, ½ cup unsweetened cocoa powder, 2 teaspoons baking powder, and ½ teaspoon salt. Bake the chocolate cake, add the strawberry filling, and coat in a chocolate layer and coconut according to the original recipe.
Matcha Glaze: Instead of a classic chocolate glaze, you can make your Lamington with a delicious matcha glaze. To make the glaze add ⅓ cup white chocolate chips, ¼ cup milk, 2 tablespoons heavy cream, 1 tablespoon Matcha powder, 2 tablespoons icing sugar, and 1 ½ cups desiccated (shredded) coconut to a heatproof bowl. Then heat all the ingredients in 30-second intervals in the microwave until combined. Once it's all blended into one mixture, pour the Matcha glaze over the loaf cake.
Nuts: Nuts make chocolate and coconut that much better! Add chopped nuts to your filling or mix with the coconut before covering the loaf cake. Try roasted nuts like pecans, macadamia nuts, or walnuts.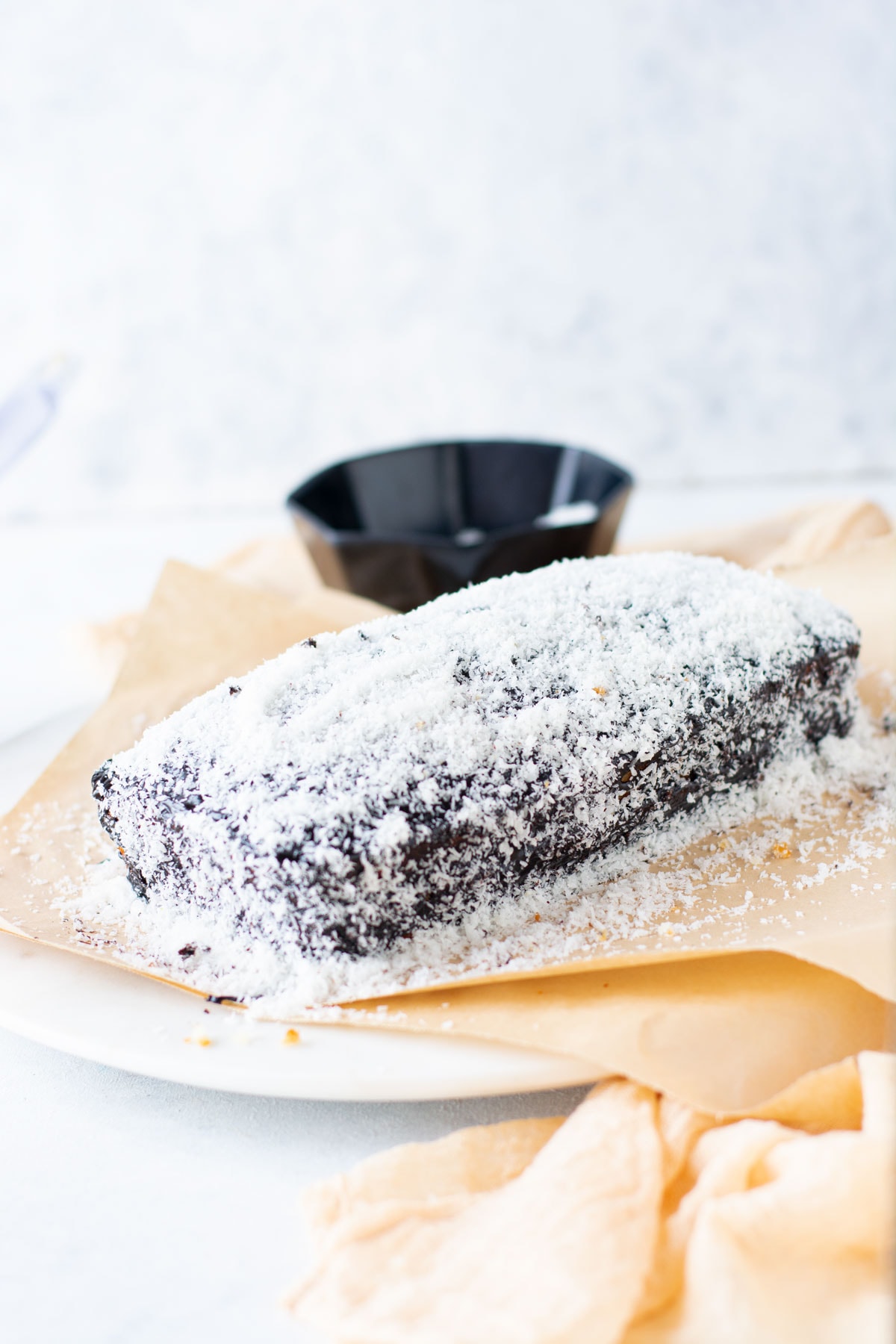 More Classic Loaf Cakes
HOW TO STORE
Serve: Make sure you give this cake recipe at least 10 minutes before slicing it into cake pieces and serving. If you have leftovers, you can cover them in plastic wrap to keep them moist at room temperature for up to 3 days.
Store: Lamington Loaf Cake can also be covered and stored in the fridge for about a week. Line your container with paper towels to absorb excess moisture and keep cake from getting soggy.
Freeze: To freeze this cake, wrap the whole loaf in plastic wrap and then aluminum foil. Or, if you only have a few slices left, put them in a freezer bag or airtight container with baking paper to separate each piece. The cake will stay good in the freezer for 4-6 months.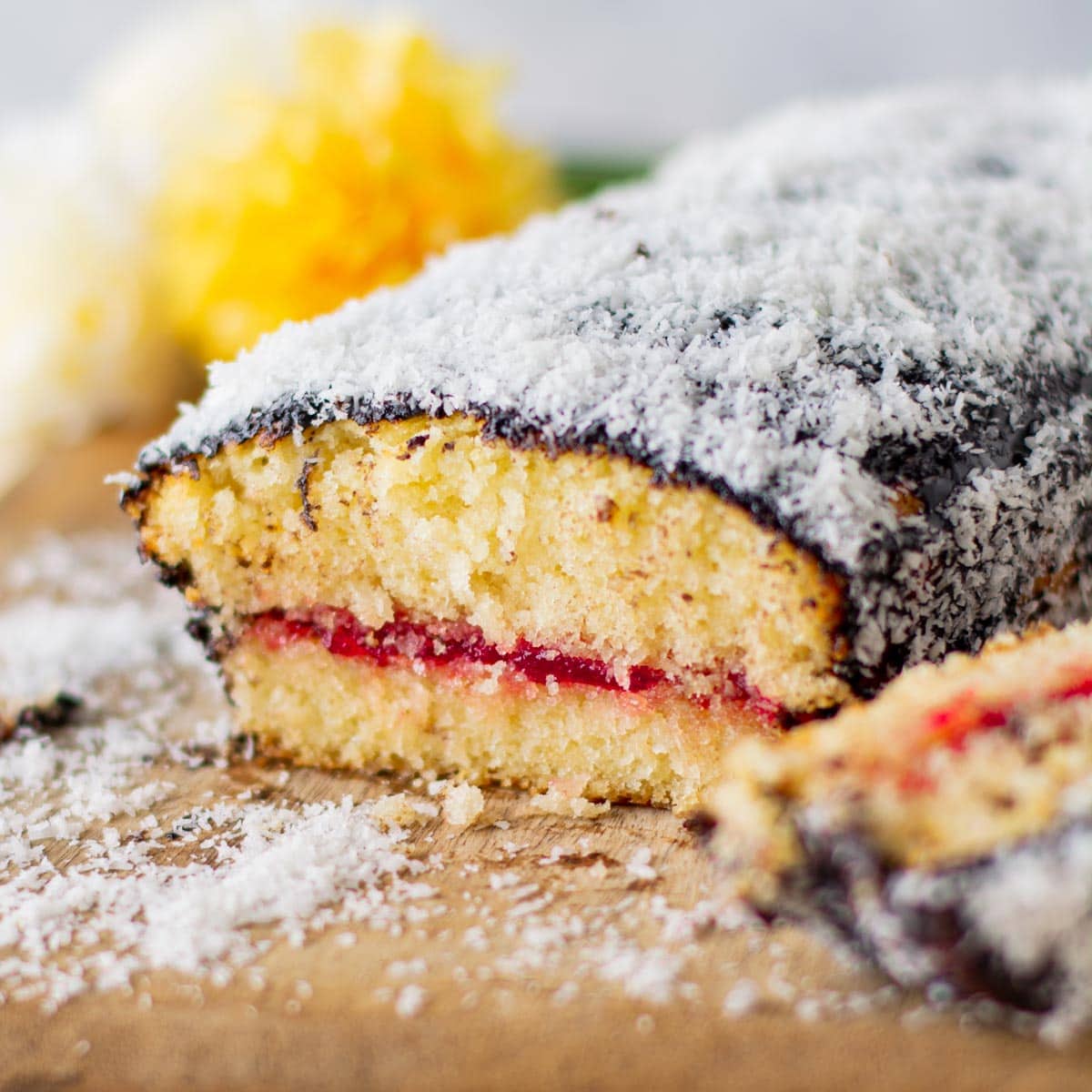 Ingredients
Lamington Cake:
6

tablespoons

unsalted butter

, softened

1/2

cup

sugar

1/2

teaspoon

vanilla extract

2

large

eggs

2/3

cup

flour

1 1/2

teaspoons

baking powder

1/4

teaspoon

salt

1

cup

sweetened shredded coconut

, minced

1/3

cup

whole milk
Chocolate Glaze:
12

ounces

dark chocolate chips

1

tablespoon

unsalted butter
Filling and Topping:
1/3

cup

strawberry jam

1

cup

sweetened shredded coconut

, minced
Instructions
Lamington Cake:
Preheat oven to 350 degrees and spray a 9x5 loaf pan with baking spray.

In a large bowl whisk together the flour, baking powder, salt, and coconut to combine.

To your stand mixer add the butter, sugar, and vanilla extract on medium speed until light and fluffy,

1-2 minutes

.

Add in the egg one at a time on low speed until creamy.

In small increments add the dry mixture to the stand mixer, alternating it with milk on the lowest speed setting.

Pour batter into the loaf pan and bake for

45-50 minutes

or till the toothpick comes out clean.

Let cool completely.
Chocolate Glaze
Add chocolate and butter to a microwave-safe bowl in

30-second

increments until smooth and creamy, stirring well each time.
To finish:
Cut the cake in half horizontally using a sharp serrated knife.

Spread the strawberry jam on the bottom half of the cake.

Top with the second half of the cake and press down lightly.

Apply the chocolate all over the cake using a pastry brush, on all the sides.

Sprinkle the coconut on top and all the sides when the chocolate layer is still wet.

Let chocolate and coconut set in the refrigerator before slicing, about

10 minutes

.
Nutrition
Calories:
388
kcal
|
Carbohydrates:
44
g
|
Protein:
5
g
|
Fat:
22
g
|
Saturated Fat:
18
g
|
Polyunsaturated Fat:
1
g
|
Monounsaturated Fat:
2
g
|
Trans Fat:
1
g
|
Cholesterol:
50
mg
|
Sodium:
137
mg
|
Potassium:
318
mg
|
Fiber:
2
g
|
Sugar:
29
g
|
Vitamin A:
263
IU
|
Vitamin C:
1
mg
|
Calcium:
127
mg
|
Iron:
1
mg