Miso Ramen is a cozy soup with layers of flavor. Homemade ramen recipe with a miso-based broth, chewy noodles, and classic ramen toppings.
Whether it's tasty Chicken Chow Mein, crunchy Ramen Noodle Salad, or this comforting Soup, there are so many ways to transform instant noodles into a flavorful Meal!
Ramen is a beloved Japanese noodle soup that's not only a comforting and satisfying meal but also surprisingly easy to make in your own kitchen. With a few key ingredients and about 15 minutes, you can make a flavorful Miso Ramen. This homemade bowl of ramen that is just as tasty as your favorite ramen shop!
While some traditional ramen recipes may call for hard-to-find or specialized ingredients, this Miso Ramen soup recipe keeps it approachable. The key ingredients, such as white miso paste, ramen noodles, chicken broth, and common pantry items like ginger and garlic, are readily available in most major grocery stores. This means you won't have to go on a wild ingredient hunt or make a special trip to an Asian grocery store.
A big bowl of Miso Ramen wouldn't be complete without a bunch of delicious classic toppings like soft-boiled eggs, green onions, and sesame seeds. And again, you can pick them up in one trip to any major grocery store. This Miso Ramen recipe is made with ground chicken so it can be served as a complete meal on its own. If you are feeling really adventurous, why not make Dragon Rolls or California Rolls to recreate the Ramen Shop experience?
What is Miso Ramen?
Miso ramen is a type of Japanese noodle soup with a base broth made from fermented soybean paste called miso. The miso broth is rich and often made with chicken or pork to add a more savory flavor and heartiness. The hot broth is served with chewy cooked ramen noodles and your choice of various toppings and mix-ins. You'll often find miso ramen with veggies like seaweed, bok choy, or bamboo shoots added. Popular toppings for Miso Ramen range from simple like green onions, bamboo shoots, and soft-boiled eggs to special Asian ingredients like fish cakes, nori, and black garlic.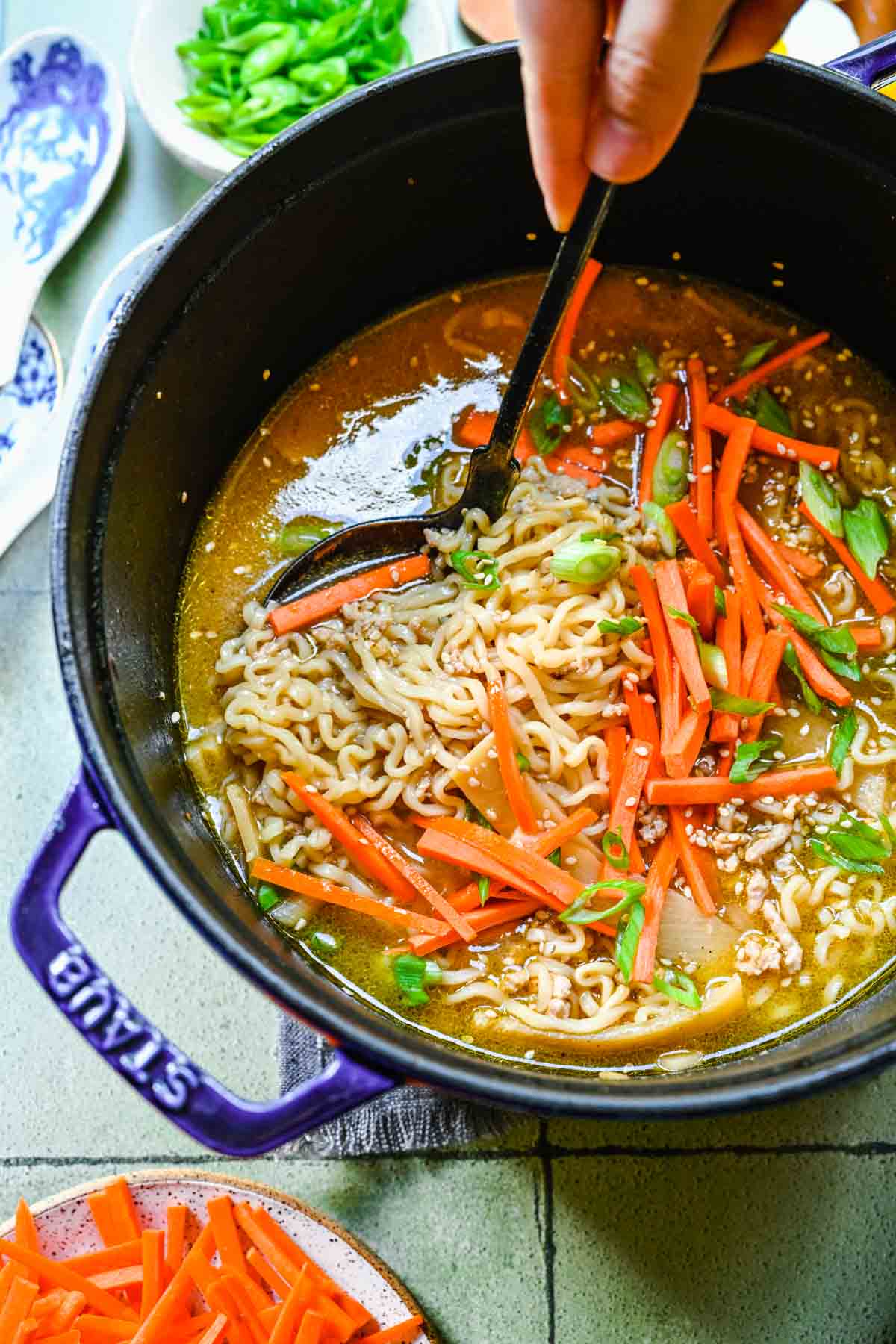 How to Make Miso Ramen
Chicken: Heat sesame oile in a lare pot over medium heat. Brown the chicken in the oil until cooked through, breaking into crumbles as you cook it.
Broth: Stir the chicken broth, hoisin sauce, white miso paste, soy sauce, ginger and garlic into the cooked chicken. Bring the broth to a simmer.
Noodles: Discard the seasoning packets and add the uncooked ramen noodles to the simmering broth with the bamboo shoots. Stir everything well and let the soup boil for 4-5 minutes, until the noodles are cooked.
Serve: Divide the hot broth and noodles between 4 bowls. Slice the eggs in half. Place one egg half, yolk side up, on top of the soup and garnish with sesame seeds, onions, and carrots.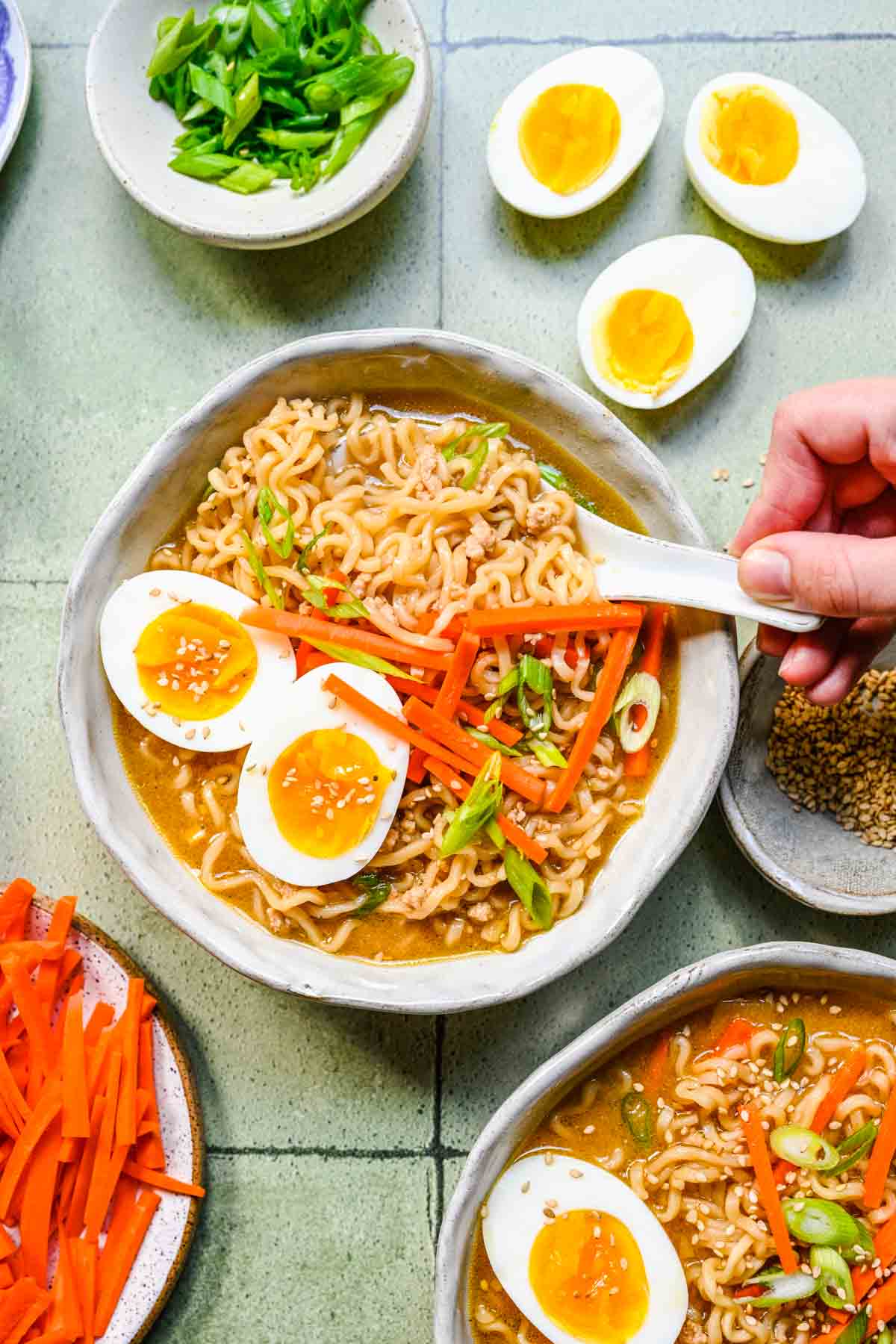 More Easy Asian Noodle Dishes!
FAQs for Miso Ramen
What is Miso?
Miso is a traditional Japanese ingredient made from fermented soybeans, salt, and a koji culture (a type of mold). It is a thick paste with a rich, savory flavor and a complex aroma. Miso is highly versatile and is used in various Japanese dishes, including soups, marinades, dressings, and glazes. Its unique fermentation process gives it a deep umami taste, adding depth and complexity to recipes.
Which miso paste is best for ramen soup?
When it comes to choosing the best miso paste for ramen soup, it largely depends on personal preference. However, white miso paste is often preferred for ramen due to its mild and slightly sweet flavor. Other miso varieties include red miso paste, or miso pastes with special ingredients like dashi, koji or mugi miso.
Where can you buy miso paste? 
Miso paste is widely available and can be found in most well-stocked grocery stores, particularly in the international or Asian food section. Additionally, you can also purchase miso paste from specialty Asian markets or online.
What are some alternative toppings for Miso Ramen? 
Some other popular choices for Ramen toppings include sliced roasted pork (chashu), corn kernels, bean sprouts, mushrooms (such as shiitake or enoki), nori seaweed, and pickled vegetables. Feel free to mix and match to create your own favorite combination of toppings.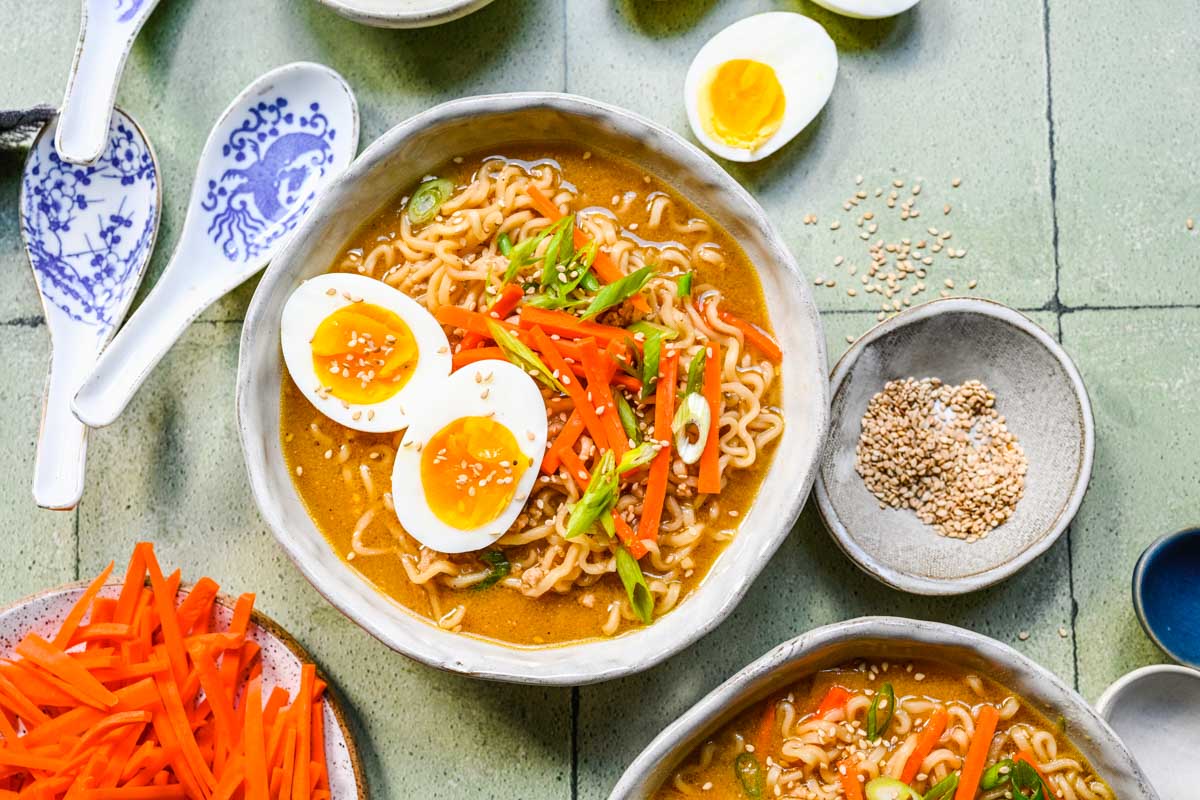 Create a free account to Save Recipes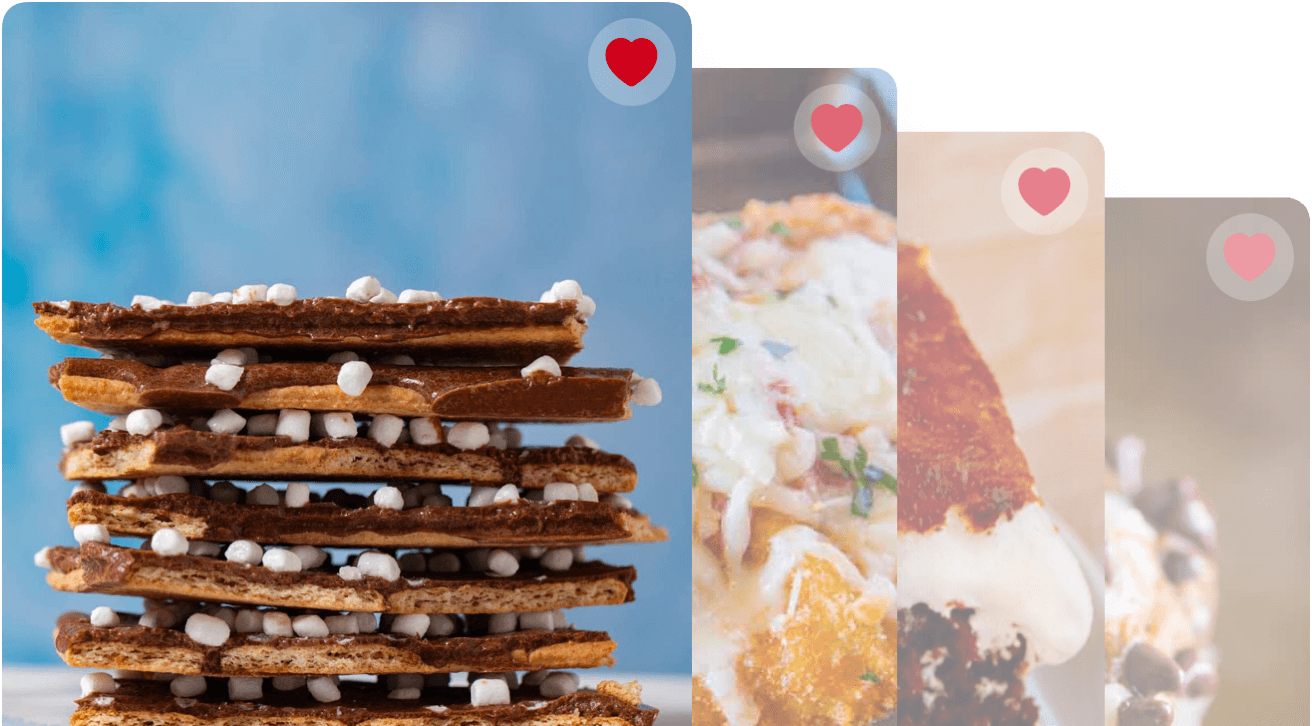 Key Ingredients
Miso Paste: Miso paste is a fermented soybean paste that adds a rich and complex umami flavor to the broth. In this recipe, white miso paste is used for its mild and slightly sweet taste, which perfectly complements the other ingredients and still has a distinctive flavor.
Ramen Noodles: You don't need to get any fancy expensive noodles, the cheap instant noodles are perfect. Make sure to get the ones with the seasonings in separate packets, like the square package noodles not the cup of noodles.
Sesame Oil: Sesame oil is used for browning the chicken and enhancing its initial flavor. You only want to use a small amount of sesame oil because it has a very strong taste.
Chicken: You add both ground chicken and chicken broth to build the rich, savory flavor profile. The chicken meat also makes this a heartier dish while the broth adds way more depth than plain hot water for the lquid.
Flavorings: Hoisin sauce adds a touch of sweetness and depth to the broth while soy sauce adds some salty, umami flavor. Ginger adds a subtle heat and a fresh, zesty note, while garlic infuses the broth with its distinctive pungency. Finally some pickled bamboo shoots add a tangy crunch.
Soft-Boiled Eggs: Soft-boiled eggs are a classic topping in miso ramen. The slightly cooked yolk adds a creamy texture and a velvety richness to the broth. Add whole raw eggs to simmering water and let them barely simmer (not boil) for 6-7 minutes.
Toppings: This delicious Miso Ramen is served with green onions, sesame seeds, and juilenned carrots for some freshness and crunch. You can also add popular optional toppings like cilantro, thinly sliced onions, fish cakes, lime wedges, or a couple drops of sesame oil.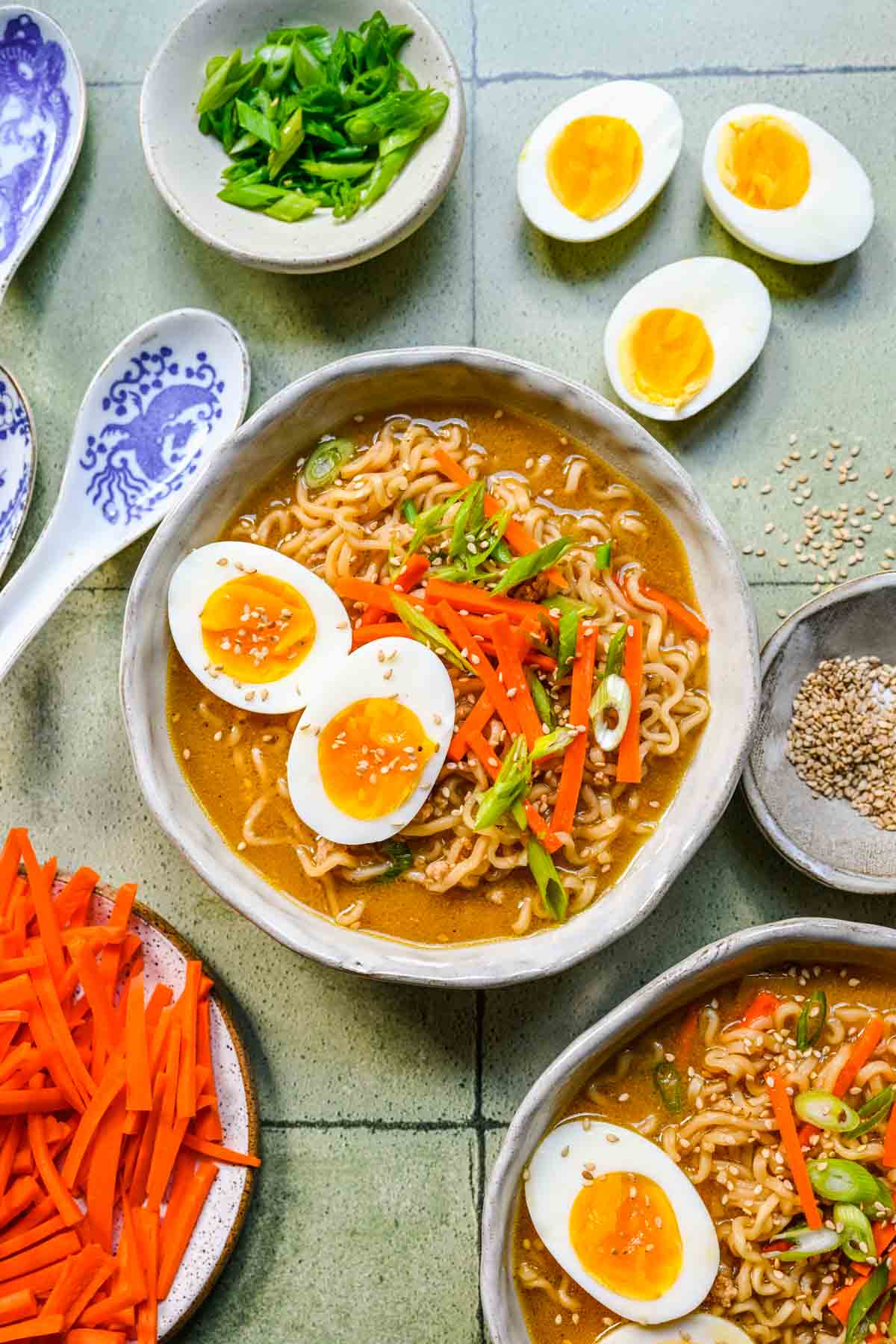 Can Miso Ramen be made ahead of time?
While the broth and noodles can be prepared in advance, you don't want to assemble the entire bowl until just before serving. This ensures that the noodles stay firm and the toppings stay fresh and vibrant. However, you can make a big batch of the miso chicken broth ahead of time and freeze it for up to 3 months. When you are ready to have ramen, let it thaw overnight in the refrigerator. Bring it to a boil, then cook the noodles and bamboo shoots then add the toppings as usual.
Variations
Spicy: For a Spicy Miso Ramen, you can add some of your favorite hot sauce, or try spicy Asian ingredients like hot bean paste or spicy chili oil.
Vegetables: You can add all kinds of veggies to this ramen recipe like bok choy, seaweed, leafy greens like kale or spinach, or bean sprouts. For a vegetarian Miso Ramen, swap vegetable broth for the chicken broth and skip the ground chicken.
Garlic: While there is already fresh garlic in the broth, try using roasted garlic as well to deepen the flavor and make it extra garlicky. If you can find it, try black garlic, which is fermented garlic that has a sweet caramel taste with acidic and smoky notes.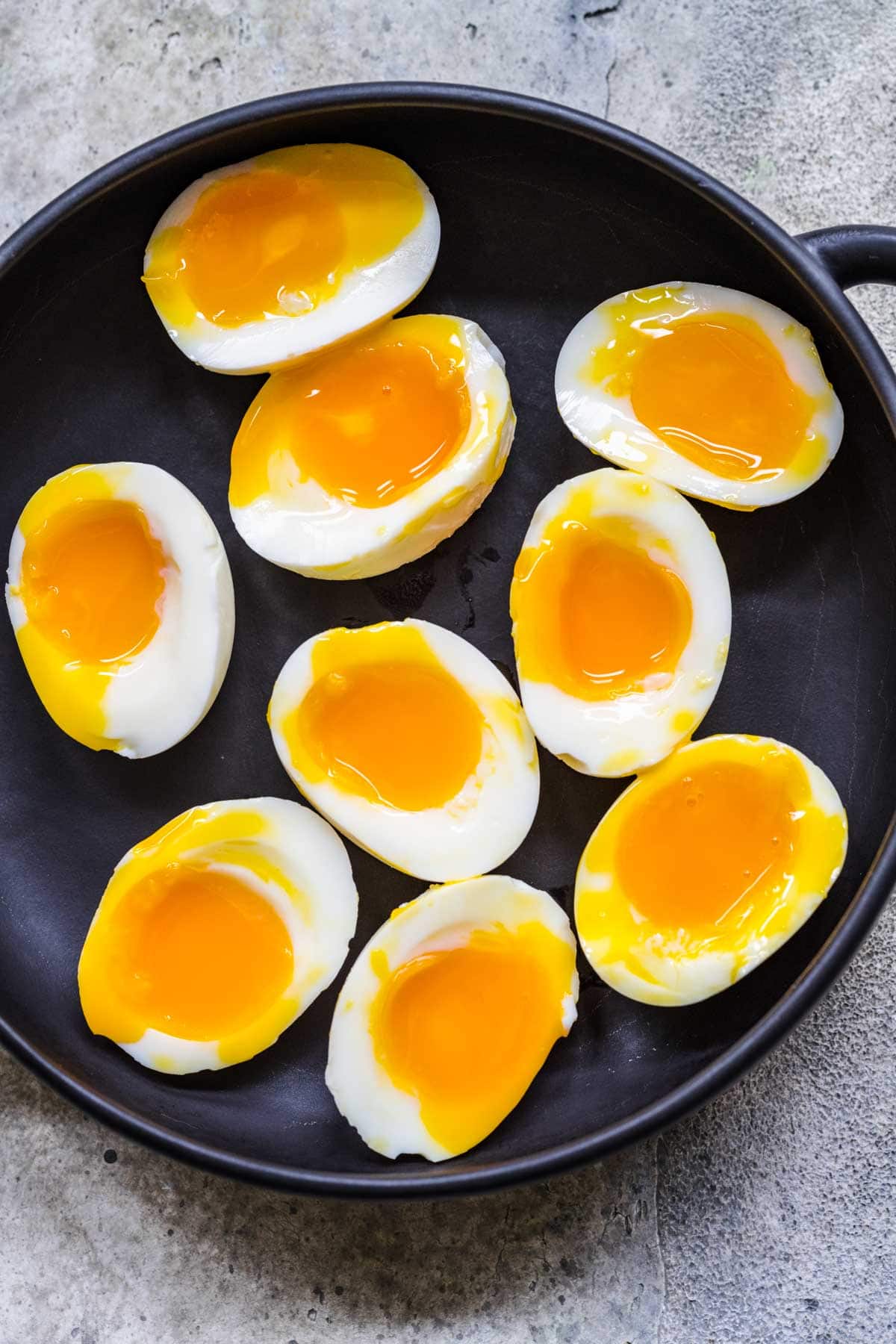 Cozy, Comforting Noodle Soups
How to Store
Store: It's best to store the broth and cooked noodles separately so the noodles stay firm and don't absorb all the liquid. Miso Ramen will keep about 3-4 days in the fridge in an airtight container.
Reheat: Gently warm the broth over low heat and have the noodles at room temperature while the broth is heating up. Once the broth is hot, stir in the noodles and then serve, letting the hot broth reheat the noodles.
Freeze: It's best to freeze the ramen broth by itself then make a fresh batch of noodles and toppings after you reheat it. Let the soup cool completely then freeze in an airtight container for up to 2 months. Thaw overnight before reheating on the stove.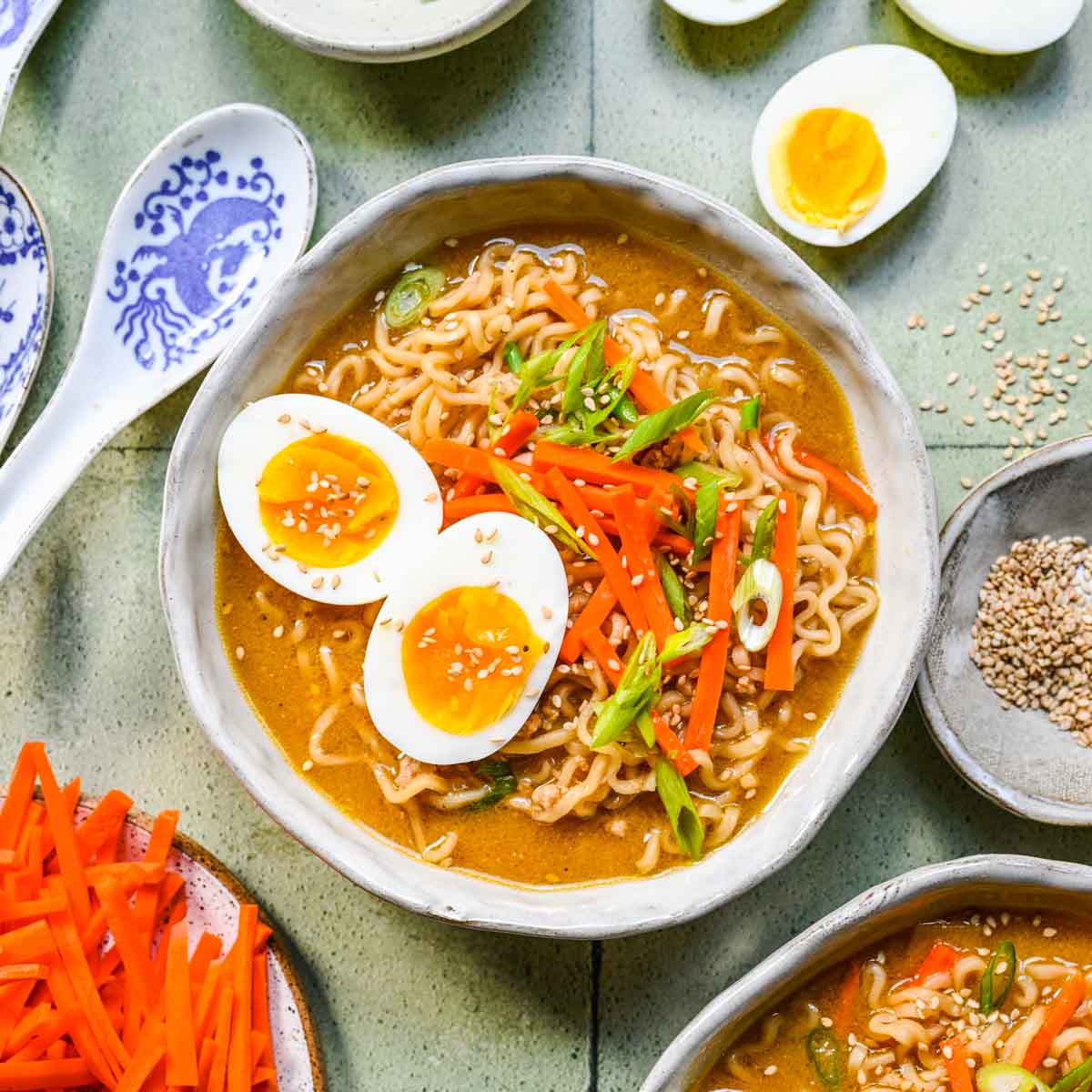 Ingredients
1

tablespoon

sesame oil

1/2

pound

ground chicken

4

cups

chicken broth

2

tablespoons

hoisin sauce

1/4

cup

white miso paste

2

tablespoons

low sodium soy sauce

1

tablespoon

ginger

, finely minced

3

cloves

garlic

, finely minced

2

packages

ramen

4

ounces

bamboo shoots

2

large

eggs

, soft boiled

1

tablespoons

sesame seeds

1/4

cup

green onions

, thinly sliced

2

carrots

, julienned
Instructions
Add sesame oil to a large pot on medium heat.

Add ground chicken, breaking it apart as it cooks until fully cooked and broken into crumbles.

Add the chicken broth, hoisin sauce, white miso paste, soy sauce, ginger and garlic.

Add in the ramen noodles (discard the packets) and bamboo shoots.

Serve in a bowl.

Cut the soft boiled eggs in half and place cut side up in the soup.

Top with sesame seeds, green onions and carrots.
Nutrition
Calories:
439
kcal
|
Carbohydrates:
42
g
|
Protein:
24
g
|
Fat:
20
g
|
Saturated Fat:
6
g
|
Polyunsaturated Fat:
5
g
|
Monounsaturated Fat:
8
g
|
Trans Fat:
0.05
g
|
Cholesterol:
147
mg
|
Sodium:
2890
mg
|
Potassium:
686
mg
|
Fiber:
4
g
|
Sugar:
7
g
|
Vitamin A:
5322
IU
|
Vitamin C:
4
mg
|
Calcium:
95
mg
|
Iron:
4
mg