Peaches & Cream is the perfect summer dessert! Made with fresh peaches baked in brown sugar and cinnamon and topped with a scoop of vanilla ice cream.
Fresh peach desserts like a homemade Peach Pie are what summertime is all about. Discover more seasonal fresh fruit sweets in our Dessert Recipes catalog.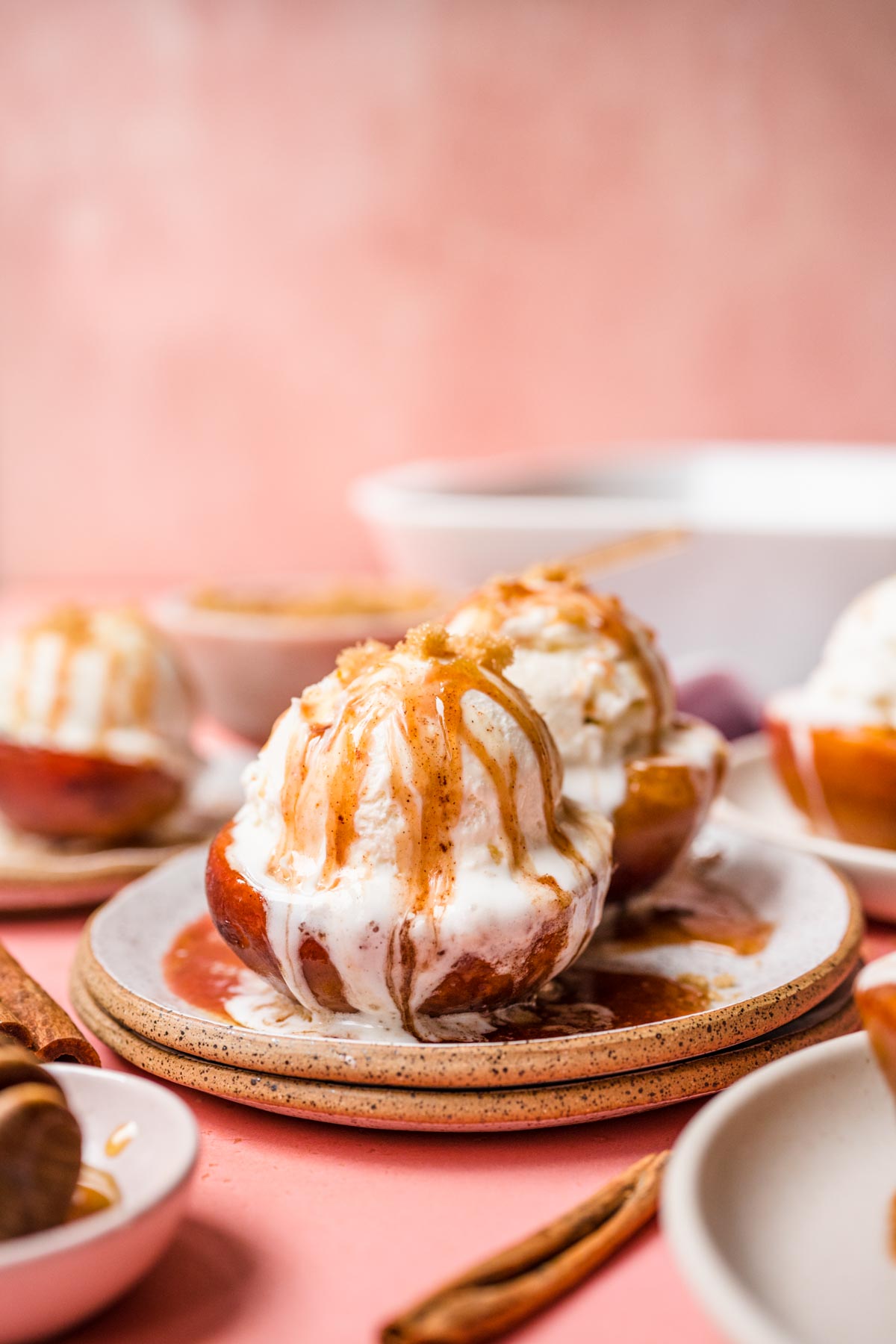 Warm fresh peaches and cool ice cream are a match made in dessert heaven. Whether sliced in a Peach Cobbler or baked whole like Peaches & Cream, topping a peach dessert with a big scoop of cold ice cream is an absolute must.
Like most Southern recipes, there are about as many ways to make Peaches & Cream as people that love this sweet summer dessert. Some recipes use sliced peaches, some use a condensed milk custard, and others soak peaches in whipping cream. But the basic goal is to get the wonderful sweet peaches and cool cream flavor in every bite.
This Peaches & Cream recipe uses whole peaches, sliced in half and baked with butter, ground cinnamon, and brown sugar so they get caramelized topping. The crunchy sugar layer brings out the natural sweetness of fresh peaches without overpowering them.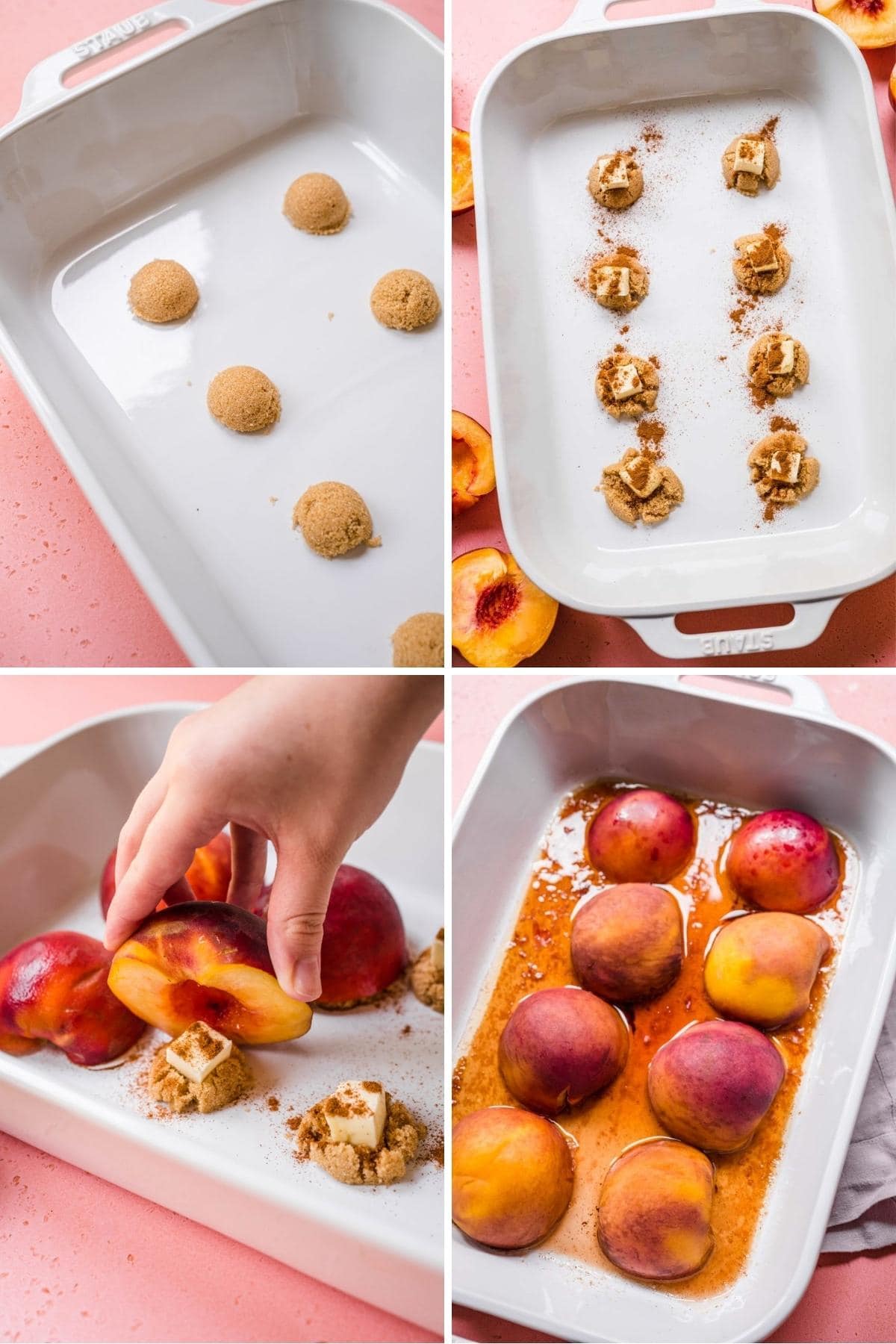 Fresh Peaches & Cream is one of the easiest tasty summer desserts. In about 30 minutes you have a delicious peach dessert ready for a big scoop of Vanilla Ice Cream. You can make a single serving for yourself or make a big batch of baked peaches for a summer cookout.
This recipe for Peaches & Cream is great for a crowd because it's a gluten-free summer dessert without major allergens. And you can easily adjust it even further to make it more diet friendly. Use dairy-free ice cream instead of regular, or you can lower the carbs by using your favorite sugar substitutes like monk fruit or stevia.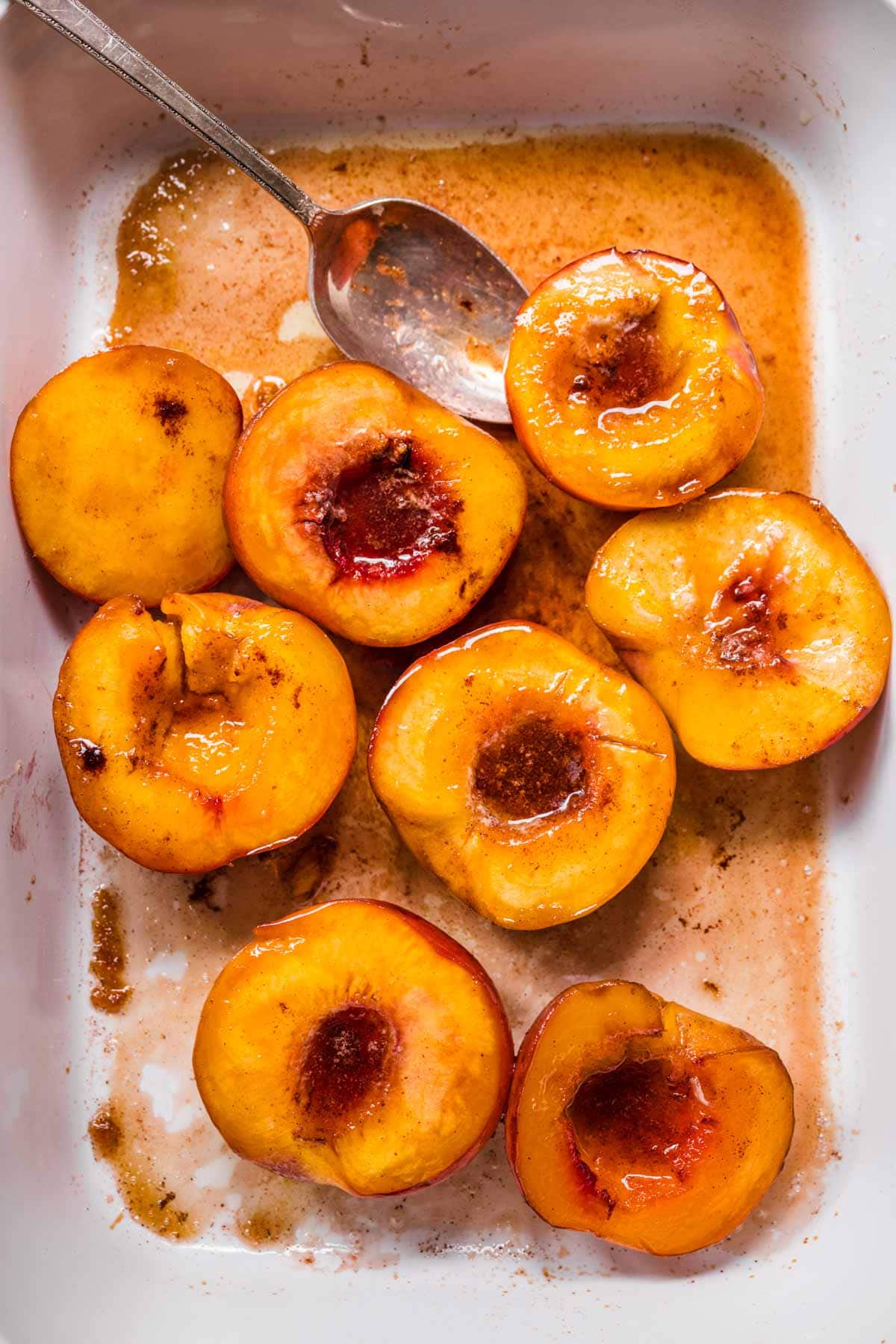 Peaches & Cream can be made ahead by baking all the fresh peaches the night before and then popping them back in the oven (or chafing dish for a crowd) until warm. If making for a party (or a really special summer dessert) offer toppings like toasted nuts, Salted Caramel Sauce, and white chocolate chips for your guests to make a Peaches & Cream Ice Cream Sundae.
Can you use canned peaches or frozen peaches for this peach dessert?
Peaches and Cream is best made with fresh peaches. The firmness and texture you get with fresh peaches just adds to the dish. Frozen or canned peach slices will make this more like a pie filling peach dessert but still good flavor. Make sure to thaw frozen peaches or use peaches canned in juice not syrup if you don't have fresh peaches.
DELICIOUS, CLASSIC FRUIT PIES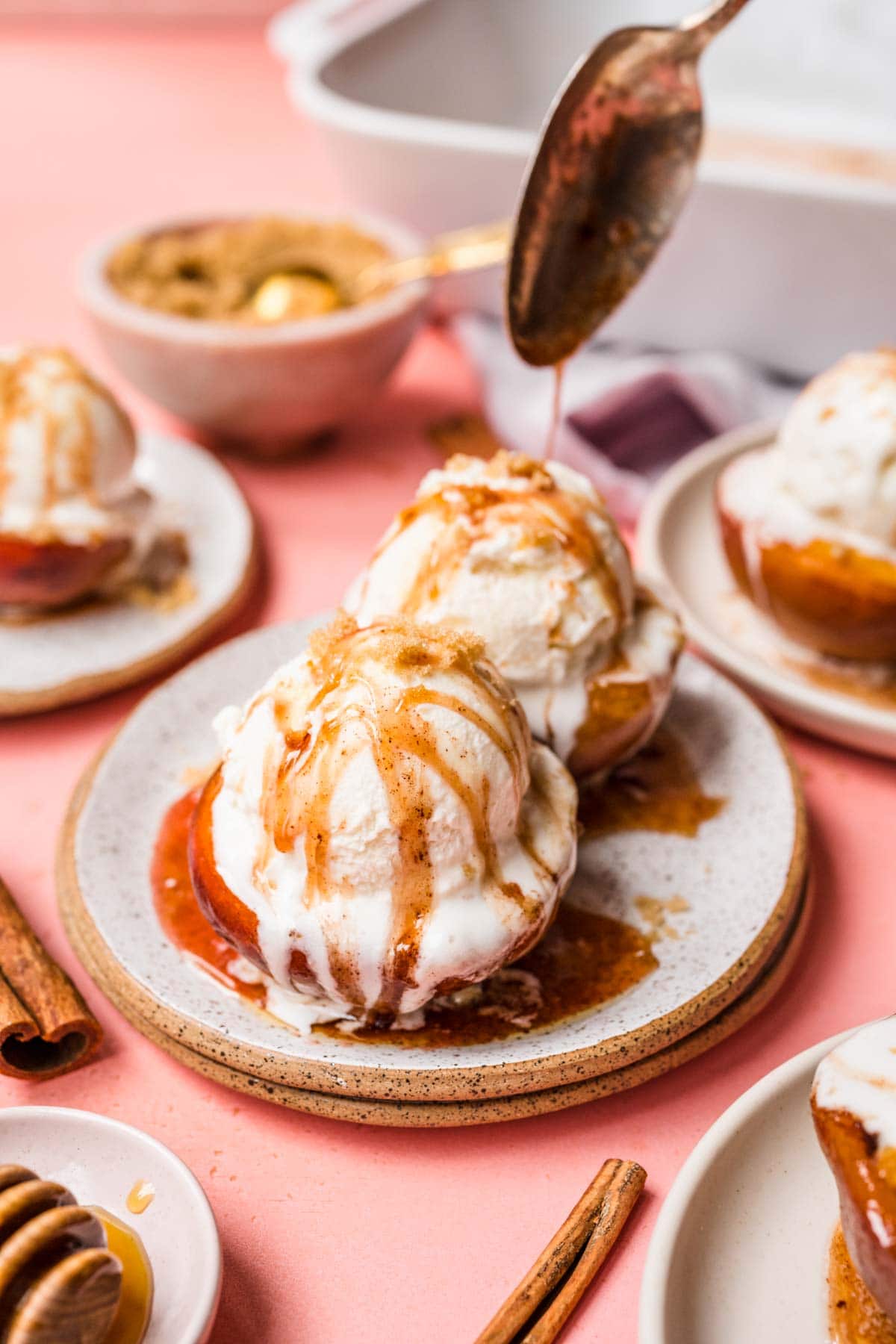 Create a free account to

Save Recipes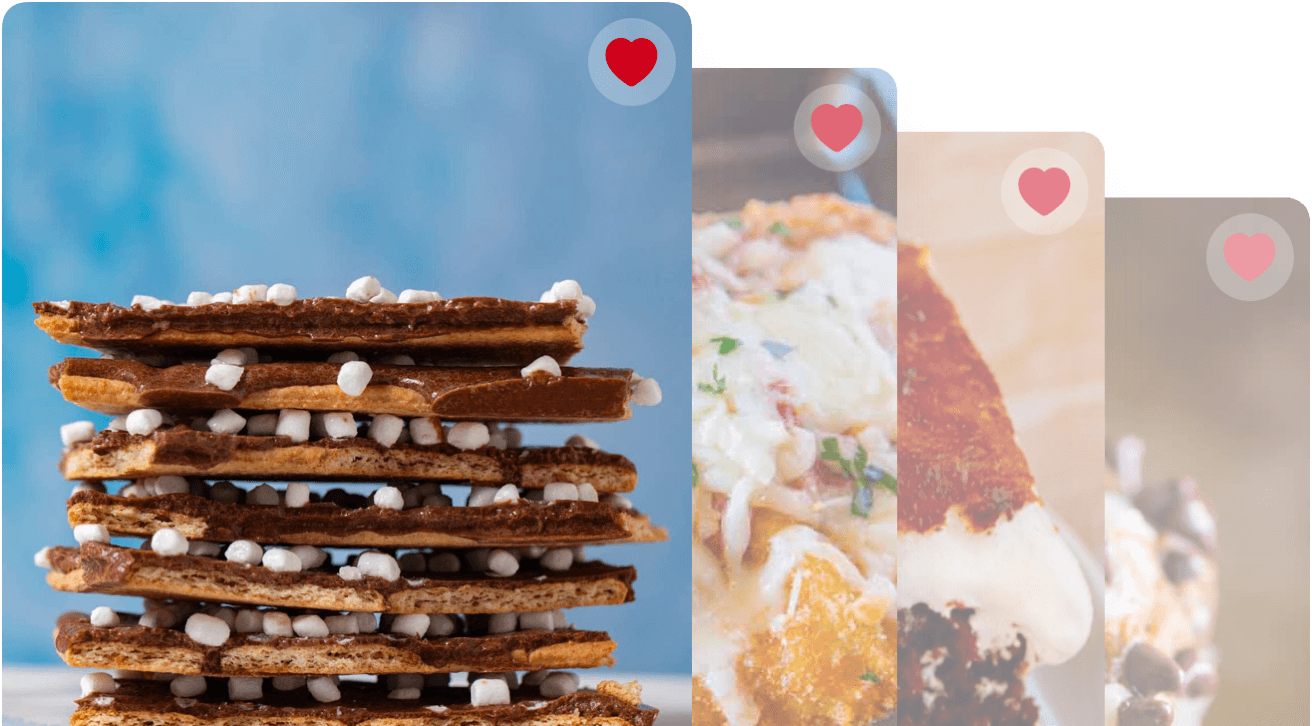 VARIATIONS ON PEACHES AND CREAM
Ice Cream: Vanilla isn't the only ice cream for Peaches & Cream. Try Butter Pecan or Pralines and Cream flavor ice creams for more Southern flair!
Bourbon: Drizzle fresh peaches with a tablespoon of bourbon (or vanilla extract) before baking to give a warm, spiced kick.
Nuts: Sprinkle candied pecans or walnuts on your baked peaches before you top with ice cream.
Fruit: You can substitute any other stone fruit, like apricot or plums, for the peaches in this recipe. Also, try pears or fresh berries!
Whipped Cream: Regular Whipped Cream, Cool Whip, or Cream Cheese Whipped Cream would bring the cream flavor to go with the Peaches in place of (or with) ice cream.
Grilled Peaches: For a summer cookout, try making grilled peaches with this Peaches & Cream recipe. Follow the instructions below.
How to make grilled peaches for Peaches and Cream
In a small bowl, combine butter, brown sugar, and cinnamon until soft and smooth. Preheat grill on high. Brush peaches with a bit of oil and grill peaches cut side down until grill marks appear (about 3-4 minutes) Move peaches to indirect heat in a grill safe pan and fill peach halves with butter mixture, place cut side down. Cover grill and cook until fruit is tender, 10 to 15 minutes. Flip over and spoon sauce on peaches before serving.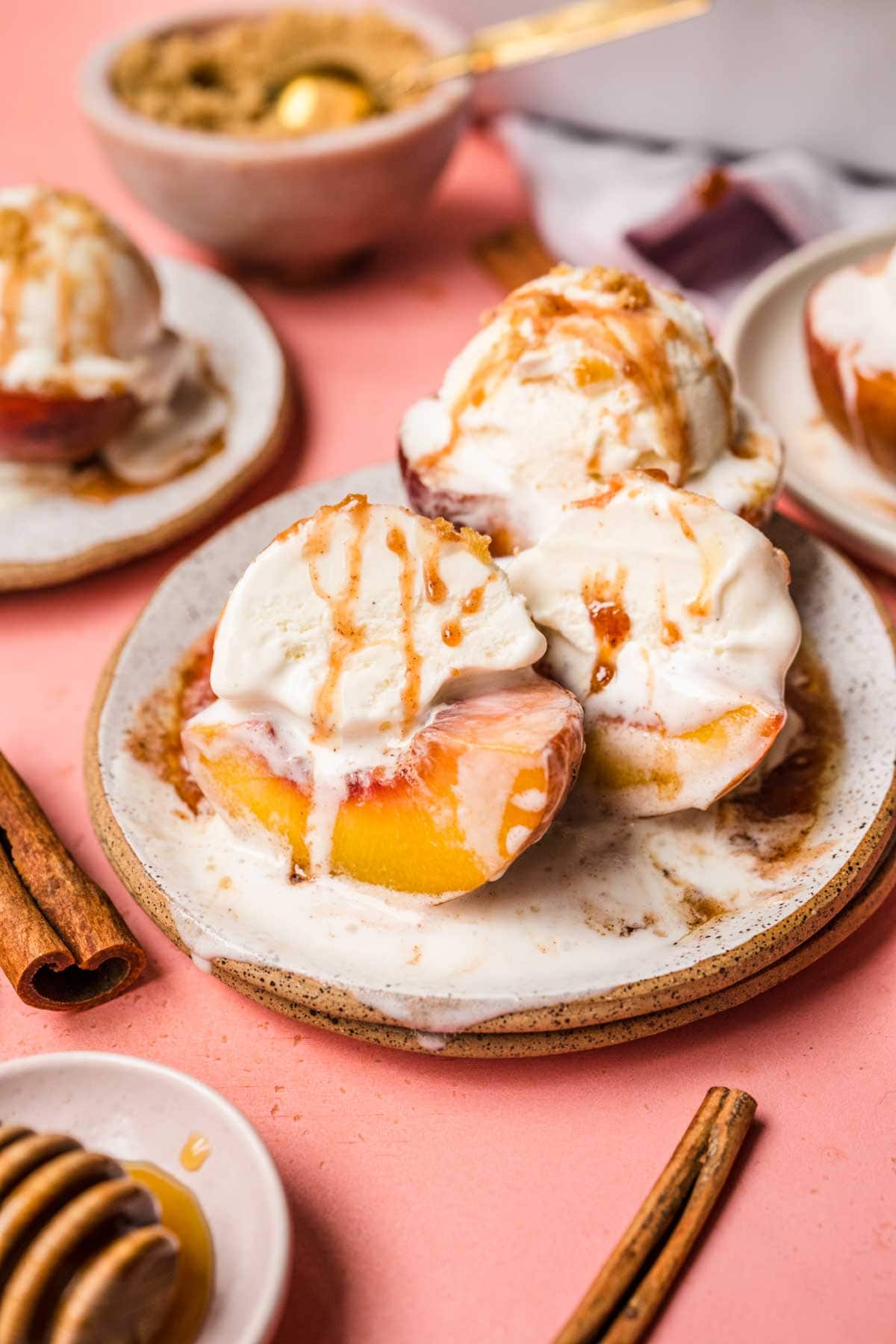 DELICIOUS FRUIT DESSERTS:
HOW TO STORE PEACHES AND CREAM
Serve: Peaches and Cream can be at room temperature for up to 4 hours without ice cream added.
Store: Let peaches cool down before storing in an airtight container in the refrigerator for about a week.
Freeze: You can freeze cooked peaches for up to 6 months, but keep in mind the texture of thawed peaches won't be the same as fresh peaches.


Ingredients
1/4

cup

brown sugar

, packed

2

tablespoons

butter

, cut into 8 pieces

1/4

teaspoon

ground cinnamon

, or more to taste

4

ripe peaches

, halved and pitted

4

scoops

vanilla ice cream
Instructions
Preheat oven to 400 degrees F.

Arrange brown sugar in a mound, ½ tablespoon per peach half, in a 9×13-inch baking dish.

Top each brown sugar mound with a piece of butter and a sprinkle of cinnamon. Place a peach half, cut-side down, on top of brown sugar & butter.

Bake in the preheated oven until peaches are soft,

15 to 20 minutes

.

Turn peaches back over (cut side up), spoon sauces back over.

Plate 2 warm peaches per serving and top with 1 scoop vanilla ice cream.
Nutrition
Calories:
298
kcal
|
Carbohydrates:
43
g
|
Protein:
4
g
|
Fat:
13
g
|
Saturated Fat:
8
g
|
Polyunsaturated Fat:
1
g
|
Monounsaturated Fat:
4
g
|
Trans Fat:
1
g
|
Cholesterol:
44
mg
|
Sodium:
107
mg
|
Potassium:
437
mg
|
Fiber:
3
g
|
Sugar:
40
g
|
Vitamin A:
942
IU
|
Vitamin C:
10
mg
|
Calcium:
108
mg
|
Iron:
1
mg