Peanut Butter Snowballs are an adorable, no-bake holiday treat with powdered sugar, creamy peanut butter, and candy coating. Perfect for a holiday party!
The holidays come with so many delicious Dessert Recipes and baked goods to try. Fortunately, there are also a lot of opportunities to bring them to get-togethers and give them away as gifts so your house isn't completely overtaken by sweet treats. These Peanut Butter Snowballs make a great sweet snack to serve at a party, give as a gift, or enjoy after your holiday dinner. If you are hosting holiday get-togethers, put the snowballs out with similar treats like Buckeye Balls and Easy Rum Balls.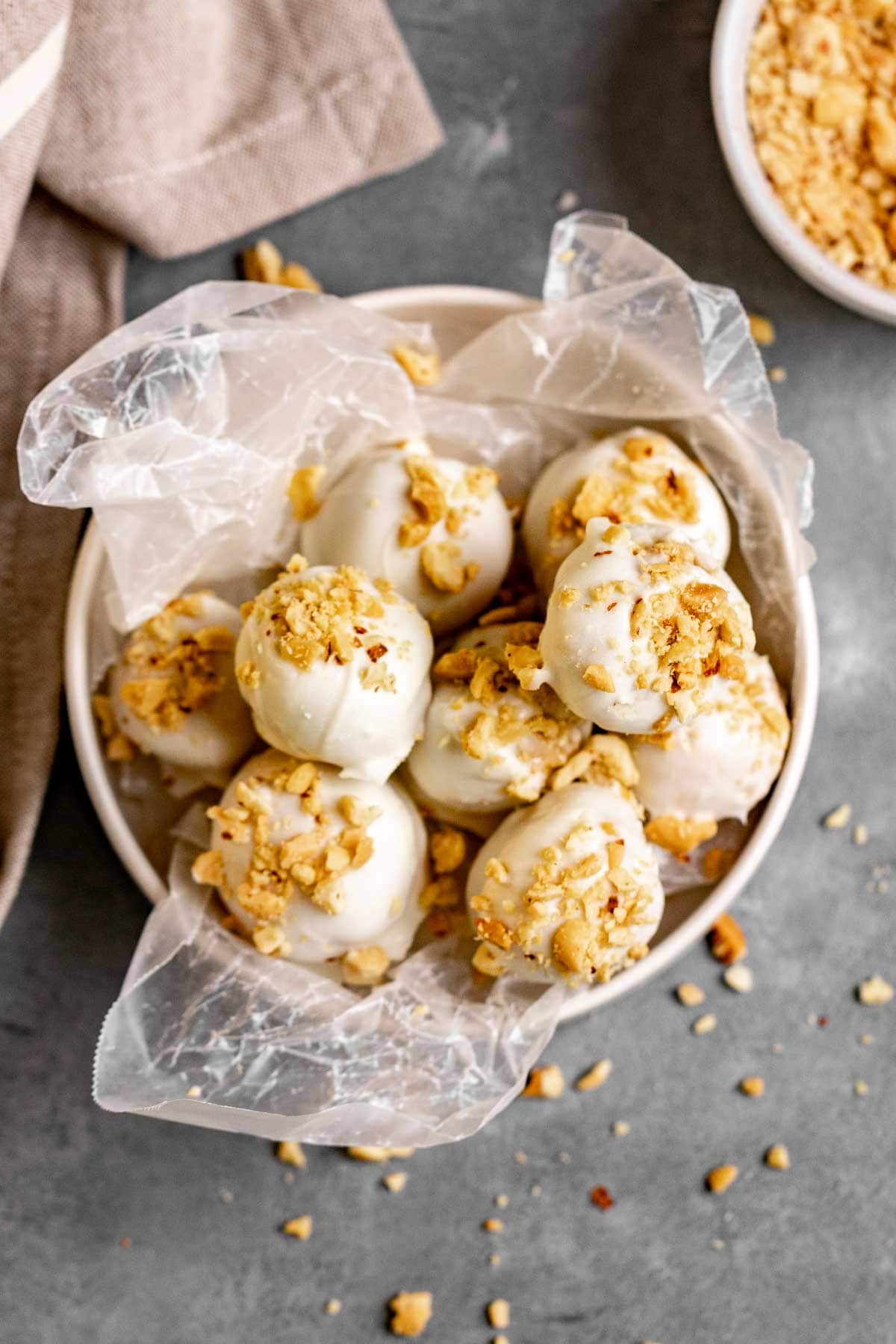 PEANUT BUTTER SNOWBALLS
When it comes to an easy holiday dessert, this no-bake peanut butter treat is one you absolutely need up your sleeve. Creamy Peanut Butter Snowballs are somewhere between a Homemade Candy and a Dessert. The rich candy coating covers a chewy peanut butter inside for a sweet, and addicting, combination.
If you're getting burnt out on Baked Cookies, then this no-bake holiday recipe is perfect for you. There is no need to put this simple recipe in the oven. Just combine the peanut butter filling, form it, and coat it in melted white candy coating. The hardest part of the whole recipe is having patience to wait while the No-Bake Peanut Butter Snowballs set. It's a great recipe to let kids help you make because there's no risk of them burning themselves on the oven.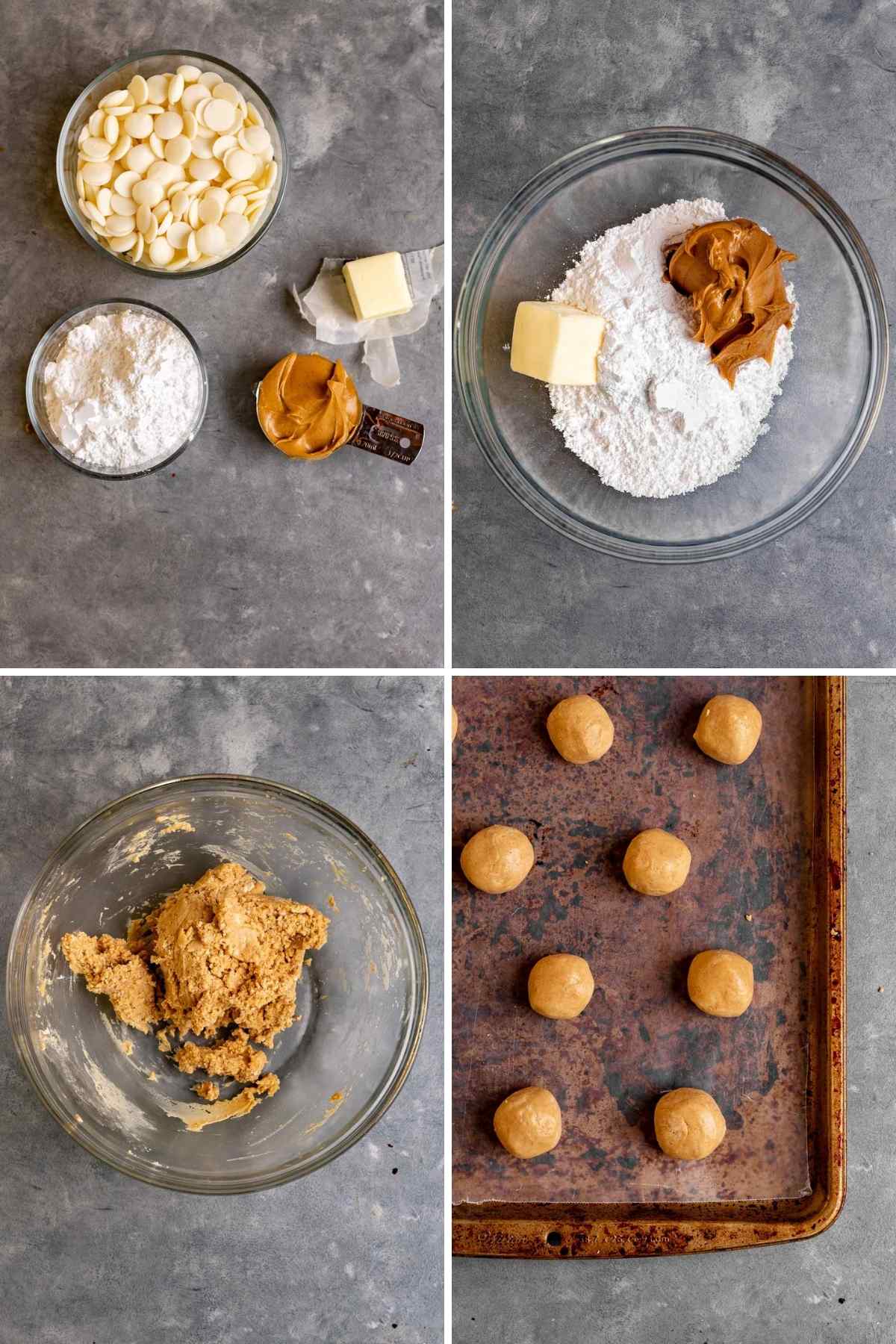 Throw Peanut Butter Snowballs together for a holiday treat exchange, holiday party, Christmas day, or New Year's. Just be prepared, that if you're serving them to a crowd, you might be asked for the recipe several times. They're just that good!
MORE EASY NO-BAKE DESSERTS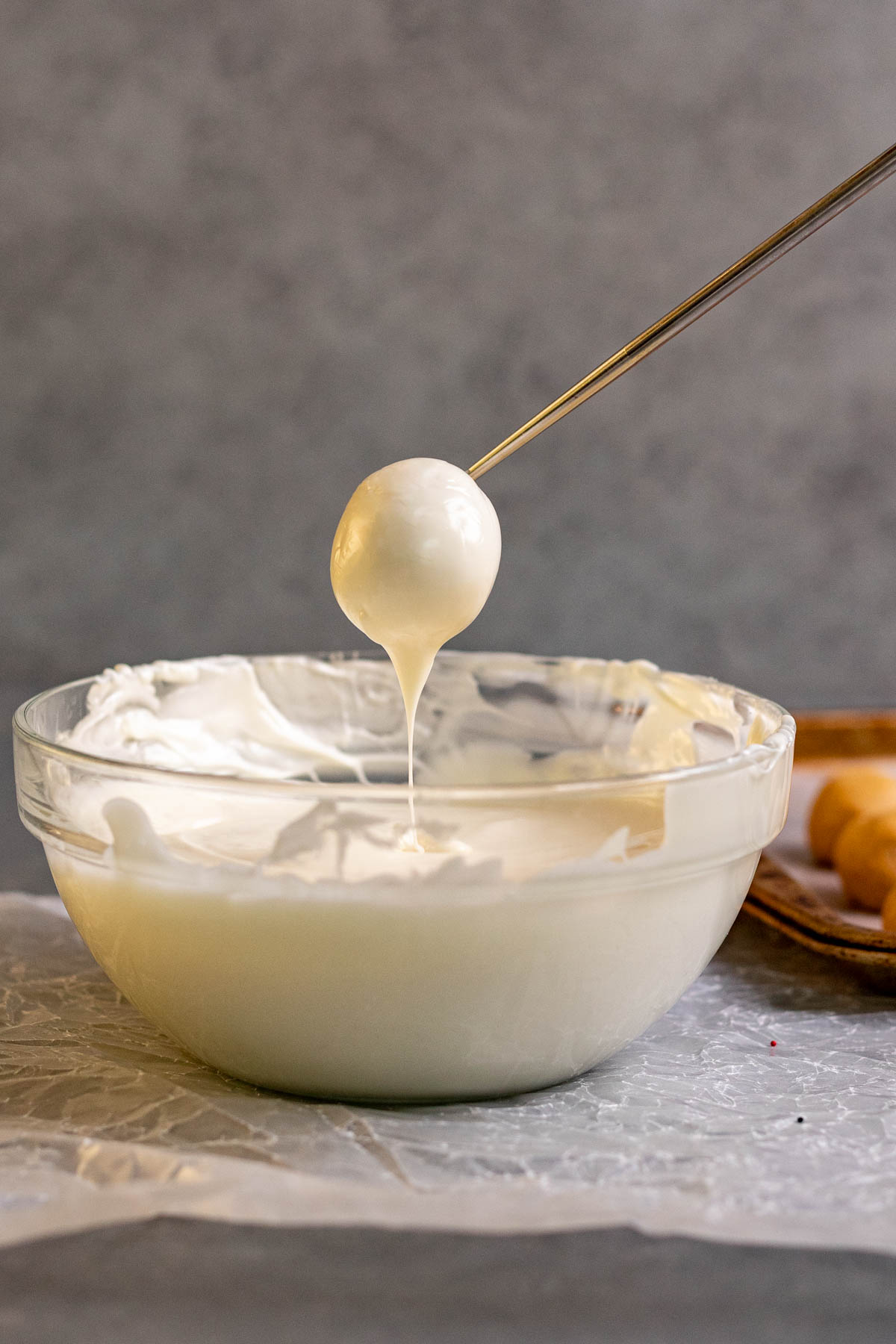 TIPS FOR MAKING PEANUT BUTTER SNOWBALLS
Prep time: Line your baking sheet with parchment paper or wax paper and set it to one side. If you plan on adding the crushed peanuts, prepare whole peanuts by pulsing them in a food processor, or putting them in a plastic bag to crush on the countertop.
Peanut butter mixture: In a medium mixing bowl combine butter, powdered sugar, and peanut butter. Continue mixing until the powdered sugar and butter are both mixed in. Put the bowl in the freezer for 30 minutes to firm up the mixture.
Shaping: Take the firm peanut butter batter from the freezer and shape it into 1 inch balls. To make consistent sized and shaped balls use an ice cream scoop. Then roll them between clean palms to even out the edges. Lay them on the prepared cookie sheet, and put them back in the freezer to harden again for 30 minutes.
Candy Coating: Just before taking the Peanut Butter Balls from the freezer melt the white candy coating in a microwave safe bowl. Stir in between microwaving intervals to get a smooth and consistent mixture.
Combine: Take the peanut butter balls from the fridge and dip them in the candy coating. Lay them on another prepared sheet or lined countertop to harden. If you want peanuts, sprinkle them over the top before the snowballs harden so they'll stick to the melted candy coating.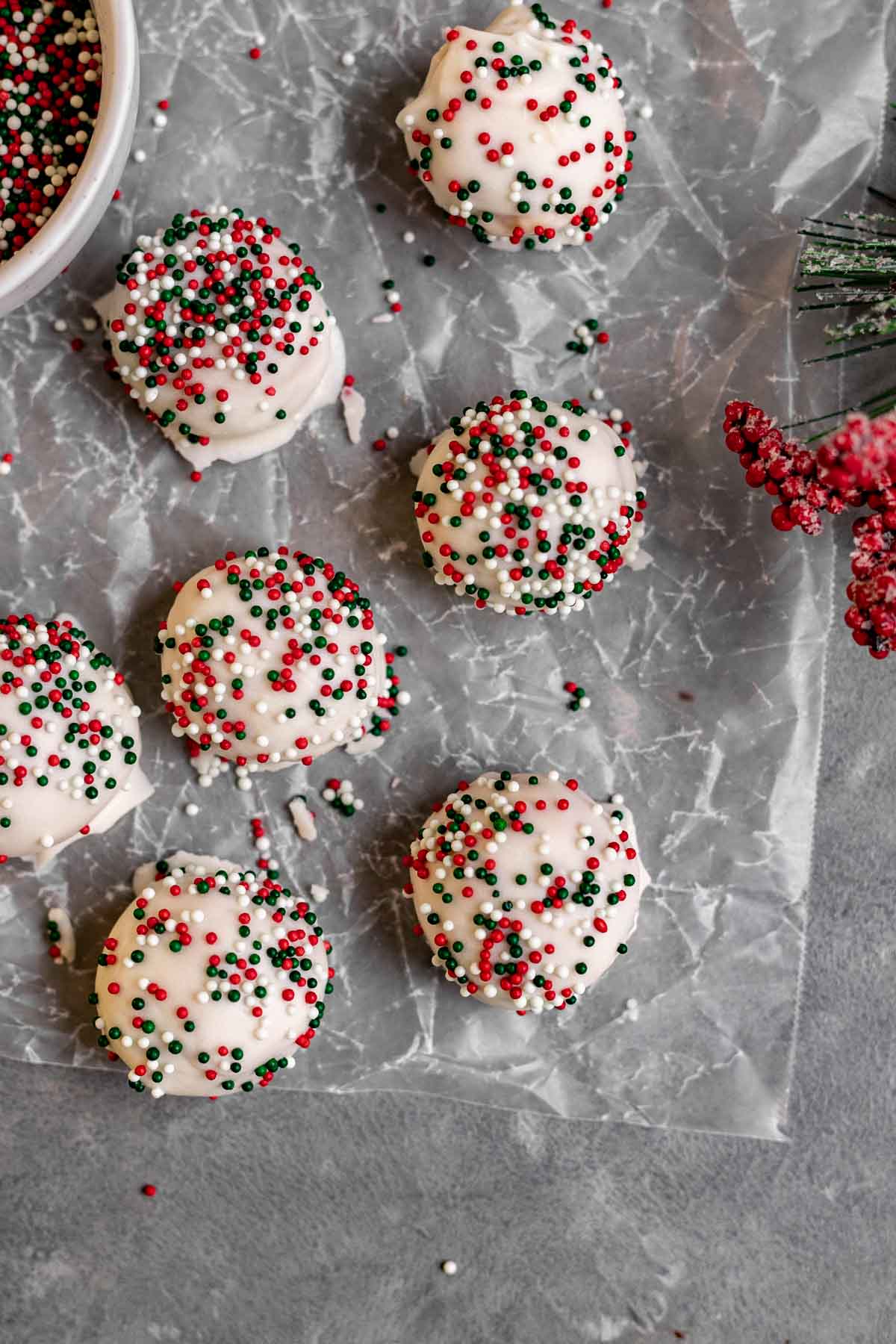 Create a free account to Save Recipes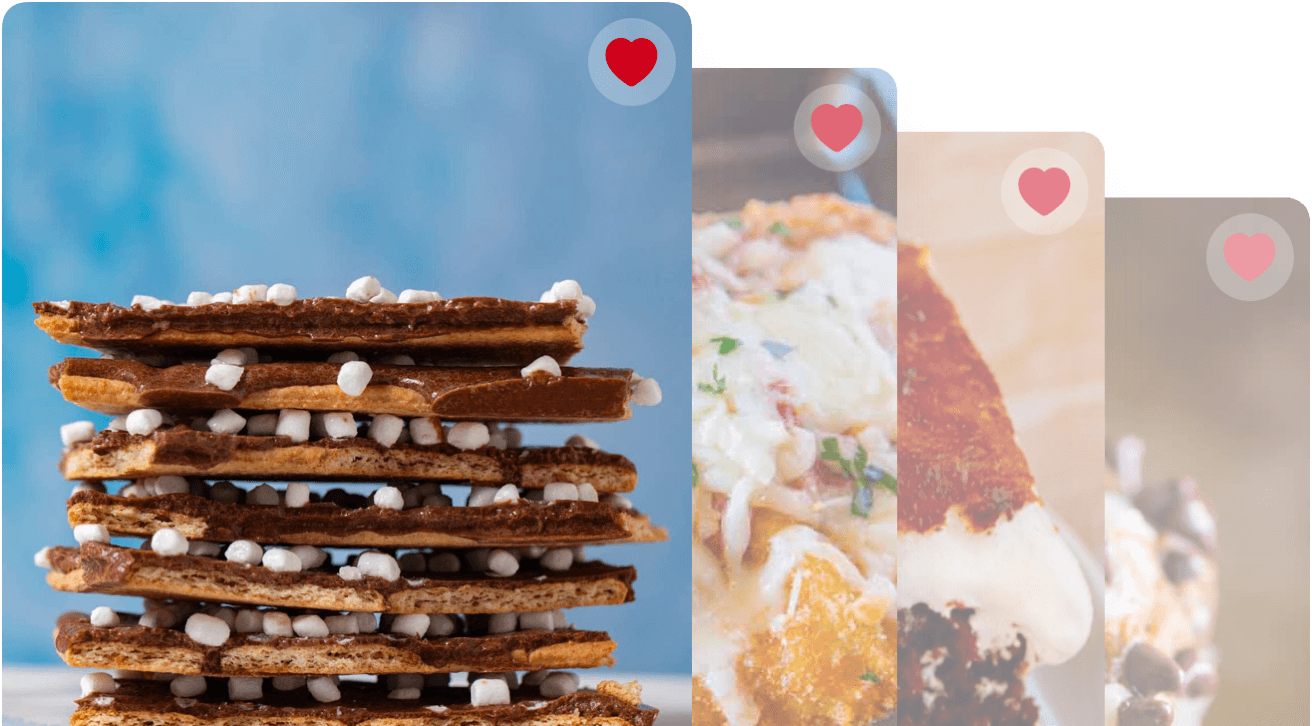 VARIATIONS PEANUT BUTTER SNOWBALLS
Flavors: For some different flavors try mixing in cocoa powder to make Chocolate Peanut Butter Snowballs. You could also mix in some crushed almonds and almond extract to make Almond Snowballs. Another flavor option is mixing in a little vanilla extract.
Graham Cracker crumbs: In place of the chopped peanuts or along with them, you could sprinkle graham cracker crumbs over the melted white candy coating.
Melted coating: In place of the white candy coating you can dip the peanut butter balls in melted chocolate. Peanut butter and chocolate make a classic combination so milk chocolate, dark chocolate, or semisweet chocolate would all taste great. Of course, if you'd like to keep the white snowball look, but still want some chocolate, you can always cover the peanut butter ball in white candy coating and then drizzle some melted chocolate over the top.
Add-ins: For some delicious mix-ins add mini chocolate chips, chopped pecans, cashews, walnuts, or peanuts into the peanut butter mixture. For decorations, sprinkle crushed nuts, or sprinkles, over the Peanut Butter Snowballs.
Peanut butter: Use whatever your favorite brand of peanut butter is in the recipe. For a more crunchy texture, you can replace the natural creamy peanut butter with chunky peanut butter. Or if you want to replace the peanut butter all together, try using almond butter in the recipe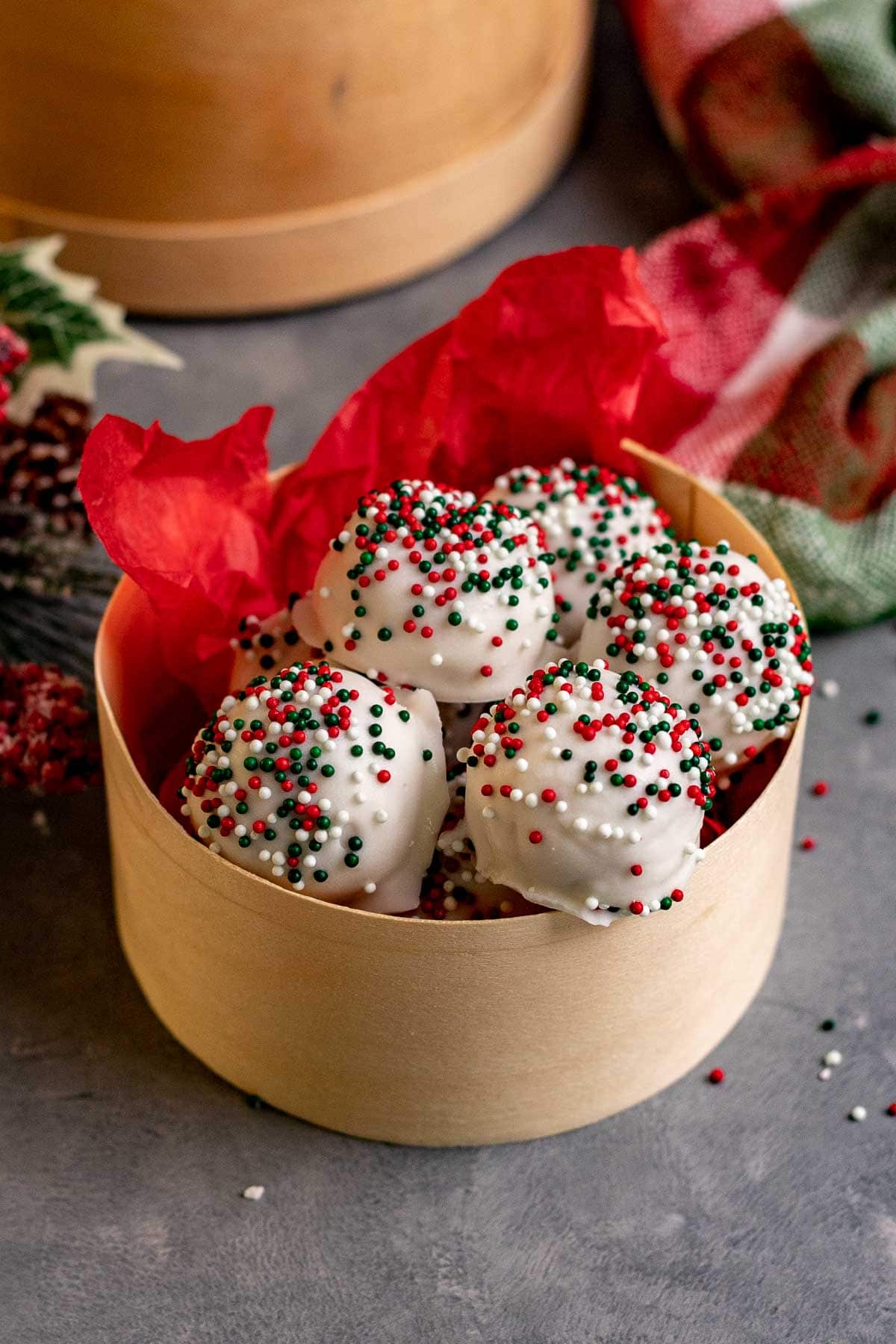 MORE HOLIDAY TREATS
HOW TO STORE PEANUT BUTTER SNOWBALLS
Serve: Although Peanut Butter Snowballs can last at room temperature in an airtight container for up to 2 days, they'll taste best served chilled.
Store: Cover the Peanut Butter Treats in plastic wrap or put them in a Ziploc bag to keep them in the fridge for up to 1 week.
Freeze: You can keep Peanut Butter Snowballs for up to 3 months in a sealed container in the freezer. For best results, separate each layer of Snowballs with parchment paper so the treats don't freeze together.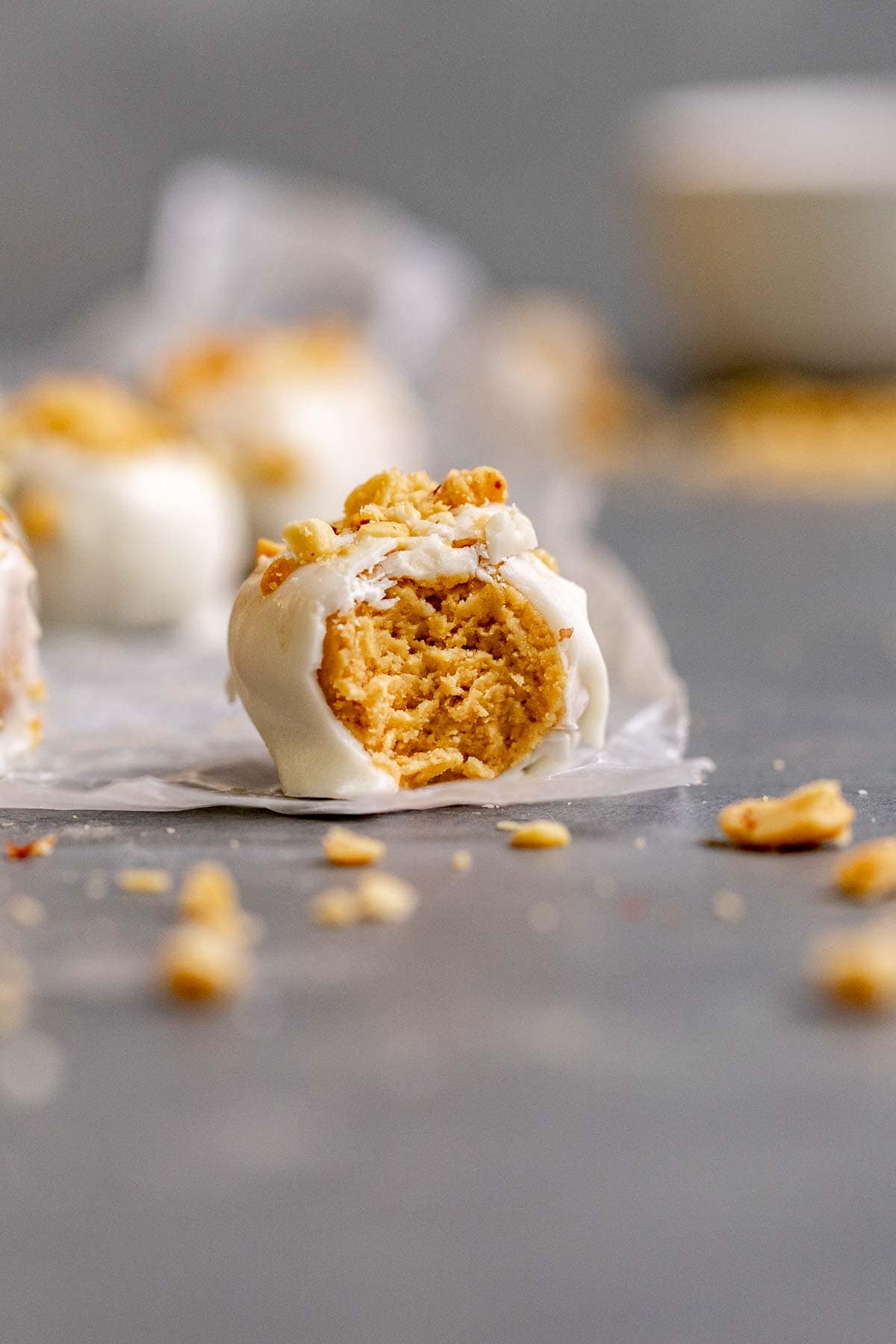 Ingredients
1

cup

powdered sugar

1/2

cup

creamy peanut butter

3

tablespoons

butter

, softened

1

pound

white candy coating

, coarsely chopped

peanuts

, chopped (optional)
Instructions
In a medium bowl, combine the sugar, peanut butter and butter.

Chill in freezer for

30 minutes

or until easy to handle.

Shape into 1-inch balls and place on a waxed paper-lined baking sheet.

Freeze for

30 minutes

or until firm.

Meanwhile, melt the candy coating in a microwave-safe bowl.

Dip balls and place on waxed paper to harden.

If desired, sprinkle with chopped peanuts.
Nutrition
Calories:
257
kcal
|
Carbohydrates:
29
g
|
Protein:
2
g
|
Fat:
14
g
|
Saturated Fat:
10
g
|
Cholesterol:
6
mg
|
Sodium:
64
mg
|
Potassium:
52
mg
|
Fiber:
1
g
|
Sugar:
28
g
|
Vitamin A:
66
IU
|
Calcium:
4
mg
|
Iron:
1
mg