Peri Peri Sauce is a thick, flavorful traditional African sauce perfect for chicken and made with bird's-eye chilies, paprika, oregano, garlic, and onion.
This is a thick, creamy Sauce Recipe that's great to serve over your favorite meat dishes. Originally produced in Southern Africa, it has a spicy flavor that tastes delicious with simple Baked Chicken.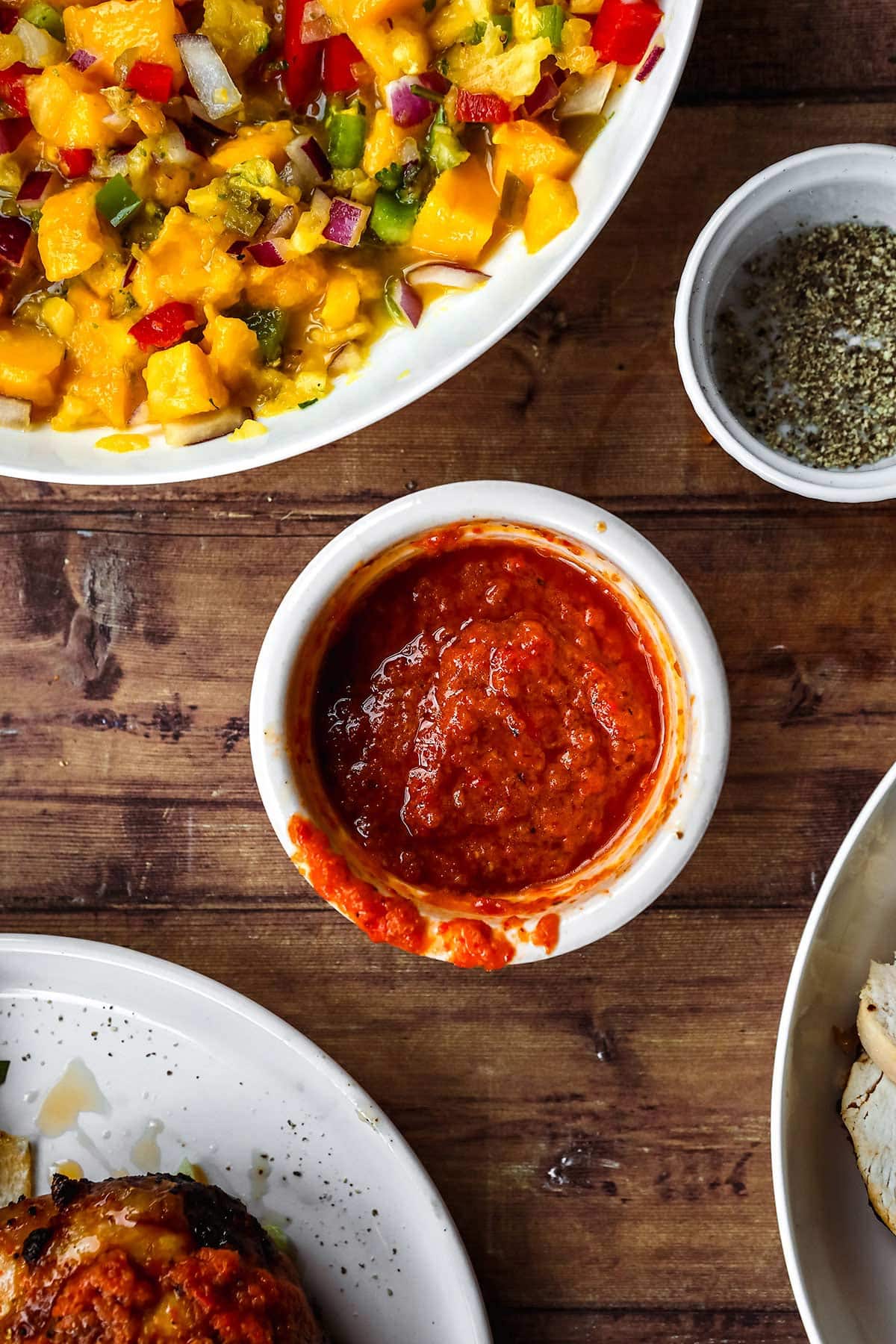 You've probably heard of this sauce before from the famous chicken dish, Peri-Peri Chicken. Serving this spicy, smooth sauce over your favorite chicken dishes is an easy way to make delicious weekday meals. The sauce adds lots of flavor so it tastes great even over more simple chicken recipes.
This sauce has an amazing spicy and smoky flavor. It's also creamy, gluten-free, and tastes great over a variety of dishes. For other chicken dinner ideas, you can serve the sauce over kid-friendly meals like tender chicken pieces or excellent chicken burgers. You can also think more outside the box and use the sauce for dipping Grilled Shrimp. It makes a quick and easy appetizer.
Peri-Peri Sauce originated in Africa, but now you can find Peri-Peri Sauces on restaurant menus across the world. Classic African Peri-Peri sauce is made with bird's-eye chilies. Bird's-eye chilies are quite hot, so just a few add a lot to the sauce flavor. The chilies mix with the rest of the milder ingredients for a deep flavor with lots of savory taste and spice. Just make sure you don't add too many of the chilies or you'll end up with way too spicy sauce.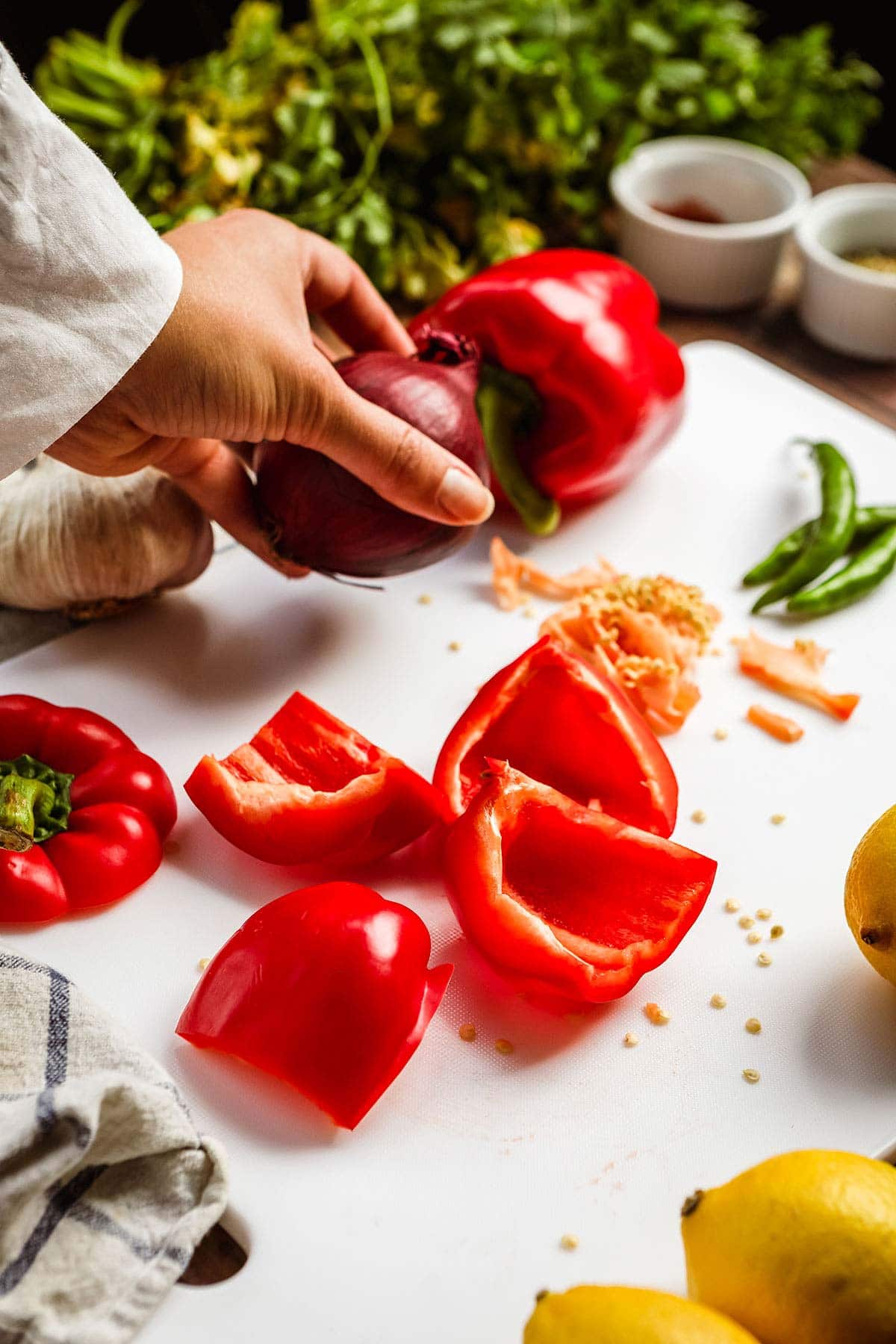 Key Ingredients
Red Bell Peppers: Red bell peppers are pretty mild, and a little bit sweet. They make an excellent base for sauces and dips, especially when they're roasted and the juices are flowing. They are so versatile, they're sometimes even used to replace tomatoes for a roasted red pepper sauce over pasta.
Garlic and Onion: The savory flavors in this sauce are enhanced by the aromatic garlic and onion. This is a classic flavor combo used in so many cuisines, and packs big flavor.
Vinegar, Lemon Juice, and Zest: In order to brighten up the intense flavors in the sauce, add in the juice and zest of 2 lemons. The tart flavor, paired with the tangy vinegar will give the spices in Peri Peri Sauce an extra kick.
Bird's Eye Chilies: These small red chilies are added to the blender whole. Be careful adding more, they pack a punch. On the Scoville Heat Scale, Bird's Eye Chilies rank about ten times higher than Jalapeño peppers.
Paprika, Oregano, and Bay Leaves: Adding some herb seasonings to this sauce will bring a depth of savory flavor, rounding out the sauce as an exceptional meal topper.
More Sauce and Dip Recipes
How to Make Peri Peri Sauce
Prep Time: Start the recipe by preheating your oven and lining the baking sheet with foil. Lining the baking tray will make for easier cleanup once the baking is done.
Bell Pepper and Onion: Slice the bell peppers into 4 pieces, and cut the stems and seeds off. Then cut the red onion into 8 wedges. Toss the bell peppers and onions in vegetable oil, then lay them out on the prepared baking sheet. Pop them in the oven for 20-30 minutes of cooking time. Keep them in the oven until nicely charred.
Blend: Add the charred bell pepper and onions to a high-powered blender with garlic, lemon juice, lemon zest, ¼ cup vinegar, bird's-eye chilies, paprika, oregano, salt, and black pepper. Pulse the blend of ingredients until it's a completely smooth puree.
Cook: Pour the sauce ingredients into your saucepan. Then top it off with the bay leaves. Keep it over medium heat, bringing the recipe to a simmer. Then lower the heat and give it another 25-30 minutes of cooking time.
Blend: Let the sauce cool for 15 minutes before you add the sauce back into your blender. Add the rest of the olive oil and vinegar in a slow stream while slowly blending. Once mixed, serve over the top of your Peri-Peri Chicken.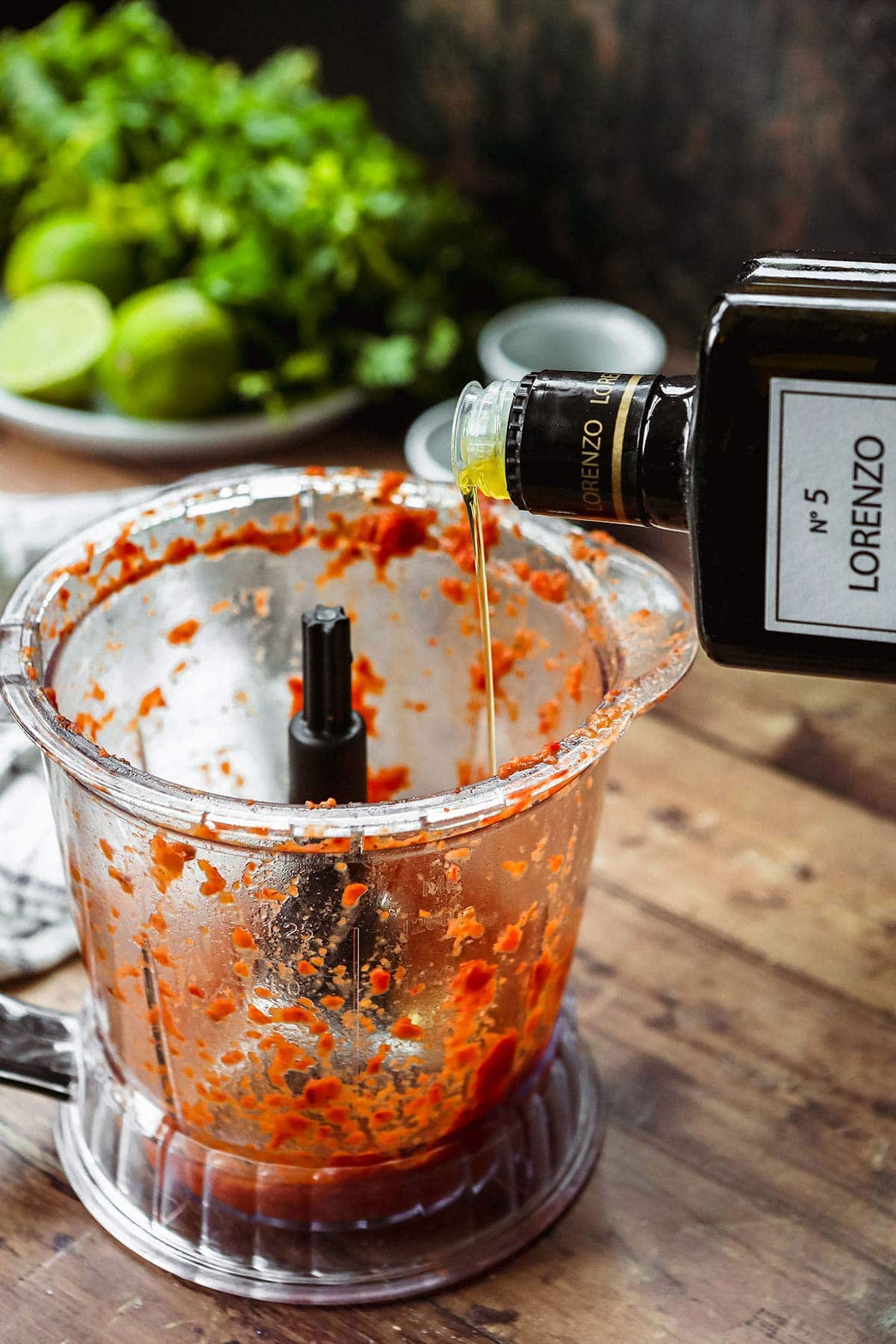 Create a free account to Save Recipes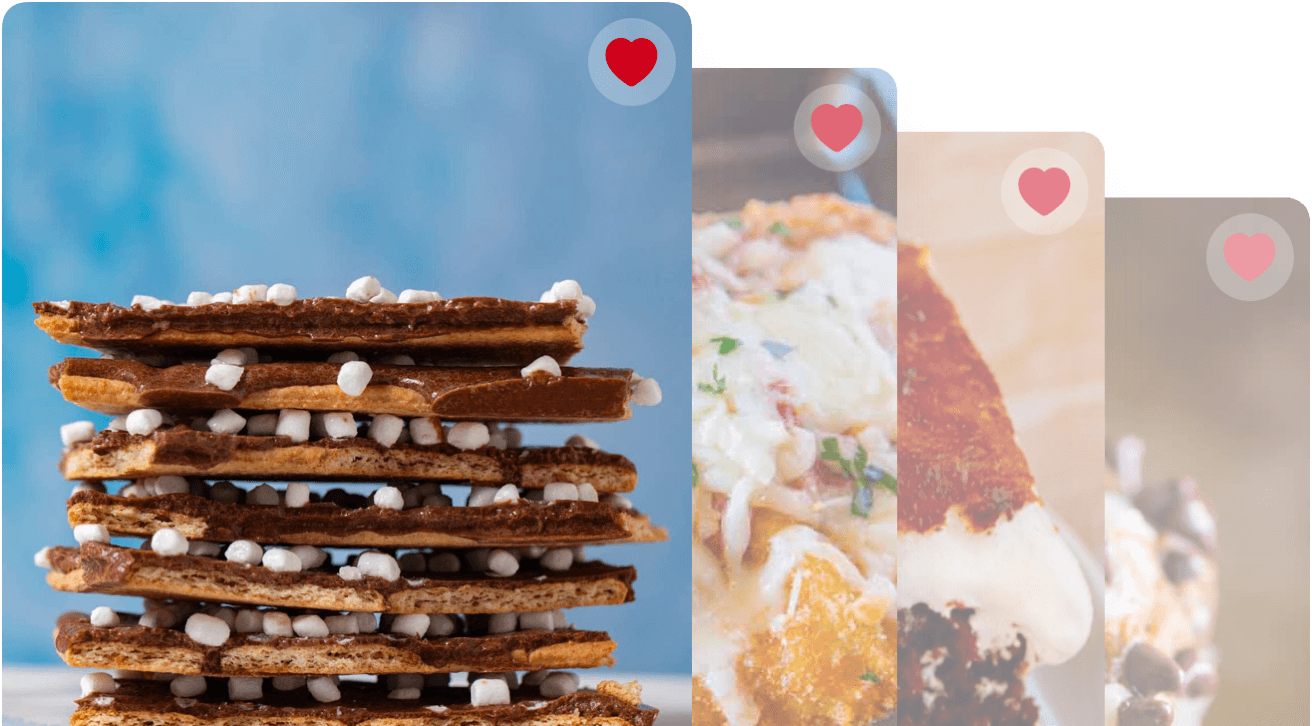 Frequently Asked Questions About Peri Peri Sauce
Why is Peri Peri Sauce cooked after being blended?
Simmering the sauce in this recipe allows for the flavors to combine. As it simmers, some of the liquid will evaporate, which will intensify the flavors of the ingredients.
What can Peri Peri Sauce be served with?
In addition to serving the sauce over chicken, you can also serve Peri Peri over other meats like grilled steak, or roasted lamb. You can serve it over baked fish, or shrimp. Serve it on top of a rice bowl with vegetables. The sauce will even work well as a dip for veggies, meatballs, chicken skewers, or chips. The possibilities are endless.
Variations on Peri Peri Sauce
Hot Sauce: To raise the heat level on the hot pepper sauce, try adding a dash of hot sauce to the ingredients. Add small amounts at a time so that you aren't making the hotter sauce too spicy.
Fresh Chilies: You can also try adding different kinds of chilies to the recipe. Try spicy peppers like jalapeno, serrano peppers, or cayenne peppers.
Add-ins: There are lots of different mix-ins you can try in this sauce. For a more smoky flavor try black cardamom, liquid smoke, or smoked paprika. You can also make a tangier sauce with additional lemon juice or lime juice. You could also add in some cilantro, parsley, turmeric, chives, or rosemary.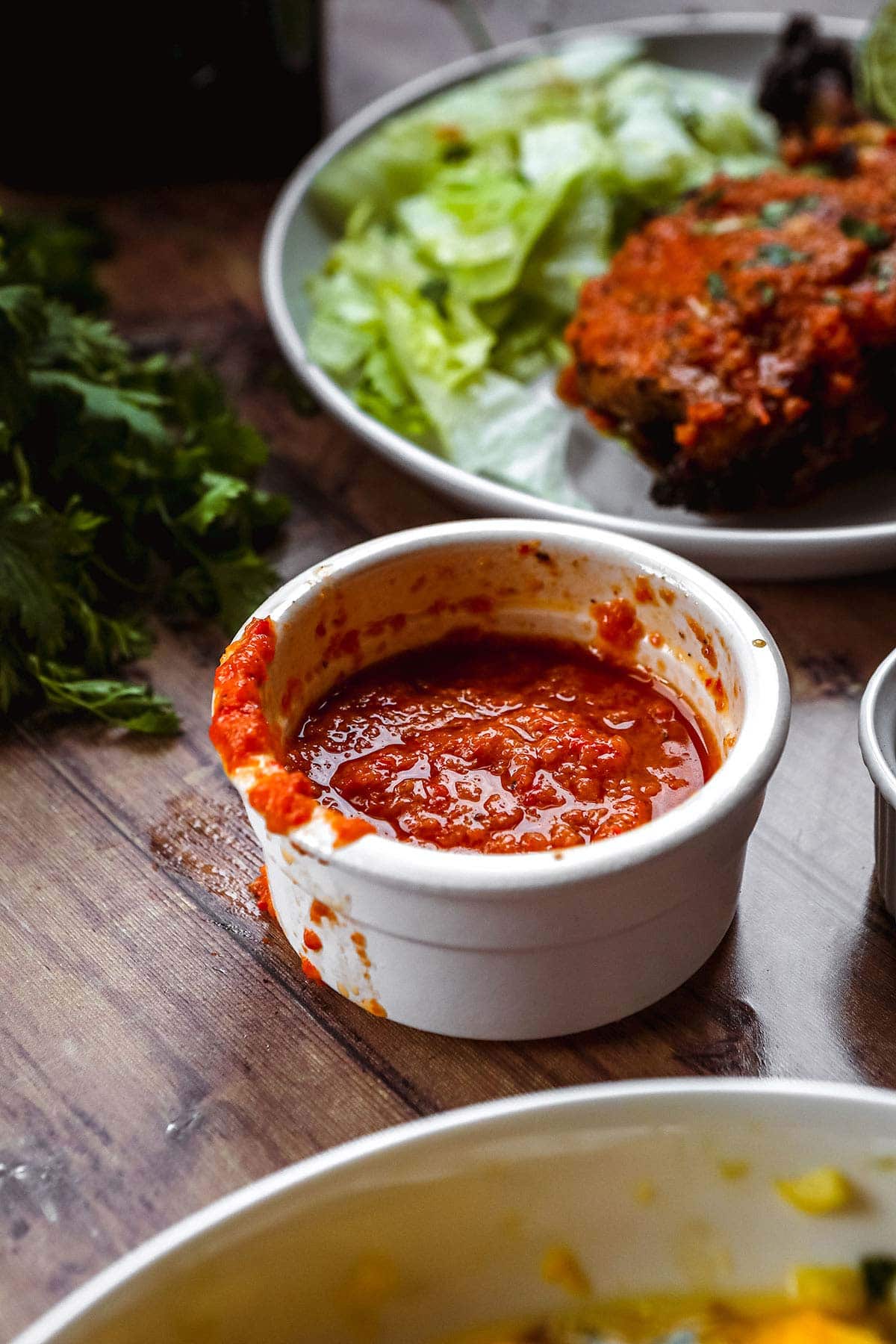 Recipes to Serve with Peri Peri Sauce
How to Store Peri Peri Sauce
Serve: You don't want to leave Peri-Peri Sauce out at room temperature for longer than 2 hours.
Store: You can either store the sauce along with the chicken in an airtight container or transfer the sauce to a glass jar or another container for storage. It'll stay good in the fridge for up to 3 days.
Freeze: For longer storage, put the sauce in an airtight container in the freezer. It will stay good for up to 3 months. Let it thaw in the fridge before reheating on the stovetop.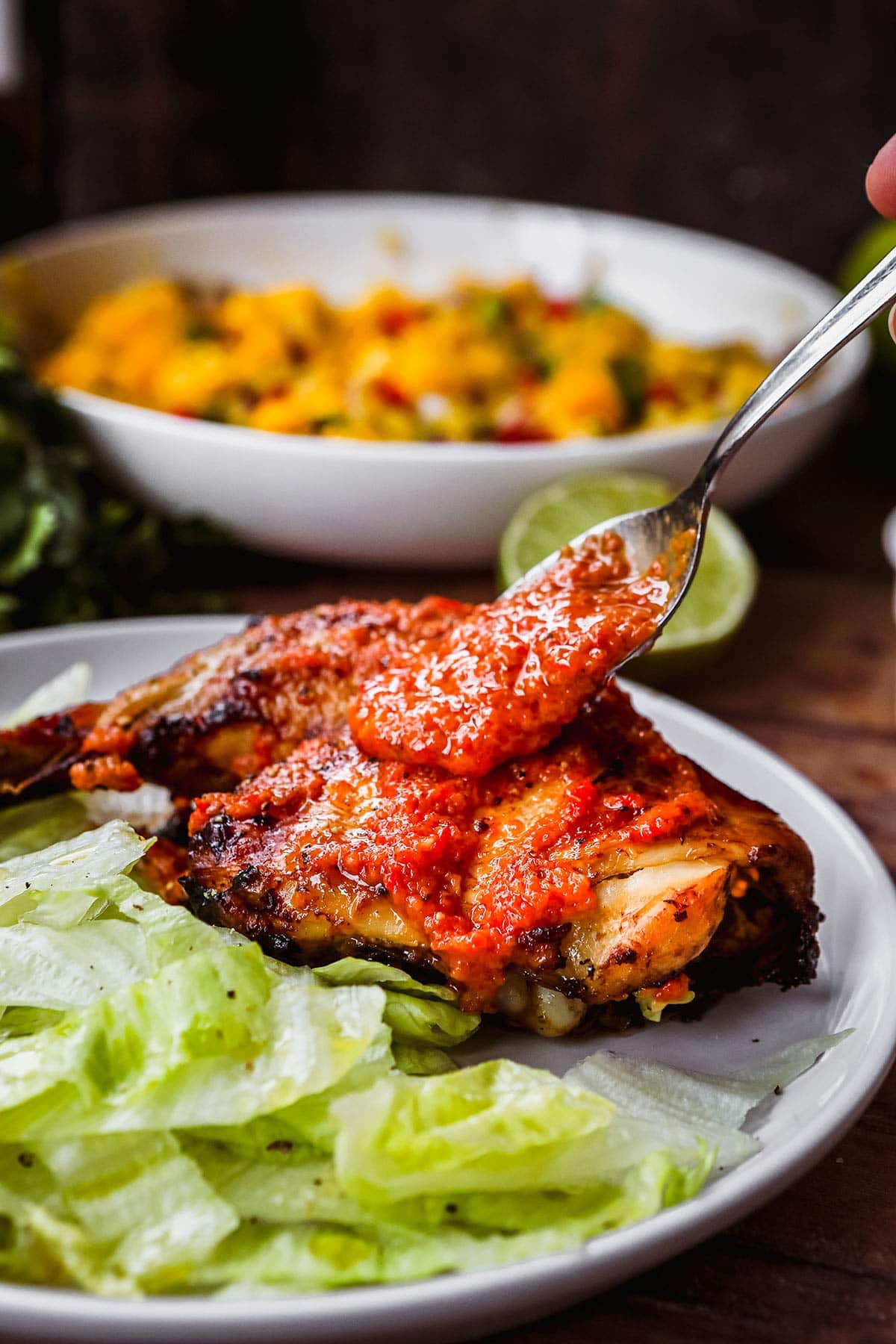 Ingredients
2

red bell peppers

1

red onion

2

tablespoons

vegetable oil

4

cloves

garlic

2

lemons

, juiced and zested

1/2

cup

white vinegar

, divided

5

small

bird's eye chilies

, stems removed

1

tablespoon

paprika

2

teaspoons

dried oregano

2

bay leaves

2

teaspoons

kosher salt

1

teaspoon

coarse ground black pepper

1/2

cup

olive oil
Instructions
Preheat oven to 450 degrees and line a baking sheet with foil.

Cut bell peppers into 4 pieces and remove stem and seeds.

Cut red onion into 8 wedges.

Coat bell peppers and onions with vegetable oil.

Cook in the oven for

20-25 minutes

or until charred.

Add cooked bell pepper and onion to a large high-powered blender with garlic, lemon juice and zest, ¼ cup vinegar, chili peppers, paprika, oregano, salt, and black pepper.

Puree until completely smooth.

Add to a saucepan with the bay leaves on medium heat and bring to a simmer, then lower to medium-low heat.

Let cool for

15 minutes

then add to blender again.

Blend while adding olive oil and remaining vinegar in a slow stream.

Spoon over chicken and serve.
Nutrition
Calories:
120
kcal
|
Carbohydrates:
5
g
|
Protein:
1
g
|
Fat:
11
g
|
Saturated Fat:
2
g
|
Polyunsaturated Fat:
2
g
|
Monounsaturated Fat:
7
g
|
Trans Fat:
0.01
g
|
Sodium:
390
mg
|
Potassium:
104
mg
|
Fiber:
1
g
|
Sugar:
2
g
|
Vitamin A:
920
IU
|
Vitamin C:
36
mg
|
Calcium:
18
mg
|
Iron:
1
mg