jump to recipe
Pumpkin Fluffernutter Bars
This post may contain affiliate links. Read my disclosure policy here.
Pumpkin Fluffernutter Bars are the perfect mix of peanut butter brownie, marshmallow filling and all things pumpkin and fall flavored. Best back to school snack ever.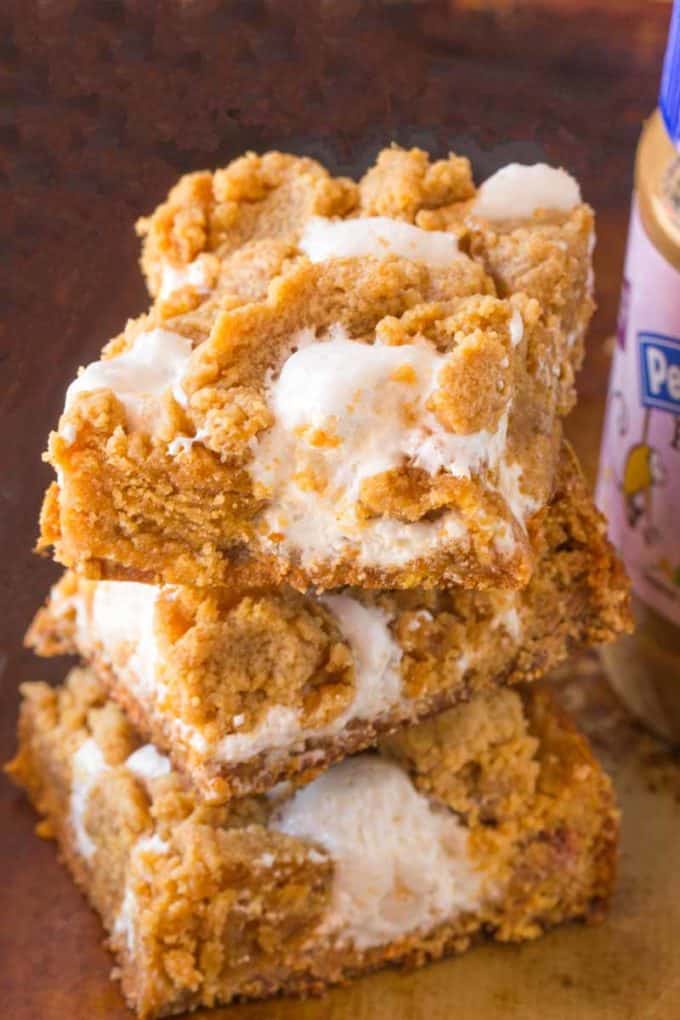 Pumpkin Fluffernutter Bars are the perfect bar for the rapidly arriving fall season and the beginning of ALL THINGS PUMPKIN on the blog. These bars are gooey, pumpkiny (hey, on this blog that's a word autcorrect) and perfectly peanut buttery. Plus they're made with Pumpkin Spice Peanut Butter from Peanut Butter and Co. who so generously sponsored this post.
Peanut Butter and Co. was founded in 1998 and while their website is ilovepeanutbutter.com they should've made it we'repeanutbuttermagicians.com because they have the most amazing flavors of peanut butter you will ever eat. Our personal favorite is White Chocolate Wonderful, but this Pumpkin Spice Peanut Butter is their most popular flavor and it sells out every year. So get your orders in early and go to your local grocery stores now!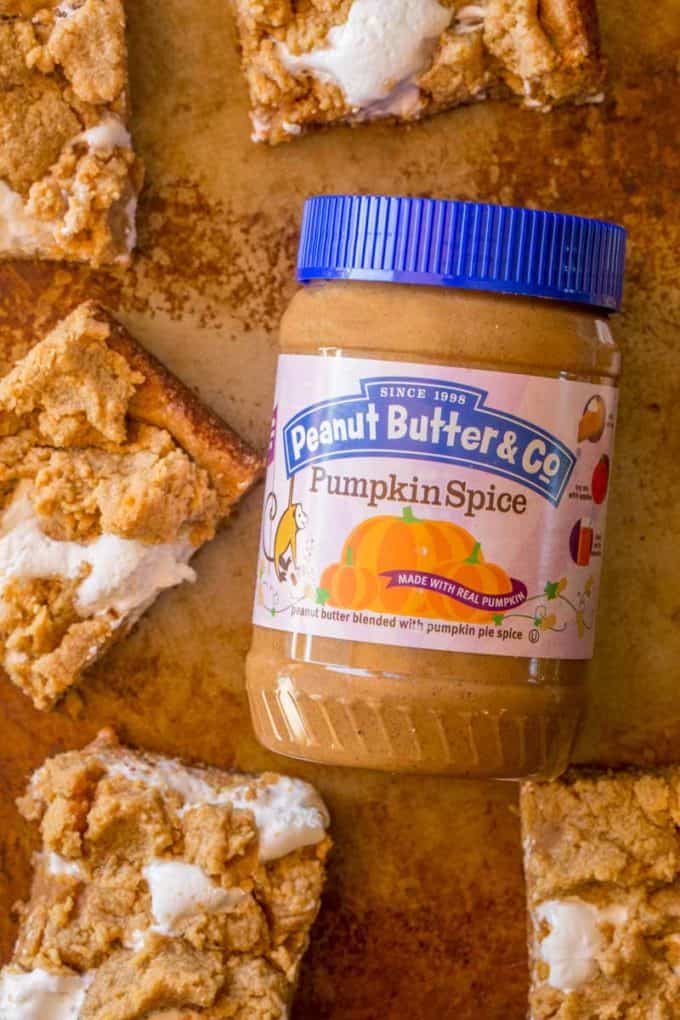 I talk a lot on the blog about ingredients, good swaps and when you want to use specific products so it seems only fair we would discuss what makes Peanut Butter and Co. so special. From their site:
Peanut Butter & Co.'s line of Non-GMO Project Verified peanut butter contains no hydrogenated oils, no cholesterol, no trans-fats and, no high fructose corn syrup. Our flavors are gluten-free, vegan (except for The Bee's Knees which is vegetarian), and certified kosher. Lastly, but just as importantly, we only use USA-grown peanuts in our peanut butter.
Also, the Pumpkin Spice Peanut Butter has actual pumpkin in it.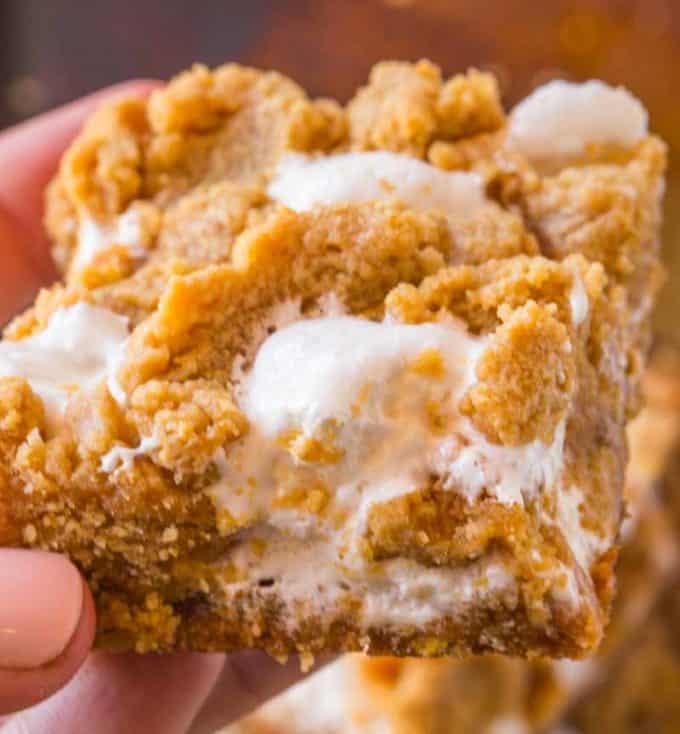 So of course all that delicious natural goodness needs to get mixed with homemade marshmallow fluff and baked into delicious Pumpkin Fluffernutter Bars.
MY OTHER RECIPES
I use a recipe for homemade marshmallow fluff in this recipe but you can swap for premade and these bars can be made in no time at all. Plus with the pumpkin spice flavor built into the peanut butter you'll LOVE how easy these bars are.
Looking for more bar recipes?
Awesome alternate uses for this Pumpkin Spice Peanut Butter?
Use is as a sandwich cookie filling between two sugar cookies.
Swirl it into your favorite cheesecake recipe and bake for the easiest flavored cheesecake ever.
Add it to the filling of a chocolate peanut butter lava cake for the easiest and fanciest upgrade.
Make the best pb&j with it paired with blueberry jam. Pumpkin and blueberries go together great!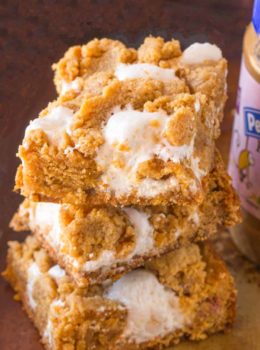 Pumpkin Fluffernutter Bars
Pumpkin Fluffernutter Bars are the perfect mix of peanut butter brownie, marshmallow filling and all things pumpkin and fall flavored. Best back to school snack ever.
Ingredients:
Marshmallow Fluff
1/4 cup + 2 tablespoons water
3/4 cup granulated sugar
3/4 cup light corn syrup
3 large egg whites
1/2 teaspoon cream of tartar
Pinch salt
2 teaspoons pure vanilla extract
Peanut Butter Bars
½ cup unsalted butter
1 cup light brown sugar, packed
1 large egg
1 teaspoon vanilla extract
1/2 teaspoon salt
1 1/4 cup flour
Directions:
To make the Marshmallow Fluff:
In a saucepan add the water, sugar and corn syrup and over medium high heat cook until it reaches 240 degrees (about 10-12 minutes).
In a stand mixer add the egg whites until they start to foam, then add in the cream of tartar and salt and beat to soft peaks (the very top of the peak falls).
When the egg whites are ready and the sugar reaches 240 degrees turn off the heat and wait 30 seconds.
Add the sugar to the stand mixer while it is running on high speed in a very thin stream.
Beat on high heat for 5-6 minutes until the bowl is no longer warm at all.
Refrigerate until you're ready to make the bars.
To make the Pumpkin Fluffernutter Bars:
Preheat the oven to 350 degrees and spray an 8×8 baking pan with baking spray.
In a stand mixer dd the butter, brown sugar, egg and vanilla.
Beat on high until fluffy.
Add in the peanut butter and beat until combined.
Add in the salt and flour and beat until just combined.
Spread half the batter into the bottom of the pan.
Bake for 15 minutes.
Let cool for five minutes in the fridge.
Scoop the marshmallow fluff randomly across the pan in large dollops.
Spread small clusters of the remaining batter in between the dollops of marshmallow fluff.
Bake an additional 15-18 minutes.
Cool completely before cutting into 16 squares.
If you don't want to make your own marshmallow fluff you can substitute with one canister of pre-made marshmallow fluff. The recipe above makes 2 cups.
All images and text ©
Made this recipe?
Show me what you made on Instagram or Facebook and tag me at @DinnerthenDessert or hashtag it at #dinnerthendessert.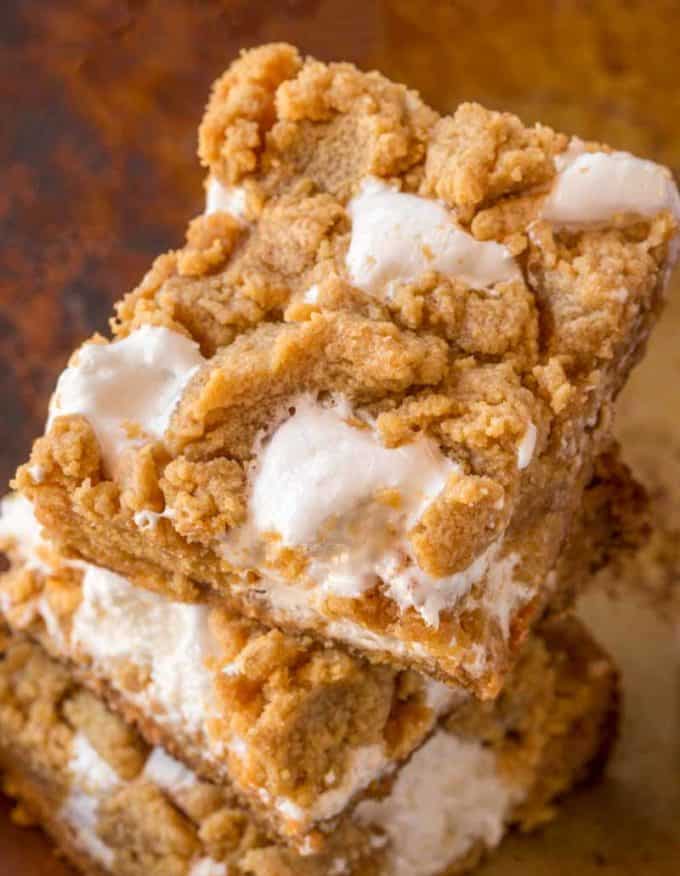 Dinner, then Dessert, Inc. owns the copyright on all images and text and does not allow for its original recipes and pictures to be reproduced anywhere other than at this site unless authorization is given. If you enjoyed the recipe and would like to publish it on your own site, please re-write it in your own words, and link back to my site and recipe page. Read my disclosure and copyright policy. This post may contain affiliate links.