Red Velvet Cheesecake Bundt Cake is a moist red velvet cake recipe filled with rich creamy cheesecake and a classic cream cheese frosting.
This amazing dessert combo brings Red Velvet Cake and Cheesecake together for one showstopping Cake Recipe. It's sweet, moist, creamy, delicious and absolutely stunning!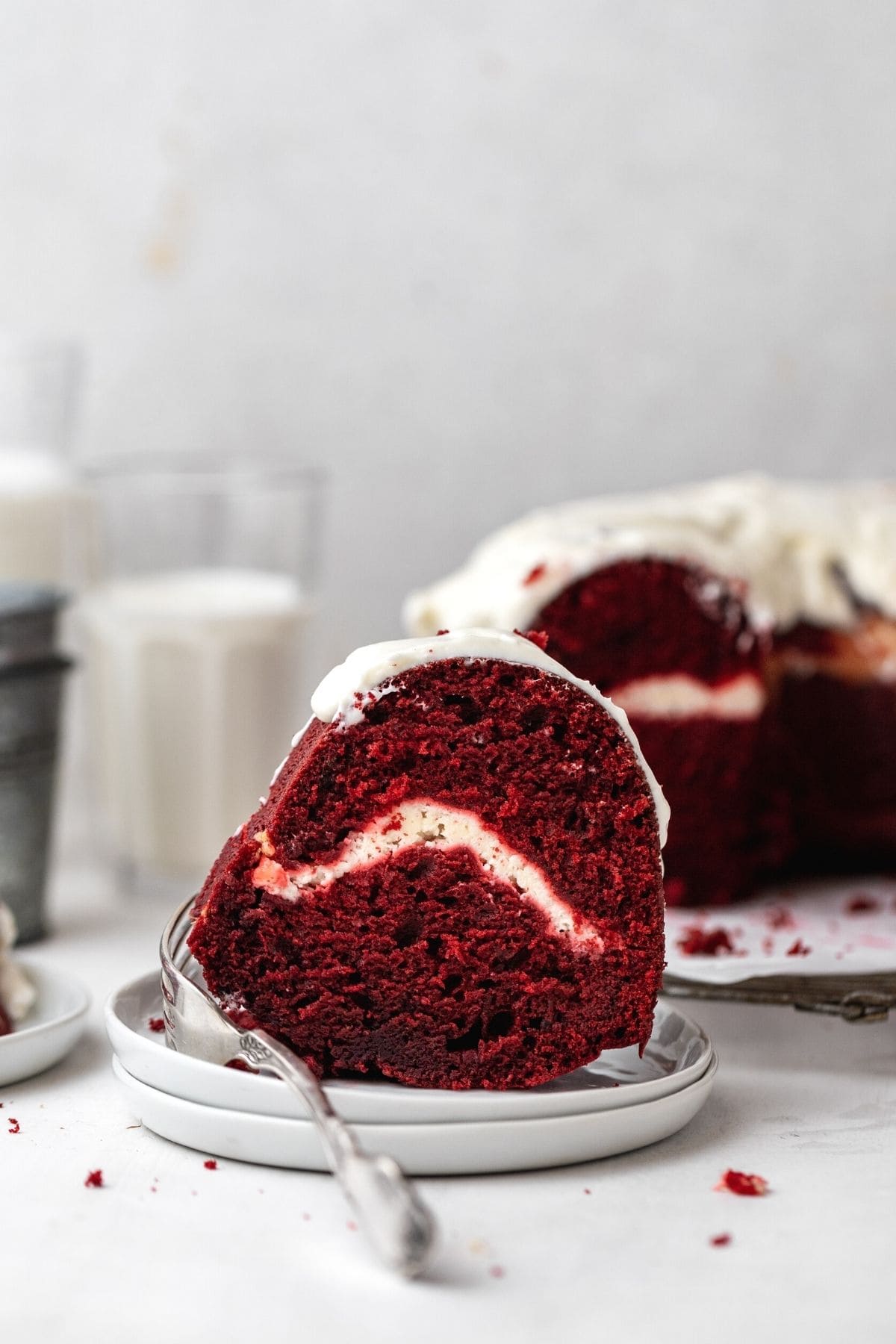 Classic red velvet cake and a sweet cream cheese filling are the perfect pairing. The cake itself has a subtle chocolaty flavor with a little acidity from the buttermilk and sour cream. That taste is amazing paired with the creamy cheesecake swirl. Along with that you also get Cream Cheese Frosting to finish it off with a fluffy, sweet, and tangy topping.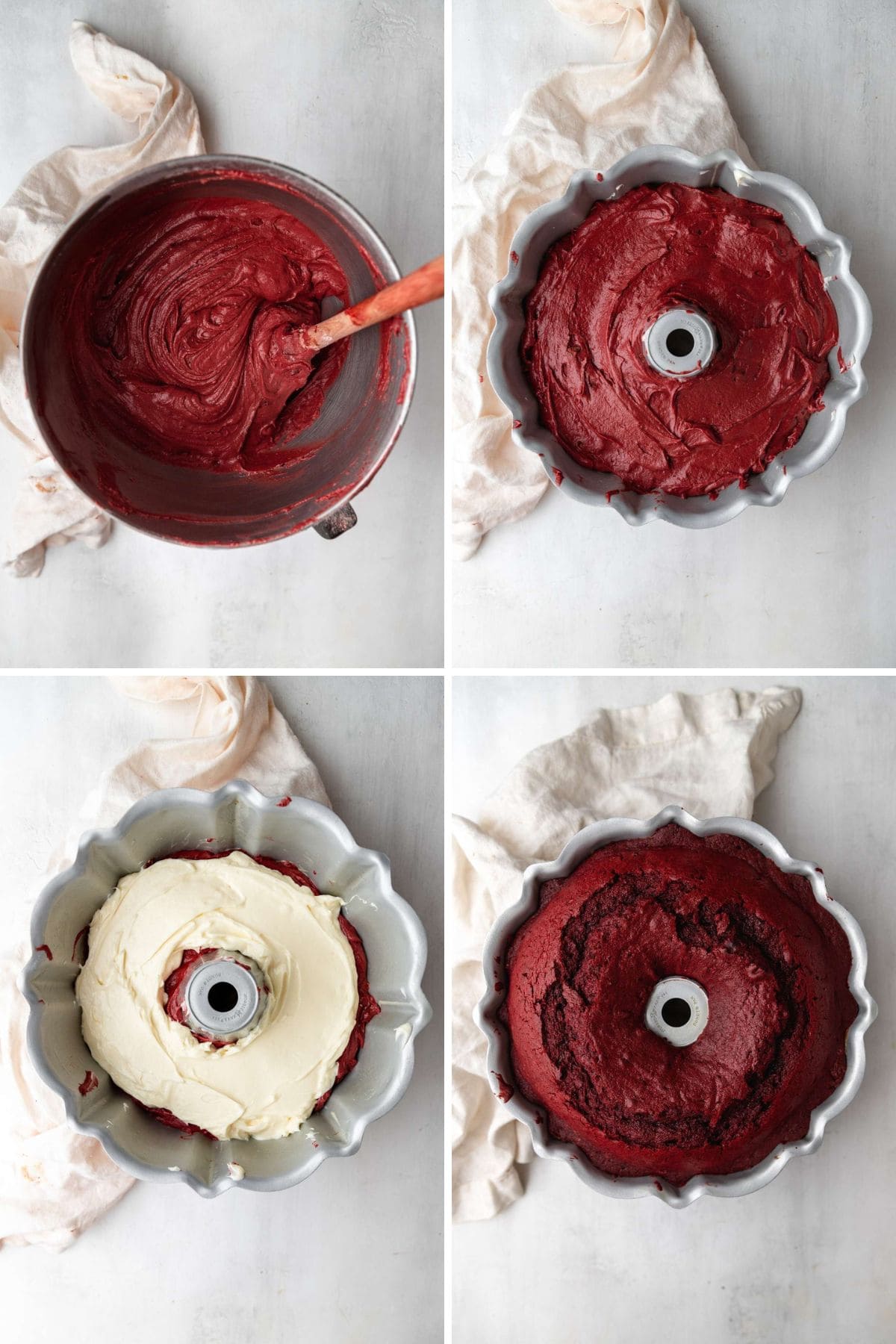 This Red Velvet Bundt Cake has some key differences from a classic red velvet cake recipe. The obvious difference between a regular cake and a bundt cake is plain to see in the shape. Bundt cakes are made in a bundt pan with a hollow center. Because of the hollowed-out center, more of the cake batter touches an edge, resulting in a sturdier crust around the entire cake. So it's very important that bundt cakes have moist batter otherwise they'll dry out. That's why it's great this recipe has ingredients like buttermilk, sour cream, and cream cheese filling to keep it moist.
There are also lots of similarities between this Cream Cheese Bundt Cake and a classic red velvet cake. It has the same base flavors, and red food dye to give the classic rich color. The beautiful red color and white frosting make red velvet recipes like Red Velvet Cupcakes, Red Velvet Cookies, or this Red Velvet Cream Cheese Bundt Cake perfect for the holidays!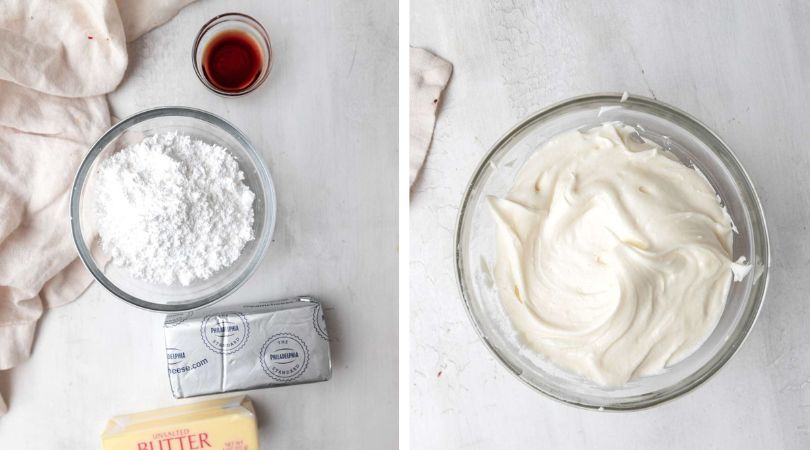 How to Make Red Velvet Cheesecake Bundt Cake
Prep: Assemble your cake batter ingredients so they're ready to go, and preheat the oven to 350 degrees. Generously coat a bundt pan with nonstick baking spray or grease with butter and lightly dust with flour.
Red Velvet Batter: Sift the flour, cocoa powder, and baking soda into a large bowl and set aside. Next, add butter and sugar to a stand mixer and beat until light and fluffy. Add the eggs individually to the butter mixture, mixing each one into the batter before adding the next. Whisk in the sour cream, milk, food coloring, and vanilla. Add the flour mixture and continue stirring until the streaks of flour are blended in.
Cream Cheese Layer: Add softened cream cheese, one egg, sugar, and vanilla extract to a mixing bowl. Beat until smooth and creamy.
Layer: Pour ⅓ of the red velvet cake batter into the prepared pan. Gently spread cheesecake filling over the batter evenly, careful not to swirl. Top the filling with the remaining cake batter, spreading to even out the top.
Bake: Pop the bundt pan in the oven and bake for 50-55 minutes. To test if it's done, stick a toothpick in the top. If it comes out clean with moist crumbs, it is ready. Cool the cake in the pan for 10-15 minutes, then invert onto a plate to remove it. Cool completely before frosting.
Cream Cheese Icing: Add the softened butter, cream cheese, and vanilla extract to your stand mixer and mix at medium-high speed. Continue mixing for 2-3 minutes until light and fluffy. Lower the speed to its lowest setting before adding the powdered sugar. Once it's just combined, raise the speed to medium until light and fluffy.
Frost: Once the cake has completely cooled, spread the frosting evenly over the top and halfway down the sides. You could also transfer the frosting to a piping bag and with a large round tip pipe thick rows starting just past the inside rim and over the top down the side. Let the icing set before you slice and serve the cake.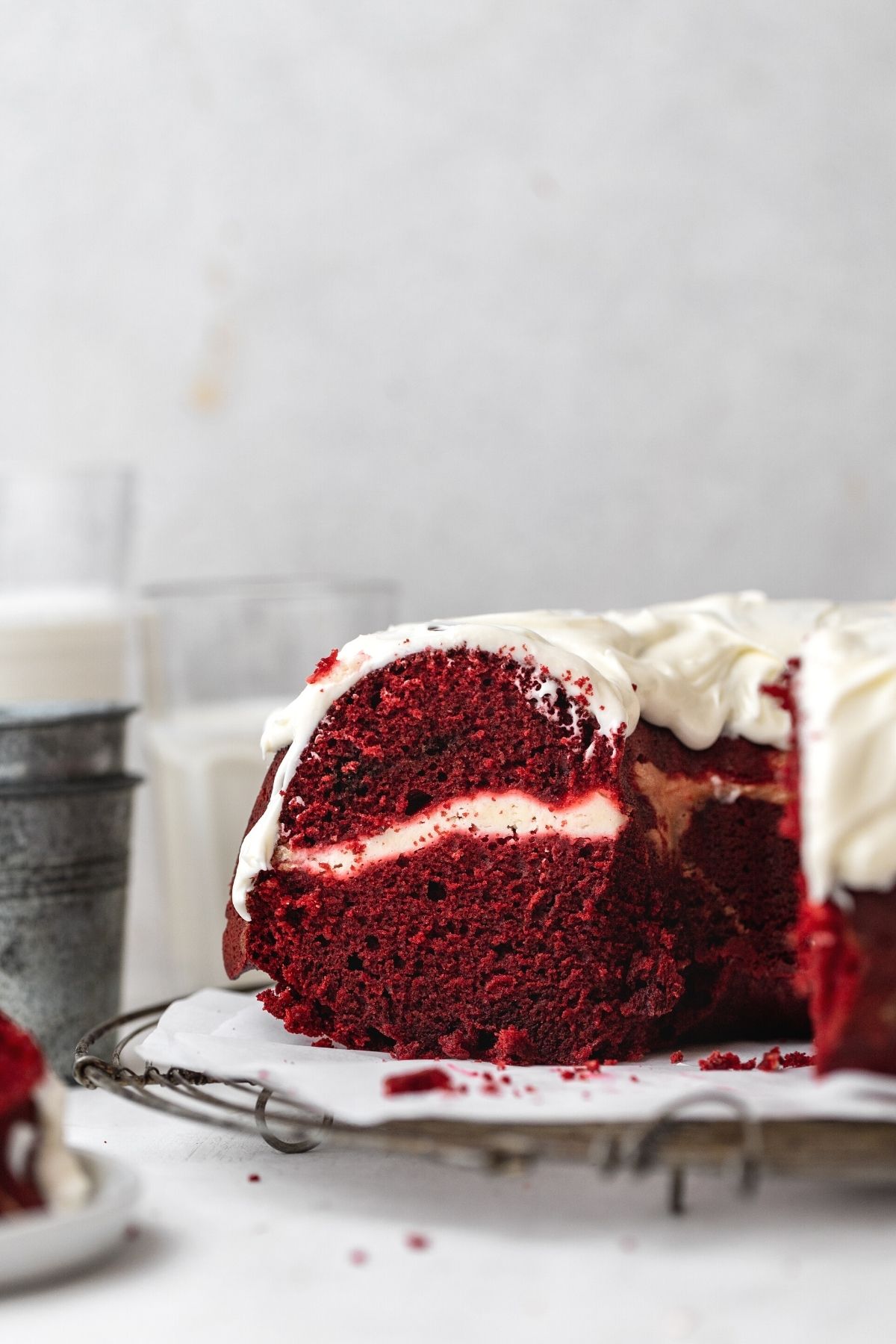 More Delicious Red Velvet Cake Recipes
FAQs for Red Velvet Cheesecake Bundt Cake
How do you keep your cake from sticking in a bundt pan?
You want to coat the pan completely on the inside using baking spray which is cooking oil plus flour. If you don't have baking spray, brush the inside of the pan with oil or butter and dust it lightly with a coat of flour.
What is a substitute for buttermilk?
If you don't have any buttermilk, you can add a tablespoon of white vinegar to a measuring cup then fill the cup up to the 1 cup mark. Let the mixture sit for 10-15 minutes, then stir and use as usual. Since this recipe only needs ½ cup, save the rest to make amazing buttermilk pancakes the next morning.

Create a free account to Save Recipes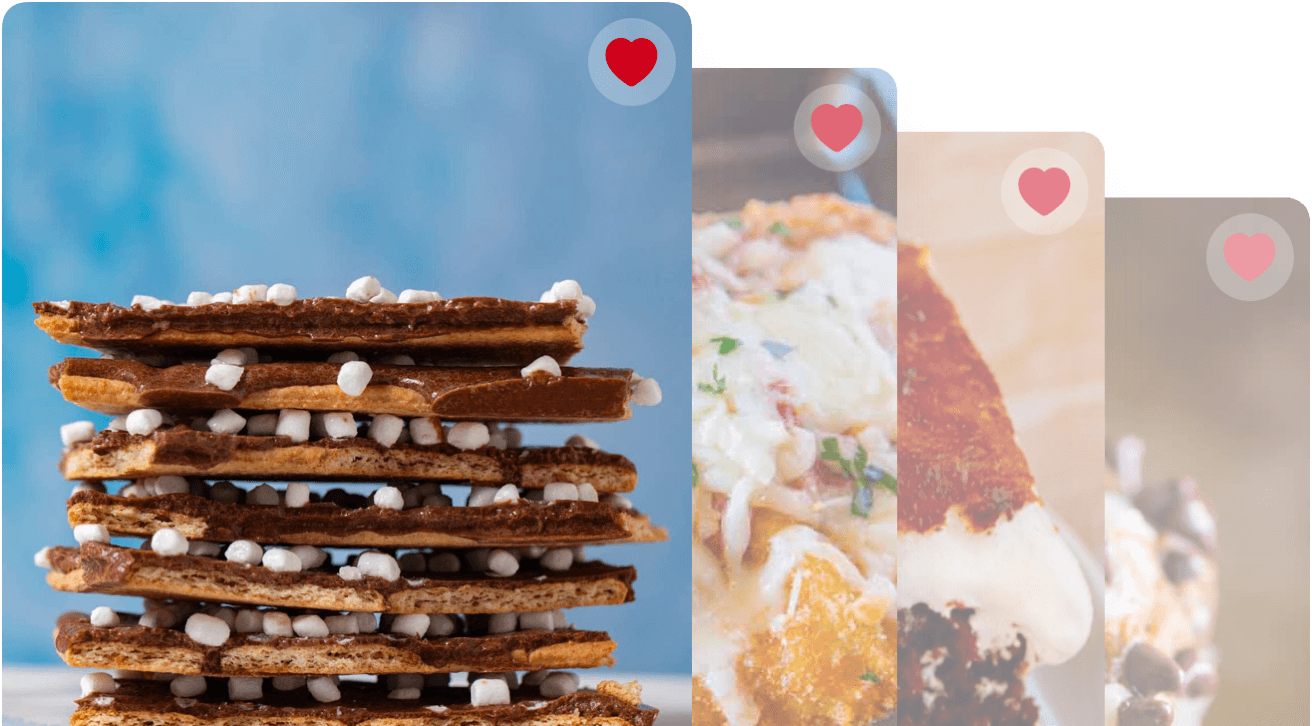 Key Ingredients
Cocoa Powder: Despite its deep red color, red velvet cake is actually technically a chocolate cake but not overly chocolaty. There is just enough cocoa powder to give it a subtle chocolate flavor but you can also taste all the melt in your mouth tangy flavors.
Food Coloring: The original red velvet cakes used to get their color because back in the day cocoa powder was not alkalized so the acid in buttermilk would react and turn the cake red as it bakes. Modern cocoa powder is processed differently so it won't have that same reaction. Instead, you add food coloring to get that color. Gel food coloring works best because it gives the vibrant red without having to add a whole bottle.
Sour Cream: The sour cream adds a lot of moisture to the bundt cake and helps bring out that delicious tangy flavor in the buttermilk and cream cheese.
Buttermilk: One of the signature ingredients in a red velvet cake is buttermilk. Traditionally it was added because the acid is what turned old-fashioned cocoa powder red. Today, you need to add the coloring to make it red but the buttermilk is still used so you get that classic tangy flavor.
Cheesecake Filling: To make the filling taste like cheesecake versus just sweetened cream cheese, it has egg and vanilla added. The egg also thickens the filling and gives it structure so it has a similar consistency to cheesecake. Make sure the cream cheese is slightly softened so it can easily blend with the egg and create a good amount of air.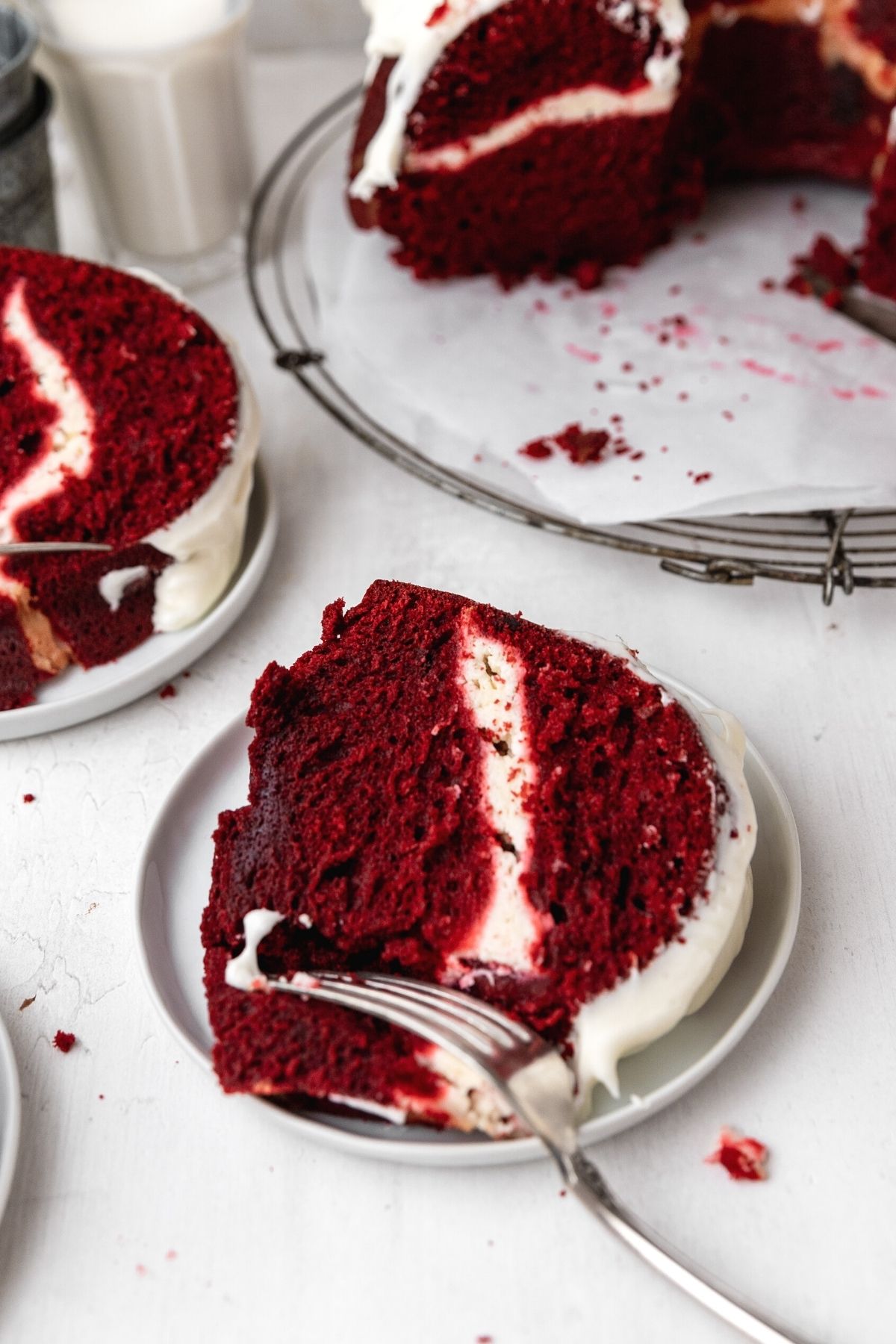 Can this Red Velvet Cheesecake Bundt Cake be made ahead of time?
You can definitely prepare parts of this Red Velvet Cheesecake Bundt Cake in advance before baking it. The cake batter and cream cheese filling can both be mixed up and stored separately in the fridge for up to 2 days. When you are ready to bake the cake, simply bring them out and layer in the greased pan like usual. Note, if your batter separates, stir it just until it combines but be careful not to overmix it.
Variations
Chocolate Chips: To add some extra chocolate flavor to the cake, along with the cocoa powder you can add chocolate chips. Simply fold a cup of mini chocolate chips into the red velvet cake batter. Then add the cheesecake filling and bake as usual.
Vanilla Glaze: Instead of making the thick cream cheese frosting, you can make a lighter vanilla glaze. Combine 2 cups powdered sugar, ¼ cup melted butter, 2-4 tablespoons milk, and 1 ½ teaspoons vanilla. Then drizzle it over the top of the cooled cake.
Cheesecake Filling: You can switch up the cream cheese filling to make it taste like other cheesecake flavors. Try a couple teaspoons of cocoa powder and mini chocolate chips for a chocolate cheesecake or swap half the vanilla for almond extract and add chopped cherries for a cherry cheesecake filling.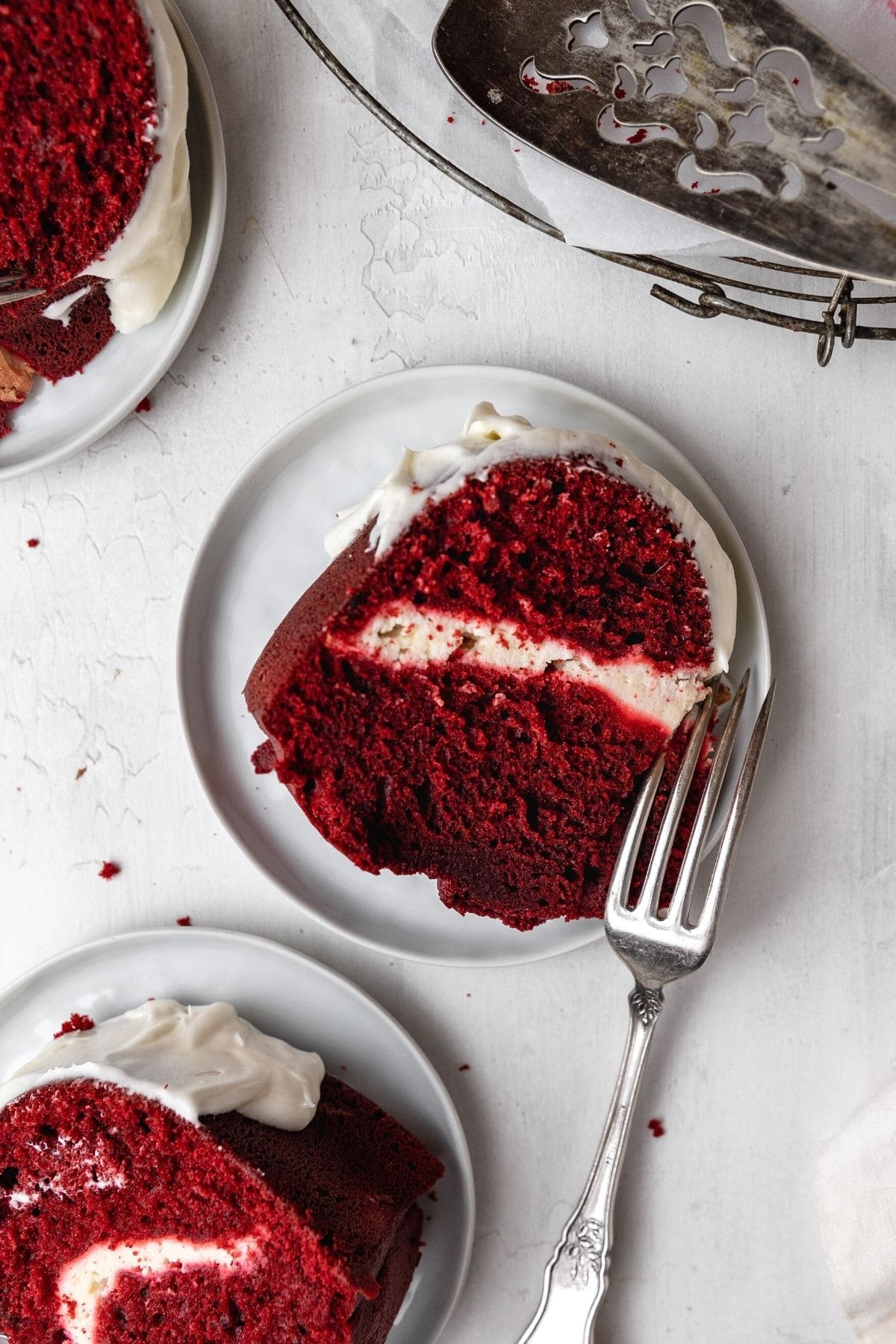 More Showstopping Bundt Cake Recipes
How to Store
Serve: Let the baked cake cool down completely before you slice and serve it. Since there is cream cheese in the filling and frosting, you need to store the after no more than 2 hours at room temperature.
Store: Cover the cake in plastic wrap or aluminum foil to keep it moist and store in the fridge for up to 5 days. Bring it to room temperature to soften it before serving.
Freeze: For longer storage, carefully wrap the cake slices with plastic wrap and store them in an airtight container. It will stay good in the freezer for up to 2 months.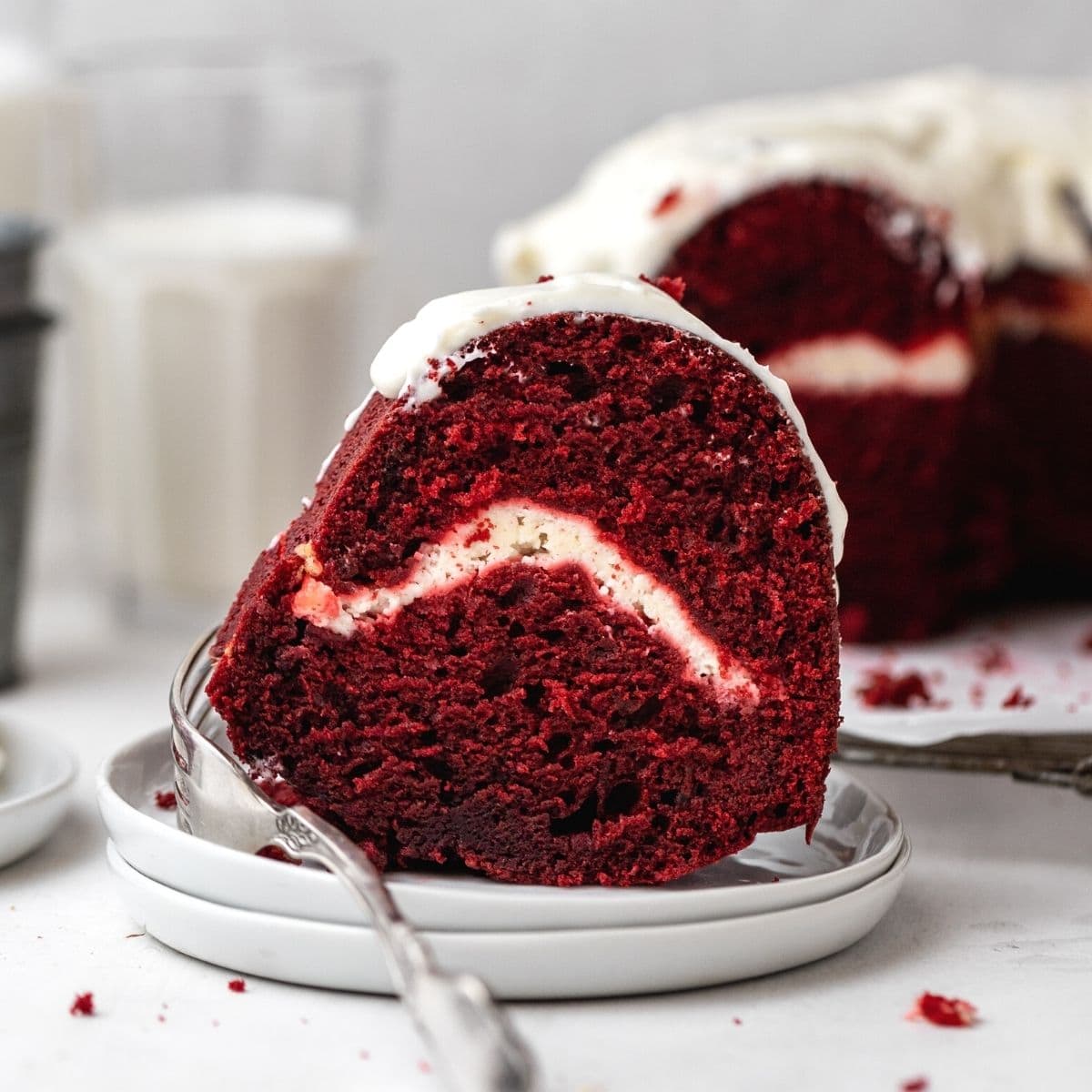 Ingredients
Red Velvet Bundt Cake:
3

cups

cake flour

1/3

cup

unsweetened cocoa powder

1

teaspoon

baking soda

1/2

teaspoon

salt

1

cup

unsalted butter softened

2

cups

sugar

4

large

eggs

1

cup

sour cream

1/2

cup

buttermilk

1

ounce

red food color

1

tablespoon

vanilla extract
Cream Cheese Frosting:
4

tablespoons

unsalted butter

, softened

4

ounces

cream cheese

, softened

1/2

teaspoon

vanilla extract

3

cups

powdered sugar
Instructions
Red Velvet Bundt Cake:
Preheat oven to 350 degrees.

Sift the flour, cocoa powder and baking soda into a large bowl and add the baking soda to it.

In a stand mixer whisk together the butter and sugar until light and fluffy, then add in the eggs one at a time.

Whisk in the sour cream, milk, red food coloring and vanilla then add in the flour until just combined with no dry streaks.
Cheesecake Layer:
Beat the cream cheese, egg, sugar and vanilla extract together until smooth and creamy.
To Finish:
Spray a 10″ bundt pan well with baking spray.

Add ⅓ of the red velvet cake batter.

Add the cheesecake filling evenly.

Top with the remaining cake batter.

Bake for

50-55 minutes

until a toothpick comes out clean.
Cream Cheese Icing:
To your stand mixer add the butter, cream cheese and vanilla extract on medium high speed and whip for

2-3 minutes

until light and fluffy.

Lower the speed to the lowest setting and add in the powdered sugar until just combined.

Raise speed to medium until fluffy for

30 seconds

.

Pour over the cooled cake.
Nutrition
Calories:
809
kcal
|
Carbohydrates:
100
g
|
Protein:
11
g
|
Fat:
42
g
|
Saturated Fat:
25
g
|
Polyunsaturated Fat:
2
g
|
Monounsaturated Fat:
11
g
|
Trans Fat:
1
g
|
Cholesterol:
186
mg
|
Sodium:
506
mg
|
Potassium:
205
mg
|
Fiber:
2
g
|
Sugar:
74
g
|
Vitamin A:
1470
IU
|
Vitamin C:
0.2
mg
|
Calcium:
102
mg
|
Iron:
1
mg