Red Wine Braised Short Ribs are super tender, flavored with wine, beef broth, and tomato, and easy to cook either on the stovetop or with a slow cooker.
If you like Traditional Short Ribs, then you'll be sure to love this version with red wine braising liquid for an even richer flavor. It makes a fabulous fall Dinner Recipe with a cozy and warming taste that you're sure to love.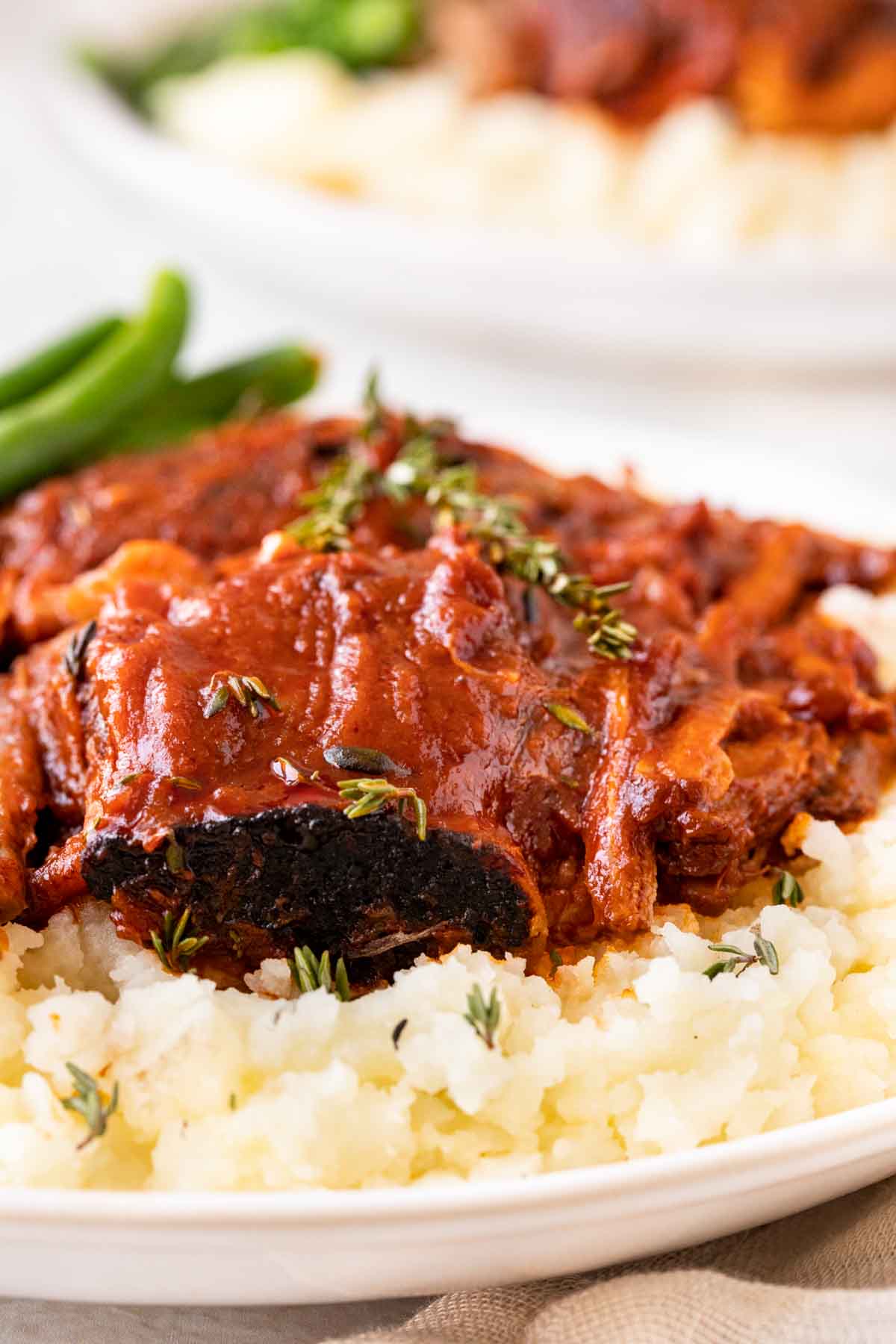 Braised Beef is classic comfort food that's great to serve on a weekend or for a family holiday meal. The cooking does take some time because the short ribs need to soak and simmer in the braising liquid to get their deep flavor and tender texture. The red wine sauce not only tenderizes the meat but also adds a complex sweet and acidic taste to the entire dish as it cooks.
This recipe does require hours of cooking, whichever cooking method you use. However, most of that time is hands-off, and you can use a stovetop or slow cooker option depending on what works best for your schedule. People particularly love using the slow cooker version on weeknights. That way you can prep the ingredients in the morning and leave them to cook throughout the day. Then the mouthwatering dish is all ready to go in the evening.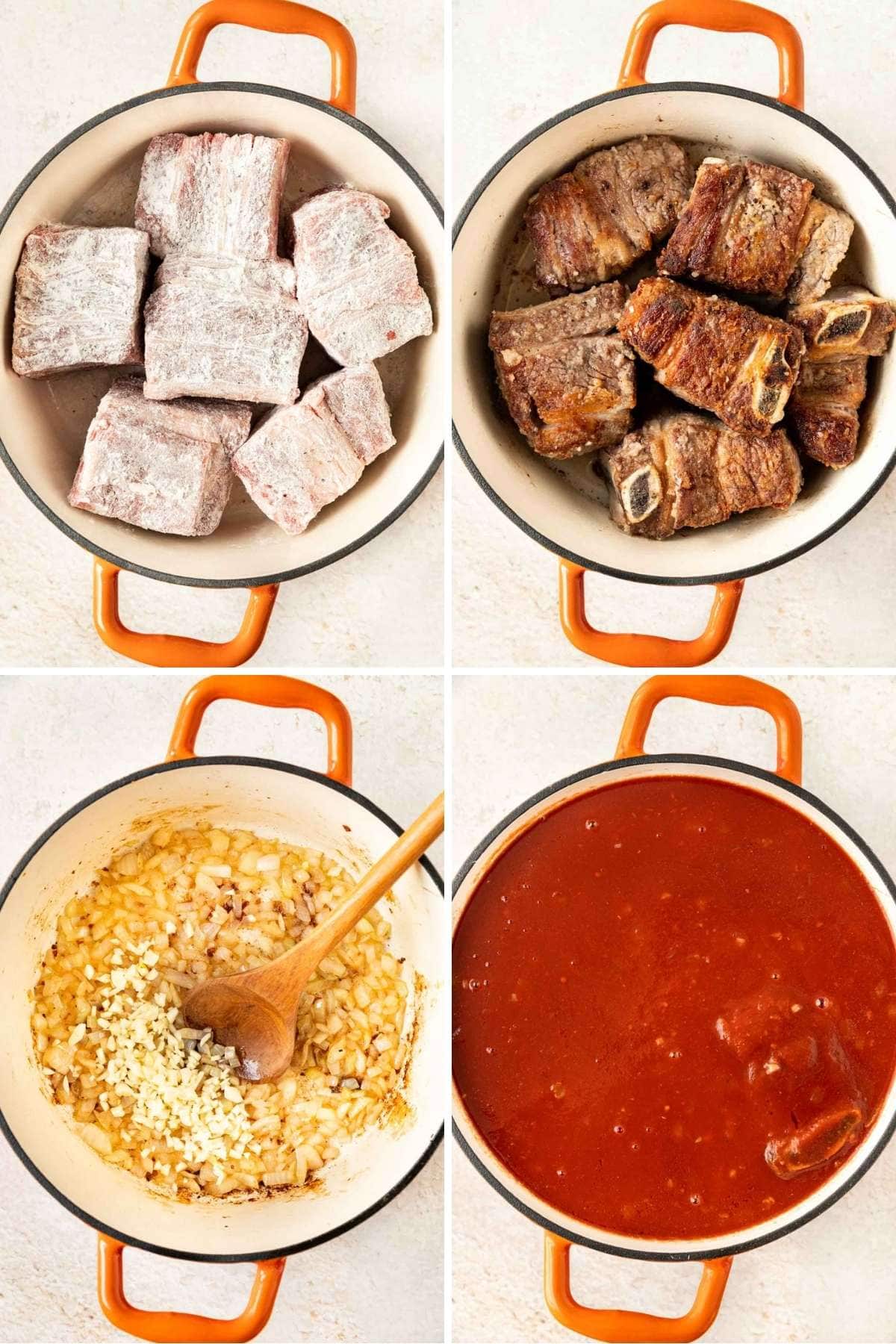 For an elegant dinner fit for any occasion, you can serve this comfort meal with your favorite classic side dishes. Firstly, cook up some egg noodles, Mashed Potatoes, or Polenta as a filling and simple addition to the meal. If you're trying to eat healthier, you can also try it out with a cauliflower mash. Pour any extra sauce from cooking over your sides. You'll love the rich taste of the noodles or potatoes with sauce. For a holiday meal, add other sides like Green Bean Casserole, and Brussels Sprouts Gratin to round out the dish.
More Beef Recipes
Frequently Asked Questions About Red Wine Braised Short Ribs
How are Short Ribs different from other ribs?
Short ribs are a type of beef ribs, as opposed to pork ribs that you often see in restaurants. They are different from regular beef ribs, which are much bigger and longer. Short ribs come from the 5 shorter ribs in the chuck section of the animal.
Why do Short Ribs have to be cooked for so long?
Short ribs have a lot of connective tissue in them. It takes a lot of time and heat for that tissue to break down, but once it does the meat is melt-in-your-mouth tender. This is also why a slow cooker is a great option for making Short Ribs. Details are below.
What is braising?
Braising is a cooking style involving 2 heating methods. When you're braising meat, first you brown it using a high heat. Next you stew it slowly in liquid until the meat is cooked and tender.
Why do the Short Ribs have to be rolled in flour before browning?
Rolling each Short Rib in flour before you brown it will help the meat to form a nice brown crust on the outside. It will not only help provide the color, but also texture and enhance the flavors.
How to Make Red Wine Braised Short Ribs
Prep: To get the meat ready to cook, season it with salt and ground pepper. Then put all-purpose flour in a shallow bowl. Roll the ribs in flour, and tap any excess off on the side of the dish.
Sear: Add oil to a large pot or a dutch oven, and set the stovetop heat to medium-high. Sear the meat on all sides for 4-5 minutes until browned. Then remove the meat, and set it to the side.
Braising Liquid: Add the onions to the pot and cook for 5-6 minutes until they are translucent and beginning to caramelize. Then stir in the minced garlic cloves and cook over medium heat for another 30 seconds until fragrant. Pour in the crushed tomatoes, red wine, beef broth, tomato paste, and Worcestershire sauce. Mix until the wine sauce is well combined.
Stovetop Cooking: Put the ribs back in the pot and cover with a lid. Set the stovetop to medium-low heat and leave it to simmer for 3-hours until the meat is juicy and fork-tender.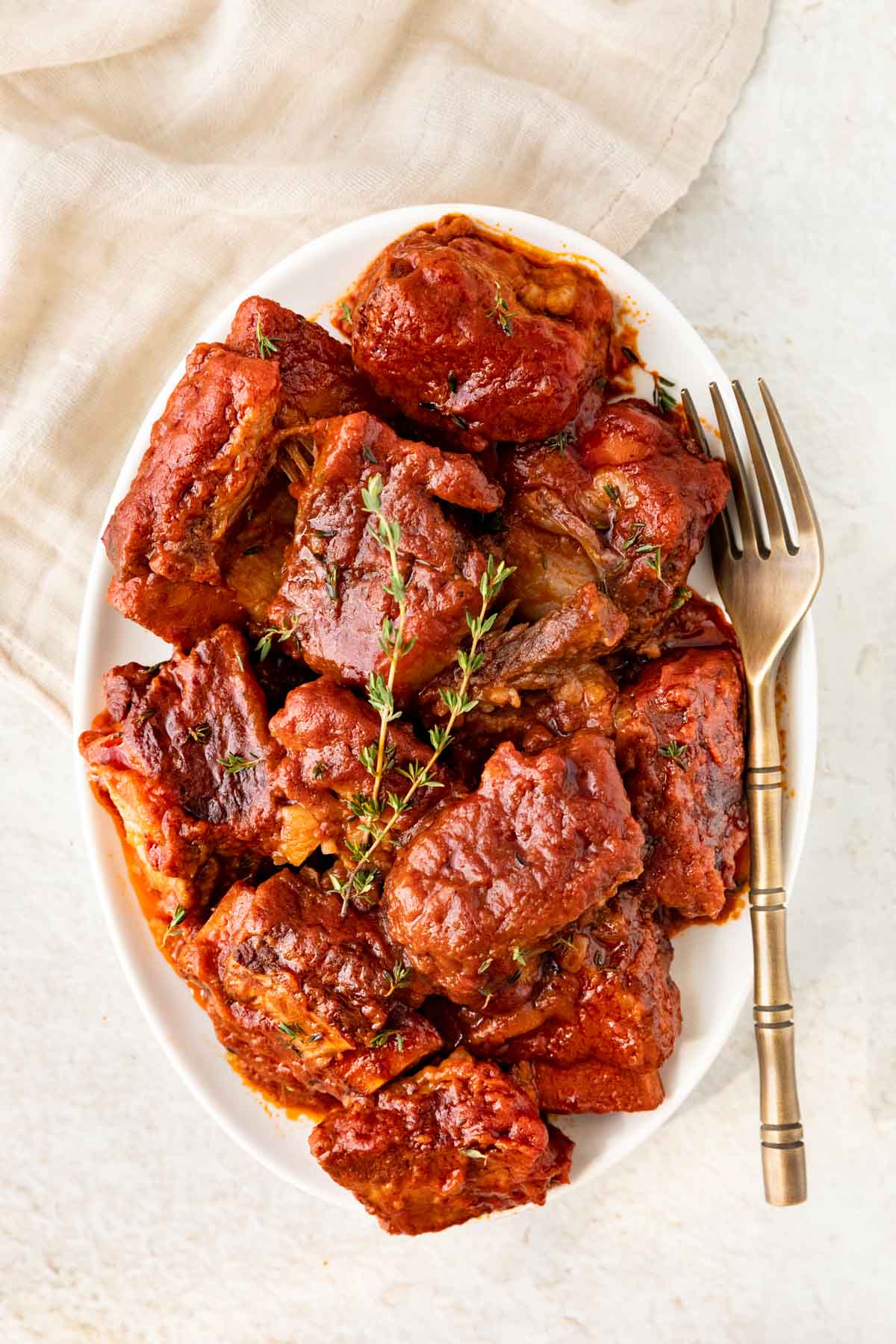 Create a free account to Save Recipes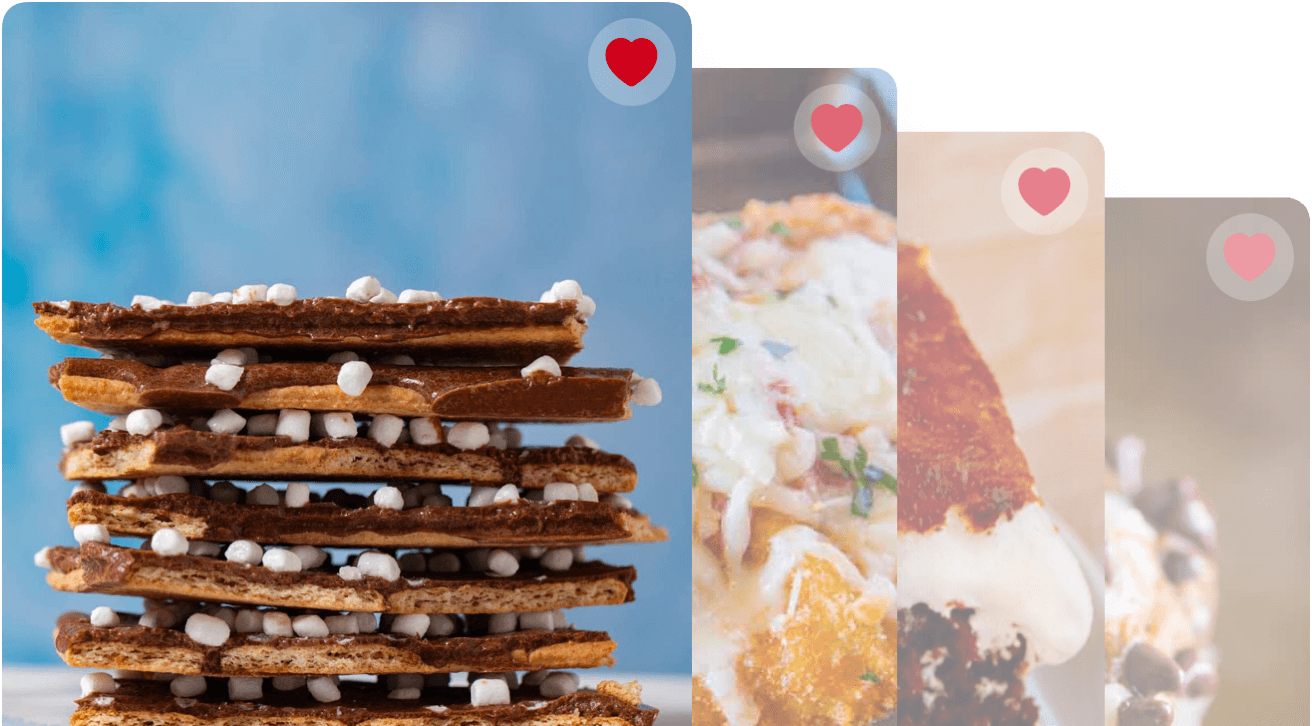 Red Wine Braised Short Ribs in the Slow Cooker
Using your slow cooker is a great option for preparing the Short Ribs. With just a little bit of prep, you can put it in the cooker and go on about your day until you're ready to eat dinner. You'll start by preparing your meat in the same way by seasoning and rolling the ribs in flour. You can sear the ribs in a pan to get them nice and brown, then transfer them to your slow cooker. Add the remaining ingredients to create the braising liquid, then set your crockpot on low for 8 hours of cooking.
Variations
Wine Replacements: If you don't have wine, you can use simple replacements. One option is using 3 cups of beef stock. For other replacements try using chicken broth, vegetable stock, or apple juice.
Seasonings: Season sauce with different herbs and spices like white pepper, paprika, cumin, fresh thyme, basil, rosemary, or red pepper flakes.
Vegetables: You can also add veggies to cook along with the meat in the slow cooker or dutch oven. Bell peppers, carrots, or broccoli would go great with the recipe.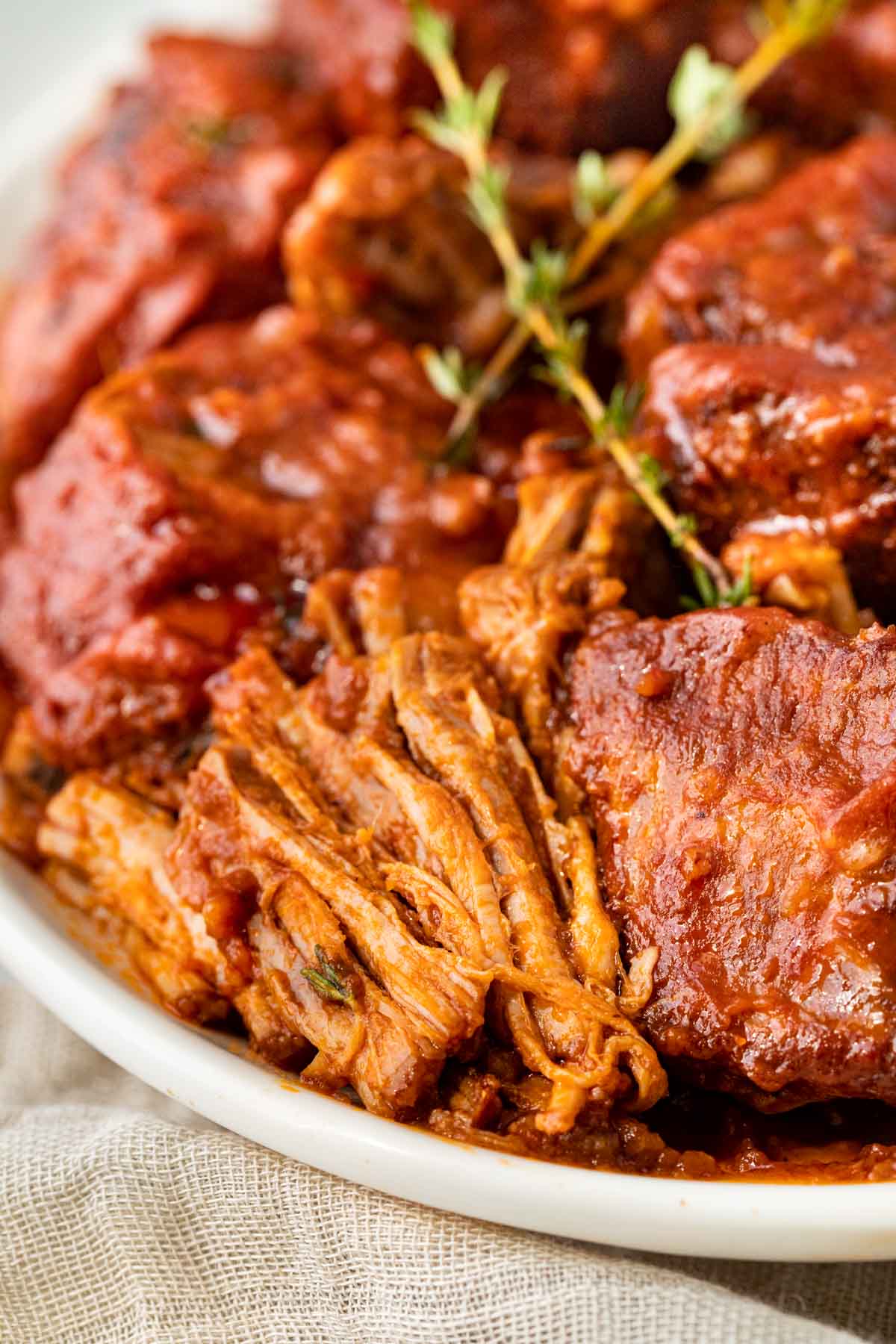 Side Dishes
How to Store
Serve: Wine-Braised Ribs can stay good at room temperature for up to 2 hours. To keep them out longer, put them in the slow cooker at low heat.
Store: Once the ribs have cooled down, you can seal them in an airtight container to store in the fridge for 3-5 days.
Freeze: To keep them longer, seal the ribs in a freezer bag or another airtight container with each rib separated by wax paper so they don't freeze together. They'll stay good for up to 6 months.


Ingredients
4

pounds

bone-in beef short ribs

2

teaspoons

kosher salt

1

teaspoon

coarse ground black pepper

1/3

cup

flour

3

tablespoons

vegetable oil

1

yellow onion

, diced

4

garlic cloves

, minced

15

ounces

crushed tomatoes

2

cups

red wine

1

cup

beef broth

6

ounces

tomato paste

3

tablespoons

Worcestershire sauce
Instructions
Season the beef ribs with salt and pepper.

Roll in flour, tap off excess.

Add oil to a large pot on medium-high heat.

Sear all the sides of the short ribs, about

4-5 minutes

on each side.

Remove the beef and add in the onions, cooking for

5-6 minutes

or until translucent and just beginning to caramelize.

Stir in the garlic and cook for

30 seconds

until fragrant.

Add in the crushed tomatoes, red wine, beef broth, tomato paste, and Worcestershire sauce until well combined.

Put the beef back into the pot, cover, and cook for

3 hours

or until fork-tender. If using a slow cooker, cook on low for

8 hours

.

Serve with mashed potatoes, grits, or egg noodles.
Nutrition
Calories:
361
kcal
|
Carbohydrates:
13
g
|
Protein:
28
g
|
Fat:
18
g
|
Saturated Fat:
9
g
|
Cholesterol:
78
mg
|
Sodium:
884
mg
|
Potassium:
913
mg
|
Fiber:
2
g
|
Sugar:
5
g
|
Vitamin A:
357
IU
|
Vitamin C:
9
mg
|
Calcium:
48
mg
|
Iron:
5
mg