Sausage Blueberry Cinnamon Rolls are easy homemade cinnamon rolls stuffed with pork sausage, fresh blueberries, and cinnamon sugar. With cream cheese icing!
Move over Easy Cinnamon Rolls, this all-in-one Breakfast treat has all you need. Savory sausage, fresh fruit, and sweet cinnamon-y goodness baked in one delicious bun!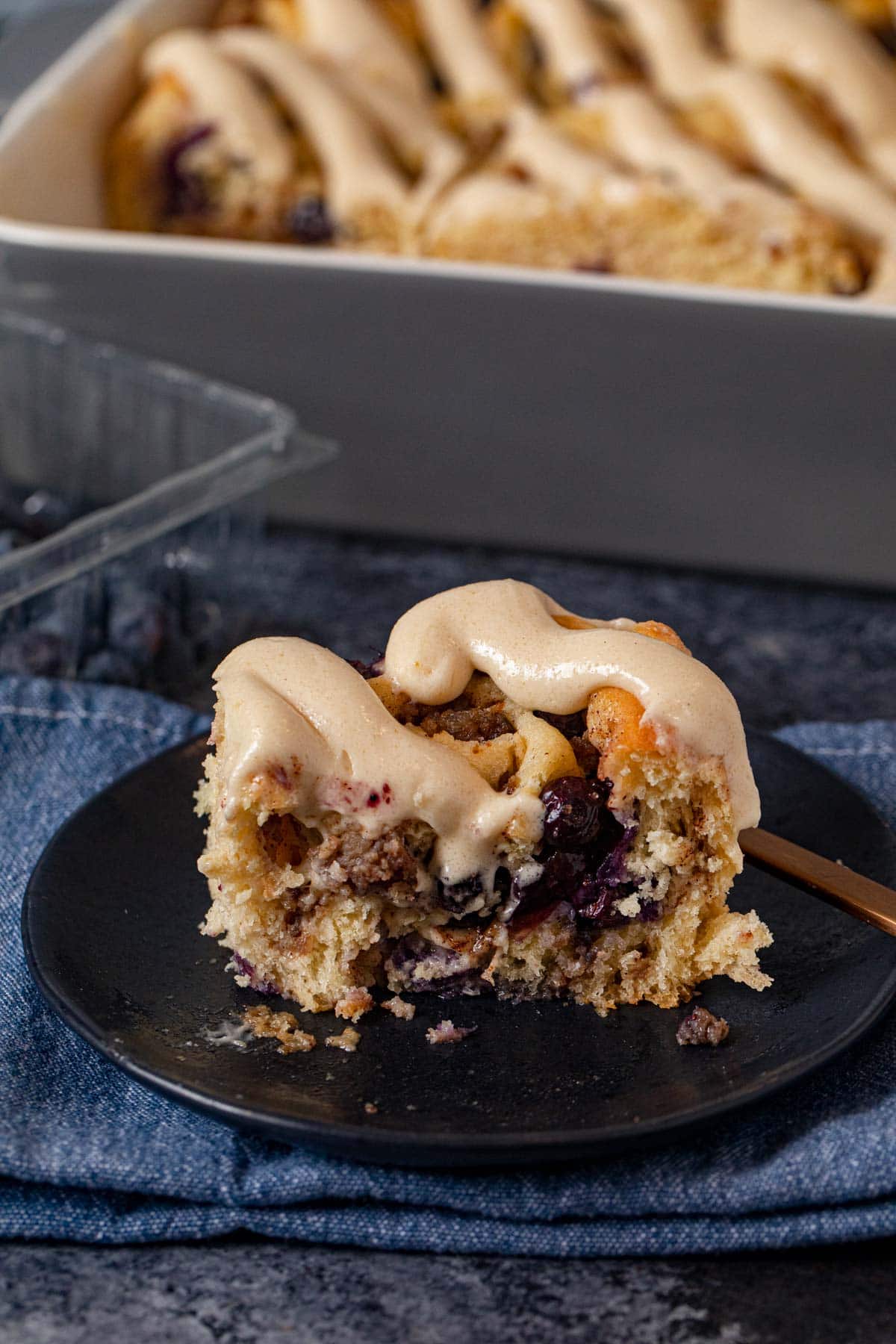 SAUSAGE BLUEBERRY CINNAMON ROLLS
These sweet and savory cinnamon rolls are unlike any breakfast buns you've ever had before! The saltiness of the breakfast sausage perfectly balances out the sweetness in the filling and the icing, and the juicy fresh blueberries just burst in your mouth. You'll be craving these delicious, special rolls all year long!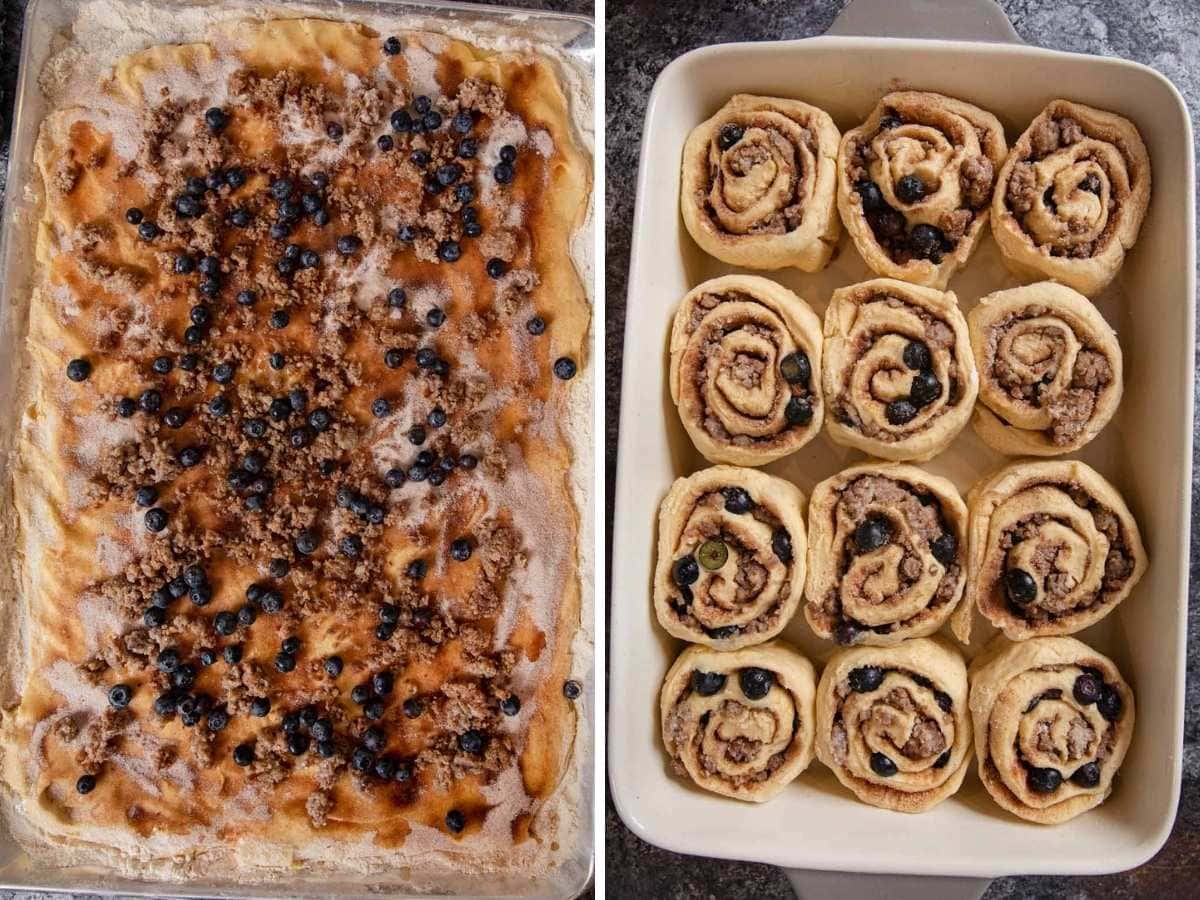 Part of what makes these Sausage Blueberry Cinnamon Rolls so special is the breakfast sausage baked right into the dough! Sausage adds so much flavor, making the rolls melt-in-your-mouth delicious, plus the extra moisture keeps them tender and soft. Rolling the sausage in the dough also makes sure you get that salty sweet goodness in every bite.
You won't believe how easy it is to make Sausage Blueberry Cinnamon Rolls from scratch! Our easy cinnamon roll recipe is a fan favorite because it's made in minutes with step by step instructions any one can master. Once you start making homemade cinnamon rolls, you'll never go back to the canned dough again if you can help it.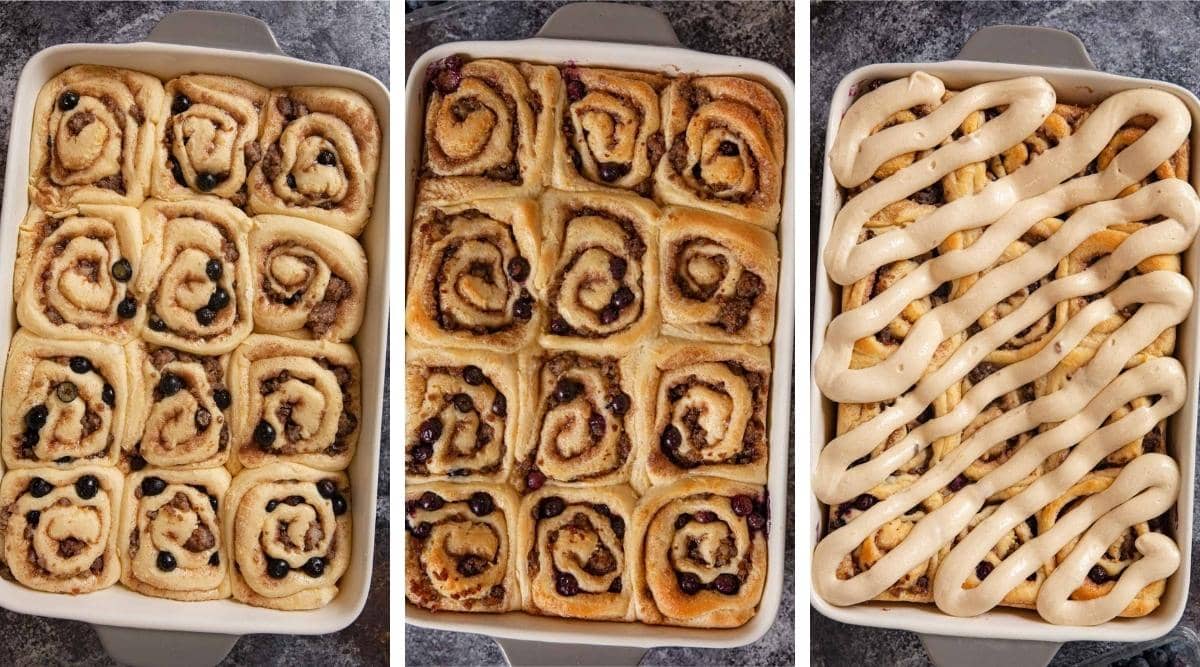 For a quicker and easier Sausage Blueberry Cinnamon Rolls recipe, you can make them in the slow cooker! The low heat and the moisture from slow cooker mimics the second "proofing" (rising) of the stuffed cinnamon roll dough. Check out the variation below for instructions on how to make Slow Cooker Sausage Blueberry Cinnamon Rolls.
MORE DELICIOUS BREAKFAST RECIPES
Make Ahead Sausage Blueberry Cinnamon Rolls
You can make these Sausage Blueberry Cinnamon Rolls the night before for an easy, yet fancy breakfast. Your filled rolls will rise overnight in the fridge instead of at room temperature. Make the rolls like normal, place in greased pan, and refrigerate wrapped tightly with plastic wrap. The next morning, bring the rolls to room temperature and bake as usual.
You could also use this method to freeze a batch of cinnamon rolls. Either make a second batch or divide this large batch in half, baking one now and freezing one for later. Bake cinnamon rolls from frozen by adding an extra 10-15 minutes, or thaw overnight in the refrigerator before baking.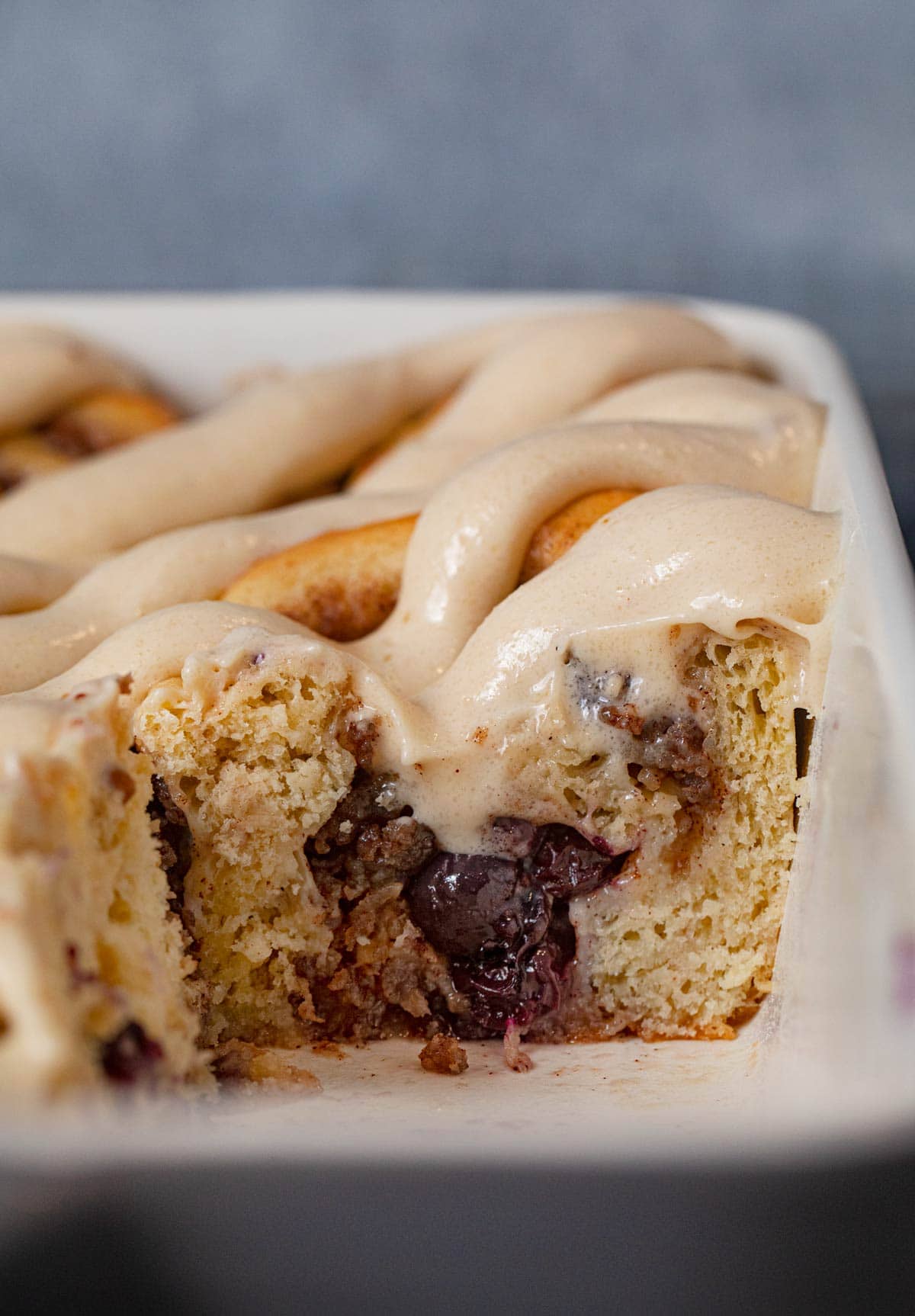 Create a free account to

Save Recipes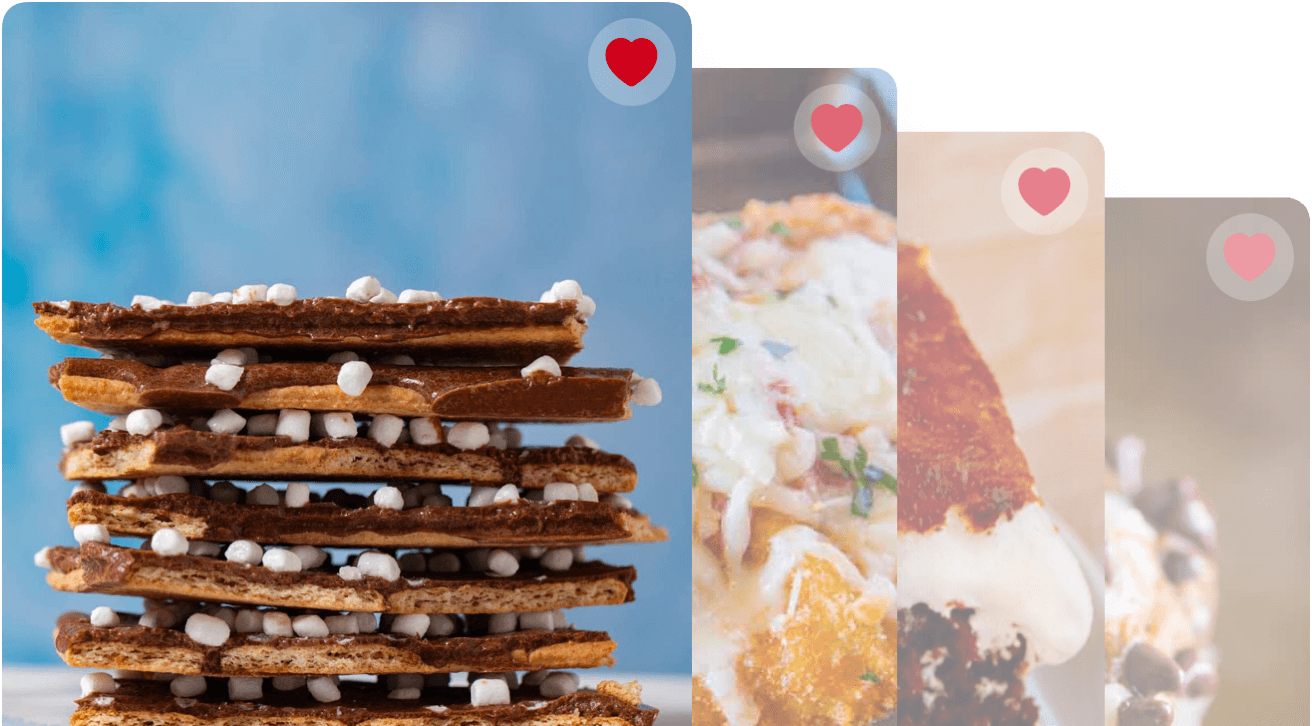 VARIATIONS ON SAUSAGE BLUEBERRY CINNAMON ROLLS
Blueberry Lemon: Lemon brings out the natural flavor of blueberries and the zesty, tart flavor will balance out the sweetness even more. Add a tablespoon lemon juice to the cream cheese icing and soak the blueberries in lemon juice for 15-20 minutes before preparing the filling.
Sausage: Instead of regular pork sausage, try these with bacon, turkey sausage, or a flavored breakfast sausage. If you use sausage links, remove the casing so you can get small crumbles that are easier to mix into the dough evenly.
Cream Cheese: Replace 1 cup blueberries with 1 block of cream cheese cut into small pieces. For a tangier, decadent savory cheese, use soft goat cheese or mascarpone cheese!
Maple: Maple tastes delicious with these Sausage Blueberry Cinnamon Rolls! Swap out 1/2 cup sugar with ½ cup maple syrup in the filling. You could also use brown sugar for a caramel flavor filling!
Toppings: Sprinkle more fresh blueberries on top of the icing, or try chopped nuts like walnuts or pecans. Try a drizzle of Salted Caramel Sauce or warmed Blueberry Jam with or without the cream cheese icing.
Slow Cooker Sausage Blueberry Cinnamon Rolls
Cook the sausage, drain the fat, and set aside.
Prepare cinnamon roll dough as usual and add sausage. Let rest, covered, for 10 minutes.
Prepare the cinnamon sugar filling and blueberries.
Roll out dough and spread an even layer of the cinnamon mixture.
Sprinkle blueberries over cinnamon filling. Roll dough tightly and slice.
Line slow cooker with parchment paper. Place cinnamon rolls in bottom of slow cooker.
Cover top of slow cooker with paper towel and slow cooker lid. Cook on high for 2-3 hours until baked through.
Use parchment paper to remove cinnamon rolls and allow to cool. Prepare cream cheese icing while cooling and frost to serve.
MORE SWEET & TASTY BREAKFAST RECIPES
HOW TO STORE SAUSAGE BLUEBERRY CINNAMON ROLLS
Serve: Sausage Blueberry Cinnamon Rolls are best served warm and can be kept at room temperature for up to 2 hours. The meat and the cream cheese icing prevent these from being stored at room temperature.
Store: Once cooled, store Sausage Blueberry Cinnamon Rolls in an airtight container. For best reheating, refrigerate without the icing and frost after you have warmed the rolls in the oven.
Freeze: Unfrosted Sausage Blueberry Cinnamon Rolls can be frozen for up to 3 months in a sealed container, or in a baking pan covered tightly in plastic wrap and aluminum foil. Thaw or bake from frozen at 300-325 degrees until hot. Serve with fresh frosting.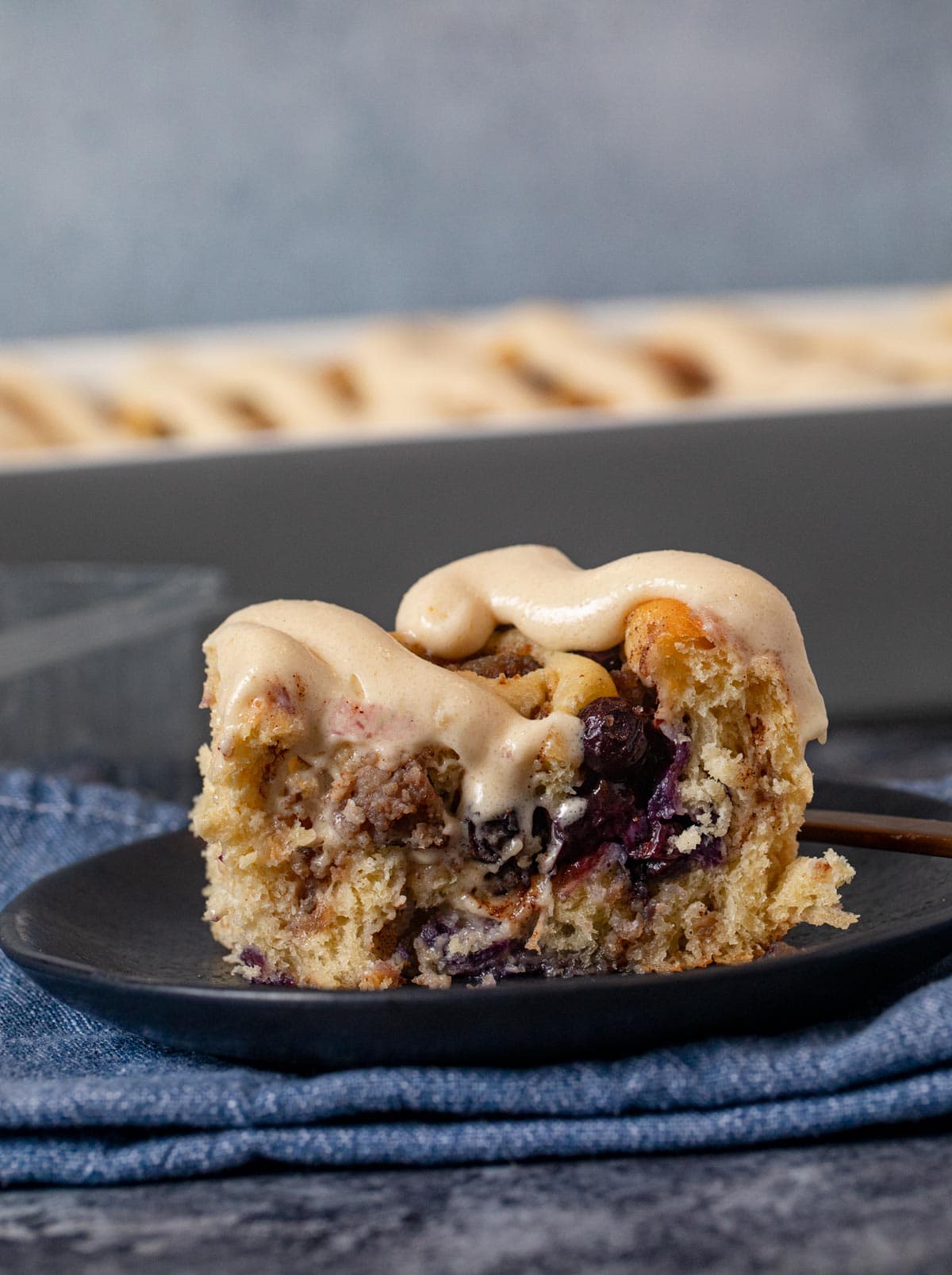 Ingredients
Cinnamon Roll Dough:
1

pound

pork breakfast sausage

2

cups

whole milk

1/2

cup

butter

, room temperature

6 1/2

cups

all-purpose flour

, divided

1/2

cup

granulated sugar

1

teaspoon

salt

2

packets

instant rapid rise yeast

2

large

eggs
Blueberry Cinnamon Filling:
1

cup

sugar

5

cups

powdered sugar

3

tablespoons

ground cinnamon

1/2

cup

butter

room temperature

2

cups

blueberries

halved
Cream Cheese Icing:
12

ounces

cream cheese

(1 ½ packages) softened

1/3

cup

butter room temperature

1

tablespoon

vanilla extract

3

tablespoons

milk
Instructions
Cinnamon Roll Dough:
Add pork to a large skillet on high heat.

Break apart pork as you cook, stirring occasionally for

6-8 minutes

.

Remove pork from the pan and set aside, discard fat.

In a small saucepan heat the milk and butter to 110 degrees (warm to touch).

Into your stand mixer add the yeast and milk and whisk and let sit for

1 minute

.

Add 6 cups of the flour, sugar, salt and eggs to the stand mixer.

PRO TIP: COVER YOUR MIXER WITH A CLEAN DISH TOWEL.

Attach the dough hook and turn the mixer on speed 3-4 (low to medium).

Let it go for

5-7 minutes

, you want the dough to become a ball that doesn't stick to the walls of the bowl.

Add in cooked pork sausage and knead for

30 seconds

to combine.

If you find sticking add flour ¼ cup at a time until it pulls away (no more than another cup)

Take the dough out, grease the stand mixer bowl and put it back in.

Cover the dough with your dish towel you used to keep the flour in the stand mixer.

Let sit for

10 minutes

while you set the oven to preheat to 350 degrees and you make the filling.
Filling and Assembly:
In a medium sized bowl mix the sugar and cinnamon.

Using a large even surface, add ½ cup of flour and roll it out onto the surface to coat the rolling pin and the surface.

Roll out the dough into a large rectangle about a ½ inch thick (if your space is limited do this in two halves).

Spread the butter over the dough (use your hands) and sprinkle the cinnamon sugar over the butter.

Sprinkle over the blueberries.

Roll the dough tightly to form a long log and using a piece of thread slice off pieces.

The dough will make 18 large cinnamon rolls.

Place the rolls into buttered baking pans or jelly rolls.

Place the rolls into a warm place for 20 minutes (see notes).
Cream Cheese Icing:
In your stand mixer beat all the ingredients together until light and fluffy.
To Finish:
Bake the rolls for

18-20 minutes

or until golden brown.

Spread the cream cheese frosting over the rolls and serve warm or at room temperature.
Notes
PRO TIP: COVER YOUR MIXER WITH A CLEAN DISH TOWEL WHILE MIXING SO FLOUR DOESN'T SPRAY OUT.
When you are adding the sausage, if you find the dough sticking you can add flour ¼ cup at a time until it pulls away (no more than another cup).
For the proof: I have a second oven, so I heat it to warm when I start the recipe, then turn it off and open the door for a couple of seconds then close the door. The residual warmth is perfect for these rolls.
Nutrition
Calories:
596
kcal
|
Carbohydrates:
91
g
|
Protein:
13
g
|
Fat:
20
g
|
Saturated Fat:
12
g
|
Cholesterol:
86
mg
|
Sodium:
509
mg
|
Potassium:
226
mg
|
Fiber:
2
g
|
Sugar:
54
g
|
Vitamin A:
631
IU
|
Vitamin C:
2
mg
|
Calcium:
94
mg
|
Iron:
3
mg