Slow Cooker Beer Braised Beef Dip Sandwiches cooked to medium doneness with a delicious beer jus in just two hours. The perfect, easy, sandwiches for a crowd without heating up the kitchen or grill!
Ultimate Slow Cooker French Dip Sandwiches are a fan favorite around here, and with good reason, but those sandwiches are cooked to a fall apart doneness and these Beer Braised Beef Dip Sandwiches are sliceable and tender!
 Slow Cooker Beer Braised Beef Dip Sandwiches
It's summer, I know. And the last thing you probably want to think about is your slow cooker. But let me tell you why this genius appliance is your friend. First of all, it's hot out and I'm not a huge fan of making the room or my surroundings any hotter. So turning on the oven is not something I look to do.
Second, this takes hardly any time at all because it cooks in just two hours. It also feeds a crowd of people so you can either make it for parties or save leftovers for lunch sandwiches (if saving for leftovers, slice really thinly so it stays tender and easy to eat).
This recipe is a take on the Slow Cooker Roast Beef (Sliceable!) that we enjoy on a monthly basis because it's just so easy we use it for all recipes that require steak. This beef is also perfect used for other recipes if you prefer not to enjoy it as a sandwich.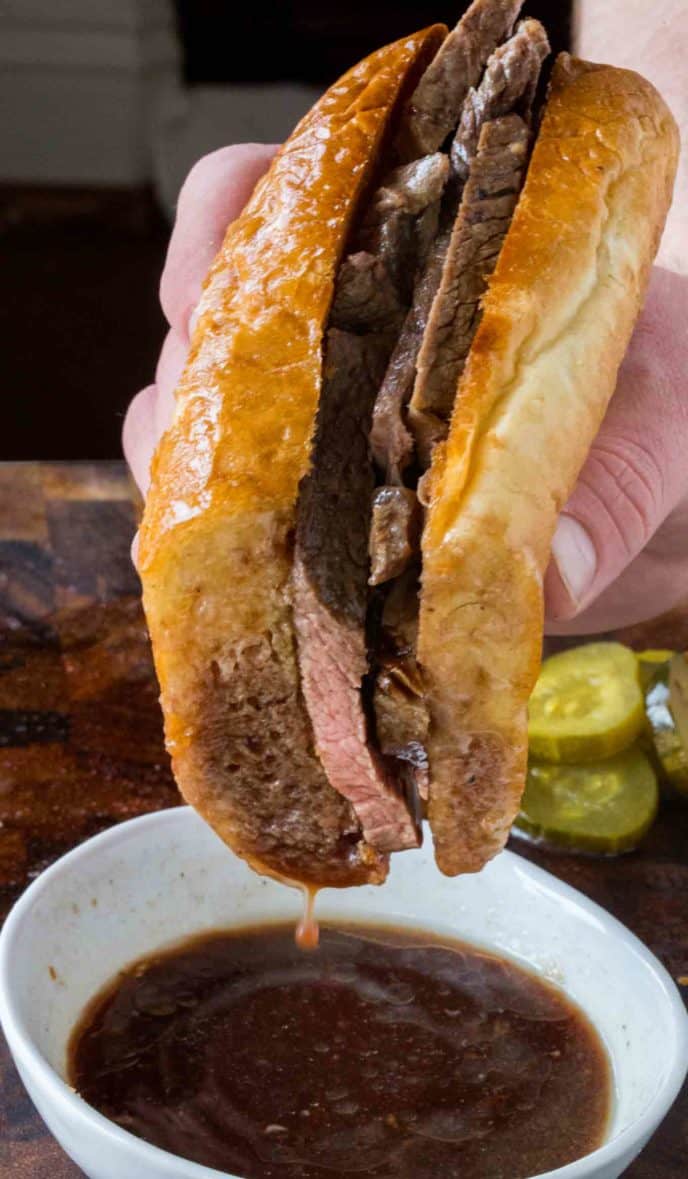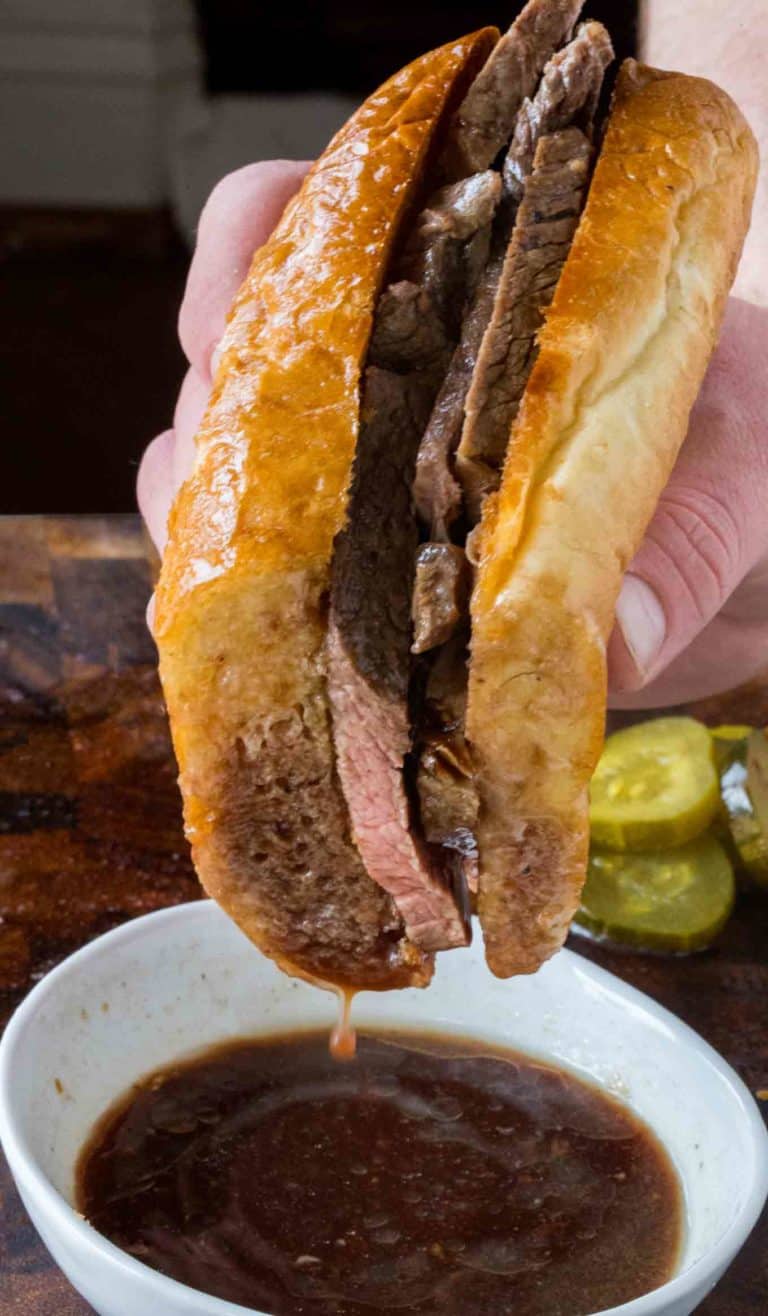 How to serve beer braised beef:
Cut into bite sized chunks and top baked potatoes or mashed potatoes.
Top your favorite salads with thinly sliced pieces of braised beef.
Serve over rice with your favorite sauce and steamed vegetables if you're looking to be healthy.
Prefer to skip the beer? Substitute with beef broth and double the Worcestershire sauce. Or you can add beef broth and your favorite sauce like teriyaki or bbq sauce for another flavor. The cooking method stays the same!
Important note, do not try to GUESS when the meat is done. Using a thermometer is important to ensuring the beef doesn't overcook. If you are very well versed in cooking beef you can test by pressing on the beef to test for doneness.
I use the hand touch method as I'm used to cooking steaks for a large crowd. And with such high volumes I've gotten pretty accurate at testing. Accurate enough I'd venture to say I'd feel comfortable walking a steak up to the pass with Gordon Ramsay on quality control. Here's how to test:
How to tell beef doneness by touch?
Touch your index finger to your thumb: Rare
Touch your middle finger to your thumb: Medium-Rare
Touch your ring finger to your thumb: Medium
Touch your index finger to your thumb: Well Done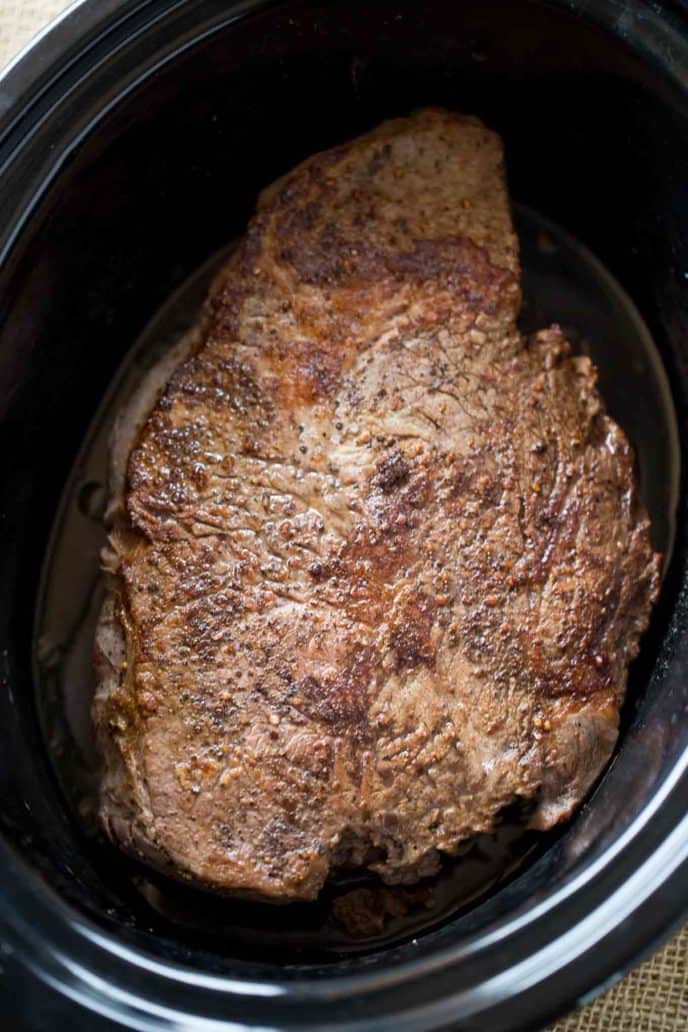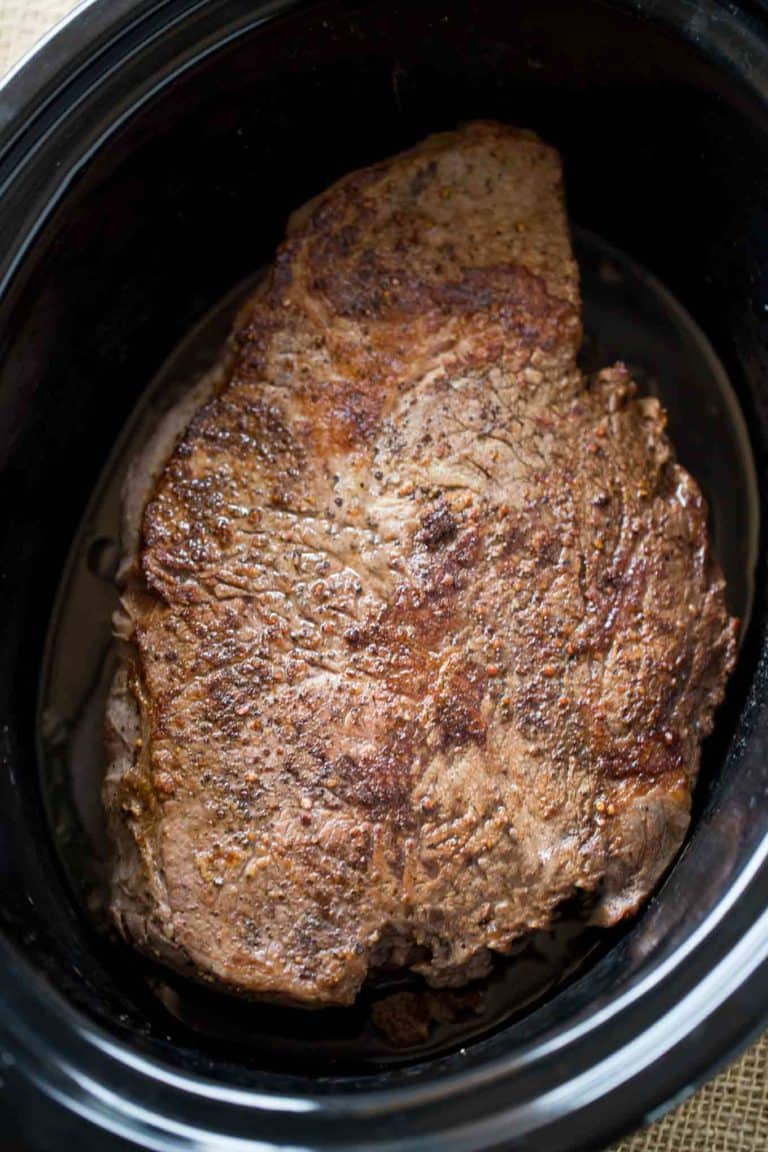 If you're keeping track here are the other slow cooker sandwiches we've got so far: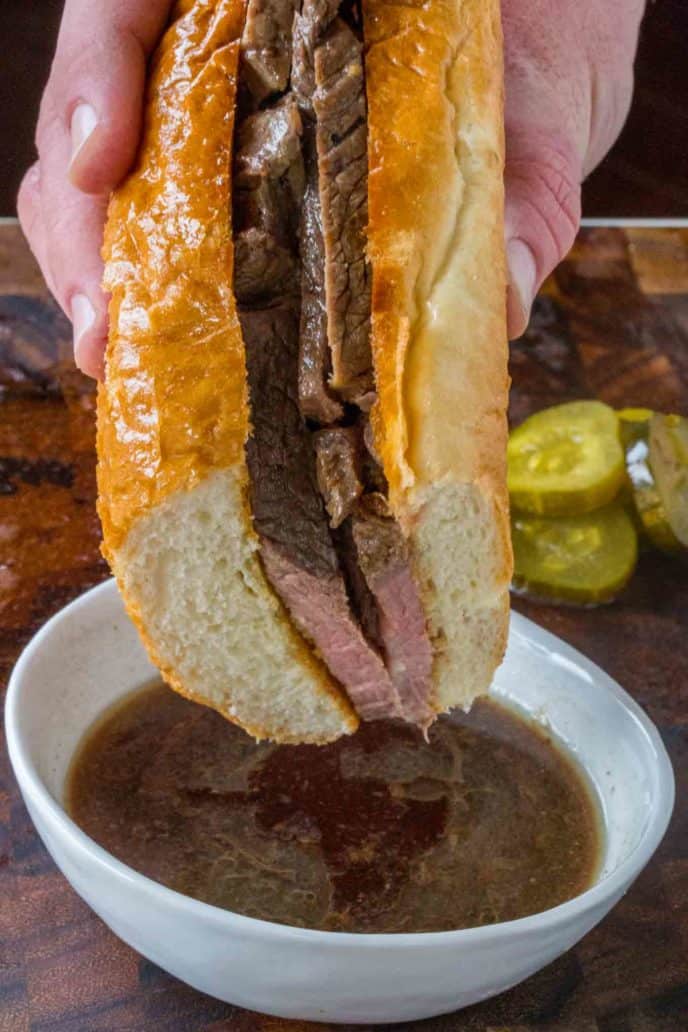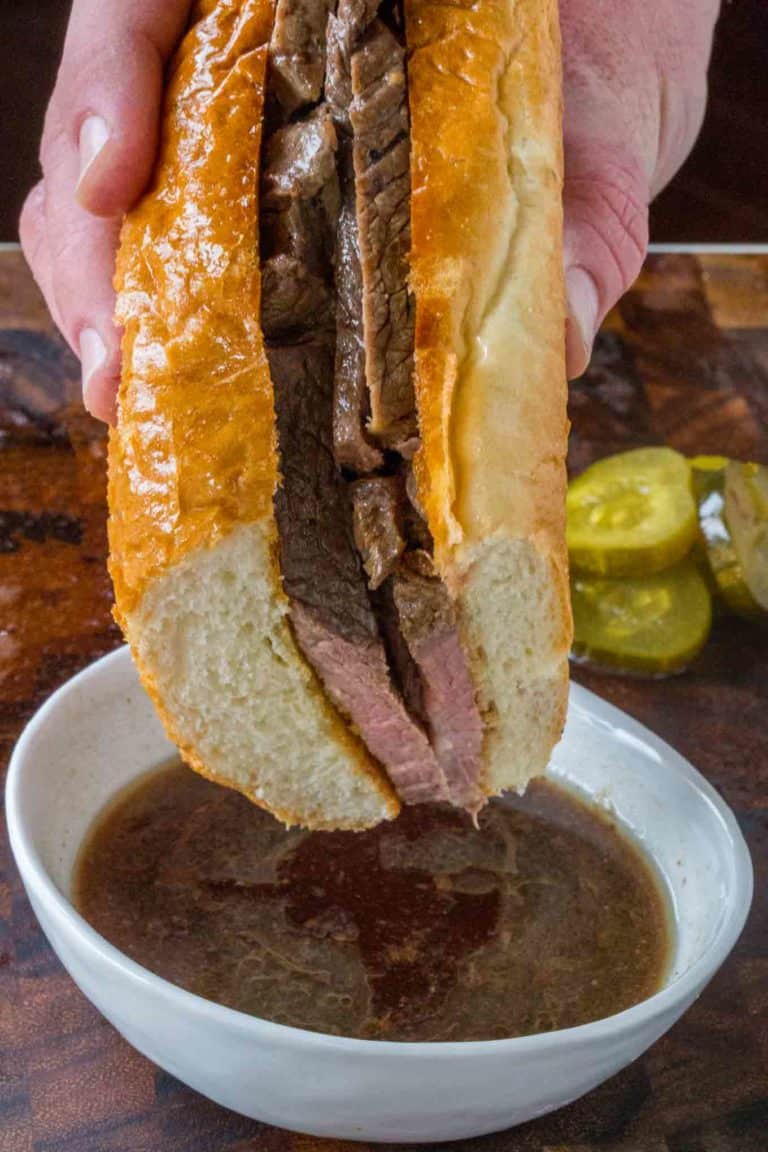 Tools Used in the making of this Slow Cooker Roast Beef Sandwiches:
Slow Cooker with Thermometer Probe: This slow cooker is a new addition to our house but it is an amazing new toy I've been having fun with. The thermometer fits through the lid without letting the heat escape.
Thermometer: If you don't have that slow cooker, this thermometer can stay in the slow cooker with no issues.
Skinnytaste Fast and Slow: An amazing book by an even more amazing blogger. Her food doesn't taste like it lost flavor to be better for you.


Ingredients
5

pounds

chuck roast

2

teaspoons

Kosher salt

1/2

teaspoon

coarse ground black pepper

1

tablespoon

canola oil

1

tablespoon

Worcestershire Sauce

1

can beer

(I like a dark beer like Guinness)

1

yellow onion

cut into thick rings for the beef to sit on

10

hoagie rolls

5

tablespoons

butter
Instructions
Rub the chuck roast with the salt and pepper.

Heat up your slow cooker insert (if cast aluminum) or a large cast iron skillet on high heat with the canola oil.

Sear the beef on each side for

3-4 minutes

until it is a good golden brown (the beef will not get any more color in the slow cooker).

Layer the onions onto the bottom of the slow cooker.

Put the beef and the drippings from the pan into your slow cooker.

Add the Worcestershire Sauce and beer.

Cook on low for

90 minutes

.

Using a standard meat thermometer or a slow cooker with a thermometer probe, cook to 135 (medium rare) or 140 (medium) degrees.

Remove the beef from the slow cooker and let rest

10 minutes

before slicing.

Spread the hoagie rolls with the butter and toast until lightly browned.

Layer with the sliced beef and dip in the drippings (strain out the onions).
Nutrition
Serving:
1
g
|
Calories:
476
kcal
|
Carbohydrates:
1
g
|
Protein:
43
g
|
Fat:
33
g
|
Saturated Fat:
15
g
|
Cholesterol:
171
mg
|
Sodium:
715
mg
|
Potassium:
782
mg
|
Vitamin A:
205
IU
|
Vitamin C:
1.1
mg
|
Calcium:
45
mg
|
Iron:
4.8
mg