Slow Cooker Chocolate Candy is the perfect way to make easy homemade candy. The chocolate peanut treats are wonderful edible gifts to make for the holidays!
If you've tried our recipe for Peanut Clusters making this Homemade Candy in the crockpot is an easy, hands-off way to enjoy the same treat. It's the perfect method to easily make a big batch of Peanut Clusters to share.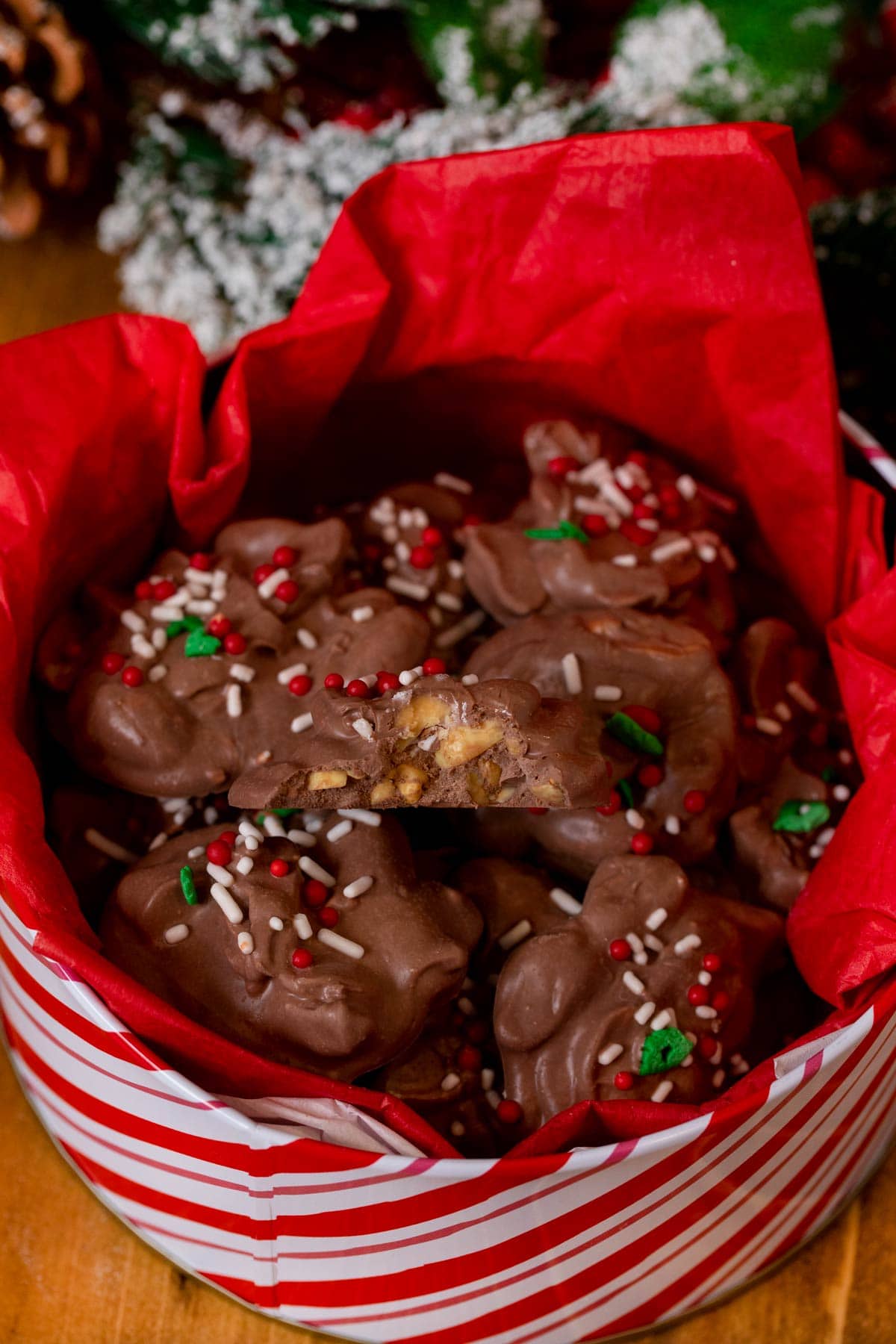 SLOW COOKER CHOCOLATE CANDY
Crockpot candy is a great way to make delicious treats for lots of people. Instead of having to melt the chocolate and stir everything in bowls, you just put the chocolate and peanuts in the slow cooker. Once the chocolate is melted you can mix it in better and then form it into Chocolate Peanut Clusters. It's as simple as that!
Slow Cooker Chocolate Peanut Candies are a great holiday recipe that you can serve on their own, or use as a topping for other desserts. Try adding some of the crockpot candy over the top of Ice Cream, Brownies, or Cake. They add a lot of flavor and crunchy texture to any dish. No matter how you enjoy them, this Chocolate Peanut Candy is sure to be a favorite!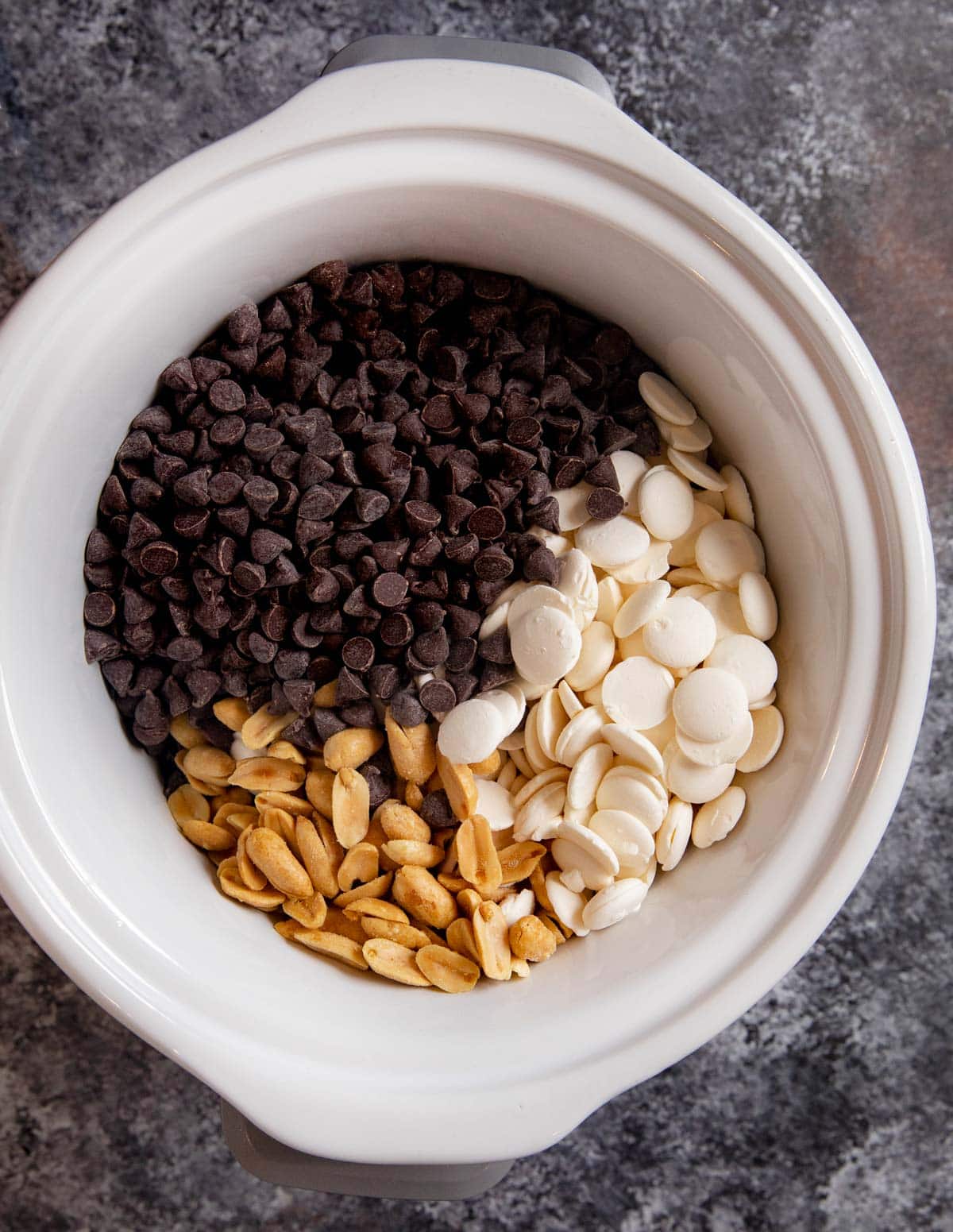 SLOW COOKER CHOCOLATE CANDY AS A GIFT
Homemade candies are the perfect gift idea for the holiday season. You can make a big batch of Crock Pot Nut Clusters for sharing with friends, family, and neighbors. Anyone would enjoy getting a package of these chocolate goodies!
To start just follow the crock-pot candy recipe as usual. Once it's finished in the slow cooker and the chocolate candy coating has hardened, you can package the chocolate candy up to give as a present.
To package the Crockpot Chocolate Candy pick out a festive box or tin to put them in. Use parchment paper as a liner for the base of your container. Then put a layer of Crockpot Chocolate Candy. Add another sheet of parchment paper and layer again. Keep layering like that until the box is full or you've put in as many Peanut Clusters as you want. You can also place each individual candy in mini muffin liners to help separate them.
If you're shipping the Chocolate Peanut Clusters put a gel freezer pack in the packaging to make sure nothing melts in transit.
MORE CANDY RECIPES
TIPS FOR MAKING SLOW COOKER CHOCOLATE CANDY
Prep: Start the crockpot candy recipe by adding the peanuts to a 6-quart slow cooker. Add the semisweet chocolate chips and white chocolate melting disks over the top of that.
Cook time: Turn the slow cooker to low heat and leave the melting chocolate to coat the peanuts for 2 hours. After 2 hours stir vanilla extract with the melted chocolate.
Shape: Line cookie trays with parchment paper or wax paper. Then use a tablespoon-sized scoop or small cookie scoop to form the nut clusters and place them on the sheets at least 2 inches apart. You can also line the sheet with mini cupcake liners and scoop the candy into cupcake liners.
Harden: Put the trays in the fridge for 30 minutes for the Chocolate Peanut Clusters to harden before you serve them.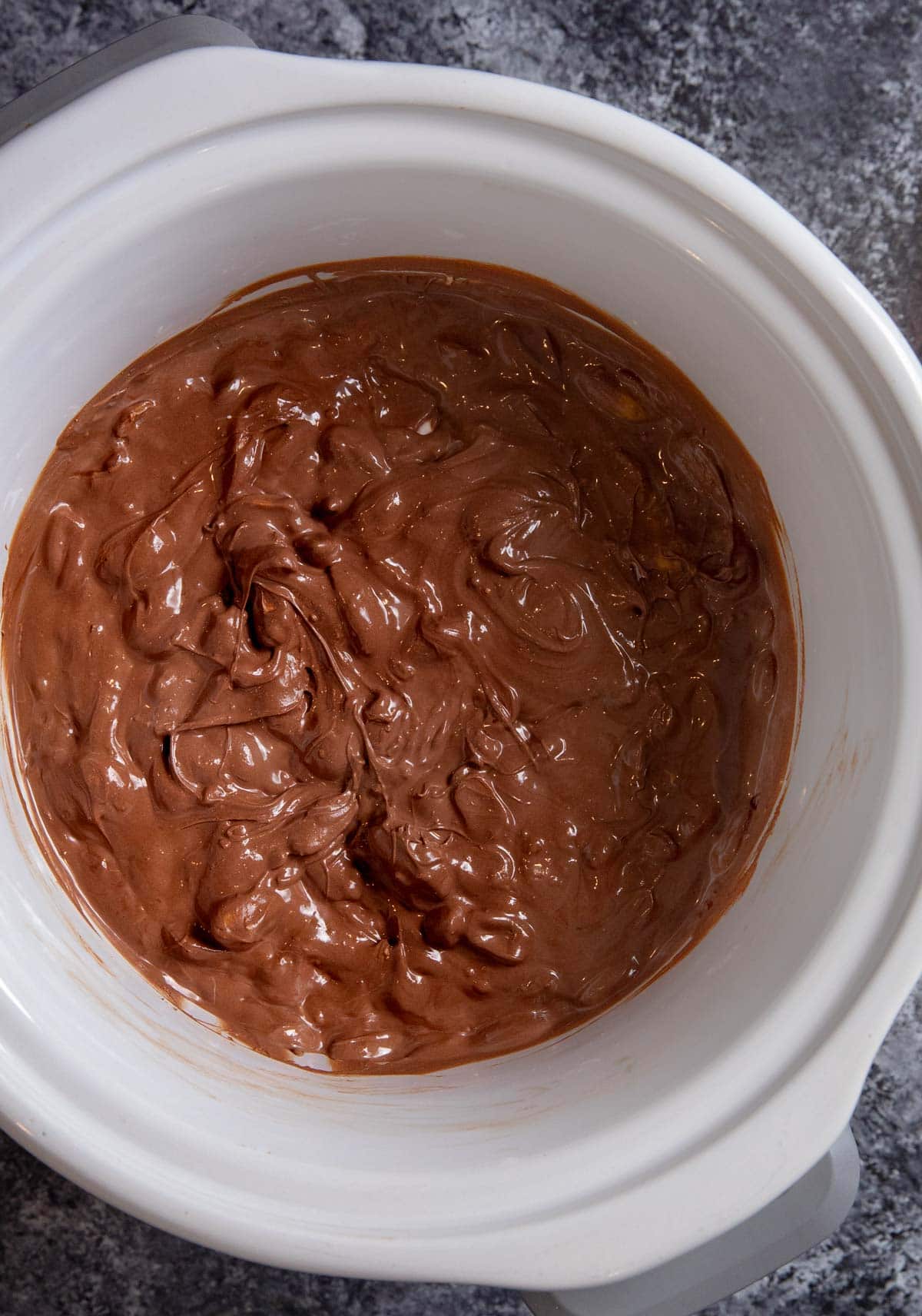 Create a free account to

Save Recipes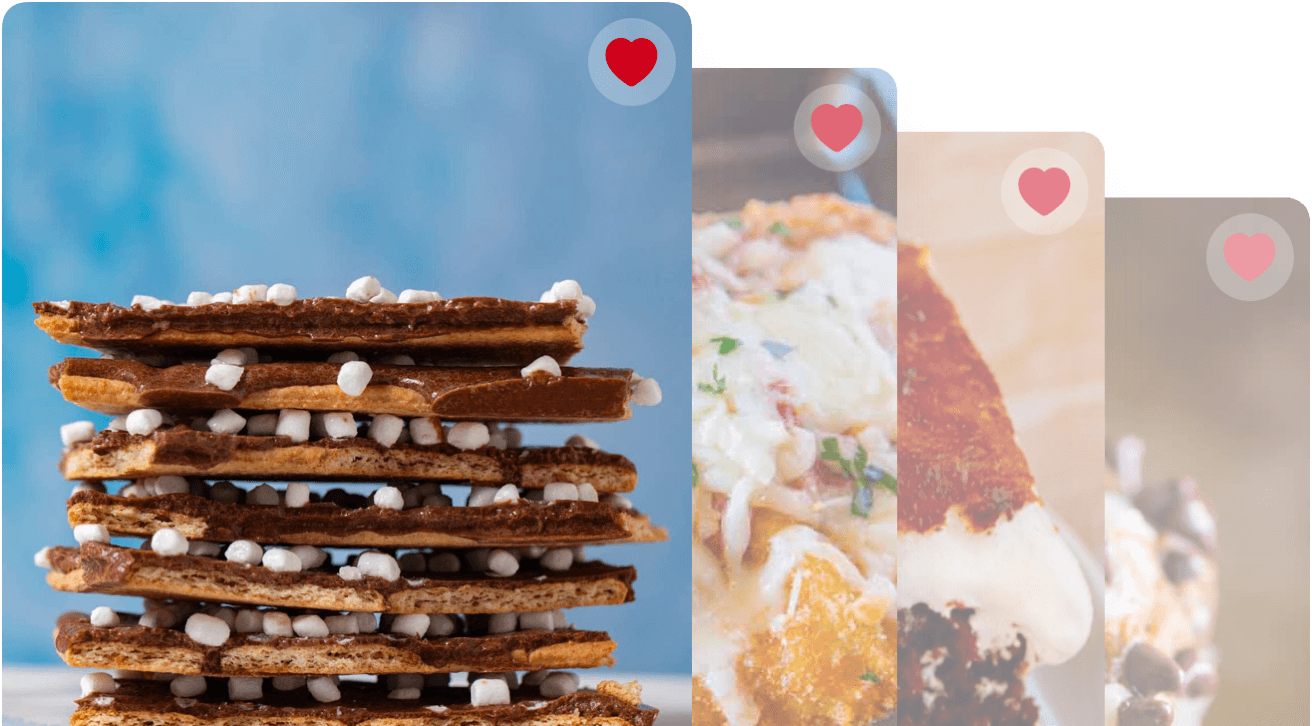 VARIATIONS ON SLOW COOKER CHOCOLATE CANDY
Nuts: You can use different kinds of peanuts in this crockpot candy recipe for slightly different flavors. Try using oil roasted peanuts, dry roasted peanuts, cocktail peanuts, honey roasted peanuts, or dry salted peanuts for the peanut candy. You can also try different kinds of nuts like almonds, walnuts, cashews, or pecans.
Chocolate: You can also change up the kind of chocolate you use in Chocolate Peanut Clusters. Replace the semisweet chocolate chips with dark chocolate or milk chocolate. Or, make a white candy recipe with more white chocolate or white almond bark.
More add-ins: There are lots of add-ins you can put in the Slow Cooker Chocolate Peanut Candy recipe. Try sprinkles, marshmallows, raisins, crushed candy canes, or pretzels. Add your choice of mix-ins at the same time you put the vanilla extract in. Or just sprinkle them over the top before the nut clusters harden.
MORE CHOCOLATE RECIPES
HOW TO STORE SLOW COOKER CHOCOLATE CANDY
Serve: Make sure to leave the chocolate nut clusters in the fridge for 30 minutes so they have time to set before serving them. You can just put them in a bowl, or separate the nut clusters into mini cupcake liners to serve.
Store: Keep the treats in a cool, dry place in an airtight container. You can also keep the chocolate peanut clusters in the fridge. Either way, they'll be good for 2-3 weeks.
Freeze: To freeze the Slow Cooker Chocolate Candy, put them in an airtight container or freezer bag. They'll stay good for up to 4 months.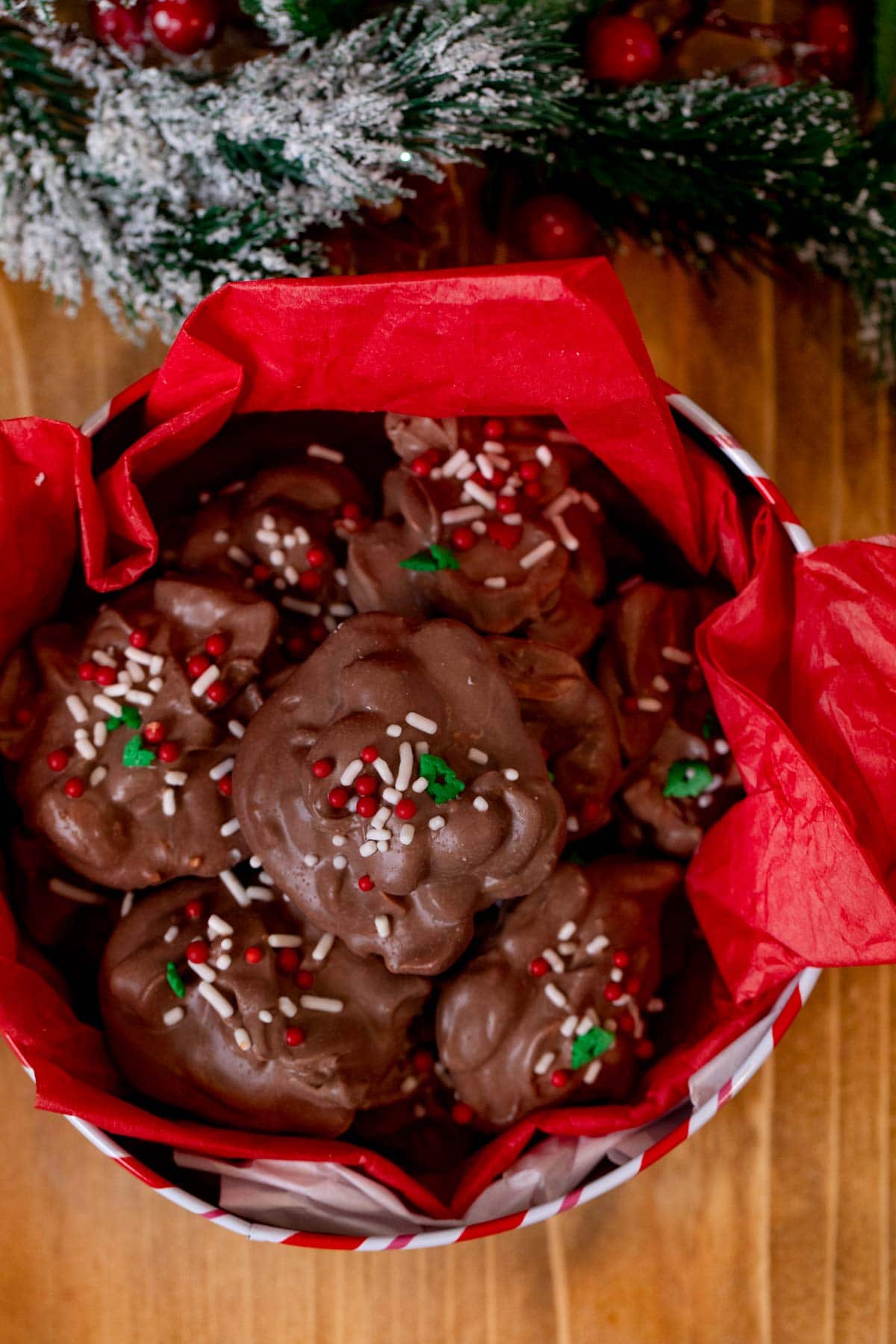 Instructions
Add peanuts to the bottom of the slow cooker.

Top with chocolate chips and white chocolate melting disks.

Add vanilla extract and stir well.

Drop 1 tablespoon-sized scoops onto baking sheets, 2 inches apart.

Let fully harden for

30 minutes

in the refrigerator before eating or storing in covered containers for holiday gifts.
Nutrition
Calories:
266
kcal
|
Carbohydrates:
21
g
|
Protein:
5
g
|
Fat:
18
g
|
Saturated Fat:
8
g
|
Cholesterol:
4
mg
|
Sodium:
68
mg
|
Potassium:
250
mg
|
Fiber:
3
g
|
Sugar:
16
g
|
Vitamin A:
14
IU
|
Vitamin C:
1
mg
|
Calcium:
54
mg
|
Iron:
2
mg