Crispy Chicken Tenders marinaded in buttermilk then fried (or oven baked!) golden brown are juicy and flavorful with southern seasonings.
If you love recreating fun family-favorite American restaurant meals at home, then you'll love the easy Baked Beans, our famous Baked Mac and Cheese, and creamy Macaroni Salad!

Do you want to cracked the secret code when making chicken tenders crispy on the outside, juicy on the inside, and incredibly flavorful? These homemade Chicken Tenders are soaked in buttermilk, fried crisp, and are super flavorful, moist, and extra crispy on the outside! Plus, with spices like the kind you'd get at your favorite chicken restaurant, they are perfect for replacing fast food cravings and even game day parties. Plus, there are directions for an oven baked version too, so there can be no feeling guilty about indulging in this awesome chicken fingers recipe!
They're golden brown fried chicken tenders made with either chicken breasts (make sure you use skinless chicken breasts) that you can slice into thinner chicken strips or you can use chicken tenderloin pieces and skip an extra step in the preparation. The addition of the yummy spices that are used in our copycat KFC Potato Wedges recipe takes these chicken fingers over the top.
If you're using a chicken breast you will cut it along it's long side to make chicken strips the right length for these chicken tenders. If you cut the chicken strips the shorter way they'll be about 2-3 inches long and be closer to the size of an average fish stick.

How to Make Super Crispy Chicken Tenders
Making these is so easy! The longest part is waiting for the marinade to finish. But once it's all ready, it's just a simple coat, dip, coat, fry, cool, and enjoy! Check out how to make Super Crispy Chicken Tenders.
Step One: Marinade the chicken tenders. 30 minutes at room temperature is ideal. Don't put it in the fridge or the breading will fall off.
Step Two: Coat the fingers in the flour mix. Don't pat them dry before doing this. They need to have the marinade on them to help the flour stick.
Step Three: Dip the chicken fingers into the whisked eggs.
Step Four: Coat the fingers a second time. Don't pat flat, really let it get thick on the chicken. You need all the nooks and crannies to get the desired crispy consistency.
Step Five: Fry in the oil (or bake them) until ready. Drain on a wire rack (NOT paper towel!) and serve while they are still warm. Enjoy!
More Crispy Chicken Recipes
Frequently Asked Questions
How can I keep them crispy once fried?
Once fried you can keep the chicken tenders crispy on a baking sheet or a cookie sheet in a low oven at 250 degrees while you finish frying the remaining chicken tenders or keep them warm until your event starts.

The low temperature will ensure the chicken fingers stay juicy too, it isn't hot enough to dry them out unless you leave them in there for hours. Do not cover the chicken though as it will create steam which will ruin the texture of the crispy chicken.
Why marinate in buttermilk?
The buttermilk acts as a tenderizer which makes the chicken juicy. Even just a half an hour soak will help with flavor and it also acts as a binding agent for the first coat of seasoned flour.

Even if the chicken tenders are going to be oven baked they should still be marinaded in buttermilk before baking.
Can I substitute the flour for panko breadcrumbs?
If you would like to use panko breadcrumbs or regular breadcrumbs in this recipe to add more of a texture or crunch, like in a tempura recipe, you will have to reduce the flour to make up for the additional coating. Using breadcrumbs also allows you to bake this recipe instead of frying it (see baked chicken tenders recipe below).

If you fry the recipe with the use of the panko be aware that the fat content (and saturated fat) of the recipe may be slightly higher since breadcrumbs tend to absorb more total fat than a flour based coating. Serve this meal up with some roasted vegetables for some additional dietary fiber to make up for it!
The breading keeps falling off. How do I keep it on the chicken? 
There are a couple of factors at play here: Oil temperature and chicken temperature.

If your breading keeps falling off, it could mean that the oil temperature might be too high or too low while cooking. The oil temperature should be held at 350ºF. 

The chicken temperature should not be cool or cold. It should be marinated only at room temperature. The chicken needs to be thawed to room temperature before being marinaded. If you do marinade it in the fridge for a few hours, that's ideal, just pull it out about an hour before frying so that it comes to room temperature and is not cold. 

Create a free account to

Save Recipes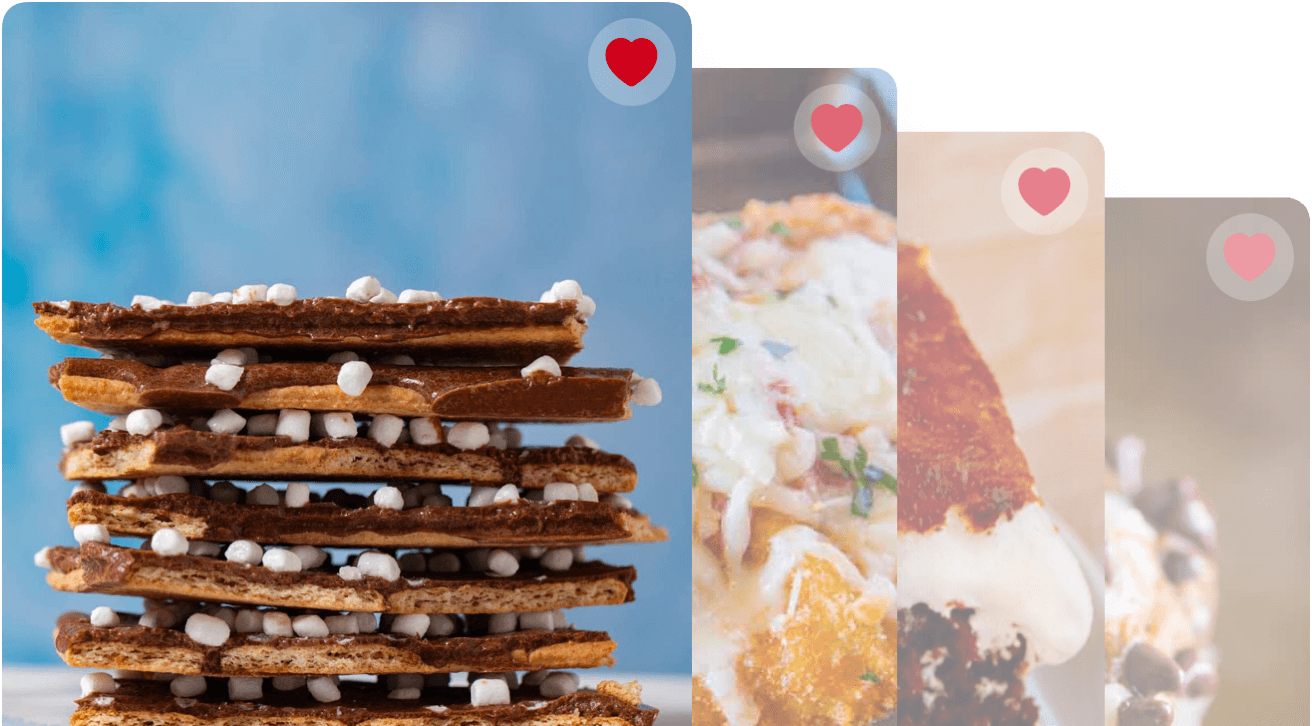 Key Ingredients in Super Crispy Chicken Tenders
Chicken: Cutting chicken breasts into our own tenders is budget friendly so that's what we're doing here. But, you can use actual chicken tenders if you don't want to cut them. Make sure the chicken is thawed to room temperature if frozen before seasoning.
Flour: We are using regular all purpose flour here, not self rising flour.
Seasoning: Using your own fresh spices is always preferred, however, you can use a premade blend, like Ac'cent Seasoning. This blend is the x-factor in the original KFC copycat recipe (use ½ teaspoon) (this is MSG which adds flavor sensation, so use at your discretion).
Baking Powder: We are using actual baking powder which is a baking blend and contains the ingredient baking soda. Baking powder often contains cornstarch, depending on the blend. Adding a leavening agent, such as baker's powder, will help to increase the volume and lighten the texture of food products. This is actually the secret ingredient to the crispiness in the recipe!
Deep Fryer: This is what we are using to cook the chicken. It is easy for keeping temperature on point and kind of fun to use!
Oil: You'll want to use a good cooking oil with a high smoke point like canola, peanut, or vegetable oil. Olive oil is not good for frying these.
Buttermilk: This helps to tenderize the meat so it is juicy. You can use regular or low fat buttermilk, whatever you prefer.
Hot Sauce: This is a flavor addition. You can easily leave it out if you don't want the spiciness.
Variations on Super Crispy Chicken Tenders
Italian Chicken Tenders: Swap out the paprika for grated parmesan cheese and ½ teaspoon of dried Italian seasoning. Serve with a squeeze of lemon juice.
Cajun Chicken Tenders: Add ½ teaspoon cajun seasoning and double the garlic powder.
Alternative Cooking Methods for Super Crispy Chicken Tenders
Deep frying is the name of the game for this incredibly crispy recipe. But, sometimes it's better to bake without too much oil, and we love that! Here's how you can make some healthy Chicken Tenders!
Oven Baked Super Crispy Chicken Tenders: After the buttermilk marinade add the spices to panko crumbs or breadcrumbs instead of flour. Dredge the chicken from the buttermilk into the breadcrumbs then add to a baking sheet coated with cooking spray. Brush with just 2 tablespoons of melted butter or spray with cooking spray (melted butter will give better flavor). Bake at 400 degrees for 20-25 minutes.
Air Fryer Super Crispy Chicken Tenders: Once the chicken has been breaded, place them into the air fryer basked directly (no tin foil on the bottom this time!). Make sure they are not touching as we need the air to circulate around the tenders. Cook at 400ºF on both sides for 6 minutes (12 minutes total). Check the internal temperature of the chicken to ensure that it reaches a minimum of 165ºF and adjust the cooking time as necessary.
Dipping Sauces for Chicken Tenders
Having the perfect dipping sauce will really bring this recipe to it's greatest potential! You can get the store bought kind of dips, or make some yourself at home and really impress your guests!
How to Store Super Crispy Chicken Tenders
Serve: Serve these while they are still hot. They'll be ready to serve after they have drained on the wire rack.
Store: Store in the fridge for up to 3 days. Reheat in the air fryer, oven, or toaster oven to maintain crispiness. The microwave will make them soggy.
Freeze: You can keep these in the freeze for up to 3 months. Let it thaw in the fridge overnight and then reheat with your preferred convection oven.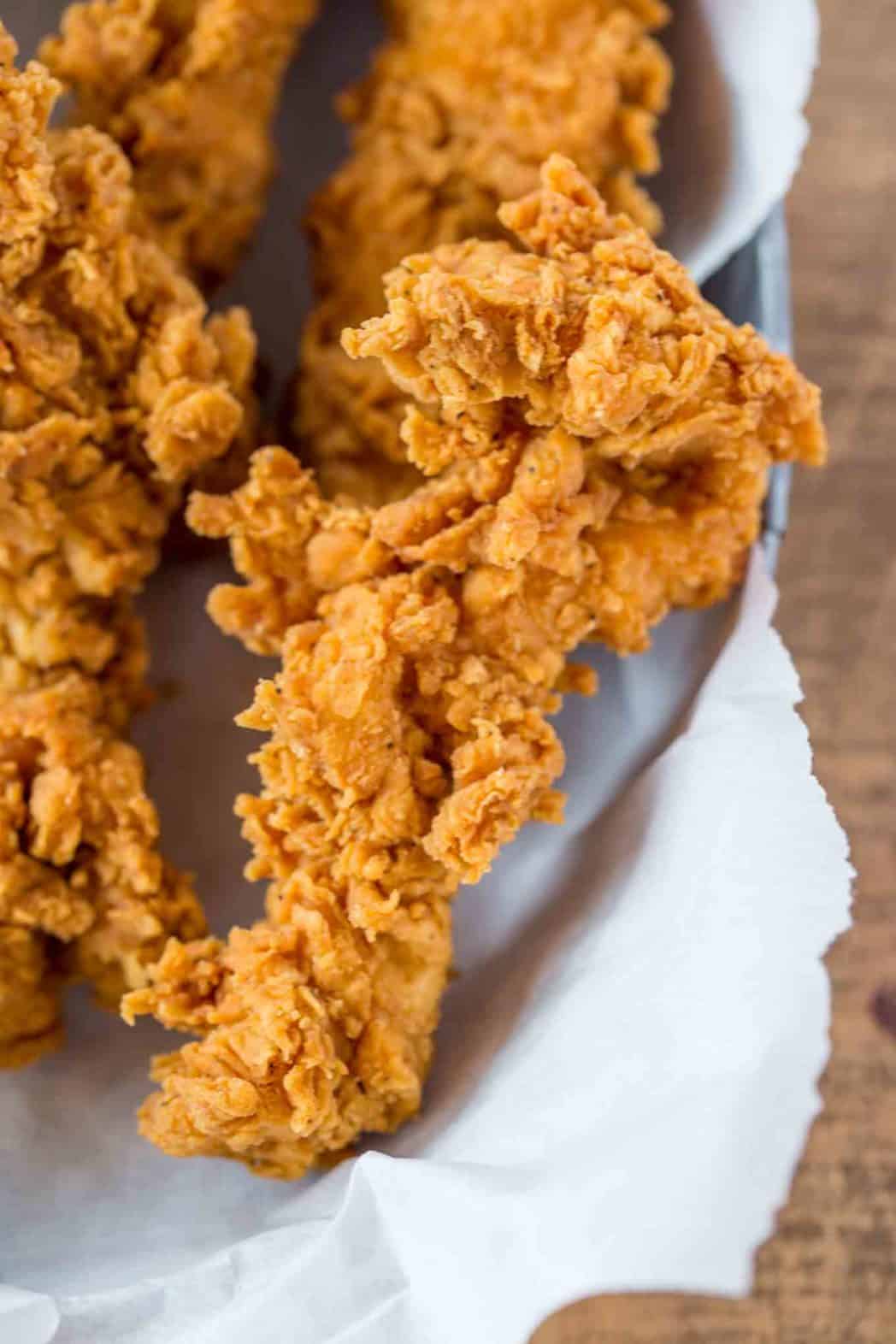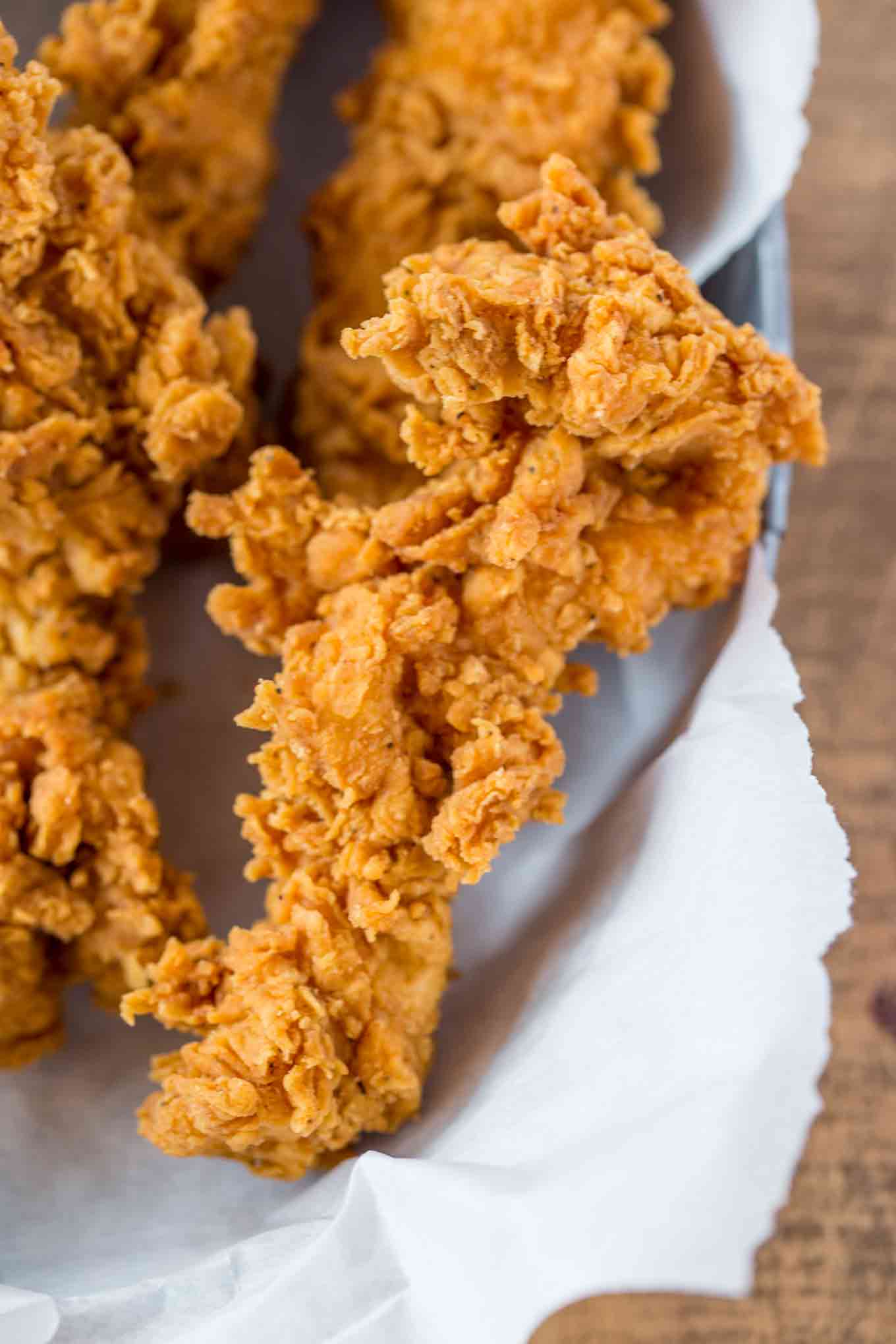 Ingredients
4

chicken breasts

, boneless, skinless

1

cup

buttermilk

1

teaspoon

hot sauce

2

large

eggs

, beaten

2

cups

flour

2 1/2

teaspoons

salt

3/4

teaspoon

pepper

1/8

teaspoon

paprika

1/8

teaspoon

garlic powder

1/8

teaspoon

baking powder

vegetable oil

, for frying
Instructions
Cut the chicken breasts into four tenders each and soak them in a bowl with the buttermilk and hot sauce for

30 minutes

.

Add the eggs to one bowl and the flour and spices to a second bowl.

Dip each piece of chicken from the buttermilk bowl to the flour mixture.

Dip it into the eggs then back into the flour mixture.

Shake excess flour gently off and put the chicken onto a baking sheet.

Repeat with all the pieces.

Heat the oil (three inches deep) in a dutch oven on medium high heat to 350 degrees.

Fry the chicken in small batches for

5-7 minutes

or until golden brown.
Nutrition
Calories:
138
kcal
|
Carbohydrates:
12
g
|
Protein:
14
g
|
Fat:
2
g
|
Cholesterol:
58
mg
|
Sodium:
459
mg
|
Potassium:
256
mg
|
Vitamin A:
80
IU
|
Vitamin C:
0.8
mg
|
Calcium:
27
mg
|
Iron:
1
mg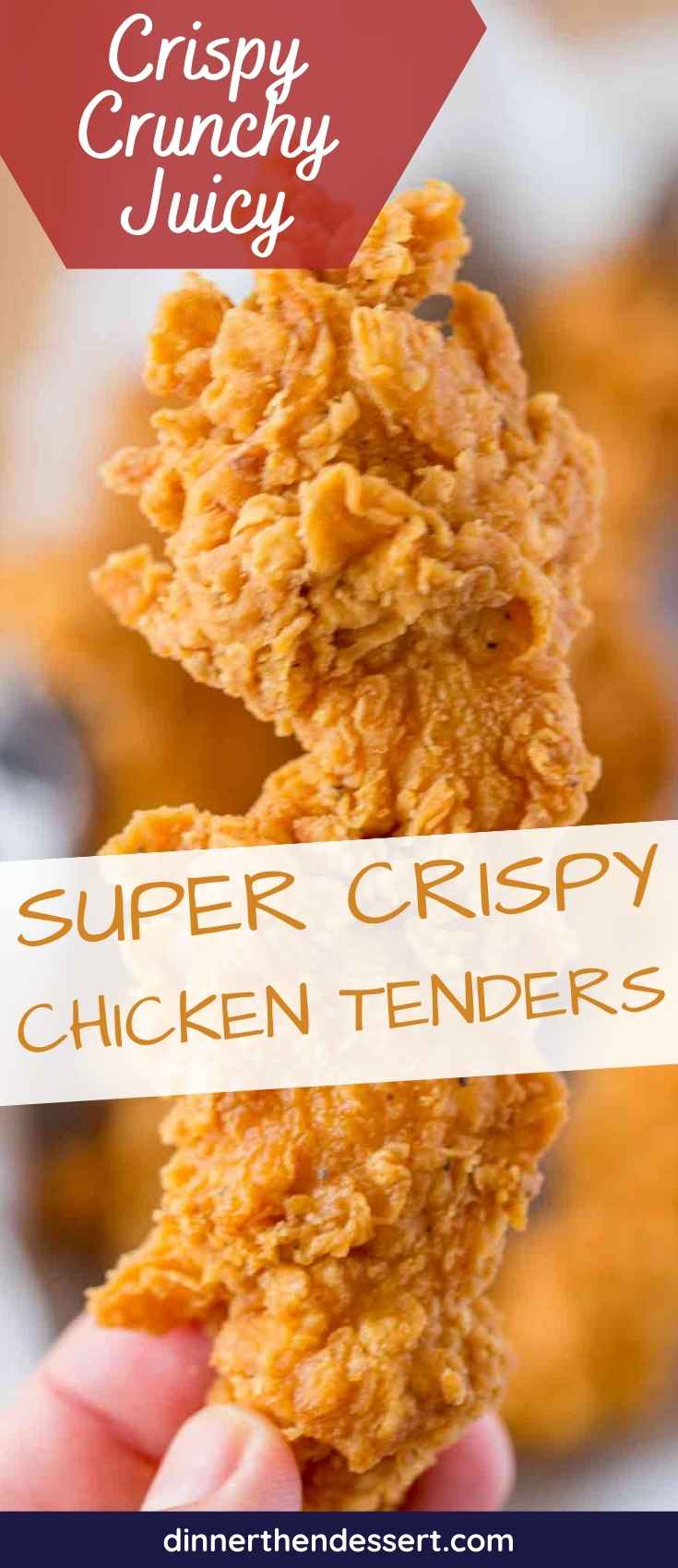 Photos used in a previous version of this post: