Taco Bell Beefy Fritos Burrito is the ultimate kid-friendly copycat recipe with classic burrito fillings plus melty nacho cheese and crunchy Frito chips.
Lately we've really been loving making Copycat Recipes for our favorite Taco Bell dishes. Between Taco Bell Beefy 5-Layer Burrito, Taco Bell Burrito Supreme, Taco Bell Quesarito, and this recipe you can enjoy all your favorite menu items without ever having to wait in a drive thru.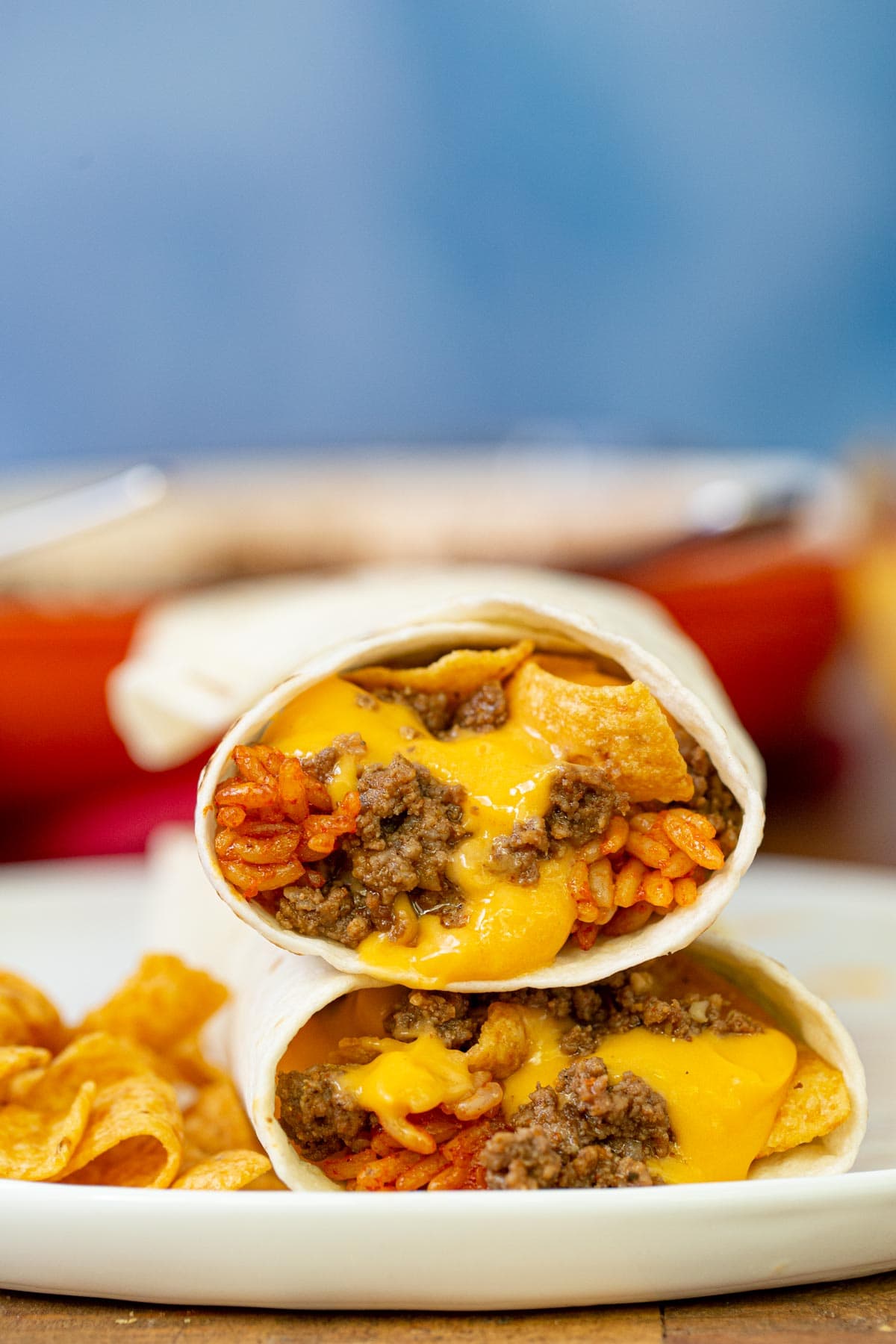 TACO BELL BEEFY FRITOS BURRITO
These homemade Burritos have all the flavor you love from Taco Bell, but made even better. Making your Beefy Fritos Burrito at home means you can use all fresh, flavorful ingredients. Make your own ground beef, Mexican Rice and Nacho Cheese Sauce. Making these burrito fillings fresh makes them even more delicious. Plus, you know exactly what went in to each ingredient.
Taco Bell Beefy Fritos Burritos is as simple as it is delicious. All you need to fill the tortillas are rice, ground beef, nacho cheese, and of course it's all topped with crunchy Fritos. Another great thing about making it from home is you can experiment with the fillings and add in other ingredients to make a personalized burrito.
Taco Bell Burritos are great to make for a quick dinner that will be a huge hit with your kids or for an easy lunch. You can freeze the burritos for a microwaveable lunch that keeps well for months. Take them with you to work, or pack them in school lunches for your kids.
MORE FAST FOOD COPYCAT RECIPES
MAKE-AHEAD FROZEN TACO BELL BEEFY FRITOS BURRITO
Start by making your ground beef, Mexican rice, and Nacho Cheese Sauce.
Lay your 6 tortillas out and top each one with rice, ground beef, and nacho cheese sauce. Unfortunately the Fritos won't stay crunchy in the freezer so it's better to leave those out for now.
Fold the the 6 burritos, then wrap them all tightly in tin foil.
Write the date on the foil. This way you'll know how long they've been in the freezer. Frozen burritos last well for up to 3 months. Put them in a freezer bag and seal it.
When you're ready to serve your burritos take them out of the freezer and remove the tin foil. Wrap each burrito in a damp paper towel and microwave it for 2-3 minutes on full power.
Once it's done in the microwave, add your Fritos chips and enjoy your Taco Bell Beefy Fritos Burrito.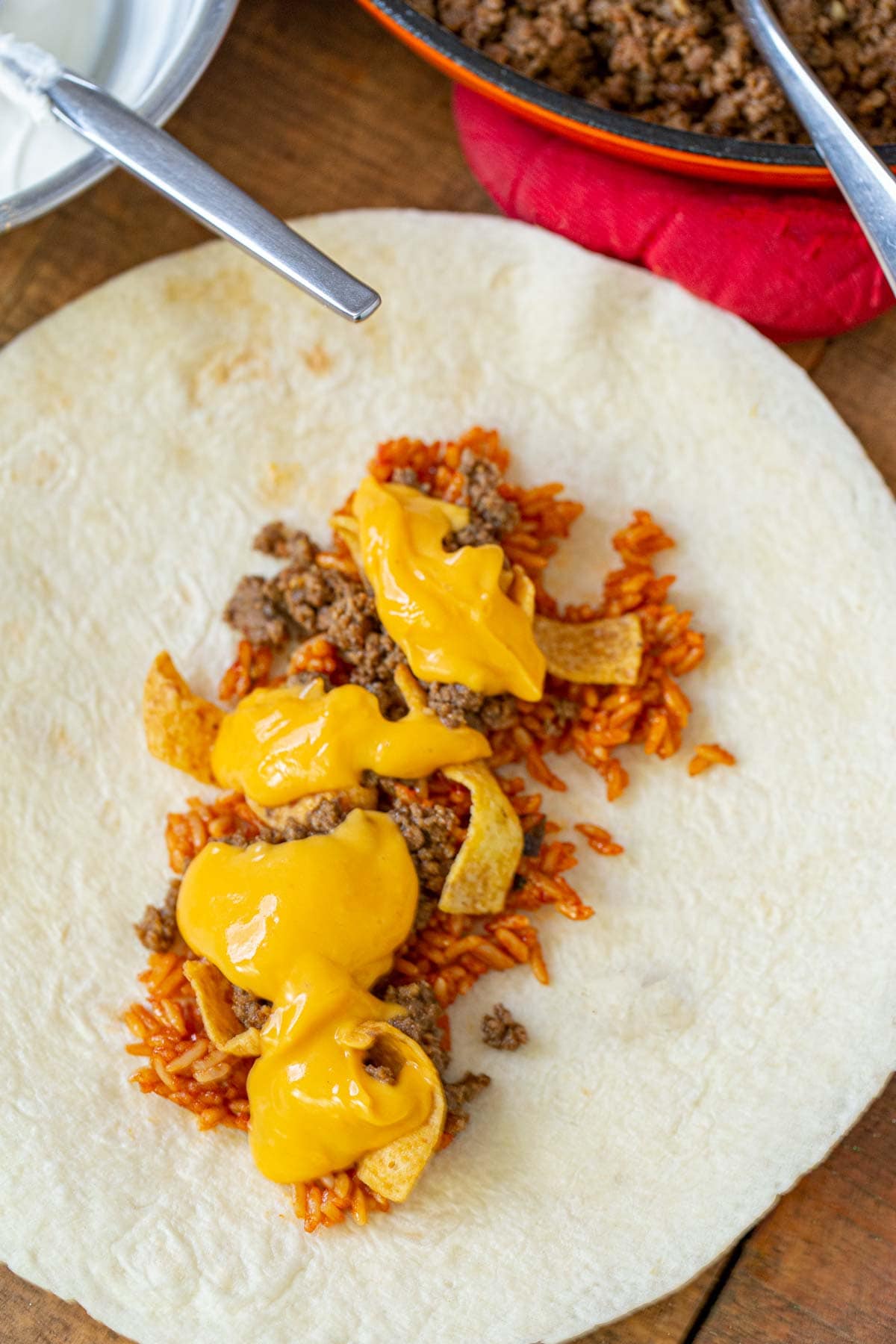 Create a free account to

Save Recipes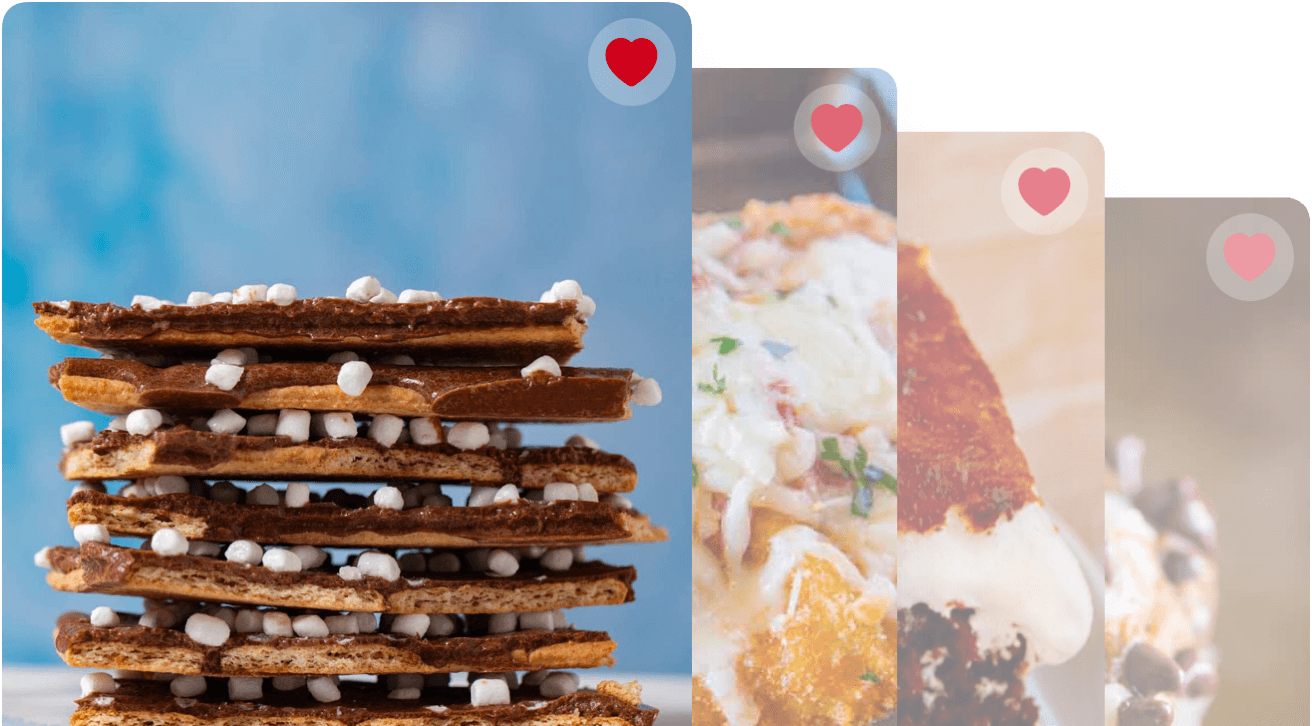 VARIATIONS ON TACO BELL BEEFY FRITOS BURRITO
Meat: You can exchange the ground beef in your burrito for shredded chicken, ground turkey, or steak slices.
Cheese: For an even more cheesy Beef Burrito add in some shredded cheese along with the nacho cheese. Sharp cheddar, Swiss, or mozzarella would all make great additions.
Beans: Try halving the rice in the recipe to make room for beans in your burrito. Refried beans are the most obvious option, but you could also try black beans or kidney beans.
Add-ons: The great thing about burritos, like the Beefy Fritos Burrito, is you can get as creative as you want adding different fillings. Try putting in some shredded lettuce, sour cream, black olives or sliced bell peppers. You could also add some seasoning like garlic powder, chili powder onion powder, and paprika.
MORE TACO BELL BURRITO RECIPES
Shredded Chicken Burrito:
Combine ½ avocado, ⅛ cup ranch dressing, ⅛ cup buttermilk, a few pinches salt, and 2 tablespoons of sour cream in a blender for the dressing.
Cook boneless skinless chicken breasts in a skillet. Add 2 cans of tomato sauce, cover and continue to cook for 20 minutes. After cooking, use a fork to shred the chicken breast.
Prepare Mexican Rice.
Warm 6 tortillas in the microwave covered in wet paper towels.
Spread the homemade dressing over each tortilla.
Layer chicken, then rice, and shredded cheddar cheese in the tortilla.
Fold the ends and roll the Chicken Burrito tightly.
7-Layer Burrito:
Lay out your flour tortilla and spread refried beans over the top.
Add a ¼ cup Mexican Rice on top of that.
Spoon on 2 tablespoons of sour cream.
Add ⅓ cup shredded lettuce.
Top with 2 tablespoons shedded pepper jack cheese.
Then add 2 tablespoons of guacamole.
Top the burrito off with diced tomatoes.
Fold the ends and roll the burrito tightly to enjoy.
MORE EASY MEXICAN RECIPES
HOW TO STORE TACO BELL BEEFY FRITOS BURRITO
Serve: After preparing your Taco Bell Beefy Fritos Burrito, don't leave it out at room temperature for more than 2 hours.
Store: Wrap your burrito in tin foil to keep it in the fridge for 3-4 days.
Freeze: Without the Fritos, this burrito will stay good in the freezer for up to 3 months.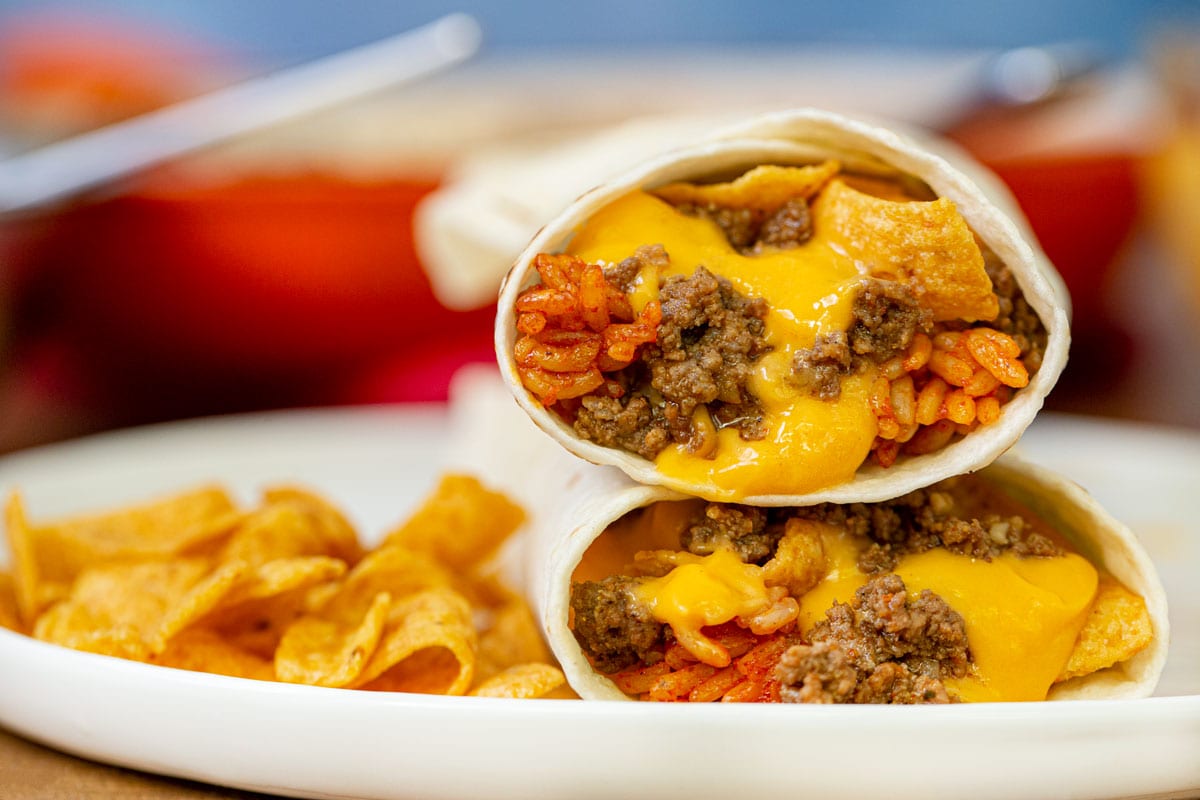 Instructions
Add ground beef and water to a large pot.

Bring to a boil and using a potato masher, mash the ground beef until completely broken apart.

Add in the Taco Bell Taco Seasoning mix and stir well.

Cook until the liquid is reduced.

Wrap tortillas in damp paper towels and microwave for

20 seconds

on 50% power.

Top each tortilla with Mexican rice, cooked ground beef, nacho cheese sauce and Fritos chips.

Fold in the top and bottom and wrap tightly before serving.
Nutrition
Calories:
425
kcal
|
Carbohydrates:
55
g
|
Protein:
13
g
|
Fat:
17
g
|
Saturated Fat:
5
g
|
Cholesterol:
29
mg
|
Sodium:
372
mg
|
Potassium:
198
mg
|
Fiber:
2
g
|
Sugar:
2
g
|
Vitamin A:
106
IU
|
Calcium:
74
mg
|
Iron:
2
mg