Taco Spaghetti gives a family favorite a fun taco night twist! Spaghetti in cheesy beefy taco meat sauce made with taco seasoning and salsa.
When you need a kid-friendly Dinner Recipe fast, it's easy to stick with classics like Spaghetti and Meatballs and Baked Beef Tacos. This quick and easy pasta combines two kid favorites into one delicious dish that's sure to be a weeknight winner!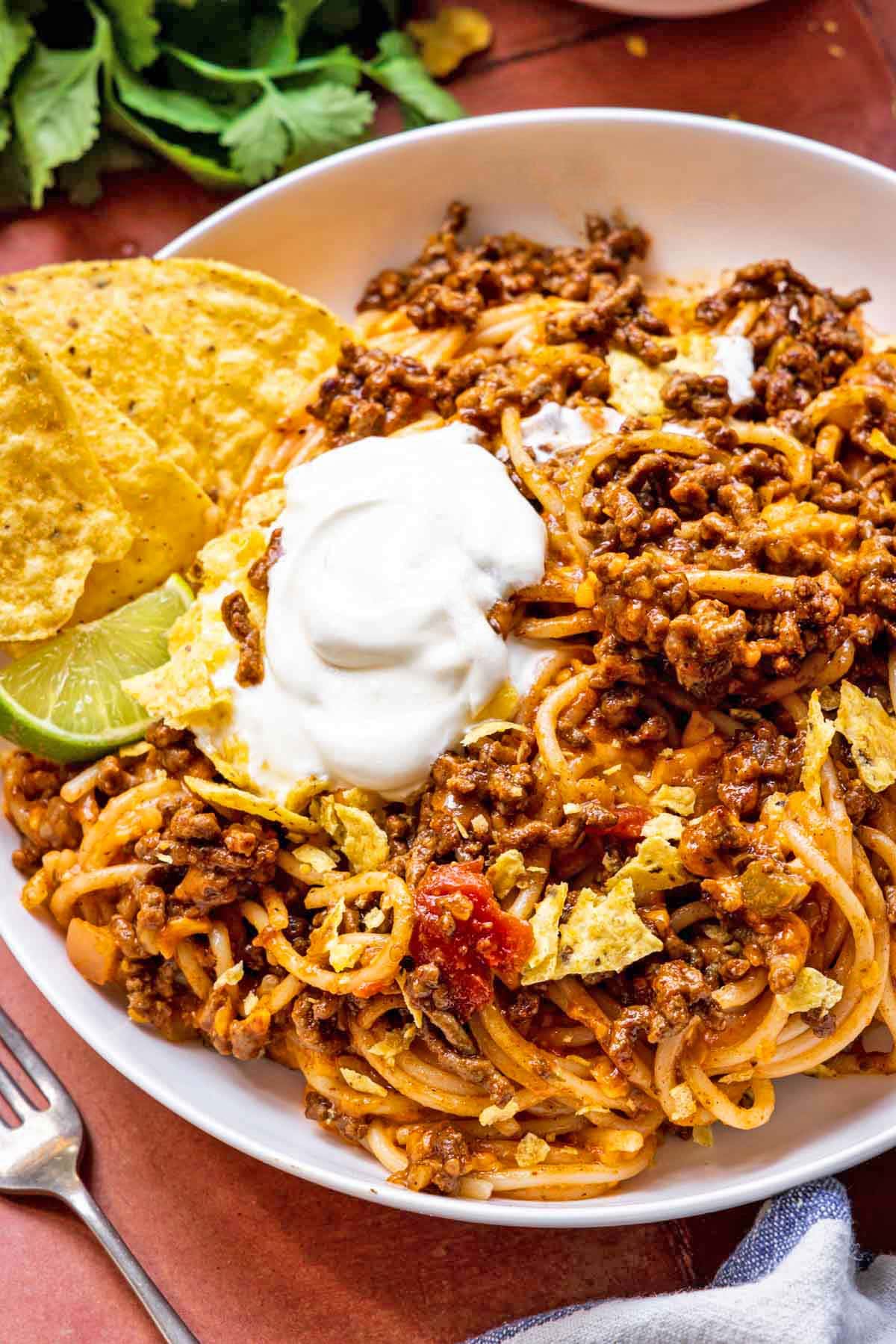 Cheesy Taco Pasta, which is a made-from-scratch version of a popular boxed pasta mix, is hands down one the most popular family friendly recipes we've ever posted. It's quick, it's delicious, it's nostalgic for the adults, and kids gobble it down. With only 6 ingredients and ready in about 30 minutes, it's easy to see why this one-pot taco pasta dish is top of the charts year after year.
Taco Spaghetti takes our favorite Cheesy Taco Pasta recipe and gives it even more beefy cheesy taco flavor! There is twice as much shredded cheese, seasoned ground beef with onions, and it's topped with crunchy chips and sour cream. Even with the extra ingredients, it's still a quick and easy one-pot weeknight meal that your the entire family will love.
This One-Pot Taco Spaghetti makes a great weeknight dinner when you need something cheap and filling on the table fast. There's nothing fancy and besides chopping the onions, there is no prep work to make a fabulous meal. Start to finish, this pasta dish is ready in 30 minutes. If you have a little more time, prep some favorite taco toppings like fresh tomato, green onions, fresh cilantro leaves, Salsa, and even more shredded cheese for an extra cheesy dish.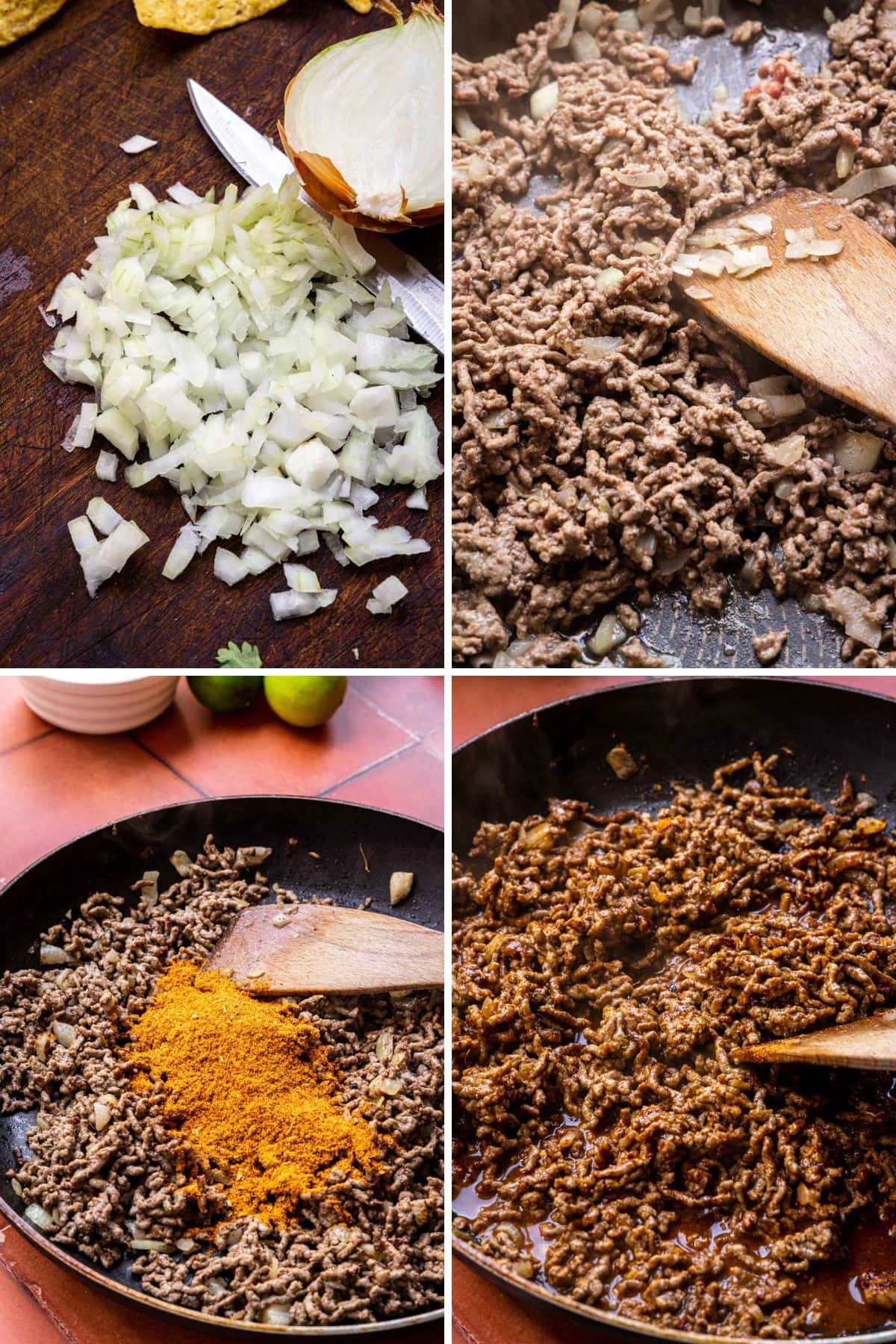 Why you will LOVE this Taco Spaghetti
There are so many reasons to love this delicious Taco Spaghetti recipe! For starters, even the pickiest eaters will be begging you to make this again and again. This one-pot pasta dish is super budget friendly, using inexpensive, common ingredients. If you have less picky eaters, you can easily sneak veggies or beans into this dish (see the Variations Section) to make it more hearty and stretch the budget meal even farther.
How to Make Taco Spaghetti
Pasta: Cook the pasta just shy of the package directions. Drain but do not rinse. Optional, reserve 1 cup pasta water.
Taco Meat: Brown ground beef with the onion. Once cooked, drain fat. Stir in taco seasoning and water then cook until water is reduced almost completely.
Finish: Stir the pasta into the meat mixture along with the grated cheese and salsa until combined. Add the pasta back into the pot with the salsa and cheese. Serve with chips and sour cream on top.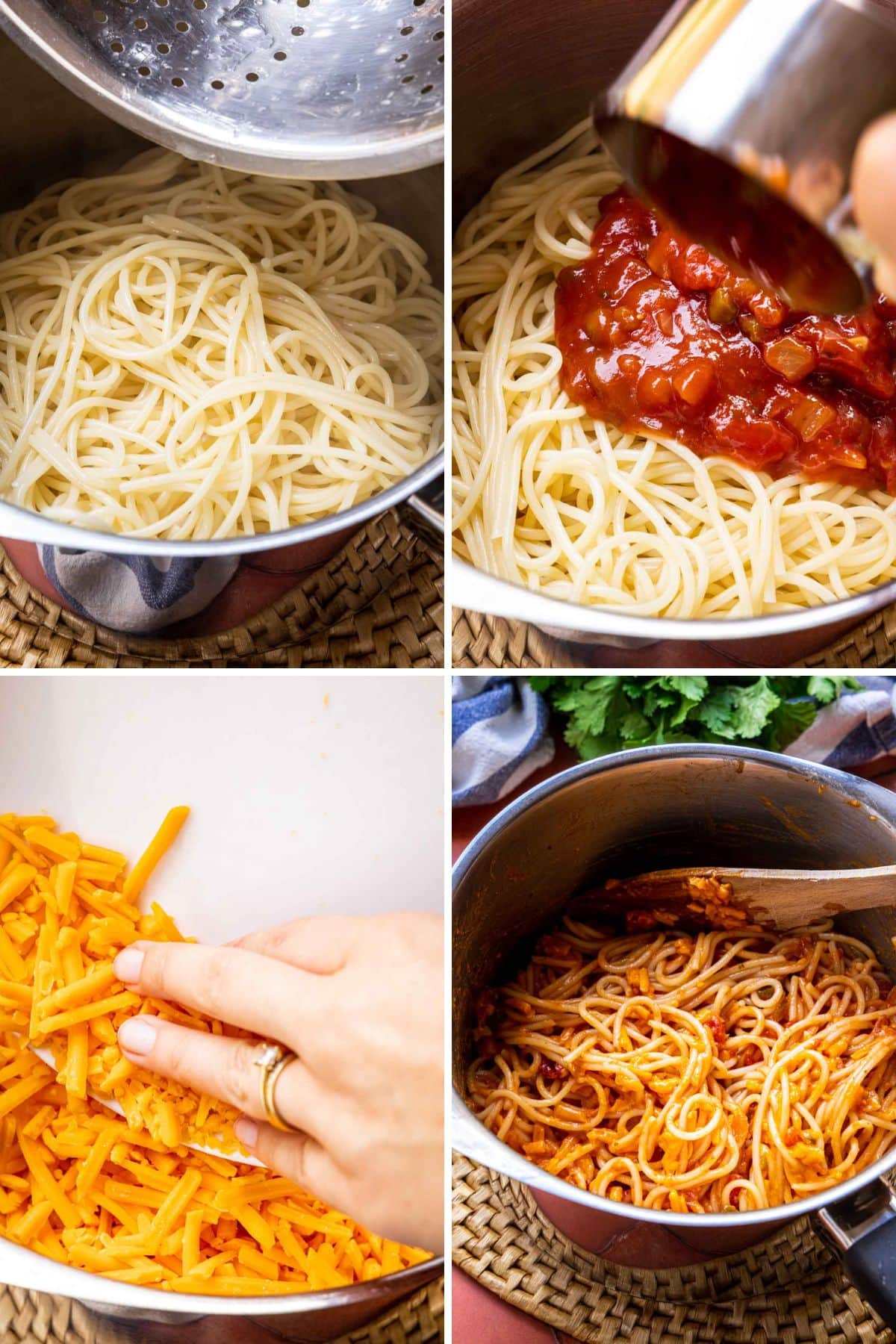 What to Serve with Taco Spaghetti
FAQs for Taco Spaghetti
What Meat Do I Use for Taco Spaghetti?
This Taco Spaghetti is made with ground beef so it tastes like beefy tacos! You could use turkey or chicken, or a mixture of ground meat. A 85/15 ground beef mixture is great because it has a good balance of fat and flavor, without being too greasy or dry.
Can I make this dish vegetarian?
This is an easy dish to make vegetarian with either a meat substitute or beans. Use unseasoned ground "beef" crumbles (not the flavored taco meat) so you can control the flavor. Canned black beans, kidney beans, or pinto beans are also a great meat substitute, just be sure to rinse and drain them before adding with seasonings.
Can I use other pasta for Taco Spaghetti?
This taco pasta recipe goes great with lots of types of pasta, but especially hardy pasta that has surface or nooks for the sauce to cling to. Try pasta shapes like elbow macaroni, medium shells, penne, fusilli, or thicker long pastas like fettuccine, buccatini, or capellini.
Can you freeze Taco Spaghetti?
Taco Spaghetti is a great dish to freeze for later. To avoid a huge solid block of spaghetti in your freezer, store pasta in freezer safe bags and freeze flat on a baking sheet for 2 hours. Once they are frozen, you can stack them or store them upright without taking up hardly any room!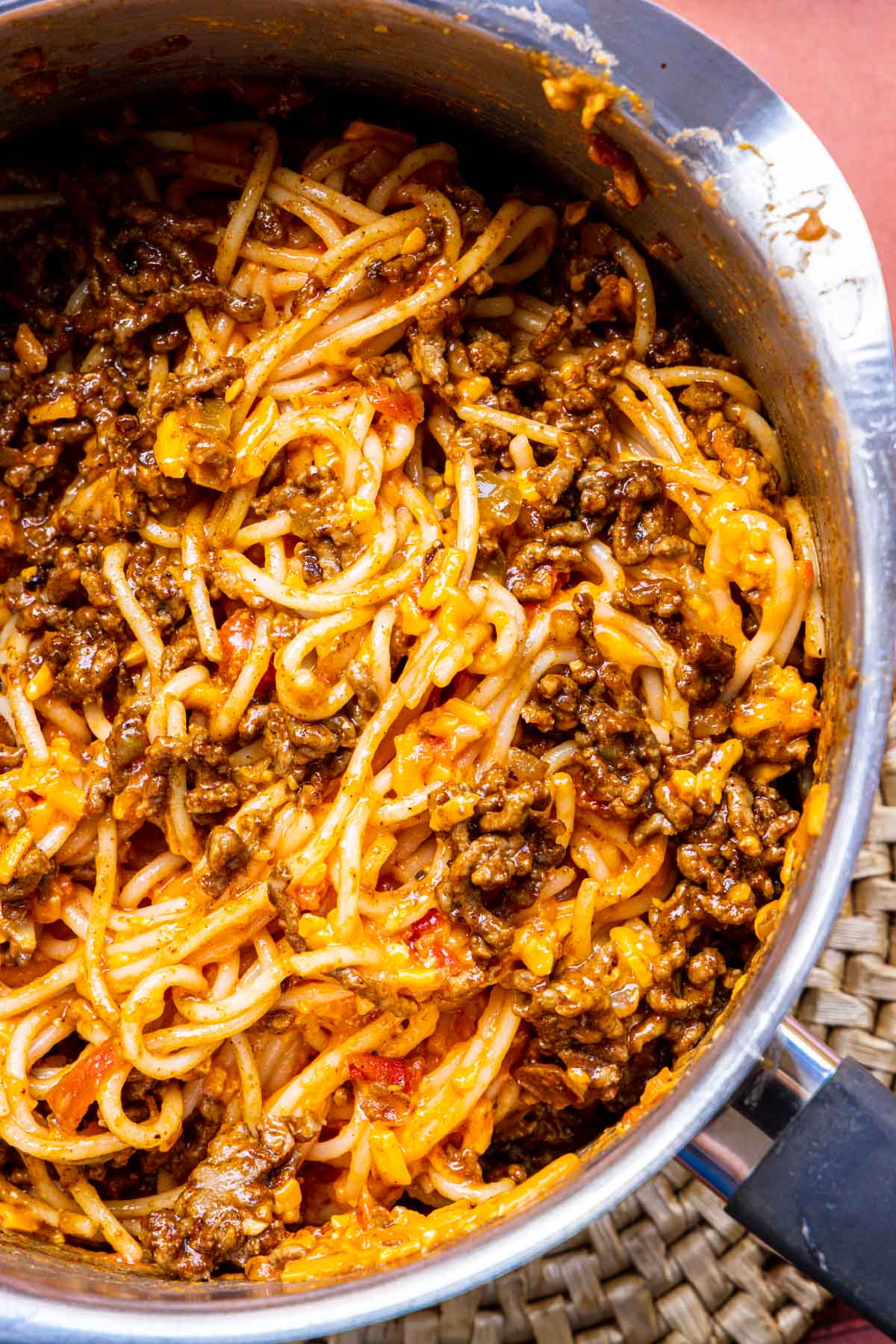 Create a free account to

Save Recipes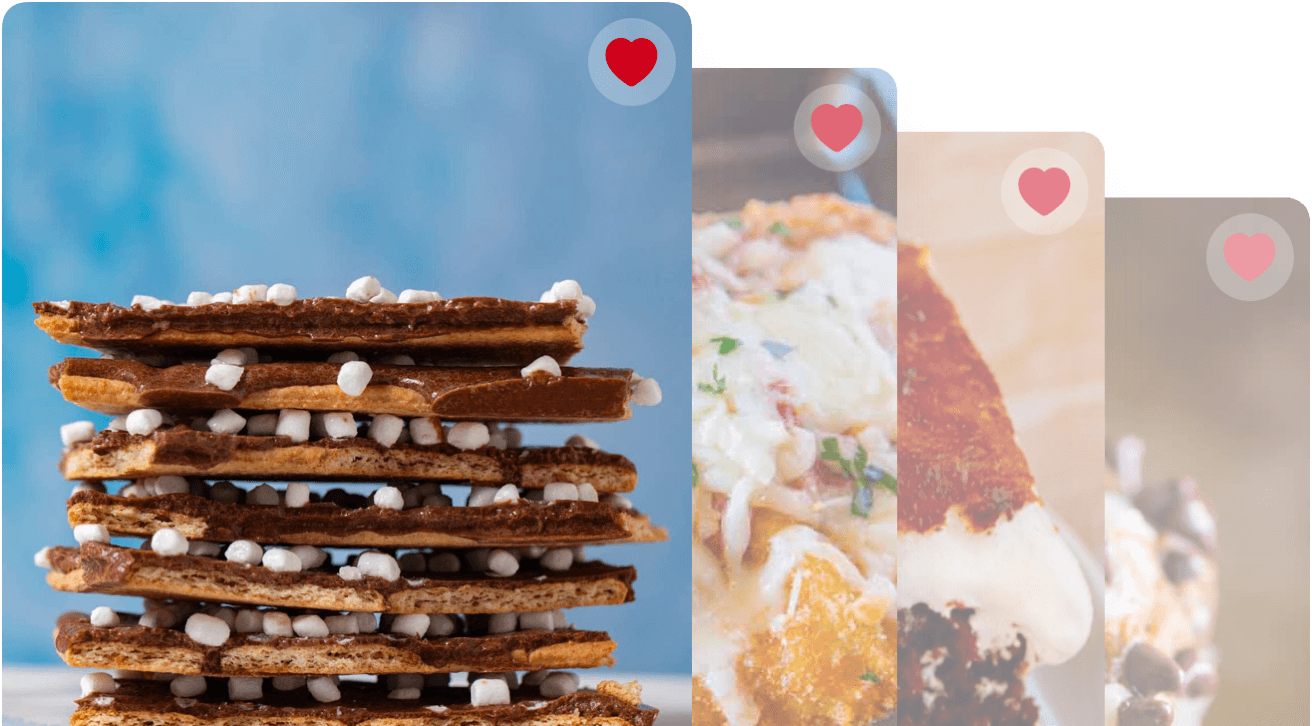 Key Ingredients
Pasta: This recipe keeps it simple with a ½ pound of spaghetti noodles. It is a great recipe to use up a half box of pasta. You could also use other pastas like shells, penne, or macaroni.
Ground Beef: We prefer an 85/15 blend for ground beef versus really lean ground beef. The slightly higher fat content gives the meat lots of flavor plus you are drain it so the dish won't be greasy.
Taco Seasoning: If you don't have homemade taco seasoning on hand, you can just use a store-bought taco seasoning mix. If you've never made taco seasoning before, there is recipe included in this post!
Salsa: Any favorite jarred salsa will work great, as long as it's savory and not fruit based, and make sure it is a chunky tomato sauce salsa and not hot sauce made with hot peppers. Save the peppery taco sauce for a topping otherwise it will be way too spicy and not flavorful!
Cheese: There is a good amount of shredded cheese to make a creamy, cheese sauce plus you get more cheese on top! Use cheddar cheese or try other easy to melt cheeses like Monterey Jack cheese or Mozzarella cheese.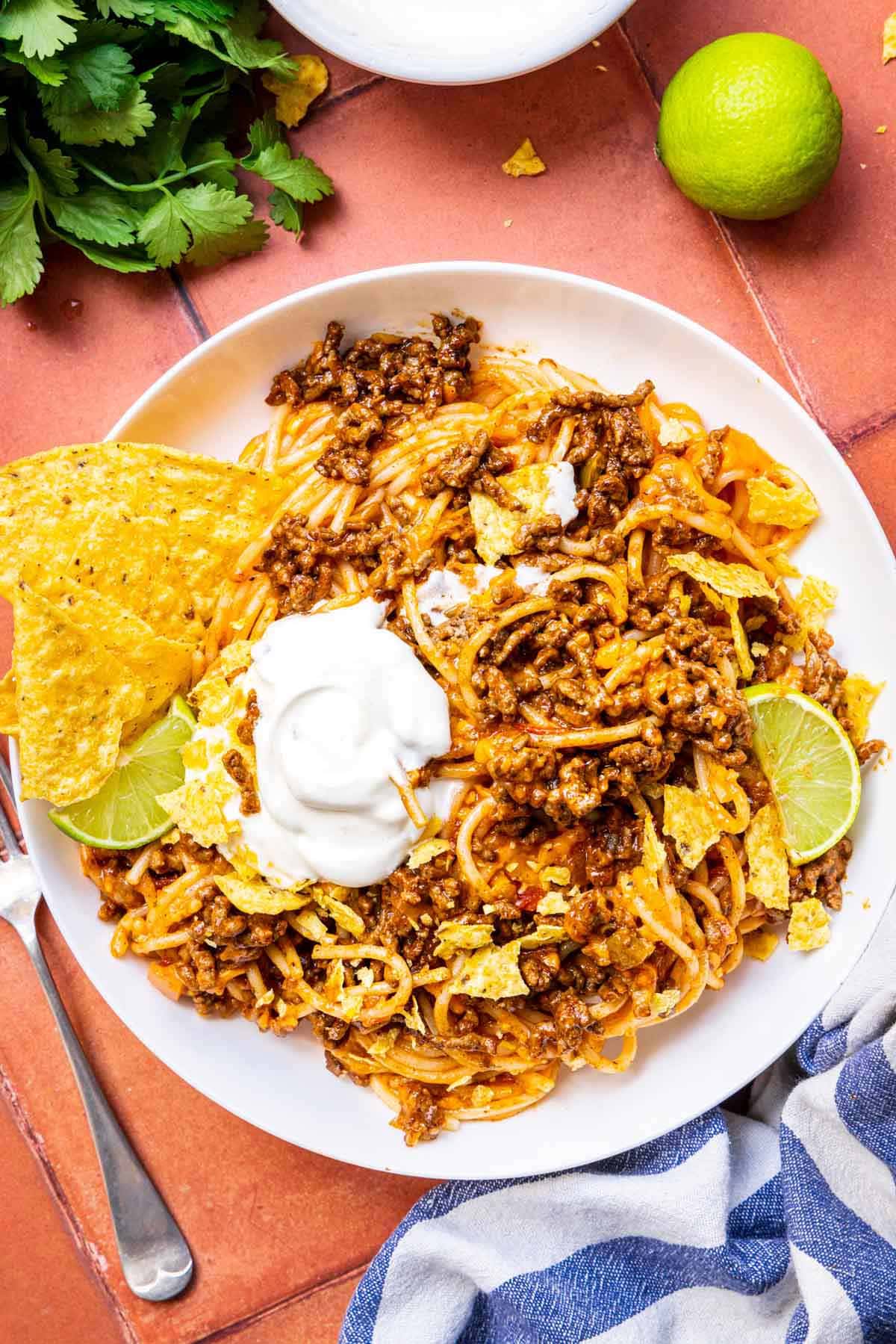 Can you make Taco Spaghetti ahead of time?
While Taco Spaghetti is meant to be a one-pot meal that is cooked all at once, you can definitely prep it ahead if you want. You can prepare the meat sauce the day before then just cook pasta, reheat the sauce and toss to serve. You could also turn it into a casserole with the Taco Spaghetti Bake instructions in this post (below Variations). A Taco Spaghetti Casserole dish can even be frozen for up to 3 months and baked from frozen!
Variations
Meat: You can make this taco pasta with other ground meat like ground turkey or ground chicken. Even some juicy chicken breast or steak pieces would taste yummy, just add a tablespoon olive oil and cook the meat through.
Cooked Meat: You can also use leftover cooked meat like Shredded Chicken Breasts or taco meat instead of raw beef. To keep the meat from drying out, saute the onions in 2 tablespoons olive oil, then add the meat, taco seasoning, and water.
Veggies: Diced bell peppers and onions cooked with the ground beef will add flavor and sneak some veggies into this dish. To keep it easy, we add canned vegetables like corn kernels, diced tomatoes, or green chiles. You could also add spinach leaves, shredded carrots, or sliced mushrooms.
Beans: Add a can of black beans or pinto beans to make this dish more like a Taco Chili Spaghetti. Drain the beans and rinse before adding them with the taco seasonings and water so they get flavored and warmed through.
Sauce: For a creamier, peppery sauce, replace half the salsa with ½ cup Enchilada Sauce. You can also use green salsa instead of tomato salsa and add cubed cream cheese for a creamy salsa verde sauce.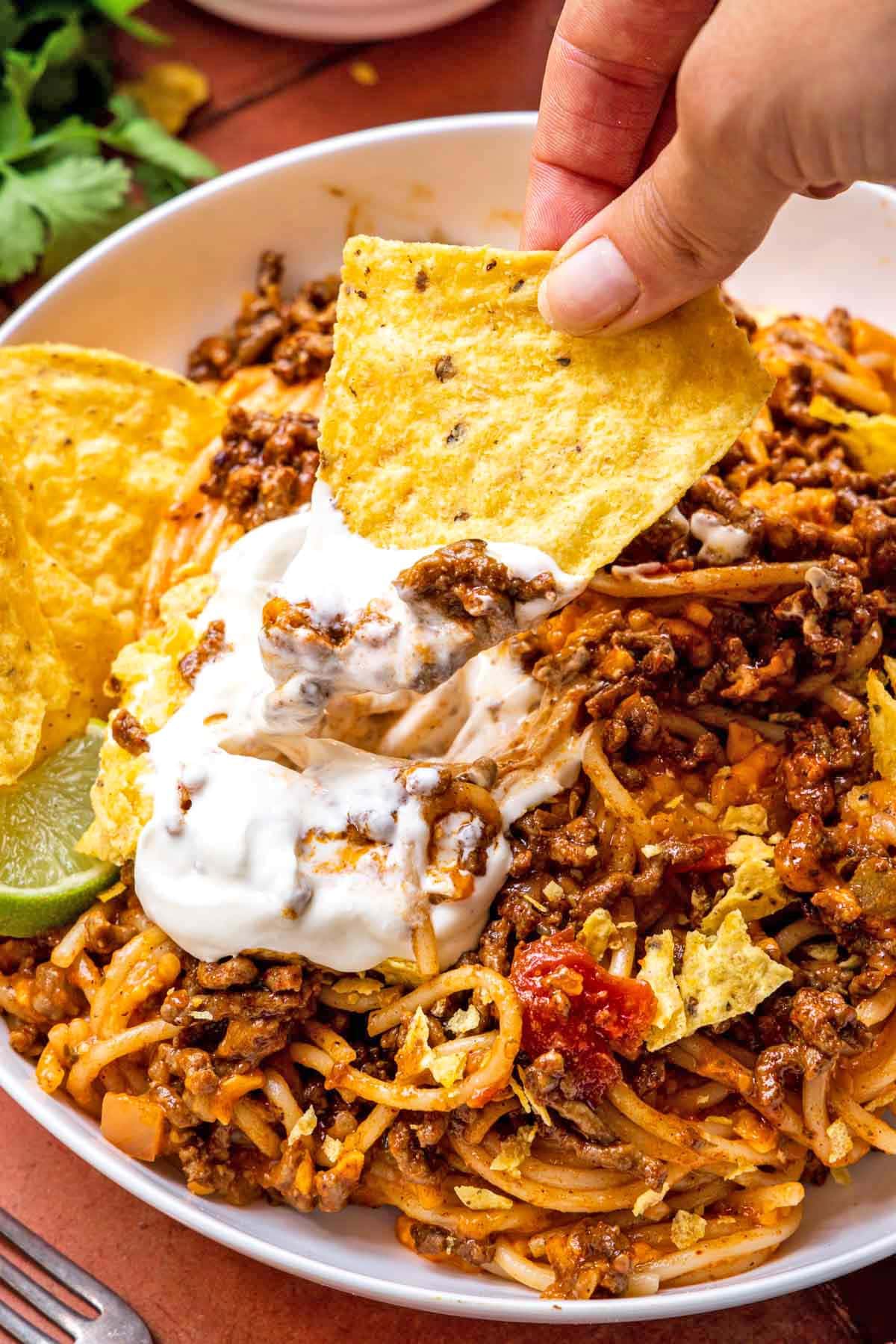 Taco Spaghetti Bake
Preheat oven to 350 degrees and spray a 9 x 13 baking dish with cooking spray.
Cook pasta to al dente and drain. Prepare the ground beef and onion mixture as usual and drain fat.
Add taco seasoning and water and simmer for 5 minutes on low heat.
Combine pasta with taco meat mixture, add salsa and only 1 cup cheese. Pour everything into prepared baking dish.
Bake for 20 minutes, then add remaining cheese.
Bake another 3-5 minutes until cheese is melted. Serve with crushed chips and sour cream.
Homemade Taco Seasoning
You can use 3 tablespoons of Homemade Taco Seasoning for 1 packet of taco seasoning. Combine all the ingredients and store the mixture in an airtight container like a glass jar with a lid.
Ingredients: ¼ cup chili powder, 3 tablespoons cumin powder, 2 teaspoons paprika, 1 teaspoon garlic powder, 1 teaspoon onion powder, 1 teaspoon dried oregano, ½ teaspoon cayenne pepper, 1 tablespoon salt, and 2 teaspoons black pepper.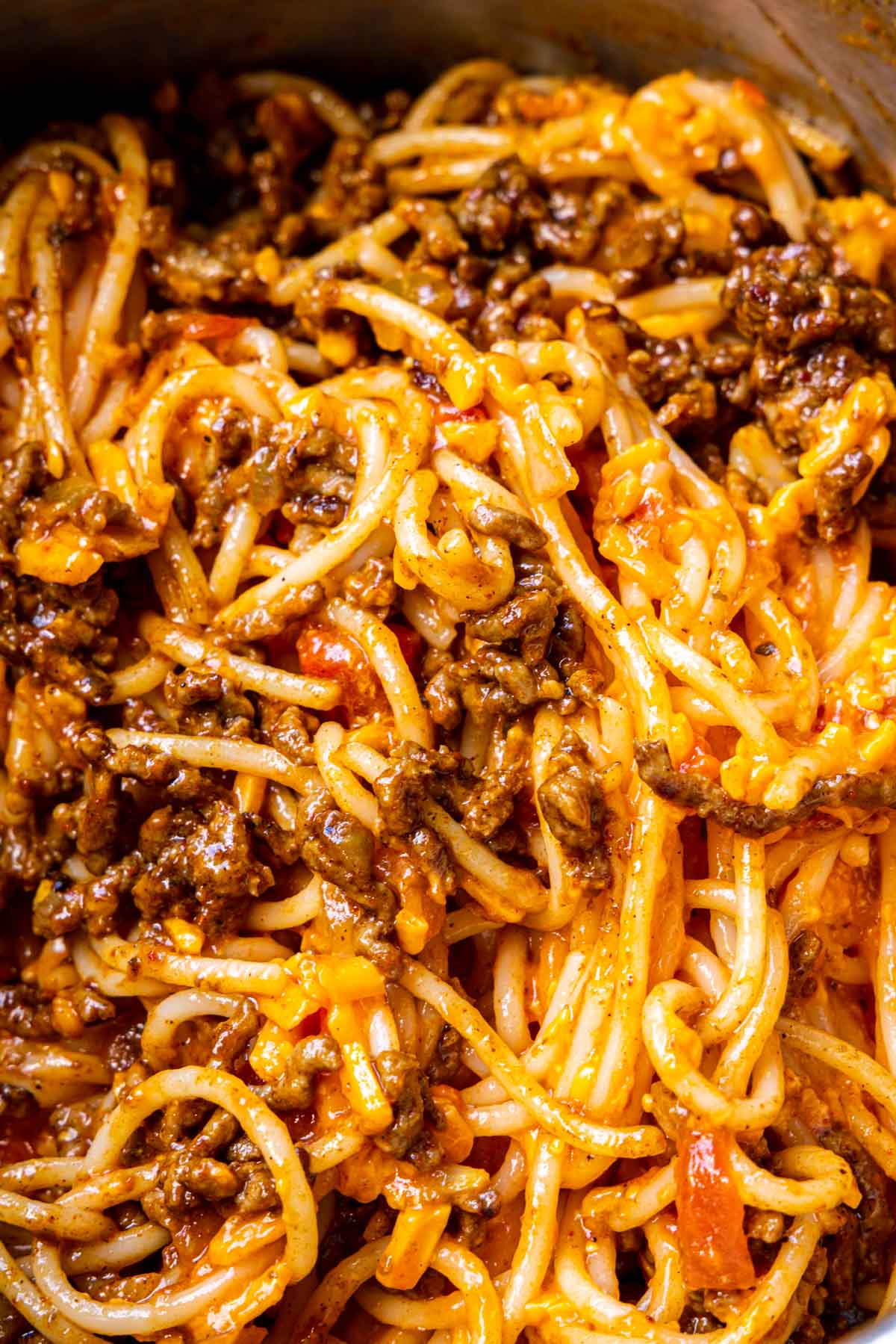 More Cheesy Beefy Pasta Recipes
How to Store
Serve: This taco pasta can be at room temperature for up to 2 hours before it needs to be stored. Cool completely before storing so that it doesn't collect moisture.
Store: Refrigerate cooled pasta in an airtight container for up to 5 days. Heat on the stove top until warmed through, adding a little salsa or broth if the pasta is too dry.
Freeze: Once cooled, store pasta in a freezer safe bag with all the air squeezed out to prevent freezer burn. Freeze the bag flat until solid, then you can store it upright or stacked. Thaw overnight in the fridge before reheating on the stove top.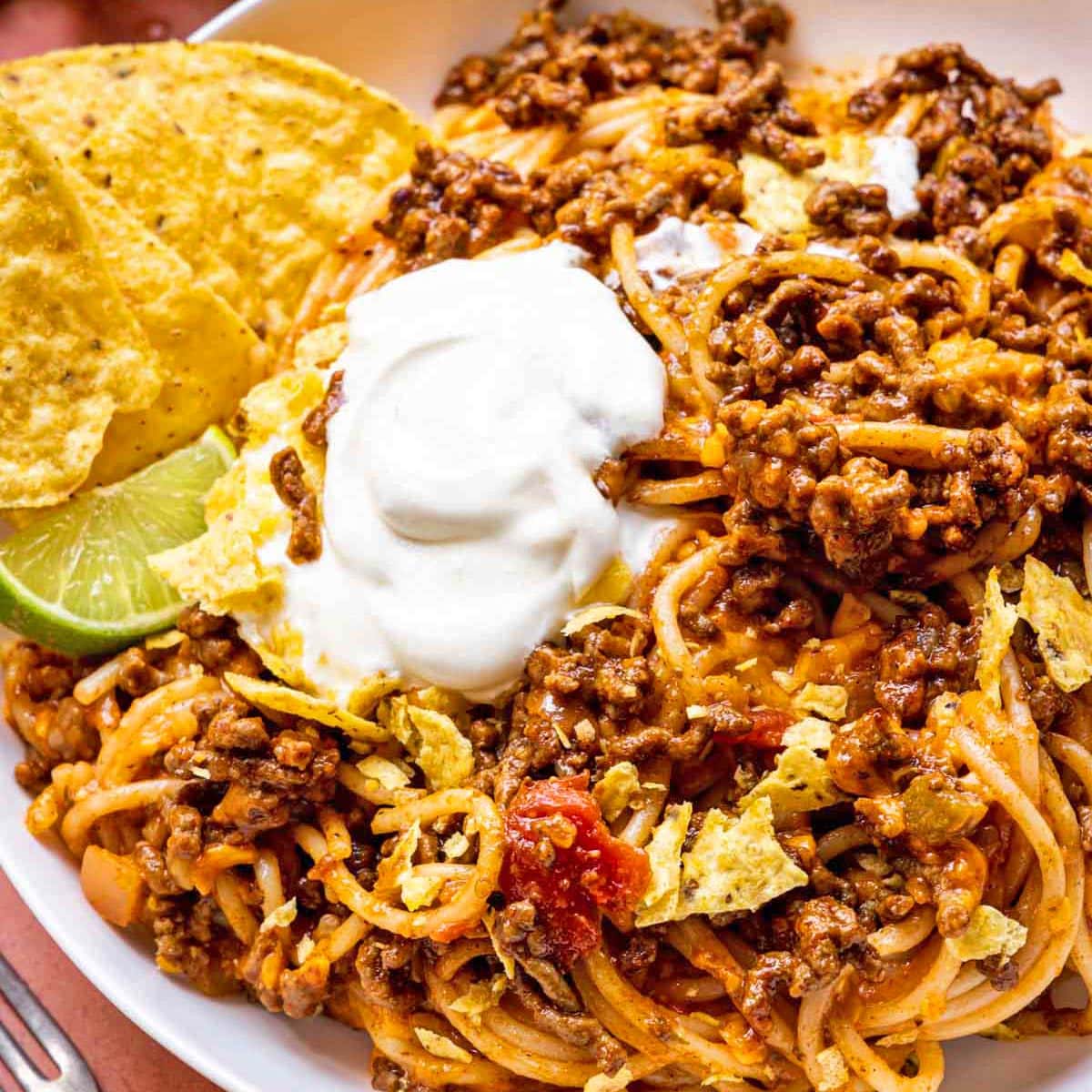 Ingredients
1/2

pound

spaghetti

1

pound

ground beef

, (85/15)

1/2

yellow onion

, diced

1

packet

taco seasoning

, or 3 tablespoons homemade taco seasoning

3/4

cup

water

1

cup

jarred salsa

2

cups

cheddar cheese

, shredded

1/2

cup

sour cream

2

cups

tortilla chips

, crushed
Instructions
Cook the pasta

1 minute

less than the directions on the box and drain (do not rinse).

Add the ground beef and onion to the pan and brown well.

Add the taco seasoning and water, stir and cook until water is mostly gone.

Add the pasta back into the pot with the salsa and cheese.

Serve in a bowl and top with a dollop of sour cream and crushed tortilla chips.
Nutrition
Calories:
843
kcal
|
Carbohydrates:
76
g
|
Protein:
38
g
|
Fat:
44
g
|
Saturated Fat:
18
g
|
Polyunsaturated Fat:
6
g
|
Monounsaturated Fat:
13
g
|
Trans Fat:
1
g
|
Cholesterol:
120
mg
|
Sodium:
1424
mg
|
Potassium:
666
mg
|
Fiber:
6
g
|
Sugar:
6
g
|
Vitamin A:
1504
IU
|
Vitamin C:
5
mg
|
Calcium:
433
mg
|
Iron:
4
mg