Thai Peanut Pork Tenderloin is an amazing and flavorful dinner with a creamy sauce made with coconut milk, peanut butter, soy sauce, honey, and peanuts.
Thai peanut sauce is a staple in Thai cuisine. It's lightly sweetened and adds rich, delicious flavors to Dinner Recipes like Baked Thai Peanut Chicken, Thai Peanut Shrimp, and now this Asian Pork Tenderloin.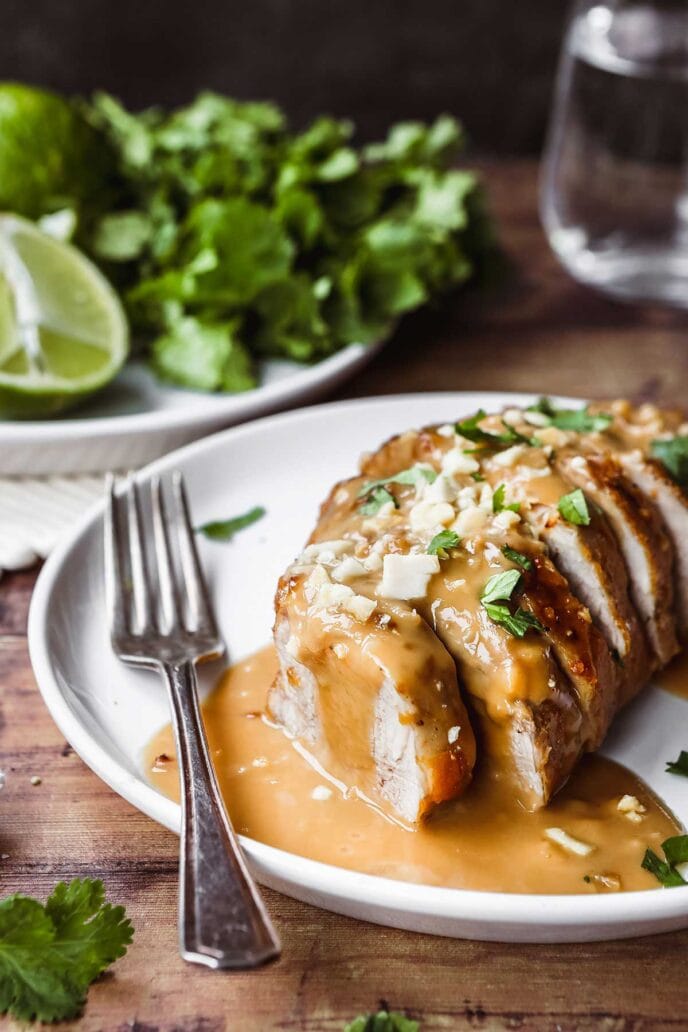 This Thai Peanut Pork recipe is surprisingly easy to make in just 45 minutes. The simple pork is roasted with a light seasoning of salt and pepper. Then you add amazing peanut sauce and continue roasting. Rich peanut sauce completely transforms the recipe with amazing ingredients like fresh ginger, soy sauce, honey, peanut butter, coconut milk, and garlic.
When you serve this Pork Tenderloin recipe, you can easily serve it over a bed of rice. A bowl of White Rice, Coconut Rice, or Brown Rice would pair well with the dinner. Then you can drizzle any extra sauce over the rice. You can also mix in some stir-fried veggies for an easy and filling rice bowl meal.
If you have any leftovers, cut up the pork and toss it with fresh lettuce and other veggies for a hearty salad the next day. It's a wonderful and refreshing way to rework the dish.
This recipe is an amazing way to prepare tender pork tenderloin with unexpected and bold flavors. If you're looking for more Asian pork recipes, try Slow Cooker or regular Sweet and Sour Pork next. All of them are great ways to enjoy classic Asian flavor in easy pork dinners.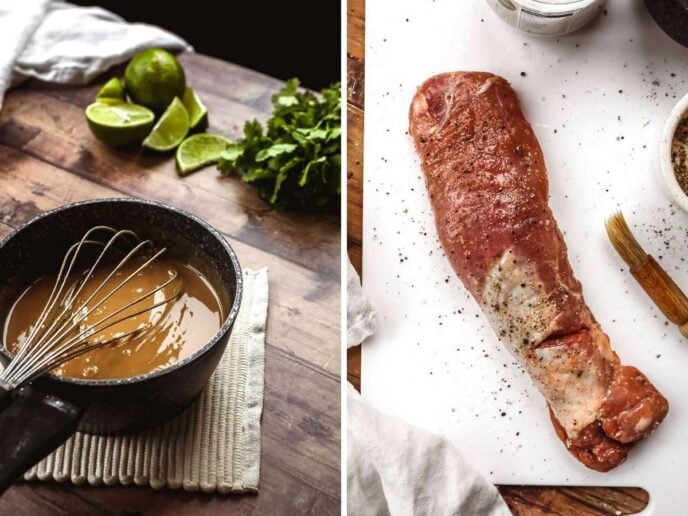 Thai Recipes
Key Ingredients 
Pork Tenderloin: Pork is a great alternative to meat that you might typically picture peanut sauce with, similar to chicken breast. The tenderloin easily absorbs sweet flavors, so the sweetened peanut sauce soaks nicely into the dish. Although pork can be tough, allowing it to rest, and cooking it in 2 sessions stops the meat from drying out for a perfectly juicy dish.
Coconut Milk: The coconut milk adds a mild sweet flavor, and gives the sauce its wonderfully smooth and creamy texture.
Peanut Butter: Using smooth peanut butter is an easy way to give the whole dish its iconic peanut flavor.
Honey: The honey is the perfect simple ingredient to add some sweetness to the sauce without overpowering the rest of the ingredients.
Soy Sauce: Along with the spices and vinegar, the soy sauce adds a savory and salty flavor to the sauce that balances the sweet coconut milk and honey.
Cooking Tips 
Prep Pork: Start by lightly seasoning the pork tenderloin with salt and pepper, then brush the surface with coconut oil. Place the seasoned pork on a 9×13 inch baking dish, and let it rest for 20 minutes. Let the tenderloin sit out to allow the meat to come to room temperature. It will cook more evenly and it won't dry out before the inside is done.
Cooking Time: Near the end of the resting time, bring the oven temperature to 400 degrees. Put the pork in the preheated oven and cook for 10 minutes. It should be about halfway done cooking.
Peanut Sauce: While the pork is doing the first half of its cooking, make the peanut sauce. Add coconut milk, peanut butter, soy sauce, honey, rice wine vinegar, ginger, and garlic to a medium saucepan. Whisk and bring the smooth sauce to a simmer. Let it cook for about 3 minutes until it thickens.
Finish: Spoon the peanut sauce over the tenderloin, then continue baking for 10 minutes. To test if it's done place a meat thermometer into the thickest point. The pork should be at least 145 degrees. Use crushed peanuts and cilantro for garnish and serve.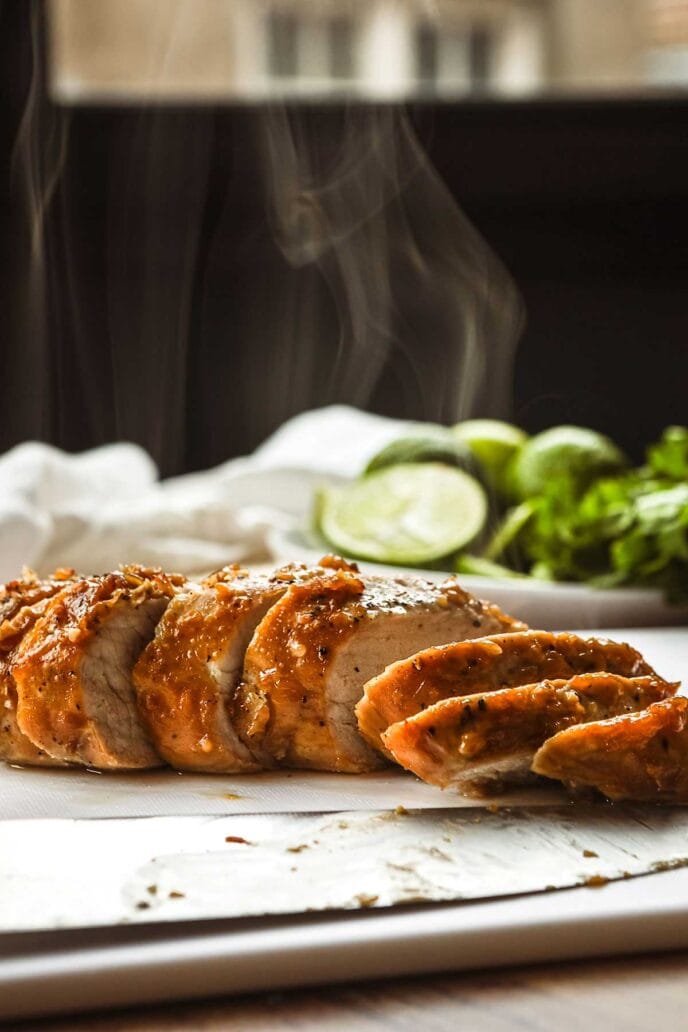 Create a free account to

Save Recipes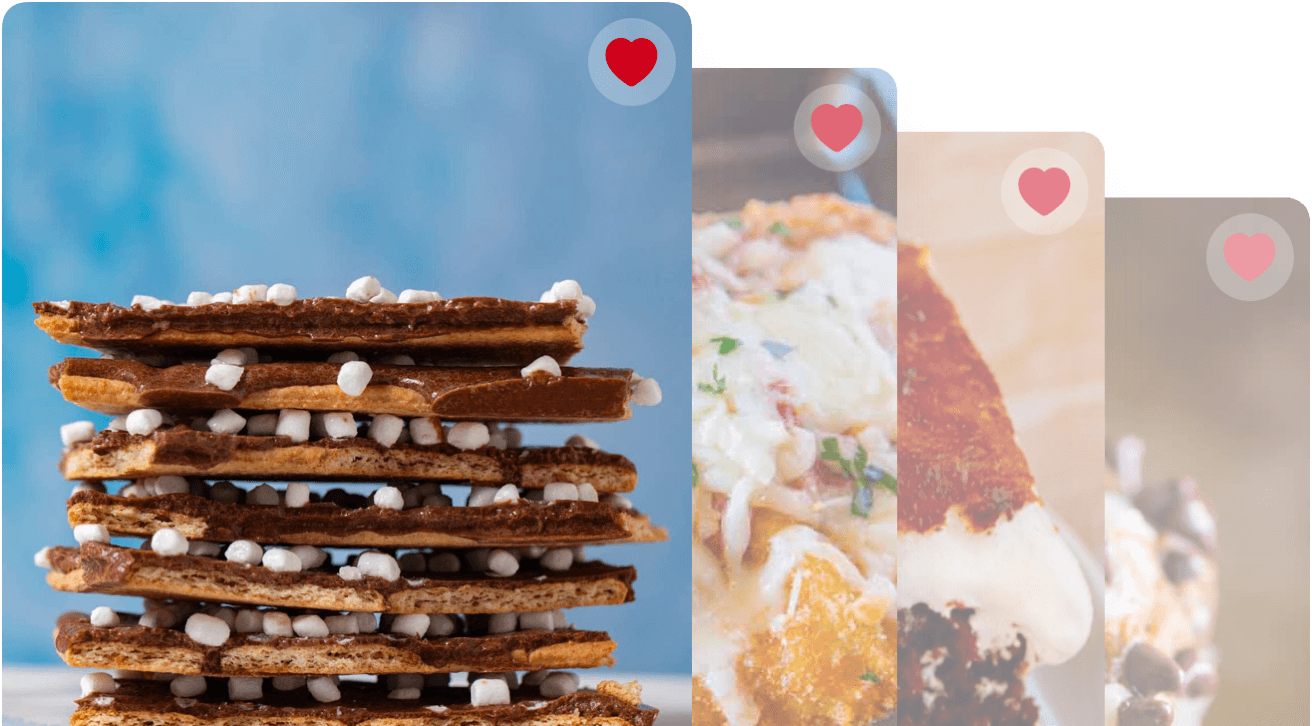 Variations 
Marinade: To make extra juicy and tender pork tenderloin, you can prep it with an easy marinade. Whisk together ¾ cup teriyaki sauce, ½ cup orange juice, 2 cloves minced garlic, ½ teaspoon red pepper flakes, ½ teaspoon black pepper, and 1 tablespoon fresh lime juice. Put the marinade in a large ziplock bag and add the tenderloin to soak. Toss in some lime slices for extra citrusy flavor, and let the pork soak in the fridge for 4-5 hours before roasting.
Pork Chops: If you don't have a tenderloin, you can make the same recipe using pork chops. The chops cook a couple of minutes faster, so keep your eye on them while they cook in the peanut sauce.
Vegetables: Along with the peanut sauce, you can toss some vegetables into the dish with the pork. Green onions, bell pepper strips, broccoli, and sugar snap peas would all taste great with the Thai Peanut Pork.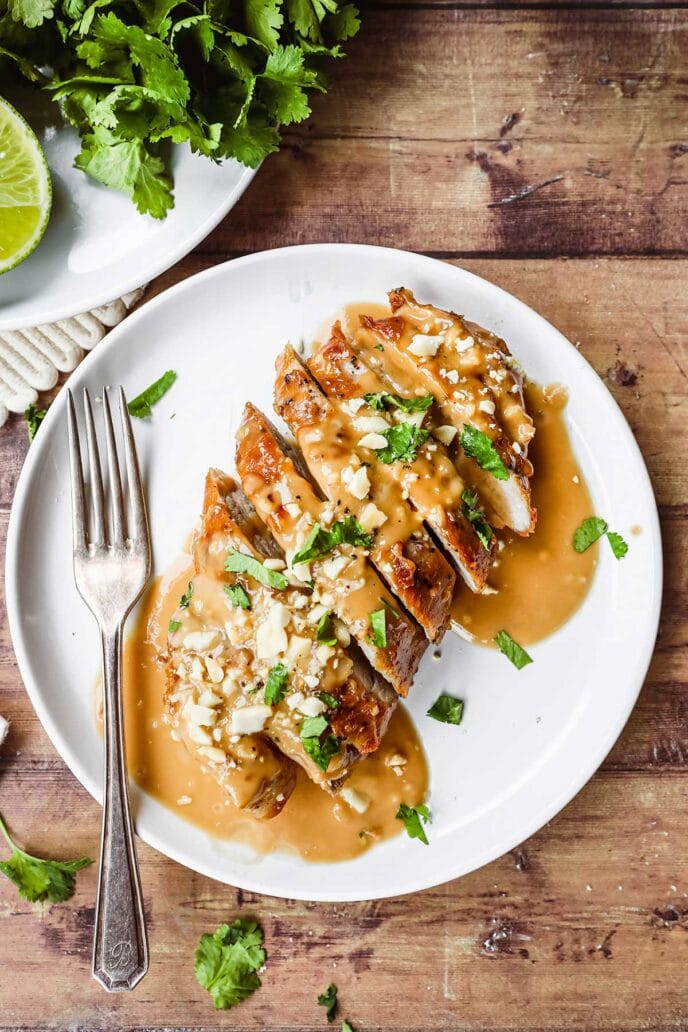 More Asian Dishes
How to Store 
Serve: You don't want to leave Thai Peanut Pork Tenderloin at room temperature for more than 2 hours.
Store: If you have leftovers, you can let them cool to room temperature and then store them in an airtight container in the fridge for up to 4 days.
Freeze: For more long-term storage, let the dish completely cool. Then seal it to store in the freezer for up to 3 months.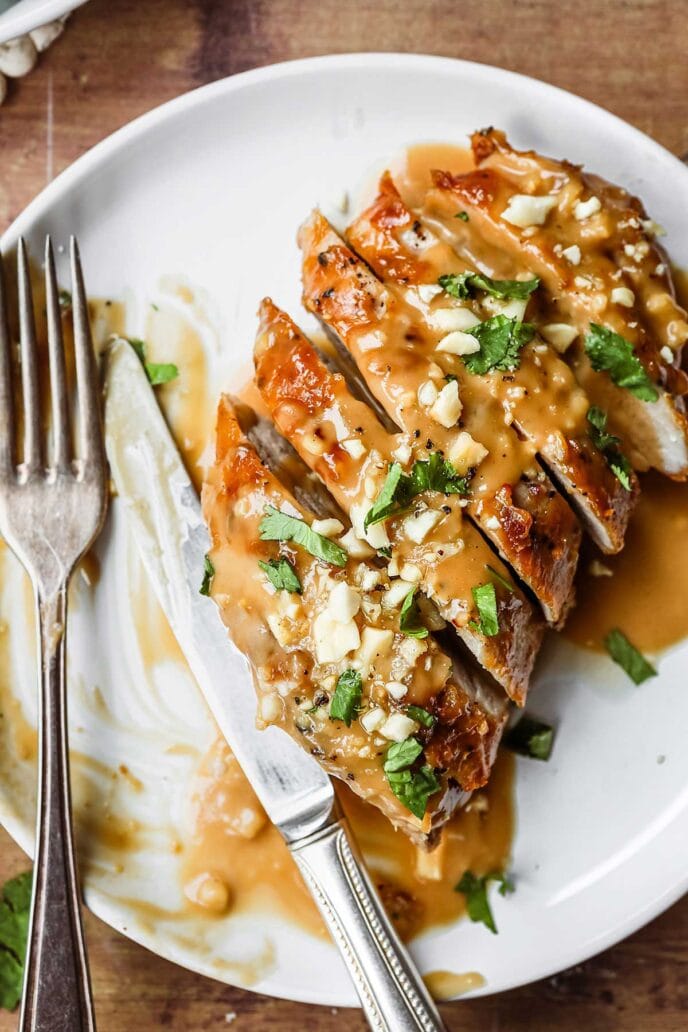 Ingredients
1

pound

pork tenderloin

1

teaspoon

kosher salt

1/2

teaspoon

coarse ground black pepper

2

limes

, thinly sliced

3

tablespoons

coconut oil

, vegetable oil okay (melted)

1

cup

coconut milk

1/3

cup

creamy peanut butter

2

tablespoons

low sodium soy sauce

2

tablespoons

honey

1

tablespoons

rice wine vinegar

1

tablespoon

ginger

, peeled and minced

3

garlic cloves

, minced

1/4

cup

peanuts

, crushed

2

tablespoons

fresh cilantro

, minced
Instructions
Season pork with salt and pepper.

Brush coconut oil over the pork tenderloin.

Place pork into a 9x13 baking dish and let pork rest for

20 minutes

before cooking.

Preheat oven to 400 degrees.

Cook the pork for

10 minutes

(temperature should be 145 degrees).

While pork is cooking halfway, make the Thai peanut sauce.

To a medium saucepan add coconut milk, peanut butter, soy sauce, honey, rice wine vinegar, ginger, and garlic.

Bring to a simmer and cook for

3 minutes

to thicken.

Spoon sauce over pork tenderloin and continue to bake, uncovered for

10 minutes.

Garnish with crushed peanuts and cilantro.
Nutrition
Calories:
190
kcal
|
Carbohydrates:
7
g
|
Protein:
11
g
|
Fat:
14
g
|
Saturated Fat:
8
g
|
Polyunsaturated Fat:
2
g
|
Monounsaturated Fat:
3
g
|
Trans Fat:
1
g
|
Cholesterol:
25
mg
|
Sodium:
339
mg
|
Potassium:
284
mg
|
Fiber:
1
g
|
Sugar:
4
g
|
Vitamin A:
11
IU
|
Vitamin C:
4
mg
|
Calcium:
18
mg
|
Iron:
1
mg