Easy Turkey Wings recipe for tasty juicy oven baked turkey wings with crispy skin, tender meat and lots of flavor. A great weeknight meal!
Making just Turkey Breast, Turkey Thighs, or Turkey Wings for Dinner is a quicker, easier alternative to roasting an entire Turkey. It's all the delicious flavor of traditional Turkey Recipes in a fraction of the time!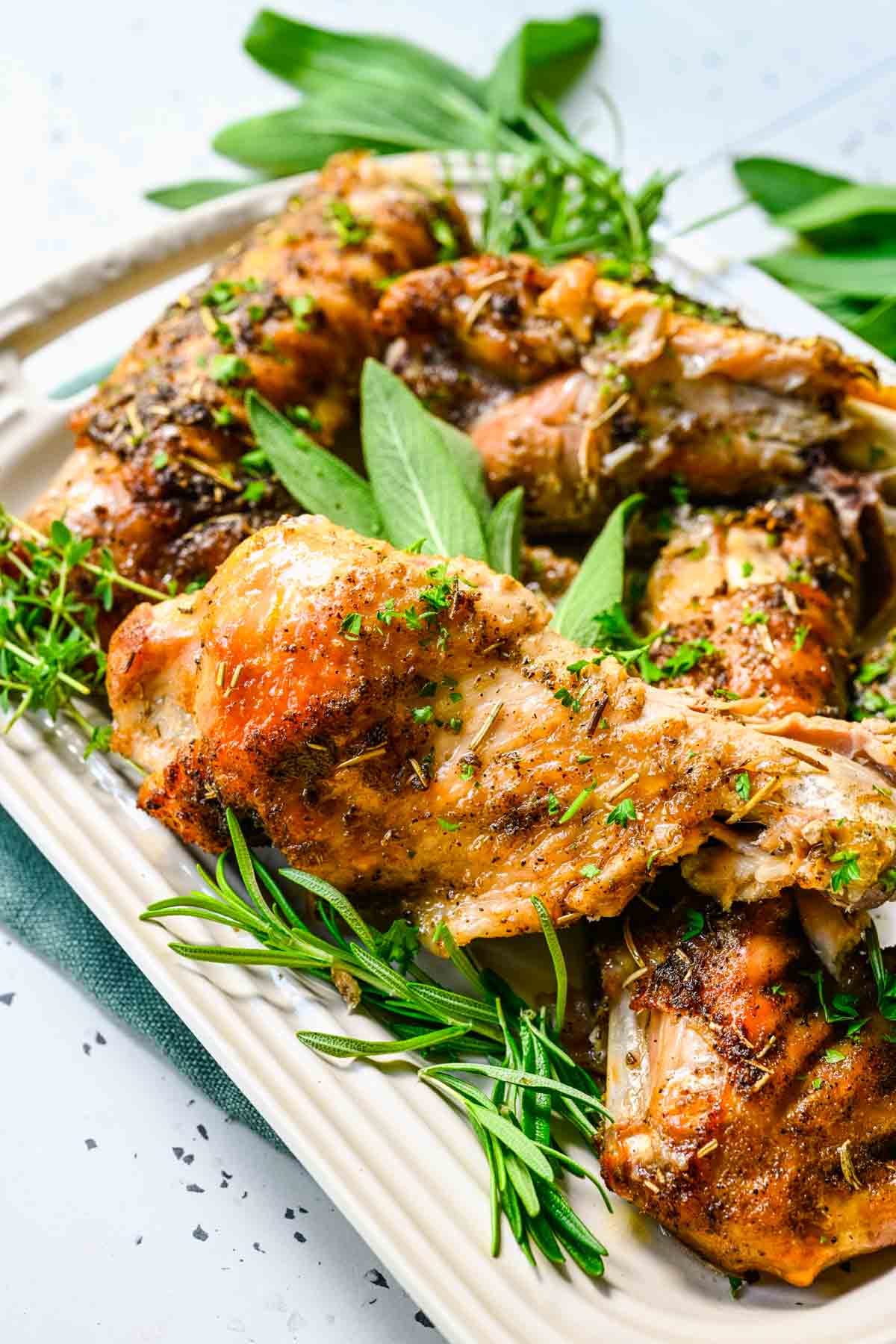 Turkey Wings are a delectable and often underrated part of the bird that can be transformed into a mouthwatering meal with the right recipe. While most people associate Roast Turkey with the centerpiece of a grand holiday feast, Turkey Wings offer a quick and delicious weeknight meal that is packed with flavor. Plus with this easy Turkey Wings recipe, no one has to fight over who gets the juicy, crispy wings!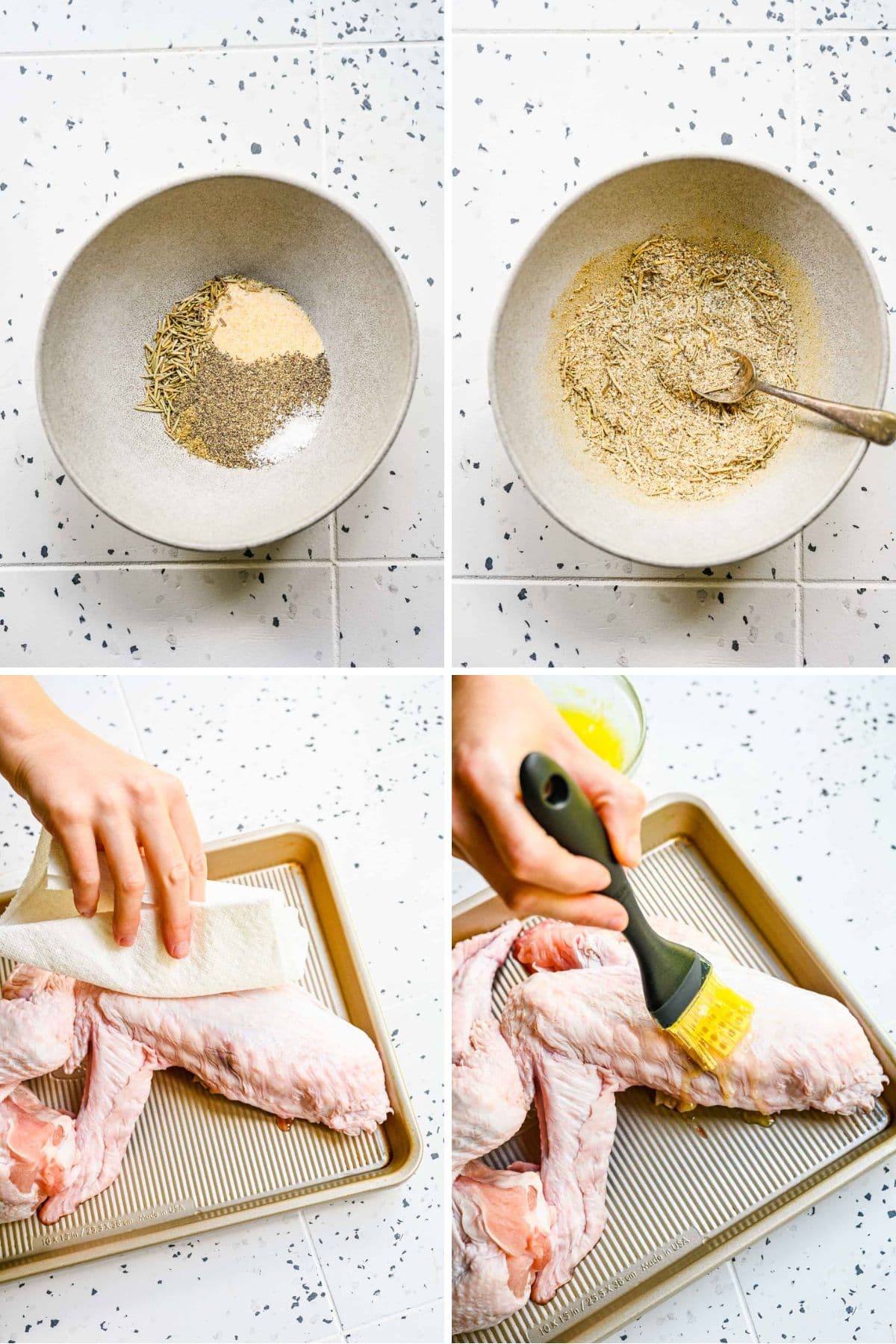 Turkey wings are have lots of flavor and contain a good amount of juicy white meat that, when cooked properly, becomes incredibly tender. The seasoning mix of garlic and onion powder, plus rosemary and sage, gives it the taste of traditional turkey but it's made in just about 2 hours total. Unlike your Thanksgiving bird, you don't need to baste the meat, because it bakes in savory chicken broth that adds flavor and keeps it moist.
These crispy wings are a delicious and flavorful alternative to the traditional whole turkey, making them a versatile option for weeknight meals or special occasions. Serve them with your favorite side dishes like Roasted Broccoli and Potatoes Au Gratin as a simple, comforting meal. Or make Thanksgiving anytime of the year by whipping up some Green Bean Casserole and Mashed Potatoes. Make sure to save the pan drippings to make some delicious, savory Turkey Gravy!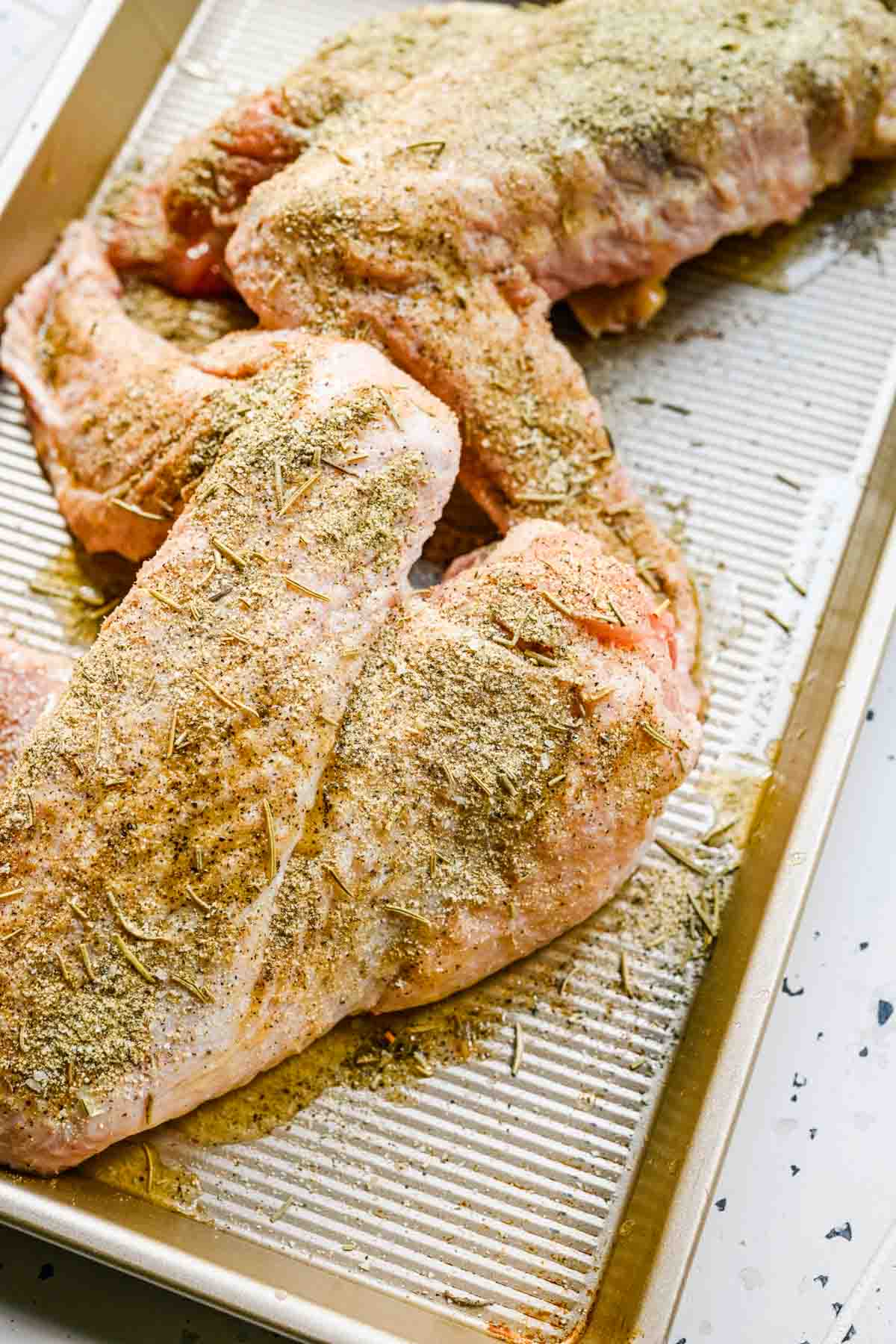 What's the difference between Turkey Wings and Chicken Wings?
Turkey wings are generally considered healthier than chicken wings due to their lower fat content. Turkey wings have a higher proportion of meat to skin, which reduces the overall fat intake compared to chicken wings. They are also obviously much bigger than chicken wings, so you can serve one wing per person versus multiple chicken wings so they tend to be a much cheaper dinner! Finally, generally chicken wings are divided into separate chicken pieces of drums and flats, whereas turkey wings are cooked and sold in one piece.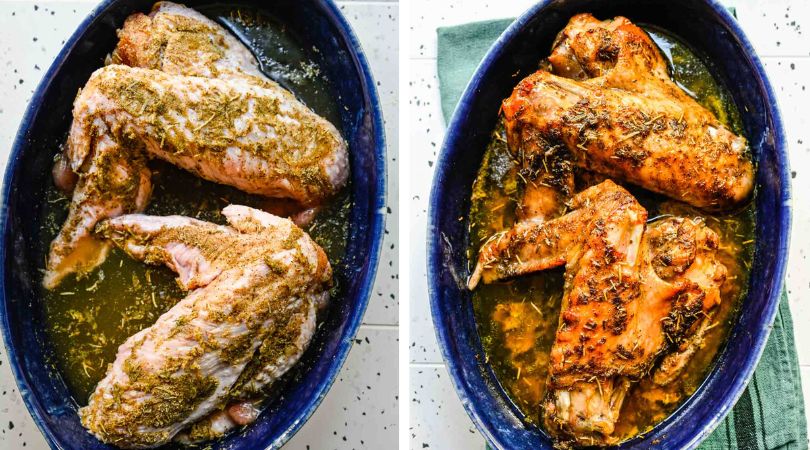 How to Make Turkey Wings
Prep: Preheat the oven. Line a 9×13 inch baking dish with aluminum foil.
Season: Combine all the spices and herbs in a small bowl. Dry the turkey wings then brush with the butter. Cover wings with seasoning mix.
Bake: Pour the broth in the bottom of the baking dish and add the wings on top, spacing as much as possible. Cover the baking dish with foil and cook for 90 minutes.
Brown: Remove foil and cook an additional 20-30 minutes until the skin is golden brown and crispy, and the internal temperature is 165 degrees with a meat thermometer.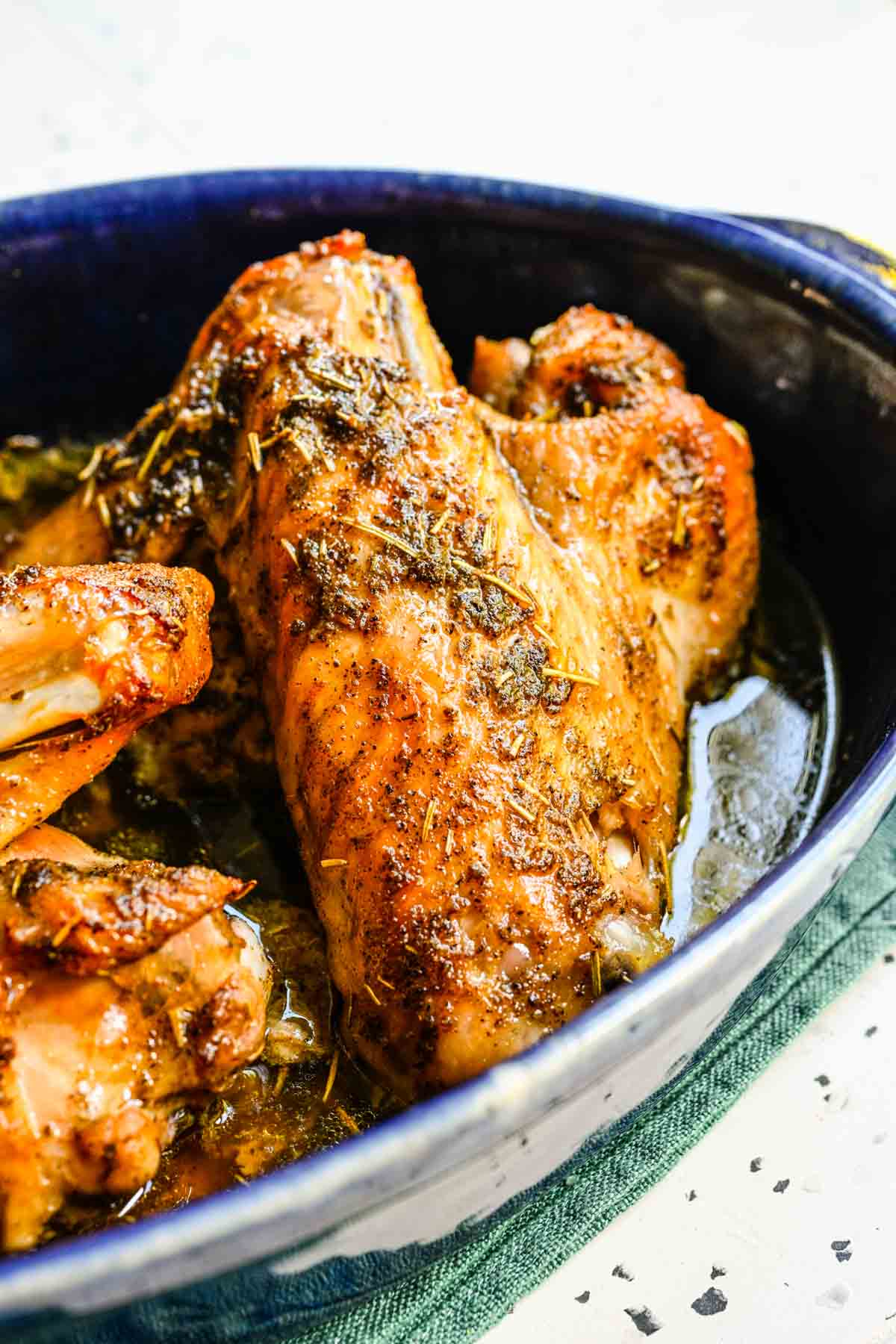 Classic Holiday Side Dishes
FAQs for Turkey Wings
Why are my Turkey Wings tough?
If you over-bake or under-bake Turkey Wings, you will get tough meat and if it's over-baked it will also be dry. You are looking for an internal temperature of 165 degrees minimum for juicy, tender meat that is safe to eat. If the skin starts browning too fast, you can loosely cover the baking dish with foil so the wings can finish cooking. 
Do you cook the whole turkey wings or halved wings?
When preparing Turkey Wings, you have the option to cook them whole or halved. Cooking them whole allows the flavors to infuse the entire wing, resulting in a more succulent tasty turkey dinner. On the other hand, halving the wings can reduce cooking time and make them more manageable for serving. 
What can I do with leftover turkey broth and pan drippings from my turkey wings?
With leftover turkey broth and pan drippings, you can create a flavorful gravy by combining them with some flour or cornstarch to thicken the mixture. This rich and savory turkey gravy can be served alongside the turkey wings or used as a delicious sauce for other dishes like mashed potatoes or stuffing. 
How to get the perfect crispy skin on Baked Turkey Wings?
To achieve crispy skin, make sure to pat the turkey wings dry before seasoning them. The dry surface will allow the skin to crisp up beautifully during baking.
What do you serve with Turkey Wings?
Turkey wings pair well with a variety of side dishes, such as mashed potatoes, roasted vegetables, or a fresh green salad. They are crispy and flavorful all on their own, but you can also serve the wings with Gravy made with pan drippings.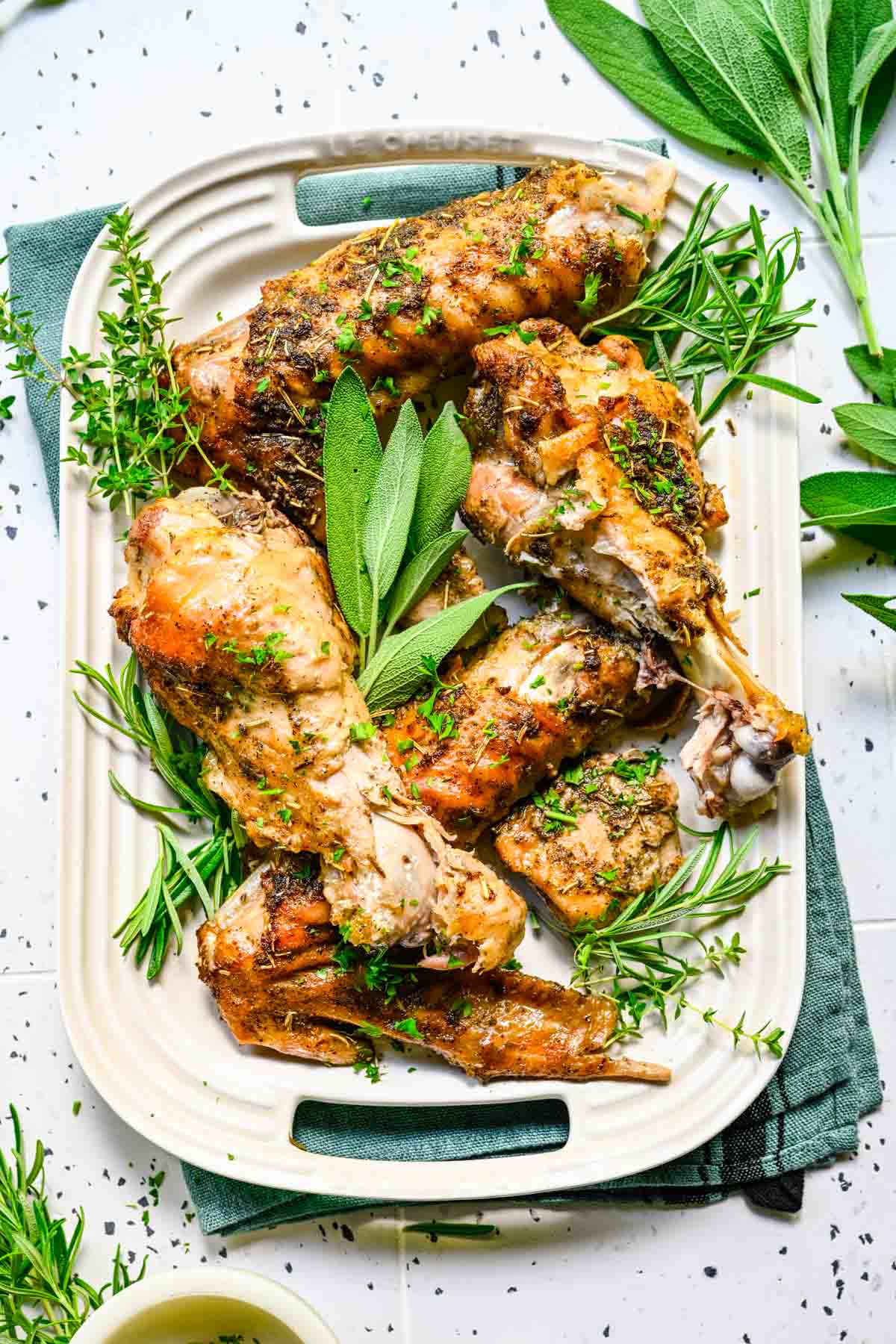 Create a free account to

Save Recipes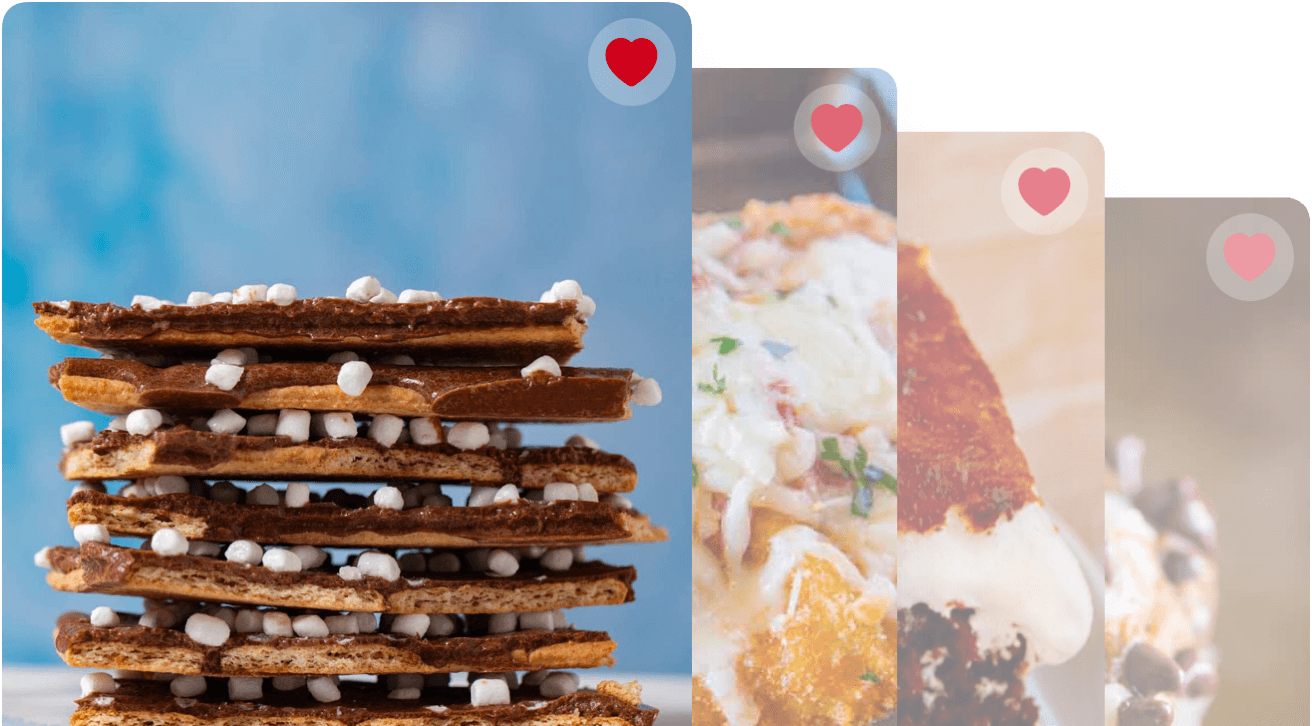 Key Ingredients
Turkey Wings: Jumbo fresh turkey wings provide a succulent and juicy meat that absorbs the flavors of the seasonings beautifully. The wings' larger size makes them ideal for serving as a hearty and satisfying main course.
Herbs: A combination of rosemary and sage are a classic turkey seasoning mixture with the earthy, strong floral flavors that remind you of a Thanksgiving feast!
Spices: Garlic powder and onion powder are aromatic, basic spices and an easy way to add some extra flavor to the wings. Kosher salt and coarse black pepper enhance the natural flavors of the turkey wings and the simple turkey seasoning mixture.
Butter: Unsalted butter helps the yummy spices stick to the fresh turkey wings and it also adds a delicious buttery flavor. It also helps you get the perfect, golden-brown, crispy turkey wings skin.
Chicken Broth: Chicken broth serves a dual purpose in this recipe. Firstly, it infuses the turkey wings with extra flavor. Secondly, it helps keep the meat moist during the baking process, preventing it from drying out.
Can Turkey Wings be made ahead of time?
Yes, you can certainly prepare the Turkey Wings ahead of time. Follow all the steps up until the baking part, then cover the seasoned wings and refrigerate them overnight. When you're ready to cook, simply bake Turkey Wings in the preheated oven, and you'll have a delicious dish ready in no time.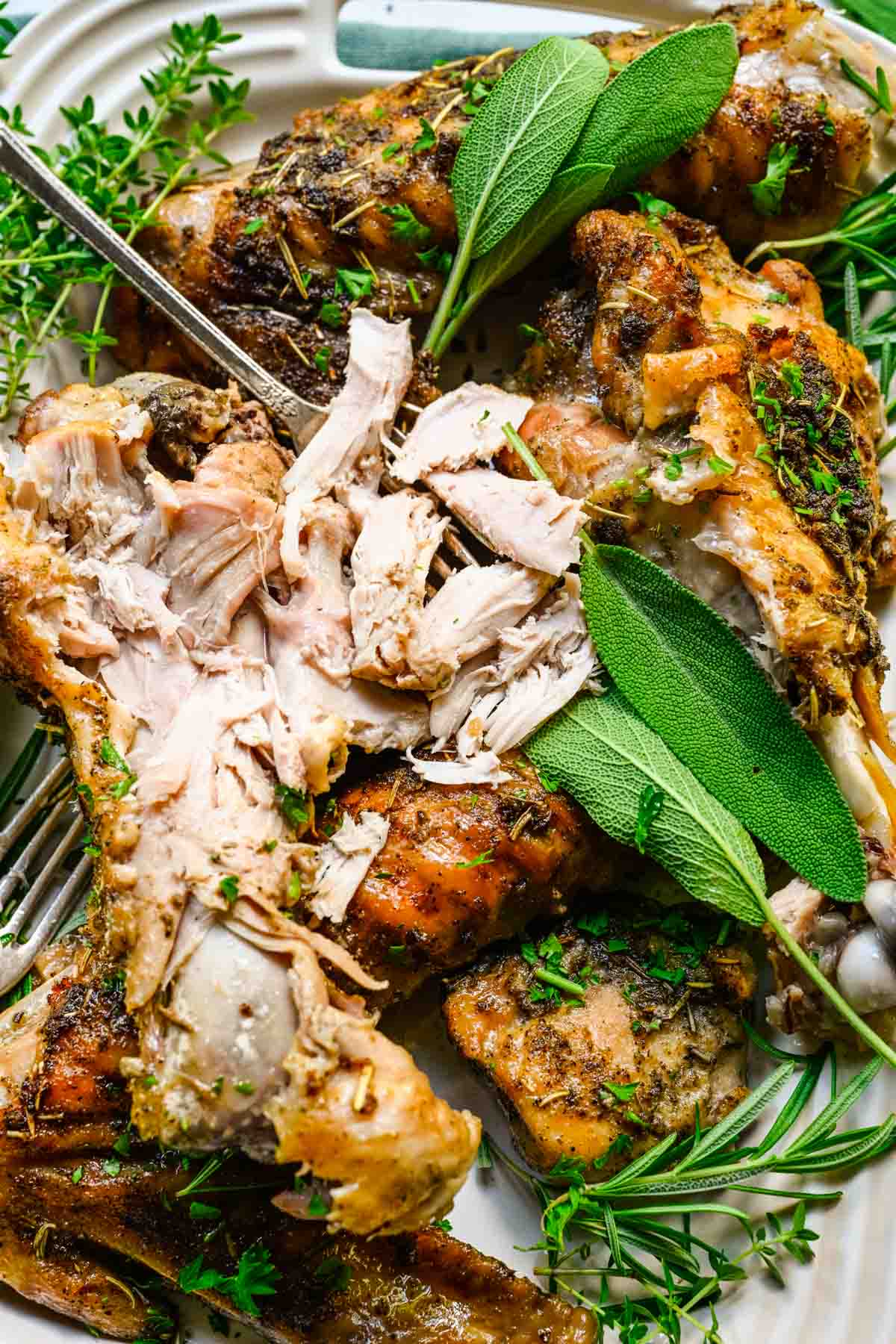 Variations
Honey Glazed Turkey Wings: For a touch of sweetness, baste the wings with a mixture of honey, soy sauce, and a dash of hot sauce before roasting.
Spicy Cajun Turkey Wings: Create a flavorful spice rub using paprika, cayenne pepper, thyme, and garlic powder, and roast the wings to perfection for a spicy Cajun kick.
Asian-inspired Turkey Wings: Marinate the wings in a blend of soy sauce, ginger, garlic, and sesame oil for an irresistible Asian twist.
Slow Cooker Turkey Wings
Pat the turkey wings dry with a paper towel.
In a bowl, mix together the kosher salt, black pepper, garlic powder, onion powder, rubbed sage, and dried rosemary.
Coat the turkey wings with the seasoning mix.
Place the seasoned turkey wings in the slow cooker.
Pour the melted unsalted butter over the wings.
Add the chicken broth to the slow cooker.
Cover the slow cooker with the lid and cook on low heat for 6-8 hours or on high heat for 3-4 hours, until the turkey wings are tender and fully cooked.
If desired, transfer the cooked turkey wings to a baking sheet and broil them in the oven for 2-3 minutes to crisp the outer skin.
Serve the juicy, flavorful crockpot Turkey Wings with your favorite side dishes and enjoy!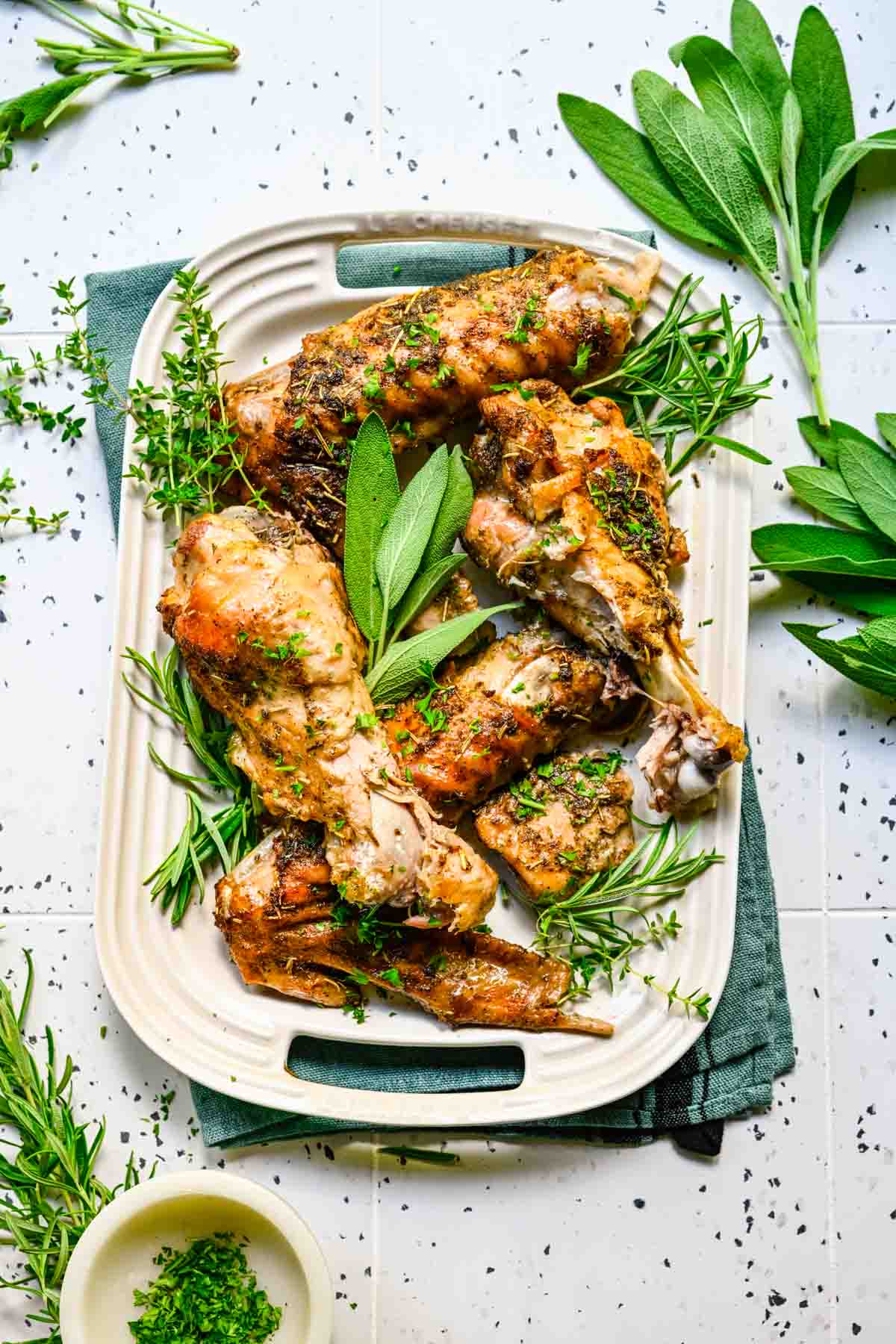 Delicious Roast Turkey Recipes
How to Store
Store: Let cool completely before storing them. To store, place them in an airtight container or wrap them tightly with plastic wrap or aluminum foil. Refrigerate for up to 3 days.
Reheat: Cover leftover Turkey Wings with foil and reheat in a preheated oven at 350 degrees for about 15-20 minutes until warmed through.
Freeze: If you have leftovers or want to prepare the wings in advance, you can freeze them for up to 2 months. Wrap the cooled wings tightly in plastic wrap and then aluminum foil before placing them in a freezer-safe container or freezer bag.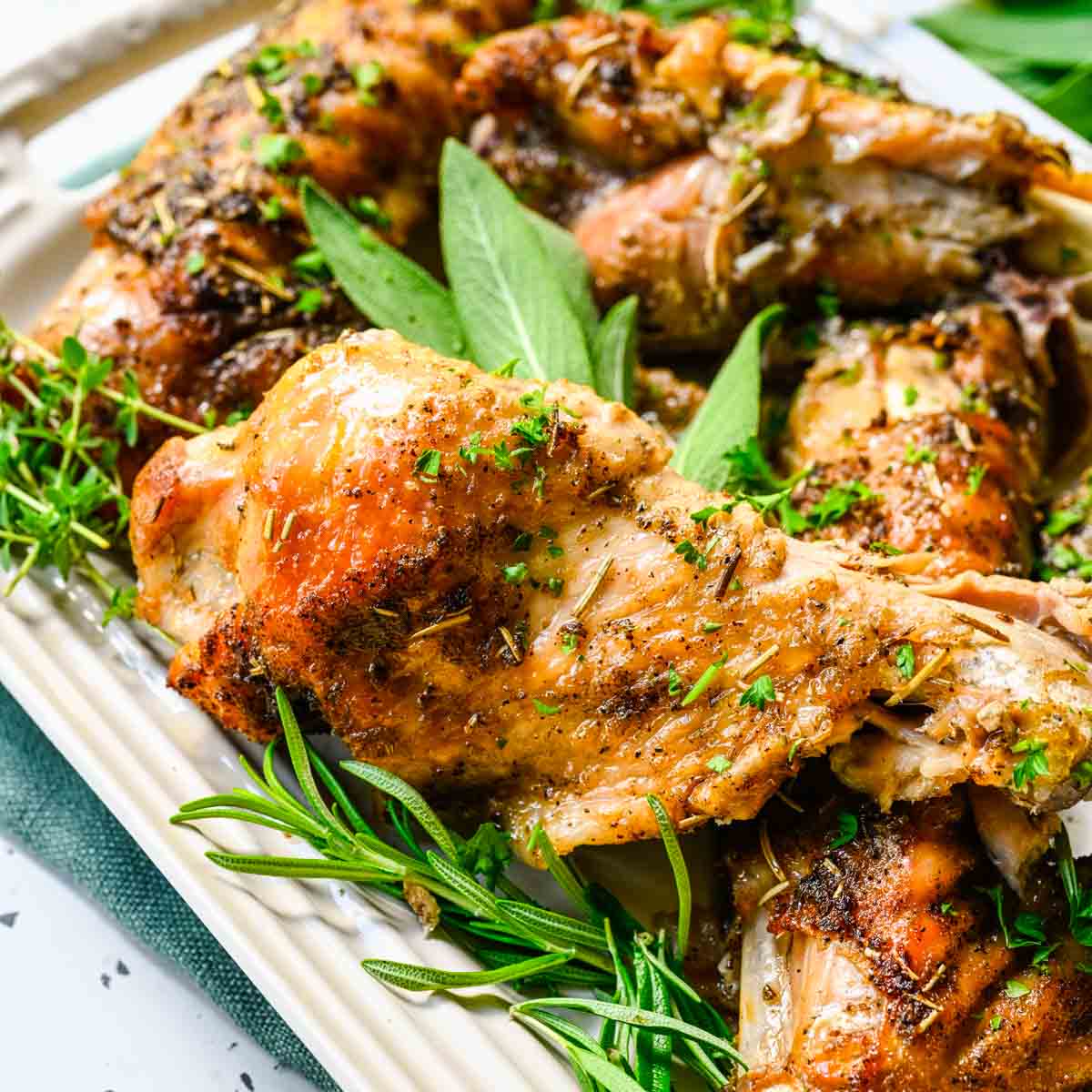 Ingredients
2

teaspoons

kosher salt

1

teaspoon

coarse ground black pepper

1

teaspoon

garlic powder

1

teaspoon

onion powder

1

teaspoon

rubbed sage

1

teaspoon

dried rosemary

minced finely

4

turkey wings

, about 2 1/2-3 pounds

4

tablespoons

unsalted butter

, melted

2

cups

chicken broth
Instructions
Preheat the oven to 350 degrees and line a 9×13 baking pan with foil.

In a bowl mix together the kosher salt, black pepper, garlic powder, onion powder, rubbed sage and rosemary.

Pat the turkey wings dry with a paper towel.

Coat with melted butter, then season with the seasoning mix.

Add the chicken broth to the baking pan.

Place the turkey wings into the baking pan.

Cook for

90 minutes

covered, uncover and cook for

20 minutes

to brown.
Nutrition
Calories:
451
kcal
|
Carbohydrates:
2
g
|
Protein:
36
g
|
Fat:
33
g
|
Saturated Fat:
13
g
|
Polyunsaturated Fat:
5
g
|
Monounsaturated Fat:
11
g
|
Trans Fat:
0.5
g
|
Cholesterol:
153
mg
|
Sodium:
1695
mg
|
Potassium:
457
mg
|
Fiber:
0.3
g
|
Sugar:
1
g
|
Vitamin A:
376
IU
|
Vitamin C:
0.2
mg
|
Calcium:
38
mg
|
Iron:
2
mg