Turtle Cookie Bars are made with a simple, buttery cookie base and an amazing, gooey caramel and chocolate topping with crunchy pecans.
Turning your favorite Candy and other treats into Cookie Bars is a fun way to enjoy the flavors you love. These chocolate caramel bars taste like Turtle Candy plus Pecan Sandies in one delicious Dessert.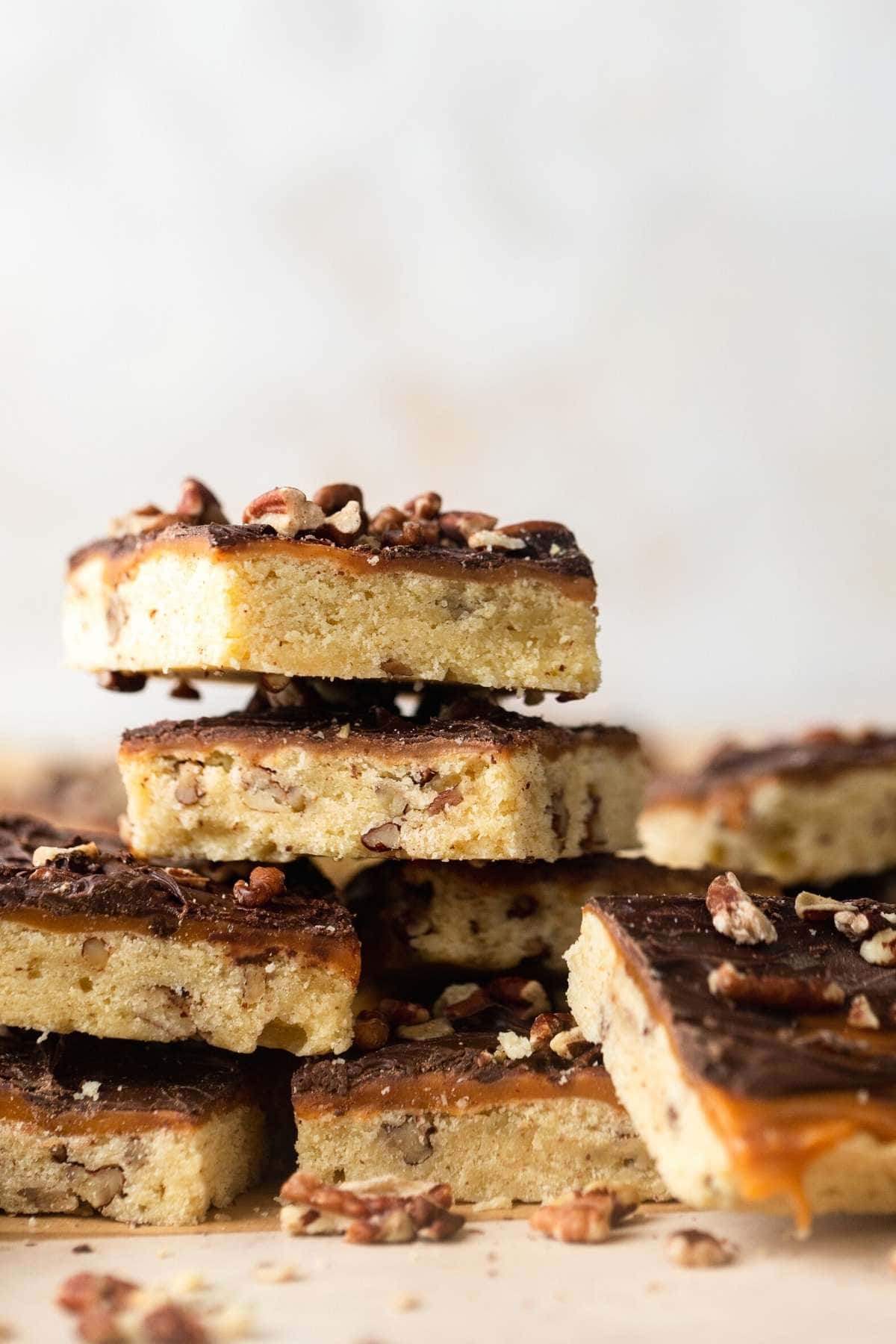 This Turtle Cookie Bars recipe is based on the classic Turtle Candies. It's a traditional sweet often served around the holidays with soft caramel and chocolate layered over the top of salty pecans. This wonderful cookie bar takes the same classic flavors from the homemade candy recipe and turns them into a shareable bar dessert.
Instead of making individual candies, this easy dessert recipe lets you make one big sheet of turtle square all at once. These layered bars come together in just a few simple steps. First you bake the pecan sugar cookie dough, then you spread a caramel layer over top and bake for a couple more minutes. They get a layer of melted chocolate and even more pecans. Then you just let them cool before cutting the Turtle Bars into serving sizes to share.
This Turtle Bar recipe is the perfect combination of sweet and salty, and soft and crunchy. It's a big recipe, so if you have a bake sale, party, or potluck coming up it's a wonderful time to try this treat out. You can serve them with a drizzle of Salted Caramel Sauce on top for even more caramel flavor or try them with a scoop of Vanilla Ice Cream. You won't be able to get enough of these easy, sweet layered chocolate caramel cookie bars!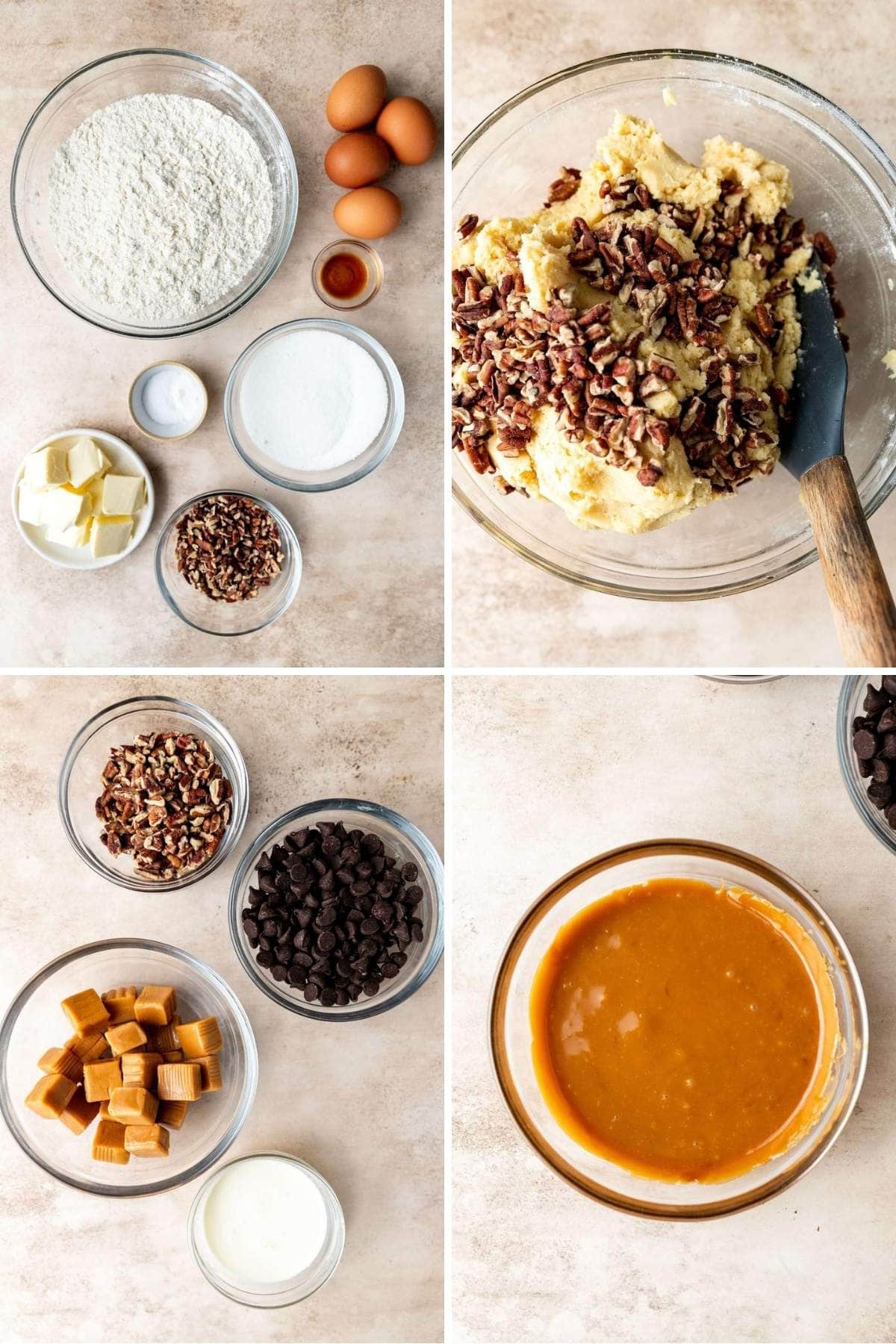 What are Turtle Cookies?
Turtle Cookies are a twist on the classic homemade Turtle Candies, which are chocolate covered pecan and caramel bites. The vanilla cookie base and chewy caramel and chocolate layer all have a sweet, rich flavor that just melts in your mouth. The chopped pecans that are mixed into the cookie dough and added in a pecan layer on top add an amazing, crunchy texture and some salty flavor.
What is the difference between Cookie Bars and Brownies?
While both cookie bars and brownies are easy, sweet bar desserts, there are a couple differences. Cookie bars are made with a thick cookie dough where brownies are made with batter. Batter isn't as thick as dough because it has about half the amount of flour. The extra flour makes cookies chewy and dense where brownies will be halfway between cake and a cookie.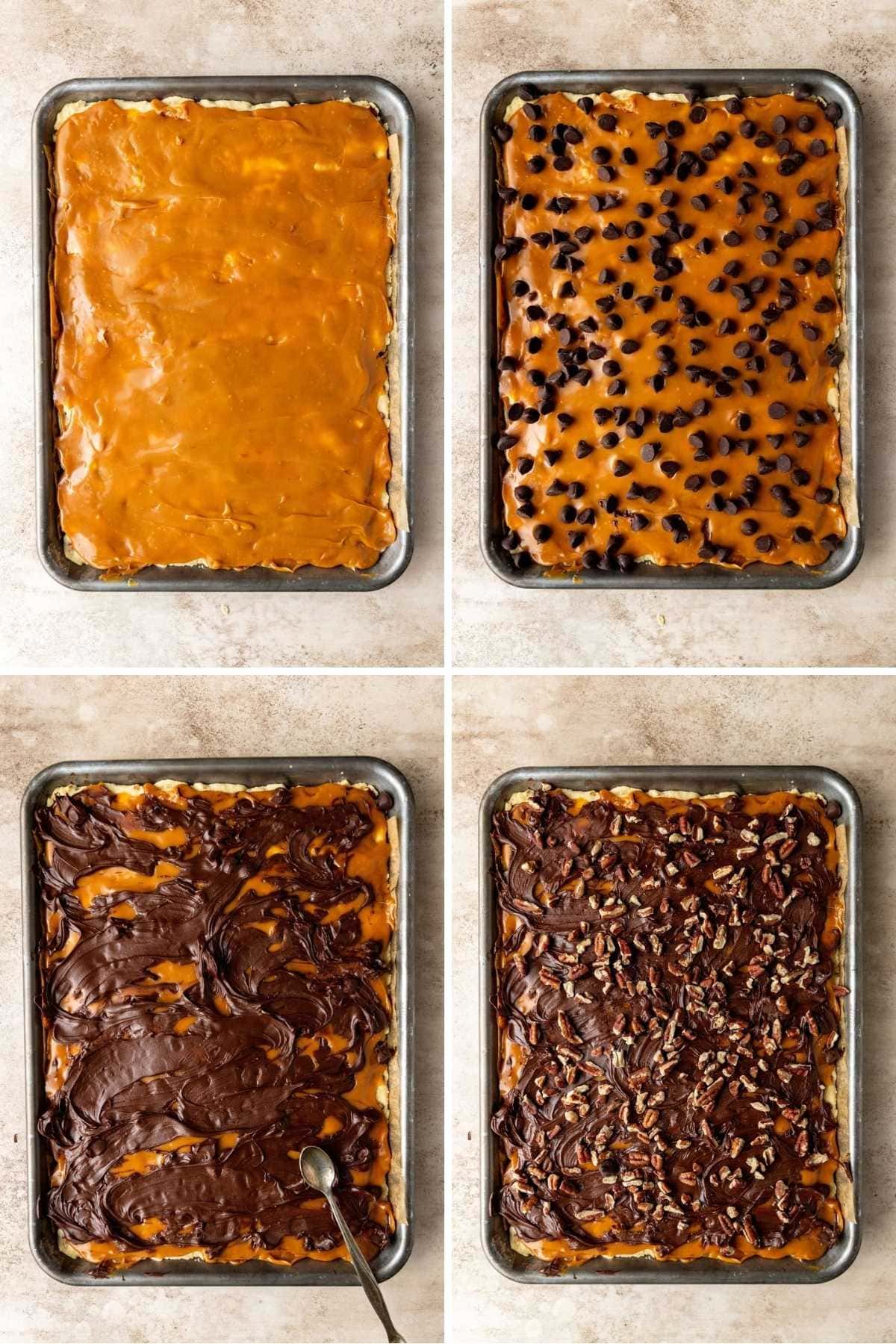 How to Make Turtle Cookie Bars
Prep: Preheat the oven to 350 degrees. Spray a 17×12 inch baking sheet with nonstick spray.
Dough: Add the butter and sugar to your stand mixer on medium to cream the butter. Then add in the eggs and vanilla, and continue mixing until well blended. Sift the flour, salt, and baking powder in a bowl, before adding them to the wet ingredients. Once the dough is combined fold in the chopped pecans.
Bake: Press the dough into the prepared baking sheet, and then pop the dish into the preheated oven. Bake until the cookie crust is light golden brown. Take the sheet from the oven, and let it cool completely before layering.
Caramel: Heat the caramels and cream over medium-low. Stir melted caramels until it's all combined into a creamy consistency. Remove from the stovetop, and let it cool for a little bit. After it's a little less hot, pour the caramel over the cookie base and bake again.
Toppings: Sprinkle chocolate pieces over the top of the caramel. Let it sit to melt then use an offset spatula to spread the melted chocolate over the top. Sprinkle an even pecan layer over the top to finish. Finally, pop the dish in the fridge for 20 minutes, and leave it at a cool temperature until the chocolate hardens.
More Delicious Turtle Recipes
FAQs for Turtle Cookie Bars
Why are turtle cookies called turtles?
Turtle cookies are named after the original Turtle "candy" which are caramel candies with pecans that are dipped in chocolate that look like turtles. The cookie version (or other Turtle treats) have pecans, caramel, and chocolate so they are "turtle" flavor.
How do you know when Turtle Cookie Bars are done?
Turtle Cookie Bars have a sugar cookie-shortbread like crust so you don't want to overcook them so they aren't too dry and crumbly, but the light color can make them hard to tell if they are done. You want the edges to just lightly golden but not browned and they are set in the center.
What is the best caramel to use in Turtle desserts?
You want to use caramel candies that are soft and chewy because when you mix them with the cream, they become a nice thick sweet layer. A thin caramel sauce is good for serving but you want the thicker caramel that won't melt so it makes a distinct layer.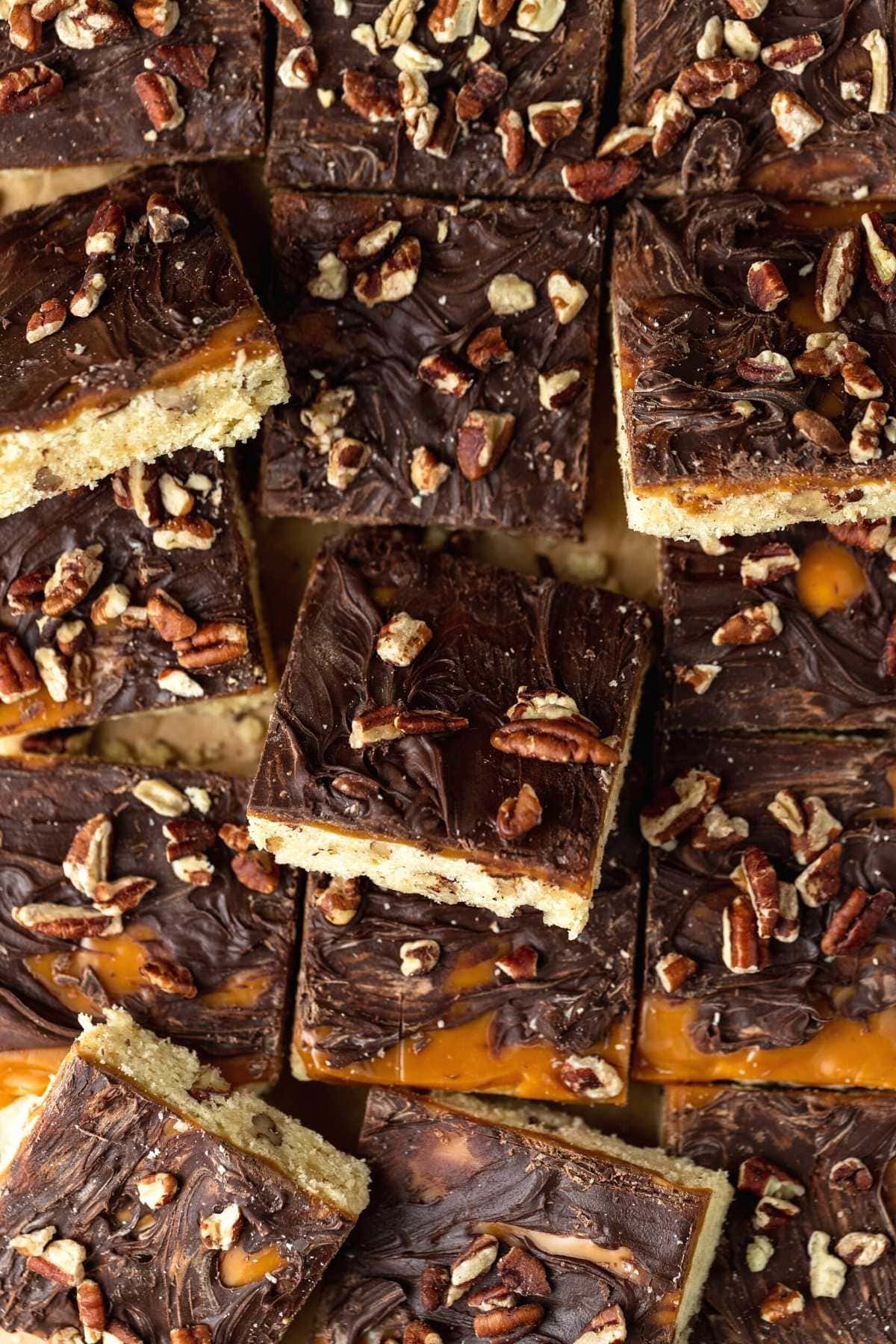 Create a free account to

Save Recipes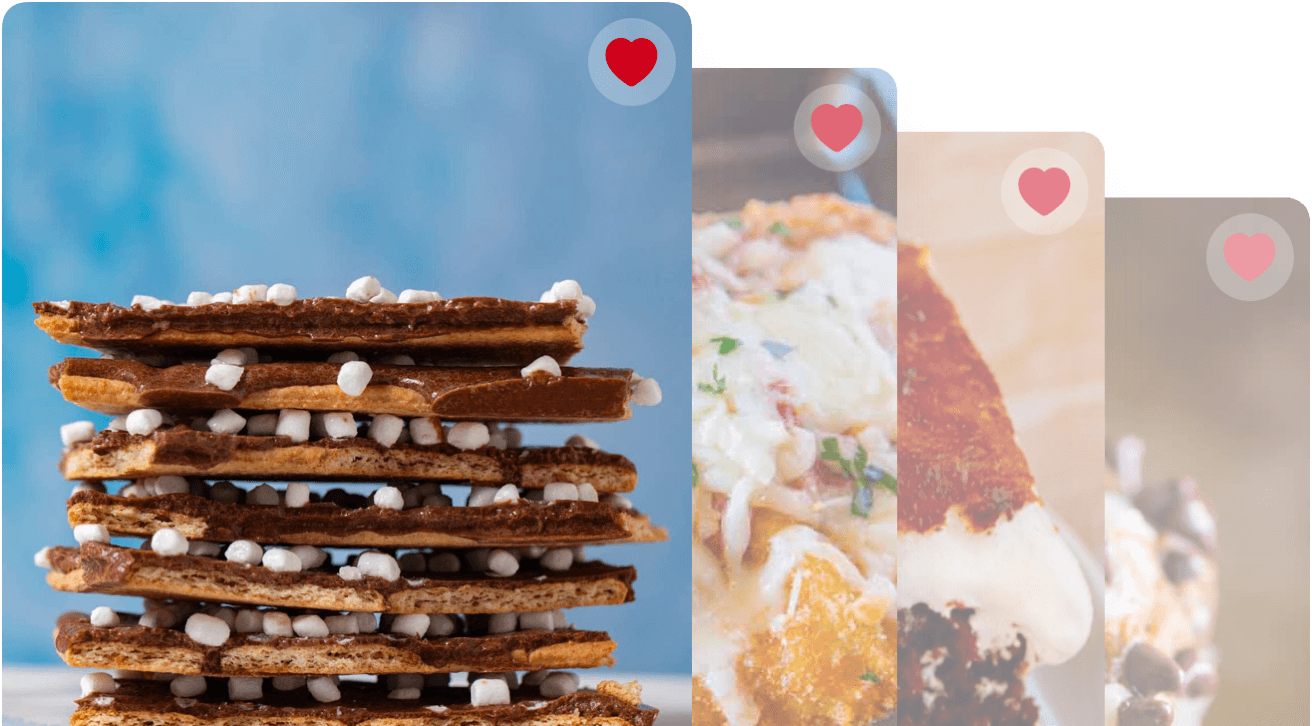 Key Ingredients
Cookie Dough: The base of the Turtle Bars is made with very simple cookie dough. As long as you have basic pantry ingredients like unsalted butter, sugar, eggs, vanilla, flour, and salt, then you can make the dough in a matter of minutes.
Pecans: The big addition to the plain cookie base is the chopped pecans. For this recipe, divide the pecans into two sections, one to mix into the cookie base and add some crunch, and one to sprinkle over the top of the Turtle Cookie Bars.
Caramel: For the easy caramel topping you just need soft caramel candies and heavy cream. Then melt the two together to make the caramels more creamy and easy to spread.
Chocolate Chips: The last piece you need to finish off this delicious turtle dessert is the chocolate. You can use semisweet chocolate chips or milk chocolate chips depending on if you like more of a sweet or slightly bitter chocolate taste.
Can Turtle Cookie Bars be made ahead of time?
You can bake the cookie part of the bars the day before and then assemble them the next day. However, the hot cookie base is what helps melt the chocolate, so instead you will need to microwave the chocolate to melt and spread it. You can also freeze the dough for up to 3 months, then thaw it and make the cookie bars as usual.
Variations
Chocolate Chips: If you want extra chocolate in your Turtle Bars you can make a chocolate chip cookie mix along with the chocolate on top. Just fold in your choice of chocolate chips with the dough at the same time you add the pecans. Some white chocolate chips would add some sweet vanilla flavor.
Brown Sugar: Make these more like chocolate chip cookies by using brown sugar instead. This will make the bars more chewy and give them deeper caramel notes.
Oats: Make the crust a chewy oatmeal cookie instead of the sugar cookie. Swap out a ½ cup of flour with quick oats and add a teaspoon of cinnamon to the dough.
Add-ins: Instead of the pecans you can use other nuts like walnuts, hazelnuts or peanuts, depending on what you like best. Add other crunchy mix-ins like pretzels, Toffee Bits, or chopped up hard caramels, or try chewy ingredients like dried cranberries or raisins.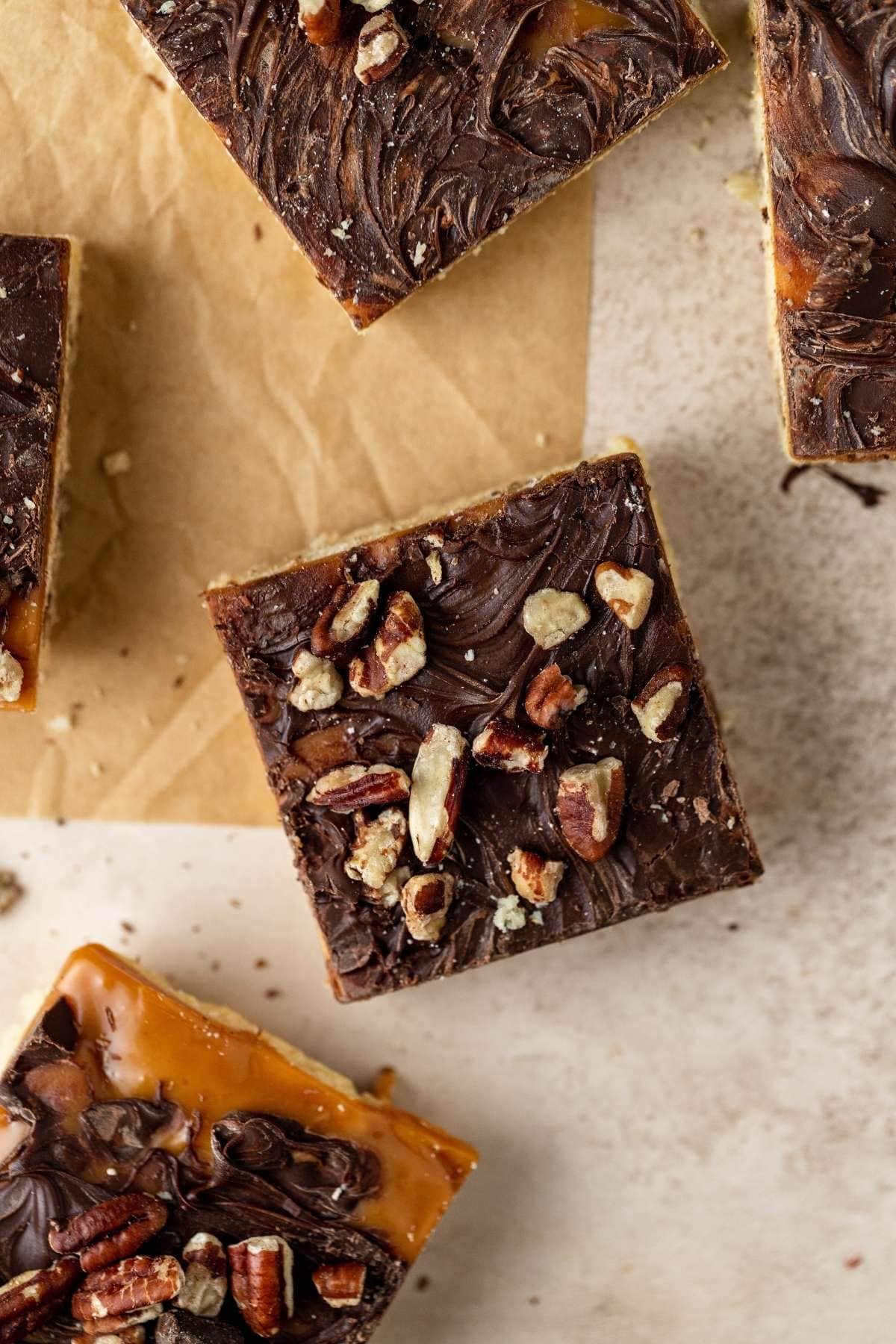 Sweet and Chewy Dessert Bars
How to Store
Serve: Turtle Cookie Bars can stay good in an airtight container at room temperature for up to 2 weeks. If the room temperature is really warm, store them in the fridge so they don't melt.
Store: Cut the Turtle Bars into squares and store them in a sealed bag or Tupperware. You can keep them in the fridge for up to 1 month.
Freeze: Let your bars cool completely before cutting and freezing on a baking sheet to harden. Wrap the squares in plastic wrap or just store in an airtight container. Freeze for up to 3 months, then unwrap and thaw at room temp to serve.


Ingredients
Pecan Cookie Bars:
1 1/2

cups

butter

, softened

2

cups

sugar

4

large

eggs

1

teaspoon

vanilla extract

5

cups

flour

1 1/2

teaspoon

salt

1/2

teaspoon

baking powder

1/2

cup

pecans

, chopped
Turtle Topping:
11

ounces

soft caramels

, unwrapped

1/3

cup

heavy whipping cream

2

cups

semisweet or milk chocolate chips

1/2

cup

pecans

, chopped
Instructions
Pecan Cookie Bars:
Preheat oven to 350 degrees.

Spray a 17 x 12 inch baking sheet with non-stick or baking spray.

With a stand mixer on medium speed, cream butter and sugar in a large bowl.

Add the eggs and vanilla extract, until well blended.

Sift together the flour, salt, and baking powder in a bowl.

Add flour mixture to the wet ingredients and mix until well combined.

Fold in the chopped pecans

Press into prepared baking sheet.

Bake for

15-20 minutes

, or until lightly golden brown.

Cool completely.
Turtle Topping:
In a medium saucepan add the caramels and heavy cream on medium-low heat.

Stir often until smooth and creamy.

Remove from heat, let cool for

2 minutes

, then spread over the cookie base.

Add the chocolate chips over the top and let sit for

2 minutes

.

Spread chocolate with an offset spatula or the back of a spoon.

Sprinkle with chopped pecans.

Refrigerate for

20 minutes

until chocolate has hardened before slicing.
Nutrition
Calories:
238
kcal
|
Carbohydrates:
47
g
|
Protein:
4
g
|
Fat:
4
g
|
Saturated Fat:
1
g
|
Polyunsaturated Fat:
1
g
|
Monounsaturated Fat:
2
g
|
Cholesterol:
1
mg
|
Sodium:
33
mg
|
Potassium:
82
mg
|
Fiber:
1
g
|
Sugar:
25
g
|
Vitamin A:
8
IU
|
Vitamin C:
1
mg
|
Calcium:
29
mg
|
Iron:
1
mg