White Cupcakes (Wedding Cupcakes) are an easy light, moist white cake recipe with a classic wedding cake flavor and fluffy vanilla frosting.
These simple White Wedding Cupcakes are similar to Classic Vanilla Cupcakes but their cloud-like texture and snow white coloring make them a more elegant Dessert Recipe that you can serve for something as special as a wedding.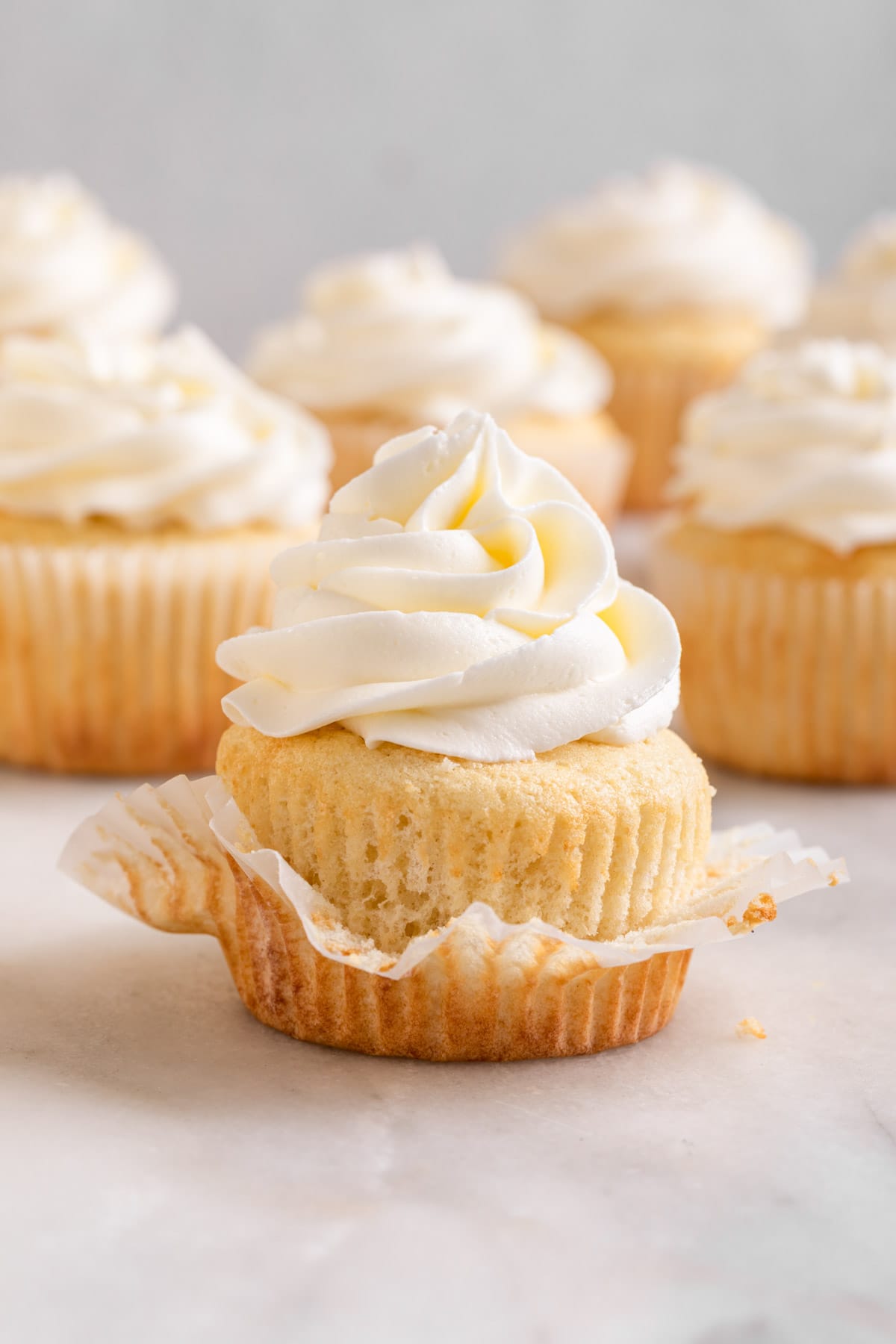 Although they're called "Wedding Cupcakes," you don't necessarily have to save these fancy cupcakes for that one day. You can serve them for a birthday, family get-together, a dessert after a dinner party, or any time that you want a beautiful dessert recipe.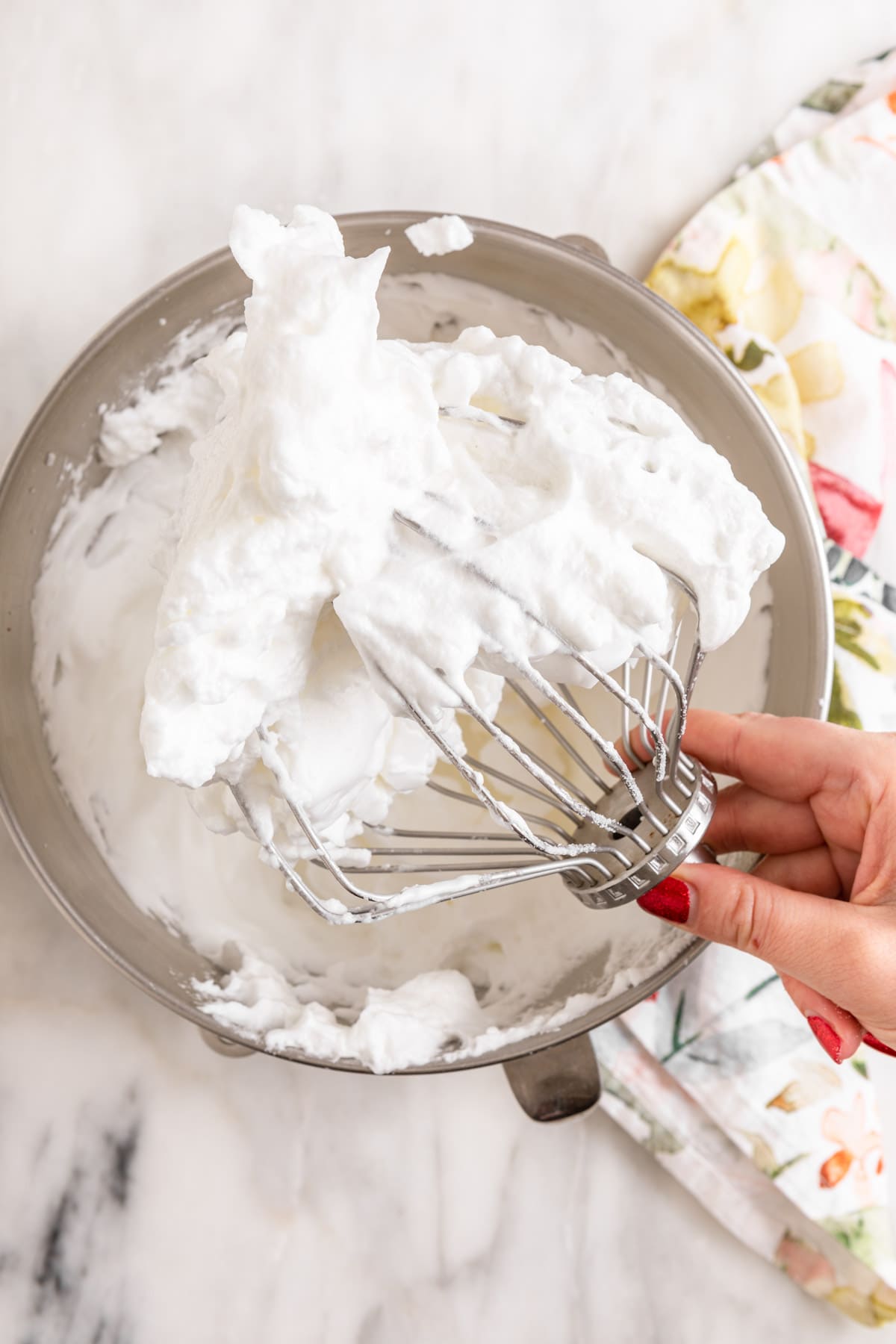 This delicious and gorgeous cupcake is made with a super tender and spongy cake base. By adding egg whites to the cake batter you get a light consistency and color. It then gets topped with a simple, creamy and light frosting. The white vanilla buttercream and white cake look beautiful and bright together, making them the perfect centerpiece for a big occasion.
If you are making these cupcakes for an important event, you can arrange them on a cupcake stand so that they're on full display. While they're beautiful on their own, you could also bake a batch of Chocolate Cupcakes and Red Velvet Cupcakes to add contrast and give your guests some variety.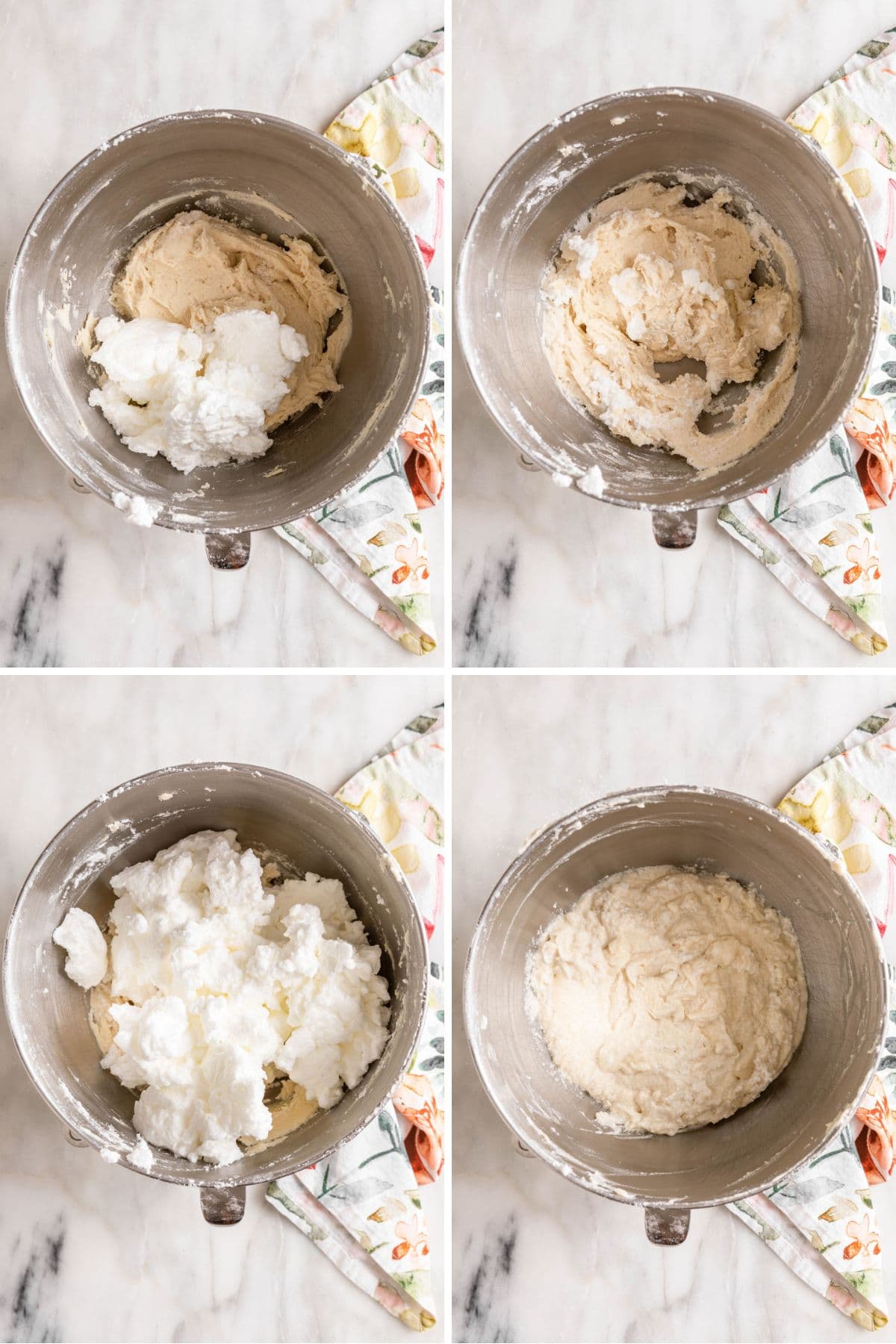 What is the difference between White Cupcakes and Vanilla Cupcakes?
White Cupcakes use only egg whites, which gives them a lighter color and texture, while Vanilla Cupcakes use whole eggs, resulting in a slightly yellow color and denser texture. Additionally, White Cupcakes typically use clear vanilla extract to maintain their all white appearance, while most other cakes use regular vanilla that has a brown tint. Finally these wedding cupcakes have almond flavoring that adds a hint of cherry-scented sweetness.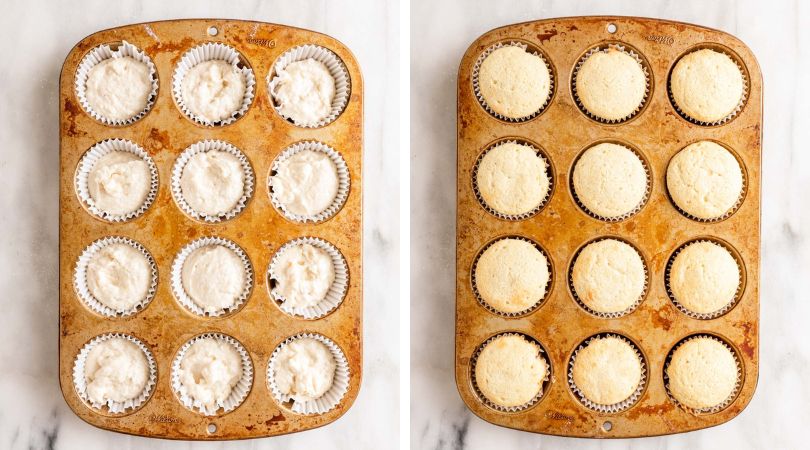 How to Make White Cupcakes
Prep Work: Start by preheating the oven. Line two regular muffin pans with paper liners. You can also spray the liners with baking spray to ensure the cupcakes don't stick,
Egg Whites: Next, add the egg whites to your stand mixer. On medium speed, beat the egg for 2-3 minutes until soft peaks start to form. Add ¼ cup sugar to the whipped egg in one tablespoon increments, while still mixing. The mixture will start to form into stiff peaks, where the tip stays standing, after one minute. Remove the egg whites from the stand mixer and put them in a separate bowl.
Cream and Sift: Add the remaining ¾ cup sugar, 2/3 cup butter, vanilla, and almond to the stand mixer. Then use the paddle attachment to mix at medium speed until light and fluffy. Sift the flour, baking powder, and salt into a separate bowl. Sifting is important to remove any lumps so don't skip.
Batter: Begin alternating between adding ¼ cup dry ingredients and ¼ cup milk to the creamed butter while the mixer is on low speed. After everything is combined, turn off the mixer. Using a spatula, gently fold in ⅓ cup of the egg whites. Once they're combined into the batter, fold in the remaining eggs.
Bake: Spoon the cupcake batter into the prepared muffin cups, gently so you don't knock out any air in the batter, and fill the cupcake wrappers 2/3 full. Bake the White Cupcakes, making sure to take them out before they start to brown. Cool cupcakes completely out of the pan before frosting.
Frosting: Add softened butter to your stand mixer, and set it to low speed. Then add the powdered sugar in ½ cup increments. Once the sugar is mostly worked in, raise to medium-high for another minute. Add the vanilla and cream, and continue beating until light and fluffy. Transfer the frosting to piping bags, and pipe over cooled cupcakes.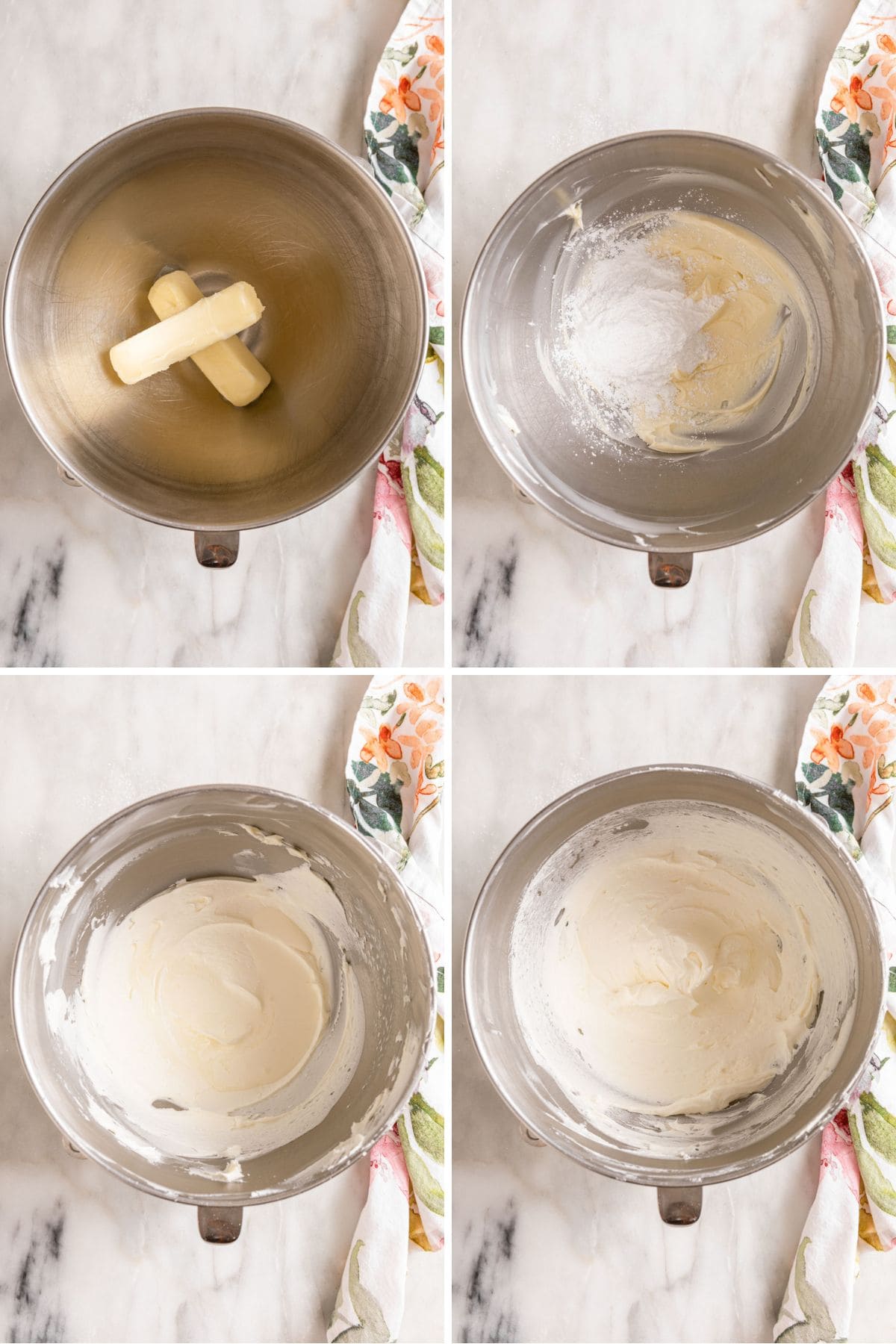 More Classic Cupcake Recipes
FAQs for Wedding Cupcakes
How far in advance should I frost the cupcakes?
It is recommended to frost the cupcakes no more than 24 hours before serving to maintain their freshness and texture. Frosting the cupcakes too far in advance can cause the frosting to become dry and hard or the cupcakes to become soggy. 
What is the secret to moist cupcakes?
The secret to moist cupcakes is to not overmix the batter, which can cause the gluten to overdevelop and create a tough and dry texture. Additionally, using ingredients such as butter, egg yolks, and milk can add moisture and richness to the cupcakes. Finally, be sure to bake the cupcakes at the correct temperature and for the correct amount of time to avoid over- or under-baking, which can also affect the moisture level.
How many days before a wedding can you bake cupcakes?
It is recommended to bake the cupcakes 1-2 days before the wedding and store them in an airtight container at room temperature. However, it is best to frost the cupcakes on the day of the wedding to ensure that they remain fresh and moist.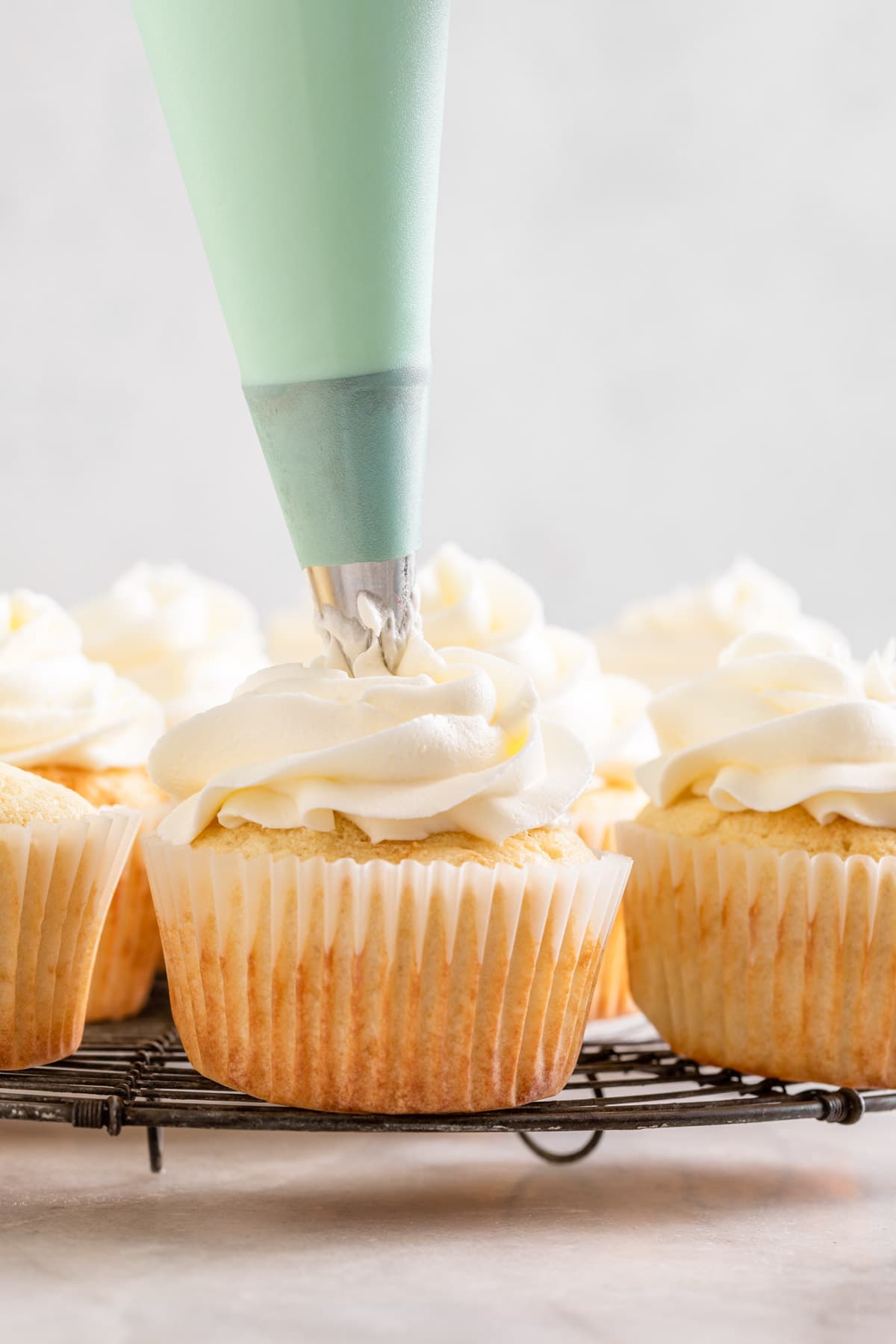 Create a free account to

Save Recipes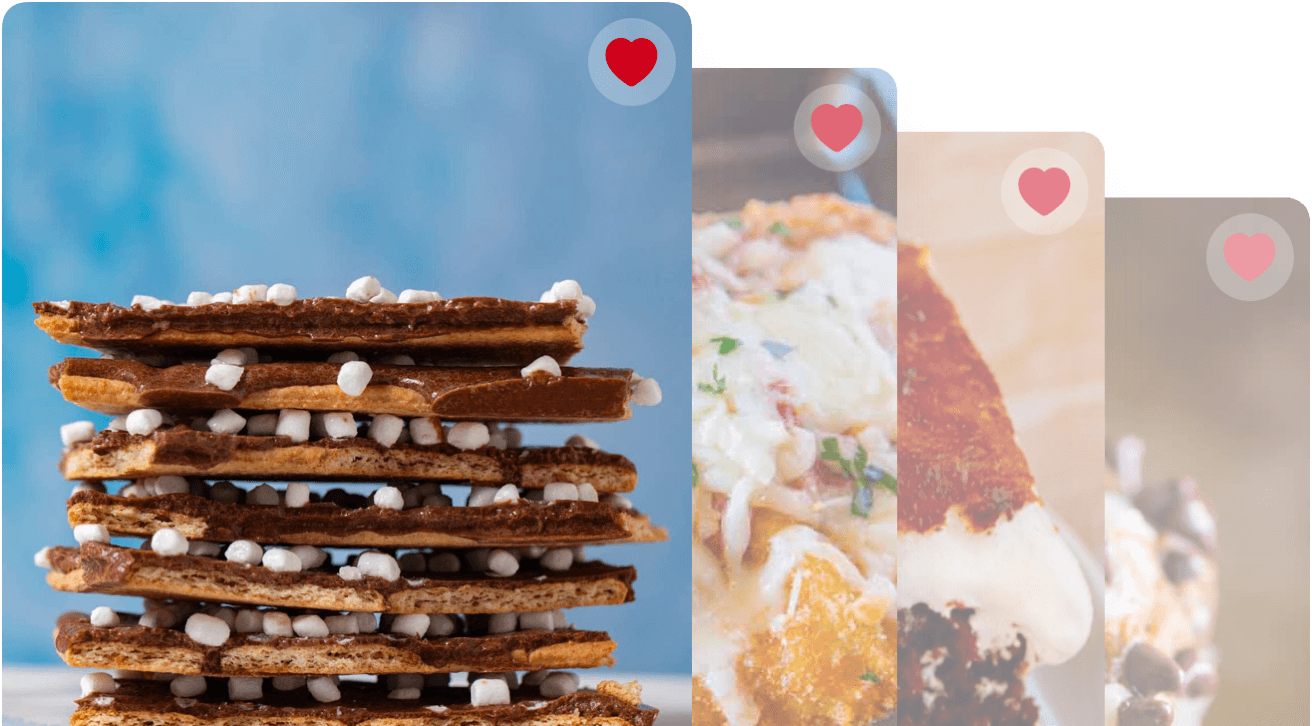 Key Ingredients
Egg Whites: In order to make airy cupcakes with a wonderfully delicate texture, you need whipped egg whites. The key to getting perfectly light and airy whites that don't deflate is to start with room temperature egg whites and add a little sugar after the soft peaks form, then beat them to stiff peaks.
Cake Flour: Cake flour is a low-protein flour that is used in this recipe to create a tender and delicate crumb. While you can just use regular flour in this recipe, cake flour has a finer consistency which helps to keep the cupcakes light and fluffy.
Butter: You want the butter to be room temperature because it will cream easier in both the batter and the frosting. Creaming creates a lot of air for a fluffier frosting and an ultra moist and tender cake.
Sugar: In this recipe, the sugar is divided and added at different stages, first to stabilize the egg whites and then to the butter to create the creamy sweet base of the batter. Make sure to use white sugar to keep the light coloring.
Clear Vanilla: Vanilla extract is used in this recipe for its classic wedding cake flavor and to keep the batter of these cupcakes all white. Regular vanilla extract is dark brown and will alter the coloring of your cake. If you can't find clear vanilla in your grocery store, it will be stores that sell baking supplies.
Frosting: These all white cupcakes wouldn't be complete without a cloud-like vanilla flavored frosting on top that was also completely white. The frosting is also made with clear vanilla extract so it stays white but has lots of the delicious, warm and sweet hug of vanilla flavoring perfect for weddings!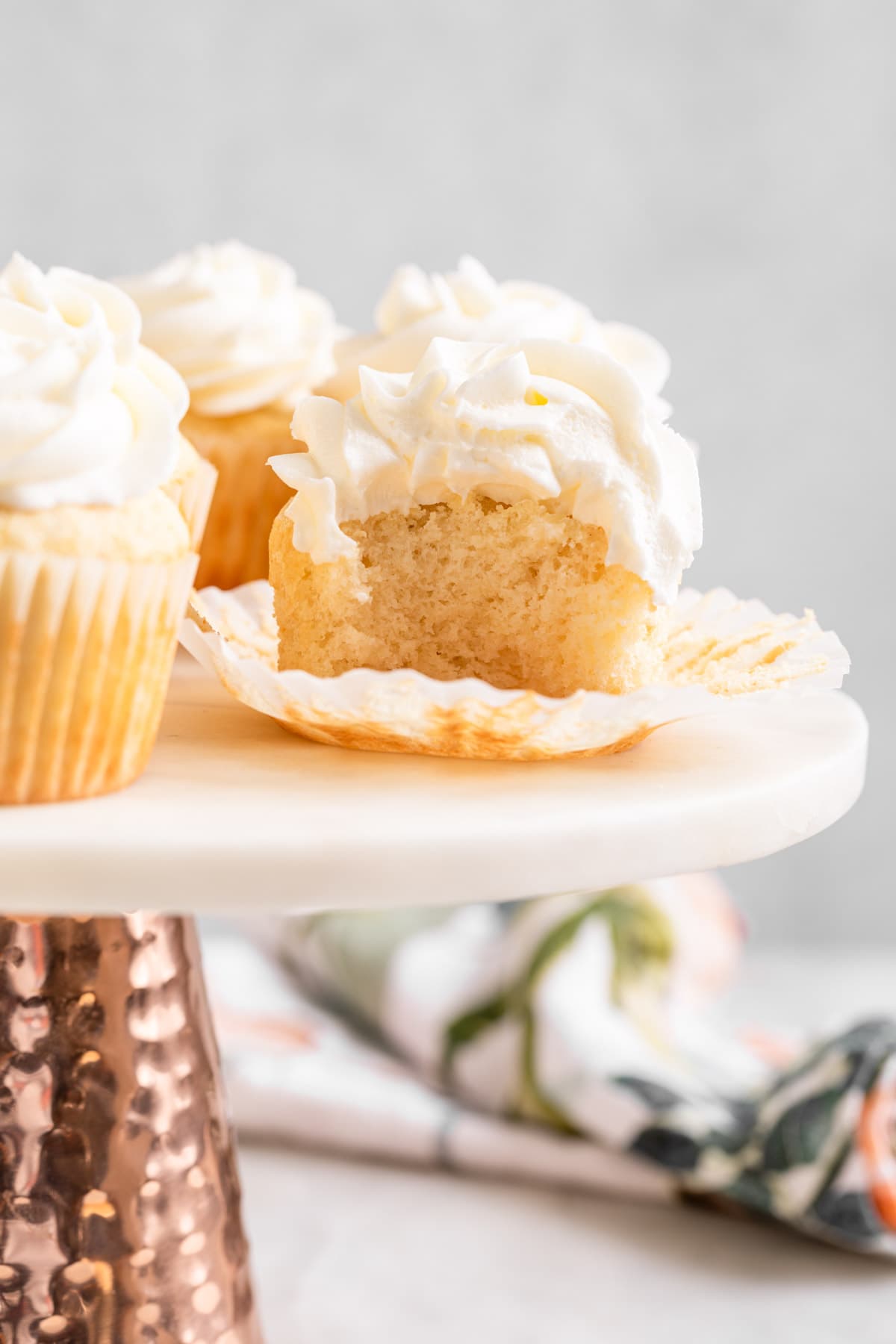 Variations
Frosting: If you don't want pure white frosting for your White Wedding Cupcakes, you can always add a little food coloring to the mixture. The cakes would look amazing with a light pink, blue, or purple frosting. For tangy white topping you could go with Cream Cheese Frosting, just swap in the clear vanilla or add food coloring to tint it.
Chocolate: To make a Chocolate Buttercream Frosting, swap 2 tablespoons of powdered sugar with cocoa powder. You can also add a surprise chocolate filling by scooping out a little of the center then filling the well with Chocolate Ganache and finally, topping with the frosting as usual.
Fruit: Similar to the chocolate surprise above, you can fill these light and beautiful cupcakes with some Strawberry Jam or raspberry jam. For easy Strawberry Cupcakes, you can add a teaspoon freeze-dried strawberry powder to the batter and frosting or just add diced fresh berries to the batter for bursts of berry goodness.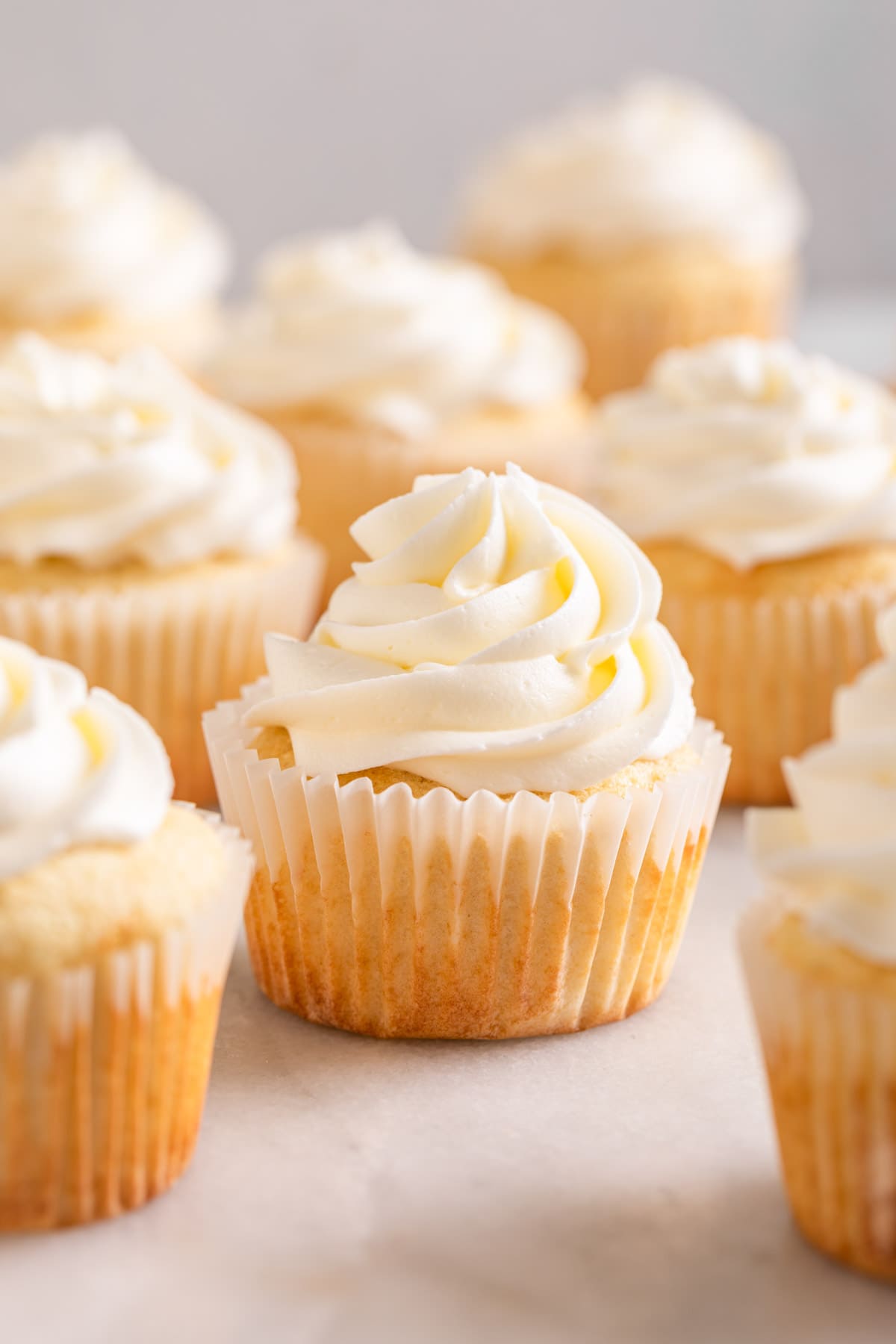 More Light and Airy Desserts
How to Store
Serve: After baking and frosting the Wedding Cupcakes, they can stay good at room temperature for up to 2 days. Just put them in a covered container to keep the moist cake from drying out.
Store: You can also seal the White Cupcakes to store in the fridge for 3-4 days.
Freeze: To freeze the White Cupcakes, arrange them in a single layer in an airtight container. Or, if you freeze them without frosting, you can put them in a smaller container and stack them on top of each other. Either way, they'll stay good for up to 3 months.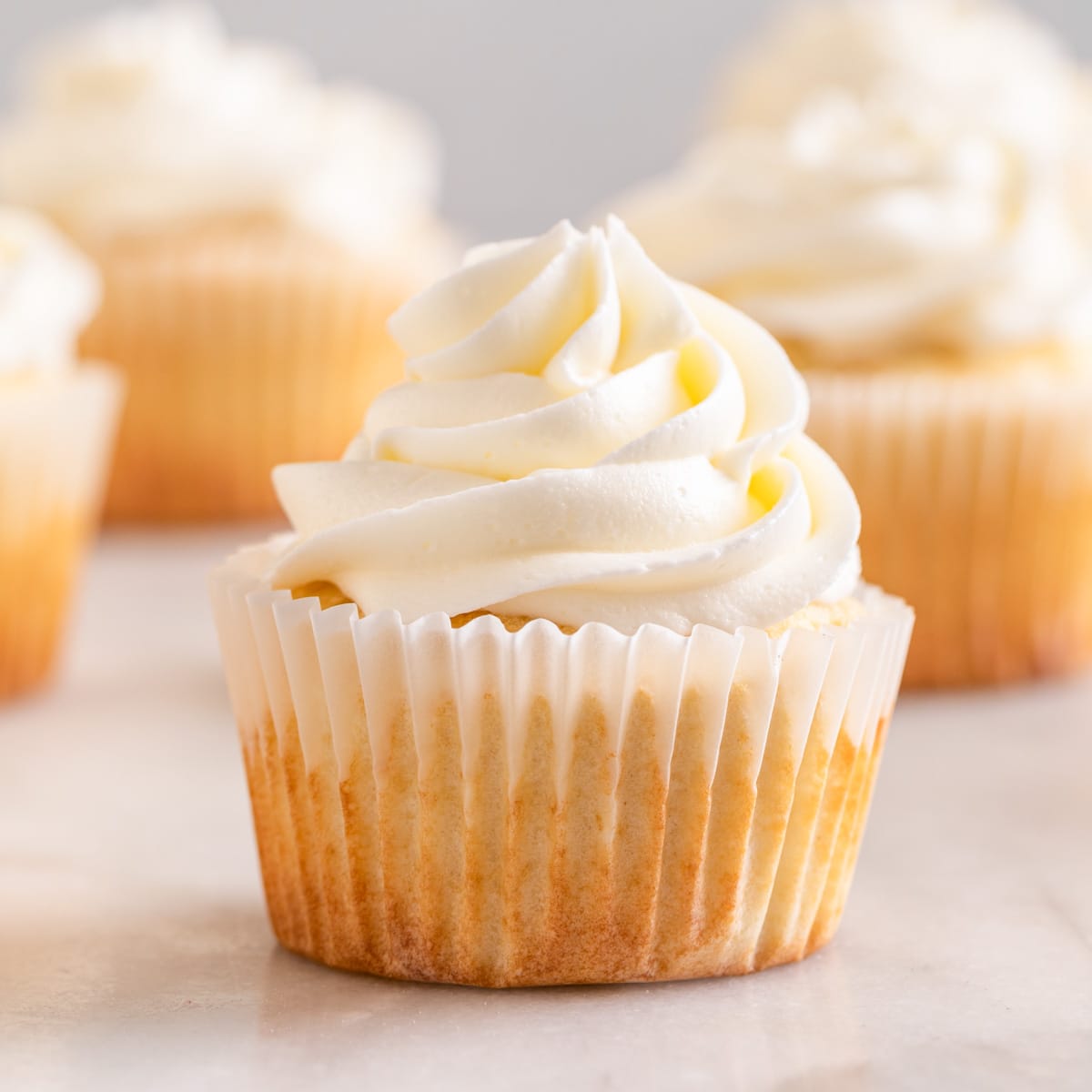 Ingredients
White Cupcakes:
6

large

egg whites

, room temperature

1

cup

sugar

, divided

2/3

cup

unsalted butter

, softened

1

teaspoon

clear vanilla extract

1/2

teaspoon

almond extract

2 1/4

cups

cake flour

2 1/4

teaspoons

baking powder

1/2

teaspoon

salt

3/4

cup

milk
Vanilla Frosting:
1

cup

unsalted butter

, softened

3

cups

powdered sugar

1

teaspoon

clear vanilla extract

2

tablespoons

heavy cream
Instructions
White Cupcakes:
Preheat the oven to 350 degrees and line two 12 cup muffin trays with paper liner cups.

To a stand mixer add the egg whites, beating on medium speed until soft peaks form (the tip of the peak will fall down when in soft peak stage), this should take

2-3 minutes

.

Add in ¼ cup sugar one tablespoon at a time while it is beating, until the mixture reaches hard peaks (the tip of the peak will stay standing up), this should take another

1 minute

.

Remove the beaten egg whites from the stand mixer to a large bowl.

Add the remaining ¾ cup sugar, 2/3 cup butter, vanilla extract and almond extract to the stand mixer on medium high speed until light and fluffy, about

1 minute

.

Sift together the cake flour, baking powder and salt (this is important for soft and tender cupcakes) then add in the flour and milk alternating about ¼ of each at a time on low speed until just combined.

Fold in ⅓ of the egg whites gently until combined (start with this amount first to lighten the mixture so the rest of the egg whites will fold in easier), then add in the remaining egg whites gently as well.

Spoon the mixture into the muffin liners (be gentle with the mixture or it can make a dense cake) about 2/3 full.

Bake the cupcakes for

18-20 minutes

.

When cupcakes have cooled make the frosting.
Vanilla Frosting:
To your stand mixer on low speed cream the butter then start adding in the powdered sugar in ½ cup increments until fully combined then raise the speed to medium-high for 1 additional minute.

Add in the vanilla extract and heavy cream and beat until light and fluffy for .

Add frosting to piping bag and frost your cooled cupcakes.
Notes
Note: You can use regular vanilla extract, but by using clear vanilla extract you maintain a brighter white color for the batter and the frosting.
Nutrition
Calories:
259
kcal
|
Carbohydrates:
32
g
|
Protein:
3
g
|
Fat:
14
g
|
Saturated Fat:
8
g
|
Polyunsaturated Fat:
1
g
|
Monounsaturated Fat:
3
g
|
Trans Fat:
1
g
|
Cholesterol:
36
mg
|
Sodium:
69
mg
|
Potassium:
80
mg
|
Fiber:
1
g
|
Sugar:
24
g
|
Vitamin A:
427
IU
|
Vitamin C:
1
mg
|
Calcium:
33
mg
|
Iron:
1
mg